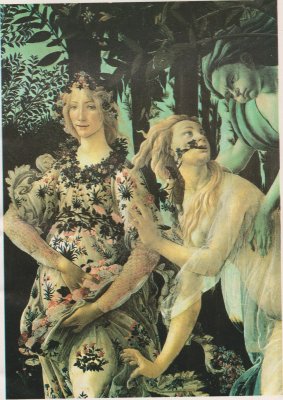 Good morning, afternoon, evening, 
obliged to stay home, to prevent the spread of Covid-19 infection, these days we certainly miss nature.
Maybe we can catch this opportunity to think about how important nature is in our life and if it is not the case to establish a new relationship with it, with the whole environment actually.
Those who survived the intensive care for Covid-19, when describing the experience between life and death, speak of a perception of time that narrows to the moment you feel you are hydrated and infused oxygen, with nothing else existing. When you recover, everything is new, as for a child, you focus on very little things. 
Let's begin a new life then, let's establish all of us a new relationship with nature and people, everything will be easier if we start from the small things, each one of us.
These poems are dedicated to those who did not survive. We won't know what they thought, what they felt. We owe so much to all of them.
WARBLE OF COLORS 
There is a whirl of flowers
on the branches of cherry trees.
Turned to heaven,
they laugh with their open throat  
enjoying the sun.
Swarms of soft petals
like clouds laying on the meadows.
Grass is delighted.
Water symmetries
softened by the mist, meet eyes
nourished on beauty and colors.
THE COURAGE OF FLOWERS 
I want to take you into the courage
of the dance of pure flowers,
inside trees floating with spring;
rejoice with you in the colors
and moved, betray
feelings with love. 
PETALS 
It is rustic snow
which rests on hawthorns;
whitens arid branches
which then bud leaves and
small thoughts, free to fall
along with the petals of the flowers.
CARESSES 
If I should die this very moment, 
I would like my words too
to go into the wind,
to continue in a whisper
the caresses that I too
have received. Voices 
for the encounters of the lovers,
for the games of the children,
for the looks of the mothers,
for the repose of the old.  
Voices and caresses to listen to
the silence of those who die.
Anna - Coordinator
Source: Botticelli, La Primavera, 1482, Elemond Arte Milan, 1992; Poems by Coordinator