Good morning, afternoon, evening,
this is the page for the Elementary groups that we started studying in class and we didn't have time to complete.
Please for next time read it carefully and write a similar letter to someone you know, speaking about your class.
Divide your writing into paragraphs and make them correspond to Danka's letter.
It will be easier for you to be formally correct. Then read it aloud and start telling it without reading any more.
As far as we are elementary students, it's much better to follow patterns, and Danka is exactly like us, a student of English as a second language; her English is perfect.
Do the same to become familiar with the language and develop your writing skill time after time so to consolidate your competence and have the capability of reemploying it also orally. 
Ask any questions you may need and upload your letter as a comment.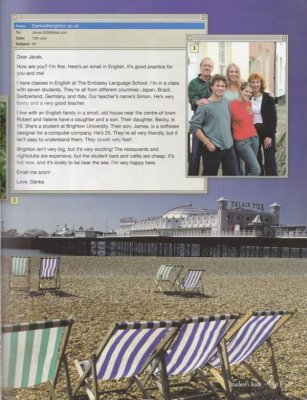 We will reply.
See you in class to continue working together
Anna - Coordinator
Source: Headway Elementary - Digital - OUP 2010
These days I'm going around with copies of the "Squirrel" mentioned below, in my car, in case there's someone who wants to support our NPO and its projects, offering the book as a present to a friend or anyone else.
Anna
Massimiliano: very good job! in a class, singular; thirty students; they are all Italian; I live with my wife in Cecina.
Francesca: very good email! English and all nationalities need capital letter; at UP, no article; psychologist then punctuation; safety, I, subject pronoun, always capital letter. 
Gianluca: very nice letter! Nationalities with capital letter; at Università Popolare, capital letters, no translation; Silvana is a ...Safety technician; Francesca has a cat, his/its name's; remember punctuation, including commas.
Annapia: my suggestion to everybody is to follow a pattern, i.e. Danka's letter above, for an English-style writing. You can adapt the pattern to your situation.
Christmas holidays plural, they pronoun, aren't going well.  
Rest/stay calm, live peacefully; is this fine to express your ideas?
It won't last forever. These ideas are too difficult at our level, use present simple and focus on formal correctness and accuracy.
I can't understand this last line, I present etc. The tense should be present continuous, we haven't studied it yet. 
Soon, adverb, not son noun; greeting etc is a translation from Italian, but it is not English. Have a look at Danka's letter again. 
When speaking and writing at elementary level, you should be like English people at that level. Use your elementary English studied so far to be like them. 
Fabio: I'm writing, present continuous, a tense we haven't studied yet. Danka writes, here  is an email etc; because; my English isn't enough, refers to quantity; you can say my English isn't good enough, referring to quality; she's very nice and a very good teacher, using the indefinite article for countable nouns; small; greeting dear embrace, have a look at what I wrote to Annapia; use simple English expression to close an informal email.
Silvana: UP no article; he is plus indefinite article for a countable noun; after exciting, punctuation; some restaurants are expensive; walking.  Good job!
Pina: very well done! Continue, choosing another page on the blog and writing other comments!
Nicola: very nice email! Except for a few/very few; he works for a computer company that makes...; Cecina is a small town. 
Annapia: I heard you are not feeling well; your daughter will care well; I will tell the teacher and the class about you. Best wishes to recover soon to Maria Grazia then, by all of us!
Vincenzo: you've done a very great job, Vincenzo, the same you're doing in class. Continue practicing, paying attention to any single detail, and I'm sure you won't have problems any more with your English very soon! 
Do not forget, nationalities need capital letter, then Italian; she is no apostrophe, or contracted, she's; because I am not very good at.... speaking, performing, English, or my English isn't very good. I wouldn't say that, continue choosing another page and upload your comment replying to the questions.
See you in class!
Anna