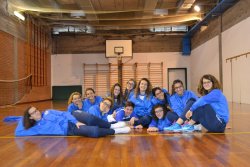 Good morning, 'afternoon, 'evening everybody!
I would like you to find the right order of these photos, thinking of a possible beginning and end of a special day, joining two Italian regions, Tuscany and Emilia Romagna. 
Last year I read an article on Mente & Cervello, a scientific magazine, about the Italy womens'  national deaf volleyball team, and I felt enchanted by their bilingualism, since I feel so attracted by the capability of any sign language to communicate. Body always comes first.
I thought of them and willing to share a project, after getting in contact with their technical director, Loredana, I went to Rimini, to film them while playing for the 3rd edition of the Deaf Volleyball Champion League, of the European Deaf Sport Organization. Italy was ranked third place.
The very short video I made had to partecipate in a mute video contest, the perfect way to highlight deafs' silence.
Homework 1: find the right order of the photos, say what you think and know about the sign language, if you have any experience and if you know anything about how deaf children are taught at school. 
In a film, recently released, Snowden, the American sign language is performed for the counter-intelligence.
We warmly invite you to visit an American web site called My smart hands. Tell us what you think of it and compare this experience with the Italian ones you might have.
Homework 2: find the proper translation of these Italian words: bruma, nebbia, foschia, caligine and write them down in an English context or while describing the photos you see here.
When translated with the help of a bilingual (Italian - English) dictionary, use the words found to translate them back into the other language and see if you get the same words you started with!

Homework 3: what is Mintonette? And the hidden secret?

We'll reply. Enjoy your English.
Anna - Coordinator
Last news: the very short film we shot participated in the #50 Secondi Lumière, a contest by the Cineteca di Bologna, and was selected among the twelve best for each cathegory. On Cineteca di Bologna's You Tube channel there are the winning and selected videos.  
Source: Mente & Cervello 2015 plus own source photos taken on November 26th 2016