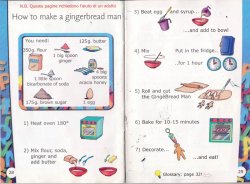 Good morning, afternoon, evening,
this is English practice for everybody, including beginner students, making buiscuits too.
It is a page for families, children and adults to have fun together.
Never forget that what works with children works with adults too!
First: if you do not know the story of the Gingerbread Man, find it on the Internet and listen to it watching the videos. There are American and British versions. Then remember it.
Second: write it down as a comment using only present simple, subject, verb, complement, and come to class ready to say it with your mates.
Third: read the recipe to make a Gingerbread Man.
Fourth: make your Gingerbread Man very expressive the size you like, deciding the best position of its head, arms, hands, legs, feet.
In class we'll paint it with chocolate, according to each one's fantasy, and the best buiscuit will win a prize. 
We will decide together when coming to class with all our buiscuits. We will take a photo of all of them, when painted.
Have a look also at page 3 article number 8 about chocolate, a very interesting subject.
See you in class, enjoy your English!
Anna - Coordinator
Source: The Gingerbread Man, Windmill Readers, Raffaello Editrice, 2000
Eleonora: information singular, an old woman prepared, her husband, when she baked it object pronoun, the gingerbread man (it subject pronoun), jumped.  
As you can see from these photographs, everybody, children and adults, enjoyed themselves painting the Gingerbread Men with chocolate and eating them.
In the class for adults, two painters are decorating the biscuits, while in the one with children, Gabriele and Camilla, both nine, are  doing an excellent work with the well shaped, little biscuits baked by Camilla's mother.
Thank you all for your contribution and never forget that the more you behave a language, the more real it is and becomes yours, one more identity to be added to the one/s you already have.
Annapia: finally you did it!
Francesco: is it? 
See you in class, Anna
Shop now: thank you, unfortunately we can't meet in class, you could be helpful. Anna