Good morning, afternoon evening,
this is graded homework  for different students. If ex-beginner or false beginners, complete the interview with Angela Franklin.
If you want to echo Charles Dickens, read about Joss and Claire with their cities.
Come to class ready to speak about them, do the exercises, compare their lives with someone's you know in a comment, pay attention to formal correctness.
Enjoy your English, see you in class, continue writing on our What's App group.  
And here, just two photos of you in class.
Anna - Coordinator
Thank you Alberto for your comment.
Do not forget that punctuation is important in defining a few criteria for writing. After period you need a capital letter, as for people's names and I subject pronoun. Continue writing!
Giancarlo: 5, I subject pronoun capital letter; 6, Which is  your husband's name? 8,9,10,13, Doi you have etc, Yes I do in the answer, since to have is a full verb like any othey using the auxiliary, and these are yes/no questions with short answer. Of course you can do differently if you want to reply with more information, this is the essential to be formally correct. 14, What do you like doing in ytour free time?  Remember capital letters at the beginning of a sentence. 
Giada: 3, I'm from, no other prepositions.
Very good work, continue both in class and here!
Stuart, Julie: thank you for appreciating our work. Continue writing and posting comments!
Madden Mobile Review: Continue to follow us, we are about to start new initiatives, e.g. welcoming Mediterreanean cruise passengers in the open air to practice English and performing a matinée for them at the railway station with very talented pupils. Very soon a page with them.
Anna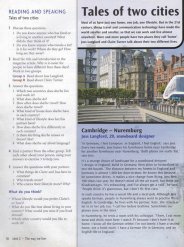 Source : New Headway Pre-Intermediate, Student's Book, OUP, 2010