Good morning
David, Giorgio, Letizia, Irene, Gabriele, Ilaria, Robin, Saverio, Matteo,
Alessio, Elisa, Davide, Kevin, Alyssia, Ilaria, Matteo,

week two then of our Summer English that's going to be soon in the open air.
Let's get ready to meet cruise passengers knowing something about their cruise ships, where the passengers embarked, where they are from, what their journey to come to Livorno was like.
Form pairs, search on the Internet and write the news you find, onto the papers on the walls. 
These are the names of the ships on Mediterranean cruise arriving in Livorno on July 27 and 28, whose passengers we are going to meet in Piazza del Municipio.
Arethusa, Brilliance of the Seas, Thomson Discovery, Carnival Vista, Sea Dream 1, Norwegian Epic, Celebrity Constellation, Oceana, Sovereign. 
Find enough news to write three formally correct sentences and inform consistently your mates about them. Try to look for curiosities, unusual news to strike your mates; we'll all give marks to your reports. 
Upload your comments so to let other people partecipate in voting including your families. 
Thank you all, continue working, our English will be soon "Open Air" after this first training in class!
Anna - Coordinator
Source: all photos taken in class and in the open air with students' parents' permission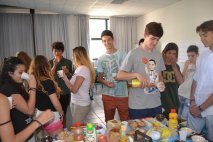 Week three: let's learn how to give directions in Livorno and how to ask for drinks in a bar. 
This is Livorno's map.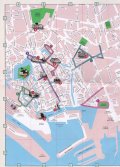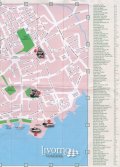 Week four: studying Livorno before the boat tour. News from the Internet to form sentences in pairs onto the walls and tell them to classmates, interacting with questions and answers. 
Boat tour in English and Spanish to appreciate our city from the water and know how tourist guides work. While touring, the task is writing at least five words to form sentences when back in class, onto the papers on the walls, with the map of Livorno, the ideal city drawn by Lorenzo de' Medici as a pentagon.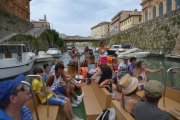 After the boat tour, English laboratory at Bar Duomo, where English is "home", like being in England. 
Asking for drinks and having them offered by the teacher at only one condition: great English performance.
Week five: welcoming Meditteranean cruise passengers in Piazza del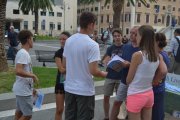 Municipio after training in class. Exciting!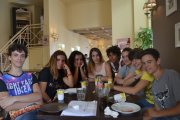 Cruise passengers from all over the world happy to be welcomed by students and to help them in practicing the language. generous, helpful people from all the states of USA, New Zealand, Australia, Canada, North Europe, but also India, Spain, Portugal, Germany, Austria, so many different accents and approaches to the idea of spending a few minutes with students. 
Hundreds of Livorno's maps distributed with information ablout how to get to the station, where doing shopping, which cities visit in Tuscany, how to manage with trains and coming back to the ship. Embodied language, with all the possible nuances of mood, personality, good will to spread a common international code to communicate.
Week six: back in class to write in pairs dialogues as a comment about the entire course onto the papers on the walls and play them without reading any more.
Whoever wants to write a comment will be welcome, we did like working this way, we enjoyed any single moment. 
Join us? Soon, sure!
Anna - Coordinator
Source: all the photos taken with students' parents' authorization.