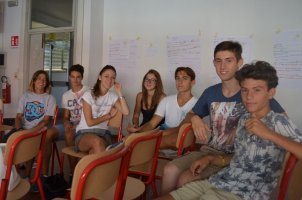 Schools are perfect sites for English. We do like the environments in which so many pupils can be involved: classes, entire schools. We would like to participate in your programs  and integrate them, offering pupils extra time for conversation, activities, with topics of your own choice, aimed at integrating  the schools' programs pursuing the objective to have bilingual people when leaving school. We can contribute with classes in which the topic is chosen either by you or selected among a range of possibilities we can suggest, according to the TEFL pattern of English classes, graded levels.
After analyzing what your needs are and establishing together the objectives, you'll have them consolidated after each TEFL class. Since we are also Cambridge Language Assessment long trained teachers, updated about all the Examinations offered to students of other languages, we can also help in training students to pass the Cambridge exams. Whatever our contribution can be, all the times there are measurable objectives, visible results, memorable and meaningful classes. Meaningful topics can be related to your town, problems you deal with; we can also do researches with you in order to develop something you haven't faced yet.
We can invite to visit your schools native speakers of English and people whose English became useful in their lives and you can interview them in very well designed little events, so to understand better what the advantages of having good command of this international Language are.
We do trust young people, because you, young people, have the modern vision of the world, the important questions to ask and to be answered, the right vitality; we do like having and making people have rushes of enthusiasm and generosity, but we also trust anyone who thinks that sharing beliefs is fundamental, because it means we can enrich our ones and ourselves. We also think that anything and anyone can be a dot to be connected with other ones and that such connections can be surprising, for very often they can release unpredictable and beautiful results.   
Own source photo: English Labs at ITI G. Galilei Livorno, Summer 2016
Photos taken with all pupils' parents' written permission