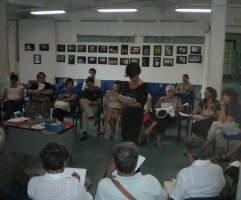 We are also long experienced teachers with companies. Professional people can make benefit by the TEFL pattern of English lessons. Forty five minutes concise classes with measurable results, after just a few minutes of  introduction and all the other time, students' participation.
We would like to design for you suitable courses. We invite you to call us either on Skype or on our mobile number + 39 335 6623343. Participate in our blog. It will be a pleasure offering you our long experience in training all types of professionals in English considering this language transversal to any other company's training program.
After meeting you and analyzing your needs, we can design a proper project emphasizing linguistic training as a way to empower any other one performed by you as a Company and English as a tool with many a formative levels.
The aim of any training designed by us is accelerating the process of language acquisition making the language itself with its meanings the vehicle for training; after just a little clever guidance in the specific professional field, any student will be capable to continue the process by him/herself, thanks to the consolidation of the new skills surfaced, always interacting with the professional environment, making  their  communication spontaneous, dynamic and functional.
Own source photo: meeting students at Università Popolare Rosignano, Livorno.