Good morning, afternoon, evening everybody,
just for those who come across this web site for the very first time, all the blog is an invitation to practice English in case you want to improve it, or use your Language as a speaker of English if you want to help.
We would be so glad if you partecipated! English can be an opportunity for all of us to communicate the worl over enriching our identities with one more to fell equal and willing to share and promote the same rights and opportunities.
There'll be a reply each time you write, either as a teacher or as a friend.
It was 2010 when I read The Museum of Innocence, a novel by Orhan Pamuk, Nobel Prize for Literature, a story of romantic love in a haunting novel with unexpected turns and fascinating insights.
I didn't know that a real museum was being created, aligning itself with the writing of the novel, a museum inside and outside the story. 
Little objects as memories of the beloved one, of what happened between the two lovers, Kemal and Fusun, the male protagonist's will to keep with all them, the memory of his only love.
Now part of the original museum from Istambul, after being exibited in Oslo and London, is in Milan,  until June 24th.
I'm going to visit it, since there's such a strong bond between the books you adore and anything happening around them. I might visit once the original places where the novel has been set up, by now I'm going to Milan, at Bagatti Valsecchi Museum, one visited by the protagonist in the novel.
The author's voice accompanies the visitors among the 29 showcases of the museum.
In Istambul, for those who had the book, there is no entrance ticket to pay at the museum. 
Who has read The Museum of Innocence? In any language, sure.
Here's the cover of my copy, the English translation of the novel that mesmerized me. And I'm sure the museum will do the same.
We should appreciate more artists like Orhan Pamuk, capable of conceiving ideas exceeding expectations,  devoting them the quality of their mind and time, their feelings, so much of their life. 
What do you know about him?
Have you ever visited the places mentioned in the novel?
Keep the bond tight, write and we'll reply.
Enjoy your English
Anna - Coordinator
Source: Cover of my copy of The Museum of Innocence published by Faber and Faber, England,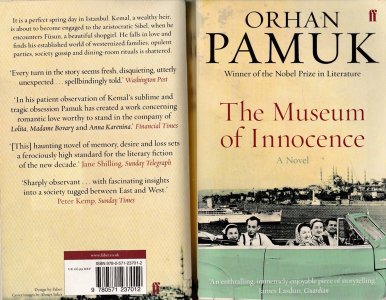 2009