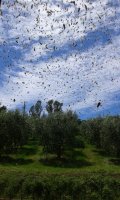 Good morning, afternoon, evening,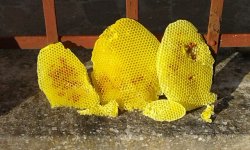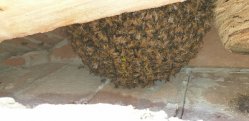 the first three images you see on this page are one of the two swarms of bees that choose my house for their beehive,  since  renovation works are being carried out.
They found a gap among bricks to get access to hidden spaces behind. A scaffolding had to be built to reach the bees and after removing the front bricks, all bees were around their honeycombs you can see in the third photograph. Only three days and so much work done! 
Carefully all bees were suched by an appropriate machinery and transferred to a permanent apiary, so to let us continue restoring the house without disturbing them.   
Talking about busy bees, I remember a nursery school called so.
This is an easy article so that also Elementary Students can dare to read and reply
1- How come the expression busy bee refers to humans?
2- How do bees communicate among them? 
Low-intermediate students:

1- What is Dr Nugel Raine's main scientific interest?

2- What did the scientists want to find out from the experiment described in the article?

3- What did the bees do after the locations of the flowers in the experiment changed?

4- What was surprising about the results?

5- Why are scientists interested in how the bees calculate their routes?

Looking forward to reading, enjoy your English
Anna - Coordinator
Hi J., you didn't answer the very first question, whether you are or not a busy bee!
Very well done, just a little to improve: 1. El. Lev. by a cognitive map, or by cognitive maps. There's something beautiful produced by these cognitive maps, what is it?.  1. Low-Int. Lev. is  as a verb has a different position. is about animal behaviour.  2. The scientists learnt that bees save energy because they flew a shorter distance.
Great! Continue choosing other pages on the blog.
Anna
Source: Speak Up March 2017