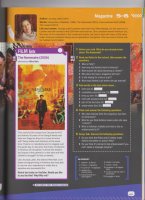 Good morning, afternoon, evening Mirella, Elisa, Federica, Daniele, Sergio, 
I read "Interpreter of Maladies" by Jhumpa Lahiri many years ago, when she was awarded the Pulitzer Prize with  these short stories of hers. A student of mine had to study it for her English university exams. Fascinating stories, with their characters personifying so delicate human feelings.  
People of Indian origin living in the States, multiple identities, more complex and richer. The way you feel when accepting to let the new identity a language represents, to be part of you and be shared with all the others you meet.  
For all these years, every now and then I've had the chance to listen to her while being interviewd on Radio Tre, time by time speaking a better Italian, nowadays with almost no accent  at all. 
What struck me was her deep understanding of what a language can be for a person, how poverty is significant in such a case and that it has to be consciously experienced when struggling to speak a new language, with no enough vocabulary and structures. The sense of inadequacy that shapes you so to make you develop surviving strategies to better perform, in order to be perceived adequately by the others. 
Recently, I've heard her speaking about the feeling of persisting marvel to be experienced when coping with the discovery any single moment of reality, knowledge and people. 
Human feelings to understand and experience at the same time while finding out that a language is you, shows your potential, obiectives to achieve, is your personality and your intelligence, colours your life, nurishes it and allows to be engaged in meaningful relationships with all those people you meet and you already have around you.  
Migrations and migrant people are such an opportunity for everybody to experience new realities, cultures and unexpected feelings. And to understand why they happen going backward in history. 
What is your experience with reading books written by immigrants? 
Do you have any special story to say about immigrants you know? 
What do you know about Jhumpa Lahiri? 
Write down what you can find about her and tell us in class. 
Enjoy your English and all the other languages you can be exposed to. 
Anna - Coordinator
Source: CULT, DEA Scuola 2014, such a stimulating text book