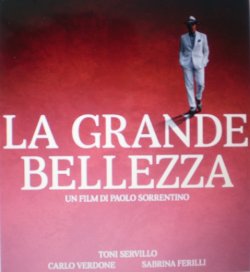 Good day, 
after posting articles about films, Gravity won seven Academy Awards; we would also like to celebrate the Italian one, with The Great Beauty, by Film Director Paolo Sorrentino.  
We haven't watched it  yet, since we would like to do it the way Americans did, with English subtitles.  Below you have the link for the English trailer, on Youtube. It' important listening to the original audio of each film, and compare the two productions simultaneously, an ability you can develop thanks to just watching films and that can be of benefit in any other field.  
http://www.youtube.com/watch?v=fJfvX6zPAuQ 
It would be so great of you writing your own comment about the film, there are so many different impressions!
Enjoy cinema, enjoy English, practice it as much as possible, go to the cinema as often as you can!
Karall: thank you for your articulated comment. We do agree the award has been also for Rome, that plays an extraordinary fascination on American people and whoever all over the world. If you were a student in class, there would be occasions for mastering grammar and sentence constraction. At this very stage, communication works and mistakes do not impoede comprehension.
Rimas: we do adore visual language too, and any others. Thank you for highlighting how important it is to perceive all possible languages a film works on. The more we become aware of our perceptions, the more we can appreciate art.
Eleonora: going to the cinema is fundamental, but in order to appreciate the quality of a film, I would say the inner disposition is important too. It's not the case of the great beauty, that's in Italian, but sometimes if you want to watch a film in its original language, you have to choose for a DVD or otherwise. 

Anna - Coordinator