Good day everybody, 
we tried to find an article at low-intermediate level, a few others are advanced level, they are for a next time. Trust yourselves, and very soon you all will be able to read them.
It's impressive how so many times human life depends on a dog's one. We found this article about guide dogs, "someone" we have to rely on when blind.
Never met people who can't see? Never realized how many times we use expressions like "See you" and how kindly they reply?
Never met people with guide dogs? Never spoken to them?
What a sensitivity and fantasy they have, being capable of living in the dark, continuously developing strategies to cope with the reality they can't see. 
If you have anecdotes or stories, please tell us, we would be so pleased to know them. 
It would also be great to read your stories about your dogs, if you have any. You know, sometimes we talk about animals just to learn how to speak about humans. 
To practice your low-intermediate English, you can reply to these questions related to the article:
1. What is "The Seeing Eye"?
2. When was it founded?
3. Who founded it?
4. What breed of dogs are trained at "The Seeing Eye"?  
5. How many puppies are raised each year?
6. What happens to an eight-week-old puppy?
7. What happens after that?
8. How long does the training last?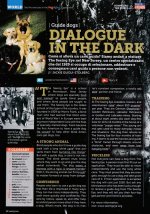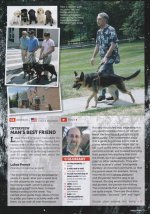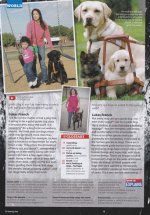 Enjoy your English, very soon one more demanding text for everybody to read and practice on. See you in class.
Anna - Coordinator 
Source: Speak Up, February 2014