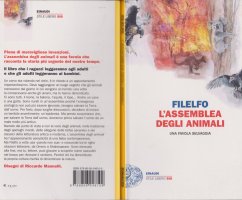 Good morning, afternoon, evening everybody, 
while very busy designing our activities in the open air for students and any other type of public, we would like to invite you to focus on a subject that deserves new and fresh interest. 
The animals. This book is the story of a bond with the environment and the animals, that we betrayed. Our planet needs to have its balance restored.  It seems the human beings are almost of no support at all, but in their assembly, the animals decide to give them a new chance. 
Our laboratories in the open air are such a chance, re-establish a significant bond with our roots, experiencing nature and animals, the background from which we began to perceive, think and develop our human traits. 
There is a page on Facebook, named "Recinti Aperti", open fences, where you can see our very first guests, three cows that enjoy the company of human beings.
It will become a park, where to be trained in English and Italian, immersed in the pure enjoyment of a beautiful environment, stimulated by colors, shapes, sounds, walks, story-telling, music, food, good company by two and four-legged animals including humans. 
See you there, then? 
Anna - Coordinator
L'Assemblea degli Animali, Filelfo, Einaudi 2020