Good morning, afternoon, evening
this is homework for our next class as we agreed: studying the origin of the name Europe and its meaning.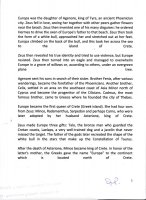 My contribution is offering you some material you can compare with that you can find on the Internet. 
The following questions are for you to reply:
1. What was originally Europe?
2. According to mythology, Europa was the daughter of Agenore, King of Tire. What did she do in the myth? 
3. In which part of the world did this myth originate?
4. What is the role played by Europe's brothers in the myth?
5. How can the Taurus constellation and the myth of Europe be connected?

Up to you to continue, everybody's pleasure reading
Federica: kind of you your appreciation. What a trainer has to do is making perceptions develop.
How would you do that?

How many perceptions do you know exist?
Federica: how interesting your comments! There is so much more to say about perceptions, it will be stimulating comparing our ideas in class.
Other comments are very, very welcome.
Daniele: what a fast connections between past and present! Mythology and economy! It might be an invitation to keep memories of the past even when doing the simplest gestures every day. Have a look at your writing again checking accuracy. We'll see to it in class.

Silvia: there is so much to know about so interesting subjects! Which identity might it be/is it the one of being European? Belonging to what? 
Enjoy your English
Anna - Coordinator
Source: own source worksheets, ITIS Galilei Livorno's students' photograph taken with parents' permission; the cake made by them to celebrate the Feast of Europe and a paperboard with Taurus constellation drawn by them.