Good morning, afternoon, evening,
can you see from the photographs what we are referring to?
We are going to visit the place and the surrounding area with English students on Monday the 8th of June, getting together at 3,00 p.m. with the first group and 4,30 with the second one in Piazza del Municipio, just under the board showing directions for New York, London, Madrid, and quite nearer cities in Tuscany.  
It would be a pleasure meeting you too, in case you like to join us, to practice English and welcome whoever does the same. Please be punctual. 
While we are going to give you the booklet from which we took the last photograph below and information to consult for answering these questions, here they are for you to reply. 
The aim is to develop the skills of written comprehension from the text given, and to reemploy and rephrase it in formally correct structures, both in writing and speaking.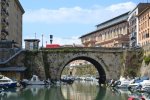 When was Livorno founded? Pg. 3
What are the two fortresses in Livorno called?
Why? When were they built? Pg. 13 and Pg. 17
What is it that connects them? Pg. 3  
What are the Medicean Fossi? Pg. 3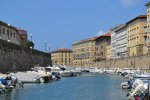 What are in Livorno Capitana, Ampolletta and Canaviglia? Pg. 13
What is actually Piazza della Repubblica? What is it called in Livorno? Pg. 17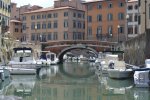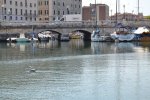 Why is the Venezia Quarter called so? Pg. 15
Have you ever been on a boat trip along the canals in Livorno? 
Would you like to sight-seeing Livorno from the canals? 
Anna - Coordinator
Source: Comune Livorno, Dipartimento Turismo and self - made photographs 
Thank you Natalia, you know then what we mean when we say our city is fascinating. Come and visit it again!
Anna