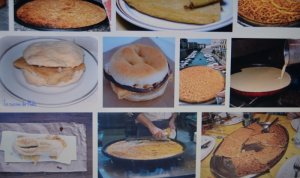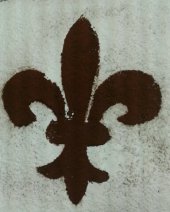 Good morning, afternoon, evening,
we would like to thank Roberta Giaconi's mother  who came to class  with this article about Livorno priding itself on chickpea pie after mentioning the very well known typical food  the previous time in class, and Roberta for allowing such a useful use of her work, for our students.  
Read the article and the worksheet. Then reply to the questions.
We are organizing a tour as a Lesson in the Open Air, ending with chickpea pie, all in English. Proud of that? 
There's more news for you to know, since the journalist Roberta Giaconi is coming to Italy from Australia, where she lives, and will be staying in Italy for a month. 
She accepted the invitation to visit Italian Students at ITIS Galilei in Livorno who are going to interview her about her profession, Australia, her life, her writing, her new book, to be presented this month in Italy. 
Why don't you write here a few questions you would like to ask her? We will publish the answers.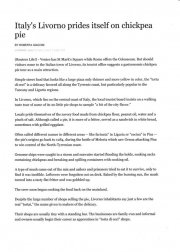 Enjoy your English and chickpea pie, See you in class, Anna - Coordinator   Source: as mentioned + the Internet   
Simona, Silvana and Fabio, Eleonora, thank you for coming to class offering mates your delicacies. The foto of Florence's Lily is the decoration on top of Eleonora's cake, the Schiacciata Fiorentina.
Enjoy Schiacciata Fiorentina and Chickpea Omelette too!