Good morning 'afternoon, 'evening everybody, 
just a few words to update this article today, 1st December 2016, almost two years after publishing it.
A film about Bob has recenbtly been  released, with Bob playing itself. Nice guy!
Write comments about both, the article and the film, we will reply. Anna Coordinator
This is the story of a cat in Great Britain. Whoever loves animal can read it, reply to and ask questions   to anyone else on the blog, through a comment. Have you read any other books about famous cats?
For example Dewey, or Cleo? Do you know any others? 
While you read this article at Pre-Intermediate level, can you search for the other cats'stories?
Are they similar to this one?
If so, w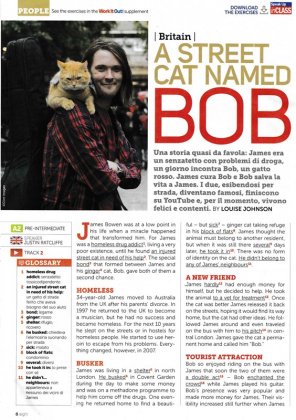 hat do they have in common?
Which one do you prefer to tell us about on the blog? 
So many times children are very fond of cats; one in a group writing poems on different subjects, wrote this little one for his she cat: 
My she cat with her white snout
purrs to me when I'm too out
and at night when I'm back home
she's so happy and I'm not alone 
Author Kevin

Anna - Coordinator
Source: Speak Up January 2014 and Pupils's records
Cristina: creative student, everyone can enjoy your story!