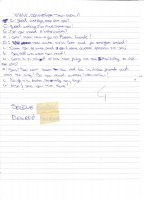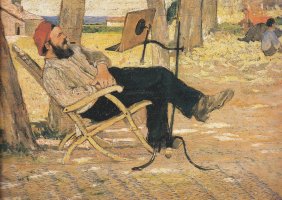 Good morning, afternoon, evening everybody,
on Day 3, students in groups wrote their comments about the previous experience and simulated, in writing and speaking, dialogues with tourists. First aim was communication, then formal correctness. 
The reply is group by group.
Group 1. Thank you Tommaso, Desiré, Sara, Giulia, Rubith. Questions and material aimed at the objectives of these labs are on page 1 of "IIS Vespucci Open Air Labs". If you are eager to accelerate your training before meeting English speaking people, tell the class your own ideas. It will help. You can do it here too, contributing to everybody's training.
Edoardo and Tommaso, the two coordinators. Divide your mates in small groups and encourage them to be productive and keep a record of what they do, so to came to class with their own productions. 
Examples: using the material you've been given in class, i.e. a map of Livorno with information for tourists and a guide, design new itineraries to accompany your mates outside,  role-playing tourists and guides; draw a new logo for the project's visit cards. We'll need them when meeting people. If you like the previous itineraries you can find on page 1, locate them on the map and come to class ready to talk about them.
Replying to group 1's observations, a general questionnaire is aimed at stimulating the development of perceptions and framing the new context of a class for a new teacher. An opportunity to experience how many different approaches, perceptions, levels, skills, needs there are for any individual, so to be able to give each one the possibility to feel at ease, partecipate and improve.
Group 2. Thank you Leonardo, Rachele, Edoardo, Martina.   Very simple dialogue, you'll become more and more curious about cruise passengers time by time, the same is or group one.
Group 3. Thank you Vanessa, Lorenzo, Gianni, Melissa, Matilde. You too performed a nice and simple dialogue. Start thinking how to enrich it with information from the material you have, putting yourselves "in the cruise passengers' shoes".
Group 4. Thank you Selene and Desiré. Good dialogue, You too think of the "big picture" when meeting people from  so many different countries.
When cruise passengers disembark in Livorno and stay for a day in Tuscany, so many of them want to visit cities of art such as Florence, Pisa, Lucca. Tours are included in the cruise fare, but so many of those who get off the shuttles in Piazza del Municipio need information on how to catch a train to go and visit them. Others stay in Livorno and would like to know what's worth visiting. Have a look at the itinerarties your mates designed last year on page 1 and in case create new ones.
Be interested in passengers' places of origin! States, Australia, North Europe, New Zealand, South America, India, Japan, China, English speaking people come to Livorno from all over the world via the Mediterranean  and they are very pleased to interact with students eager to know about them!
The worksheet at the left top of the page has suggestions for asking questions to cruise passengers. Change the questions as you wish and give answers as cruise passengers. Tailor it on yourselves!
So much to know, such a human and cultural experience just welcoming them in the open air!
Keep an eye on the blog, post your comments, visit the pages about the previous labs e.g. the one mentioned above. Answers will be posted. 
Enjoy your English and feel at home wherever it's spoken
Anna - Coordinator
Source: Giovanni fattori "Diego Martelli a Castiglioncello" from "I Macchiaioli" Opere e protagonisti di una rivoluzione artistica 1861/1869 - Pagliai Polistampa 2002