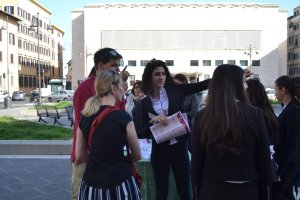 Good morning, afternoon, evening
Rubith, Selene, Desirée, Lizeth, Leonardo, Edoardo, Martina, Nicole, Vanessa, Lorenzo, Giulia, Tommaso, Desiré, Matilde, Melissa, Gianni, Rachele, Sara
and everybody,

on day 2, the same pairs exchanged paper boards and read aloud the answers. Inaccuracies and mistakes were occasions to improve the text with everybody's contribution. Focus was on communication and formal correctness.
1. All students are now asked to write a very brief comment about the experience and all the answers, so to practice once more written English. 
2. Two class-coordinators were appointed, Edoardo and Tommaso, to help having smooth the work of the class. Aims: to welcome cruise passengers, represent the city and the entire country, give them the information required, offer them a choice of itineraries to visit Livorno.  
 Whoever wants to post a comment is very, very welcome, either to practice the language or to let us know what they think.
Anna - Coordinator