Good morning, afternoon, evening, 
quite often we can face the subject of talented teenagers in our text books, finding out later that they have become professionals, artists, capable of designing their own extraordinary lives.
Malala is not only a name to bear in mind, but also a pattern to follow.
She didn't mean to show any special talent, she was just doing what she believed in.
Malala started a blog to promote girls'education when she was only thirteen, choosing the side of life she wanted to stay on.
She chose education to change everyone's destiny, to open that view on the entire world that takes into account everyone's interest. 
1. Is it just a matter of choices waiting to be done? 2. Or decisions to take? 
3. Is there any important choice  we can do of a similar importance? 4. When? 
5. What role do you think education can play in a child's life? 
6. What do you think of such a girl? 
Listen to her speaking English on the Internet, when she delivered a speech at the United Nations on the day of her sixteenth birthday, on July 12th, 2013, after recovering in Great Britain for being so severely injured in Pakistan by the Taliban. 
She talks about the importance of education, the only way for us as human beings to live as equals, both women and men.
"Let's join her, let's all do our part to help unlock the extraordinary talents and potential of all our children."  
There might be so many other talented children among us like Malala or different from her, all of them capable of contributing to a better world for everybody.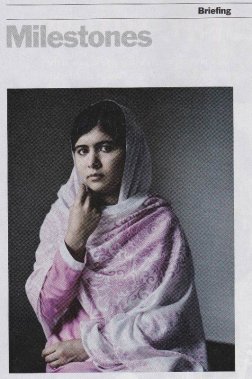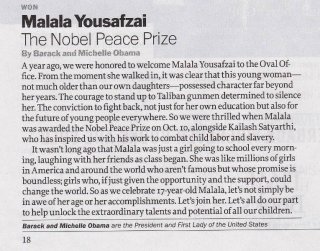 Anna - Coordinator 
Source: Time, October 27 2014