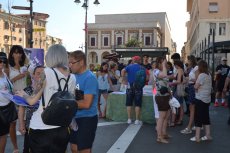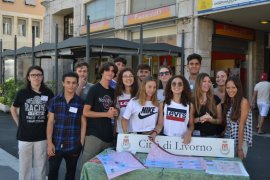 Good morning, afternoon, evening,
we asked the students what they thought of the experience of welcoming Mediterranean cruise passengers in Livorno to practice their English.
In addition to say that the approach at school is too theorethical, they spoke about feeling free in the open air, practicing English without thinking of any marks but instead being encouraged by the context and the "coach".
The classroom is less stimulating because all of them are Italian, they said, they feel themselves judged by the teacher and classmates. Performing is just for a mark. Such a natural approach to the language makes it much more interesting..   
Sara: beautiful and very interactive experience. I didn't expect this course to be so funnny and engaging. Thanks to it we had experiences that do not happen every day.

Tommaso: useful experience because even if you believe you can't do anything, you unlock yourself and understand English by means of meeting people from all over the world; 
Matteo:  these laboratories unlocked me with the language. It's not true that I didn't know anything, I've seen I can speak. The environment is so different from the school's one. We are encouraged to speak English. If I had to recommend it to someone, I would;
Cristian: more than improving your English these labs make you want to talk. In the preparatory classrooms too this approach unlocks you and can be a method to encourage to study instead of the traditional lessons;
Maikol: a nice experience to speak English better. I enjoyed meeting new classmates. It was a pleasure meeting new ones and with them giving a new face to Livorno. 
Virginia: useful experience because I devoted myself to speak English while in my daily routine I don't;
Carolina: experience that has helped me a lot because it makes you face people from other countries and speak English. If you think you do not really know a way to make yourself understood you find it. I made myself understood while I'm not so good at speaking English;
Giada: positive experience never made before. New because I had already done a Cambridge English course but with no real contact with people. There is no enough practice in the classroom. It's necessary a real contact to understand what your level is, to compare and improve it if you want to talk to people;

Jasmine: useful experience because it has opened me to talk to people who speak English. My English has improved as well, while before I couldn't even speak. 
As teachers, or better those adults who accompany students to experience English, we thank and invite them to upload their final work, so to say directly what they think of the whole experience.

Enjoy your English

Anna - Coordinator

Source: own photos taken with all students' parents'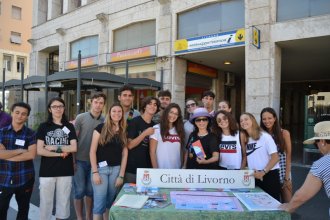 permission. many thanks to the Chinese cruise passenger from Holland and all the others who helped and wanted to be pictured with the students.