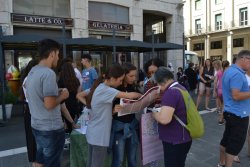 a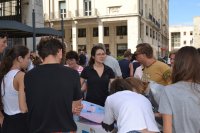 a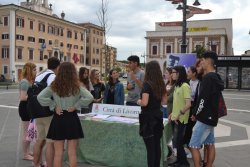 Good morning, afternoon, evening,
a few sunny hours were enough this mornig to allow Elisa, Carolina, Maikol, Mitia, Virginia, Manuel, Giada, Linda, Tommaso and Sara to deal with this new experience for all of them, meeting Mediterranean cruise passengers to share a talk and so practice English welcoming them to Livorno.
Once more an international city, to welcome people and give students the chance to acquire communication tools for their future. 
Good practice; there's no a better one to acquire English as a second Language.
With all students' families permission a few photographs were taken, showing how crowded the square was, shuttle by shuttle, passengers getting off and being offered services in Livorno, being addressed both to the Tourist Information Office and the places they were meant to go.
Acquiring English is a matter of experiencing it, and meeting people offers that unvaluable chance to know better the self due to the way time by time you cope with the experience itself.
At the beginning of the morning everything seemed difficult, then it wasn't any more, because you students are better then you think you are, but unless you try and "behave" English,  you can't have any proofs of that. 
Next time it will be the opportunity to get great advantage of this fruitful morning.
See you then while, in the meantime, I am waiting for your comments here. I will reply.
How did you cope with this experience? Did you like it? Why?
Anna - Coordinator
Source: own photos, taken with all parents' authorization