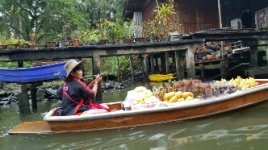 Good morning, afternoon, evening
Elena, Gianna, Daniele, Loretto, Simone and whoever's reading ,
after Norway, this is one more trip of one of our students, Simone, to Thailand.
These are just a few of the photos he's sending us, to show the beautiful places he's visiting.
All of you who are reading, wherever you are, can say
1. what your experience with Thailand is
2. what you know about this country
Upload your comment, we'll reply
Anna - Coordinator
Thank you Daniele for your comment. Next time with classmates we'll talk about it. See if there's anything you can change after our last class.
How mny and which other countries have you visited in addition to Norway?
Sara, you're quite good at making readers perceive tha beauty of places.you describe. Remember to chack go + to, plurals, pepositions. Take your time to talk about places too, catch the opportunity to have a class that wants to listen to you!