Warning
: preg_replace(): The /e modifier is no longer supported, use preg_replace_callback instead in
/web/htdocs/www.connecting-the-dots.it/home/libraries/joomla/filter/input.php
on line
689
Warning
: preg_replace(): The /e modifier is no longer supported, use preg_replace_callback instead in
/web/htdocs/www.connecting-the-dots.it/home/libraries/joomla/filter/input.php
on line
691
Warning
: preg_replace(): The /e modifier is no longer supported, use preg_replace_callback instead in
/web/htdocs/www.connecting-the-dots.it/home/libraries/joomla/filter/input.php
on line
689
Warning
: preg_replace(): The /e modifier is no longer supported, use preg_replace_callback instead in
/web/htdocs/www.connecting-the-dots.it/home/libraries/joomla/filter/input.php
on line
691
Warning
: preg_replace(): The /e modifier is no longer supported, use preg_replace_callback instead in
/web/htdocs/www.connecting-the-dots.it/home/libraries/joomla/filter/input.php
on line
689
Warning
: preg_replace(): The /e modifier is no longer supported, use preg_replace_callback instead in
/web/htdocs/www.connecting-the-dots.it/home/libraries/joomla/filter/input.php
on line
691
Warning
: preg_replace(): The /e modifier is no longer supported, use preg_replace_callback instead in
/web/htdocs/www.connecting-the-dots.it/home/libraries/joomla/filter/input.php
on line
689
Warning
: preg_replace(): The /e modifier is no longer supported, use preg_replace_callback instead in
/web/htdocs/www.connecting-the-dots.it/home/libraries/joomla/filter/input.php
on line
691
Warning
: preg_replace(): The /e modifier is no longer supported, use preg_replace_callback instead in
/web/htdocs/www.connecting-the-dots.it/home/libraries/joomla/filter/input.php
on line
689
Warning
: preg_replace(): The /e modifier is no longer supported, use preg_replace_callback instead in
/web/htdocs/www.connecting-the-dots.it/home/libraries/joomla/filter/input.php
on line
691
Warning
: preg_replace(): The /e modifier is no longer supported, use preg_replace_callback instead in
/web/htdocs/www.connecting-the-dots.it/home/libraries/joomla/filter/input.php
on line
689
Warning
: preg_replace(): The /e modifier is no longer supported, use preg_replace_callback instead in
/web/htdocs/www.connecting-the-dots.it/home/libraries/joomla/filter/input.php
on line
691
Warning
: preg_replace(): The /e modifier is no longer supported, use preg_replace_callback instead in
/web/htdocs/www.connecting-the-dots.it/home/libraries/joomla/filter/input.php
on line
689
Warning
: preg_replace(): The /e modifier is no longer supported, use preg_replace_callback instead in
/web/htdocs/www.connecting-the-dots.it/home/libraries/joomla/filter/input.php
on line
691
Warning
: preg_replace(): The /e modifier is no longer supported, use preg_replace_callback instead in
/web/htdocs/www.connecting-the-dots.it/home/libraries/joomla/filter/input.php
on line
689
Warning
: preg_replace(): The /e modifier is no longer supported, use preg_replace_callback instead in
/web/htdocs/www.connecting-the-dots.it/home/libraries/joomla/filter/input.php
on line
691
Warning
: preg_replace(): The /e modifier is no longer supported, use preg_replace_callback instead in
/web/htdocs/www.connecting-the-dots.it/home/libraries/joomla/filter/input.php
on line
689
Warning
: preg_replace(): The /e modifier is no longer supported, use preg_replace_callback instead in
/web/htdocs/www.connecting-the-dots.it/home/libraries/joomla/filter/input.php
on line
691
Warning
: preg_replace(): The /e modifier is no longer supported, use preg_replace_callback instead in
/web/htdocs/www.connecting-the-dots.it/home/libraries/joomla/filter/input.php
on line
689
Warning
: preg_replace(): The /e modifier is no longer supported, use preg_replace_callback instead in
/web/htdocs/www.connecting-the-dots.it/home/libraries/joomla/filter/input.php
on line
691
Warning
: preg_replace(): The /e modifier is no longer supported, use preg_replace_callback instead in
/web/htdocs/www.connecting-the-dots.it/home/libraries/joomla/filter/input.php
on line
689
Warning
: preg_replace(): The /e modifier is no longer supported, use preg_replace_callback instead in
/web/htdocs/www.connecting-the-dots.it/home/libraries/joomla/filter/input.php
on line
691
Warning
: preg_replace(): The /e modifier is no longer supported, use preg_replace_callback instead in
/web/htdocs/www.connecting-the-dots.it/home/libraries/joomla/filter/input.php
on line
689
Warning
: preg_replace(): The /e modifier is no longer supported, use preg_replace_callback instead in
/web/htdocs/www.connecting-the-dots.it/home/libraries/joomla/filter/input.php
on line
691
Warning
: preg_replace(): The /e modifier is no longer supported, use preg_replace_callback instead in
/web/htdocs/www.connecting-the-dots.it/home/libraries/joomla/filter/input.php
on line
689
Warning
: preg_replace(): The /e modifier is no longer supported, use preg_replace_callback instead in
/web/htdocs/www.connecting-the-dots.it/home/libraries/joomla/filter/input.php
on line
691
Warning
: preg_replace(): The /e modifier is no longer supported, use preg_replace_callback instead in
/web/htdocs/www.connecting-the-dots.it/home/libraries/joomla/filter/input.php
on line
689
Warning
: preg_replace(): The /e modifier is no longer supported, use preg_replace_callback instead in
/web/htdocs/www.connecting-the-dots.it/home/libraries/joomla/filter/input.php
on line
691
Warning
: preg_replace(): The /e modifier is no longer supported, use preg_replace_callback instead in
/web/htdocs/www.connecting-the-dots.it/home/libraries/joomla/filter/input.php
on line
689
Warning
: preg_replace(): The /e modifier is no longer supported, use preg_replace_callback instead in
/web/htdocs/www.connecting-the-dots.it/home/libraries/joomla/filter/input.php
on line
691
Warning
: preg_replace(): The /e modifier is no longer supported, use preg_replace_callback instead in
/web/htdocs/www.connecting-the-dots.it/home/libraries/joomla/filter/input.php
on line
689
Warning
: preg_replace(): The /e modifier is no longer supported, use preg_replace_callback instead in
/web/htdocs/www.connecting-the-dots.it/home/libraries/joomla/filter/input.php
on line
691
Warning
: preg_replace(): The /e modifier is no longer supported, use preg_replace_callback instead in
/web/htdocs/www.connecting-the-dots.it/home/libraries/joomla/filter/input.php
on line
689
Warning
: preg_replace(): The /e modifier is no longer supported, use preg_replace_callback instead in
/web/htdocs/www.connecting-the-dots.it/home/libraries/joomla/filter/input.php
on line
691
Warning
: preg_replace(): The /e modifier is no longer supported, use preg_replace_callback instead in
/web/htdocs/www.connecting-the-dots.it/home/libraries/joomla/filter/input.php
on line
689
Warning
: preg_replace(): The /e modifier is no longer supported, use preg_replace_callback instead in
/web/htdocs/www.connecting-the-dots.it/home/libraries/joomla/filter/input.php
on line
691
Warning
: preg_replace(): The /e modifier is no longer supported, use preg_replace_callback instead in
/web/htdocs/www.connecting-the-dots.it/home/libraries/joomla/filter/input.php
on line
689
Warning
: preg_replace(): The /e modifier is no longer supported, use preg_replace_callback instead in
/web/htdocs/www.connecting-the-dots.it/home/libraries/joomla/filter/input.php
on line
691
Warning
: preg_replace(): The /e modifier is no longer supported, use preg_replace_callback instead in
/web/htdocs/www.connecting-the-dots.it/home/libraries/joomla/filter/input.php
on line
689
Warning
: preg_replace(): The /e modifier is no longer supported, use preg_replace_callback instead in
/web/htdocs/www.connecting-the-dots.it/home/libraries/joomla/filter/input.php
on line
691
Warning
: preg_replace(): The /e modifier is no longer supported, use preg_replace_callback instead in
/web/htdocs/www.connecting-the-dots.it/home/libraries/joomla/filter/input.php
on line
689
Warning
: preg_replace(): The /e modifier is no longer supported, use preg_replace_callback instead in
/web/htdocs/www.connecting-the-dots.it/home/libraries/joomla/filter/input.php
on line
691
Warning
: preg_replace(): The /e modifier is no longer supported, use preg_replace_callback instead in
/web/htdocs/www.connecting-the-dots.it/home/libraries/joomla/filter/input.php
on line
689
Warning
: preg_replace(): The /e modifier is no longer supported, use preg_replace_callback instead in
/web/htdocs/www.connecting-the-dots.it/home/libraries/joomla/filter/input.php
on line
691
Warning
: preg_replace(): The /e modifier is no longer supported, use preg_replace_callback instead in
/web/htdocs/www.connecting-the-dots.it/home/libraries/joomla/filter/input.php
on line
689
Warning
: preg_replace(): The /e modifier is no longer supported, use preg_replace_callback instead in
/web/htdocs/www.connecting-the-dots.it/home/libraries/joomla/filter/input.php
on line
691
Warning
: preg_replace(): The /e modifier is no longer supported, use preg_replace_callback instead in
/web/htdocs/www.connecting-the-dots.it/home/libraries/joomla/filter/input.php
on line
689
Warning
: preg_replace(): The /e modifier is no longer supported, use preg_replace_callback instead in
/web/htdocs/www.connecting-the-dots.it/home/libraries/joomla/filter/input.php
on line
691
Warning
: preg_replace(): The /e modifier is no longer supported, use preg_replace_callback instead in
/web/htdocs/www.connecting-the-dots.it/home/libraries/joomla/filter/input.php
on line
689
Warning
: preg_replace(): The /e modifier is no longer supported, use preg_replace_callback instead in
/web/htdocs/www.connecting-the-dots.it/home/libraries/joomla/filter/input.php
on line
691
Warning
: preg_replace(): The /e modifier is no longer supported, use preg_replace_callback instead in
/web/htdocs/www.connecting-the-dots.it/home/libraries/joomla/filter/input.php
on line
689
Warning
: preg_replace(): The /e modifier is no longer supported, use preg_replace_callback instead in
/web/htdocs/www.connecting-the-dots.it/home/libraries/joomla/filter/input.php
on line
691
Warning
: preg_replace(): The /e modifier is no longer supported, use preg_replace_callback instead in
/web/htdocs/www.connecting-the-dots.it/home/libraries/joomla/filter/input.php
on line
689
Warning
: preg_replace(): The /e modifier is no longer supported, use preg_replace_callback instead in
/web/htdocs/www.connecting-the-dots.it/home/libraries/joomla/filter/input.php
on line
691
Warning
: preg_replace(): The /e modifier is no longer supported, use preg_replace_callback instead in
/web/htdocs/www.connecting-the-dots.it/home/libraries/joomla/filter/input.php
on line
689
Warning
: preg_replace(): The /e modifier is no longer supported, use preg_replace_callback instead in
/web/htdocs/www.connecting-the-dots.it/home/libraries/joomla/filter/input.php
on line
691
Warning
: preg_replace(): The /e modifier is no longer supported, use preg_replace_callback instead in
/web/htdocs/www.connecting-the-dots.it/home/libraries/joomla/filter/input.php
on line
689
Warning
: preg_replace(): The /e modifier is no longer supported, use preg_replace_callback instead in
/web/htdocs/www.connecting-the-dots.it/home/libraries/joomla/filter/input.php
on line
691
Warning
: preg_replace(): The /e modifier is no longer supported, use preg_replace_callback instead in
/web/htdocs/www.connecting-the-dots.it/home/libraries/joomla/filter/input.php
on line
689
Warning
: preg_replace(): The /e modifier is no longer supported, use preg_replace_callback instead in
/web/htdocs/www.connecting-the-dots.it/home/libraries/joomla/filter/input.php
on line
691
Warning
: preg_replace(): The /e modifier is no longer supported, use preg_replace_callback instead in
/web/htdocs/www.connecting-the-dots.it/home/libraries/joomla/filter/input.php
on line
689
Warning
: preg_replace(): The /e modifier is no longer supported, use preg_replace_callback instead in
/web/htdocs/www.connecting-the-dots.it/home/libraries/joomla/filter/input.php
on line
691
Warning
: preg_replace(): The /e modifier is no longer supported, use preg_replace_callback instead in
/web/htdocs/www.connecting-the-dots.it/home/libraries/joomla/filter/input.php
on line
689
Warning
: preg_replace(): The /e modifier is no longer supported, use preg_replace_callback instead in
/web/htdocs/www.connecting-the-dots.it/home/libraries/joomla/filter/input.php
on line
691
Warning
: preg_replace(): The /e modifier is no longer supported, use preg_replace_callback instead in
/web/htdocs/www.connecting-the-dots.it/home/libraries/joomla/filter/input.php
on line
689
Warning
: preg_replace(): The /e modifier is no longer supported, use preg_replace_callback instead in
/web/htdocs/www.connecting-the-dots.it/home/libraries/joomla/filter/input.php
on line
691
Warning
: preg_replace(): The /e modifier is no longer supported, use preg_replace_callback instead in
/web/htdocs/www.connecting-the-dots.it/home/libraries/joomla/filter/input.php
on line
689
Warning
: preg_replace(): The /e modifier is no longer supported, use preg_replace_callback instead in
/web/htdocs/www.connecting-the-dots.it/home/libraries/joomla/filter/input.php
on line
691
Warning
: preg_replace(): The /e modifier is no longer supported, use preg_replace_callback instead in
/web/htdocs/www.connecting-the-dots.it/home/libraries/joomla/filter/input.php
on line
689
Warning
: preg_replace(): The /e modifier is no longer supported, use preg_replace_callback instead in
/web/htdocs/www.connecting-the-dots.it/home/libraries/joomla/filter/input.php
on line
691
Warning
: preg_replace(): The /e modifier is no longer supported, use preg_replace_callback instead in
/web/htdocs/www.connecting-the-dots.it/home/libraries/joomla/filter/input.php
on line
689
Warning
: preg_replace(): The /e modifier is no longer supported, use preg_replace_callback instead in
/web/htdocs/www.connecting-the-dots.it/home/libraries/joomla/filter/input.php
on line
691
Warning
: preg_replace(): The /e modifier is no longer supported, use preg_replace_callback instead in
/web/htdocs/www.connecting-the-dots.it/home/libraries/joomla/filter/input.php
on line
689
Warning
: preg_replace(): The /e modifier is no longer supported, use preg_replace_callback instead in
/web/htdocs/www.connecting-the-dots.it/home/libraries/joomla/filter/input.php
on line
691
Warning
: preg_replace(): The /e modifier is no longer supported, use preg_replace_callback instead in
/web/htdocs/www.connecting-the-dots.it/home/libraries/joomla/filter/input.php
on line
689
Warning
: preg_replace(): The /e modifier is no longer supported, use preg_replace_callback instead in
/web/htdocs/www.connecting-the-dots.it/home/libraries/joomla/filter/input.php
on line
691
Warning
: preg_replace(): The /e modifier is no longer supported, use preg_replace_callback instead in
/web/htdocs/www.connecting-the-dots.it/home/libraries/joomla/filter/input.php
on line
689
Warning
: preg_replace(): The /e modifier is no longer supported, use preg_replace_callback instead in
/web/htdocs/www.connecting-the-dots.it/home/libraries/joomla/filter/input.php
on line
691
Warning
: preg_replace(): The /e modifier is no longer supported, use preg_replace_callback instead in
/web/htdocs/www.connecting-the-dots.it/home/libraries/joomla/filter/input.php
on line
689
Warning
: preg_replace(): The /e modifier is no longer supported, use preg_replace_callback instead in
/web/htdocs/www.connecting-the-dots.it/home/libraries/joomla/filter/input.php
on line
691
Warning
: preg_replace(): The /e modifier is no longer supported, use preg_replace_callback instead in
/web/htdocs/www.connecting-the-dots.it/home/libraries/joomla/filter/input.php
on line
689
Warning
: preg_replace(): The /e modifier is no longer supported, use preg_replace_callback instead in
/web/htdocs/www.connecting-the-dots.it/home/libraries/joomla/filter/input.php
on line
691
Warning
: preg_replace(): The /e modifier is no longer supported, use preg_replace_callback instead in
/web/htdocs/www.connecting-the-dots.it/home/libraries/joomla/filter/input.php
on line
689
Warning
: preg_replace(): The /e modifier is no longer supported, use preg_replace_callback instead in
/web/htdocs/www.connecting-the-dots.it/home/libraries/joomla/filter/input.php
on line
691
Warning
: preg_replace(): The /e modifier is no longer supported, use preg_replace_callback instead in
/web/htdocs/www.connecting-the-dots.it/home/libraries/joomla/filter/input.php
on line
689
Warning
: preg_replace(): The /e modifier is no longer supported, use preg_replace_callback instead in
/web/htdocs/www.connecting-the-dots.it/home/libraries/joomla/filter/input.php
on line
691
Warning
: preg_replace(): The /e modifier is no longer supported, use preg_replace_callback instead in
/web/htdocs/www.connecting-the-dots.it/home/libraries/joomla/filter/input.php
on line
689
Warning
: preg_replace(): The /e modifier is no longer supported, use preg_replace_callback instead in
/web/htdocs/www.connecting-the-dots.it/home/libraries/joomla/filter/input.php
on line
691
Warning
: preg_replace(): The /e modifier is no longer supported, use preg_replace_callback instead in
/web/htdocs/www.connecting-the-dots.it/home/libraries/joomla/filter/input.php
on line
689
Warning
: preg_replace(): The /e modifier is no longer supported, use preg_replace_callback instead in
/web/htdocs/www.connecting-the-dots.it/home/libraries/joomla/filter/input.php
on line
691
Warning
: preg_replace(): The /e modifier is no longer supported, use preg_replace_callback instead in
/web/htdocs/www.connecting-the-dots.it/home/libraries/joomla/filter/input.php
on line
689
Warning
: preg_replace(): The /e modifier is no longer supported, use preg_replace_callback instead in
/web/htdocs/www.connecting-the-dots.it/home/libraries/joomla/filter/input.php
on line
691
Warning
: preg_replace(): The /e modifier is no longer supported, use preg_replace_callback instead in
/web/htdocs/www.connecting-the-dots.it/home/libraries/joomla/filter/input.php
on line
689
Warning
: preg_replace(): The /e modifier is no longer supported, use preg_replace_callback instead in
/web/htdocs/www.connecting-the-dots.it/home/libraries/joomla/filter/input.php
on line
691
Warning
: preg_replace(): The /e modifier is no longer supported, use preg_replace_callback instead in
/web/htdocs/www.connecting-the-dots.it/home/libraries/joomla/filter/input.php
on line
689
Warning
: preg_replace(): The /e modifier is no longer supported, use preg_replace_callback instead in
/web/htdocs/www.connecting-the-dots.it/home/libraries/joomla/filter/input.php
on line
691
Warning
: preg_replace(): The /e modifier is no longer supported, use preg_replace_callback instead in
/web/htdocs/www.connecting-the-dots.it/home/libraries/joomla/filter/input.php
on line
689
Warning
: preg_replace(): The /e modifier is no longer supported, use preg_replace_callback instead in
/web/htdocs/www.connecting-the-dots.it/home/libraries/joomla/filter/input.php
on line
691
Warning
: preg_replace(): The /e modifier is no longer supported, use preg_replace_callback instead in
/web/htdocs/www.connecting-the-dots.it/home/libraries/joomla/filter/input.php
on line
689
Warning
: preg_replace(): The /e modifier is no longer supported, use preg_replace_callback instead in
/web/htdocs/www.connecting-the-dots.it/home/libraries/joomla/filter/input.php
on line
691
Warning
: preg_replace(): The /e modifier is no longer supported, use preg_replace_callback instead in
/web/htdocs/www.connecting-the-dots.it/home/libraries/joomla/filter/input.php
on line
689
Warning
: preg_replace(): The /e modifier is no longer supported, use preg_replace_callback instead in
/web/htdocs/www.connecting-the-dots.it/home/libraries/joomla/filter/input.php
on line
691
Warning
: preg_replace(): The /e modifier is no longer supported, use preg_replace_callback instead in
/web/htdocs/www.connecting-the-dots.it/home/libraries/joomla/filter/input.php
on line
689
Warning
: preg_replace(): The /e modifier is no longer supported, use preg_replace_callback instead in
/web/htdocs/www.connecting-the-dots.it/home/libraries/joomla/filter/input.php
on line
691
Warning
: preg_replace(): The /e modifier is no longer supported, use preg_replace_callback instead in
/web/htdocs/www.connecting-the-dots.it/home/libraries/joomla/filter/input.php
on line
689
Warning
: preg_replace(): The /e modifier is no longer supported, use preg_replace_callback instead in
/web/htdocs/www.connecting-the-dots.it/home/libraries/joomla/filter/input.php
on line
691
Warning
: preg_replace(): The /e modifier is no longer supported, use preg_replace_callback instead in
/web/htdocs/www.connecting-the-dots.it/home/libraries/joomla/filter/input.php
on line
689
Warning
: preg_replace(): The /e modifier is no longer supported, use preg_replace_callback instead in
/web/htdocs/www.connecting-the-dots.it/home/libraries/joomla/filter/input.php
on line
691
Warning
: preg_replace(): The /e modifier is no longer supported, use preg_replace_callback instead in
/web/htdocs/www.connecting-the-dots.it/home/libraries/joomla/filter/input.php
on line
689
Warning
: preg_replace(): The /e modifier is no longer supported, use preg_replace_callback instead in
/web/htdocs/www.connecting-the-dots.it/home/libraries/joomla/filter/input.php
on line
691
Warning
: preg_replace(): The /e modifier is no longer supported, use preg_replace_callback instead in
/web/htdocs/www.connecting-the-dots.it/home/libraries/joomla/filter/input.php
on line
689
Warning
: preg_replace(): The /e modifier is no longer supported, use preg_replace_callback instead in
/web/htdocs/www.connecting-the-dots.it/home/libraries/joomla/filter/input.php
on line
691
Warning
: preg_replace(): The /e modifier is no longer supported, use preg_replace_callback instead in
/web/htdocs/www.connecting-the-dots.it/home/libraries/joomla/filter/input.php
on line
689
Warning
: preg_replace(): The /e modifier is no longer supported, use preg_replace_callback instead in
/web/htdocs/www.connecting-the-dots.it/home/libraries/joomla/filter/input.php
on line
691
Warning
: preg_replace(): The /e modifier is no longer supported, use preg_replace_callback instead in
/web/htdocs/www.connecting-the-dots.it/home/libraries/joomla/filter/input.php
on line
689
Warning
: preg_replace(): The /e modifier is no longer supported, use preg_replace_callback instead in
/web/htdocs/www.connecting-the-dots.it/home/libraries/joomla/filter/input.php
on line
691
Warning
: preg_replace(): The /e modifier is no longer supported, use preg_replace_callback instead in
/web/htdocs/www.connecting-the-dots.it/home/libraries/joomla/filter/input.php
on line
689
Warning
: preg_replace(): The /e modifier is no longer supported, use preg_replace_callback instead in
/web/htdocs/www.connecting-the-dots.it/home/libraries/joomla/filter/input.php
on line
691
Warning
: preg_replace(): The /e modifier is no longer supported, use preg_replace_callback instead in
/web/htdocs/www.connecting-the-dots.it/home/libraries/joomla/filter/input.php
on line
689
Warning
: preg_replace(): The /e modifier is no longer supported, use preg_replace_callback instead in
/web/htdocs/www.connecting-the-dots.it/home/libraries/joomla/filter/input.php
on line
691
Warning
: preg_replace(): The /e modifier is no longer supported, use preg_replace_callback instead in
/web/htdocs/www.connecting-the-dots.it/home/libraries/joomla/filter/input.php
on line
689
Warning
: preg_replace(): The /e modifier is no longer supported, use preg_replace_callback instead in
/web/htdocs/www.connecting-the-dots.it/home/libraries/joomla/filter/input.php
on line
691
Warning
: preg_replace(): The /e modifier is no longer supported, use preg_replace_callback instead in
/web/htdocs/www.connecting-the-dots.it/home/libraries/joomla/filter/input.php
on line
689
Warning
: preg_replace(): The /e modifier is no longer supported, use preg_replace_callback instead in
/web/htdocs/www.connecting-the-dots.it/home/libraries/joomla/filter/input.php
on line
691
Warning
: preg_replace(): The /e modifier is no longer supported, use preg_replace_callback instead in
/web/htdocs/www.connecting-the-dots.it/home/libraries/joomla/filter/input.php
on line
689
Warning
: preg_replace(): The /e modifier is no longer supported, use preg_replace_callback instead in
/web/htdocs/www.connecting-the-dots.it/home/libraries/joomla/filter/input.php
on line
691
Warning
: preg_replace(): The /e modifier is no longer supported, use preg_replace_callback instead in
/web/htdocs/www.connecting-the-dots.it/home/libraries/joomla/filter/input.php
on line
689
Warning
: preg_replace(): The /e modifier is no longer supported, use preg_replace_callback instead in
/web/htdocs/www.connecting-the-dots.it/home/libraries/joomla/filter/input.php
on line
691
Warning
: preg_replace(): The /e modifier is no longer supported, use preg_replace_callback instead in
/web/htdocs/www.connecting-the-dots.it/home/libraries/joomla/filter/input.php
on line
689
Warning
: preg_replace(): The /e modifier is no longer supported, use preg_replace_callback instead in
/web/htdocs/www.connecting-the-dots.it/home/libraries/joomla/filter/input.php
on line
691
Warning
: preg_replace(): The /e modifier is no longer supported, use preg_replace_callback instead in
/web/htdocs/www.connecting-the-dots.it/home/libraries/joomla/filter/input.php
on line
689
Warning
: preg_replace(): The /e modifier is no longer supported, use preg_replace_callback instead in
/web/htdocs/www.connecting-the-dots.it/home/libraries/joomla/filter/input.php
on line
691
Warning
: preg_replace(): The /e modifier is no longer supported, use preg_replace_callback instead in
/web/htdocs/www.connecting-the-dots.it/home/libraries/joomla/filter/input.php
on line
689
Warning
: preg_replace(): The /e modifier is no longer supported, use preg_replace_callback instead in
/web/htdocs/www.connecting-the-dots.it/home/libraries/joomla/filter/input.php
on line
691
Warning
: preg_replace(): The /e modifier is no longer supported, use preg_replace_callback instead in
/web/htdocs/www.connecting-the-dots.it/home/libraries/joomla/filter/input.php
on line
689
Warning
: preg_replace(): The /e modifier is no longer supported, use preg_replace_callback instead in
/web/htdocs/www.connecting-the-dots.it/home/libraries/joomla/filter/input.php
on line
691
Warning
: preg_replace(): The /e modifier is no longer supported, use preg_replace_callback instead in
/web/htdocs/www.connecting-the-dots.it/home/libraries/joomla/filter/input.php
on line
689
Warning
: preg_replace(): The /e modifier is no longer supported, use preg_replace_callback instead in
/web/htdocs/www.connecting-the-dots.it/home/libraries/joomla/filter/input.php
on line
691
Warning
: preg_replace(): The /e modifier is no longer supported, use preg_replace_callback instead in
/web/htdocs/www.connecting-the-dots.it/home/libraries/joomla/filter/input.php
on line
689
Warning
: preg_replace(): The /e modifier is no longer supported, use preg_replace_callback instead in
/web/htdocs/www.connecting-the-dots.it/home/libraries/joomla/filter/input.php
on line
691
Warning
: preg_replace(): The /e modifier is no longer supported, use preg_replace_callback instead in
/web/htdocs/www.connecting-the-dots.it/home/libraries/joomla/filter/input.php
on line
689
Warning
: preg_replace(): The /e modifier is no longer supported, use preg_replace_callback instead in
/web/htdocs/www.connecting-the-dots.it/home/libraries/joomla/filter/input.php
on line
691
The Illusionist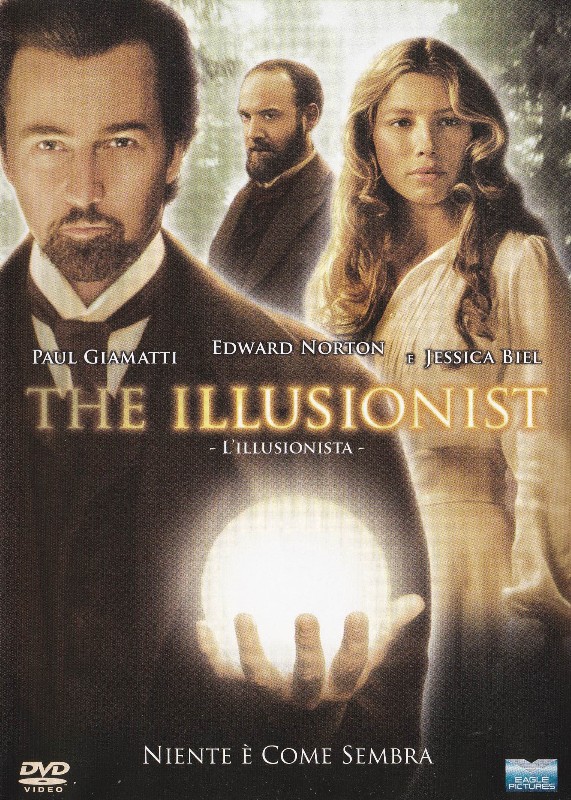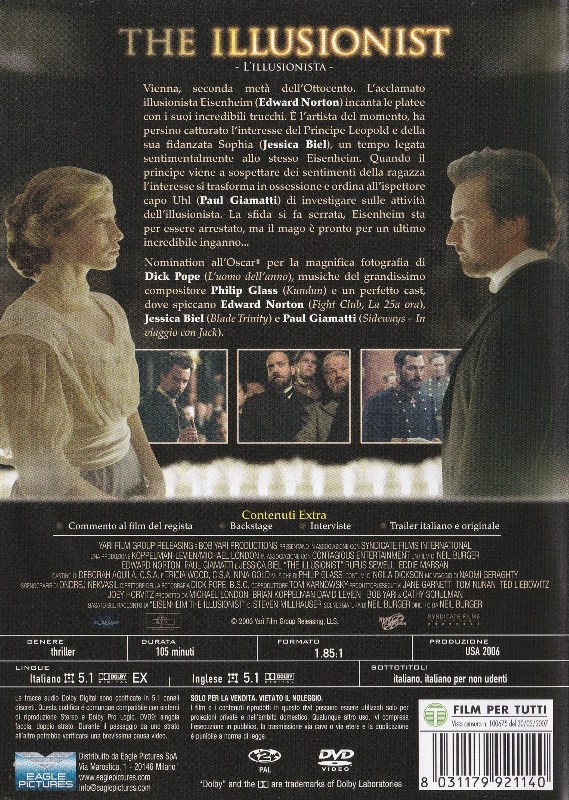 'morning, afternoon, evening to everybody,  
Natalia came to class with The Illusionist, John brought us Finding Nemo, and we watched them. The Illusionist has no English subtitles on this DVD, that's why we watched the film with the Italian ones.
Here you have questions  to answer: do your own research on the Internet to find more accurate information about the film, so to pay great attention to formal correctness when you answer.    
  1. Where does The Illusionist begin?
  2. Why did Eisenheim start to be interested in magic tricks?
  3. Who did Eisenheim fall in love with?
  4. Was she of his same social class?
  5. Were they allowed to see each other?
  6. What happened? 
_________________
  7. When do they meet again?
  8. Who is she engaged with?
  9. Does the Crown Prince Leopold kill her?
10. Where is she found?
11. Who does the Illusionist summon in his next show?
12. Is the end of the film what you expected?
13. Can you summarize it? 
You can also say if you think that watching films is profitable and why, it will be interesting to compare ideas.
Anna - Coordinator
Source: Italian version of The Illusionist DVD 
Livorno prides itself on welcoming you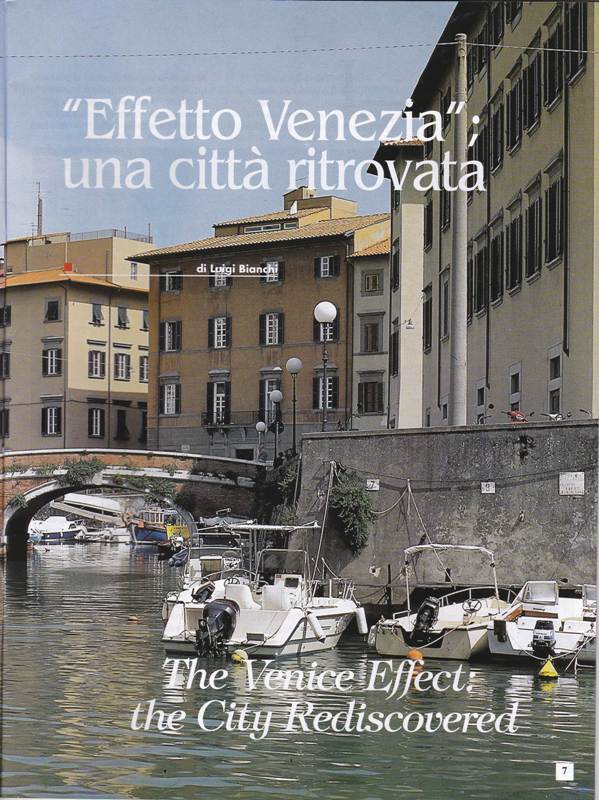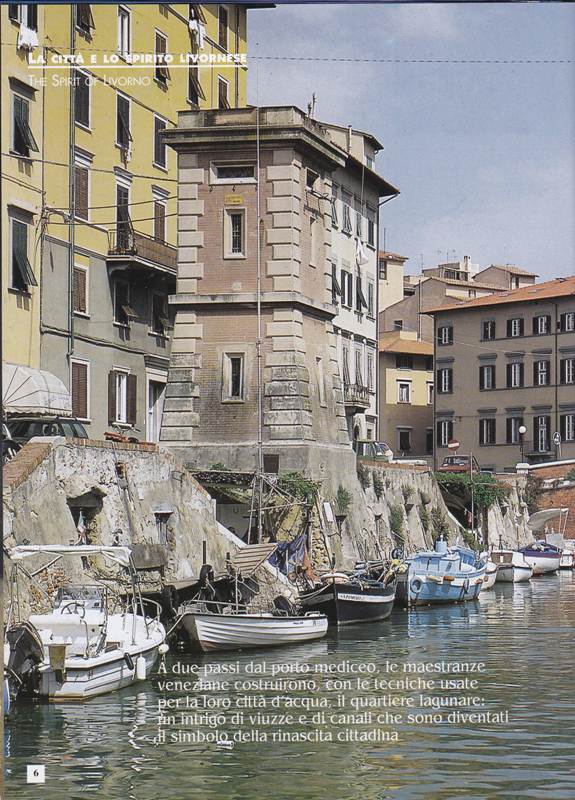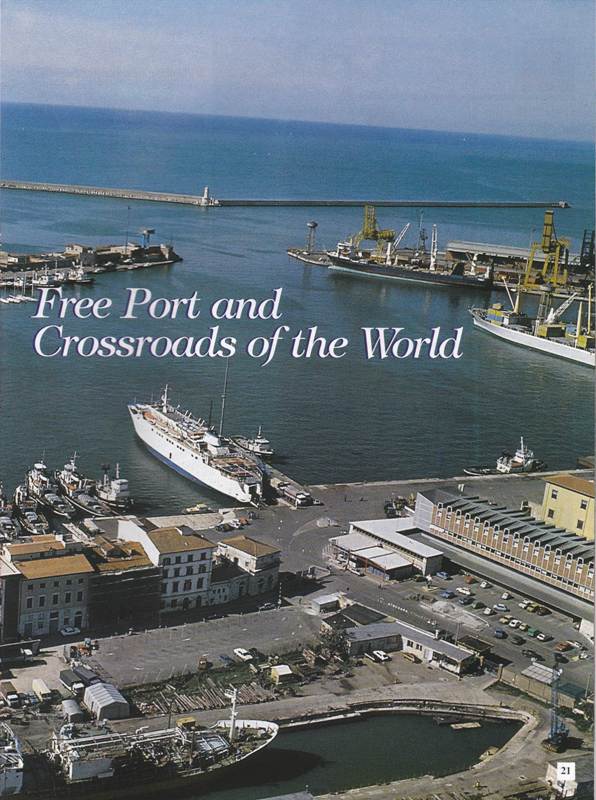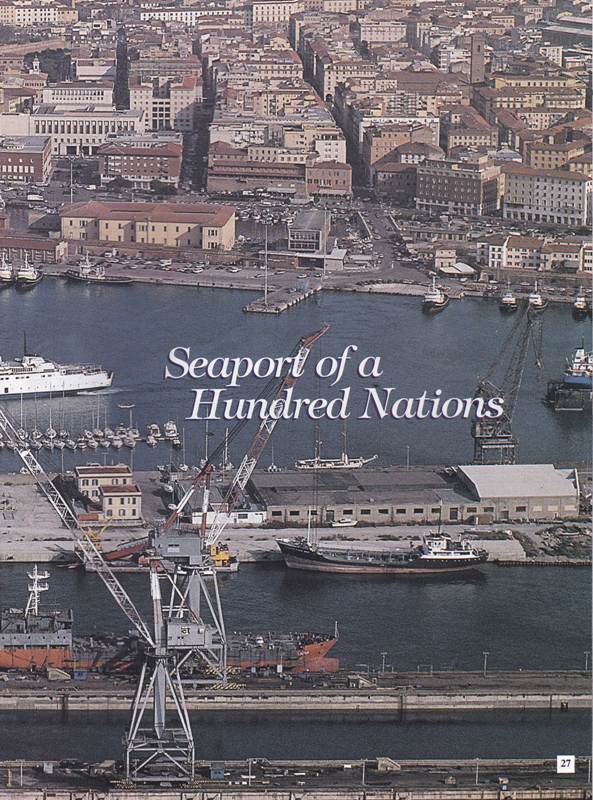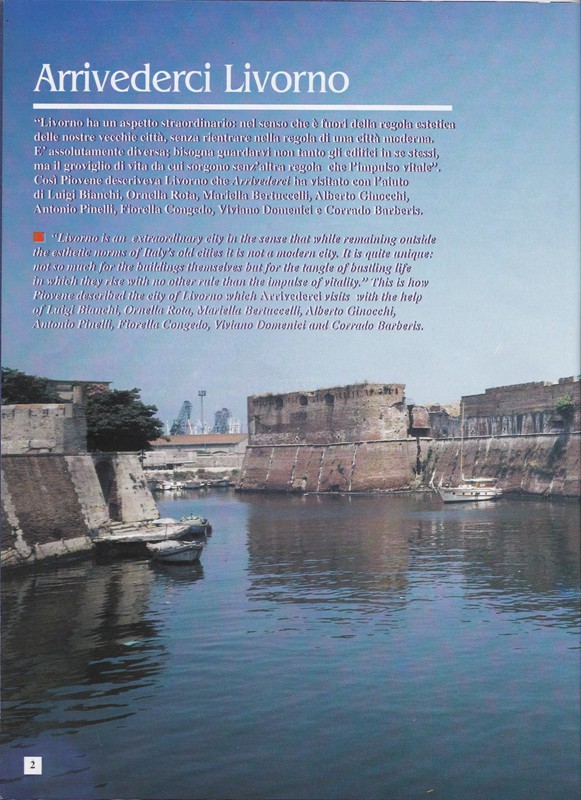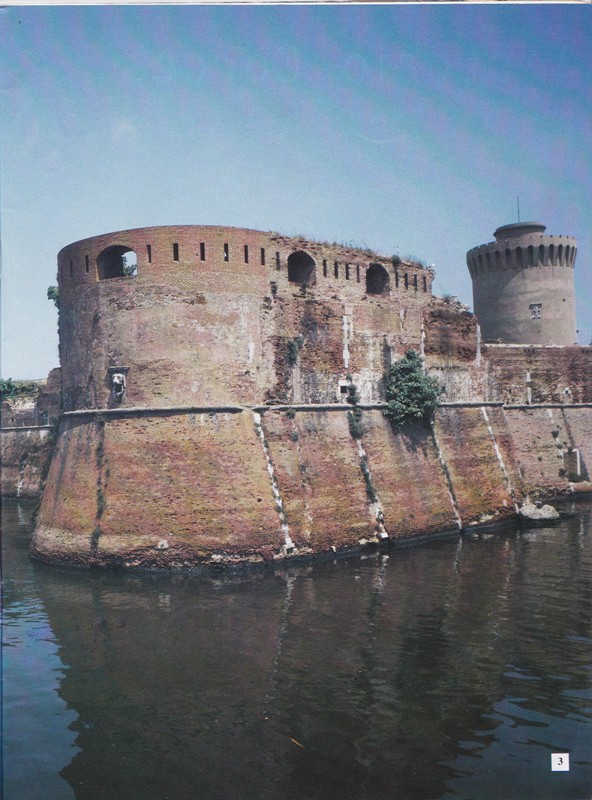 Good morning, afternoon evening,  
with great pleasure next week we are going to meet English speaking cruise passengers, to welcome them to our town.
It will be an occasion for the whole town to practice English, since whoever likes the idea can join us.
In addition to all of you students who are coming to our Open Lessons, I would like to thank all the managers and employees of our Municipality and Province for being so supportive.  
We would like to contribute to a change: becoming bilingual or multilingual means being more open minded, mature and both feeling and offering home to whoever speaks the same language, i.e. communicating. 
See you there
Anna - Coordinator
Source: Alitalia "Arrivederci" 1997 Special Issue about Livorno
Wild Ireland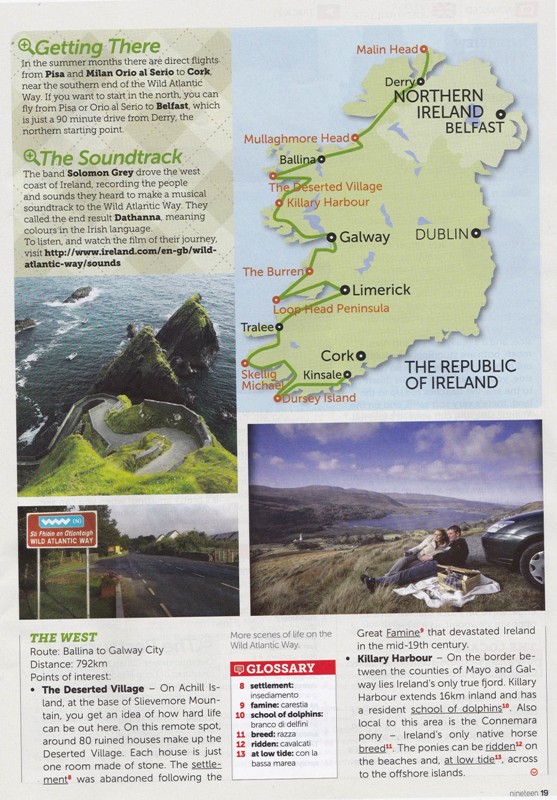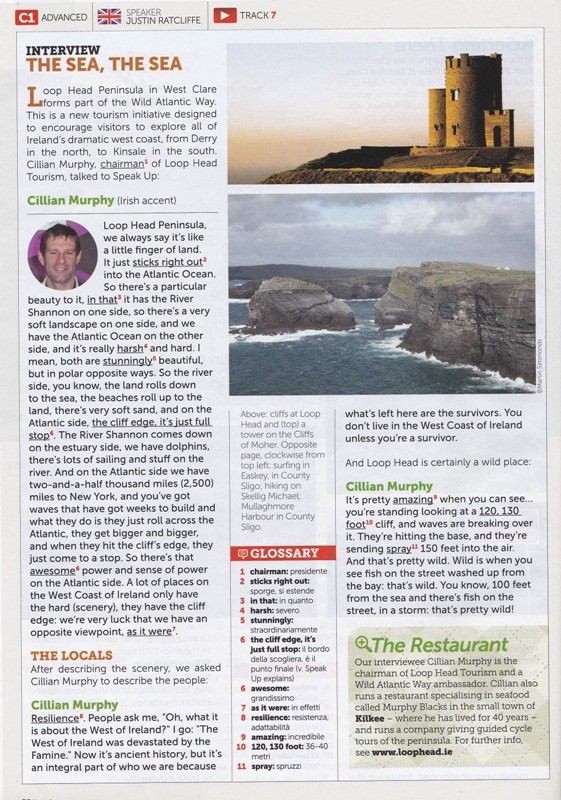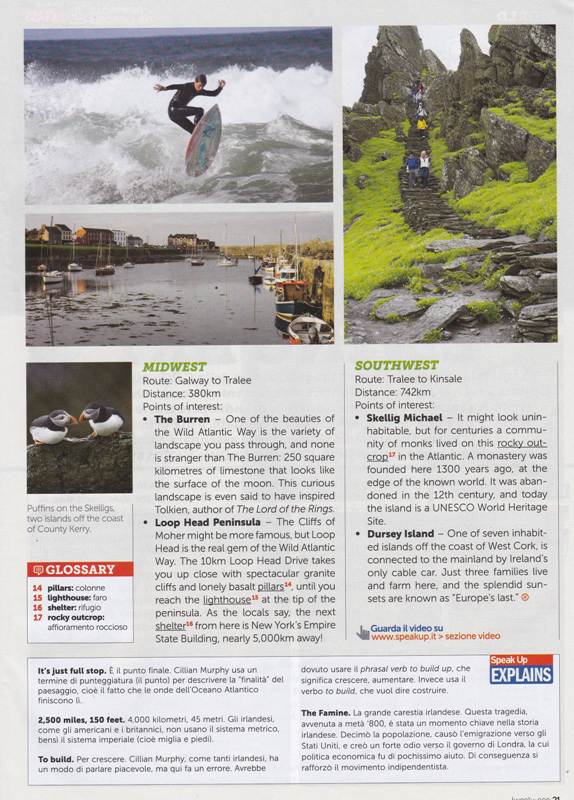 Good morning, afternoon, evening, 
Michele, Paolo, Francesco, Simone, Marco, Alessio, Fabio, Samuele, Matteo, Gabriele, Giovanni, Sara, Leonardo, Gabriele, Giacomo, Pietro, Emanuele, Sara, Dario, Filippo, Lorenzo, Emanuele, Sara, Giulia, Natalia, 
Ireland is definetely a place to visit in Summer, giving you also the opportunity to practice English and experience cordiality. 
Have you ever been there? 
If so, what are your memories of the land? And of the people you met? Where did you go? What did you visit? Cities? Wild lands? How did you go there? Did you take any photographs? What are your favourite ones? Would you mind coming to class with them? 
If you haven't ever been to Ireland, would you like to go there? 
Read the article from Speak Up, July Issue, in class we'll listen to the CD. 
Anna - Coordinator
Summer English - Oxford
Good morning, afternoon, evening, 
we are very busy running our Summer Courses, but very pleased to see how many students want to improve their English understanding how useful it can be for their future. 
Join us and practice enjoying what you do. That's the secret we would like you to get.
Would you like to go and study in Oxford, Giulia, Natalia and Sara?
Writing skill:
What strikes you most in this article?
What is there at the Oxford Union in the library on the walls?
Who painted them? What do they represent?
We will use a few photographs from these pages to train the oral skill.
To find and acquire very useful expressions requested for describing photos in the oral test of the First Certificate Examination, select "A Photo Description" from March 2013 in the Archive. We'll practice in class. 
See you there, Anna - Coordinator  
Source: Speak Up, June 2014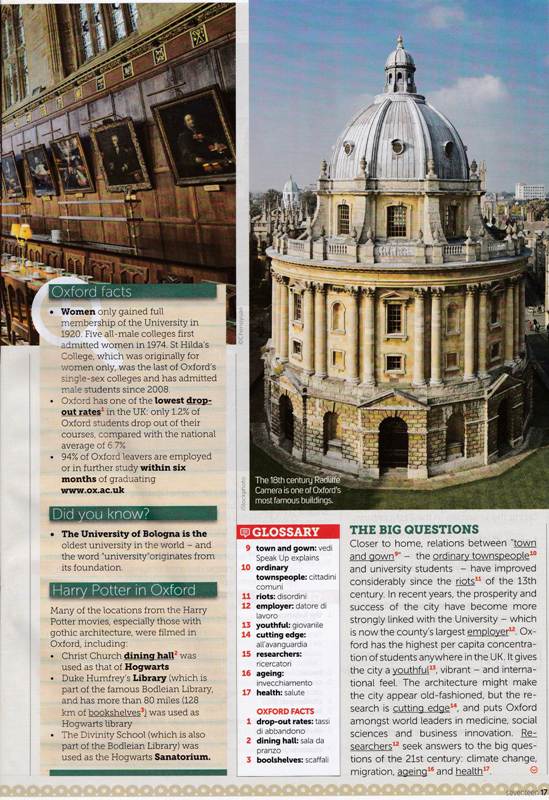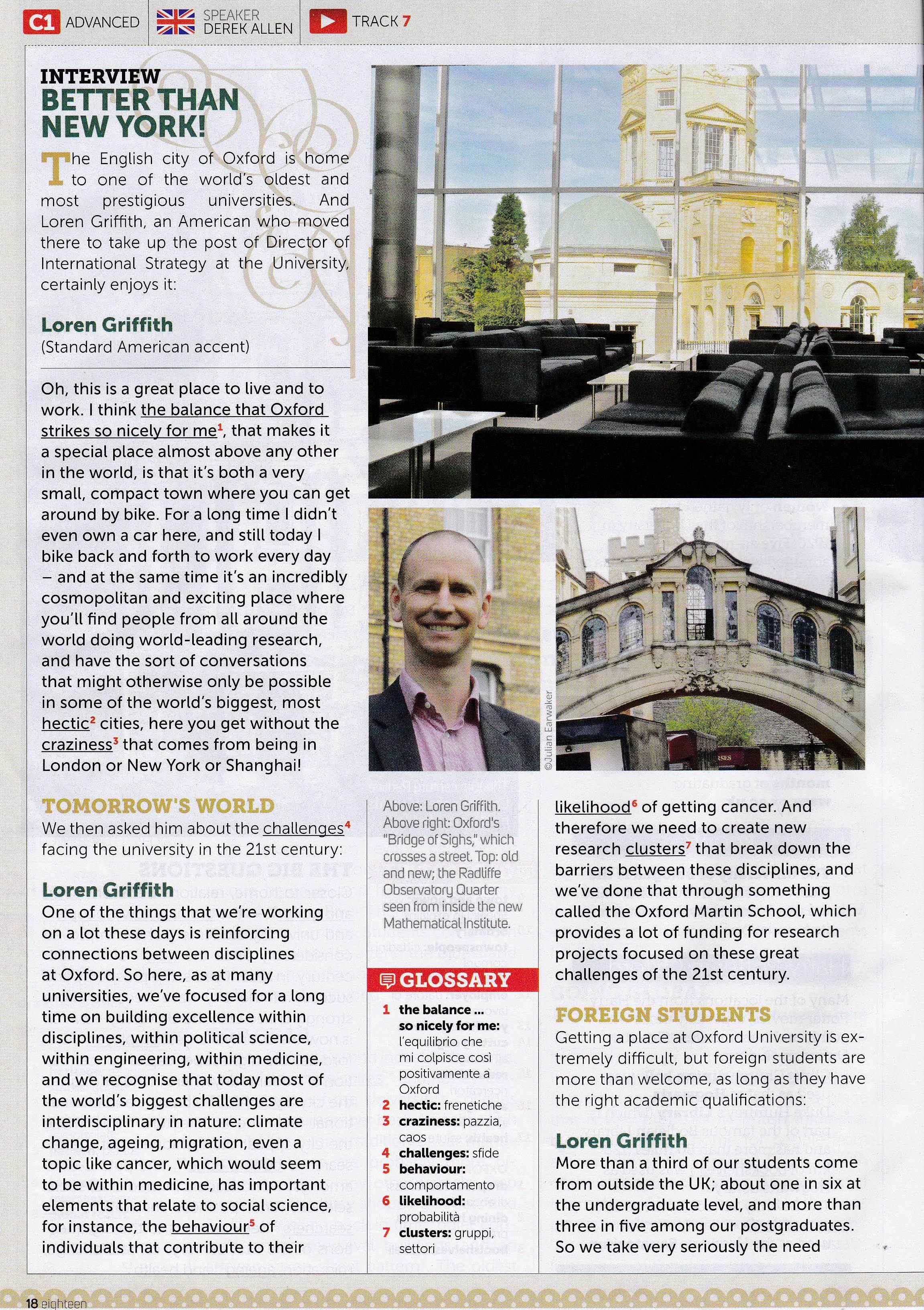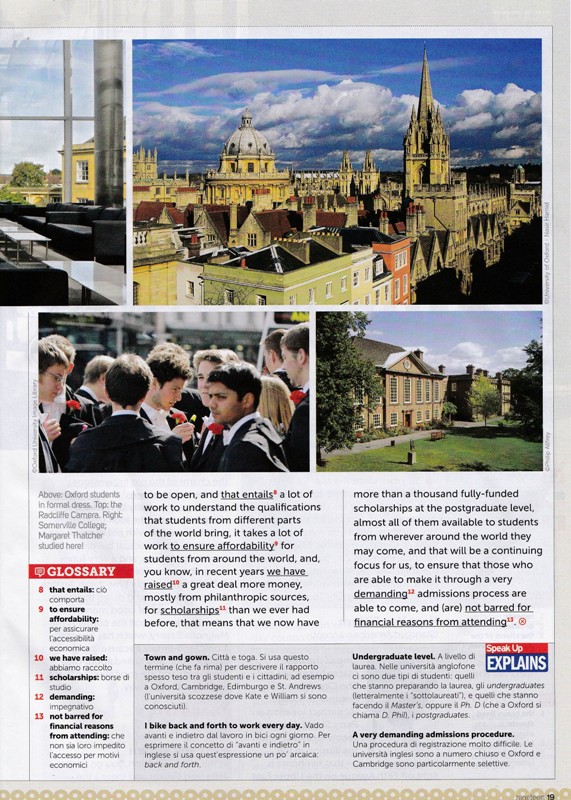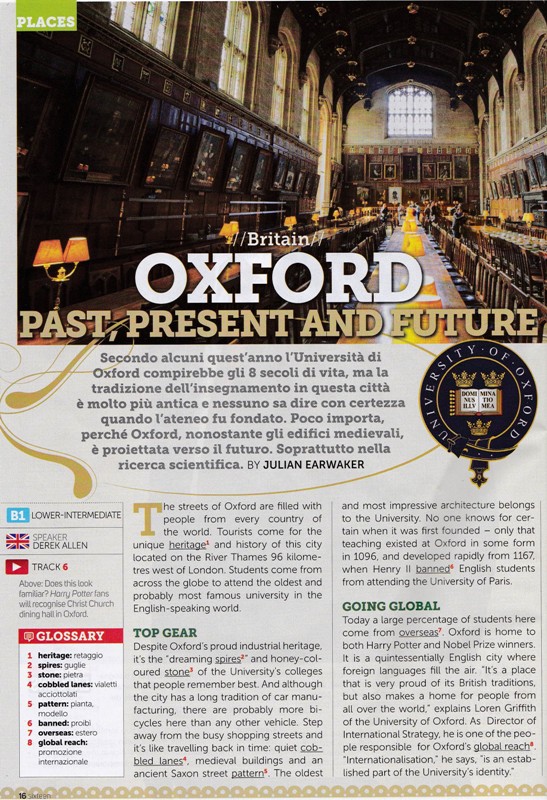 Our Galileo and Science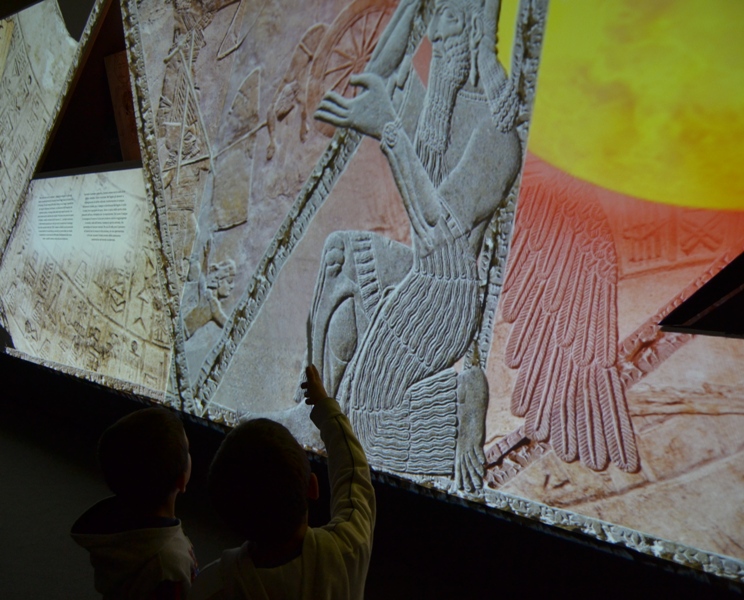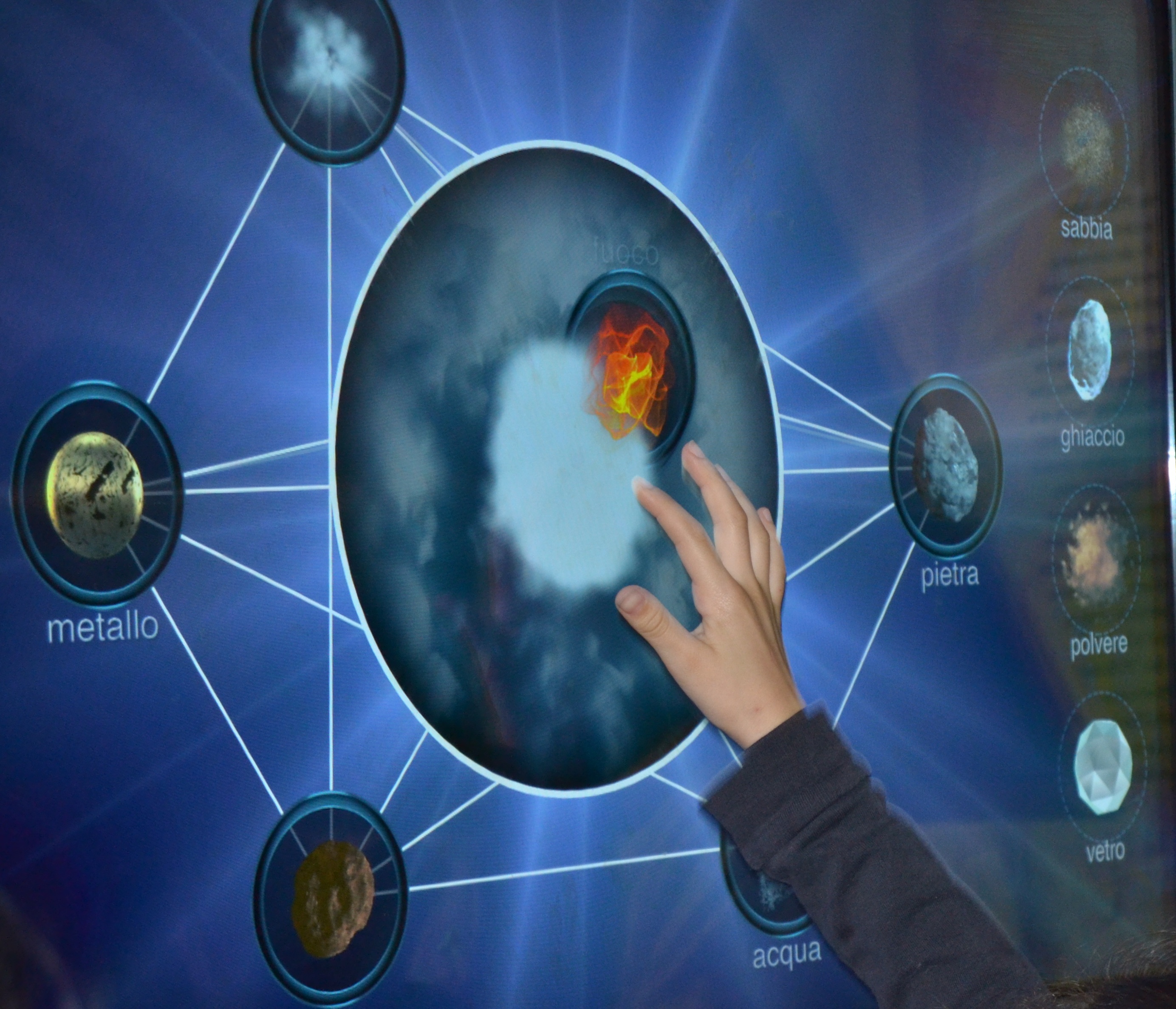 'Morning, 'Afternoon, 'Evening to everybody,
all of us are very pleased to warmly invite you to continue encouraging curiosity the way knowledge started, that is what happened at the beginning of our life and of the human mankind. 
Start reading the attractive English texts of this exibition " Balle di Scienza" by the Italian National Institute of Nuclear Phisics at Palazzo Blu, in Pisa, and let them do their job: fascinate you and make you become part of that immense army interested in Science.   
Dazzles and errors populate the road that man has walked to understand and to interpret the universe.
This happened not only in the ancient vision of an anthropomorphic nature, made of spirits and gods, but it was also the case after the method of Galileo who taught us to look more carefully and understand natural phenomena.
Even today, in our era of hyper-technological and global communication, we happen - and often - to take amazing blunders. 
The exhibition "Bales of Science" at Palazzo Blu in Pisa, will tell you how the errors inevitably accompany the human desire to know: great discoveries - made sometimes by accident - are interwoven with glaring oversights.
Scientists in fact bring in the laboratory, and it is difficult to do otherwise, their religious, philosophical and cultural beliefs. Correct mistakes is the very essence of the scientific method, which was inaugurated by Galileo 400 years ago. What matters is not to lose curiosity and wonder to the world. Being wrong is part of the game.
Anna - Coordinator  
Source - Our camera when  visiting "Balle di Scienza"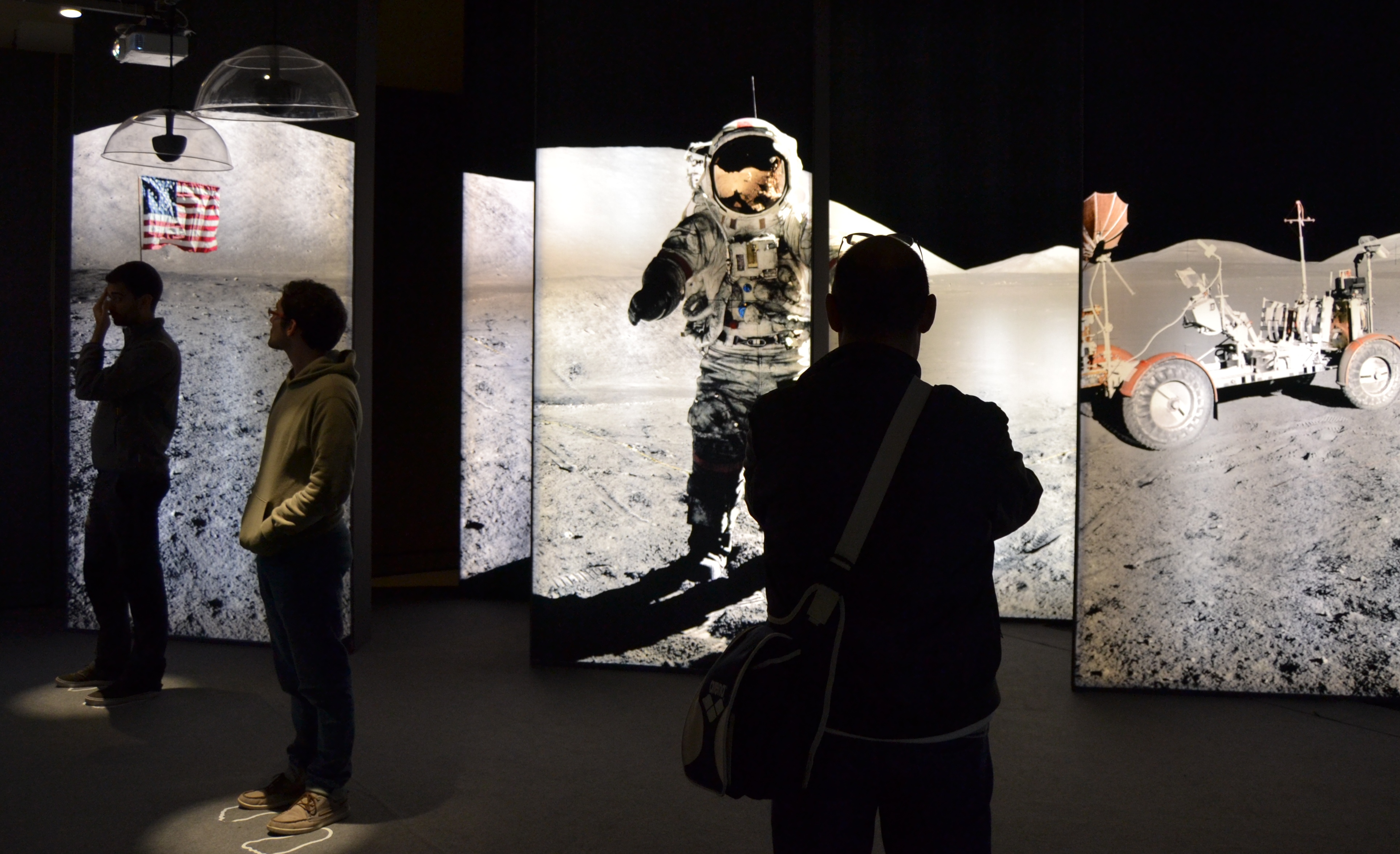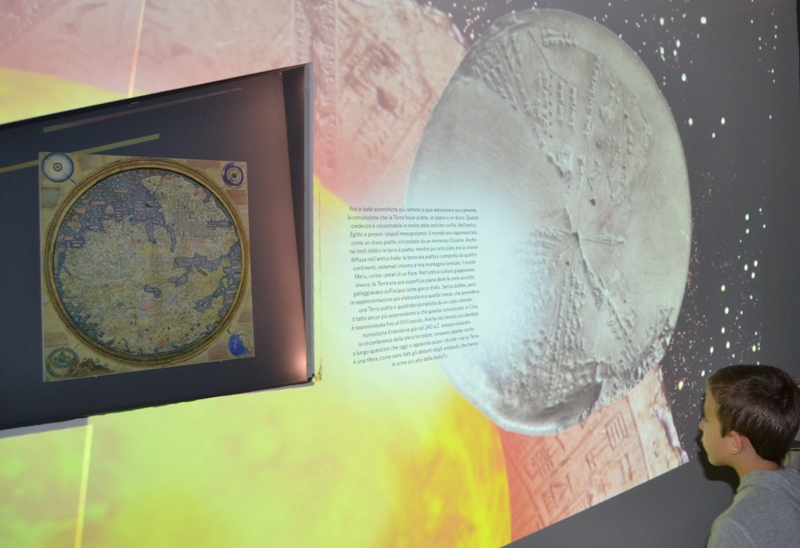 English Laboratories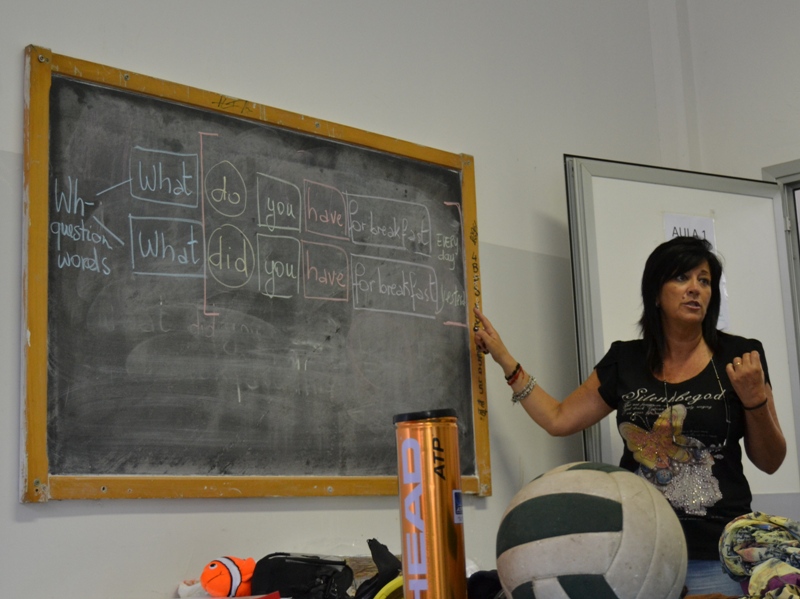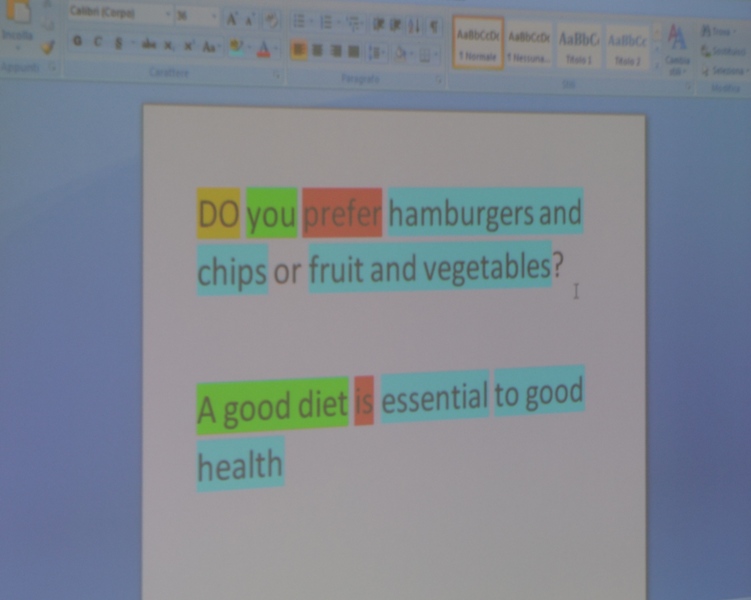 Hello Martina, Alessio, Paolo, Marco, Elena, Laura, Chiara, Lidia, Sara, Diego and Cristiano,
you are a really good group of wonderful students. 
After working together yesterday, do you want to practice your English a little more? 
We used present simple, present continuous and past simple.
Here you have a few questions to revise English we learned together:
1. Did you like the English Laboratory  with Breakfast and Sport? 
2. What did you learn? 
3. Do you like practicing English and having fun?  
4. What is Susanna doing in the photograph? 
5. Do you like the photo of all of you together? 
Continue enjoying English and have fun! It is the best way to learn!  
Anna - Coordinator 
Source - Self acquired material authorized by parents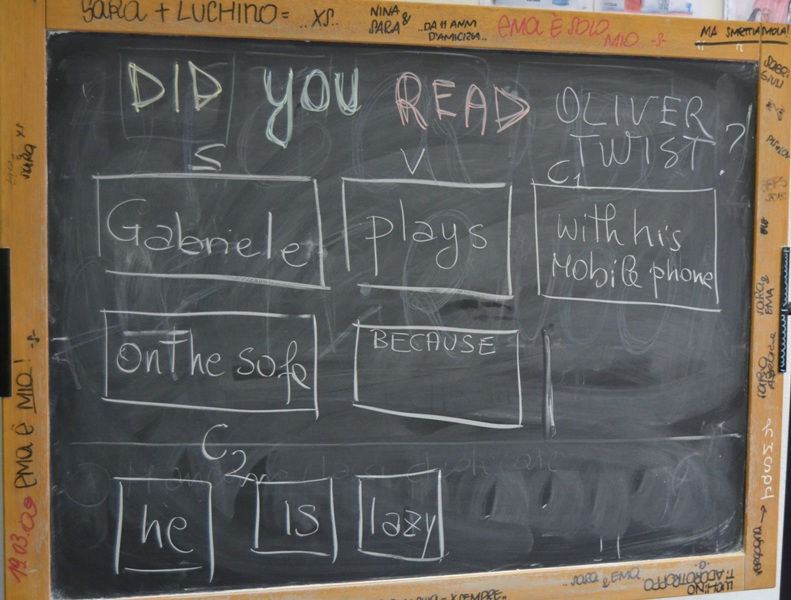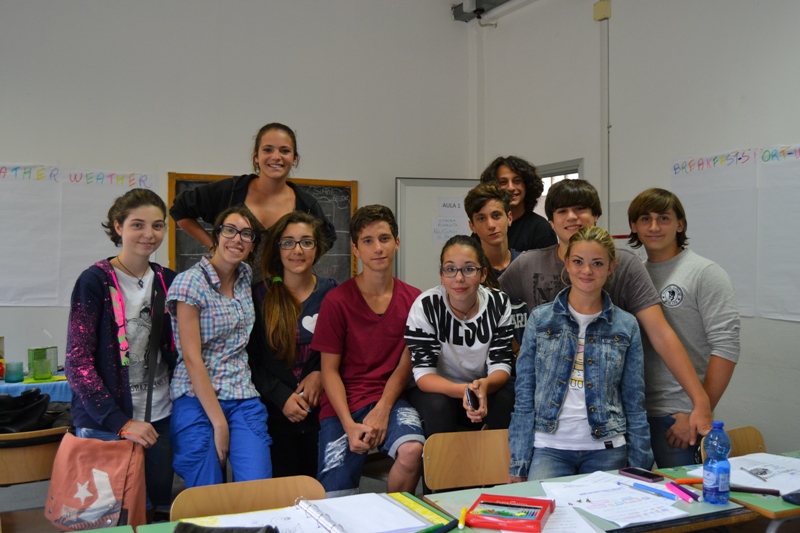 Hikikomori and Us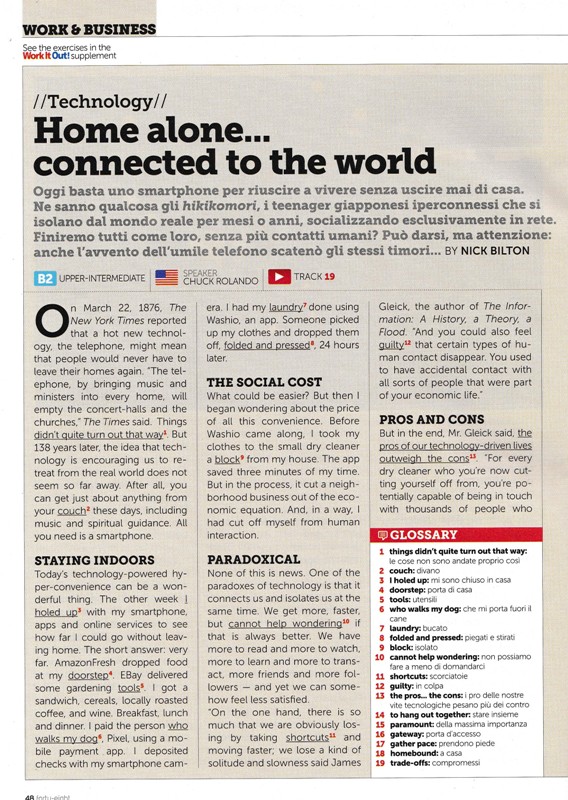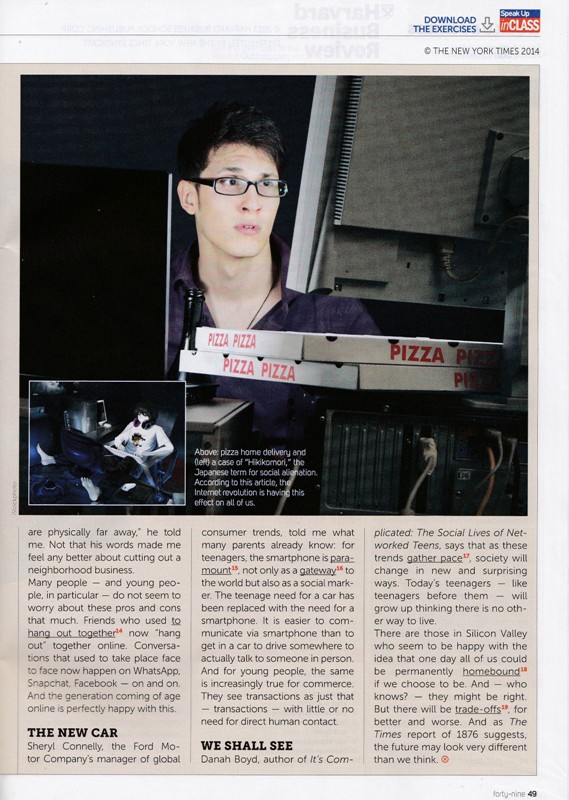 This is a special hello,
mainly to the teenagers' families and their children, our students.
There are a few questions we would like to ask you, after the experience we have been sharing for several months so far
For parents:
What is/has been your child's involvement in this English course?  
Do you speak about our classwork at home?
Has our classwork been useful to support your child's English at school?
What are your ideas about this experience and advice for a next one?   
For pupils: 
Has it been useful to partecipate with your friends in our English course?
Has it been a demanding task? Was it fun? 
What do you think of the work we have done in class and the one you have been asked to do at home? 
Have there been any results? If so, what are they? 
For both families and students
Do you think that English Summer Camps, very short holidays where daily life and any other activities were performed in English could be useful for you to improve the language? We have plenty of ideas!
We have our very last classes together to talk about that, then you have to pass your final exam at school, and Summer is ready  for anything you like most, including enjoying and improving your English.
Leave a comment, we'll make a use of it.  
The article above is an invitation to think about technology; how to use it. The point is making a tool of it, having clear ideas of what the aims are. Find out what Hikikomori is aqnd write about it with your own words. .  
Anna - Coordinator
Source: Speak Up, May 2014
Shipping of Bizzarrini Cars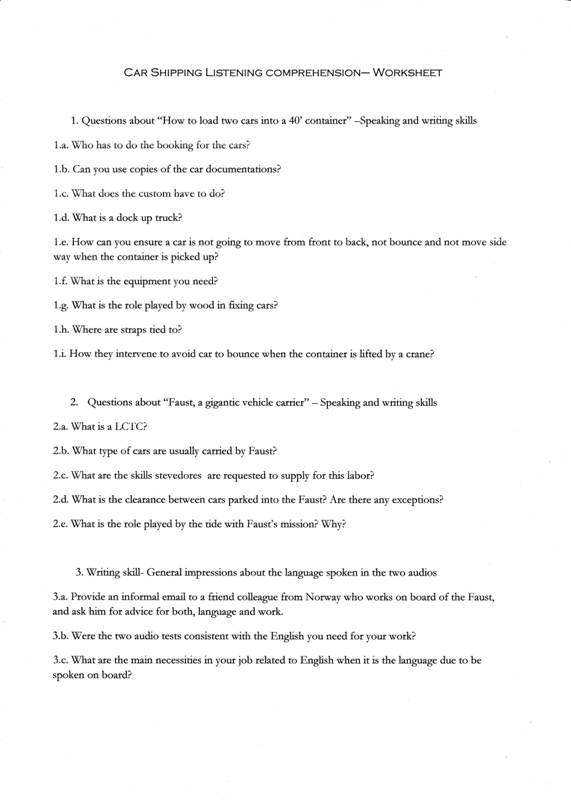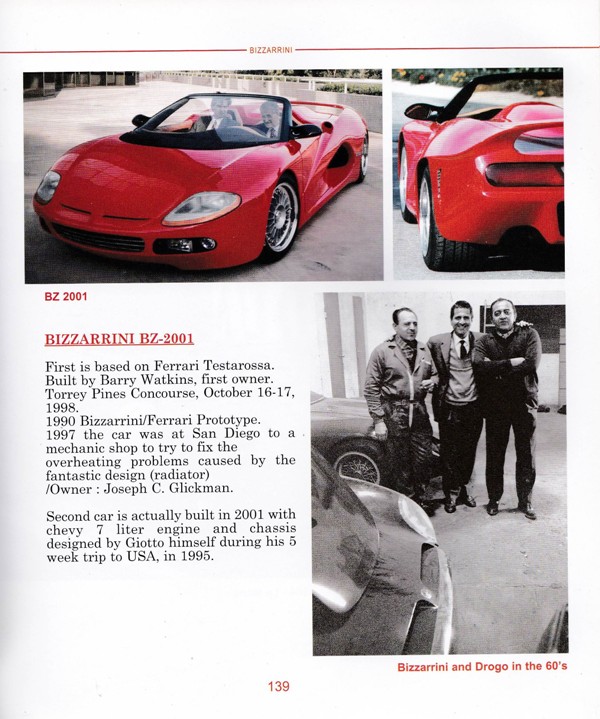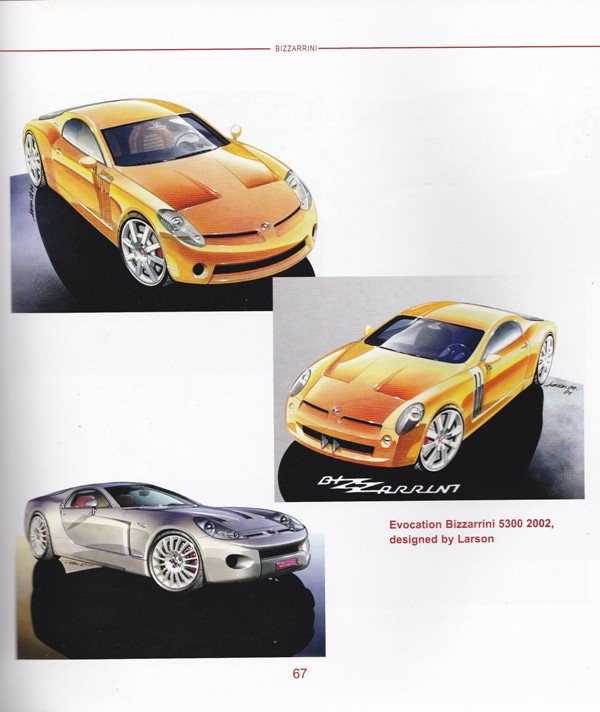 Good morning, afternoon, evening, 
this is a special homework for students working at the port of Livorno dealing with car stevedoring on board of ships.
Task n° 1: You received an informal email from Germany, enquiring about the transport via vessel of a few models of Bizzarrini cars.
You are requested to reply to the email, giving all the information required.
Task n° 2: after listening in class and talking about the two audios related to "Car shipping into containers" and "Faust, a gigantic car carrier", you have to write the answers to the questions on the worksheet above. 
"Dear Franco,
as I recently bought two models of Bizzarrini cars, I would like to join the so many other owners of these fairytale cars for an exibition that will be held in the States. My English teacher told me that I can bear on you for a perfect service of car stowage at the Port of Livorno, since the securing requirements provided by the Company you supervise are of excellent quality.
I'm sure you know that Bizzarrini cars are  unique designs, creations of a genius, the Italian Eng. Giotto Bizzarrini from your town, Livorno,  and periodically gather in selected places in the world so to remember the glories of their designer?
Could you please tell me how this type of cars are loaded onto vessels, if they are containerized, how they will be retained on board and what are the procedures to be followed in order to have them perfectly transported and desembarked in the States where I would be right to take them back in charge?
Thank you for all the info you will give me and that I would like to forward to my collector friends who would like to come to Livorno to embark their cars. 
Helmut"
For all the other students either interested in exclusive cars like the ones designed by Eng. Bizzarrini or just interested in knowing something about this genius, search on the Internet and write down for everybody what strikes you more. Also news about the gigantic Faust Ship can be found on the Internet, of course. 
Enjoy your English  
Anna - Coordinator
Source: "The genius behind Ferrari's success - Bizzarrini" Jack Koobs de Hartog
http//users.skynetbe/Bizzarrini  
One way trip to Mars
Good day, 
what do you think of the idea of leaving planet Earth and go to Mars? 
If you were offered this possibility, would you accept it?
In the States there are 200.000 applicants for one way trip to Mars, and one thousand have already been selected fo this one way journey foreseen for 2023. 
A human mission will follow and unmanned one, carried out by a Rover explorer to find the best place for the human mission to settle.
Mars too will be colonized then, after two living units, two support systems and two supply units will have been launched to make human beings settle on the planet. The first crew will be there in 2023 and every two years a new one will join them. 
What does strike you most about this article?  
What do you think of the differences among peoples living on planet Earth? 
Would you take into consideration the idea of leaving planetEarth? 
Anna - Coordinator 
Source: Speak Up April 2014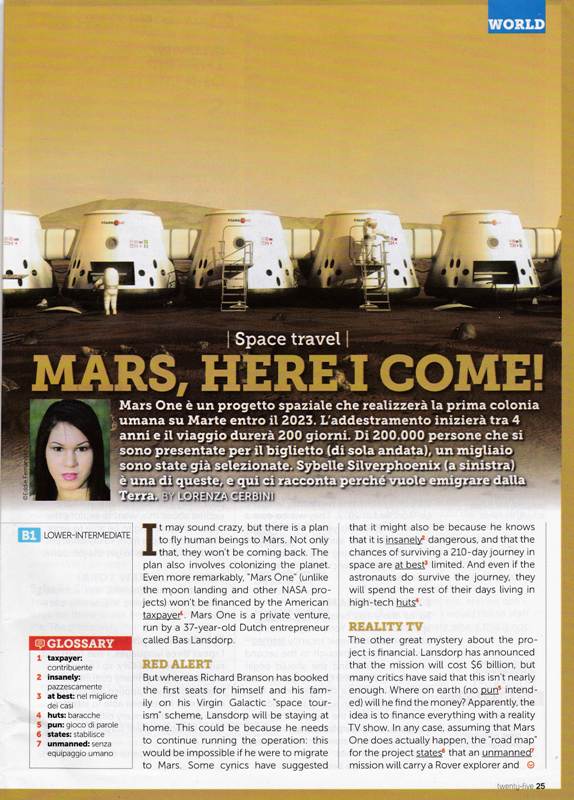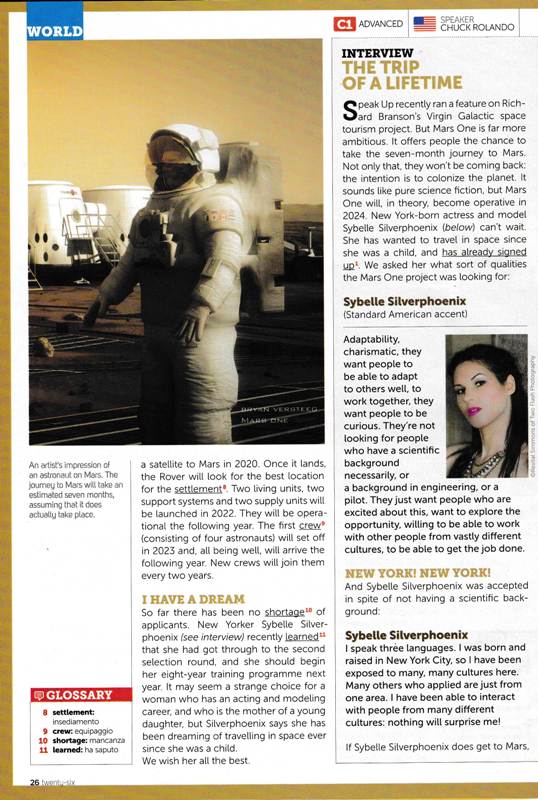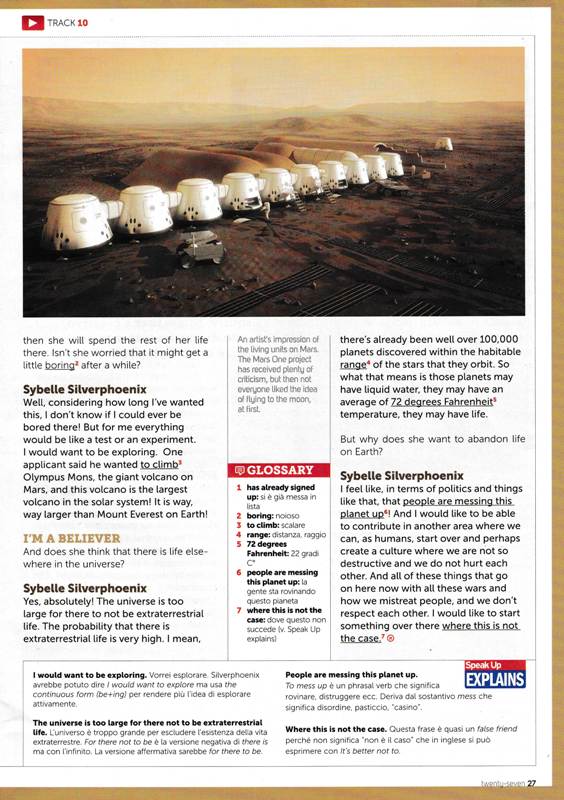 Just breathing
'morning, afternoon, evening, 
just breathing. Yesterday in class we talked about how also everyone' breathing can be so meaningful.
There are times in which we should pay more attention to the simpliest things in life, but so important as breathing for example. Before reading the article reply to these questions:
do you feel any necessity to be more capable of concentration? Why?
what could be breathwalking aimed at, according to you?
do you live a stressfull life? 
are there only disadvantages in having a stressfull dayly routine?
what are the tools you use to improve the quality of your life? 
if so, why is your life so stressful? 
any possibility to change it from being so stressed to being resourceful?
And now read the article and start thinking about breathing and your self perception 
any thinking of training your breathing this way?
Let us know, find your time and improve its quality with just self awareness. It is a first step, but any path  
is made by single steps.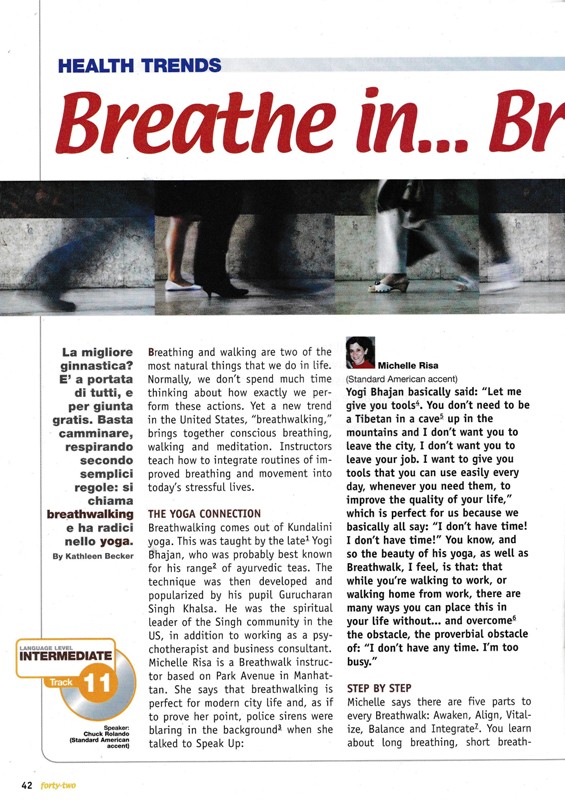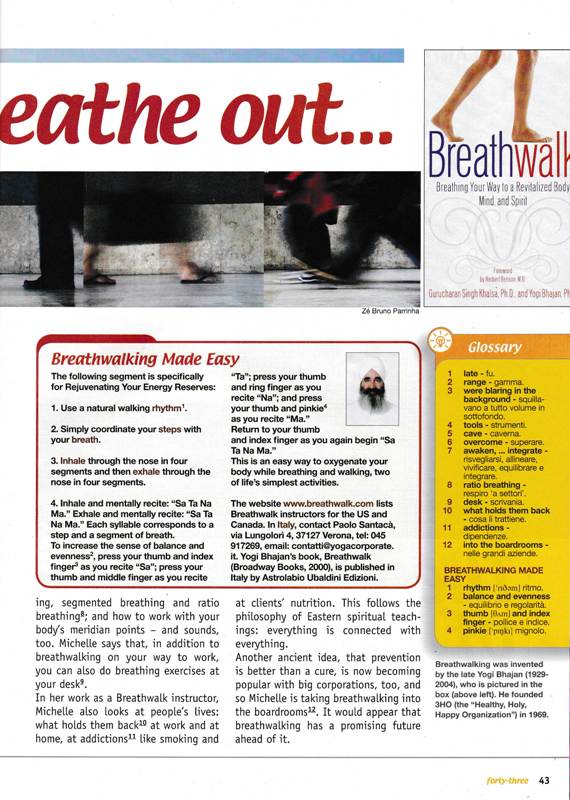 Anna - Coordinator 
Source: Speak up October 2007
Speaking English, the Italian problem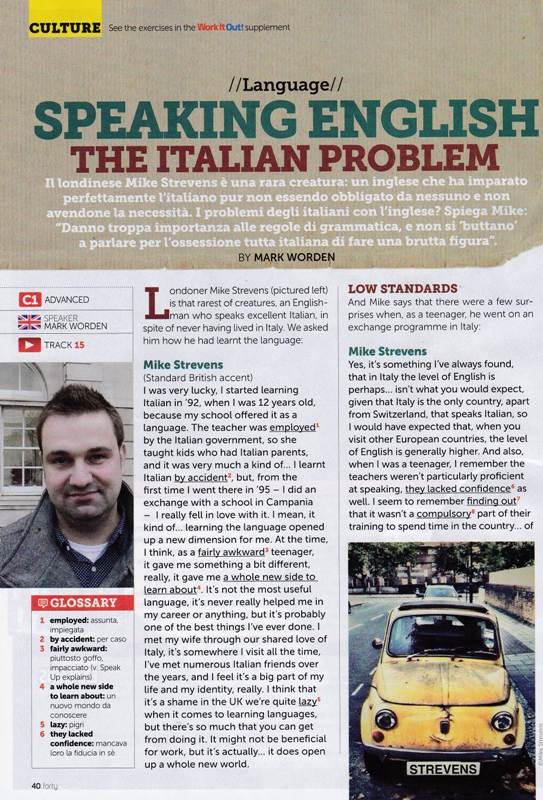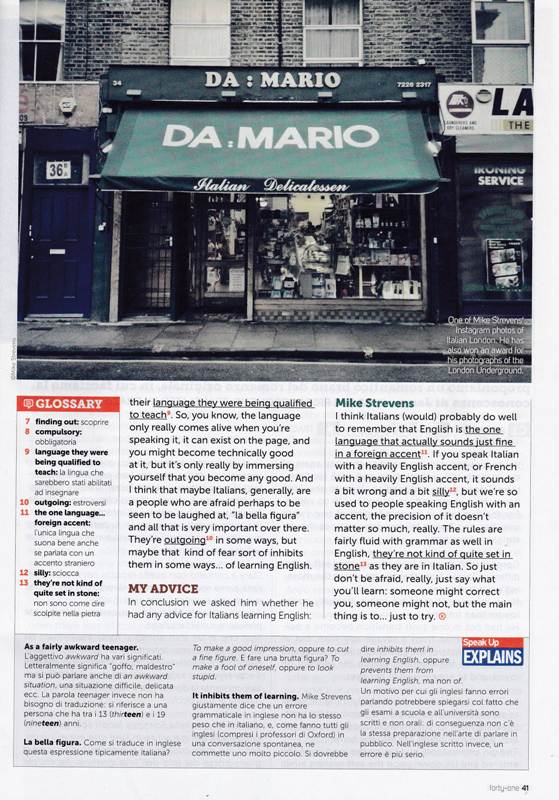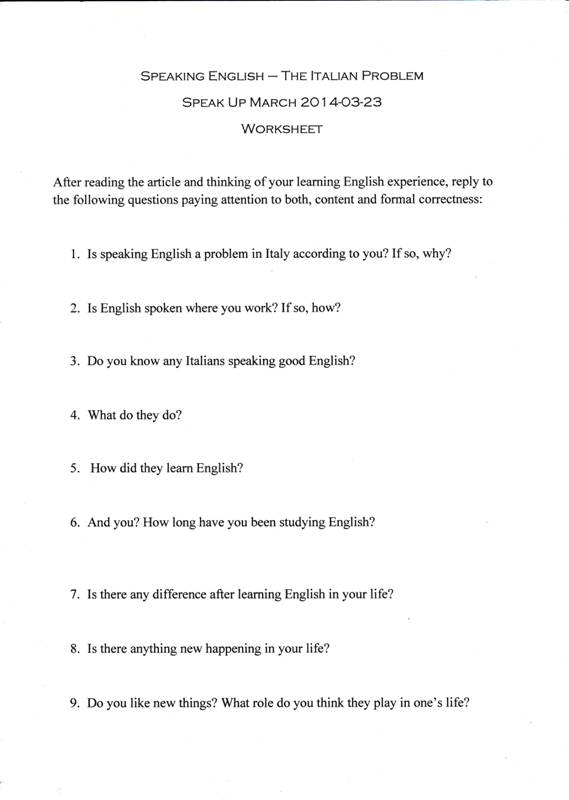 Good day,
we could say so much about speaking English as Italians. 
If you acquire English as a second language, or third or whatever, it is one more identity you can add to your one/s. 
It allows your potentialities to surface, since so many other skills of yours were submerged and a second language is just the tool, sometimes it is just the excuse, to make you observe more, pay grater attention, listen more carefully, write to find out that there are accuracy and style, that can be transferred to your other languages; in case you are Italian, your mother tongue too can improve.
Speaking too, giving any single word an intonation to accompany any speech of yours, becomes that enjoyment the way anything related to English is. It is that one more house you can have and offer to everybody, feeling at home wherever you can hear it spoken.
Something in common, this feeling equal, and making the others feeling the same. 
Up to you to continue what English is for you, your past and present experiences, to let our readers know. 
It would be a pleasure reading them. 
Comparing experiences, what is one of the best things Mike Strevens has ever done? Why? And yours? Why? 
He speaks about Italian teachers of English. What does he say about them and what is your general evaluation about English spoken in Italy? 
Where did you learn English? How long have you been studying it? 
What do you do to improve it? Does it work? How do you evaluate that? 
We think that Mike Strevens says something quite true about the common Italians' behaviour when speaking English. Integrating school classes' programs, we see that students tend to be afraid or ashamed to be laughed at, and be seen objects of derision by the others. 
We are convinced that the approach to a second language at school should consider it behaviour, not a subject. A language is a matter of life, a lifelong competence, a vehicle for any meaning you want to communicate and talk about. With the teacher acting in English, it should be perceveid as such.  A language is you and your entire body, the way you feel at ease with it.  
Read the article, think of it, write a comment for us to read and talk about when back in class. 
Thanks everybody, enjoy your English
Anna - Coordinator 
Source: Speak Up, March 2014 
Faces of Resilience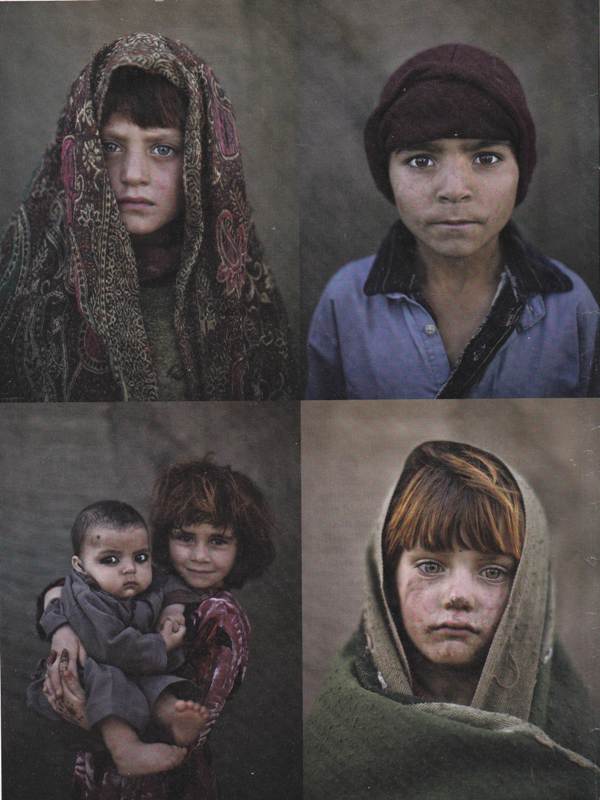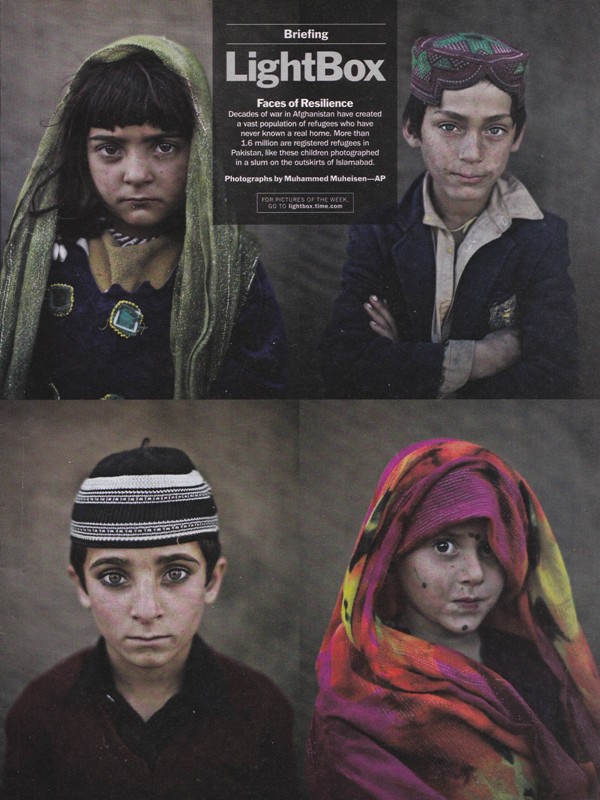 Good morning, afternoon, evening, 
when children are asked to cope with war, when they experience anything else but war and fleeing from the war.
Do they know that we are looking at them on protographs?
Do they know that all over the world their faces are shown to make us think about ...........? What are you thinking about while watching them?
Do you know what resilience is, in what diferent areas it is adopted and to define what?  
What are the infancy's rights? 
Are they the same the world wide?
If anyone can draw, try to portrait these faces, each one expressing different feelings, one more way to pay the great attention they would deserve as human beings. 
Do you work as volunteers for some action? 
If so, let us know as a comment. If so,let's hold on  and contribute to change even one life, gesture by gesture, word by word. It could make the difference for someone. 
Anna - Coordinator
Source: Time, February 10
Tattoo Time?
Good morning, afternoon, evening
There is a class interested in tattoos.
That is why we tried to find an article everybody can read and work on, answering the questions of the wowrksheet.
It is good practice for your English.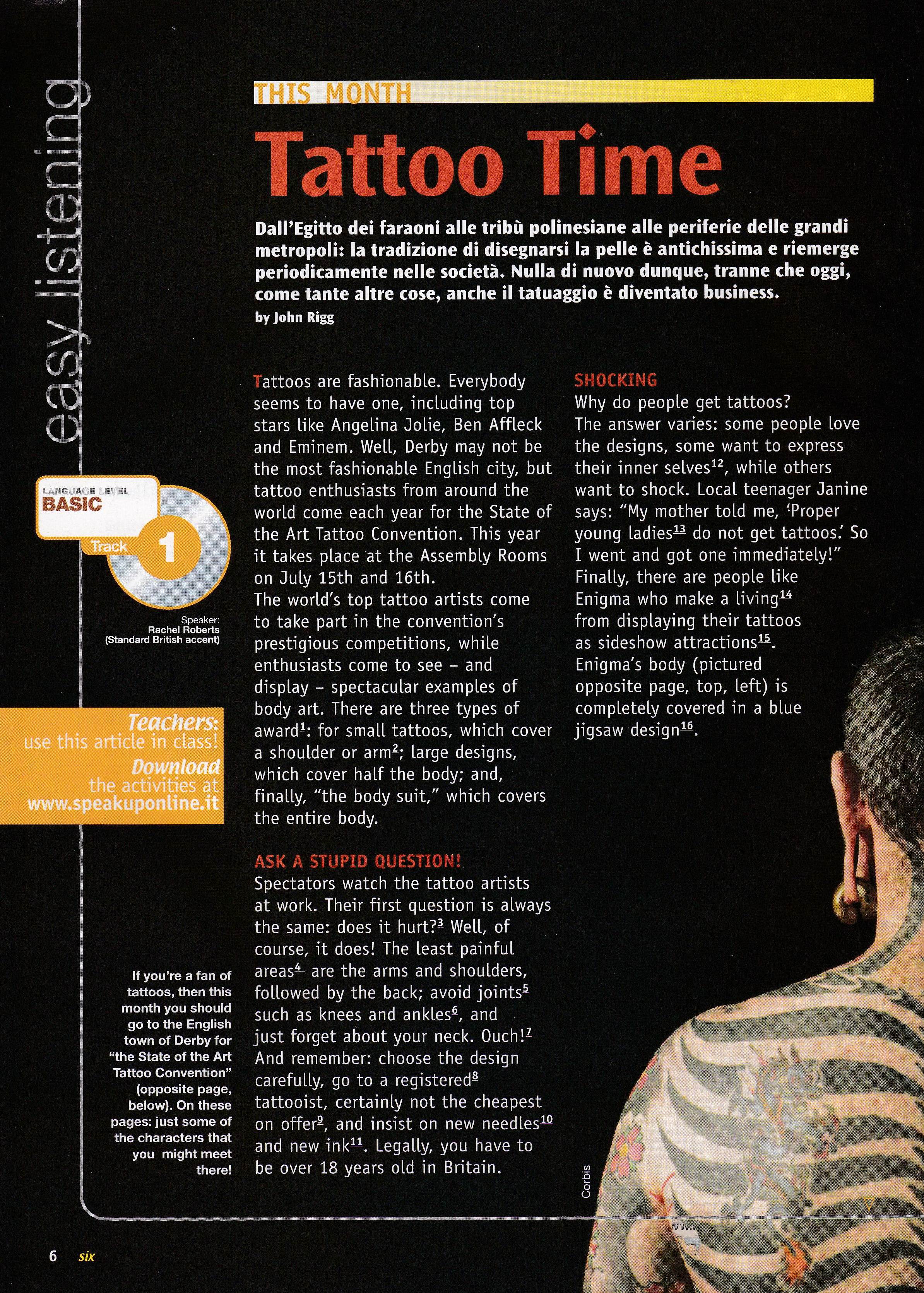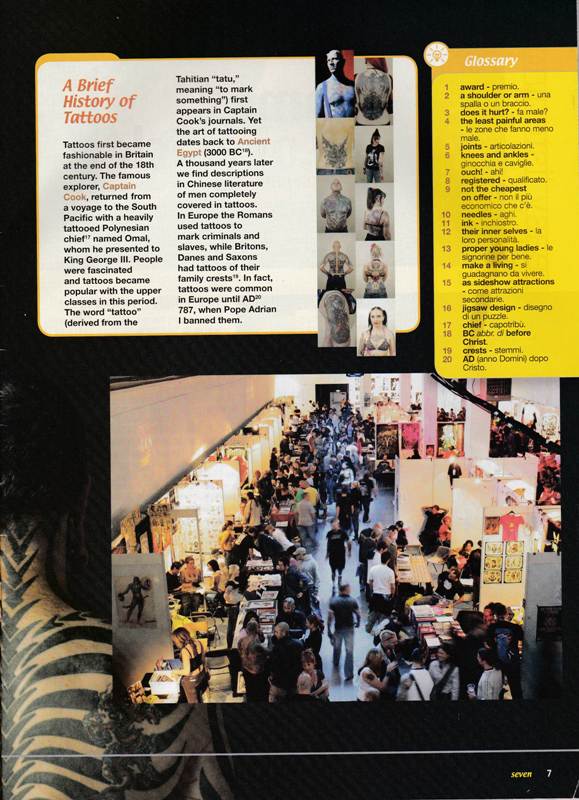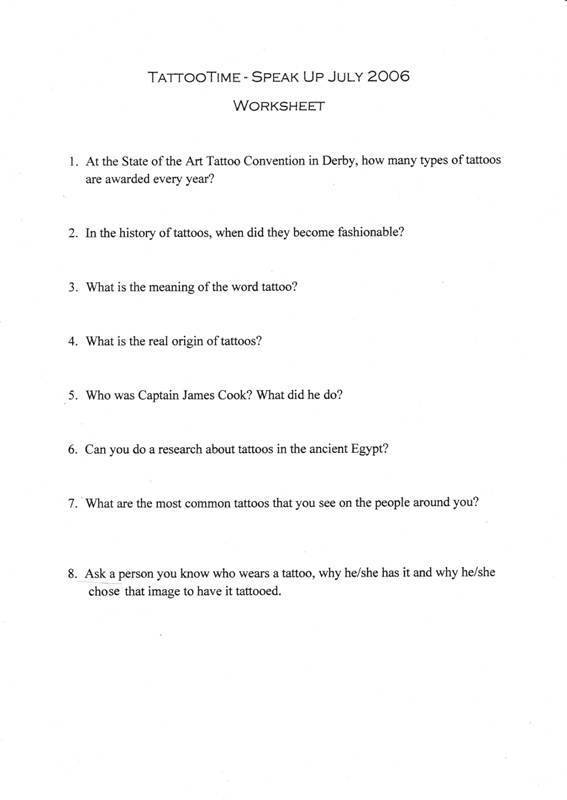 Agnese, Alessandra, Anna, Martina, Samuele, see you in class then, ready to talk about tattoos!
Enjoy your English
Anna - Coordinator
Source: Speak Up July 2006 
The Great Beauty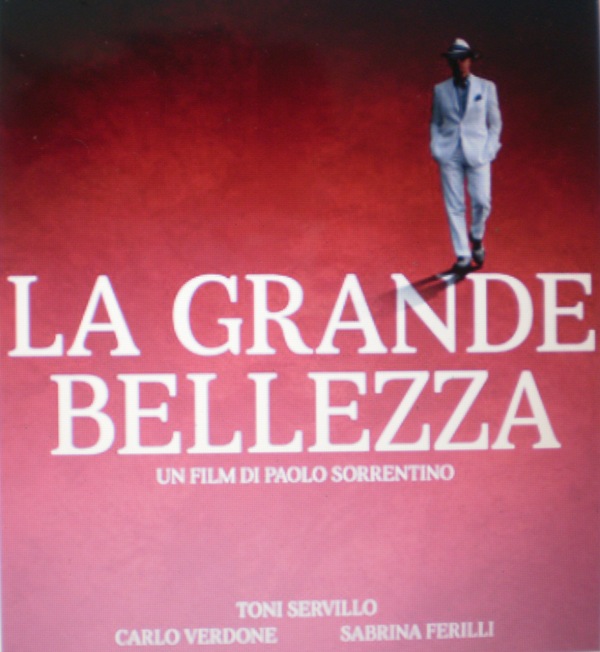 Good day, 
after posting articles about films, Gravity won seven Academy Awards; we would also like to celebrate the Italian one, with The Great Beauty, by Film Director Paolo Sorrentino.  
We haven't watched it  yet, since we would like to do it the way Americans did, with English subtitles.  Below you have the link for the English trailer, on Youtube. It' important listening to the original audio of each film, and compare the two productions simultaneously, an ability you can develop thanks to just watching films and that can be of benefit in any other field.  
http://www.youtube.com/watch?v=fJfvX6zPAuQ 
It would be so great of you writing your own comment about the film, there are so many different impressions!
Enjoy cinema, enjoy English, practice it as much as possible, go to the cinema as often as you can!
Karall: thank you for your articulated comment. We do agree the award has been also for Rome, that plays an extraordinary fascination on American people and whoever all over the world. If you were a student in class, there would be occasions for mastering grammar and sentence constraction. At this very stage, communication works and mistakes do not impoede comprehension.
Rimas: we do adore visual language too, and any others. Thank you for highlighting how important it is to perceive all possible languages a film works on. The more we become aware of our perceptions, the more we can appreciate art.
Eleonora: going to the cinema is fundamental, but in order to appreciate the quality of a film, I would say the inner disposition is important too. It's not the case of the great beauty, that's in Italian, but sometimes if you want to watch a film in its original language, you have to choose for a DVD or otherwise. 

Anna - Coordinator 
All is Lost & Lost in Space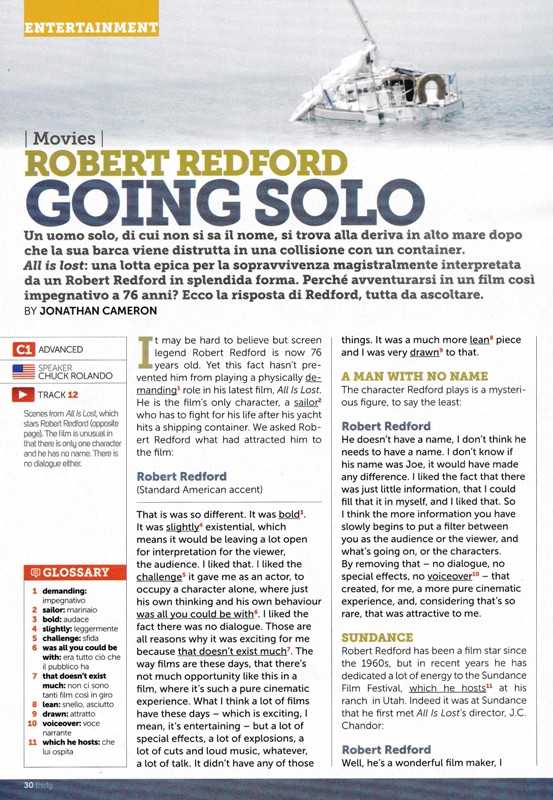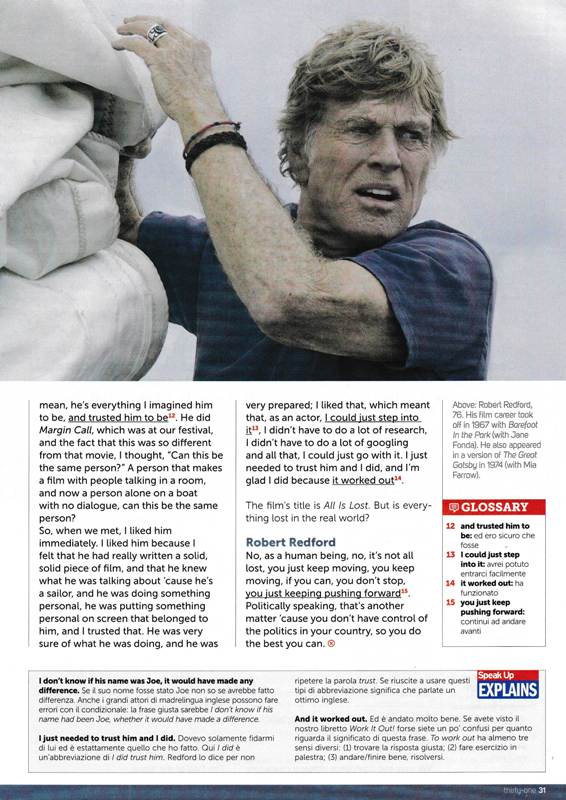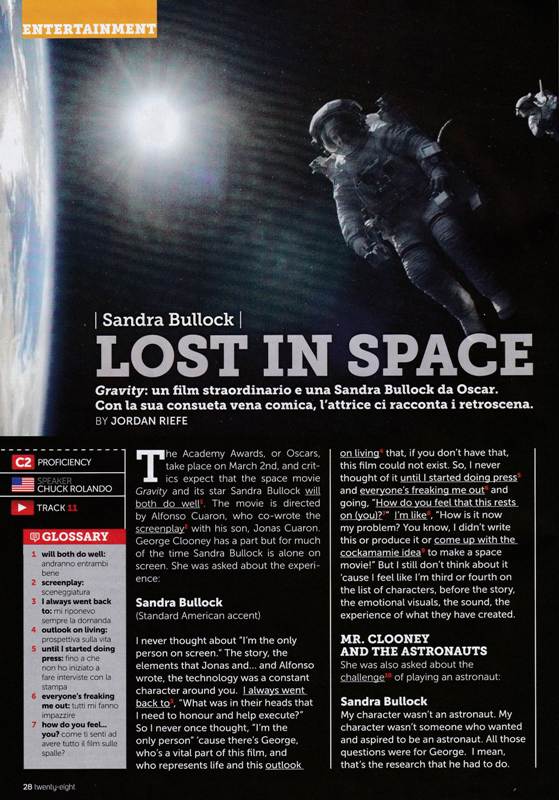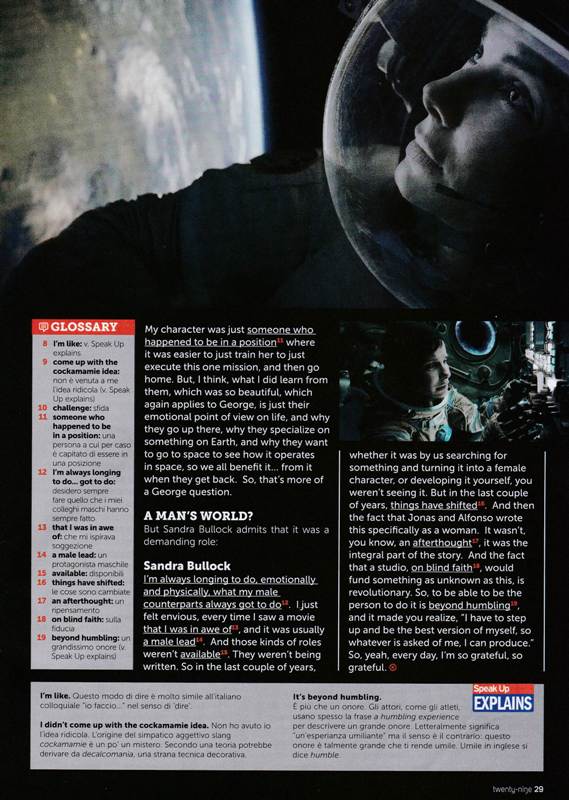 Good day, 
these are two different articles at a more advanced level, and if you do not read what the level is, we think it is worth trying them. You can help your comprehension with the notes at your disposal.  
Two different solitudes in two films, the immense space and the vaste sea.
Robert Redford, a "solo" interpretation in All is lost, needing a unique experience as an actor, and it can easily be said as a human being too.
Sandra Bullock acting as an astronaut in Lost in Space that reminds us of real unpredictable risks when outside into the space like the one recently ran by the Italian astronaut Luca Parmitano. In the interview by Radio Tre we mentioned elsewhere, he was also asked about this film, and for sure, professionals' perception is different from common film viewers' one.  
Actors have this possibility, to play roles as they were real life, to face other selves, and what about us?
What can we do if we need to be different from how we commonly are? Do you ever feel this need? 
Try to write as a comment if you agree with Redford and Bullock, and what you would have done in such situations, or what you did if you ever found yourself as a "solo going" and where you had to "go".
In case you have questions for the actors Redford and Bullock after reading the articles and watching the films, ask your questions here, we will do our best to have proper replies.  
See you in class,  
Anna - Coordinator
Source: Speak Up, February 2014
Eleonora: films and films! How nice speaking about them! I  have been on the set of a short film, but I would like to see how the whole set of a film works. How you go through scene by scene respecting the script to get the final result.  Being a film maker is a matter of having great professionality, sensitivity, intelligence, skills. Cinema can play an important role in claiming human rights.
Do not ever forget how meaningful is watching films also to acquire English. The context works with the plot, and images support delighting your interest.