Warning
: preg_replace(): The /e modifier is no longer supported, use preg_replace_callback instead in
/web/htdocs/www.connecting-the-dots.it/home/libraries/joomla/filter/input.php
on line
689
Warning
: preg_replace(): The /e modifier is no longer supported, use preg_replace_callback instead in
/web/htdocs/www.connecting-the-dots.it/home/libraries/joomla/filter/input.php
on line
691
Warning
: preg_replace(): The /e modifier is no longer supported, use preg_replace_callback instead in
/web/htdocs/www.connecting-the-dots.it/home/libraries/joomla/filter/input.php
on line
689
Warning
: preg_replace(): The /e modifier is no longer supported, use preg_replace_callback instead in
/web/htdocs/www.connecting-the-dots.it/home/libraries/joomla/filter/input.php
on line
691
Warning
: preg_replace(): The /e modifier is no longer supported, use preg_replace_callback instead in
/web/htdocs/www.connecting-the-dots.it/home/libraries/joomla/filter/input.php
on line
689
Warning
: preg_replace(): The /e modifier is no longer supported, use preg_replace_callback instead in
/web/htdocs/www.connecting-the-dots.it/home/libraries/joomla/filter/input.php
on line
691
Warning
: preg_replace(): The /e modifier is no longer supported, use preg_replace_callback instead in
/web/htdocs/www.connecting-the-dots.it/home/libraries/joomla/filter/input.php
on line
689
Warning
: preg_replace(): The /e modifier is no longer supported, use preg_replace_callback instead in
/web/htdocs/www.connecting-the-dots.it/home/libraries/joomla/filter/input.php
on line
691
Warning
: preg_replace(): The /e modifier is no longer supported, use preg_replace_callback instead in
/web/htdocs/www.connecting-the-dots.it/home/libraries/joomla/filter/input.php
on line
689
Warning
: preg_replace(): The /e modifier is no longer supported, use preg_replace_callback instead in
/web/htdocs/www.connecting-the-dots.it/home/libraries/joomla/filter/input.php
on line
691
Warning
: preg_replace(): The /e modifier is no longer supported, use preg_replace_callback instead in
/web/htdocs/www.connecting-the-dots.it/home/libraries/joomla/filter/input.php
on line
689
Warning
: preg_replace(): The /e modifier is no longer supported, use preg_replace_callback instead in
/web/htdocs/www.connecting-the-dots.it/home/libraries/joomla/filter/input.php
on line
691
Warning
: preg_replace(): The /e modifier is no longer supported, use preg_replace_callback instead in
/web/htdocs/www.connecting-the-dots.it/home/libraries/joomla/filter/input.php
on line
689
Warning
: preg_replace(): The /e modifier is no longer supported, use preg_replace_callback instead in
/web/htdocs/www.connecting-the-dots.it/home/libraries/joomla/filter/input.php
on line
691
Warning
: preg_replace(): The /e modifier is no longer supported, use preg_replace_callback instead in
/web/htdocs/www.connecting-the-dots.it/home/libraries/joomla/filter/input.php
on line
689
Warning
: preg_replace(): The /e modifier is no longer supported, use preg_replace_callback instead in
/web/htdocs/www.connecting-the-dots.it/home/libraries/joomla/filter/input.php
on line
691
Warning
: preg_replace(): The /e modifier is no longer supported, use preg_replace_callback instead in
/web/htdocs/www.connecting-the-dots.it/home/libraries/joomla/filter/input.php
on line
689
Warning
: preg_replace(): The /e modifier is no longer supported, use preg_replace_callback instead in
/web/htdocs/www.connecting-the-dots.it/home/libraries/joomla/filter/input.php
on line
691
Warning
: preg_replace(): The /e modifier is no longer supported, use preg_replace_callback instead in
/web/htdocs/www.connecting-the-dots.it/home/libraries/joomla/filter/input.php
on line
689
Warning
: preg_replace(): The /e modifier is no longer supported, use preg_replace_callback instead in
/web/htdocs/www.connecting-the-dots.it/home/libraries/joomla/filter/input.php
on line
691
Warning
: preg_replace(): The /e modifier is no longer supported, use preg_replace_callback instead in
/web/htdocs/www.connecting-the-dots.it/home/libraries/joomla/filter/input.php
on line
689
Warning
: preg_replace(): The /e modifier is no longer supported, use preg_replace_callback instead in
/web/htdocs/www.connecting-the-dots.it/home/libraries/joomla/filter/input.php
on line
691
Warning
: preg_replace(): The /e modifier is no longer supported, use preg_replace_callback instead in
/web/htdocs/www.connecting-the-dots.it/home/libraries/joomla/filter/input.php
on line
689
Warning
: preg_replace(): The /e modifier is no longer supported, use preg_replace_callback instead in
/web/htdocs/www.connecting-the-dots.it/home/libraries/joomla/filter/input.php
on line
691
Warning
: preg_replace(): The /e modifier is no longer supported, use preg_replace_callback instead in
/web/htdocs/www.connecting-the-dots.it/home/libraries/joomla/filter/input.php
on line
689
Warning
: preg_replace(): The /e modifier is no longer supported, use preg_replace_callback instead in
/web/htdocs/www.connecting-the-dots.it/home/libraries/joomla/filter/input.php
on line
691
Warning
: preg_replace(): The /e modifier is no longer supported, use preg_replace_callback instead in
/web/htdocs/www.connecting-the-dots.it/home/libraries/joomla/filter/input.php
on line
689
Warning
: preg_replace(): The /e modifier is no longer supported, use preg_replace_callback instead in
/web/htdocs/www.connecting-the-dots.it/home/libraries/joomla/filter/input.php
on line
691
Warning
: preg_replace(): The /e modifier is no longer supported, use preg_replace_callback instead in
/web/htdocs/www.connecting-the-dots.it/home/libraries/joomla/filter/input.php
on line
689
Warning
: preg_replace(): The /e modifier is no longer supported, use preg_replace_callback instead in
/web/htdocs/www.connecting-the-dots.it/home/libraries/joomla/filter/input.php
on line
691
Warning
: preg_replace(): The /e modifier is no longer supported, use preg_replace_callback instead in
/web/htdocs/www.connecting-the-dots.it/home/libraries/joomla/filter/input.php
on line
689
Warning
: preg_replace(): The /e modifier is no longer supported, use preg_replace_callback instead in
/web/htdocs/www.connecting-the-dots.it/home/libraries/joomla/filter/input.php
on line
691
Warning
: preg_replace(): The /e modifier is no longer supported, use preg_replace_callback instead in
/web/htdocs/www.connecting-the-dots.it/home/libraries/joomla/filter/input.php
on line
689
Warning
: preg_replace(): The /e modifier is no longer supported, use preg_replace_callback instead in
/web/htdocs/www.connecting-the-dots.it/home/libraries/joomla/filter/input.php
on line
691
Warning
: preg_replace(): The /e modifier is no longer supported, use preg_replace_callback instead in
/web/htdocs/www.connecting-the-dots.it/home/libraries/joomla/filter/input.php
on line
689
Warning
: preg_replace(): The /e modifier is no longer supported, use preg_replace_callback instead in
/web/htdocs/www.connecting-the-dots.it/home/libraries/joomla/filter/input.php
on line
691
Warning
: preg_replace(): The /e modifier is no longer supported, use preg_replace_callback instead in
/web/htdocs/www.connecting-the-dots.it/home/libraries/joomla/filter/input.php
on line
689
Warning
: preg_replace(): The /e modifier is no longer supported, use preg_replace_callback instead in
/web/htdocs/www.connecting-the-dots.it/home/libraries/joomla/filter/input.php
on line
691
Warning
: preg_replace(): The /e modifier is no longer supported, use preg_replace_callback instead in
/web/htdocs/www.connecting-the-dots.it/home/libraries/joomla/filter/input.php
on line
689
Warning
: preg_replace(): The /e modifier is no longer supported, use preg_replace_callback instead in
/web/htdocs/www.connecting-the-dots.it/home/libraries/joomla/filter/input.php
on line
691
Warning
: preg_replace(): The /e modifier is no longer supported, use preg_replace_callback instead in
/web/htdocs/www.connecting-the-dots.it/home/libraries/joomla/filter/input.php
on line
689
Warning
: preg_replace(): The /e modifier is no longer supported, use preg_replace_callback instead in
/web/htdocs/www.connecting-the-dots.it/home/libraries/joomla/filter/input.php
on line
691
Warning
: preg_replace(): The /e modifier is no longer supported, use preg_replace_callback instead in
/web/htdocs/www.connecting-the-dots.it/home/libraries/joomla/filter/input.php
on line
689
Warning
: preg_replace(): The /e modifier is no longer supported, use preg_replace_callback instead in
/web/htdocs/www.connecting-the-dots.it/home/libraries/joomla/filter/input.php
on line
691
Warning
: preg_replace(): The /e modifier is no longer supported, use preg_replace_callback instead in
/web/htdocs/www.connecting-the-dots.it/home/libraries/joomla/filter/input.php
on line
689
Warning
: preg_replace(): The /e modifier is no longer supported, use preg_replace_callback instead in
/web/htdocs/www.connecting-the-dots.it/home/libraries/joomla/filter/input.php
on line
691
Warning
: preg_replace(): The /e modifier is no longer supported, use preg_replace_callback instead in
/web/htdocs/www.connecting-the-dots.it/home/libraries/joomla/filter/input.php
on line
689
Warning
: preg_replace(): The /e modifier is no longer supported, use preg_replace_callback instead in
/web/htdocs/www.connecting-the-dots.it/home/libraries/joomla/filter/input.php
on line
691
Warning
: preg_replace(): The /e modifier is no longer supported, use preg_replace_callback instead in
/web/htdocs/www.connecting-the-dots.it/home/libraries/joomla/filter/input.php
on line
689
Warning
: preg_replace(): The /e modifier is no longer supported, use preg_replace_callback instead in
/web/htdocs/www.connecting-the-dots.it/home/libraries/joomla/filter/input.php
on line
691
Warning
: preg_replace(): The /e modifier is no longer supported, use preg_replace_callback instead in
/web/htdocs/www.connecting-the-dots.it/home/libraries/joomla/filter/input.php
on line
689
Warning
: preg_replace(): The /e modifier is no longer supported, use preg_replace_callback instead in
/web/htdocs/www.connecting-the-dots.it/home/libraries/joomla/filter/input.php
on line
691
Warning
: preg_replace(): The /e modifier is no longer supported, use preg_replace_callback instead in
/web/htdocs/www.connecting-the-dots.it/home/libraries/joomla/filter/input.php
on line
689
Warning
: preg_replace(): The /e modifier is no longer supported, use preg_replace_callback instead in
/web/htdocs/www.connecting-the-dots.it/home/libraries/joomla/filter/input.php
on line
691
Warning
: preg_replace(): The /e modifier is no longer supported, use preg_replace_callback instead in
/web/htdocs/www.connecting-the-dots.it/home/libraries/joomla/filter/input.php
on line
689
Warning
: preg_replace(): The /e modifier is no longer supported, use preg_replace_callback instead in
/web/htdocs/www.connecting-the-dots.it/home/libraries/joomla/filter/input.php
on line
691
Warning
: preg_replace(): The /e modifier is no longer supported, use preg_replace_callback instead in
/web/htdocs/www.connecting-the-dots.it/home/libraries/joomla/filter/input.php
on line
689
Warning
: preg_replace(): The /e modifier is no longer supported, use preg_replace_callback instead in
/web/htdocs/www.connecting-the-dots.it/home/libraries/joomla/filter/input.php
on line
691
Warning
: preg_replace(): The /e modifier is no longer supported, use preg_replace_callback instead in
/web/htdocs/www.connecting-the-dots.it/home/libraries/joomla/filter/input.php
on line
689
Warning
: preg_replace(): The /e modifier is no longer supported, use preg_replace_callback instead in
/web/htdocs/www.connecting-the-dots.it/home/libraries/joomla/filter/input.php
on line
691
Warning
: preg_replace(): The /e modifier is no longer supported, use preg_replace_callback instead in
/web/htdocs/www.connecting-the-dots.it/home/libraries/joomla/filter/input.php
on line
689
Warning
: preg_replace(): The /e modifier is no longer supported, use preg_replace_callback instead in
/web/htdocs/www.connecting-the-dots.it/home/libraries/joomla/filter/input.php
on line
691
Warning
: preg_replace(): The /e modifier is no longer supported, use preg_replace_callback instead in
/web/htdocs/www.connecting-the-dots.it/home/libraries/joomla/filter/input.php
on line
689
Warning
: preg_replace(): The /e modifier is no longer supported, use preg_replace_callback instead in
/web/htdocs/www.connecting-the-dots.it/home/libraries/joomla/filter/input.php
on line
691
Warning
: preg_replace(): The /e modifier is no longer supported, use preg_replace_callback instead in
/web/htdocs/www.connecting-the-dots.it/home/libraries/joomla/filter/input.php
on line
689
Warning
: preg_replace(): The /e modifier is no longer supported, use preg_replace_callback instead in
/web/htdocs/www.connecting-the-dots.it/home/libraries/joomla/filter/input.php
on line
691
Warning
: preg_replace(): The /e modifier is no longer supported, use preg_replace_callback instead in
/web/htdocs/www.connecting-the-dots.it/home/libraries/joomla/filter/input.php
on line
689
Warning
: preg_replace(): The /e modifier is no longer supported, use preg_replace_callback instead in
/web/htdocs/www.connecting-the-dots.it/home/libraries/joomla/filter/input.php
on line
691
Warning
: preg_replace(): The /e modifier is no longer supported, use preg_replace_callback instead in
/web/htdocs/www.connecting-the-dots.it/home/libraries/joomla/filter/input.php
on line
689
Warning
: preg_replace(): The /e modifier is no longer supported, use preg_replace_callback instead in
/web/htdocs/www.connecting-the-dots.it/home/libraries/joomla/filter/input.php
on line
691
Warning
: preg_replace(): The /e modifier is no longer supported, use preg_replace_callback instead in
/web/htdocs/www.connecting-the-dots.it/home/libraries/joomla/filter/input.php
on line
689
Warning
: preg_replace(): The /e modifier is no longer supported, use preg_replace_callback instead in
/web/htdocs/www.connecting-the-dots.it/home/libraries/joomla/filter/input.php
on line
691
Warning
: preg_replace(): The /e modifier is no longer supported, use preg_replace_callback instead in
/web/htdocs/www.connecting-the-dots.it/home/libraries/joomla/filter/input.php
on line
689
Warning
: preg_replace(): The /e modifier is no longer supported, use preg_replace_callback instead in
/web/htdocs/www.connecting-the-dots.it/home/libraries/joomla/filter/input.php
on line
691
Warning
: preg_replace(): The /e modifier is no longer supported, use preg_replace_callback instead in
/web/htdocs/www.connecting-the-dots.it/home/libraries/joomla/filter/input.php
on line
689
Warning
: preg_replace(): The /e modifier is no longer supported, use preg_replace_callback instead in
/web/htdocs/www.connecting-the-dots.it/home/libraries/joomla/filter/input.php
on line
691
Warning
: preg_replace(): The /e modifier is no longer supported, use preg_replace_callback instead in
/web/htdocs/www.connecting-the-dots.it/home/libraries/joomla/filter/input.php
on line
689
Warning
: preg_replace(): The /e modifier is no longer supported, use preg_replace_callback instead in
/web/htdocs/www.connecting-the-dots.it/home/libraries/joomla/filter/input.php
on line
691
Warning
: preg_replace(): The /e modifier is no longer supported, use preg_replace_callback instead in
/web/htdocs/www.connecting-the-dots.it/home/libraries/joomla/filter/input.php
on line
689
Warning
: preg_replace(): The /e modifier is no longer supported, use preg_replace_callback instead in
/web/htdocs/www.connecting-the-dots.it/home/libraries/joomla/filter/input.php
on line
691
Warning
: preg_replace(): The /e modifier is no longer supported, use preg_replace_callback instead in
/web/htdocs/www.connecting-the-dots.it/home/libraries/joomla/filter/input.php
on line
689
Warning
: preg_replace(): The /e modifier is no longer supported, use preg_replace_callback instead in
/web/htdocs/www.connecting-the-dots.it/home/libraries/joomla/filter/input.php
on line
691
Warning
: preg_replace(): The /e modifier is no longer supported, use preg_replace_callback instead in
/web/htdocs/www.connecting-the-dots.it/home/libraries/joomla/filter/input.php
on line
689
Warning
: preg_replace(): The /e modifier is no longer supported, use preg_replace_callback instead in
/web/htdocs/www.connecting-the-dots.it/home/libraries/joomla/filter/input.php
on line
691
Warning
: preg_replace(): The /e modifier is no longer supported, use preg_replace_callback instead in
/web/htdocs/www.connecting-the-dots.it/home/libraries/joomla/filter/input.php
on line
689
Warning
: preg_replace(): The /e modifier is no longer supported, use preg_replace_callback instead in
/web/htdocs/www.connecting-the-dots.it/home/libraries/joomla/filter/input.php
on line
691
Warning
: preg_replace(): The /e modifier is no longer supported, use preg_replace_callback instead in
/web/htdocs/www.connecting-the-dots.it/home/libraries/joomla/filter/input.php
on line
689
Warning
: preg_replace(): The /e modifier is no longer supported, use preg_replace_callback instead in
/web/htdocs/www.connecting-the-dots.it/home/libraries/joomla/filter/input.php
on line
691
Warning
: preg_replace(): The /e modifier is no longer supported, use preg_replace_callback instead in
/web/htdocs/www.connecting-the-dots.it/home/libraries/joomla/filter/input.php
on line
689
Warning
: preg_replace(): The /e modifier is no longer supported, use preg_replace_callback instead in
/web/htdocs/www.connecting-the-dots.it/home/libraries/joomla/filter/input.php
on line
691
Warning
: preg_replace(): The /e modifier is no longer supported, use preg_replace_callback instead in
/web/htdocs/www.connecting-the-dots.it/home/libraries/joomla/filter/input.php
on line
689
Warning
: preg_replace(): The /e modifier is no longer supported, use preg_replace_callback instead in
/web/htdocs/www.connecting-the-dots.it/home/libraries/joomla/filter/input.php
on line
691
Warning
: preg_replace(): The /e modifier is no longer supported, use preg_replace_callback instead in
/web/htdocs/www.connecting-the-dots.it/home/libraries/joomla/filter/input.php
on line
689
Warning
: preg_replace(): The /e modifier is no longer supported, use preg_replace_callback instead in
/web/htdocs/www.connecting-the-dots.it/home/libraries/joomla/filter/input.php
on line
691
Warning
: preg_replace(): The /e modifier is no longer supported, use preg_replace_callback instead in
/web/htdocs/www.connecting-the-dots.it/home/libraries/joomla/filter/input.php
on line
689
Warning
: preg_replace(): The /e modifier is no longer supported, use preg_replace_callback instead in
/web/htdocs/www.connecting-the-dots.it/home/libraries/joomla/filter/input.php
on line
691
Warning
: preg_replace(): The /e modifier is no longer supported, use preg_replace_callback instead in
/web/htdocs/www.connecting-the-dots.it/home/libraries/joomla/filter/input.php
on line
689
Warning
: preg_replace(): The /e modifier is no longer supported, use preg_replace_callback instead in
/web/htdocs/www.connecting-the-dots.it/home/libraries/joomla/filter/input.php
on line
691
Warning
: preg_replace(): The /e modifier is no longer supported, use preg_replace_callback instead in
/web/htdocs/www.connecting-the-dots.it/home/libraries/joomla/filter/input.php
on line
689
Warning
: preg_replace(): The /e modifier is no longer supported, use preg_replace_callback instead in
/web/htdocs/www.connecting-the-dots.it/home/libraries/joomla/filter/input.php
on line
691
Warning
: preg_replace(): The /e modifier is no longer supported, use preg_replace_callback instead in
/web/htdocs/www.connecting-the-dots.it/home/libraries/joomla/filter/input.php
on line
689
Warning
: preg_replace(): The /e modifier is no longer supported, use preg_replace_callback instead in
/web/htdocs/www.connecting-the-dots.it/home/libraries/joomla/filter/input.php
on line
691
Warning
: preg_replace(): The /e modifier is no longer supported, use preg_replace_callback instead in
/web/htdocs/www.connecting-the-dots.it/home/libraries/joomla/filter/input.php
on line
689
Warning
: preg_replace(): The /e modifier is no longer supported, use preg_replace_callback instead in
/web/htdocs/www.connecting-the-dots.it/home/libraries/joomla/filter/input.php
on line
691
Warning
: preg_replace(): The /e modifier is no longer supported, use preg_replace_callback instead in
/web/htdocs/www.connecting-the-dots.it/home/libraries/joomla/filter/input.php
on line
689
Warning
: preg_replace(): The /e modifier is no longer supported, use preg_replace_callback instead in
/web/htdocs/www.connecting-the-dots.it/home/libraries/joomla/filter/input.php
on line
691
Warning
: preg_replace(): The /e modifier is no longer supported, use preg_replace_callback instead in
/web/htdocs/www.connecting-the-dots.it/home/libraries/joomla/filter/input.php
on line
689
Warning
: preg_replace(): The /e modifier is no longer supported, use preg_replace_callback instead in
/web/htdocs/www.connecting-the-dots.it/home/libraries/joomla/filter/input.php
on line
691
Warning
: preg_replace(): The /e modifier is no longer supported, use preg_replace_callback instead in
/web/htdocs/www.connecting-the-dots.it/home/libraries/joomla/filter/input.php
on line
689
Warning
: preg_replace(): The /e modifier is no longer supported, use preg_replace_callback instead in
/web/htdocs/www.connecting-the-dots.it/home/libraries/joomla/filter/input.php
on line
691
Warning
: preg_replace(): The /e modifier is no longer supported, use preg_replace_callback instead in
/web/htdocs/www.connecting-the-dots.it/home/libraries/joomla/filter/input.php
on line
689
Warning
: preg_replace(): The /e modifier is no longer supported, use preg_replace_callback instead in
/web/htdocs/www.connecting-the-dots.it/home/libraries/joomla/filter/input.php
on line
691
Warning
: preg_replace(): The /e modifier is no longer supported, use preg_replace_callback instead in
/web/htdocs/www.connecting-the-dots.it/home/libraries/joomla/filter/input.php
on line
689
Warning
: preg_replace(): The /e modifier is no longer supported, use preg_replace_callback instead in
/web/htdocs/www.connecting-the-dots.it/home/libraries/joomla/filter/input.php
on line
691
Warning
: preg_replace(): The /e modifier is no longer supported, use preg_replace_callback instead in
/web/htdocs/www.connecting-the-dots.it/home/libraries/joomla/filter/input.php
on line
689
Warning
: preg_replace(): The /e modifier is no longer supported, use preg_replace_callback instead in
/web/htdocs/www.connecting-the-dots.it/home/libraries/joomla/filter/input.php
on line
691
Warning
: preg_replace(): The /e modifier is no longer supported, use preg_replace_callback instead in
/web/htdocs/www.connecting-the-dots.it/home/libraries/joomla/filter/input.php
on line
689
Warning
: preg_replace(): The /e modifier is no longer supported, use preg_replace_callback instead in
/web/htdocs/www.connecting-the-dots.it/home/libraries/joomla/filter/input.php
on line
691
Warning
: preg_replace(): The /e modifier is no longer supported, use preg_replace_callback instead in
/web/htdocs/www.connecting-the-dots.it/home/libraries/joomla/filter/input.php
on line
689
Warning
: preg_replace(): The /e modifier is no longer supported, use preg_replace_callback instead in
/web/htdocs/www.connecting-the-dots.it/home/libraries/joomla/filter/input.php
on line
691
Warning
: preg_replace(): The /e modifier is no longer supported, use preg_replace_callback instead in
/web/htdocs/www.connecting-the-dots.it/home/libraries/joomla/filter/input.php
on line
689
Warning
: preg_replace(): The /e modifier is no longer supported, use preg_replace_callback instead in
/web/htdocs/www.connecting-the-dots.it/home/libraries/joomla/filter/input.php
on line
691
Warning
: preg_replace(): The /e modifier is no longer supported, use preg_replace_callback instead in
/web/htdocs/www.connecting-the-dots.it/home/libraries/joomla/filter/input.php
on line
689
Warning
: preg_replace(): The /e modifier is no longer supported, use preg_replace_callback instead in
/web/htdocs/www.connecting-the-dots.it/home/libraries/joomla/filter/input.php
on line
691
Warning
: preg_replace(): The /e modifier is no longer supported, use preg_replace_callback instead in
/web/htdocs/www.connecting-the-dots.it/home/libraries/joomla/filter/input.php
on line
689
Warning
: preg_replace(): The /e modifier is no longer supported, use preg_replace_callback instead in
/web/htdocs/www.connecting-the-dots.it/home/libraries/joomla/filter/input.php
on line
691
Warning
: preg_replace(): The /e modifier is no longer supported, use preg_replace_callback instead in
/web/htdocs/www.connecting-the-dots.it/home/libraries/joomla/filter/input.php
on line
689
Warning
: preg_replace(): The /e modifier is no longer supported, use preg_replace_callback instead in
/web/htdocs/www.connecting-the-dots.it/home/libraries/joomla/filter/input.php
on line
691
Warning
: preg_replace(): The /e modifier is no longer supported, use preg_replace_callback instead in
/web/htdocs/www.connecting-the-dots.it/home/libraries/joomla/filter/input.php
on line
689
Warning
: preg_replace(): The /e modifier is no longer supported, use preg_replace_callback instead in
/web/htdocs/www.connecting-the-dots.it/home/libraries/joomla/filter/input.php
on line
691
Warning
: preg_replace(): The /e modifier is no longer supported, use preg_replace_callback instead in
/web/htdocs/www.connecting-the-dots.it/home/libraries/joomla/filter/input.php
on line
689
Warning
: preg_replace(): The /e modifier is no longer supported, use preg_replace_callback instead in
/web/htdocs/www.connecting-the-dots.it/home/libraries/joomla/filter/input.php
on line
691
Warning
: preg_replace(): The /e modifier is no longer supported, use preg_replace_callback instead in
/web/htdocs/www.connecting-the-dots.it/home/libraries/joomla/filter/input.php
on line
689
Warning
: preg_replace(): The /e modifier is no longer supported, use preg_replace_callback instead in
/web/htdocs/www.connecting-the-dots.it/home/libraries/joomla/filter/input.php
on line
691
Warning
: preg_replace(): The /e modifier is no longer supported, use preg_replace_callback instead in
/web/htdocs/www.connecting-the-dots.it/home/libraries/joomla/filter/input.php
on line
689
Warning
: preg_replace(): The /e modifier is no longer supported, use preg_replace_callback instead in
/web/htdocs/www.connecting-the-dots.it/home/libraries/joomla/filter/input.php
on line
691
Warning
: preg_replace(): The /e modifier is no longer supported, use preg_replace_callback instead in
/web/htdocs/www.connecting-the-dots.it/home/libraries/joomla/filter/input.php
on line
689
Warning
: preg_replace(): The /e modifier is no longer supported, use preg_replace_callback instead in
/web/htdocs/www.connecting-the-dots.it/home/libraries/joomla/filter/input.php
on line
691
Warning
: preg_replace(): The /e modifier is no longer supported, use preg_replace_callback instead in
/web/htdocs/www.connecting-the-dots.it/home/libraries/joomla/filter/input.php
on line
689
Warning
: preg_replace(): The /e modifier is no longer supported, use preg_replace_callback instead in
/web/htdocs/www.connecting-the-dots.it/home/libraries/joomla/filter/input.php
on line
691
Warning
: preg_replace(): The /e modifier is no longer supported, use preg_replace_callback instead in
/web/htdocs/www.connecting-the-dots.it/home/libraries/joomla/filter/input.php
on line
689
Warning
: preg_replace(): The /e modifier is no longer supported, use preg_replace_callback instead in
/web/htdocs/www.connecting-the-dots.it/home/libraries/joomla/filter/input.php
on line
691
Teens and Screens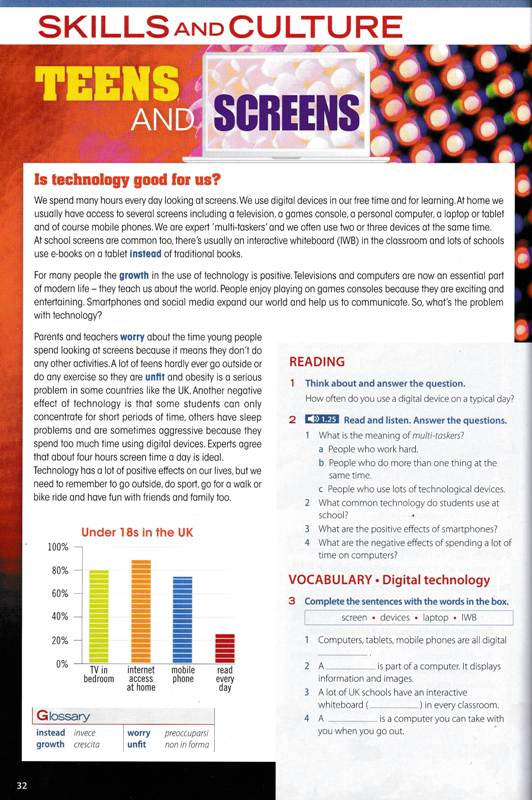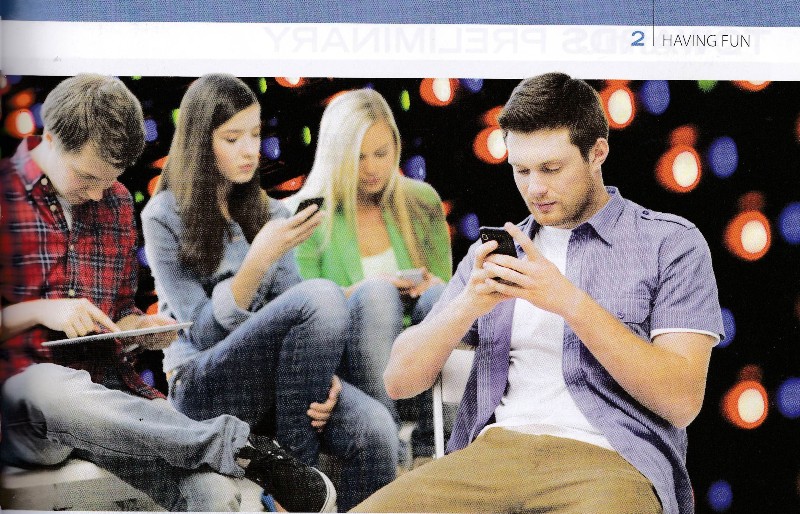 Good morning, afternoon, evening,
this is team homework mainly for all our teenager students, but any other is very, very welcome to partecipate. 
Decide which classmates you want to work with, read this page and give as a group your answers to the questions below or write your ideas and comments.
What time of the day do you enjoy most?
What do you prefere doing at school?
What do you like doing in your free time?
What do you do with your computer and smart phone? 
Are there any negative aspects in always carrying a smartphone with us or using other digital devices?  
Let us know, it is so interesting to know what you think. 
Enjoy you English, see you in class, 
Anna - Coordinator
Source: Get Thinking, Cambridge University Press 2015, Student's Book  
Healthy Lifestyle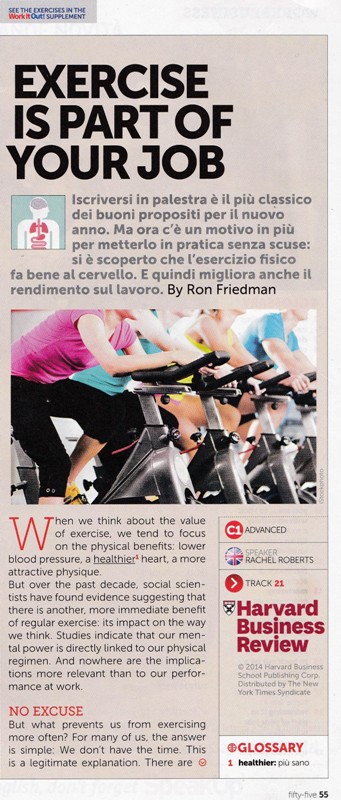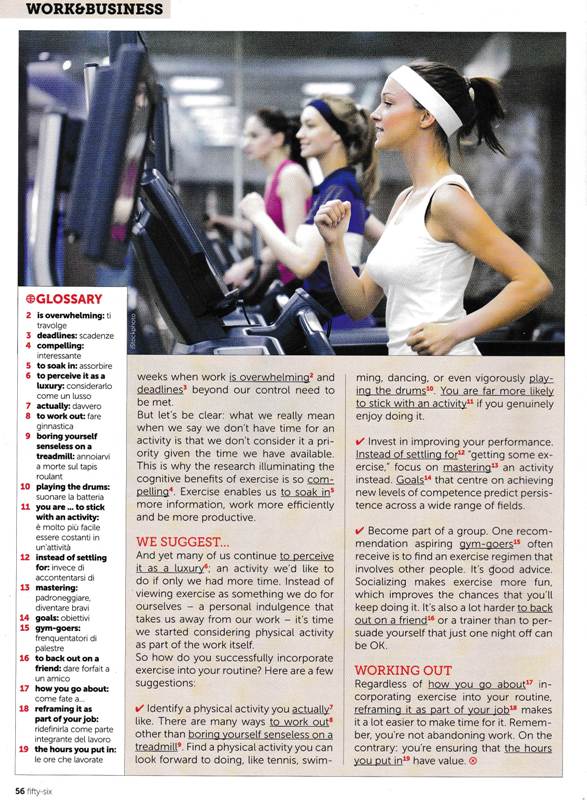 Good morning, afternoon, evening,  
in class we listened to this article and the following conversation was so stimulating!
Do you agree that body and mind are deeply intertwinned?
What is the role played by exercising in your life?
We said it's important to become aware of this importance if action has to be taken. With no consciousness there's no decision to start something new.
How many perceptions can we develop to produce never ending resources?
Which ones do you base your daily life on?  
Let us know what you think and what your experience is.
Enjoy your English and practice it.
Anna - Coordinator 
Source: Speak Up January 2015 
Thank you Maria Luisa,
just a few words here after listening to your comment in class:
Latin capital letter, you can find context and other spelling kistakes by yourself. Coordinate subject and verb, singular singular, plural plural. When speaking in general no articles before nouns.
See you in class, Anna 
A Short Story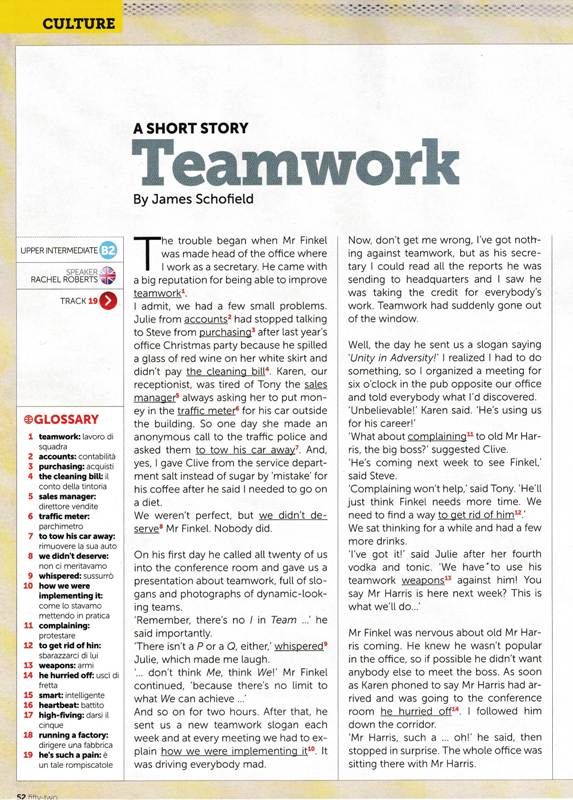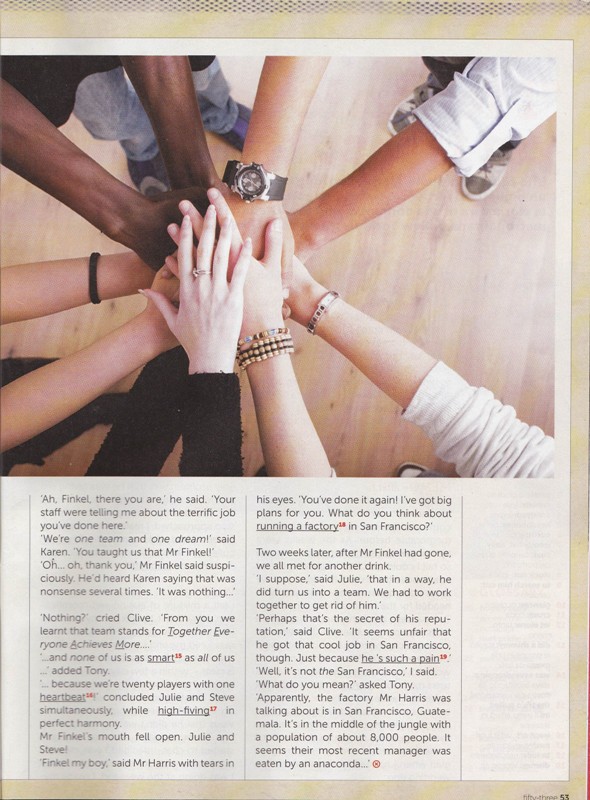 'morning, 'afternoon, 'evening,                                                                                                               thank you Fabio for your accurate comment. There would be so much to enquire about your last answer,  what it means being a native speaker of a Language the way you mean. 
We think that being a native speaker of a Language is a very special condition; it refers to where and who we were born with, to the languages we have been speaking and listening to, for sure.
But there's also the condition of feeling close to a native speaker of that Language, because you share the same reality the language represents.
Being communicatevely competent should be feeling at easy sharing this same world.
It is a deep feeling, a very strong bond with the Language and people who speak it, that allows you to behave, to embody the language itself and be like any other who speaks it. Being united by the same Language, capable of communicating, comparing realities, sharing feelings and ideas.  
Let's go straight to our article: we have read this short story in class dividing it into three parts for three different groups of students; each group had to guess what the whole story was about and compare ideas with the other two. Only after saying the content of each part listening as much as possible to the other groups, students have been allowed to read the whole story. 
They did that and enjoyed this very good teamwork without knowing the title of the story, since it had been cut off from their copies. 
Try here to summarize the story catching the humor, but focus on what strikes you most. 
Have a good job! 
Anna - Coordinator
Source: Speak Up, February 2015 
Pleasure to meet you!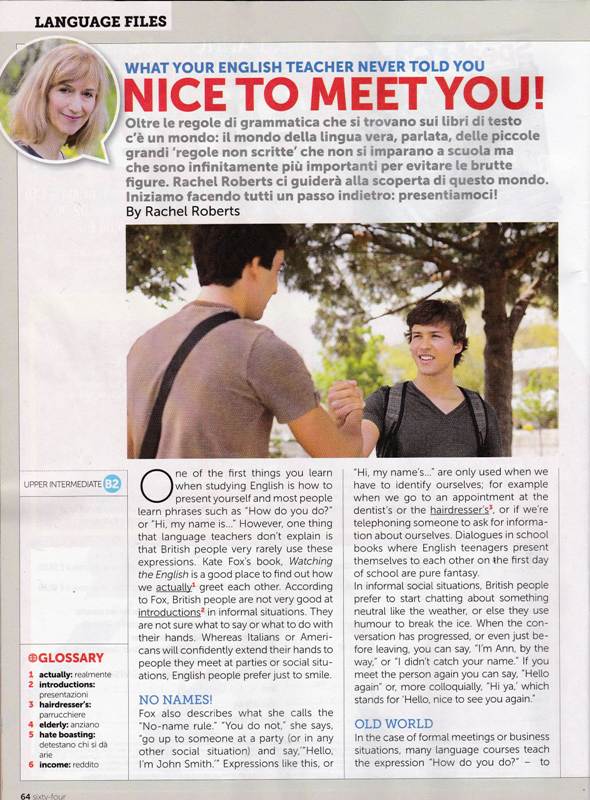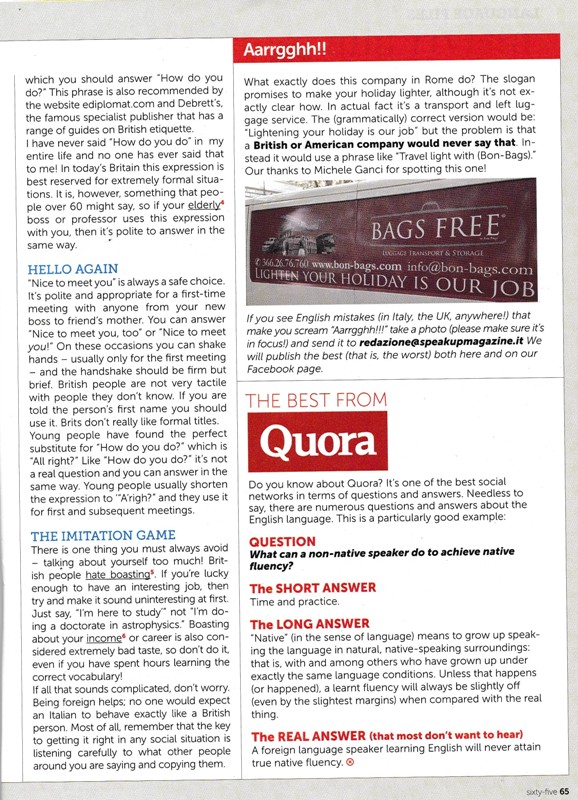 Good morning, afternoon, evening, 
if you think it's useful having a few preliminary notions to behave properly when meeting English speaking people, then read the article.  
Do you have any experience with American or British people?
Have you noticed any differences from us in their behaviour when meeting new people? 
What is the meaning of "Hi ya" in informal English? 
What is the context for using "All right?" by young people? 
Before having a look at Quora, second page, give your own answer to the question: 
"What can a non-native speaker do to achieve native fluency?"
We are very interested in each one's answer. 
Think of the reverse side of the phenomenon, how non-native speakers of Italian become fluent. 
See you in class, enjoy your English 
Anna - Coordinator 
Source: Speak Up February 2015 
No problem Smart Watch Prices, continue visiting  our blog.  All the times something nice is written in English, thet's the topic.
Unfortunately I am not the designer of the blog, I mean the technical planning. I'll try to find it out! Thank you, Anna 
Niagara Falls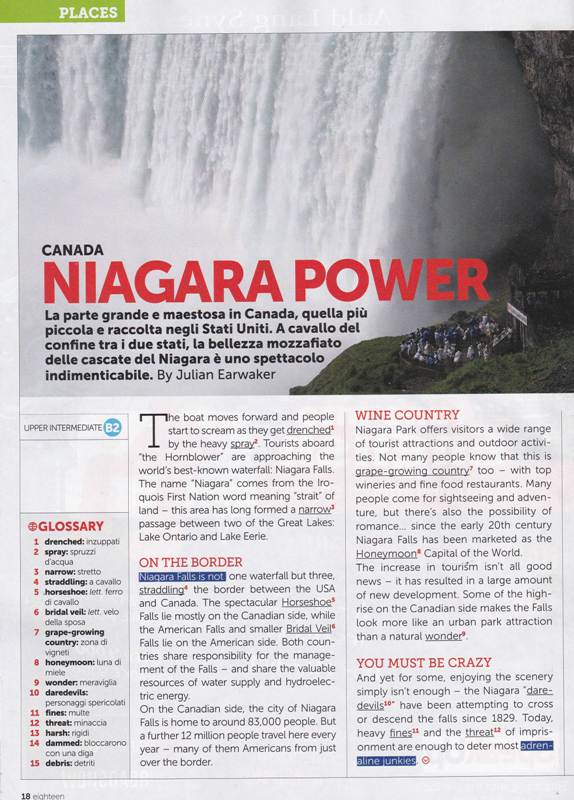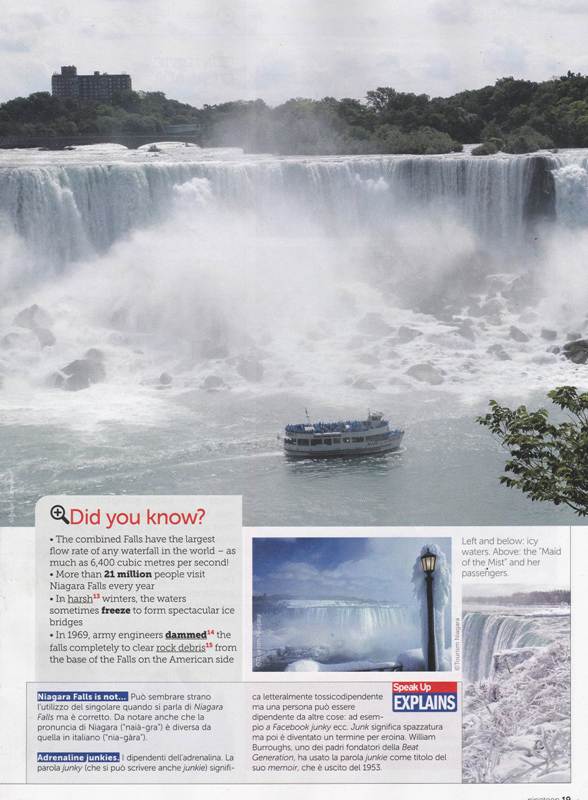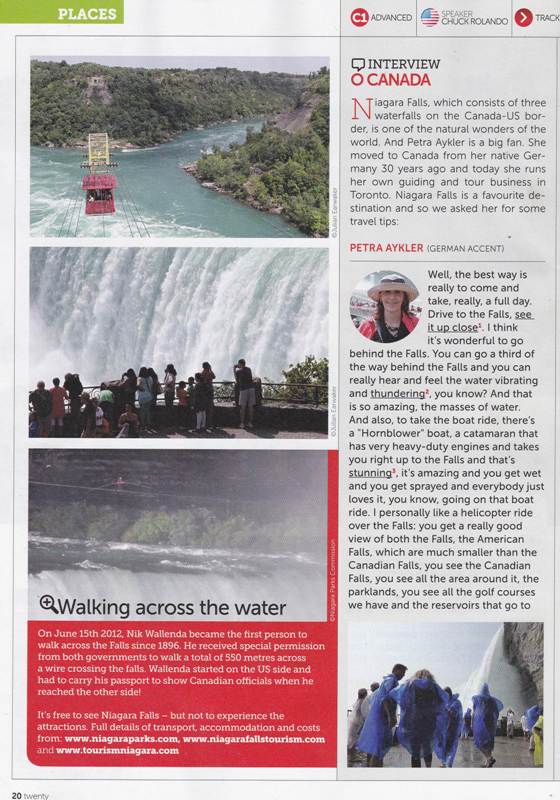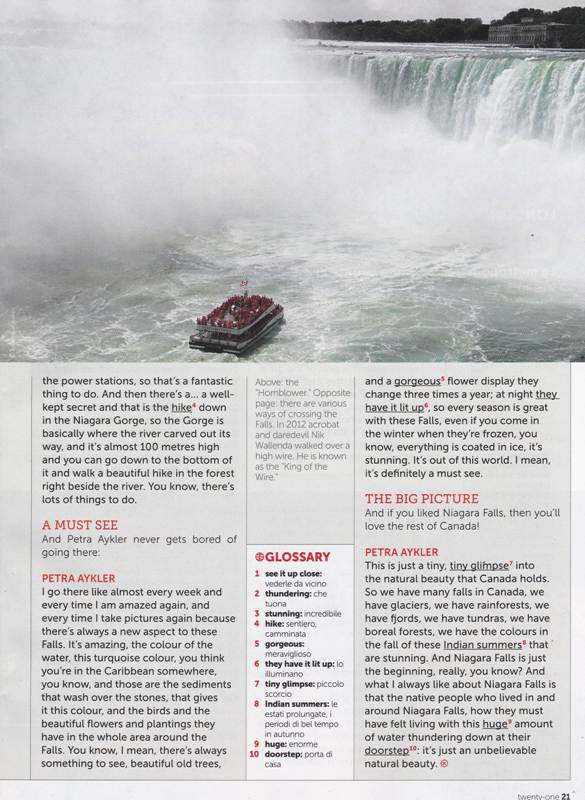 Good morning, afternoon, evening,
back to Canada and mesmerizing shows! 
Contextualize the Horseshoe in this article and the Bridal Veil. Try to make people understand what they are with your writing. 
Why is there the risk of  not being a natural wonder any more? 
Visit the web sites and write down/tell us in class your comments and how possiblities of visiting the spot are organized.  
We will listen to the interview with Petra Aykler in class so to role-play acting as a tour guide for the Falls. 
Enjoy your English,  
Anna - Coordinator  
Source: Speak Up, January 2015                          
Wow, London Skyline!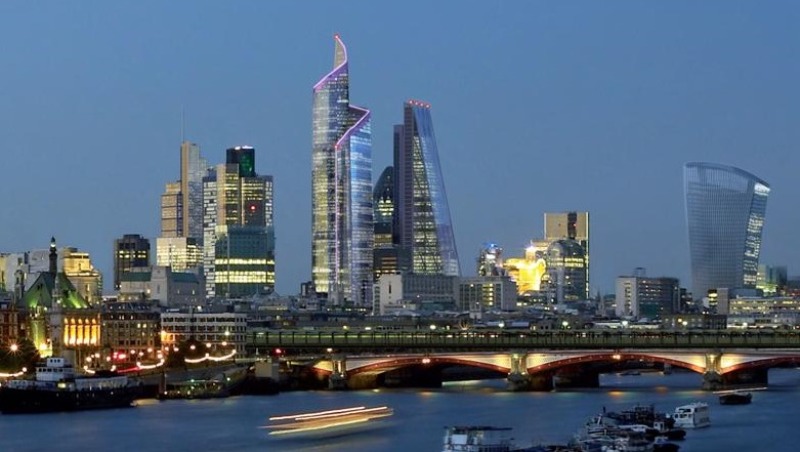 Good morning, afternoon, evening,
"the driving and creative force that is transforming the economy and society, and which has advantages and disadvantages for different social groups, is still to be taken seriously because it is generating in London many activities and valuable opportunities to work lacking with us.
For centuries the pedagogy of the Nordic countries has promoted a hands-on learning, cooperative, based on problem solving, which offers the most young people the tools to fit more easily into work at the end of their schooling.
The futuristic buildings that have changed the urban London seemed to me the continuation and the materialization of the activities done in the school during the course of which the teachers glimpse the path suited to the future surveyor, electrician, mechanic, architect, engineer, to the banker, the financier, the artist". 
Make yourselves feel this magnificence even more fascinating and attractive so to take important decisions for your entire life.
What about Italian education?
Is problem solving an Italian approach to reality so to turn any problems into opportunities and learn how to cope with them and create new working outcomes?
What is your experience of London? 
Any recent one? 
In case anyone interested in sharing the experience of this blog can read this message, please send an email for further inquires. At the bottom of the page there's the email address. It will be a pleasure reading you and replying.
Enjoy your English and any place where it is spoken!  
Anna - Coordinator
Source: Arrigo Speziali, ACLE Italy Director
Thank you Daniele, I may not have lots of instruments to evaluate the quality of life in the cities, but the very first impression you have in London is that of a lively city, with that driving force that is lacking in Italy, maybe all over the country. Your lucid evaluation of the quality of Italian schhools and school reforms are the sign of a still existing capability by young people to understant the base of all Italian problems. Education is not seen as an area to invest on, thinking of it as the best way to have a better future.
The system of cooperative too in Italky is frequently a mask to hide other interests.
Going abroad is a chance to take with no hesitation, without excluding the one that is the greatest bond with our country: to fight all the times it is possible to improve everybody's living conditions, becoming competent and resolute to claim for people's rights.
Italy is a stagnant country, with other priorities than its citizens' serenity, rights and happiness. But it is our duty first to improve ourselves then the square meter surrounding us all the time.
Winter Solstice
Good morning, afternoon, evening, 
they continue to call it a mistery.
What's your idea about Stonhenge?
Do you know any other Neolithic monument and/or place? Think of Italy too.
Season's Greetings, Anna - Coordinator
Source: Speak Up December 2014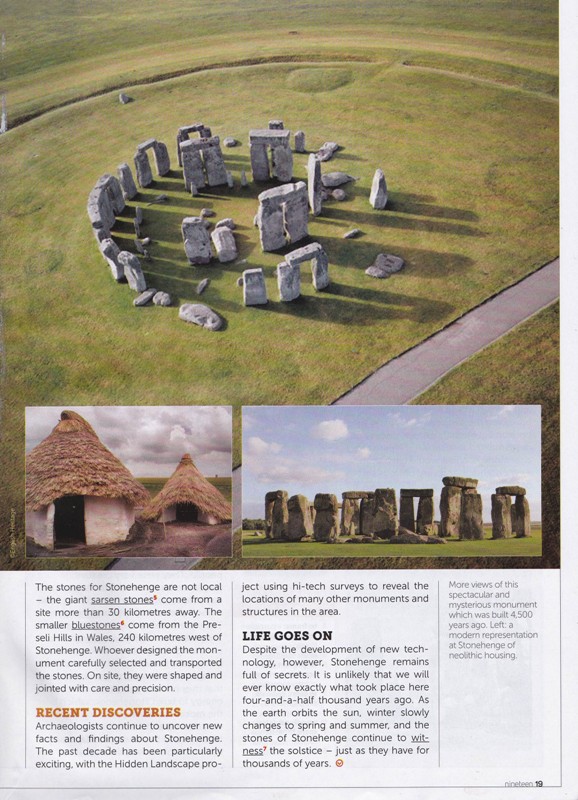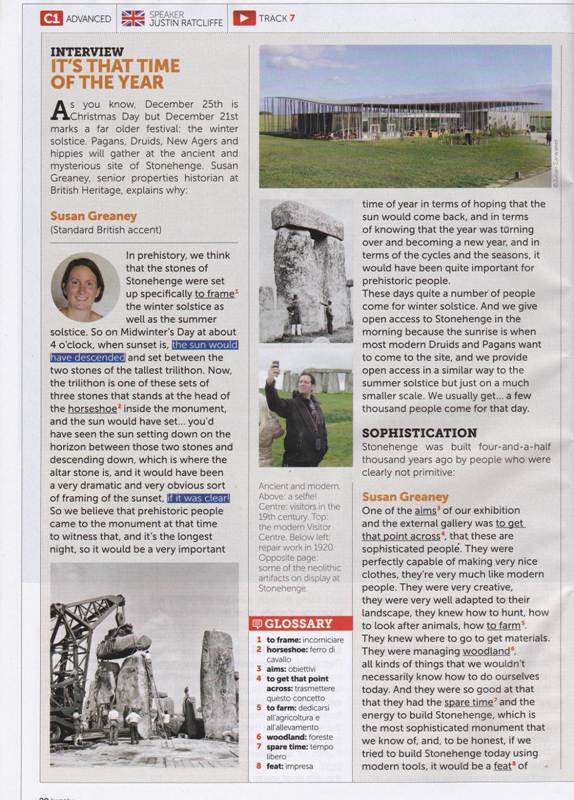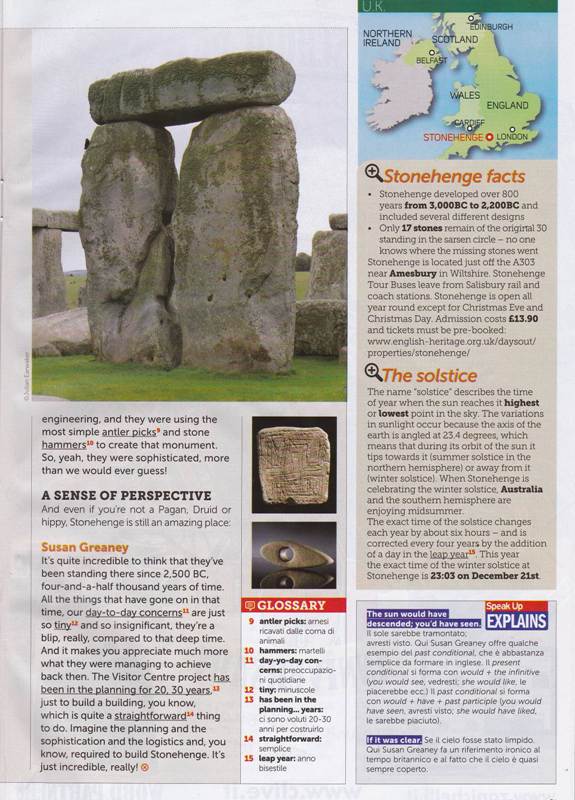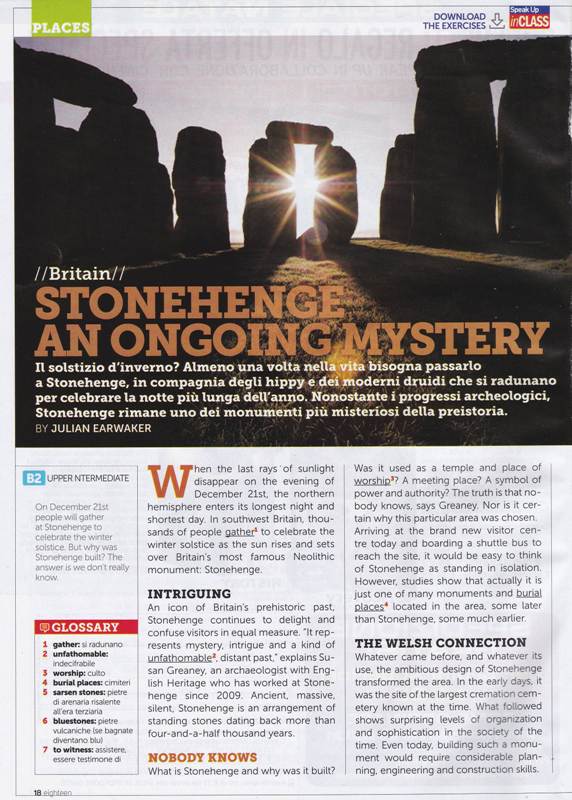 The Lady and the Scamp - Los Angeles Movie Preview

From Time Magazine Dec 1 Dec 8 2014:
"I think I do connect to people who could be written off as wild or dark, or who are just full of fire and looking for a place to put that fire. It's an important lesson to learn, and it's something I did learn: you live on behalf of others and you're happier and you have purpose. And you have a great excuse to have all that fire". 
Get through the article to the very core of it and write a comment. 
Maybe we are starting to like this woman, definetely we like this man. 
Anna - Coordinator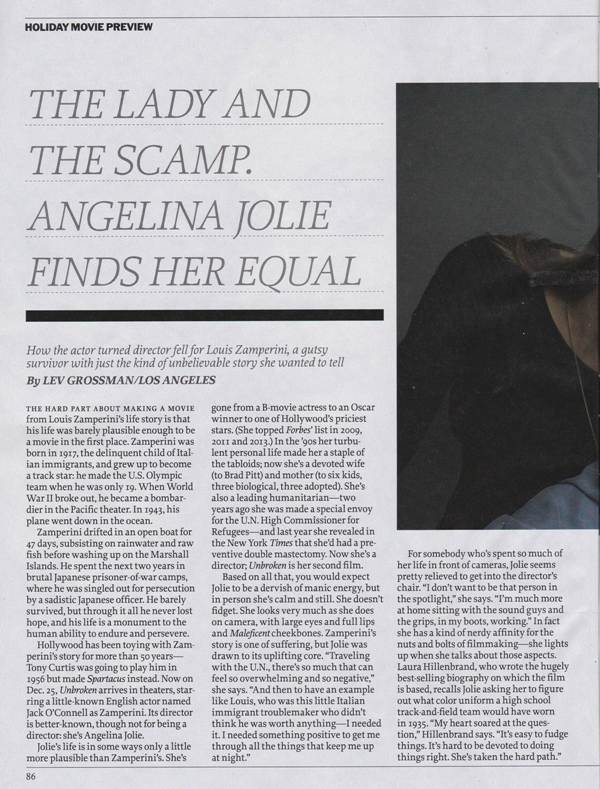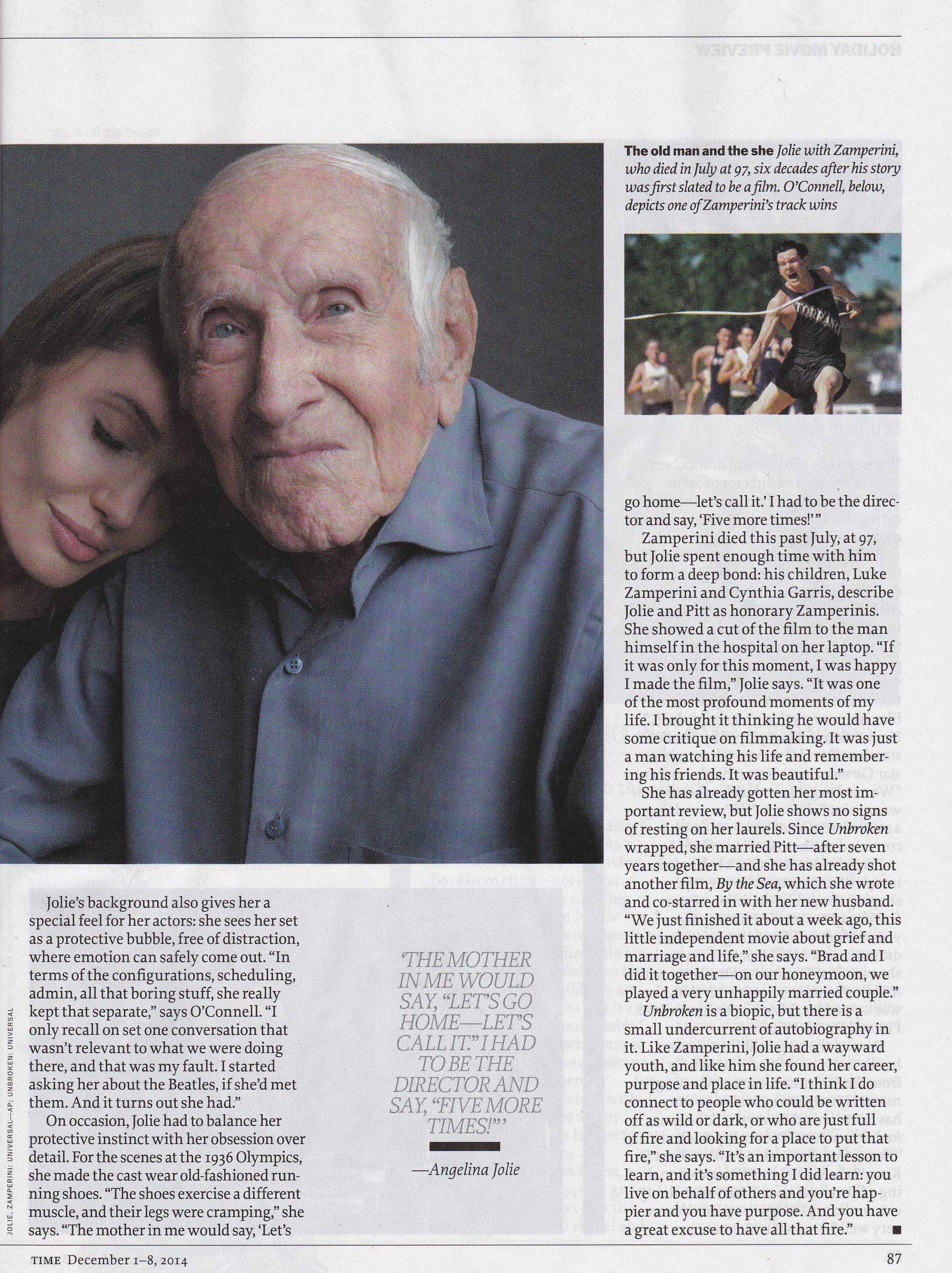 Canada and cold weather
Good morning, afternoon evening, 
something about Canada. 
1. Why do people in Canada go on vacation in January instead of August the way we do? 
2. When is the first snowfall? 
3. What is "ice time" for Canadian people who like hockey? 
4. What's the range in temperature in winter time? 
5. Related to cars, what's an electrical outlet for? 
6. Do we need to use remote car starters? What are they for? 
7. What do you think of the shopping mall Stefanie Guillard mention in her interview? 
8. Any other American English words you know in addition to the ones in the article about Canada?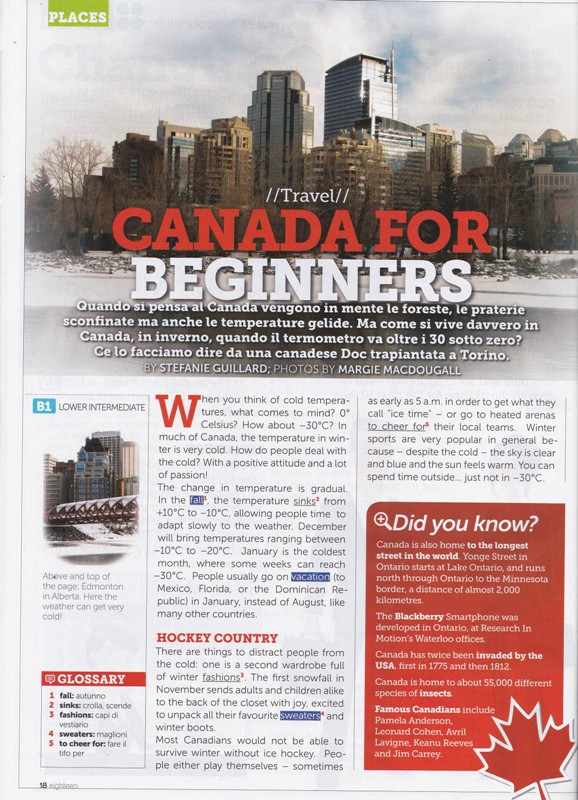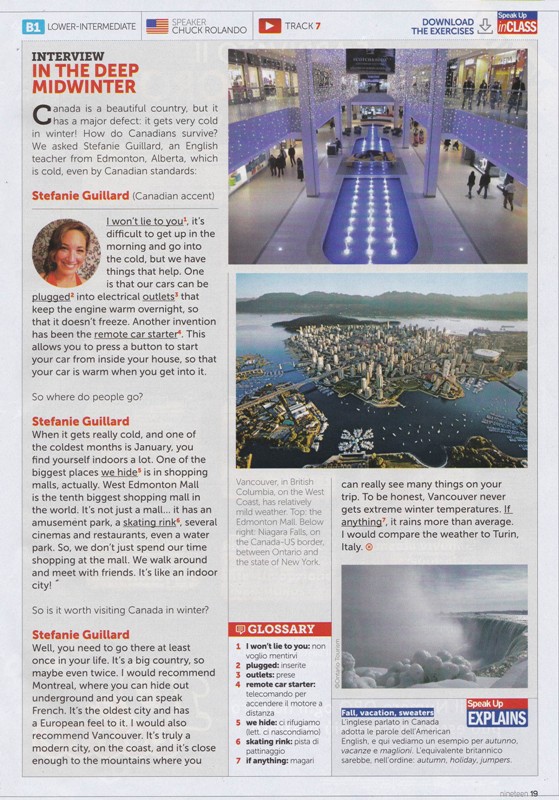 Enjoy your English
Anna - Coordinator
Source: Speak Up, November 2014 
Coconuts and Peaches
Hello
Caterina, Isabella, Monica, Valentina, Francesco, Maurizio, Fabio, Alessio, Emanuele,  Alenia, Paola, Giuseppe, 
and whoever wants to contribute to our English project partecipating in our blog, 
what type of relationship do you usually estabilish with people you meet?
Is there a pattern?
Are there differences according to the context, what do you usually perceive about people?
Are you interested in comprehending what sort of person they are? 
Let us know your experiences and what makes you feel involved in relationships with human beings. without revealing too much of you and your counterpart, of course, but giving your impressions and opinions about the subject in a comment, referring to the content of the article. 
Anyway, do you feel being a Coconut or a Peach, if you like this figurative language?
In case you want to continue reading the second article, go on with the small picture.
Anna - Coordinator 
Source: Speak Up, November 2014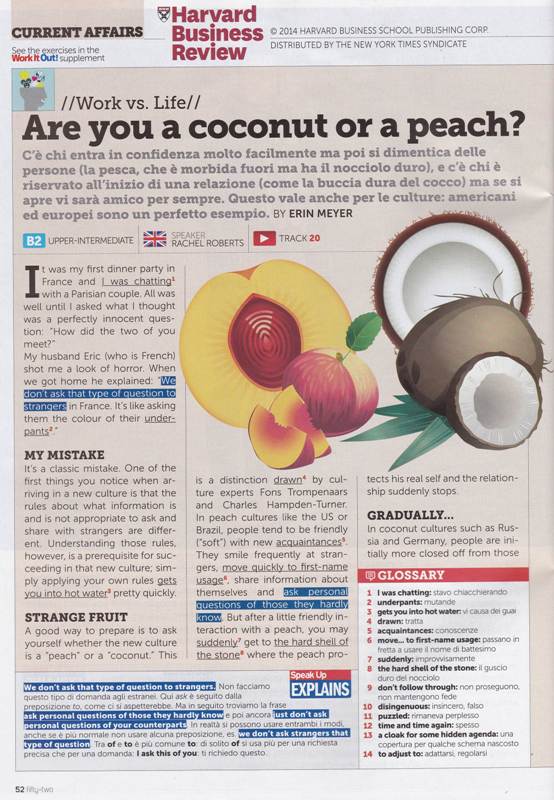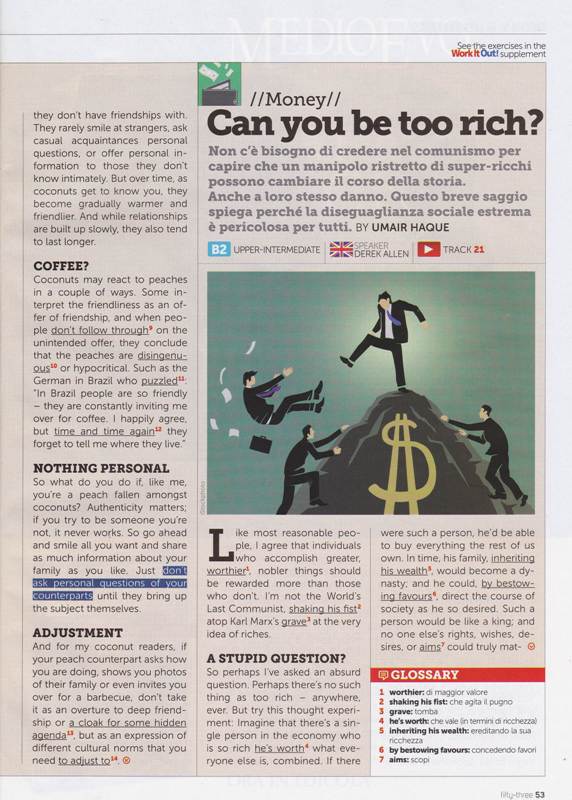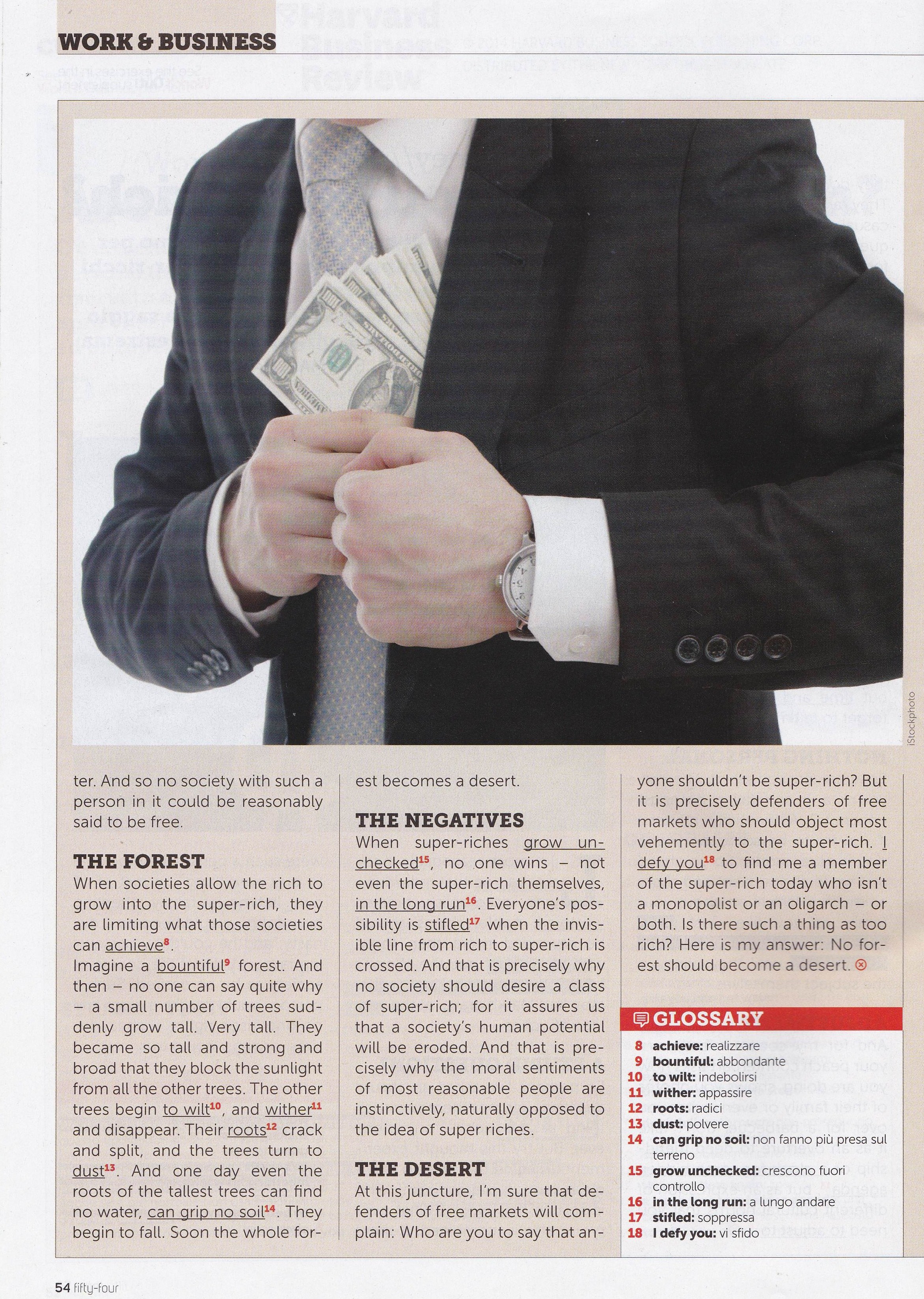 A boat with a view
Good morning, afternoon, evening,
this is one more identity London can have. It is a city that offers people a different life, since so many live on a boat.
1. Would you like to?
2.What do you think can be attractive and positive about this type of life?
3. What do you think of what Melanie says:
"Being on the water, where you move up and down with the tide, you have a different view all the time, you're not always in the same place. You have that feeling of connecting with the way the world is turning".
Let us know, we'll be very pleased to talk about that in class.
Anna - Coordinator
Source: Speak Up November 2014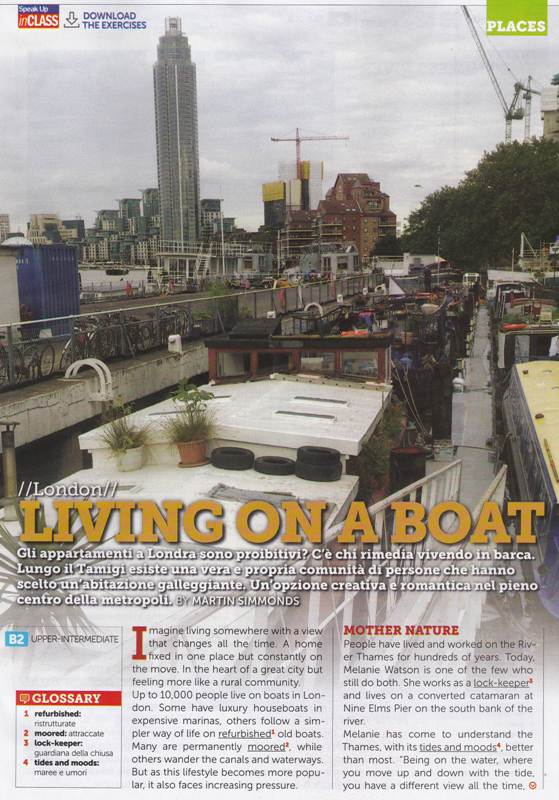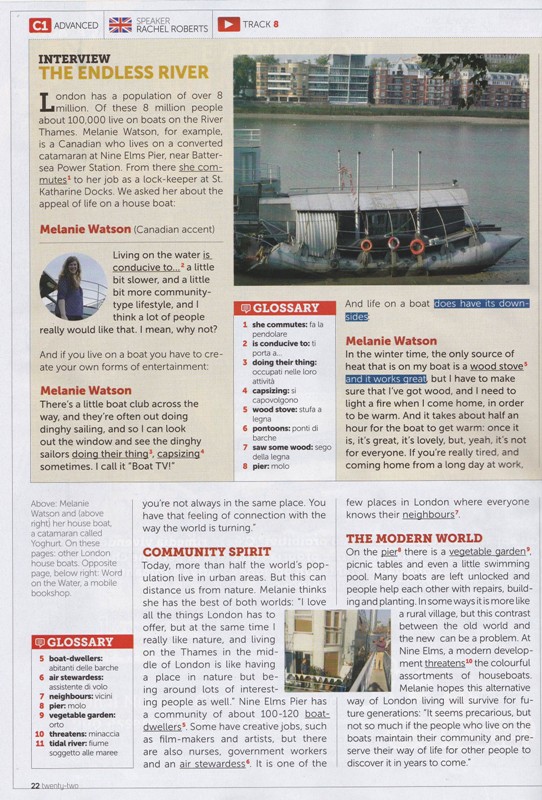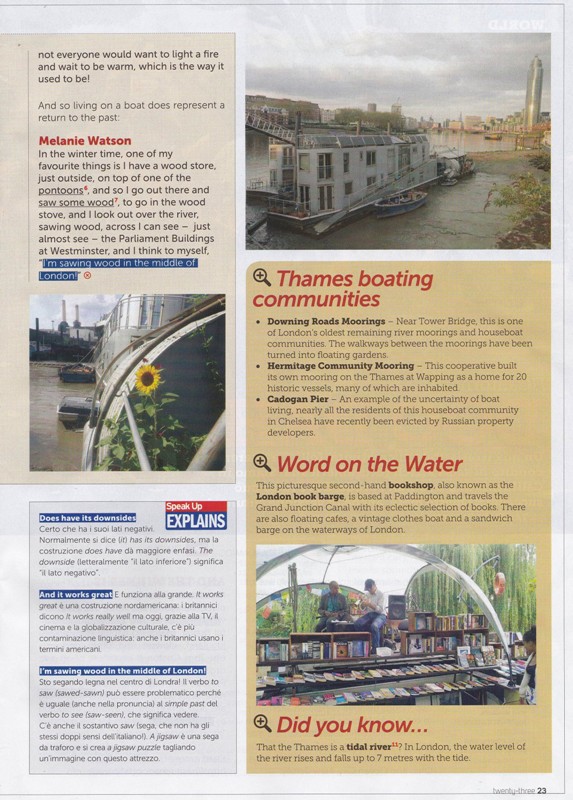 TED Talks
Good morning, afternoon, evening
Caterina, Monica, Isabella, Valentina, Matteo, Alessio, Francesco, Fabio, Maurizio, Samuele,  
have you ever listened to the TED Talks on the Internet? Read this article and find your own subject of interest among the so many available on the web.  
Tell us in a comment what Talks you are interested in and us too, we will listen to them, so to be able to speak about them in class together. 
Anna - Coordinator
Source: Speak Up October 2014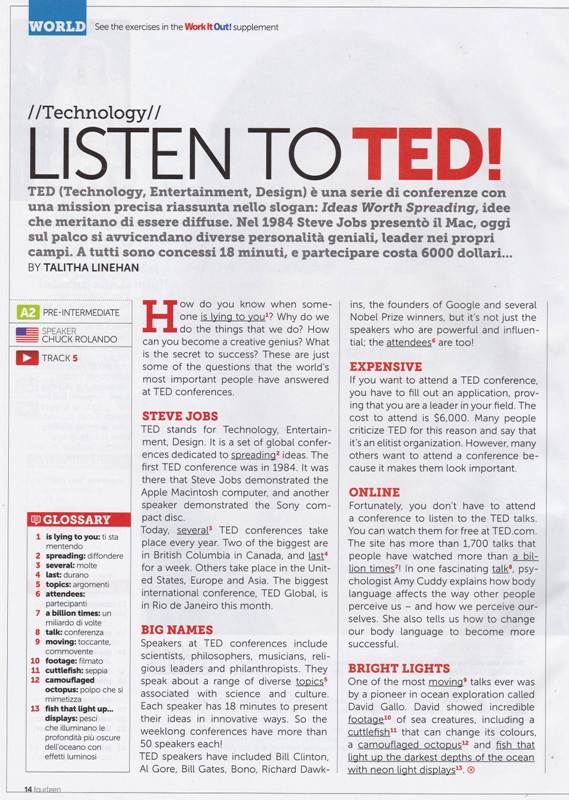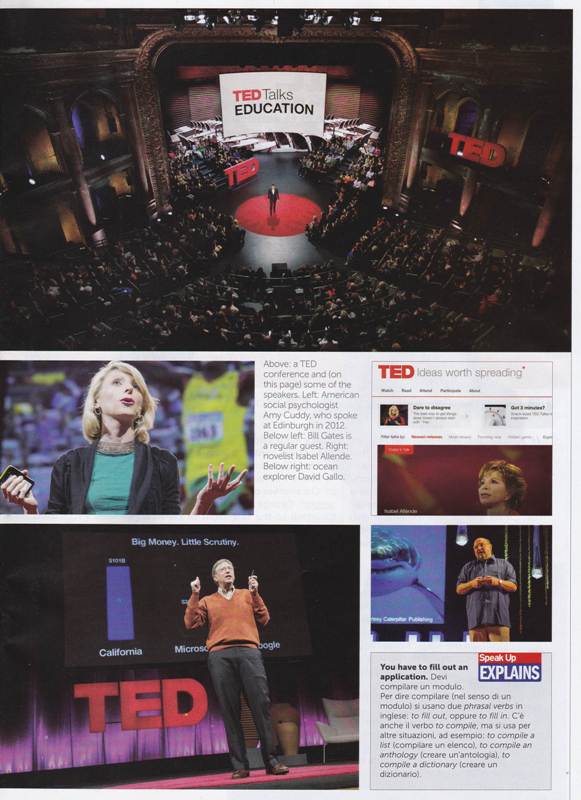 A "Talented Teenager"
Good morning, afternoon, evening, 
quite often we can face the subject of talented teenagers in our text books, finding out later that they have become professionals, artists, capable of designing their own extraordinary lives.
Malala is not only a name to bear in mind, but also a pattern to follow.
She didn't mean to show any special talent, she was just doing what she believed in.
Malala started a blog to promote girls'education when she was only thirteen, choosing the side of life she wanted to stay on.
She chose education to change everyone's destiny, to open that view on the entire world that takes into account everyone's interest. 
1. Is it just a matter of choices waiting to be done? 2. Or decisions to take? 
3. Is there any important choice  we can do of a similar importance? 4. When? 
5. What role do you think education can play in a child's life? 
6. What do you think of such a girl? 
Listen to her speaking English on the Internet, when she delivered a speech at the United Nations on the day of her sixteenth birthday, on July 12th, 2013, after recovering in Great Britain for being so severely injured in Pakistan by the Taliban. 
She talks about the importance of education, the only way for us as human beings to live as equals, both women and men.
"Let's join her, let's all do our part to help unlock the extraordinary talents and potential of all our children."  
There might be so many other talented children among us like Malala or different from her, all of them capable of contributing to a better world for everybody.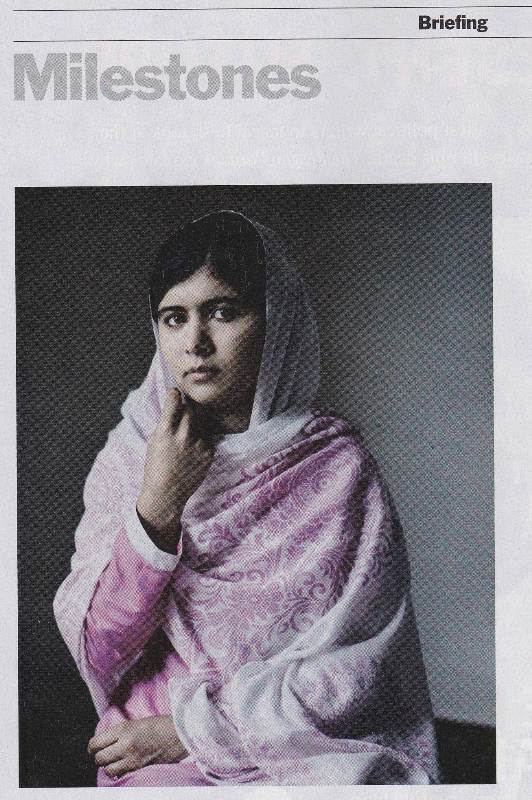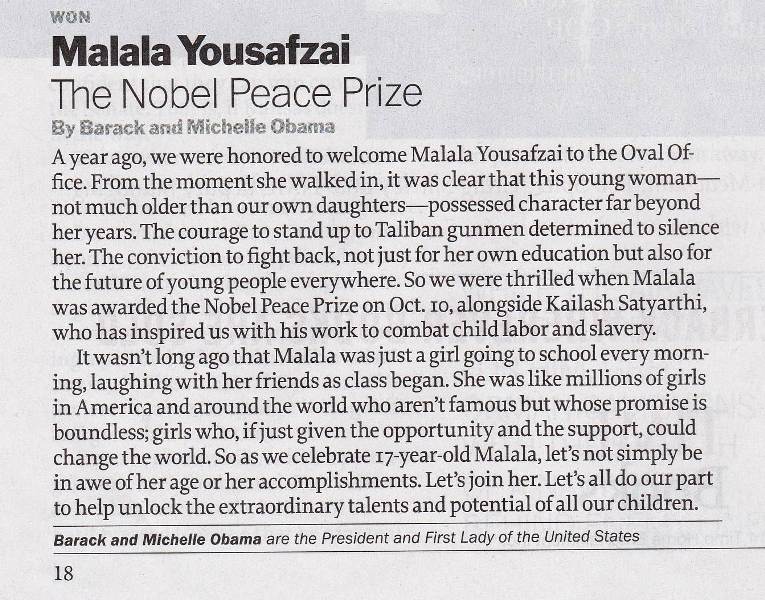 Anna - Coordinator 
Source: Time, October 27 2014 
Lighthouses in Ireland
Good morning, afternoon, evening Matteo, Fabio, Emanuele, Francesco, Maurizio, 
and whoever wants to join us acquiring English as a second language; 
this is the article for you for our next class. Plus films to watch, summaries and comments to write and when together opportunities to speak. 
Again Ireland  
1. Is there anything in common between this and the previous article? 
2. What does the Irish Landmarks Trust do? 
3. If you had the chance, which lighthouse would you like to visit among the ones described?
4. Is the one proposed in All Island Lighthouse Tourism Trail a type of vacation you would choose? 
Visit also other pages of our website and enjoy practicing your English  
Maria Luisa: very good job. I'm sure you can find the very few mistakes you made, just reading again your writing. 
To deliver your speech before your class, give everybody the "big picture", I mean try to contextualize the lighthouses in Ireland as part  of a project intended to preserve and utilize historical buildings. 
See you in class
Anna - Coordinator 
Source: Speak Up September 2014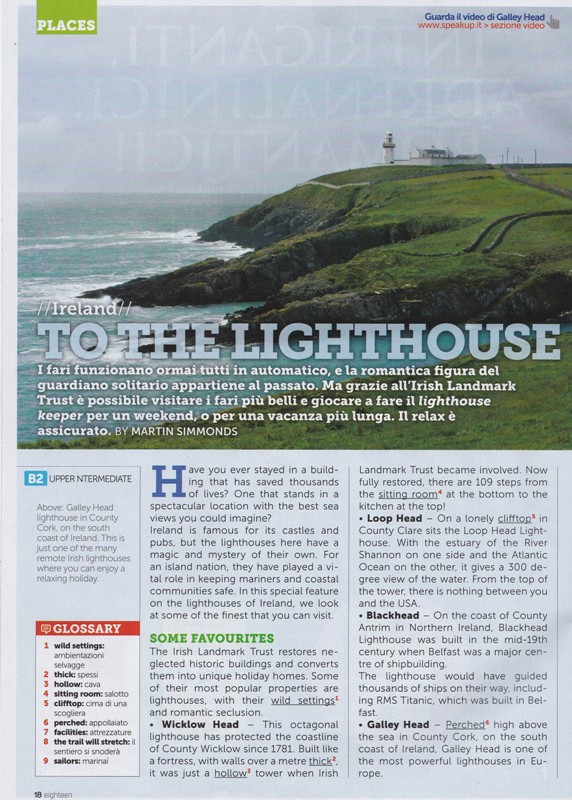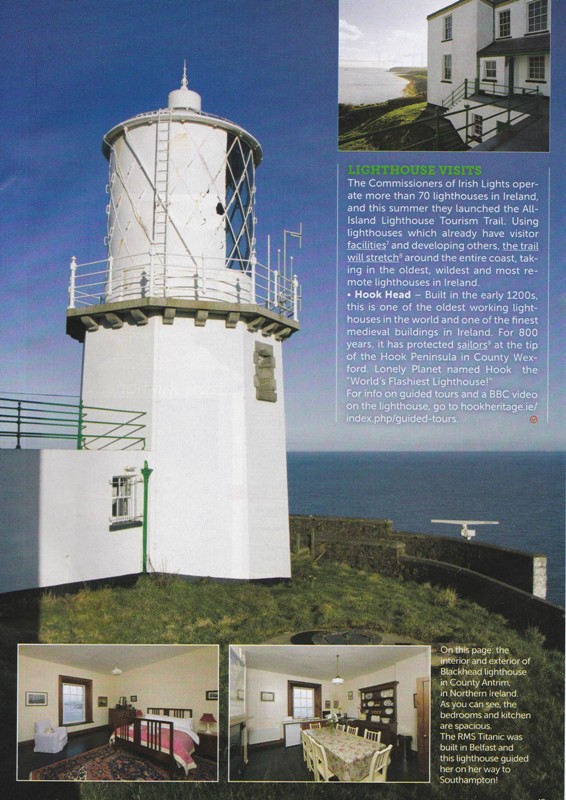 If you like cats
Good morning, afternoon, evening, Caterina, Monica, Rocio, 
nice welcoming you and anyone else who likes partecipating in this job of ours to make our English improve.
This article is for you to read and then write your comments.
We can continue talking about Cat Cafés in class among the so many other subjects that usually we like talking about. 
1. What is the aim of these cafés with cats that are spreading from Taiwan?  
2. Do you think they would be successful in our country? 
3. Have you visited the web site whose address is in mentioned in the article? If so, tell us what is the core of it and how it works. 
Anna - Coordinator
Source: Speak Up September 2014