Warning
: preg_replace(): The /e modifier is no longer supported, use preg_replace_callback instead in
/web/htdocs/www.connecting-the-dots.it/home/libraries/joomla/filter/input.php
on line
689
Warning
: preg_replace(): The /e modifier is no longer supported, use preg_replace_callback instead in
/web/htdocs/www.connecting-the-dots.it/home/libraries/joomla/filter/input.php
on line
691
Warning
: preg_replace(): The /e modifier is no longer supported, use preg_replace_callback instead in
/web/htdocs/www.connecting-the-dots.it/home/libraries/joomla/filter/input.php
on line
689
Warning
: preg_replace(): The /e modifier is no longer supported, use preg_replace_callback instead in
/web/htdocs/www.connecting-the-dots.it/home/libraries/joomla/filter/input.php
on line
691
Warning
: preg_replace(): The /e modifier is no longer supported, use preg_replace_callback instead in
/web/htdocs/www.connecting-the-dots.it/home/libraries/joomla/filter/input.php
on line
689
Warning
: preg_replace(): The /e modifier is no longer supported, use preg_replace_callback instead in
/web/htdocs/www.connecting-the-dots.it/home/libraries/joomla/filter/input.php
on line
691
Warning
: preg_replace(): The /e modifier is no longer supported, use preg_replace_callback instead in
/web/htdocs/www.connecting-the-dots.it/home/libraries/joomla/filter/input.php
on line
689
Warning
: preg_replace(): The /e modifier is no longer supported, use preg_replace_callback instead in
/web/htdocs/www.connecting-the-dots.it/home/libraries/joomla/filter/input.php
on line
691
Warning
: preg_replace(): The /e modifier is no longer supported, use preg_replace_callback instead in
/web/htdocs/www.connecting-the-dots.it/home/libraries/joomla/filter/input.php
on line
689
Warning
: preg_replace(): The /e modifier is no longer supported, use preg_replace_callback instead in
/web/htdocs/www.connecting-the-dots.it/home/libraries/joomla/filter/input.php
on line
691
Warning
: preg_replace(): The /e modifier is no longer supported, use preg_replace_callback instead in
/web/htdocs/www.connecting-the-dots.it/home/libraries/joomla/filter/input.php
on line
689
Warning
: preg_replace(): The /e modifier is no longer supported, use preg_replace_callback instead in
/web/htdocs/www.connecting-the-dots.it/home/libraries/joomla/filter/input.php
on line
691
Warning
: preg_replace(): The /e modifier is no longer supported, use preg_replace_callback instead in
/web/htdocs/www.connecting-the-dots.it/home/libraries/joomla/filter/input.php
on line
689
Warning
: preg_replace(): The /e modifier is no longer supported, use preg_replace_callback instead in
/web/htdocs/www.connecting-the-dots.it/home/libraries/joomla/filter/input.php
on line
691
Warning
: preg_replace(): The /e modifier is no longer supported, use preg_replace_callback instead in
/web/htdocs/www.connecting-the-dots.it/home/libraries/joomla/filter/input.php
on line
689
Warning
: preg_replace(): The /e modifier is no longer supported, use preg_replace_callback instead in
/web/htdocs/www.connecting-the-dots.it/home/libraries/joomla/filter/input.php
on line
691
Warning
: preg_replace(): The /e modifier is no longer supported, use preg_replace_callback instead in
/web/htdocs/www.connecting-the-dots.it/home/libraries/joomla/filter/input.php
on line
689
Warning
: preg_replace(): The /e modifier is no longer supported, use preg_replace_callback instead in
/web/htdocs/www.connecting-the-dots.it/home/libraries/joomla/filter/input.php
on line
691
Warning
: preg_replace(): The /e modifier is no longer supported, use preg_replace_callback instead in
/web/htdocs/www.connecting-the-dots.it/home/libraries/joomla/filter/input.php
on line
689
Warning
: preg_replace(): The /e modifier is no longer supported, use preg_replace_callback instead in
/web/htdocs/www.connecting-the-dots.it/home/libraries/joomla/filter/input.php
on line
691
Warning
: preg_replace(): The /e modifier is no longer supported, use preg_replace_callback instead in
/web/htdocs/www.connecting-the-dots.it/home/libraries/joomla/filter/input.php
on line
689
Warning
: preg_replace(): The /e modifier is no longer supported, use preg_replace_callback instead in
/web/htdocs/www.connecting-the-dots.it/home/libraries/joomla/filter/input.php
on line
691
Warning
: preg_replace(): The /e modifier is no longer supported, use preg_replace_callback instead in
/web/htdocs/www.connecting-the-dots.it/home/libraries/joomla/filter/input.php
on line
689
Warning
: preg_replace(): The /e modifier is no longer supported, use preg_replace_callback instead in
/web/htdocs/www.connecting-the-dots.it/home/libraries/joomla/filter/input.php
on line
691
Warning
: preg_replace(): The /e modifier is no longer supported, use preg_replace_callback instead in
/web/htdocs/www.connecting-the-dots.it/home/libraries/joomla/filter/input.php
on line
689
Warning
: preg_replace(): The /e modifier is no longer supported, use preg_replace_callback instead in
/web/htdocs/www.connecting-the-dots.it/home/libraries/joomla/filter/input.php
on line
691
Warning
: preg_replace(): The /e modifier is no longer supported, use preg_replace_callback instead in
/web/htdocs/www.connecting-the-dots.it/home/libraries/joomla/filter/input.php
on line
689
Warning
: preg_replace(): The /e modifier is no longer supported, use preg_replace_callback instead in
/web/htdocs/www.connecting-the-dots.it/home/libraries/joomla/filter/input.php
on line
691
Warning
: preg_replace(): The /e modifier is no longer supported, use preg_replace_callback instead in
/web/htdocs/www.connecting-the-dots.it/home/libraries/joomla/filter/input.php
on line
689
Warning
: preg_replace(): The /e modifier is no longer supported, use preg_replace_callback instead in
/web/htdocs/www.connecting-the-dots.it/home/libraries/joomla/filter/input.php
on line
691
Warning
: preg_replace(): The /e modifier is no longer supported, use preg_replace_callback instead in
/web/htdocs/www.connecting-the-dots.it/home/libraries/joomla/filter/input.php
on line
689
Warning
: preg_replace(): The /e modifier is no longer supported, use preg_replace_callback instead in
/web/htdocs/www.connecting-the-dots.it/home/libraries/joomla/filter/input.php
on line
691
Warning
: preg_replace(): The /e modifier is no longer supported, use preg_replace_callback instead in
/web/htdocs/www.connecting-the-dots.it/home/libraries/joomla/filter/input.php
on line
689
Warning
: preg_replace(): The /e modifier is no longer supported, use preg_replace_callback instead in
/web/htdocs/www.connecting-the-dots.it/home/libraries/joomla/filter/input.php
on line
691
Warning
: preg_replace(): The /e modifier is no longer supported, use preg_replace_callback instead in
/web/htdocs/www.connecting-the-dots.it/home/libraries/joomla/filter/input.php
on line
689
Warning
: preg_replace(): The /e modifier is no longer supported, use preg_replace_callback instead in
/web/htdocs/www.connecting-the-dots.it/home/libraries/joomla/filter/input.php
on line
691
Warning
: preg_replace(): The /e modifier is no longer supported, use preg_replace_callback instead in
/web/htdocs/www.connecting-the-dots.it/home/libraries/joomla/filter/input.php
on line
689
Warning
: preg_replace(): The /e modifier is no longer supported, use preg_replace_callback instead in
/web/htdocs/www.connecting-the-dots.it/home/libraries/joomla/filter/input.php
on line
691
Warning
: preg_replace(): The /e modifier is no longer supported, use preg_replace_callback instead in
/web/htdocs/www.connecting-the-dots.it/home/libraries/joomla/filter/input.php
on line
689
Warning
: preg_replace(): The /e modifier is no longer supported, use preg_replace_callback instead in
/web/htdocs/www.connecting-the-dots.it/home/libraries/joomla/filter/input.php
on line
691
Warning
: preg_replace(): The /e modifier is no longer supported, use preg_replace_callback instead in
/web/htdocs/www.connecting-the-dots.it/home/libraries/joomla/filter/input.php
on line
689
Warning
: preg_replace(): The /e modifier is no longer supported, use preg_replace_callback instead in
/web/htdocs/www.connecting-the-dots.it/home/libraries/joomla/filter/input.php
on line
691
Warning
: preg_replace(): The /e modifier is no longer supported, use preg_replace_callback instead in
/web/htdocs/www.connecting-the-dots.it/home/libraries/joomla/filter/input.php
on line
689
Warning
: preg_replace(): The /e modifier is no longer supported, use preg_replace_callback instead in
/web/htdocs/www.connecting-the-dots.it/home/libraries/joomla/filter/input.php
on line
691
Warning
: preg_replace(): The /e modifier is no longer supported, use preg_replace_callback instead in
/web/htdocs/www.connecting-the-dots.it/home/libraries/joomla/filter/input.php
on line
689
Warning
: preg_replace(): The /e modifier is no longer supported, use preg_replace_callback instead in
/web/htdocs/www.connecting-the-dots.it/home/libraries/joomla/filter/input.php
on line
691
Warning
: preg_replace(): The /e modifier is no longer supported, use preg_replace_callback instead in
/web/htdocs/www.connecting-the-dots.it/home/libraries/joomla/filter/input.php
on line
689
Warning
: preg_replace(): The /e modifier is no longer supported, use preg_replace_callback instead in
/web/htdocs/www.connecting-the-dots.it/home/libraries/joomla/filter/input.php
on line
691
Warning
: preg_replace(): The /e modifier is no longer supported, use preg_replace_callback instead in
/web/htdocs/www.connecting-the-dots.it/home/libraries/joomla/filter/input.php
on line
689
Warning
: preg_replace(): The /e modifier is no longer supported, use preg_replace_callback instead in
/web/htdocs/www.connecting-the-dots.it/home/libraries/joomla/filter/input.php
on line
691
Warning
: preg_replace(): The /e modifier is no longer supported, use preg_replace_callback instead in
/web/htdocs/www.connecting-the-dots.it/home/libraries/joomla/filter/input.php
on line
689
Warning
: preg_replace(): The /e modifier is no longer supported, use preg_replace_callback instead in
/web/htdocs/www.connecting-the-dots.it/home/libraries/joomla/filter/input.php
on line
691
Warning
: preg_replace(): The /e modifier is no longer supported, use preg_replace_callback instead in
/web/htdocs/www.connecting-the-dots.it/home/libraries/joomla/filter/input.php
on line
689
Warning
: preg_replace(): The /e modifier is no longer supported, use preg_replace_callback instead in
/web/htdocs/www.connecting-the-dots.it/home/libraries/joomla/filter/input.php
on line
691
Warning
: preg_replace(): The /e modifier is no longer supported, use preg_replace_callback instead in
/web/htdocs/www.connecting-the-dots.it/home/libraries/joomla/filter/input.php
on line
689
Warning
: preg_replace(): The /e modifier is no longer supported, use preg_replace_callback instead in
/web/htdocs/www.connecting-the-dots.it/home/libraries/joomla/filter/input.php
on line
691
Warning
: preg_replace(): The /e modifier is no longer supported, use preg_replace_callback instead in
/web/htdocs/www.connecting-the-dots.it/home/libraries/joomla/filter/input.php
on line
689
Warning
: preg_replace(): The /e modifier is no longer supported, use preg_replace_callback instead in
/web/htdocs/www.connecting-the-dots.it/home/libraries/joomla/filter/input.php
on line
691
Warning
: preg_replace(): The /e modifier is no longer supported, use preg_replace_callback instead in
/web/htdocs/www.connecting-the-dots.it/home/libraries/joomla/filter/input.php
on line
689
Warning
: preg_replace(): The /e modifier is no longer supported, use preg_replace_callback instead in
/web/htdocs/www.connecting-the-dots.it/home/libraries/joomla/filter/input.php
on line
691
Warning
: preg_replace(): The /e modifier is no longer supported, use preg_replace_callback instead in
/web/htdocs/www.connecting-the-dots.it/home/libraries/joomla/filter/input.php
on line
689
Warning
: preg_replace(): The /e modifier is no longer supported, use preg_replace_callback instead in
/web/htdocs/www.connecting-the-dots.it/home/libraries/joomla/filter/input.php
on line
691
Warning
: preg_replace(): The /e modifier is no longer supported, use preg_replace_callback instead in
/web/htdocs/www.connecting-the-dots.it/home/libraries/joomla/filter/input.php
on line
689
Warning
: preg_replace(): The /e modifier is no longer supported, use preg_replace_callback instead in
/web/htdocs/www.connecting-the-dots.it/home/libraries/joomla/filter/input.php
on line
691
Warning
: preg_replace(): The /e modifier is no longer supported, use preg_replace_callback instead in
/web/htdocs/www.connecting-the-dots.it/home/libraries/joomla/filter/input.php
on line
689
Warning
: preg_replace(): The /e modifier is no longer supported, use preg_replace_callback instead in
/web/htdocs/www.connecting-the-dots.it/home/libraries/joomla/filter/input.php
on line
691
Warning
: preg_replace(): The /e modifier is no longer supported, use preg_replace_callback instead in
/web/htdocs/www.connecting-the-dots.it/home/libraries/joomla/filter/input.php
on line
689
Warning
: preg_replace(): The /e modifier is no longer supported, use preg_replace_callback instead in
/web/htdocs/www.connecting-the-dots.it/home/libraries/joomla/filter/input.php
on line
691
Warning
: preg_replace(): The /e modifier is no longer supported, use preg_replace_callback instead in
/web/htdocs/www.connecting-the-dots.it/home/libraries/joomla/filter/input.php
on line
689
Warning
: preg_replace(): The /e modifier is no longer supported, use preg_replace_callback instead in
/web/htdocs/www.connecting-the-dots.it/home/libraries/joomla/filter/input.php
on line
691
Warning
: preg_replace(): The /e modifier is no longer supported, use preg_replace_callback instead in
/web/htdocs/www.connecting-the-dots.it/home/libraries/joomla/filter/input.php
on line
689
Warning
: preg_replace(): The /e modifier is no longer supported, use preg_replace_callback instead in
/web/htdocs/www.connecting-the-dots.it/home/libraries/joomla/filter/input.php
on line
691
Warning
: preg_replace(): The /e modifier is no longer supported, use preg_replace_callback instead in
/web/htdocs/www.connecting-the-dots.it/home/libraries/joomla/filter/input.php
on line
689
Warning
: preg_replace(): The /e modifier is no longer supported, use preg_replace_callback instead in
/web/htdocs/www.connecting-the-dots.it/home/libraries/joomla/filter/input.php
on line
691
Warning
: preg_replace(): The /e modifier is no longer supported, use preg_replace_callback instead in
/web/htdocs/www.connecting-the-dots.it/home/libraries/joomla/filter/input.php
on line
689
Warning
: preg_replace(): The /e modifier is no longer supported, use preg_replace_callback instead in
/web/htdocs/www.connecting-the-dots.it/home/libraries/joomla/filter/input.php
on line
691
Warning
: preg_replace(): The /e modifier is no longer supported, use preg_replace_callback instead in
/web/htdocs/www.connecting-the-dots.it/home/libraries/joomla/filter/input.php
on line
689
Warning
: preg_replace(): The /e modifier is no longer supported, use preg_replace_callback instead in
/web/htdocs/www.connecting-the-dots.it/home/libraries/joomla/filter/input.php
on line
691
Warning
: preg_replace(): The /e modifier is no longer supported, use preg_replace_callback instead in
/web/htdocs/www.connecting-the-dots.it/home/libraries/joomla/filter/input.php
on line
689
Warning
: preg_replace(): The /e modifier is no longer supported, use preg_replace_callback instead in
/web/htdocs/www.connecting-the-dots.it/home/libraries/joomla/filter/input.php
on line
691
Warning
: preg_replace(): The /e modifier is no longer supported, use preg_replace_callback instead in
/web/htdocs/www.connecting-the-dots.it/home/libraries/joomla/filter/input.php
on line
689
Warning
: preg_replace(): The /e modifier is no longer supported, use preg_replace_callback instead in
/web/htdocs/www.connecting-the-dots.it/home/libraries/joomla/filter/input.php
on line
691
Warning
: preg_replace(): The /e modifier is no longer supported, use preg_replace_callback instead in
/web/htdocs/www.connecting-the-dots.it/home/libraries/joomla/filter/input.php
on line
689
Warning
: preg_replace(): The /e modifier is no longer supported, use preg_replace_callback instead in
/web/htdocs/www.connecting-the-dots.it/home/libraries/joomla/filter/input.php
on line
691
Warning
: preg_replace(): The /e modifier is no longer supported, use preg_replace_callback instead in
/web/htdocs/www.connecting-the-dots.it/home/libraries/joomla/filter/input.php
on line
689
Warning
: preg_replace(): The /e modifier is no longer supported, use preg_replace_callback instead in
/web/htdocs/www.connecting-the-dots.it/home/libraries/joomla/filter/input.php
on line
691
Warning
: preg_replace(): The /e modifier is no longer supported, use preg_replace_callback instead in
/web/htdocs/www.connecting-the-dots.it/home/libraries/joomla/filter/input.php
on line
689
Warning
: preg_replace(): The /e modifier is no longer supported, use preg_replace_callback instead in
/web/htdocs/www.connecting-the-dots.it/home/libraries/joomla/filter/input.php
on line
691
Warning
: preg_replace(): The /e modifier is no longer supported, use preg_replace_callback instead in
/web/htdocs/www.connecting-the-dots.it/home/libraries/joomla/filter/input.php
on line
689
Warning
: preg_replace(): The /e modifier is no longer supported, use preg_replace_callback instead in
/web/htdocs/www.connecting-the-dots.it/home/libraries/joomla/filter/input.php
on line
691
Warning
: preg_replace(): The /e modifier is no longer supported, use preg_replace_callback instead in
/web/htdocs/www.connecting-the-dots.it/home/libraries/joomla/filter/input.php
on line
689
Warning
: preg_replace(): The /e modifier is no longer supported, use preg_replace_callback instead in
/web/htdocs/www.connecting-the-dots.it/home/libraries/joomla/filter/input.php
on line
691
Warning
: preg_replace(): The /e modifier is no longer supported, use preg_replace_callback instead in
/web/htdocs/www.connecting-the-dots.it/home/libraries/joomla/filter/input.php
on line
689
Warning
: preg_replace(): The /e modifier is no longer supported, use preg_replace_callback instead in
/web/htdocs/www.connecting-the-dots.it/home/libraries/joomla/filter/input.php
on line
691
Warning
: preg_replace(): The /e modifier is no longer supported, use preg_replace_callback instead in
/web/htdocs/www.connecting-the-dots.it/home/libraries/joomla/filter/input.php
on line
689
Warning
: preg_replace(): The /e modifier is no longer supported, use preg_replace_callback instead in
/web/htdocs/www.connecting-the-dots.it/home/libraries/joomla/filter/input.php
on line
691
Warning
: preg_replace(): The /e modifier is no longer supported, use preg_replace_callback instead in
/web/htdocs/www.connecting-the-dots.it/home/libraries/joomla/filter/input.php
on line
689
Warning
: preg_replace(): The /e modifier is no longer supported, use preg_replace_callback instead in
/web/htdocs/www.connecting-the-dots.it/home/libraries/joomla/filter/input.php
on line
691
Warning
: preg_replace(): The /e modifier is no longer supported, use preg_replace_callback instead in
/web/htdocs/www.connecting-the-dots.it/home/libraries/joomla/filter/input.php
on line
689
Warning
: preg_replace(): The /e modifier is no longer supported, use preg_replace_callback instead in
/web/htdocs/www.connecting-the-dots.it/home/libraries/joomla/filter/input.php
on line
691
Warning
: preg_replace(): The /e modifier is no longer supported, use preg_replace_callback instead in
/web/htdocs/www.connecting-the-dots.it/home/libraries/joomla/filter/input.php
on line
689
Warning
: preg_replace(): The /e modifier is no longer supported, use preg_replace_callback instead in
/web/htdocs/www.connecting-the-dots.it/home/libraries/joomla/filter/input.php
on line
691
Warning
: preg_replace(): The /e modifier is no longer supported, use preg_replace_callback instead in
/web/htdocs/www.connecting-the-dots.it/home/libraries/joomla/filter/input.php
on line
689
Warning
: preg_replace(): The /e modifier is no longer supported, use preg_replace_callback instead in
/web/htdocs/www.connecting-the-dots.it/home/libraries/joomla/filter/input.php
on line
691
Warning
: preg_replace(): The /e modifier is no longer supported, use preg_replace_callback instead in
/web/htdocs/www.connecting-the-dots.it/home/libraries/joomla/filter/input.php
on line
689
Warning
: preg_replace(): The /e modifier is no longer supported, use preg_replace_callback instead in
/web/htdocs/www.connecting-the-dots.it/home/libraries/joomla/filter/input.php
on line
691
Warning
: preg_replace(): The /e modifier is no longer supported, use preg_replace_callback instead in
/web/htdocs/www.connecting-the-dots.it/home/libraries/joomla/filter/input.php
on line
689
Warning
: preg_replace(): The /e modifier is no longer supported, use preg_replace_callback instead in
/web/htdocs/www.connecting-the-dots.it/home/libraries/joomla/filter/input.php
on line
691
Warning
: preg_replace(): The /e modifier is no longer supported, use preg_replace_callback instead in
/web/htdocs/www.connecting-the-dots.it/home/libraries/joomla/filter/input.php
on line
689
Warning
: preg_replace(): The /e modifier is no longer supported, use preg_replace_callback instead in
/web/htdocs/www.connecting-the-dots.it/home/libraries/joomla/filter/input.php
on line
691
Warning
: preg_replace(): The /e modifier is no longer supported, use preg_replace_callback instead in
/web/htdocs/www.connecting-the-dots.it/home/libraries/joomla/filter/input.php
on line
689
Warning
: preg_replace(): The /e modifier is no longer supported, use preg_replace_callback instead in
/web/htdocs/www.connecting-the-dots.it/home/libraries/joomla/filter/input.php
on line
691
Warning
: preg_replace(): The /e modifier is no longer supported, use preg_replace_callback instead in
/web/htdocs/www.connecting-the-dots.it/home/libraries/joomla/filter/input.php
on line
689
Warning
: preg_replace(): The /e modifier is no longer supported, use preg_replace_callback instead in
/web/htdocs/www.connecting-the-dots.it/home/libraries/joomla/filter/input.php
on line
691
Warning
: preg_replace(): The /e modifier is no longer supported, use preg_replace_callback instead in
/web/htdocs/www.connecting-the-dots.it/home/libraries/joomla/filter/input.php
on line
689
Warning
: preg_replace(): The /e modifier is no longer supported, use preg_replace_callback instead in
/web/htdocs/www.connecting-the-dots.it/home/libraries/joomla/filter/input.php
on line
691
Warning
: preg_replace(): The /e modifier is no longer supported, use preg_replace_callback instead in
/web/htdocs/www.connecting-the-dots.it/home/libraries/joomla/filter/input.php
on line
689
Warning
: preg_replace(): The /e modifier is no longer supported, use preg_replace_callback instead in
/web/htdocs/www.connecting-the-dots.it/home/libraries/joomla/filter/input.php
on line
691
Warning
: preg_replace(): The /e modifier is no longer supported, use preg_replace_callback instead in
/web/htdocs/www.connecting-the-dots.it/home/libraries/joomla/filter/input.php
on line
689
Warning
: preg_replace(): The /e modifier is no longer supported, use preg_replace_callback instead in
/web/htdocs/www.connecting-the-dots.it/home/libraries/joomla/filter/input.php
on line
691
Warning
: preg_replace(): The /e modifier is no longer supported, use preg_replace_callback instead in
/web/htdocs/www.connecting-the-dots.it/home/libraries/joomla/filter/input.php
on line
689
Warning
: preg_replace(): The /e modifier is no longer supported, use preg_replace_callback instead in
/web/htdocs/www.connecting-the-dots.it/home/libraries/joomla/filter/input.php
on line
691
Warning
: preg_replace(): The /e modifier is no longer supported, use preg_replace_callback instead in
/web/htdocs/www.connecting-the-dots.it/home/libraries/joomla/filter/input.php
on line
689
Warning
: preg_replace(): The /e modifier is no longer supported, use preg_replace_callback instead in
/web/htdocs/www.connecting-the-dots.it/home/libraries/joomla/filter/input.php
on line
691
Warning
: preg_replace(): The /e modifier is no longer supported, use preg_replace_callback instead in
/web/htdocs/www.connecting-the-dots.it/home/libraries/joomla/filter/input.php
on line
689
Warning
: preg_replace(): The /e modifier is no longer supported, use preg_replace_callback instead in
/web/htdocs/www.connecting-the-dots.it/home/libraries/joomla/filter/input.php
on line
691
Warning
: preg_replace(): The /e modifier is no longer supported, use preg_replace_callback instead in
/web/htdocs/www.connecting-the-dots.it/home/libraries/joomla/filter/input.php
on line
689
Warning
: preg_replace(): The /e modifier is no longer supported, use preg_replace_callback instead in
/web/htdocs/www.connecting-the-dots.it/home/libraries/joomla/filter/input.php
on line
691
Warning
: preg_replace(): The /e modifier is no longer supported, use preg_replace_callback instead in
/web/htdocs/www.connecting-the-dots.it/home/libraries/joomla/filter/input.php
on line
689
Warning
: preg_replace(): The /e modifier is no longer supported, use preg_replace_callback instead in
/web/htdocs/www.connecting-the-dots.it/home/libraries/joomla/filter/input.php
on line
691
Warning
: preg_replace(): The /e modifier is no longer supported, use preg_replace_callback instead in
/web/htdocs/www.connecting-the-dots.it/home/libraries/joomla/filter/input.php
on line
689
Warning
: preg_replace(): The /e modifier is no longer supported, use preg_replace_callback instead in
/web/htdocs/www.connecting-the-dots.it/home/libraries/joomla/filter/input.php
on line
691
Warning
: preg_replace(): The /e modifier is no longer supported, use preg_replace_callback instead in
/web/htdocs/www.connecting-the-dots.it/home/libraries/joomla/filter/input.php
on line
689
Warning
: preg_replace(): The /e modifier is no longer supported, use preg_replace_callback instead in
/web/htdocs/www.connecting-the-dots.it/home/libraries/joomla/filter/input.php
on line
691
Warning
: preg_replace(): The /e modifier is no longer supported, use preg_replace_callback instead in
/web/htdocs/www.connecting-the-dots.it/home/libraries/joomla/filter/input.php
on line
689
Warning
: preg_replace(): The /e modifier is no longer supported, use preg_replace_callback instead in
/web/htdocs/www.connecting-the-dots.it/home/libraries/joomla/filter/input.php
on line
691
Warning
: preg_replace(): The /e modifier is no longer supported, use preg_replace_callback instead in
/web/htdocs/www.connecting-the-dots.it/home/libraries/joomla/filter/input.php
on line
689
Warning
: preg_replace(): The /e modifier is no longer supported, use preg_replace_callback instead in
/web/htdocs/www.connecting-the-dots.it/home/libraries/joomla/filter/input.php
on line
691
Warning
: preg_replace(): The /e modifier is no longer supported, use preg_replace_callback instead in
/web/htdocs/www.connecting-the-dots.it/home/libraries/joomla/filter/input.php
on line
689
Warning
: preg_replace(): The /e modifier is no longer supported, use preg_replace_callback instead in
/web/htdocs/www.connecting-the-dots.it/home/libraries/joomla/filter/input.php
on line
691
Warning
: preg_replace(): The /e modifier is no longer supported, use preg_replace_callback instead in
/web/htdocs/www.connecting-the-dots.it/home/libraries/joomla/filter/input.php
on line
689
Warning
: preg_replace(): The /e modifier is no longer supported, use preg_replace_callback instead in
/web/htdocs/www.connecting-the-dots.it/home/libraries/joomla/filter/input.php
on line
691
Taste Archaeology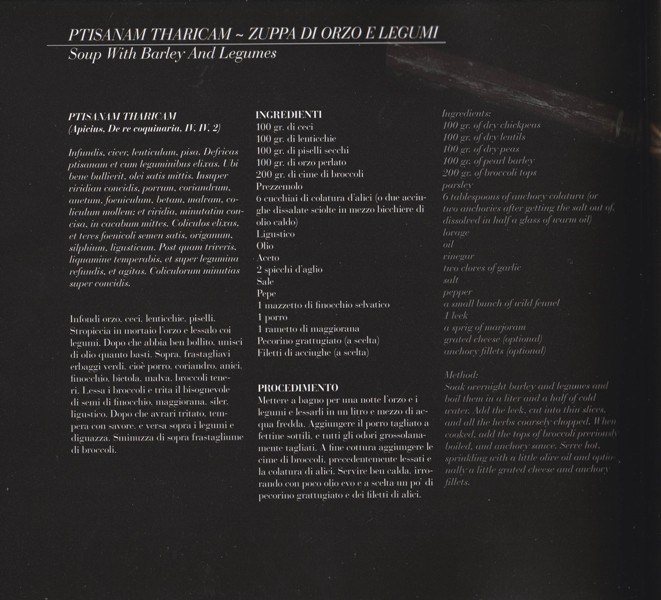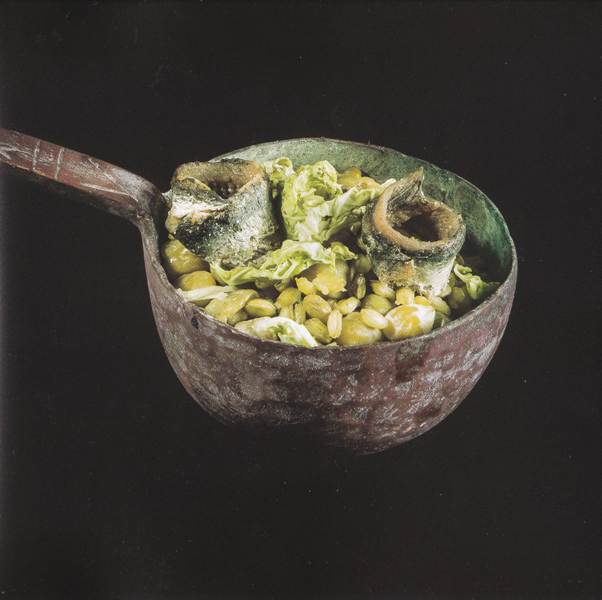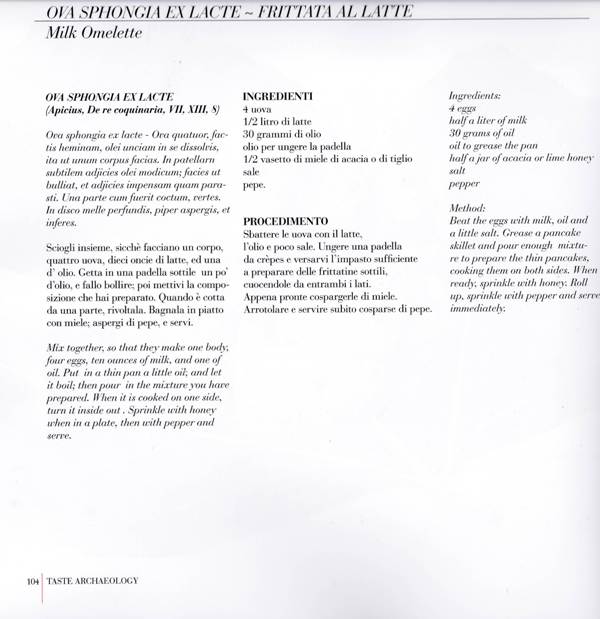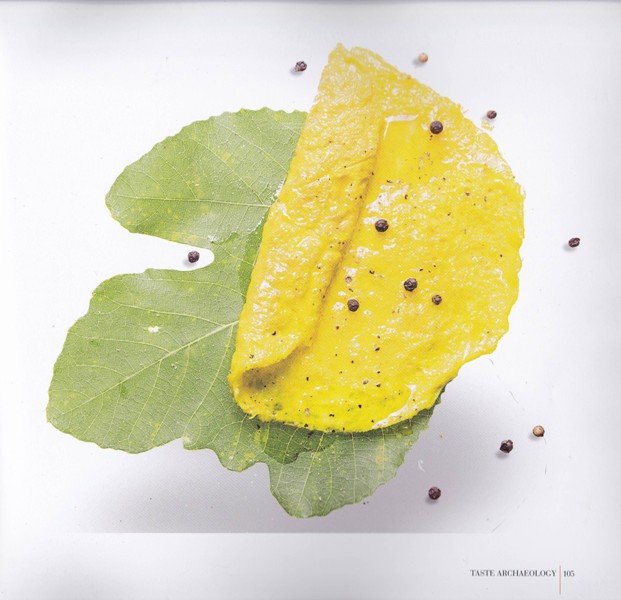 Good morning, afternoon, evening,
archaeology is within us as a great resource to explore.
If we don't know what happened before us we can't know what we are.
Food too is included, we are what we eat, aren't we?
The more we know about food, the more we know about ourselves.
What is your favourite dish?
How often do you have guests at home to share meals with?

What is a successful menu of yours?
This book - we translated - is about Romans' empire, civilization, culture, society and cookery.
Interesting texts, beautiful pictures, delicious recipes, elegant design. 
Be curious, find it on the Internet and study it, then offer your guests unusual recipes.
The two ones you find here and you can try are a possibility to create a connection between you and a people who influenced also British developement. So many remains are in the language too. 
Can you think of Latin in the English language?
How many samples do you know? 

Why don't you write them down here with your comment?

Thank you for contributing to our "language excavations" in addition to the gastronomic ones you can read about on the book.
See you in class, enjoy your English
Anna - Coordinator
Source: Taste Archaeology, Pacini Editore, Pisa, 2015, a project to support the renovation of the Archaeological Museum Palazzo Bombardieri, Rosignano Marittimo, Italy
Thank you Giuseppe for your contribution, we are going to invite a few more students to partecipate in giving the answers. We'll see what happens.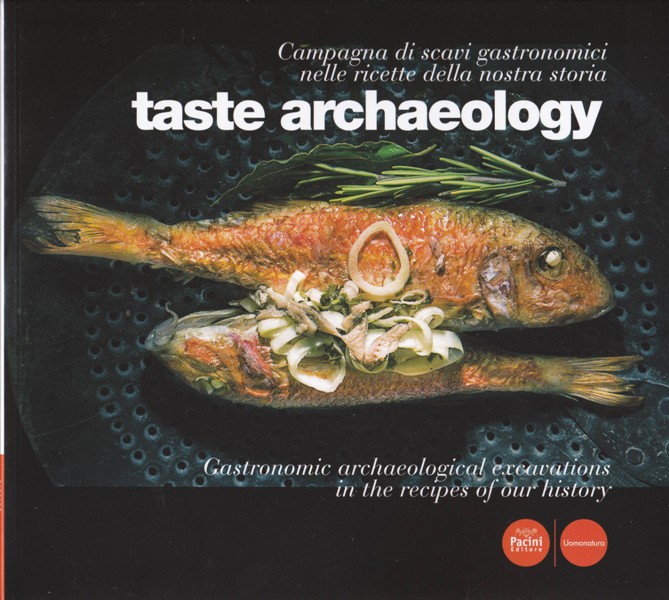 Healthy life with Fish & Chips?
Good morning, afternoon, evening, 
do you have any special eating habits?
What is the role played by food in your life?
What do you love eating?
What is the role of food in a healthy lifestyle, according to you? 
What type of food should you eat? 
Have a look at these two pages and reply to the questions as a comment. 
We will talk about that in class; after reading write down notes, come ready to talk and ask questions. Pay great attention to formal correctness.
Anna - Coordinator
Source Cult DeA Scuola 2015  
Hello to everybody, 
this is the third stage of our work on the website. Replying after your comments. Please consider that what is said referring to a comment and that is in common with others, is not going to be repeated, so to encourage you to read all comments and take advantage of your mates' writings. 
Emiliano:  check singular and plural, tenses, think English and simplify your writing. Be concise and direct, aiming at formal correctness with just subject, verb and complement. Check prepositions. Adjectives before nouns in correct order.
Nicola: would you correct...when speaking in general, no article before nouns. Types of food... in a balanced diet, countable noun; first subject pronoun, capital letter, I. 
Maria Luisa: please write down a little more. 
Fernanda: prepositions, pay attention to..., comparative with short adjectives adding er, easier, playing a role in, better no possessive adjectives when speaking in general.
Paola: of all foods; when referring to daily habits, the tense is present simple; use punctuation and start frequentely new srentences; Orange jam is marmelade in English; you eat bread and drink milk, you have both; Before singular countable nouns,indefinite article; food is an opportunity, creates the opportunity, gives you the ...; position of adverbs, I especially like...; role in a healthy lifestyle; in my opinion is quite formal, I think is more informal; check orthofraphy.
Sergio: possessive adjectives are very common in English when speaking about ourselves, my family;       like plus ing form; without exceeding; rich in; animal protein, when nouns have the role of adjectives are singular. 
Claudia:  In Italy lunch time is also the occasion; Mediterranean capital letter.
Lucia:  great! 
Giuliano: answer 2, check the subject.
Francesco: pay attention to prepositions and tenses.
Emiliano: I subject pronoun, capital letter; choose between for and two, not together; English and all nationalities capital letter; movie, no double o; it is, subject needed if referring to English Extra, otherwise other subject; four guys, plural, no s with the verb; together spelling mistake; short is an adjective, no s for plural; actors plural subject no s with the verb; easy is an adjective, easily is the adverb; funny's? Thank you spelling mistake.   
Vincenzo: 1. I subject pronoun, capital letter; a, singular, with habit, singular. 2. I drink much water; 4. eating many. 
After reading Francesco's comment, what do you think of the role each one can play to resolve the planet's problems?  
Thank you all for contributing with your very useful comments.
Come to class next time ready to tell us quite briefly about fish & chips.
Choose a page you like on the blog among the so many there are, and start preparing a very short speech, 60 '' to present it and say your own ideas.   
See you in class, Anna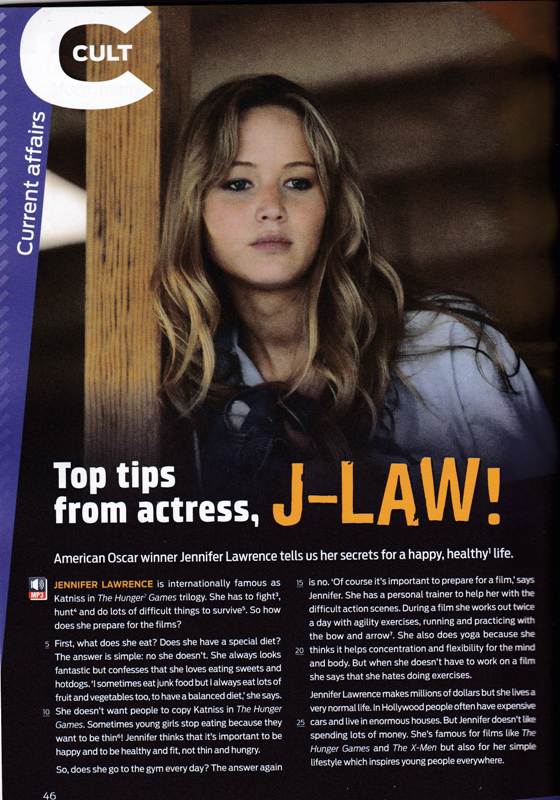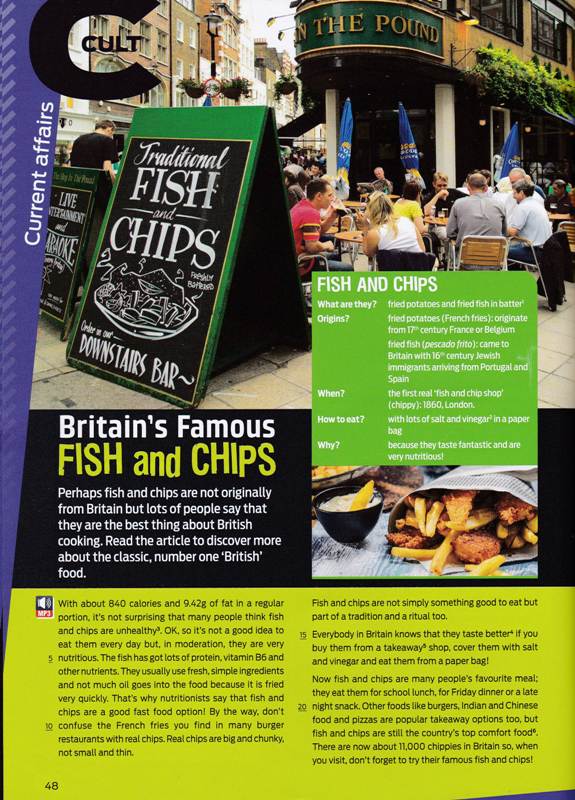 American English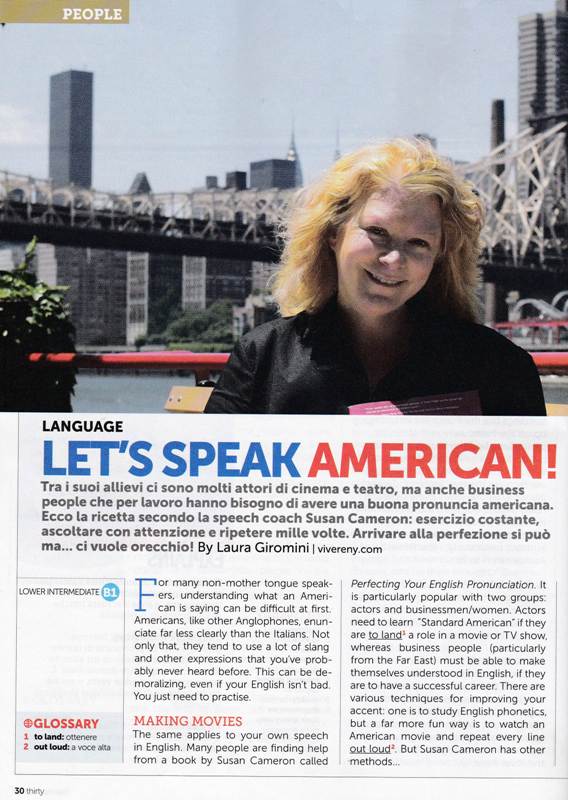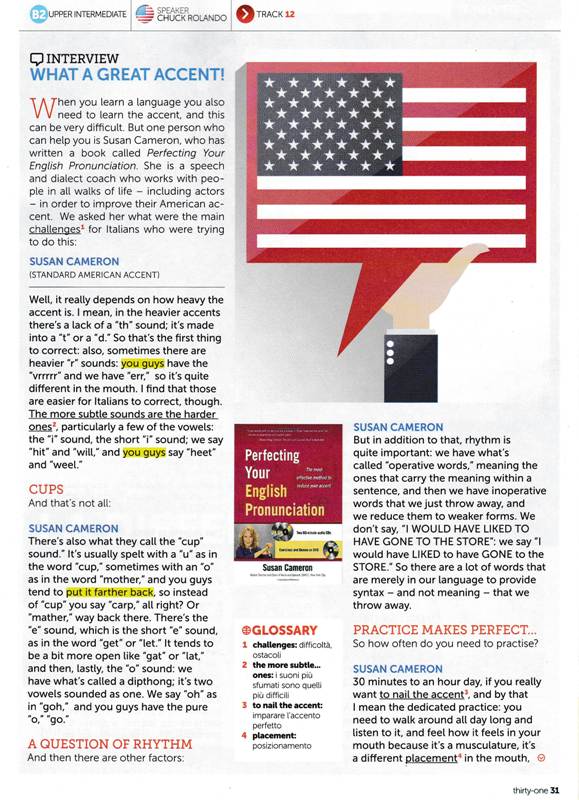 Good morning. afternoon, evening, 
how do you pronounce the word privacy, so common in Italian too?
Quite likely the procunciation you adopted, like the majority of people, is the American one.
There are many differences between British and American English, and many more if you consider English spoken by Australians, New Zealanders, Canadians etc. 
What's intriguing is developing strategies to become familiar with as many accents as possible.
Suggestions? Watch films with no dubbing, and appreciate English spoken by actors with their many different accents and beautiful voices, read books, enjoy them with friends, your children and become aware of your progress, time after time. Write down notes, compare impressions and ideas, let the language do its work, that is to open your mind and your heart while you have to do the same. Come to our classes. 
Choose films and books that you like and love what you do. Create a bond with English and find time to practice it with other students and native speakers, travel. 
Having a perfect pronunciation might not be the point, but what's fundamental is understanding when people speak to establish a proper interaction, communication, and in order to achieve this abjective you need to train yourself, the same you do when practicing a sport. 
What is your experience with English? Are you better at performing one of the five skills?

The five skills involved in acquiring a language are aural comprehension, ie listening, written comprehension, ie reading, oral production, ie speaking, and written production, ie writing, plus interacting with English speakers. 
The more you do something, the better the results are. So, come to class and practice English that like any other language is action, behaviour, motivation, feelings, beliefs...
What else is a language?  
If you are a false beginner in your studies, build up short sentences with just subject, verb, complement. Do not worry about mistakes, making them ias a way to learn.     
See you in class, 
Anna - Coordinator
Source: Speak Up October 2015 
Stefania: try to find by yourself which mistakes you can avoid making next time; have a look at a possible simple version of your ideas:
I studied English when I was at school 50 years ago.
My teacher used to teach/taught us grammar (no passive form) without practicing conversation.
I would like to develop the skills of listening comprehension and interaction with English speakers.
I hope that despite my mistakes I will be able to learn.
Of course you will, Stefania. Interest helps to convey appropriately attention to formal correctness and accuracy.
See you in class,
Anna
Albuquerque, hot air balloon fiesta!
Good morning, afternoon, evening
Andrea, Giulio, Valerio, Antonella, Mihaela, Sara, Emiliano, Vanessa, Eleonora, Giovanni, Chiara, Francesca, 
this is an easy reading article mainly for you who are ready to begin studying English, waiting for the groups to be complete. 
Anyone else who wants to practice English and participate in our blog is very, very  welcome with comments, answers and questions too.  
Do you know of any similar festivals in Italy even if much, much smaller?
Where are vthey? Have you ever been there? What do you usually do when you go to festivals in the open air? 
In just two days this "Fiesta", or festival is going to start in Albuquerque, New Mexico.
Is there anyone who has ever been there?
What are the most spectacular activities?
How can you describe them?
Say something about the balloons' different sizes and shapes. 
Have a look at these videos 
https://www.youtube.com/watch?v=l8YaMK4-MYg
and write your comment. 
See you in class. 
Anna - Coordinator
Source: Speak Up Magazine, September 2015
p.sw. we do hope there are no problems with creating accounts like last Summer. Try and enjoy your English! 
Eleonora: I subject pronoun, capital letter, in the open air
Francesca: indefinite article before countable nouns like surprise, it would be nice to...
Giuliano: to rise in the sky, flying, flight.
See you all in class, Anna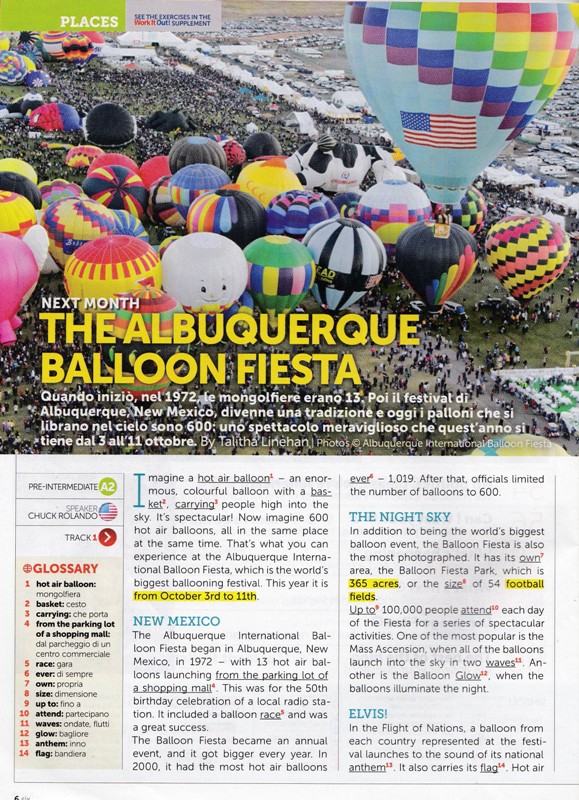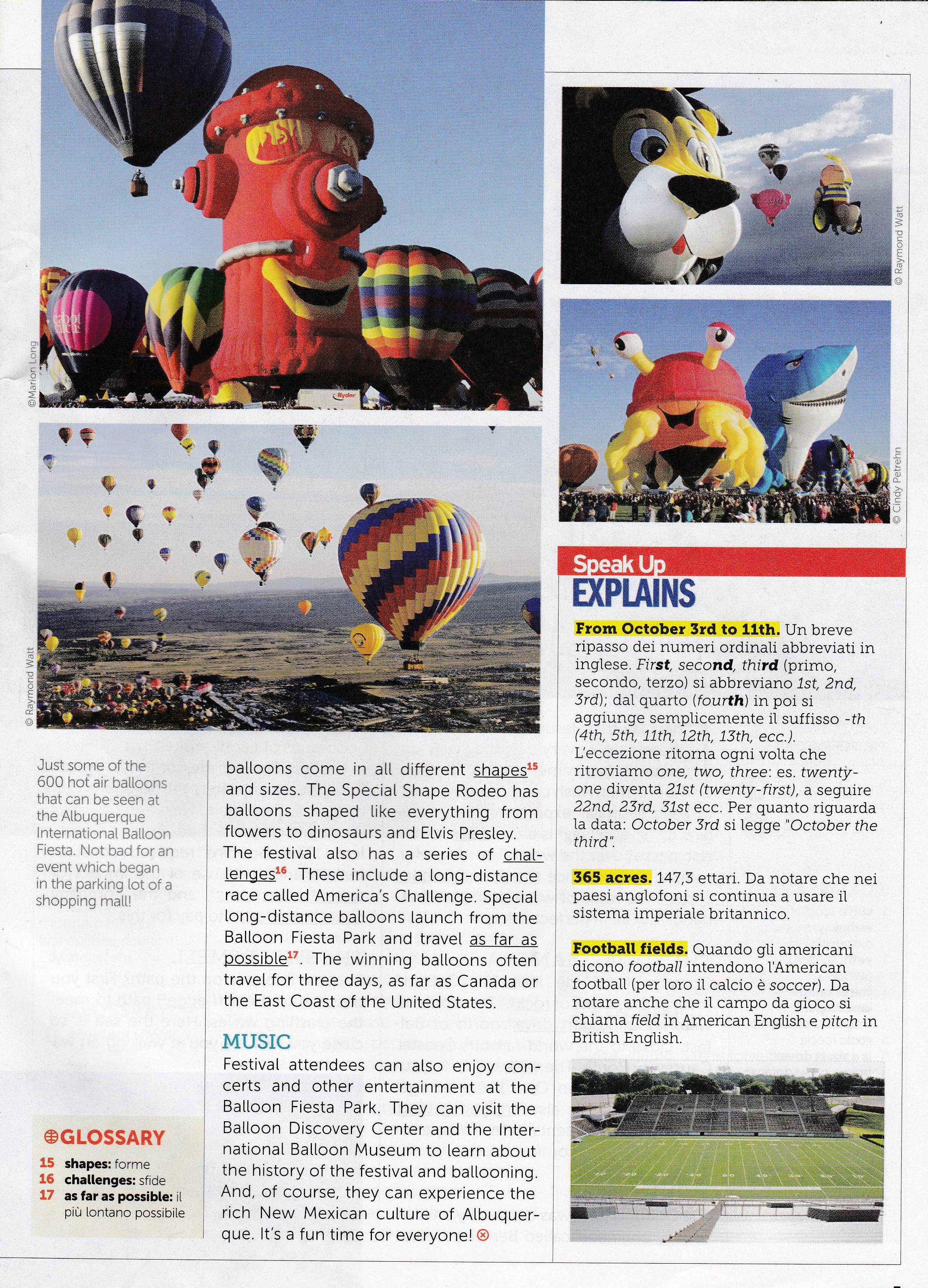 Welcoming Mediterranean Cruise Passengers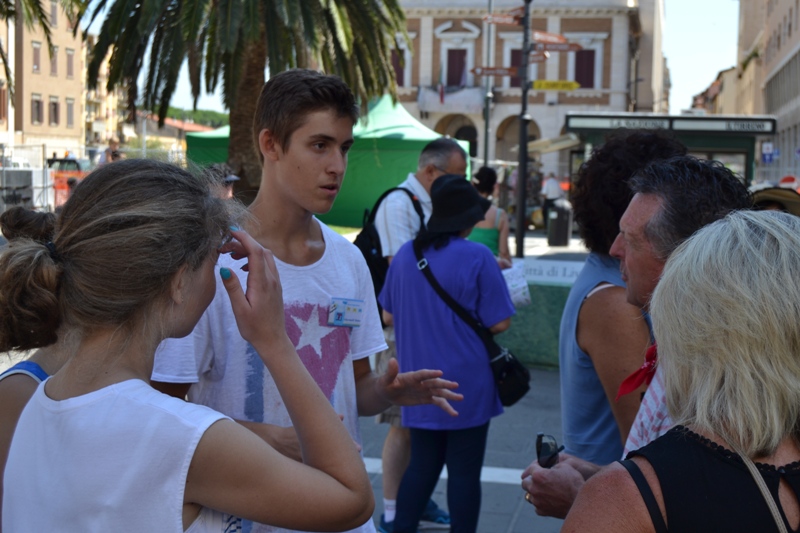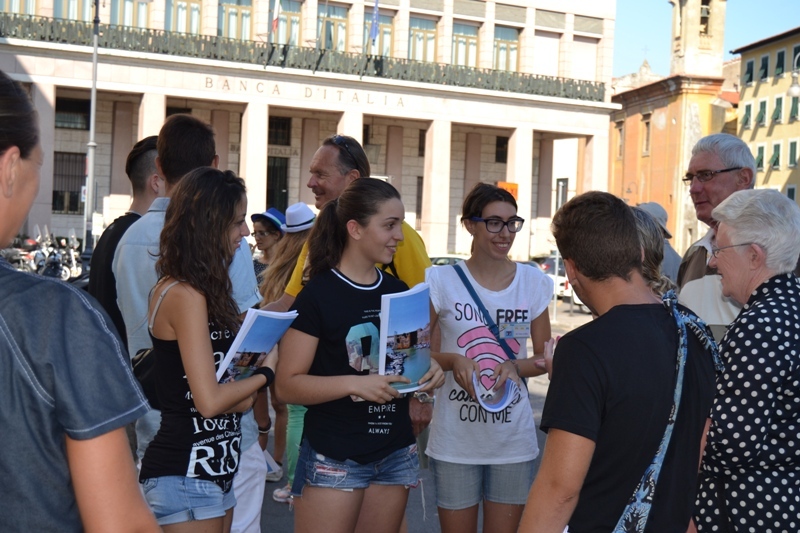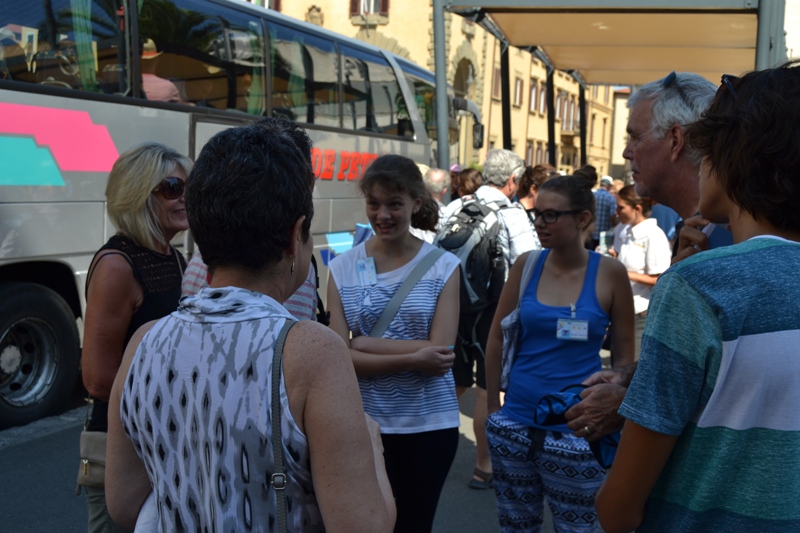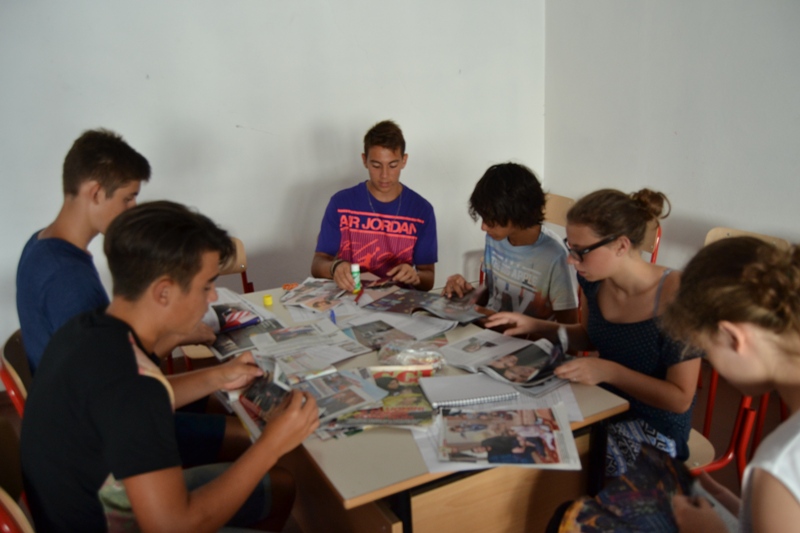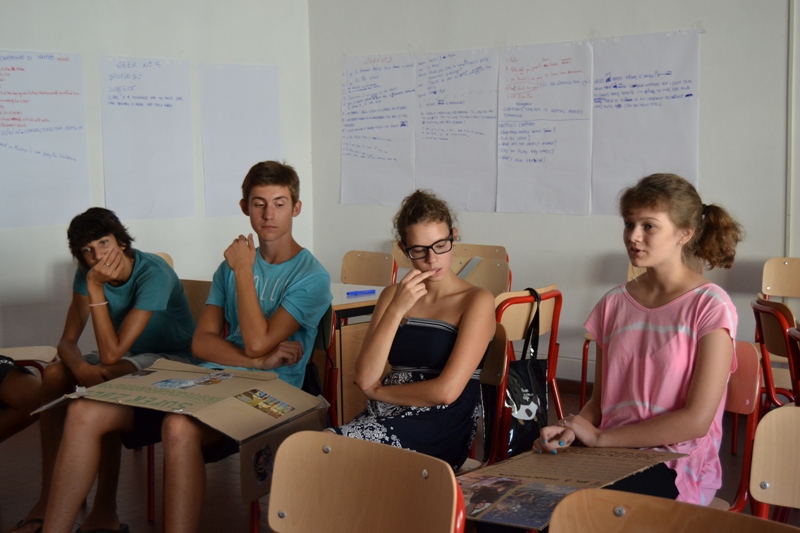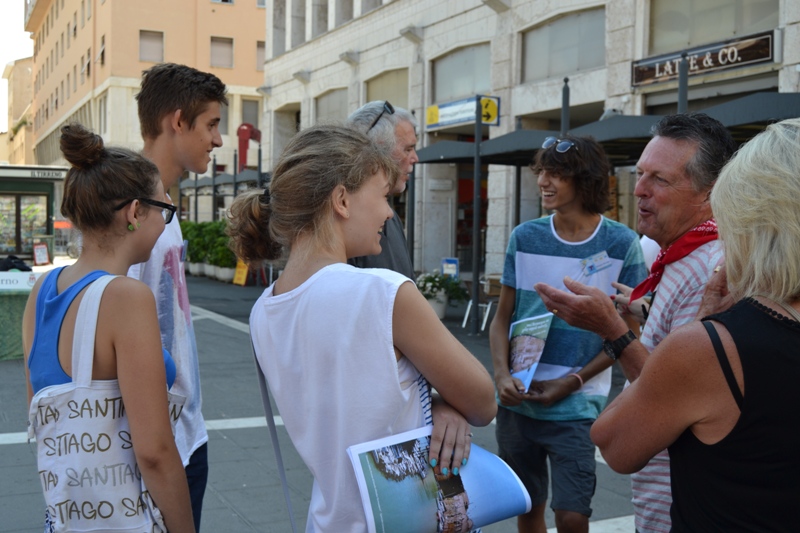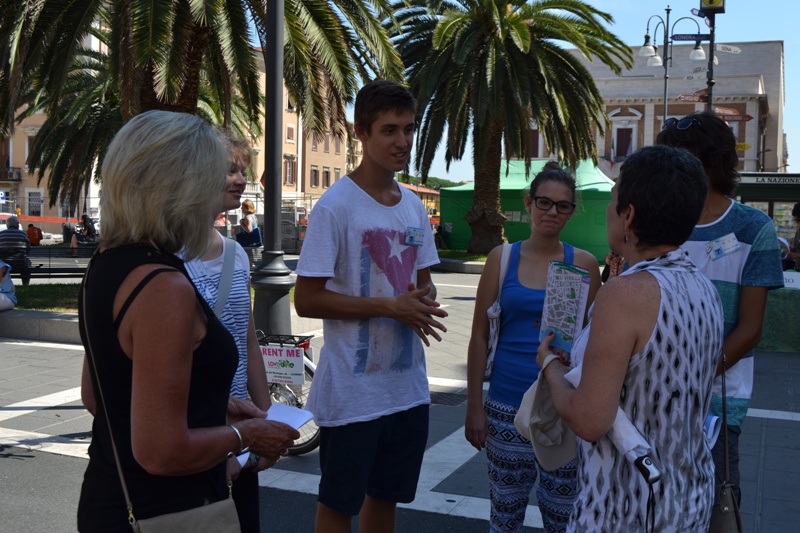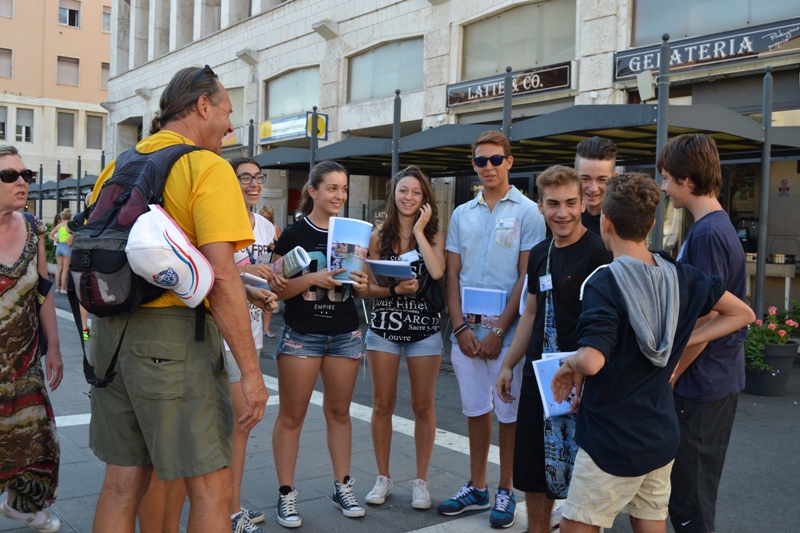 Good morning, afternoon, evening,
after enjoying working in class for four weeks, we met Mediterranean cruise passengers "In the open air", that is the square in the city centre where the shuttles from the port leave cruisers before they set out on their trips to visit Tuscan cities. 
Livorno is one of the calls in the Mediterranean Sea for people who come from all over the world - Canada, the States, Australia, New Zealand, all Europe, Japan, China, India -  to spend a few weeks on board of beautiful ships and want to visit the countries overlooking the sea.
It was such a great occasion for students to practice the language, to exchange ideas with people generous of their English and who appreciated our "beautiful program", that's what they said.
To continue practicing, upload a comment about the morning with cruisers or the whole Summer course and keep in touch with your mates. 
How did the course help your English? If so, why did you find it useful?  What did you like most? 
Activities, dialogues, oral and written onto papers on the walls, stories built following pictures cut from magazines, written and narrated to win a prize. English books to continue  the experience and improve the language.
All students had a permission signed by their parents for being photographed and for the photos to be published coherently with the aims of the English training course. 
Thank you all for participating, it has been great working together!  
Anna - Coordinator
Thank you Giuliano for your comment.
Each one of us should feel part of this little planet we live on and protect it, that means caring for the past, present and future. The Mediterranean is this magnificent common sea - Mare Nostrum - that gave all of us living around it the same identity, we all belong to this common "land" that produced unforgettable history, culture, art, civilization to be shared and spread. All the times someone interrupts this flow everybody should ask themselves why, what has gone wrong, since there are so many responsabilities, and each one of us might not be excluded from having some.
Continue writing about your journeys around the world, it is a great pleasure reading.
Thanks once more Giuliano, for one more comment. Each one of us is a mine of feelings, a special lens to read the reality. All the times we feel anger, hatred, we should wonder why and find the answer. By the time we have the answer, our feelings would change, would be more mature, productive and useful.
Destroying the remains of ancient cities means to cut the threads that keep us linked to the deepness inside ourselves. On the contrary, we all need them to understand which places we belong and continue the very long walking each one of us can contribute to, in order to leave something to those who'll come after us.
We are developing projects about the Mediterranean, considering it a conmon area shared by so many different peoples with their different cultures, languages, behaviours, that are still in time to know each other and design a common humanism for a future to share.
Anna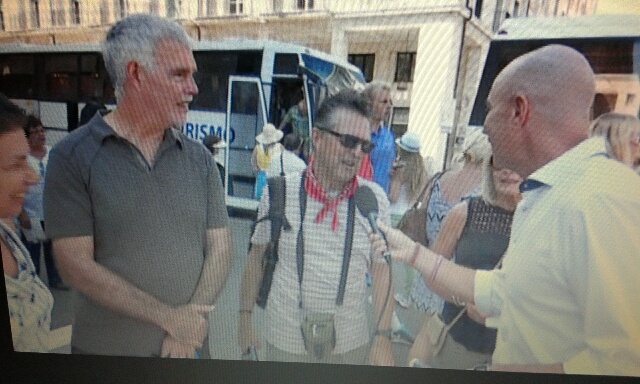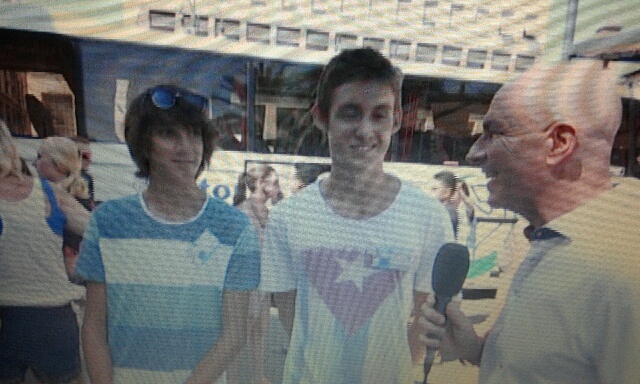 These two photos are from the news broadcasted on 4 August 2015 by Granducato TV,  whose journalist asking perfect questions to both Mediterranean cruise passengers and students, is now - June 2019 after the administrative elections of May 26 - the Major of Livorno. 
We invited him to visit once more our open labs, we wish he will. We'll let you know.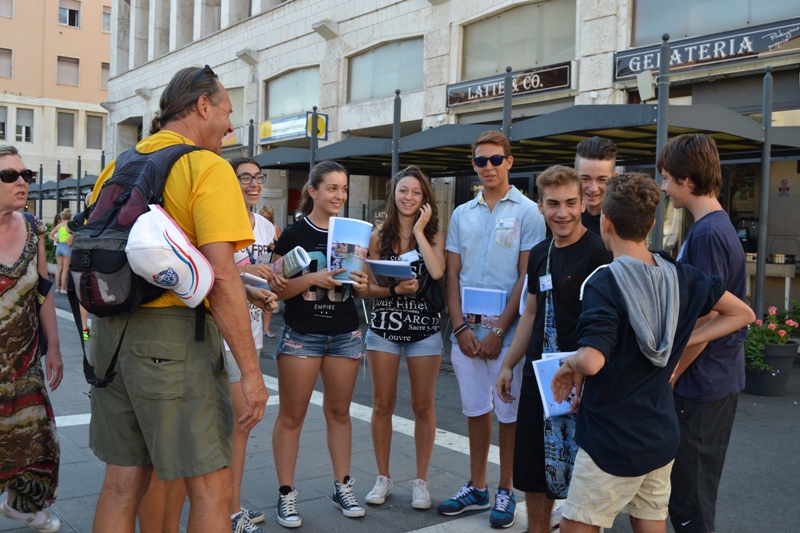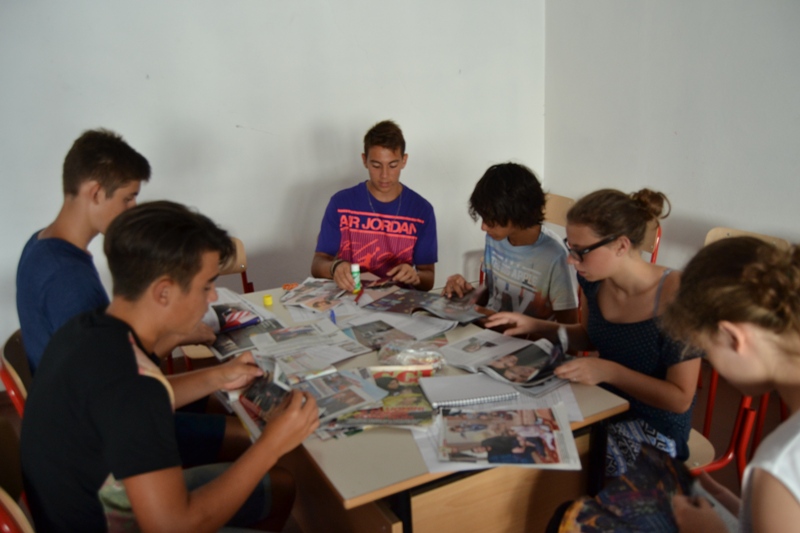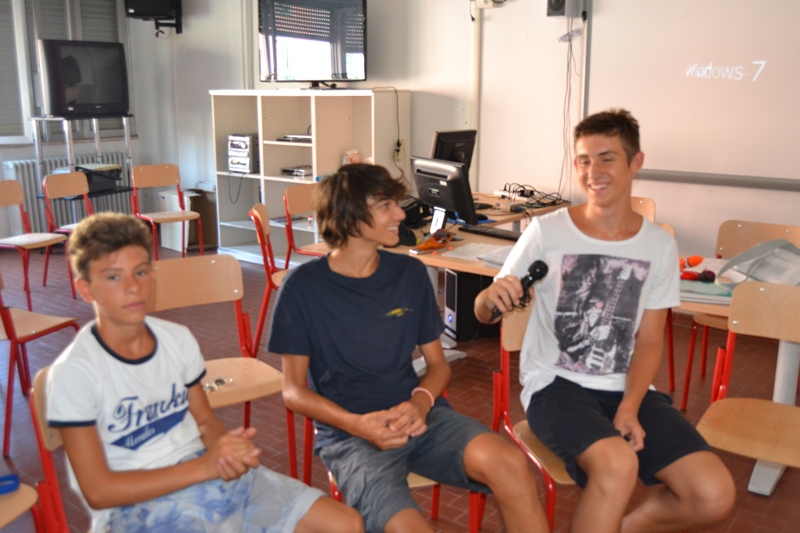 Appearance and personality, Emotions and relationships
Good morning, afternoon, evening everybody!
These are topics to talk about in class, to make our Summer English fresh and dynamic. 
What's more important to you comparing appearance and personality? 
What is your appearance? And your personality?
Can you describe a friend's ones? 
Try to guess what personality your mates in class have and ask them to do the same with you.
Do you have different personalities?
Can you think of yourself as an adult? What would you like to be like?
Tell your mates and guess what they are going to be like.
See you in class and "In the Open Air"! 
Anna - Coordinator
Source: CULT DeA Scuola 2015 
Thank you Claudia for your comment.
Do not forget that people is plural, a collective noun. When with s means for example European peoples, meaning the French, the Italian, the German etc. ones.
Continue being determined and serious, we do appreciate so much seriousness and determination. 
See you in class, Anna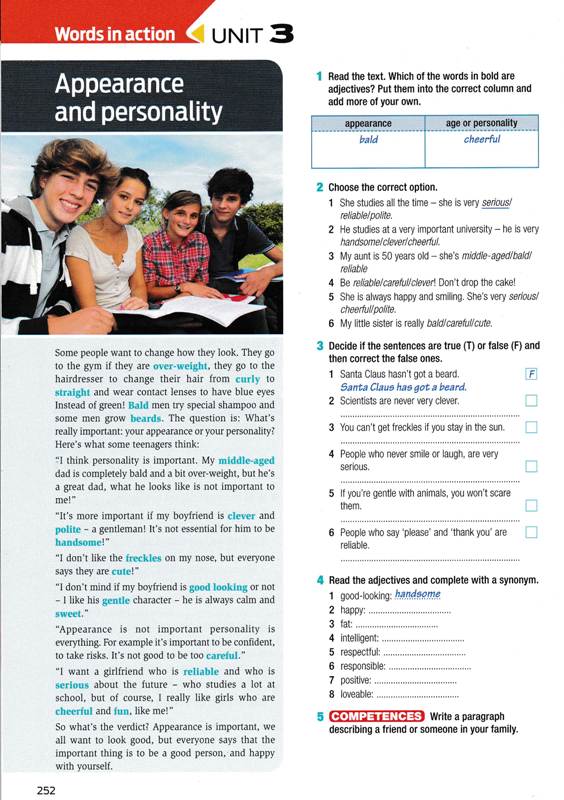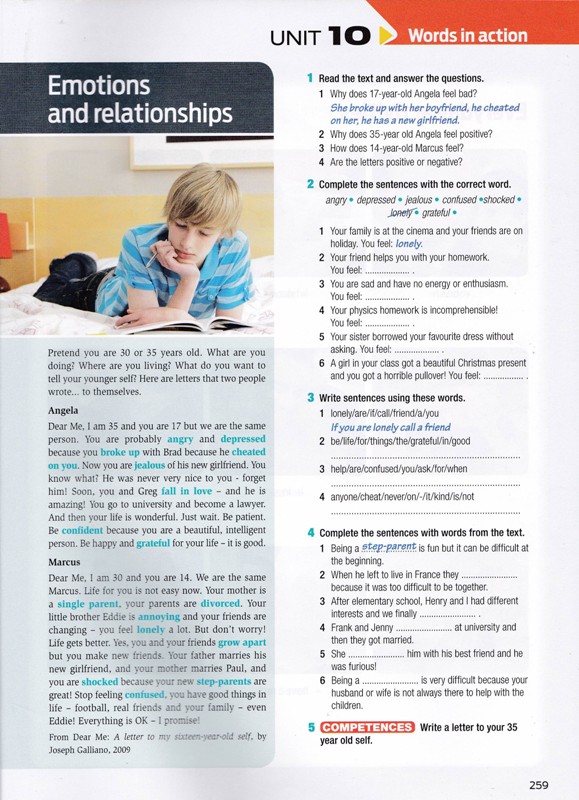 Flow is Fun
Good morning, afternoon, evening,
David, Jacopo, Irene, Luca, Ilaria, Christian, Lidia, Summer English first group, 
Matteo, Davide, Giuseppe, Gabriella, Lorenzo, Francesca, Damiano,  Summer English second group.  
You are all very welcome to our Summer English, a collaboration between ITI G. Galilei Livorno and us.
We would like to invite you to practice English and enjoy yourselves having fun with your classmates.
You have two pages here to read and a few questions to reply as a comment below. 
Before you read, look at the title. What do you think "flow" is? 
After reading, as groups, talk about flow.
1. Make a list of the different activities you do. Are they high flow or low flow? Which do you prefer?
2. Have you ever had a flow experience? If so, when? 
3. Do you know any Italian artists who do flow?
Here you have some prompts as useful language for your conversations with your mates:
In my free time I usually......
So do I. / I don't.
I prefer...-ing because....
I (don't) think it's high flow because...
Sometimes I feel flow when I ....
What happened?
How did you feel?
I've never had...
See you in class, enjoy your English! 
Anna - Coordinator
Source: CULT DeA Scuola, 2015
Paola: thank you Paola, for your comment and the information about you. Here's a list of possible improvements for your comment.
Here's my text; people like appearing; It depends; context; rather calm and reflective; I seem joyful and funny; I often tried; personalities; young people, no article; being on many diets; practice/play sports to be fit.
Manicure: continue reading our pages and leave comments!
See you either in class or here, Anna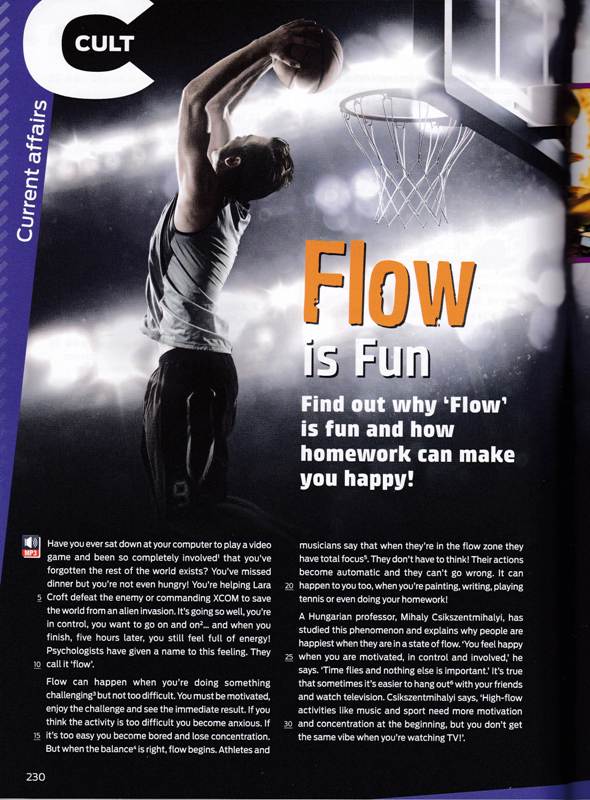 A Squirrel
Good morning, afternoon, evening, 
the special squirrel we are talking about is the one in a poem written by the Turkish poet Nazim Hikmet in 1948.
To Life
Life is not a joke/take it seriously/as the squirrel does, for example/without expecting anything/ from the outside or in the hereafter./You won't have to do anything else than living.//Life is not a joke./Take it seriously/but seriously to the point/that put against a wall, for example, hands tied/or inside a laboratory/ with a white coat and big glasses/you die so that men can live/men whose face you won't ever know/and you will die knowing/that nothing is more beautiful, more real than life.//Take it seriously/but seriously to the point/that when seventy, for example, you will plant olive trees/not because they have to be left to your children/but because you won't believe in death/even if fearing it/and life will weigh more on the scale.
We do believe this squirrel is quite wise.
Shall we imitate it and try to be as wise as it is?
That's why, undeservedly, attempting to find this wisdom somewhere, one day we met a squirrel while driving along a country road where we started writing about it. 
This book is aimed at promoting cultural issues, civil and human rights, through the NPO Eurocontact Plus Onlus we funded. At this stage, the book tries to support all its efforts, initiatives and projects, to spread bi/multilingualism as a lively common citizenship to share, and to encourage all possible forms of art underlying in young people, creating work for them.   
It is a collection of texts aimed at sharing meaningful feelings. We would be very pleased if you left your comments here.
If you want to help us and know more about our work, this book is for you to buy, as a donation to the NPO Eurocontact Plus ONLUS whose IBAN code is IT47 Z076 0113 9000 0101 9775 509; we will send it to your address, as soon as we receive your communication via email - see bottom of the page - with your address. If the coordinator of the website is your English teacher, you can ask her directly and you will have the book with a discount compared to the price it has on the Internet.
You can also donate your 5 per thousand on your tax return; the fiscal code is 92121150491. Useless to say that any donation to Eurocontact Plus ONLUS is very welcome and will be fruitful as an investment on the so many projects we are working on.
Let us know in case you want to know more and partecipate. 
It would be very nice of you reading the book and writing a comment about some texts you like.
Anna - Coordinator
Thanks to all five comments whatever the content is. Continue reading and writing, Anna
Source: as written on the cover  of the book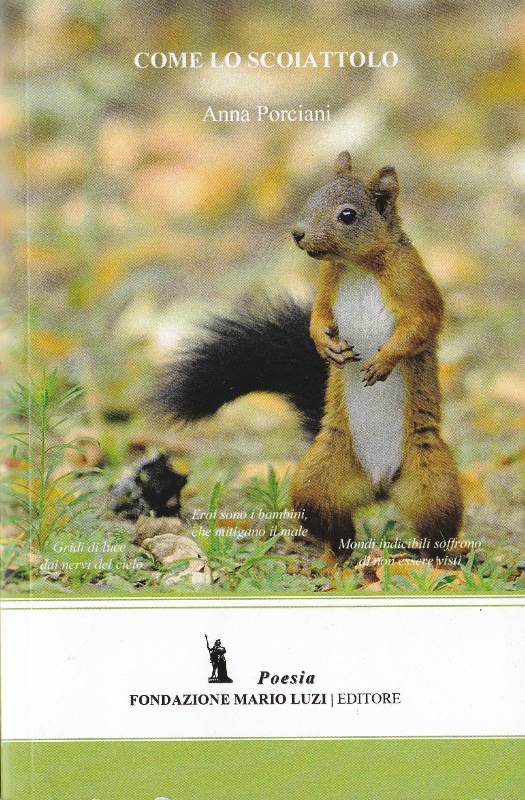 Livorno, its canals and the largest bridge in Europe
Good morning, afternoon, evening,
can you see from the photographs what we are referring to?
We are going to visit the place and the surrounding area with English students on Monday the 8th of June, getting together at 3,00 p.m. with the first group and 4,30 with the second one in Piazza del Municipio, just under the board showing directions for New York, London, Madrid, and quite nearer cities in Tuscany.  
It would be a pleasure meeting you too, in case you like to join us, to practice English and welcome whoever does the same. Please be punctual. 
While we are going to give you the booklet from which we took the last photograph below and information to consult for answering these questions, here they are for you to reply. 
The aim is to develop the skills of written comprehension from the text given, and to reemploy and rephrase it in formally correct structures, both in writing and speaking.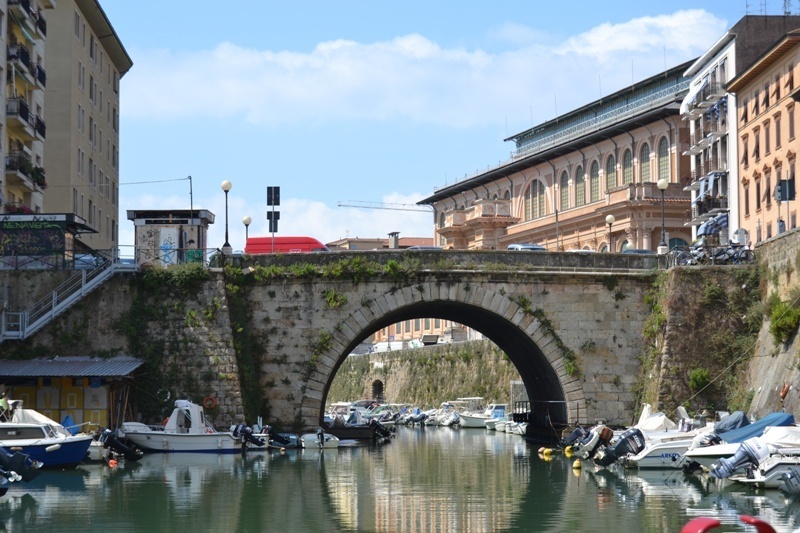 When was Livorno founded? Pg. 3
What are the two fortresses in Livorno called?
Why? When were they built? Pg. 13 and Pg. 17
What is it that connects them? Pg. 3  
What are the Medicean Fossi? Pg. 3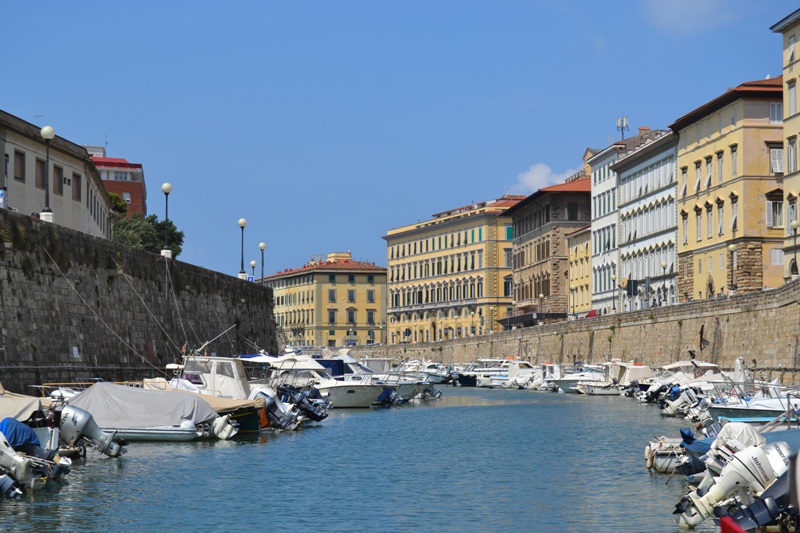 What are in Livorno Capitana, Ampolletta and Canaviglia? Pg. 13
What is actually Piazza della Repubblica? What is it called in Livorno? Pg. 17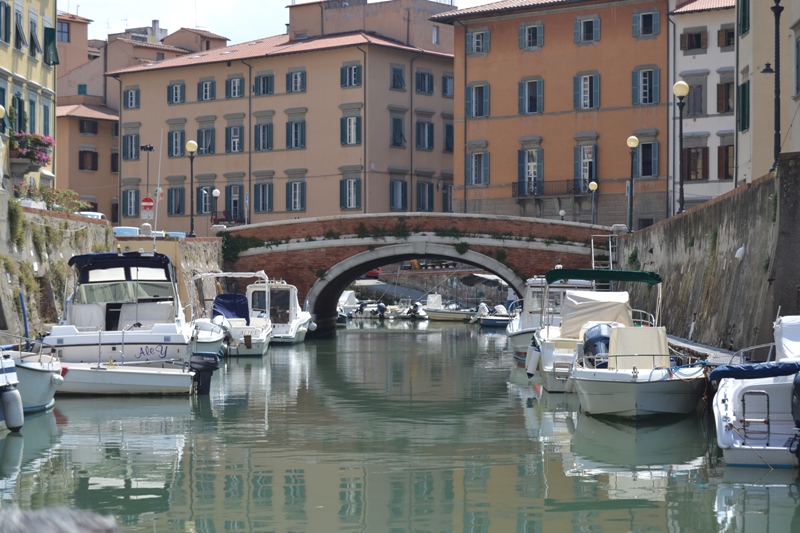 Why is the Venezia Quarter called so? Pg. 15
Have you ever been on a boat trip along the canals in Livorno? 
Would you like to sight-seeing Livorno from the canals? 
Enjoy your English,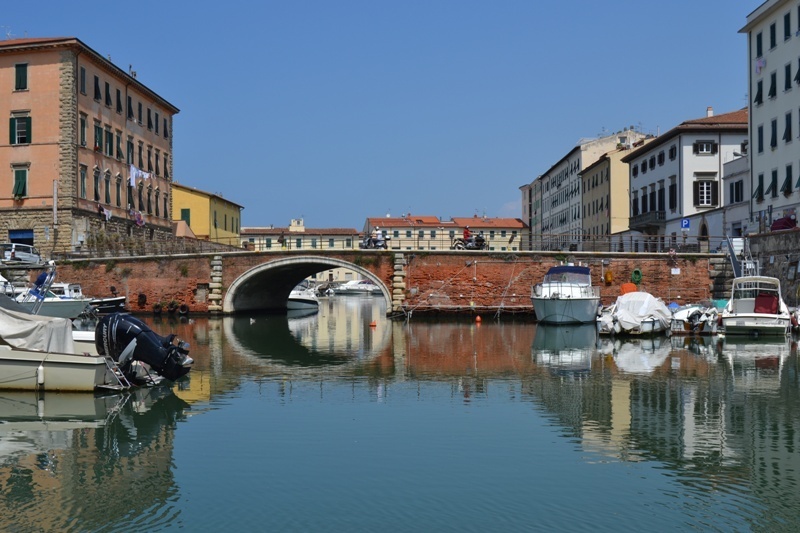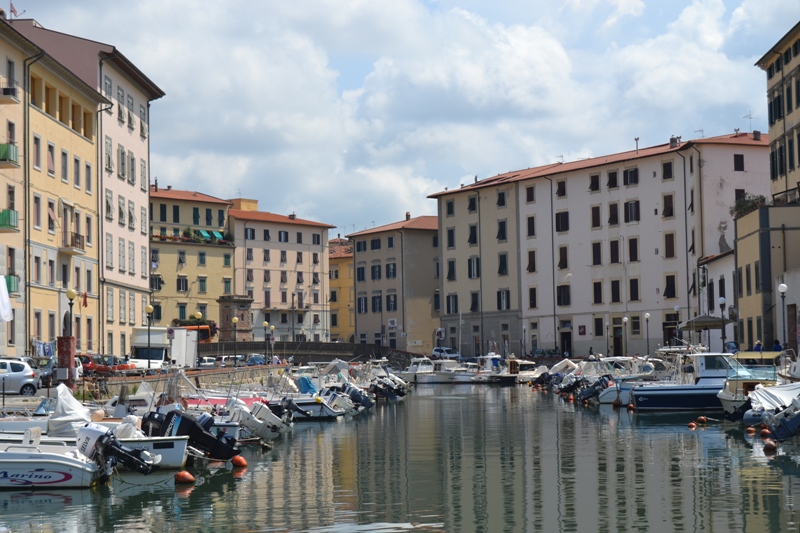 Anna - Coordinator
Source: Comune Livorno, Dipartimento Turismo and self - made photographs 
Thank you Natalia, you know then what we mean when we say our city is fascinating. Come and visit it again!
Anna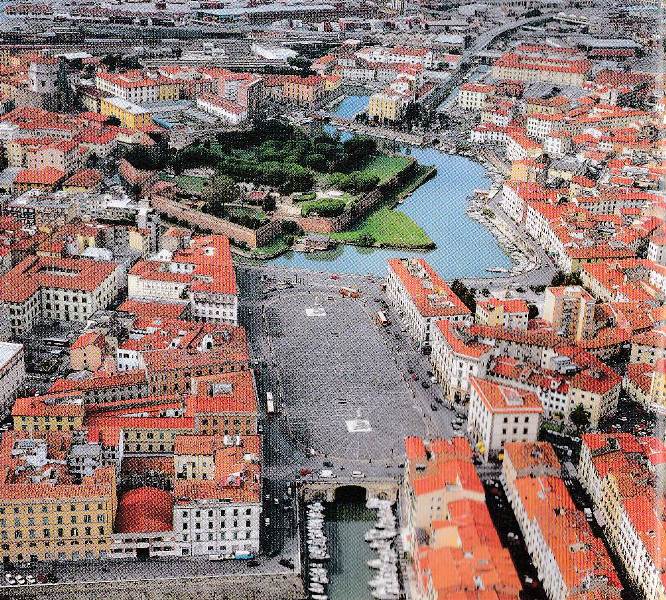 The Price Of Tourism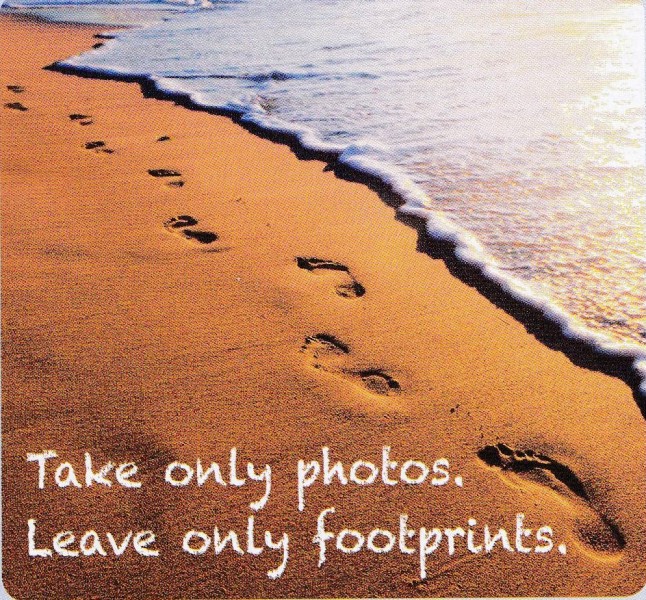 Good morning, afternoon, evening,
this is a page also for Elementary Students whom we warmly invite to participate in replying to questions and writing comments.
Think of a place where a lot of tourists go. Do you think tourism has a positive effect on that place? 
Read the text you have below and try to find the answers to these questions.  
1. How far is it from London to Sidney?
2. How long does it take to get from London to Sidney?
3. How many tourists go on safari  each year?
4. Which doesn't damage the environment so much: going by train or flying?
5. Which countries earn a lot of money from tourism?
6. Who owns the hotels in many tourism resorts?   
Can you think of more tips for responsible travelling in addition to these ones? 
1. Treat wild animals with respect
2. Wear appropriate clothes
3. Travel in small groups
4. Eat food which is grown locally
5. Speak to local people
6. Don't stay oin big hotels
7. Use public transport
8. Don't use too much water 
Using the mind map of the last picture, write complete questions for each item, and give the answers. 
We'll talk about it in class, see you there
Anna - Coordinator
Source: Cult DeA Scuola 2015
Eleonora: nationalities need capital letter; developed; have arrived (but it is not very English); landscape has changed; and the ecosystem has been damaged; it takes; and a half; world is becoming; for the environment; local populations.
Claudia: always in a hurry replying to students! Thank you for your comment. Possible improvements for your comment: 
then in the past; sorts; everyone has their different consideration for; and everything from; for everybody; we don't have to; because we are guest; for future generations.
See you in class, Anna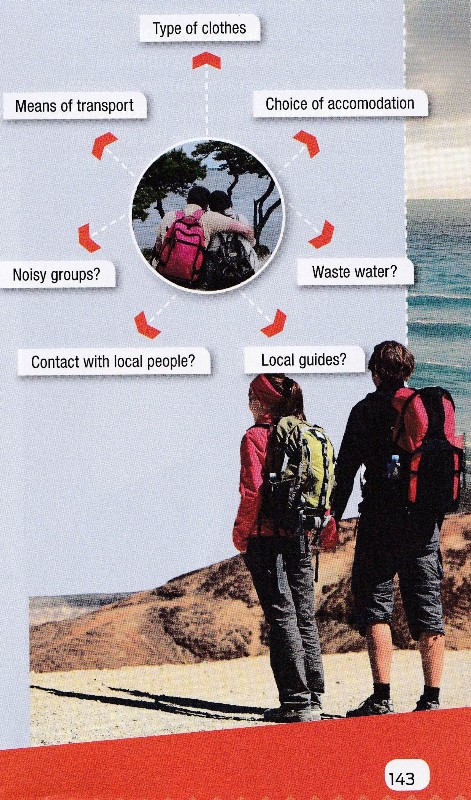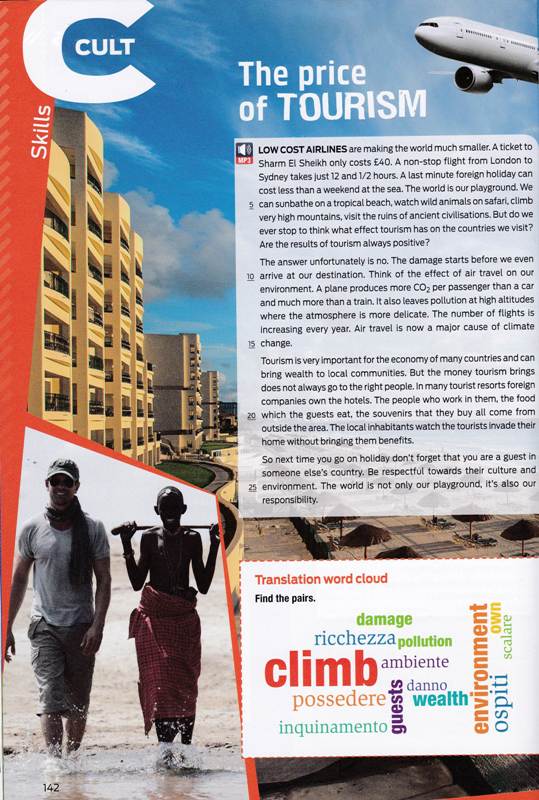 Paleolithic Diet
Good morning, afternoon,evening, 
Eleonora is an agronomist, a professional with very tight roots into the earth as a resource capable of guaranteeing everybody to live on if properly used. Redifining what sustanaibility is for everybody's benefit is something we can't delay any more. There are too many differencies among people on the same very small planet.   
Today we invite you to practice your English with this article to read, suitable also for corageous elementary students.
Do you feel concerned about nutrition? Are you interested in eating habits? Why?
What is the role played by food in your life? 
Do you find it sensible trying a Paleolithic diet? 
Why, according to you, going on a diet called Paleolithic?
What is your perception of such a definition? 
After reading the article, please complete these prompts for sentences according to what's written in it:
  1. Homo Sapiens ...
  2. Many people today...
  3. The Paleolithic diet...
  4. The Paleolithic era...
  5. People from the Paleolithic era...
  6. Devotees of the Paleolithic diet...
  7. People on the Paleolithic diet eat...
  8. People on the Paleolithic diet don't eat...
  9. People on the Paleolithic diet don't...
10. The diet is enormously popular...
11. Singer Tom Jones...
12. Singer Miley Cyrus...
13. Gwyneth Paltrow...
14. The Paleolithic diet does...
15. It's impossible...
16. Food, like people...
17. Our early ancestors... 
Practice your English paying attention to formal correctness!
See you in class, ' good day, enjoy your English, 
Anna - Coordinator
Source: Speak Up, March 2015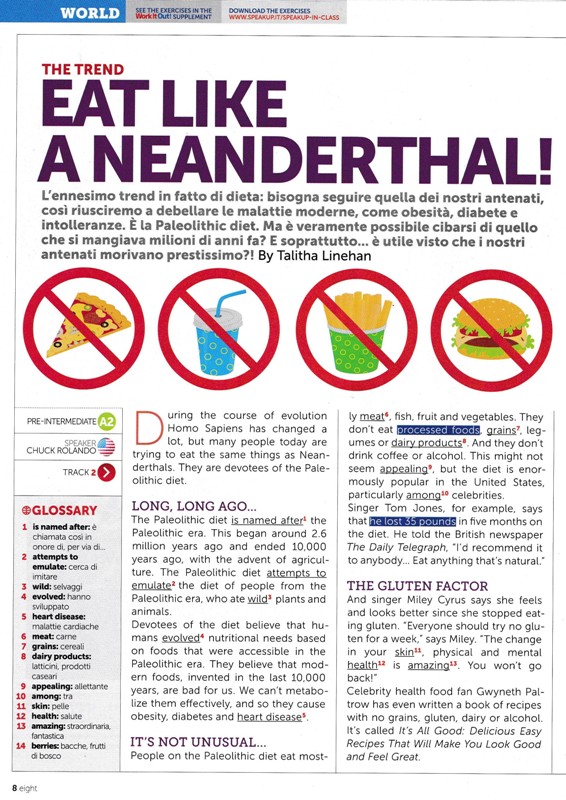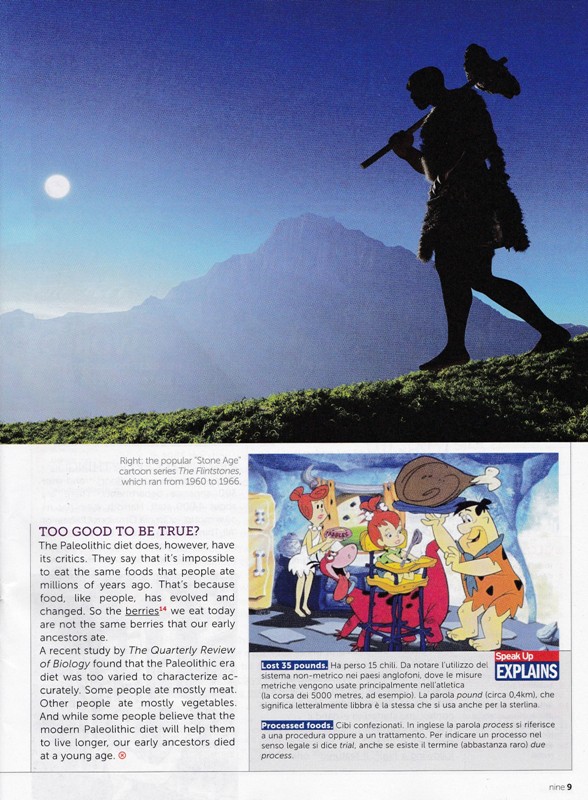 Wishes for the world
Good morning, afternoon, evening, 
thank you Caterina for appreciating biking. I's so important to keep a strong bond with phisical activities. Too frequentely we miss the perception of what our body is, we don't know what potential it has, what its resources are. We go too often to the doctor, without observing what we can do due to embodying all our skills. For we do have skills, haven't we?  
One of them is the capability of making wishes, what we are going to talk about today.
1. If you had to make some, what would they be? 
2. What does it mean putting wishes in action? 
3. What are TED Prizes aimed at? 
After reading the page, 
4. What kind of food is a problem for Jamie Oliver?
5. Who does he think should eat more healthily?
6. What is Sugata Mitra's "school in the cloud"?
7. Who does Mitra think children can learn without?
8. What does JR believe could change the world?
9. Who did JR want to influence in Pakistan?  
After replying to these questions, find words or phrases from the text that mean:
a. participate (Miranda)  
b. alone, without help (Daniel) 
c. the way they prefer (Daniel) 
d. change the world dramatically (Leila) 
Practice and enjoy your English, if you love it, it will love you. 
Anna - Coordinator 
Source: CULT DeA Scuola 2015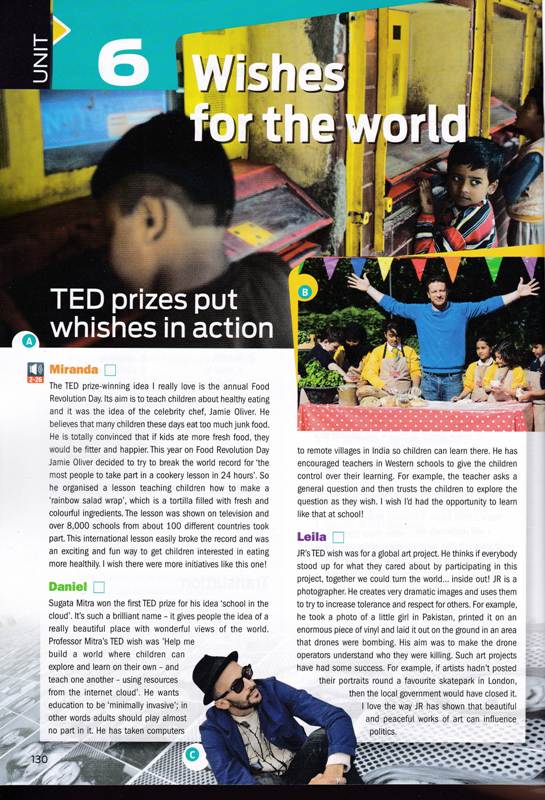 Teamwork 3
Hello everybody, 
our teen classes can find here a few questions to reply about the subject they/you chose for your team to work on. 
Whoever wants to partecipate is as usual very, very welcome. Adult students can give their contribution referring to themselves when they were teenagers. 
Biking: 1.what do you think of using a bicycle in towns and cities? 
2. What are the positive aspects of cycling and the negative ones? 
3. When do you use a bicycle? 
4. Where do you go? 
My Space: 1. can you describe your bedroom to your mates in class? 
2. Please draw a map to make us better understand what it is like. 
3. Did you decide how to furnish it? 
4. Who helped you? 
See you in class, enjoy your English 
Anna - Coordinator 
Teamwork 2
Good morning, afternoon, evening, 
thank you so much Eleonora for appreciating our very brief article about Gandhi. He was only seventeen when he understood that using the language of the British Empire for freedom purposes would have doubled the effects of communication, making people feel free to spread  what they strongly believed in: freedom is everybody's right!    
To make it easier our work, since time flies and technology sometimes doesn't help, today please
1. choose among the pages from a text book we uploaded on the previous page; 
2. choose also one or more partners to work with and
3. come to class with ideas of yours, notes written and present the topic to your mates.
We all are very interested in listening to you and to the following conversation. 
Enjoy your English and involve families
Anna - Coordinator 
Source: Pages from Get Thinking - Cambridge University Press - 2015
Teamwork