Warning
: preg_replace(): The /e modifier is no longer supported, use preg_replace_callback instead in
/web/htdocs/www.connecting-the-dots.it/home/libraries/joomla/filter/input.php
on line
689
Warning
: preg_replace(): The /e modifier is no longer supported, use preg_replace_callback instead in
/web/htdocs/www.connecting-the-dots.it/home/libraries/joomla/filter/input.php
on line
691
Warning
: preg_replace(): The /e modifier is no longer supported, use preg_replace_callback instead in
/web/htdocs/www.connecting-the-dots.it/home/libraries/joomla/filter/input.php
on line
689
Warning
: preg_replace(): The /e modifier is no longer supported, use preg_replace_callback instead in
/web/htdocs/www.connecting-the-dots.it/home/libraries/joomla/filter/input.php
on line
691
Warning
: preg_replace(): The /e modifier is no longer supported, use preg_replace_callback instead in
/web/htdocs/www.connecting-the-dots.it/home/libraries/joomla/filter/input.php
on line
689
Warning
: preg_replace(): The /e modifier is no longer supported, use preg_replace_callback instead in
/web/htdocs/www.connecting-the-dots.it/home/libraries/joomla/filter/input.php
on line
691
Warning
: preg_replace(): The /e modifier is no longer supported, use preg_replace_callback instead in
/web/htdocs/www.connecting-the-dots.it/home/libraries/joomla/filter/input.php
on line
689
Warning
: preg_replace(): The /e modifier is no longer supported, use preg_replace_callback instead in
/web/htdocs/www.connecting-the-dots.it/home/libraries/joomla/filter/input.php
on line
691
Warning
: preg_replace(): The /e modifier is no longer supported, use preg_replace_callback instead in
/web/htdocs/www.connecting-the-dots.it/home/libraries/joomla/filter/input.php
on line
689
Warning
: preg_replace(): The /e modifier is no longer supported, use preg_replace_callback instead in
/web/htdocs/www.connecting-the-dots.it/home/libraries/joomla/filter/input.php
on line
691
Warning
: preg_replace(): The /e modifier is no longer supported, use preg_replace_callback instead in
/web/htdocs/www.connecting-the-dots.it/home/libraries/joomla/filter/input.php
on line
689
Warning
: preg_replace(): The /e modifier is no longer supported, use preg_replace_callback instead in
/web/htdocs/www.connecting-the-dots.it/home/libraries/joomla/filter/input.php
on line
691
Warning
: preg_replace(): The /e modifier is no longer supported, use preg_replace_callback instead in
/web/htdocs/www.connecting-the-dots.it/home/libraries/joomla/filter/input.php
on line
689
Warning
: preg_replace(): The /e modifier is no longer supported, use preg_replace_callback instead in
/web/htdocs/www.connecting-the-dots.it/home/libraries/joomla/filter/input.php
on line
691
Warning
: preg_replace(): The /e modifier is no longer supported, use preg_replace_callback instead in
/web/htdocs/www.connecting-the-dots.it/home/libraries/joomla/filter/input.php
on line
689
Warning
: preg_replace(): The /e modifier is no longer supported, use preg_replace_callback instead in
/web/htdocs/www.connecting-the-dots.it/home/libraries/joomla/filter/input.php
on line
691
Warning
: preg_replace(): The /e modifier is no longer supported, use preg_replace_callback instead in
/web/htdocs/www.connecting-the-dots.it/home/libraries/joomla/filter/input.php
on line
689
Warning
: preg_replace(): The /e modifier is no longer supported, use preg_replace_callback instead in
/web/htdocs/www.connecting-the-dots.it/home/libraries/joomla/filter/input.php
on line
691
Warning
: preg_replace(): The /e modifier is no longer supported, use preg_replace_callback instead in
/web/htdocs/www.connecting-the-dots.it/home/libraries/joomla/filter/input.php
on line
689
Warning
: preg_replace(): The /e modifier is no longer supported, use preg_replace_callback instead in
/web/htdocs/www.connecting-the-dots.it/home/libraries/joomla/filter/input.php
on line
691
Warning
: preg_replace(): The /e modifier is no longer supported, use preg_replace_callback instead in
/web/htdocs/www.connecting-the-dots.it/home/libraries/joomla/filter/input.php
on line
689
Warning
: preg_replace(): The /e modifier is no longer supported, use preg_replace_callback instead in
/web/htdocs/www.connecting-the-dots.it/home/libraries/joomla/filter/input.php
on line
691
Warning
: preg_replace(): The /e modifier is no longer supported, use preg_replace_callback instead in
/web/htdocs/www.connecting-the-dots.it/home/libraries/joomla/filter/input.php
on line
689
Warning
: preg_replace(): The /e modifier is no longer supported, use preg_replace_callback instead in
/web/htdocs/www.connecting-the-dots.it/home/libraries/joomla/filter/input.php
on line
691
Warning
: preg_replace(): The /e modifier is no longer supported, use preg_replace_callback instead in
/web/htdocs/www.connecting-the-dots.it/home/libraries/joomla/filter/input.php
on line
689
Warning
: preg_replace(): The /e modifier is no longer supported, use preg_replace_callback instead in
/web/htdocs/www.connecting-the-dots.it/home/libraries/joomla/filter/input.php
on line
691
Warning
: preg_replace(): The /e modifier is no longer supported, use preg_replace_callback instead in
/web/htdocs/www.connecting-the-dots.it/home/libraries/joomla/filter/input.php
on line
689
Warning
: preg_replace(): The /e modifier is no longer supported, use preg_replace_callback instead in
/web/htdocs/www.connecting-the-dots.it/home/libraries/joomla/filter/input.php
on line
691
Warning
: preg_replace(): The /e modifier is no longer supported, use preg_replace_callback instead in
/web/htdocs/www.connecting-the-dots.it/home/libraries/joomla/filter/input.php
on line
689
Warning
: preg_replace(): The /e modifier is no longer supported, use preg_replace_callback instead in
/web/htdocs/www.connecting-the-dots.it/home/libraries/joomla/filter/input.php
on line
691
Warning
: preg_replace(): The /e modifier is no longer supported, use preg_replace_callback instead in
/web/htdocs/www.connecting-the-dots.it/home/libraries/joomla/filter/input.php
on line
689
Warning
: preg_replace(): The /e modifier is no longer supported, use preg_replace_callback instead in
/web/htdocs/www.connecting-the-dots.it/home/libraries/joomla/filter/input.php
on line
691
Warning
: preg_replace(): The /e modifier is no longer supported, use preg_replace_callback instead in
/web/htdocs/www.connecting-the-dots.it/home/libraries/joomla/filter/input.php
on line
689
Warning
: preg_replace(): The /e modifier is no longer supported, use preg_replace_callback instead in
/web/htdocs/www.connecting-the-dots.it/home/libraries/joomla/filter/input.php
on line
691
Warning
: preg_replace(): The /e modifier is no longer supported, use preg_replace_callback instead in
/web/htdocs/www.connecting-the-dots.it/home/libraries/joomla/filter/input.php
on line
689
Warning
: preg_replace(): The /e modifier is no longer supported, use preg_replace_callback instead in
/web/htdocs/www.connecting-the-dots.it/home/libraries/joomla/filter/input.php
on line
691
Warning
: preg_replace(): The /e modifier is no longer supported, use preg_replace_callback instead in
/web/htdocs/www.connecting-the-dots.it/home/libraries/joomla/filter/input.php
on line
689
Warning
: preg_replace(): The /e modifier is no longer supported, use preg_replace_callback instead in
/web/htdocs/www.connecting-the-dots.it/home/libraries/joomla/filter/input.php
on line
691
Warning
: preg_replace(): The /e modifier is no longer supported, use preg_replace_callback instead in
/web/htdocs/www.connecting-the-dots.it/home/libraries/joomla/filter/input.php
on line
689
Warning
: preg_replace(): The /e modifier is no longer supported, use preg_replace_callback instead in
/web/htdocs/www.connecting-the-dots.it/home/libraries/joomla/filter/input.php
on line
691
Warning
: preg_replace(): The /e modifier is no longer supported, use preg_replace_callback instead in
/web/htdocs/www.connecting-the-dots.it/home/libraries/joomla/filter/input.php
on line
689
Warning
: preg_replace(): The /e modifier is no longer supported, use preg_replace_callback instead in
/web/htdocs/www.connecting-the-dots.it/home/libraries/joomla/filter/input.php
on line
691
Warning
: preg_replace(): The /e modifier is no longer supported, use preg_replace_callback instead in
/web/htdocs/www.connecting-the-dots.it/home/libraries/joomla/filter/input.php
on line
689
Warning
: preg_replace(): The /e modifier is no longer supported, use preg_replace_callback instead in
/web/htdocs/www.connecting-the-dots.it/home/libraries/joomla/filter/input.php
on line
691
Warning
: preg_replace(): The /e modifier is no longer supported, use preg_replace_callback instead in
/web/htdocs/www.connecting-the-dots.it/home/libraries/joomla/filter/input.php
on line
689
Warning
: preg_replace(): The /e modifier is no longer supported, use preg_replace_callback instead in
/web/htdocs/www.connecting-the-dots.it/home/libraries/joomla/filter/input.php
on line
691
Warning
: preg_replace(): The /e modifier is no longer supported, use preg_replace_callback instead in
/web/htdocs/www.connecting-the-dots.it/home/libraries/joomla/filter/input.php
on line
689
Warning
: preg_replace(): The /e modifier is no longer supported, use preg_replace_callback instead in
/web/htdocs/www.connecting-the-dots.it/home/libraries/joomla/filter/input.php
on line
691
Warning
: preg_replace(): The /e modifier is no longer supported, use preg_replace_callback instead in
/web/htdocs/www.connecting-the-dots.it/home/libraries/joomla/filter/input.php
on line
689
Warning
: preg_replace(): The /e modifier is no longer supported, use preg_replace_callback instead in
/web/htdocs/www.connecting-the-dots.it/home/libraries/joomla/filter/input.php
on line
691
Warning
: preg_replace(): The /e modifier is no longer supported, use preg_replace_callback instead in
/web/htdocs/www.connecting-the-dots.it/home/libraries/joomla/filter/input.php
on line
689
Warning
: preg_replace(): The /e modifier is no longer supported, use preg_replace_callback instead in
/web/htdocs/www.connecting-the-dots.it/home/libraries/joomla/filter/input.php
on line
691
Warning
: preg_replace(): The /e modifier is no longer supported, use preg_replace_callback instead in
/web/htdocs/www.connecting-the-dots.it/home/libraries/joomla/filter/input.php
on line
689
Warning
: preg_replace(): The /e modifier is no longer supported, use preg_replace_callback instead in
/web/htdocs/www.connecting-the-dots.it/home/libraries/joomla/filter/input.php
on line
691
Warning
: preg_replace(): The /e modifier is no longer supported, use preg_replace_callback instead in
/web/htdocs/www.connecting-the-dots.it/home/libraries/joomla/filter/input.php
on line
689
Warning
: preg_replace(): The /e modifier is no longer supported, use preg_replace_callback instead in
/web/htdocs/www.connecting-the-dots.it/home/libraries/joomla/filter/input.php
on line
691
Warning
: preg_replace(): The /e modifier is no longer supported, use preg_replace_callback instead in
/web/htdocs/www.connecting-the-dots.it/home/libraries/joomla/filter/input.php
on line
689
Warning
: preg_replace(): The /e modifier is no longer supported, use preg_replace_callback instead in
/web/htdocs/www.connecting-the-dots.it/home/libraries/joomla/filter/input.php
on line
691
Warning
: preg_replace(): The /e modifier is no longer supported, use preg_replace_callback instead in
/web/htdocs/www.connecting-the-dots.it/home/libraries/joomla/filter/input.php
on line
689
Warning
: preg_replace(): The /e modifier is no longer supported, use preg_replace_callback instead in
/web/htdocs/www.connecting-the-dots.it/home/libraries/joomla/filter/input.php
on line
691
Warning
: preg_replace(): The /e modifier is no longer supported, use preg_replace_callback instead in
/web/htdocs/www.connecting-the-dots.it/home/libraries/joomla/filter/input.php
on line
689
Warning
: preg_replace(): The /e modifier is no longer supported, use preg_replace_callback instead in
/web/htdocs/www.connecting-the-dots.it/home/libraries/joomla/filter/input.php
on line
691
Warning
: preg_replace(): The /e modifier is no longer supported, use preg_replace_callback instead in
/web/htdocs/www.connecting-the-dots.it/home/libraries/joomla/filter/input.php
on line
689
Warning
: preg_replace(): The /e modifier is no longer supported, use preg_replace_callback instead in
/web/htdocs/www.connecting-the-dots.it/home/libraries/joomla/filter/input.php
on line
691
Warning
: preg_replace(): The /e modifier is no longer supported, use preg_replace_callback instead in
/web/htdocs/www.connecting-the-dots.it/home/libraries/joomla/filter/input.php
on line
689
Warning
: preg_replace(): The /e modifier is no longer supported, use preg_replace_callback instead in
/web/htdocs/www.connecting-the-dots.it/home/libraries/joomla/filter/input.php
on line
691
Warning
: preg_replace(): The /e modifier is no longer supported, use preg_replace_callback instead in
/web/htdocs/www.connecting-the-dots.it/home/libraries/joomla/filter/input.php
on line
689
Warning
: preg_replace(): The /e modifier is no longer supported, use preg_replace_callback instead in
/web/htdocs/www.connecting-the-dots.it/home/libraries/joomla/filter/input.php
on line
691
Warning
: preg_replace(): The /e modifier is no longer supported, use preg_replace_callback instead in
/web/htdocs/www.connecting-the-dots.it/home/libraries/joomla/filter/input.php
on line
689
Warning
: preg_replace(): The /e modifier is no longer supported, use preg_replace_callback instead in
/web/htdocs/www.connecting-the-dots.it/home/libraries/joomla/filter/input.php
on line
691
Warning
: preg_replace(): The /e modifier is no longer supported, use preg_replace_callback instead in
/web/htdocs/www.connecting-the-dots.it/home/libraries/joomla/filter/input.php
on line
689
Warning
: preg_replace(): The /e modifier is no longer supported, use preg_replace_callback instead in
/web/htdocs/www.connecting-the-dots.it/home/libraries/joomla/filter/input.php
on line
691
Warning
: preg_replace(): The /e modifier is no longer supported, use preg_replace_callback instead in
/web/htdocs/www.connecting-the-dots.it/home/libraries/joomla/filter/input.php
on line
689
Warning
: preg_replace(): The /e modifier is no longer supported, use preg_replace_callback instead in
/web/htdocs/www.connecting-the-dots.it/home/libraries/joomla/filter/input.php
on line
691
Warning
: preg_replace(): The /e modifier is no longer supported, use preg_replace_callback instead in
/web/htdocs/www.connecting-the-dots.it/home/libraries/joomla/filter/input.php
on line
689
Warning
: preg_replace(): The /e modifier is no longer supported, use preg_replace_callback instead in
/web/htdocs/www.connecting-the-dots.it/home/libraries/joomla/filter/input.php
on line
691
Warning
: preg_replace(): The /e modifier is no longer supported, use preg_replace_callback instead in
/web/htdocs/www.connecting-the-dots.it/home/libraries/joomla/filter/input.php
on line
689
Warning
: preg_replace(): The /e modifier is no longer supported, use preg_replace_callback instead in
/web/htdocs/www.connecting-the-dots.it/home/libraries/joomla/filter/input.php
on line
691
Warning
: preg_replace(): The /e modifier is no longer supported, use preg_replace_callback instead in
/web/htdocs/www.connecting-the-dots.it/home/libraries/joomla/filter/input.php
on line
689
Warning
: preg_replace(): The /e modifier is no longer supported, use preg_replace_callback instead in
/web/htdocs/www.connecting-the-dots.it/home/libraries/joomla/filter/input.php
on line
691
Warning
: preg_replace(): The /e modifier is no longer supported, use preg_replace_callback instead in
/web/htdocs/www.connecting-the-dots.it/home/libraries/joomla/filter/input.php
on line
689
Warning
: preg_replace(): The /e modifier is no longer supported, use preg_replace_callback instead in
/web/htdocs/www.connecting-the-dots.it/home/libraries/joomla/filter/input.php
on line
691
Warning
: preg_replace(): The /e modifier is no longer supported, use preg_replace_callback instead in
/web/htdocs/www.connecting-the-dots.it/home/libraries/joomla/filter/input.php
on line
689
Warning
: preg_replace(): The /e modifier is no longer supported, use preg_replace_callback instead in
/web/htdocs/www.connecting-the-dots.it/home/libraries/joomla/filter/input.php
on line
691
Warning
: preg_replace(): The /e modifier is no longer supported, use preg_replace_callback instead in
/web/htdocs/www.connecting-the-dots.it/home/libraries/joomla/filter/input.php
on line
689
Warning
: preg_replace(): The /e modifier is no longer supported, use preg_replace_callback instead in
/web/htdocs/www.connecting-the-dots.it/home/libraries/joomla/filter/input.php
on line
691
Warning
: preg_replace(): The /e modifier is no longer supported, use preg_replace_callback instead in
/web/htdocs/www.connecting-the-dots.it/home/libraries/joomla/filter/input.php
on line
689
Warning
: preg_replace(): The /e modifier is no longer supported, use preg_replace_callback instead in
/web/htdocs/www.connecting-the-dots.it/home/libraries/joomla/filter/input.php
on line
691
Warning
: preg_replace(): The /e modifier is no longer supported, use preg_replace_callback instead in
/web/htdocs/www.connecting-the-dots.it/home/libraries/joomla/filter/input.php
on line
689
Warning
: preg_replace(): The /e modifier is no longer supported, use preg_replace_callback instead in
/web/htdocs/www.connecting-the-dots.it/home/libraries/joomla/filter/input.php
on line
691
Warning
: preg_replace(): The /e modifier is no longer supported, use preg_replace_callback instead in
/web/htdocs/www.connecting-the-dots.it/home/libraries/joomla/filter/input.php
on line
689
Warning
: preg_replace(): The /e modifier is no longer supported, use preg_replace_callback instead in
/web/htdocs/www.connecting-the-dots.it/home/libraries/joomla/filter/input.php
on line
691
Warning
: preg_replace(): The /e modifier is no longer supported, use preg_replace_callback instead in
/web/htdocs/www.connecting-the-dots.it/home/libraries/joomla/filter/input.php
on line
689
Warning
: preg_replace(): The /e modifier is no longer supported, use preg_replace_callback instead in
/web/htdocs/www.connecting-the-dots.it/home/libraries/joomla/filter/input.php
on line
691
Warning
: preg_replace(): The /e modifier is no longer supported, use preg_replace_callback instead in
/web/htdocs/www.connecting-the-dots.it/home/libraries/joomla/filter/input.php
on line
689
Warning
: preg_replace(): The /e modifier is no longer supported, use preg_replace_callback instead in
/web/htdocs/www.connecting-the-dots.it/home/libraries/joomla/filter/input.php
on line
691
Warning
: preg_replace(): The /e modifier is no longer supported, use preg_replace_callback instead in
/web/htdocs/www.connecting-the-dots.it/home/libraries/joomla/filter/input.php
on line
689
Warning
: preg_replace(): The /e modifier is no longer supported, use preg_replace_callback instead in
/web/htdocs/www.connecting-the-dots.it/home/libraries/joomla/filter/input.php
on line
691
Warning
: preg_replace(): The /e modifier is no longer supported, use preg_replace_callback instead in
/web/htdocs/www.connecting-the-dots.it/home/libraries/joomla/filter/input.php
on line
689
Warning
: preg_replace(): The /e modifier is no longer supported, use preg_replace_callback instead in
/web/htdocs/www.connecting-the-dots.it/home/libraries/joomla/filter/input.php
on line
691
Warning
: preg_replace(): The /e modifier is no longer supported, use preg_replace_callback instead in
/web/htdocs/www.connecting-the-dots.it/home/libraries/joomla/filter/input.php
on line
689
Warning
: preg_replace(): The /e modifier is no longer supported, use preg_replace_callback instead in
/web/htdocs/www.connecting-the-dots.it/home/libraries/joomla/filter/input.php
on line
691
Warning
: preg_replace(): The /e modifier is no longer supported, use preg_replace_callback instead in
/web/htdocs/www.connecting-the-dots.it/home/libraries/joomla/filter/input.php
on line
689
Warning
: preg_replace(): The /e modifier is no longer supported, use preg_replace_callback instead in
/web/htdocs/www.connecting-the-dots.it/home/libraries/joomla/filter/input.php
on line
691
Warning
: preg_replace(): The /e modifier is no longer supported, use preg_replace_callback instead in
/web/htdocs/www.connecting-the-dots.it/home/libraries/joomla/filter/input.php
on line
689
Warning
: preg_replace(): The /e modifier is no longer supported, use preg_replace_callback instead in
/web/htdocs/www.connecting-the-dots.it/home/libraries/joomla/filter/input.php
on line
691
Warning
: preg_replace(): The /e modifier is no longer supported, use preg_replace_callback instead in
/web/htdocs/www.connecting-the-dots.it/home/libraries/joomla/filter/input.php
on line
689
Warning
: preg_replace(): The /e modifier is no longer supported, use preg_replace_callback instead in
/web/htdocs/www.connecting-the-dots.it/home/libraries/joomla/filter/input.php
on line
691
Warning
: preg_replace(): The /e modifier is no longer supported, use preg_replace_callback instead in
/web/htdocs/www.connecting-the-dots.it/home/libraries/joomla/filter/input.php
on line
689
Warning
: preg_replace(): The /e modifier is no longer supported, use preg_replace_callback instead in
/web/htdocs/www.connecting-the-dots.it/home/libraries/joomla/filter/input.php
on line
691
Warning
: preg_replace(): The /e modifier is no longer supported, use preg_replace_callback instead in
/web/htdocs/www.connecting-the-dots.it/home/libraries/joomla/filter/input.php
on line
689
Warning
: preg_replace(): The /e modifier is no longer supported, use preg_replace_callback instead in
/web/htdocs/www.connecting-the-dots.it/home/libraries/joomla/filter/input.php
on line
691
Warning
: preg_replace(): The /e modifier is no longer supported, use preg_replace_callback instead in
/web/htdocs/www.connecting-the-dots.it/home/libraries/joomla/filter/input.php
on line
689
Warning
: preg_replace(): The /e modifier is no longer supported, use preg_replace_callback instead in
/web/htdocs/www.connecting-the-dots.it/home/libraries/joomla/filter/input.php
on line
691
Warning
: preg_replace(): The /e modifier is no longer supported, use preg_replace_callback instead in
/web/htdocs/www.connecting-the-dots.it/home/libraries/joomla/filter/input.php
on line
689
Warning
: preg_replace(): The /e modifier is no longer supported, use preg_replace_callback instead in
/web/htdocs/www.connecting-the-dots.it/home/libraries/joomla/filter/input.php
on line
691
Warning
: preg_replace(): The /e modifier is no longer supported, use preg_replace_callback instead in
/web/htdocs/www.connecting-the-dots.it/home/libraries/joomla/filter/input.php
on line
689
Warning
: preg_replace(): The /e modifier is no longer supported, use preg_replace_callback instead in
/web/htdocs/www.connecting-the-dots.it/home/libraries/joomla/filter/input.php
on line
691
Warning
: preg_replace(): The /e modifier is no longer supported, use preg_replace_callback instead in
/web/htdocs/www.connecting-the-dots.it/home/libraries/joomla/filter/input.php
on line
689
Warning
: preg_replace(): The /e modifier is no longer supported, use preg_replace_callback instead in
/web/htdocs/www.connecting-the-dots.it/home/libraries/joomla/filter/input.php
on line
691
Warning
: preg_replace(): The /e modifier is no longer supported, use preg_replace_callback instead in
/web/htdocs/www.connecting-the-dots.it/home/libraries/joomla/filter/input.php
on line
689
Warning
: preg_replace(): The /e modifier is no longer supported, use preg_replace_callback instead in
/web/htdocs/www.connecting-the-dots.it/home/libraries/joomla/filter/input.php
on line
691
Warning
: preg_replace(): The /e modifier is no longer supported, use preg_replace_callback instead in
/web/htdocs/www.connecting-the-dots.it/home/libraries/joomla/filter/input.php
on line
689
Warning
: preg_replace(): The /e modifier is no longer supported, use preg_replace_callback instead in
/web/htdocs/www.connecting-the-dots.it/home/libraries/joomla/filter/input.php
on line
691
Warning
: preg_replace(): The /e modifier is no longer supported, use preg_replace_callback instead in
/web/htdocs/www.connecting-the-dots.it/home/libraries/joomla/filter/input.php
on line
689
Warning
: preg_replace(): The /e modifier is no longer supported, use preg_replace_callback instead in
/web/htdocs/www.connecting-the-dots.it/home/libraries/joomla/filter/input.php
on line
691
Warning
: preg_replace(): The /e modifier is no longer supported, use preg_replace_callback instead in
/web/htdocs/www.connecting-the-dots.it/home/libraries/joomla/filter/input.php
on line
689
Warning
: preg_replace(): The /e modifier is no longer supported, use preg_replace_callback instead in
/web/htdocs/www.connecting-the-dots.it/home/libraries/joomla/filter/input.php
on line
691
Warning
: preg_replace(): The /e modifier is no longer supported, use preg_replace_callback instead in
/web/htdocs/www.connecting-the-dots.it/home/libraries/joomla/filter/input.php
on line
689
Warning
: preg_replace(): The /e modifier is no longer supported, use preg_replace_callback instead in
/web/htdocs/www.connecting-the-dots.it/home/libraries/joomla/filter/input.php
on line
691
Warning
: preg_replace(): The /e modifier is no longer supported, use preg_replace_callback instead in
/web/htdocs/www.connecting-the-dots.it/home/libraries/joomla/filter/input.php
on line
689
Warning
: preg_replace(): The /e modifier is no longer supported, use preg_replace_callback instead in
/web/htdocs/www.connecting-the-dots.it/home/libraries/joomla/filter/input.php
on line
691
Warning
: preg_replace(): The /e modifier is no longer supported, use preg_replace_callback instead in
/web/htdocs/www.connecting-the-dots.it/home/libraries/joomla/filter/input.php
on line
689
Warning
: preg_replace(): The /e modifier is no longer supported, use preg_replace_callback instead in
/web/htdocs/www.connecting-the-dots.it/home/libraries/joomla/filter/input.php
on line
691
Warning
: preg_replace(): The /e modifier is no longer supported, use preg_replace_callback instead in
/web/htdocs/www.connecting-the-dots.it/home/libraries/joomla/filter/input.php
on line
689
Warning
: preg_replace(): The /e modifier is no longer supported, use preg_replace_callback instead in
/web/htdocs/www.connecting-the-dots.it/home/libraries/joomla/filter/input.php
on line
691
Warning
: preg_replace(): The /e modifier is no longer supported, use preg_replace_callback instead in
/web/htdocs/www.connecting-the-dots.it/home/libraries/joomla/filter/input.php
on line
689
Warning
: preg_replace(): The /e modifier is no longer supported, use preg_replace_callback instead in
/web/htdocs/www.connecting-the-dots.it/home/libraries/joomla/filter/input.php
on line
691
Warning
: preg_replace(): The /e modifier is no longer supported, use preg_replace_callback instead in
/web/htdocs/www.connecting-the-dots.it/home/libraries/joomla/filter/input.php
on line
689
Warning
: preg_replace(): The /e modifier is no longer supported, use preg_replace_callback instead in
/web/htdocs/www.connecting-the-dots.it/home/libraries/joomla/filter/input.php
on line
691
Warning
: preg_replace(): The /e modifier is no longer supported, use preg_replace_callback instead in
/web/htdocs/www.connecting-the-dots.it/home/libraries/joomla/filter/input.php
on line
689
Warning
: preg_replace(): The /e modifier is no longer supported, use preg_replace_callback instead in
/web/htdocs/www.connecting-the-dots.it/home/libraries/joomla/filter/input.php
on line
691
Holy Wells in Ireland
Good morning, afternoon, evening,
Ottavia, Anna, Patrizia, Alena, Filippo, Alessandro, Marina,
this is homework for all of you to consolidate what we started speaking and writing about in class, after listening to the article from Speak Up.
All five skills are involved, aural comprenension, i.e.listening, written comprehension, i.e.reading, written production, i.e.writing, oral production, i.e.speaking, and the final comprehensive one, interaction, once more in class.
Try to functionalize the content of the article writing answers to the questions below.
Pay great attention to formal correctness, building up simple sentences: subject, verb, complement.
Present simple
1. What are holy wells?
2. Where can you find them in Ireland?

Past simple

3. What was the reason for celebrating the first of November in pagan times?

4. Why did people go to visit holy wells in pagan times?

5. What did they believe in? Make examples.

Passive form

6. What were these wells believed to cure?

Present perfect

7. Why have scientists validated some ancient people's beliefs?

Passive form and present perfect passive

8. Add any personal comment about the subject given and the work you have been asked to do.

Anyone else who wants to write comments on our page is very, very welcome.

We will reply.
Anna - Coordinator
Source:Speak Up, October 2016 

Gianna: nice job, your comment.
Irish is an adjective, add people; coordinate singular and plural, do not forget indefinite articles; I would  suggest celebrate rites; known around the world, past participle; even after, together after verb and object. Remember to decide when using present simple and past simple to help the comprehension of the subject.
Thank you, continue writing, Anna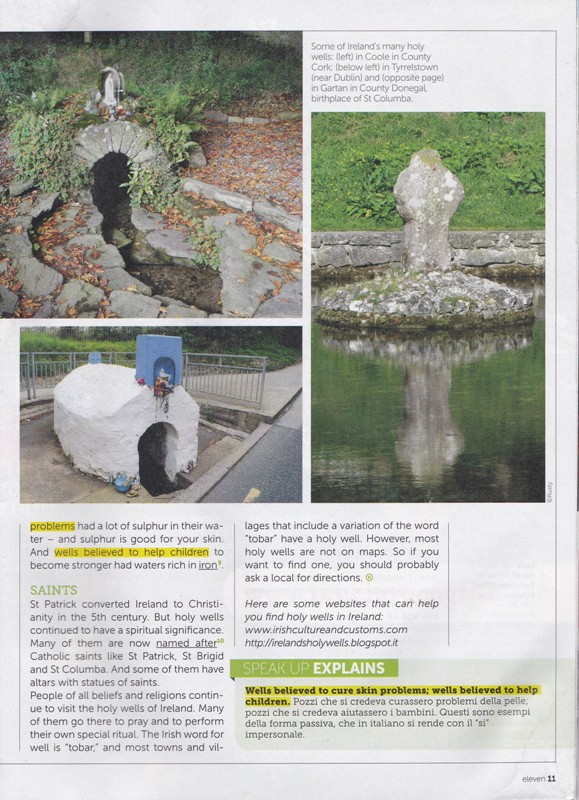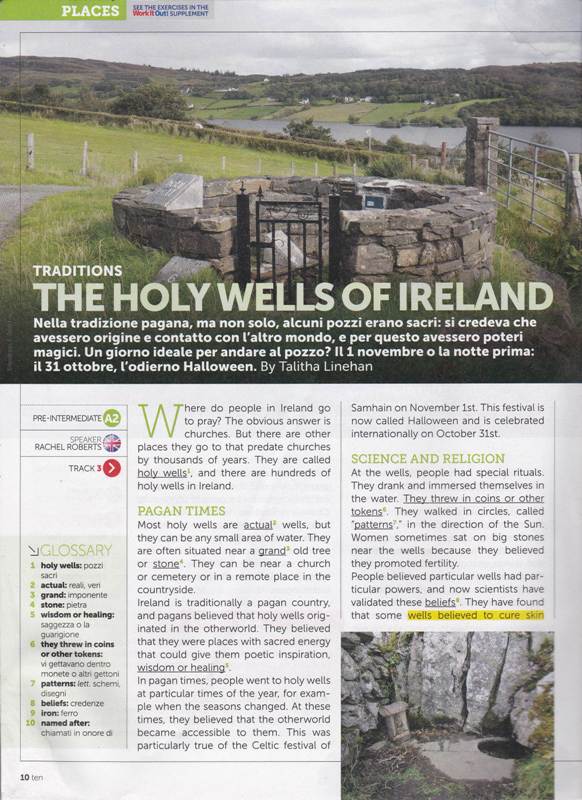 Carnaby Street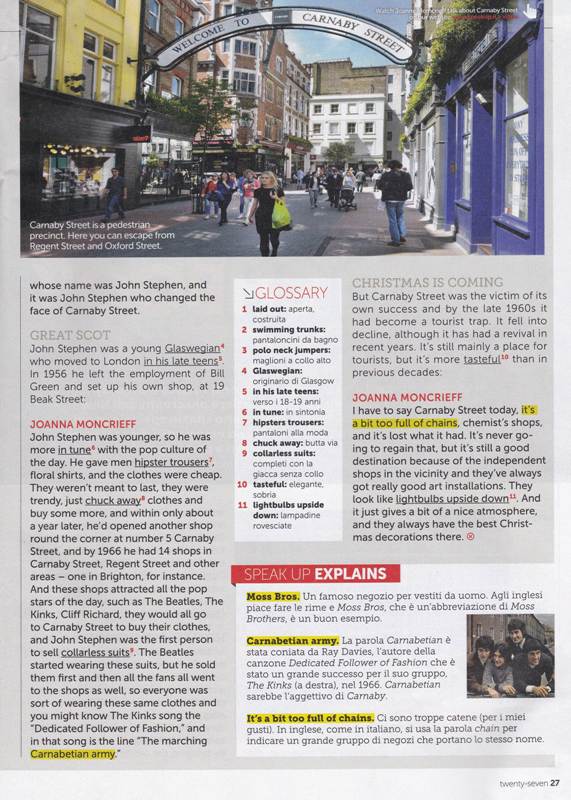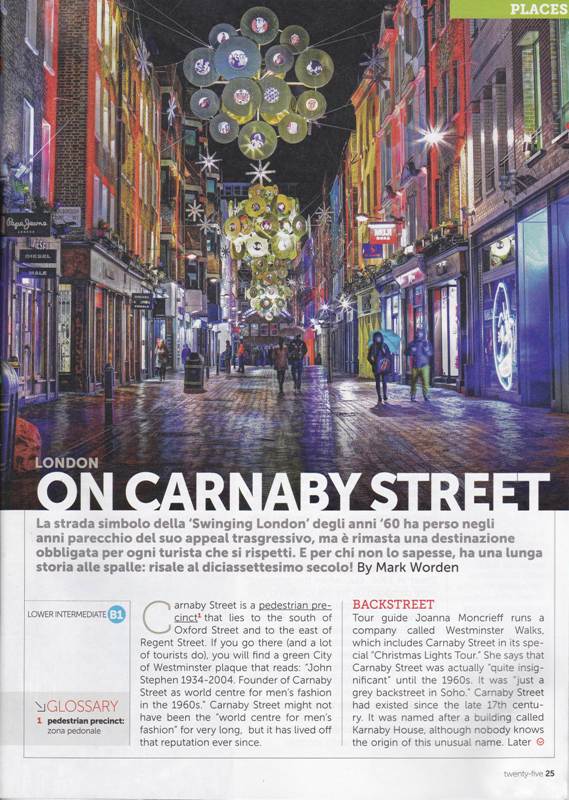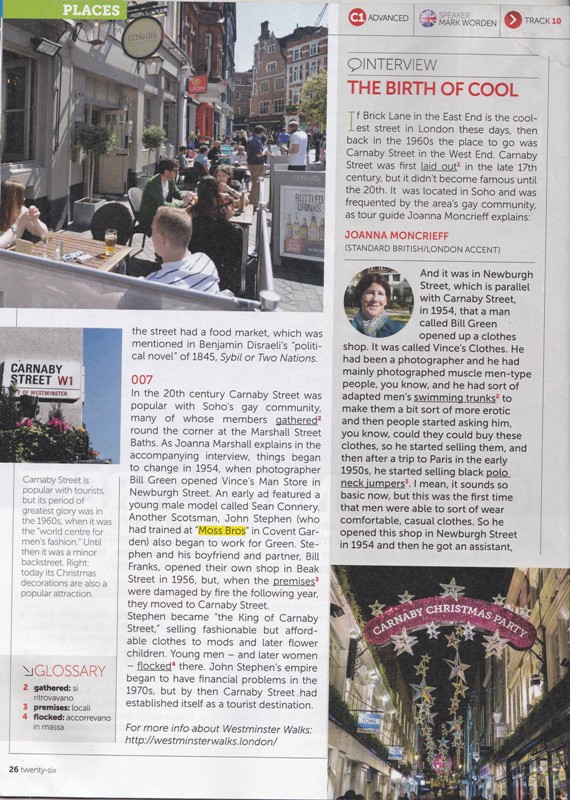 Good morning, afternoon, evening,
it is with very great pleasure that we welcome all the new students to our courses.
First in class, then outside, in our "Open Air English Labs".
Start working contributing with personal and group initiatives to our classes!
London has always been a place of interest for English students, and with the new ones of you our talk could start with Carnaby street.
Read the article above and compare the reading at low-intermediate level with the listening in class, advanced level.
You will be asked questions to reply to, with formal correctness, but also creativity according to your personality and style.
Try to prepare questions to ask your classmates and be ready to respond to theirs.
Have you ever been to London?
What is your best memory of your visit?
Who did you go with?
Come to class with photographs and ready to talk about your experience.
See you there,
Anna - Coordinator
Source: Speak Up, October 2016 Issue
Gianna: it is a city you miss after visiting it, London, isn't it? Like any other place where you feel at home because of the language. Continue enjoying English Gianna!
Open Air English
Good morning
David, Giorgio, Letizia, Irene, Gabriele, Ilaria, Robin, Saverio, Matteo,
Alessio, Elisa, Davide, Kevin, Alyssia, Ilaria, Matteo,

week two then of our Summer English that's going to be soon in the open air.
Let's get ready to meet cruise passengers knowing something about their cruise ships, where the passengers embarked, where they are from, what their journey to come to Livorno was like.
Form pairs, search on the Internet and write the news you find, onto the papers on the walls. 
These are the names of the ships on Mediterranean cruise arriving in Livorno on July 27 and 28, whose passengers we are going to meet in Piazza del Municipio.
Arethusa, Brilliance of the Seas, Thomson Discovery, Carnival Vista, Sea Dream 1, Norwegian Epic, Celebrity Constellation, Oceana, Sovereign. 
Find enough news to write three formally correct sentences and inform consistently your mates about them. Try to look for curiosities, unusual news to strike your mates; we'll all give marks to your reports. 
Upload your comments so to let other people partecipate in voting including your families. 
Thank you all, continue working, our English will be soon "Open Air" after this first training in class!
Anna - Coordinator
Source: all photos taken in class and in the open air with students' parents' permission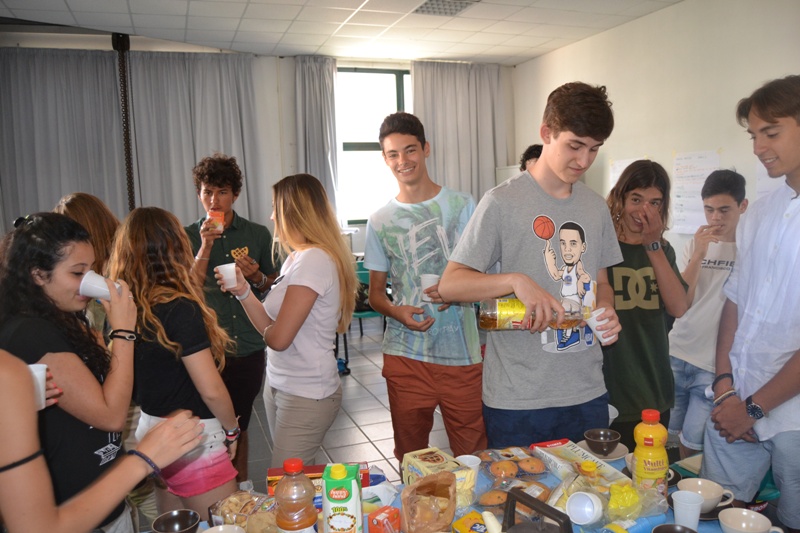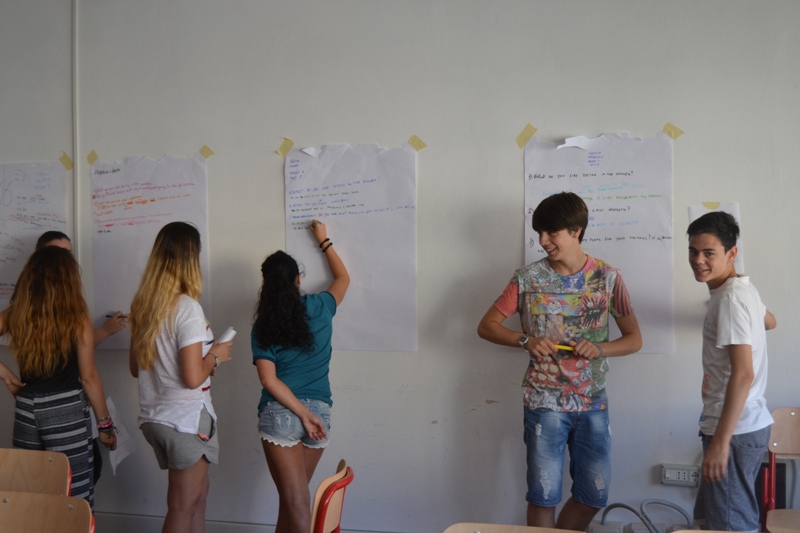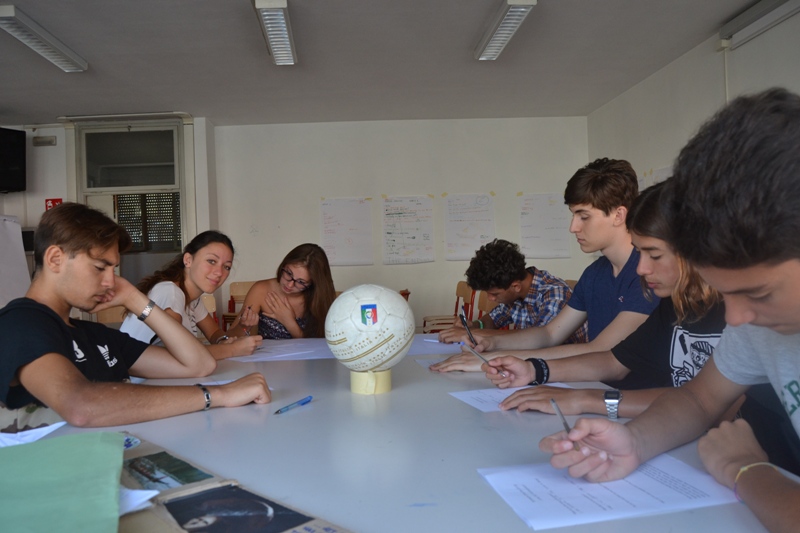 Week three: let's learn how to give directions in Livorno and how to ask for drinks in a bar. 
This is Livorno's map.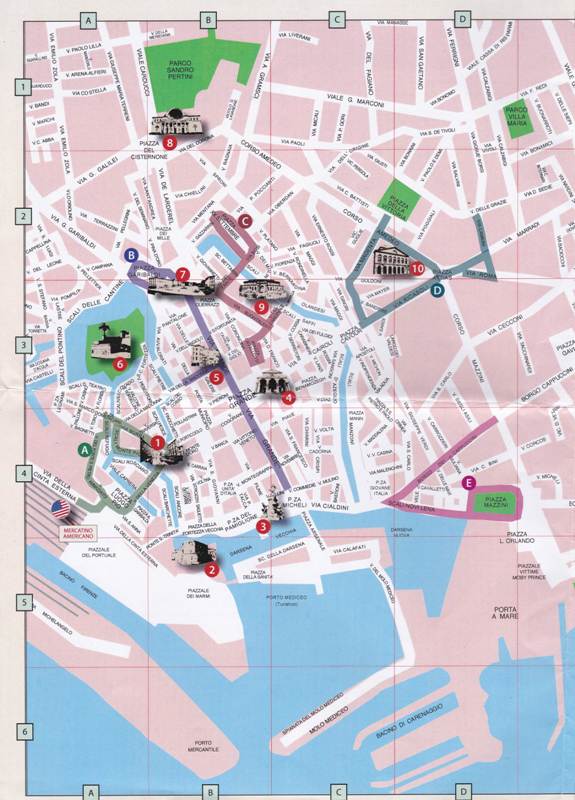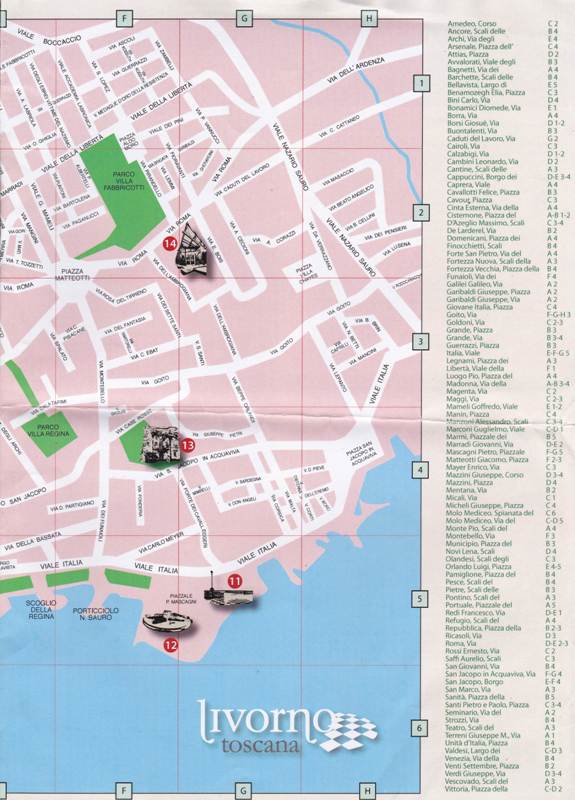 Week four: studying Livorno before the boat tour. News from the Internet to form sentences in pairs onto the walls and tell them to classmates, interacting with questions and answers. 
Boat tour in English and Spanish to appreciate our city from the water and know how tourist guides work. While touring, the task is writing at least five words to form sentences when back in class, onto the papers on the walls, with the map of Livorno, the ideal city drawn by Lorenzo de' Medici as a pentagon.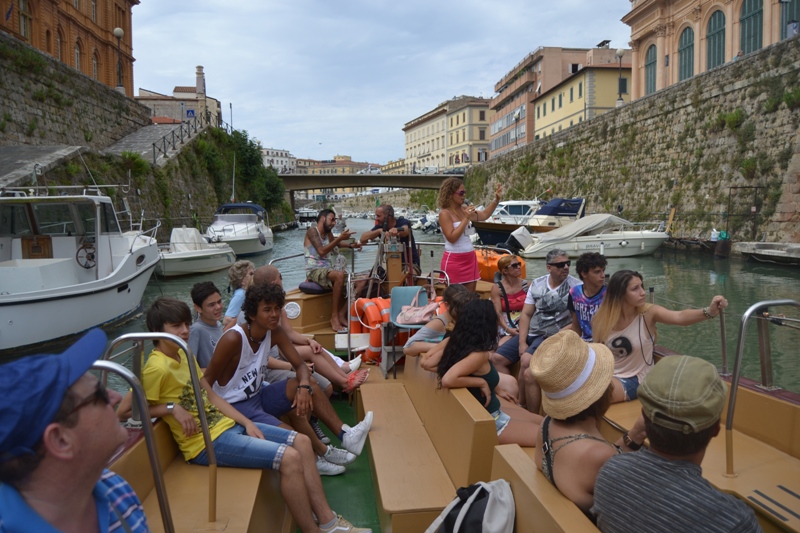 After the boat tour, English laboratory at Bar Duomo, where English is "home", like being in England. 
Asking for drinks and having them offered by the teacher at only one condition: great English performance.
Week five: welcoming Meditteranean cruise passengers in Piazza del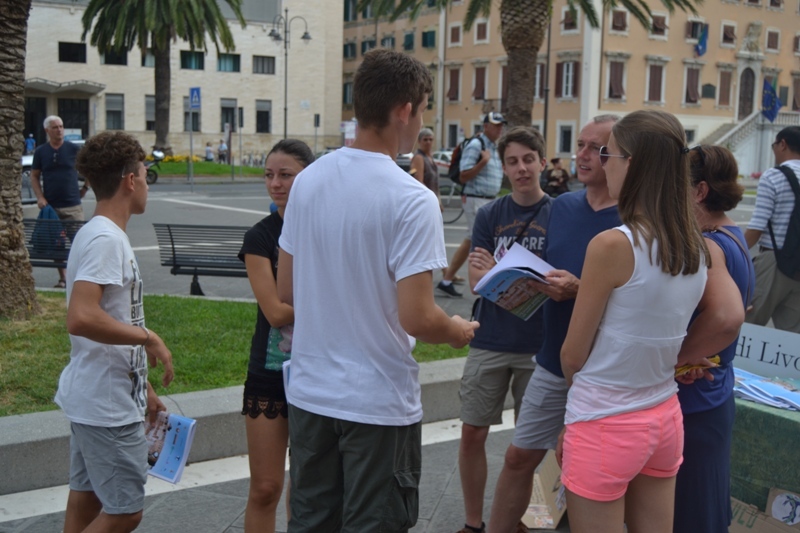 Municipio after training in class. Exciting!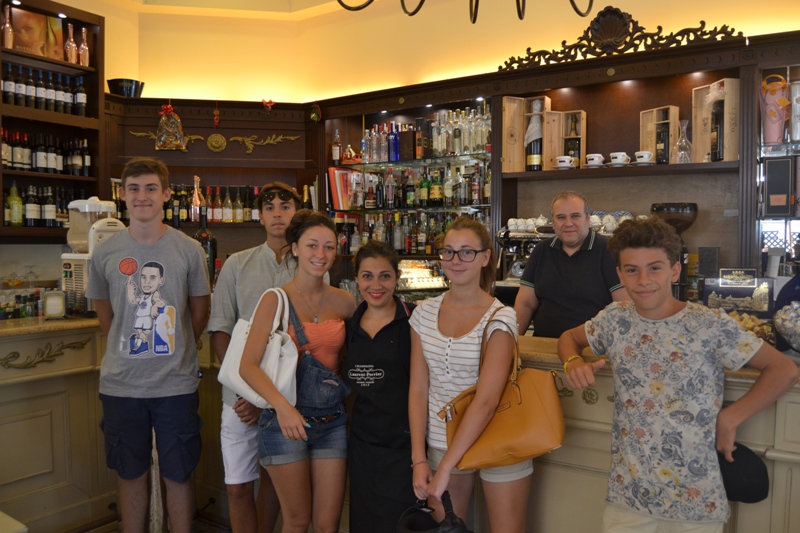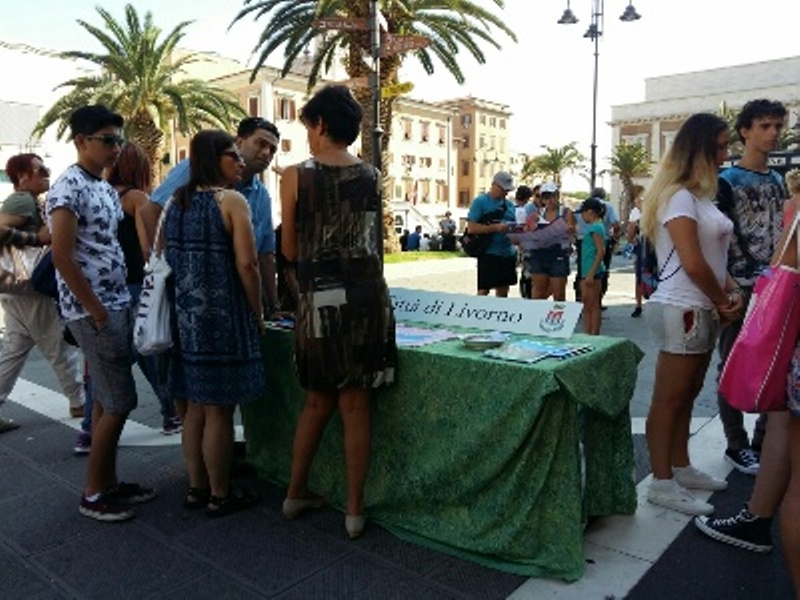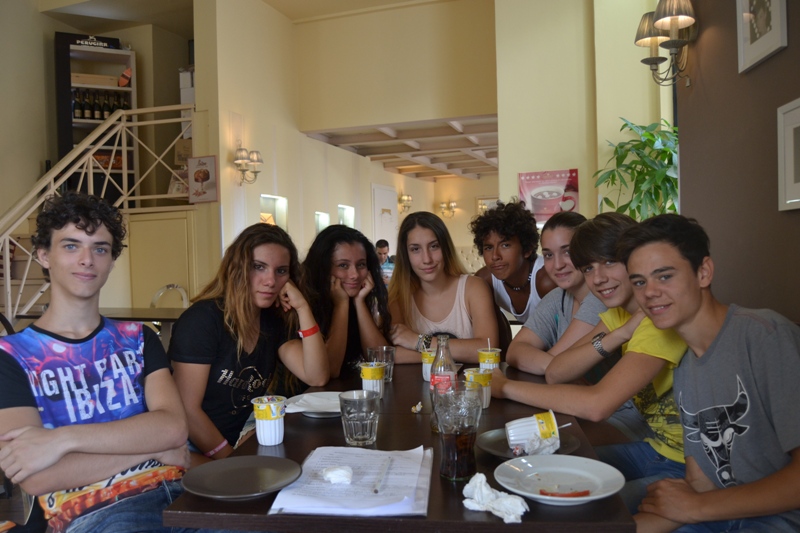 Cruise passengers from all over the world happy to be welcomed by students and to help them in practicing the language. generous, helpful people from all the states of USA, New Zealand, Australia, Canada, North Europe, but also India, Spain, Portugal, Germany, Austria, so many different accents and approaches to the idea of spending a few minutes with students. 
Hundreds of Livorno's maps distributed with information ablout how to get to the station, where doing shopping, which cities visit in Tuscany, how to manage with trains and coming back to the ship. Embodied language, with all the possible nuances of mood, personality, good will to spread a common international code to communicate.
Week six: back in class to write in pairs dialogues as a comment about the entire course onto the papers on the walls and play them without reading any more.
Whoever wants to write a comment will be welcome, we did like working this way, we enjoyed any single moment. 
Join us? Soon, sure!
Anna - Coordinator
Source: all the photos taken with students' parents' authorization.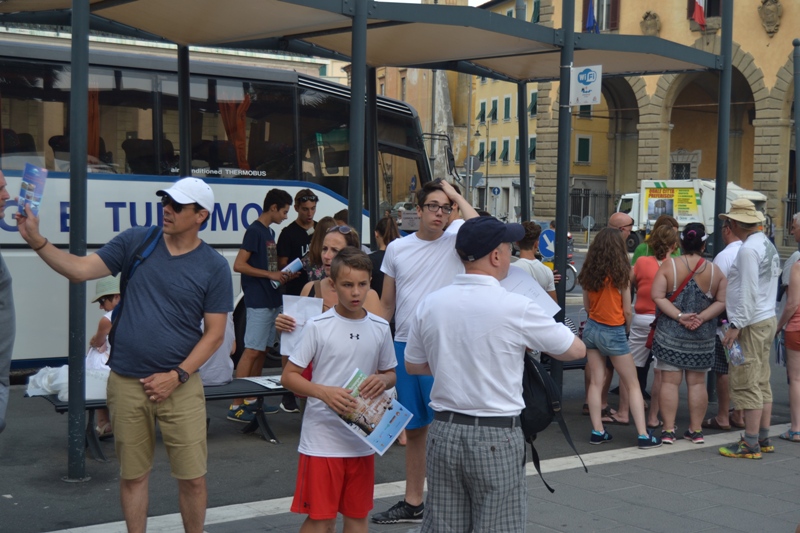 Welcoming Mediterranean Cruise Passengers 2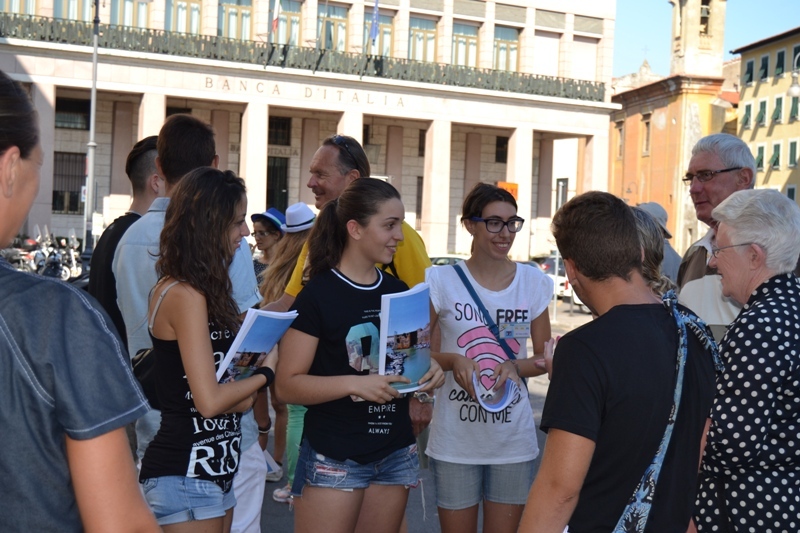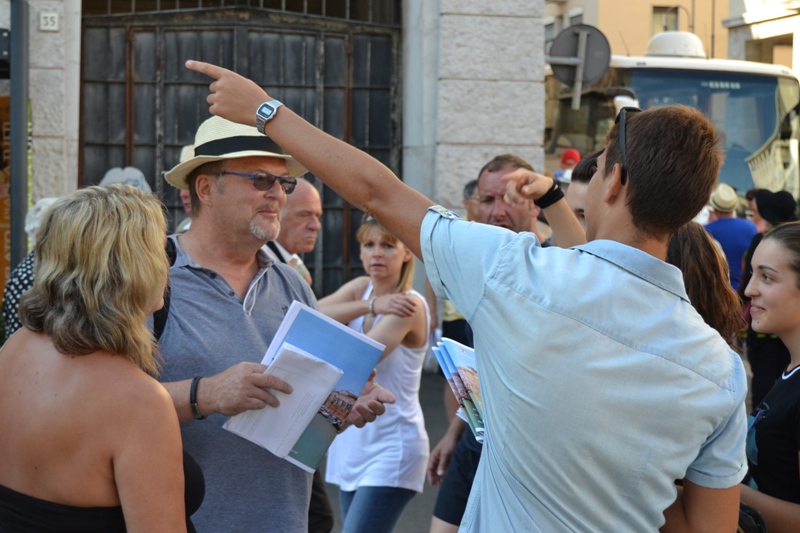 Hi everybody,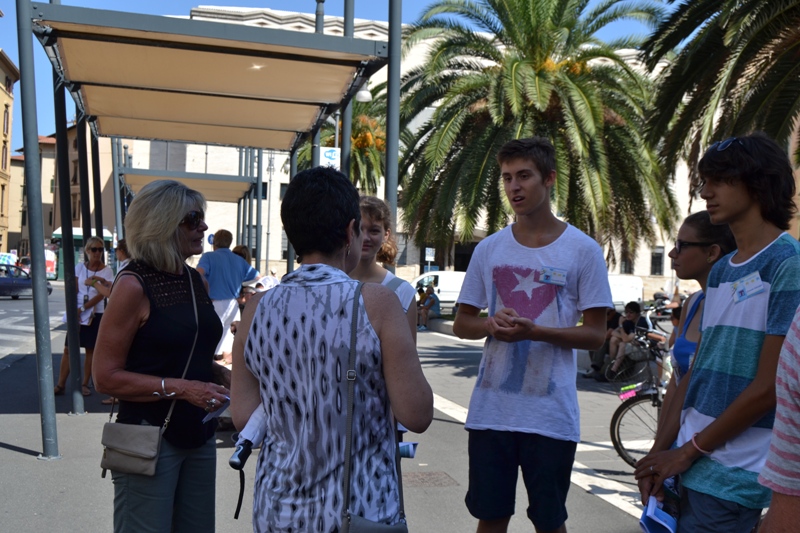 our Summer English Classes are going to start this year too! 
In addition to meeting cruise passengers, we are going to practice the language also in places where tourists usually get together like bars, cafés.
Come to class ready to behave in English. After the first activity, having breakfast, we will write dialogues in pairs onto papers on the walls and we will role play them. 
We will have a look at last year's students' productions, stories on cardboards based on photos from magazines.  We will ask them to tell us about their previous experience, how they got their inspiration and working with fun and committment, we will be ready to meet Mediterranean cruise passengers this year too, on July 27 and 28, two days on which so many English speaking passengers are disembarking in Livorno to set up their trips and visit Tuscan cities. 
We will also visit Livorno from the water, going on a boat trip along the canals, in the beautiful Venezia neighbourhood and invite you all to come with us to welcome English speaking people and practice the language, thus enriching both, ourselves and our city. 
Anna - Coordinator
Source: photos taken last year with the kind students' parents' permission.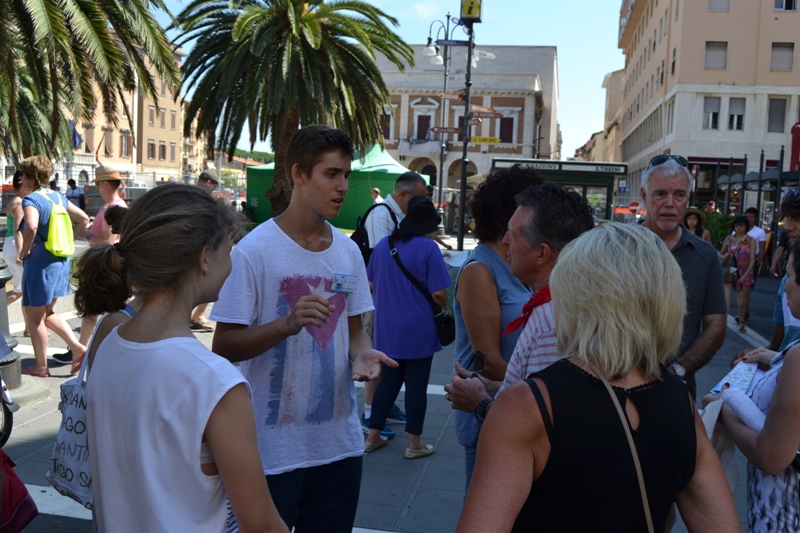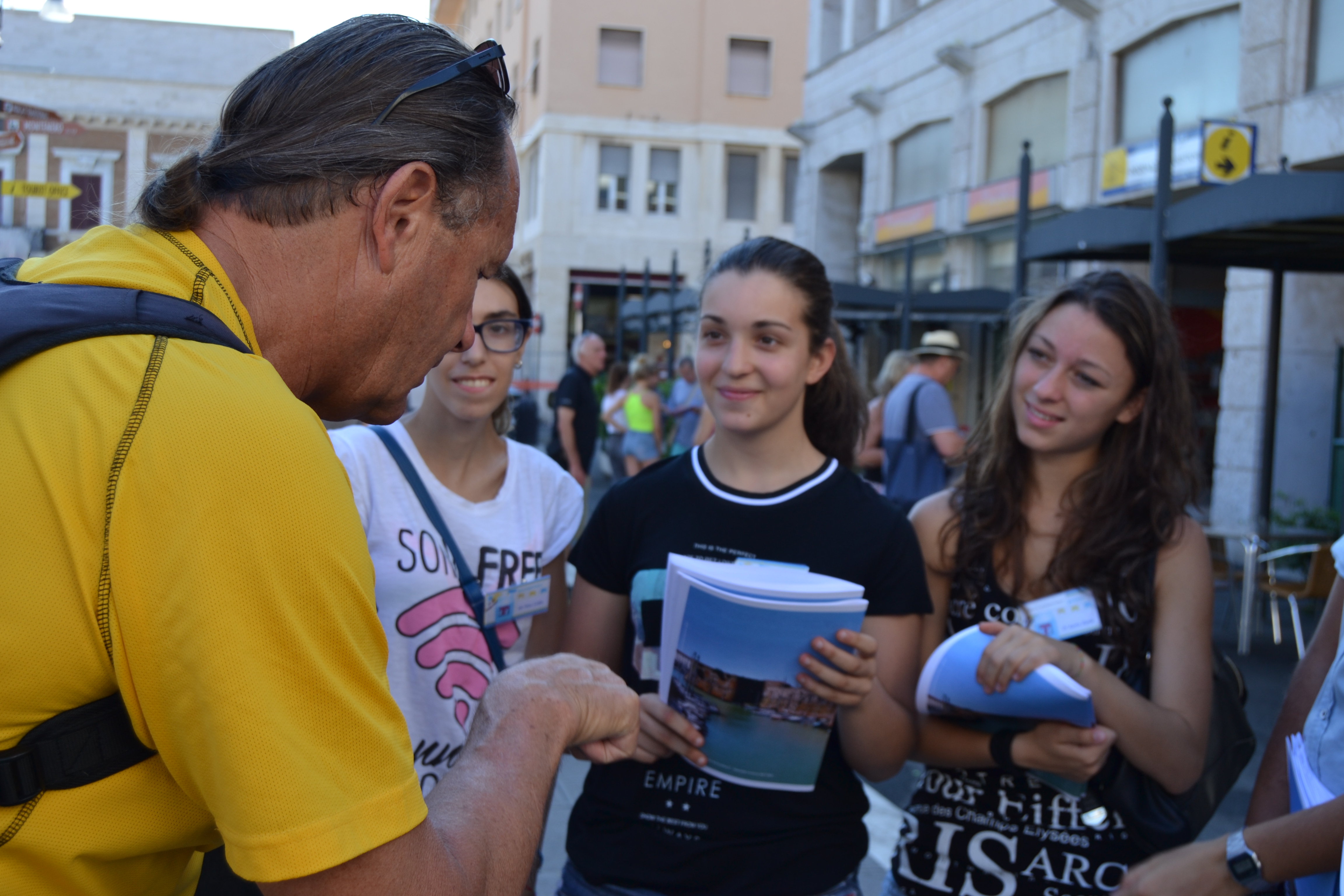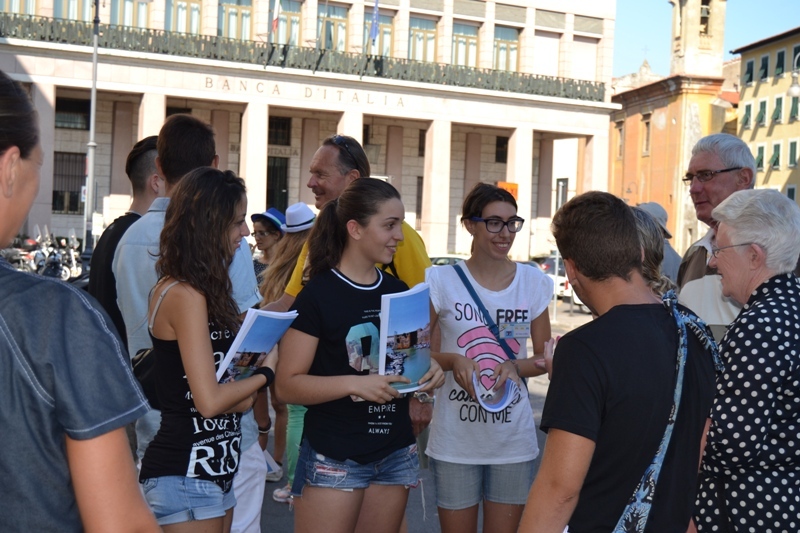 Charming Tuscan Countryside
Good morning, afternoon, evening,
our last class with Cecina's students was a long walk between two farmhouses owned by two of them in Castagneto.
The perfect way to be enchanted  by charming Tuscan landscapes, vineyards producing some of the best wines well renowned all over the world. We learned a lot listening to Stefania while walking and smelling perfumes. The history of the places, how vines are grown and wine is made. 
After a very nice lunch at Stefania's premises, Podere S. Maria, we went to Colle Donatucci, where Francesco had a surprise for us: a friend of his, a retired University Professor from Scotland, William, came to visit us so to give everybody the great opportunity to listen to a native speaker of English and practice the language among swallows flying under the porches from nest to nest.
First a little uncertain, after a little they became confident we were there only to enjoy the whole environment, including their darting flights.
Bolgheri and Castagneto  Carducci are among the 70 remarkable places all over the world that the New York Times invites not to miss. We wouldn't like to. 
On July 16, on occasion of the feast of the Madonna del Carmine, we have read on the Internet Castiglioncello di Bolgheri is open to the public. We called the owners and understood it is a pilgrimage; pilgrims walk up to the church after the opening of the gate early in the morning, and after the service they leave the place.
Some news about the castle.
It is first mentioned in the 780 AD. It is on top of a hill overlooking Castagneto and Bolgheri, solitary and almost inaccesible, quite striking. From it the eye can range from the vineyards below going down to the sea and the islands of Elba and Corsica. 
Inside the castle there is the armory where the stone coats of all the families who have had the property are kept, Gherardesca's, Pannocchieschi's, Soderini's, Incontri's, Gherardesca's again.
Unfortunately we did not take good photos of our Walk & Talk Class in Castagneto's surroundings, we mainly have memories to be kept and shared with you at any possible occasion.
Anna - Coordinator
Eleonora: thanks for your comment. Quite likely the pilgrimage is only for residents, and at the castle they do not like having strangers with them, even if interested in religious celebratiuons.
Android hack games: it is a topic close to so many hearts, I believe, like yours, yours like ours? Both? 
Gianna:   just something to change. Thet the whole world, article - were born in this countryside, past - visit cellars and, no singular indefinite article - I have so many memories of beloved people (more common than persons), there. Great job! 
Anna - Coordinator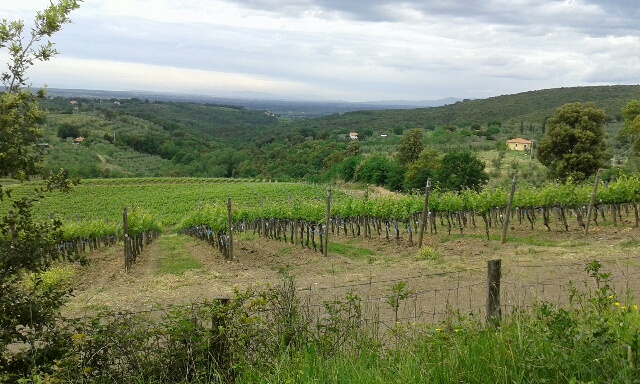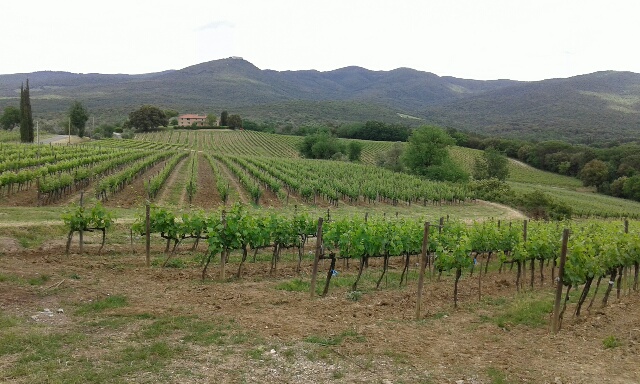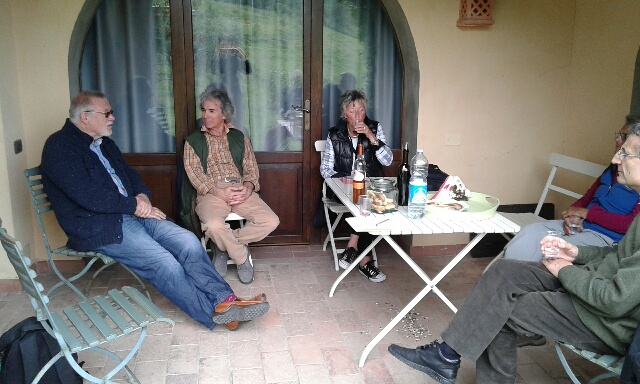 Feeling at home wherever English is spoken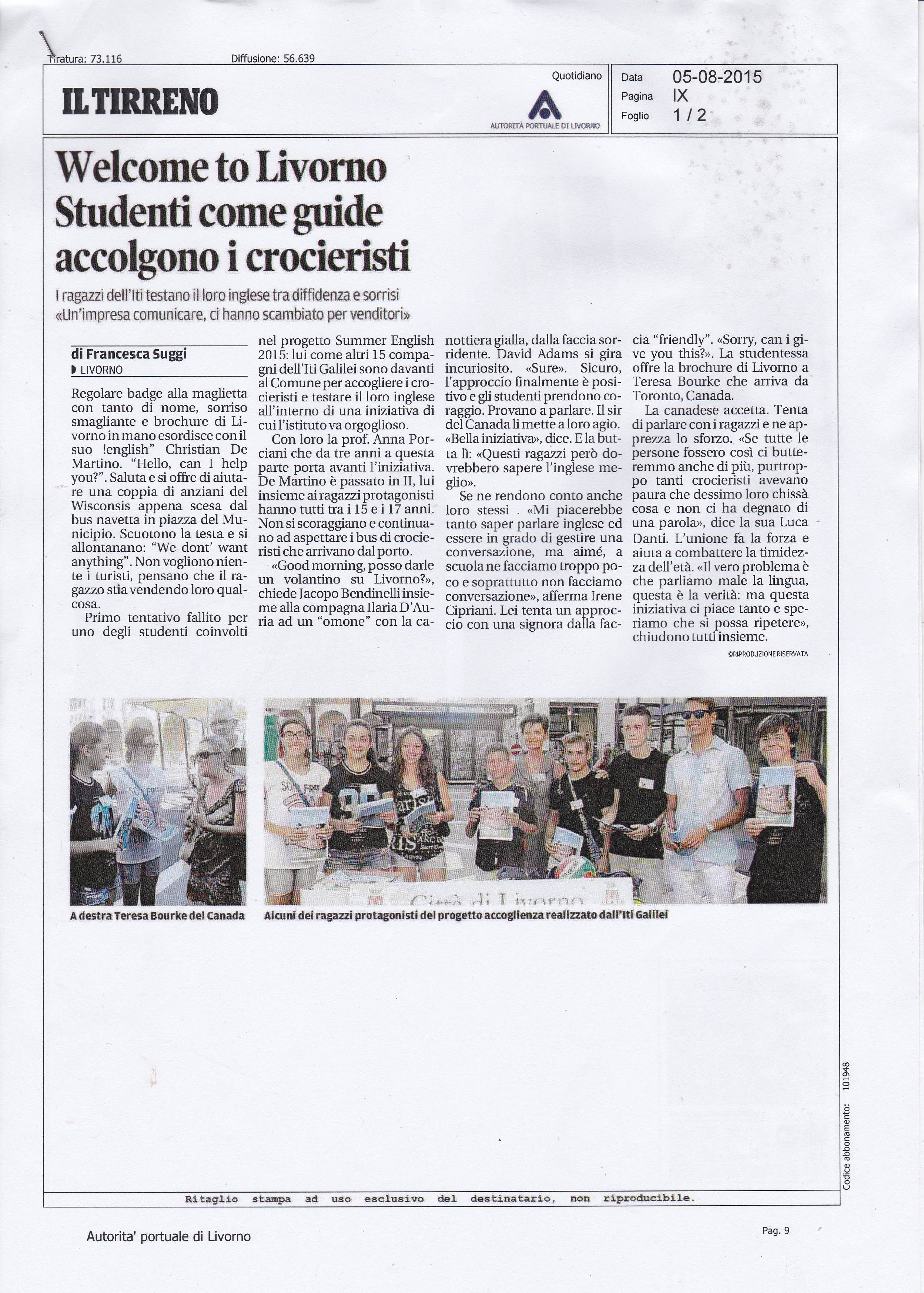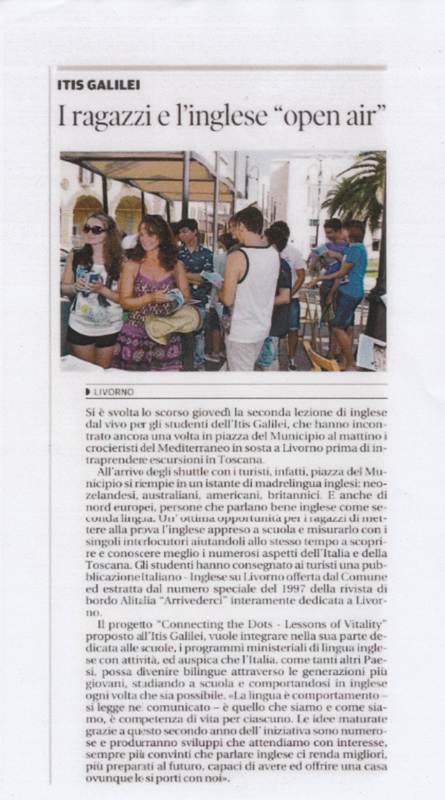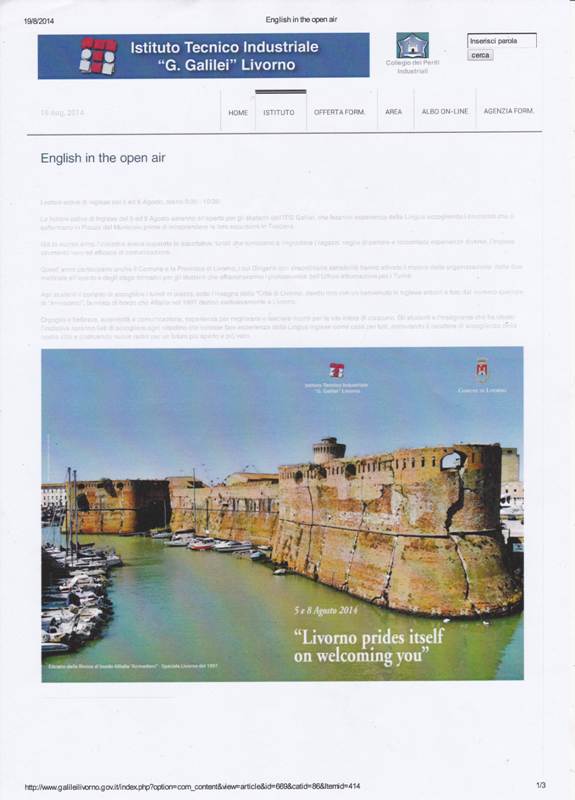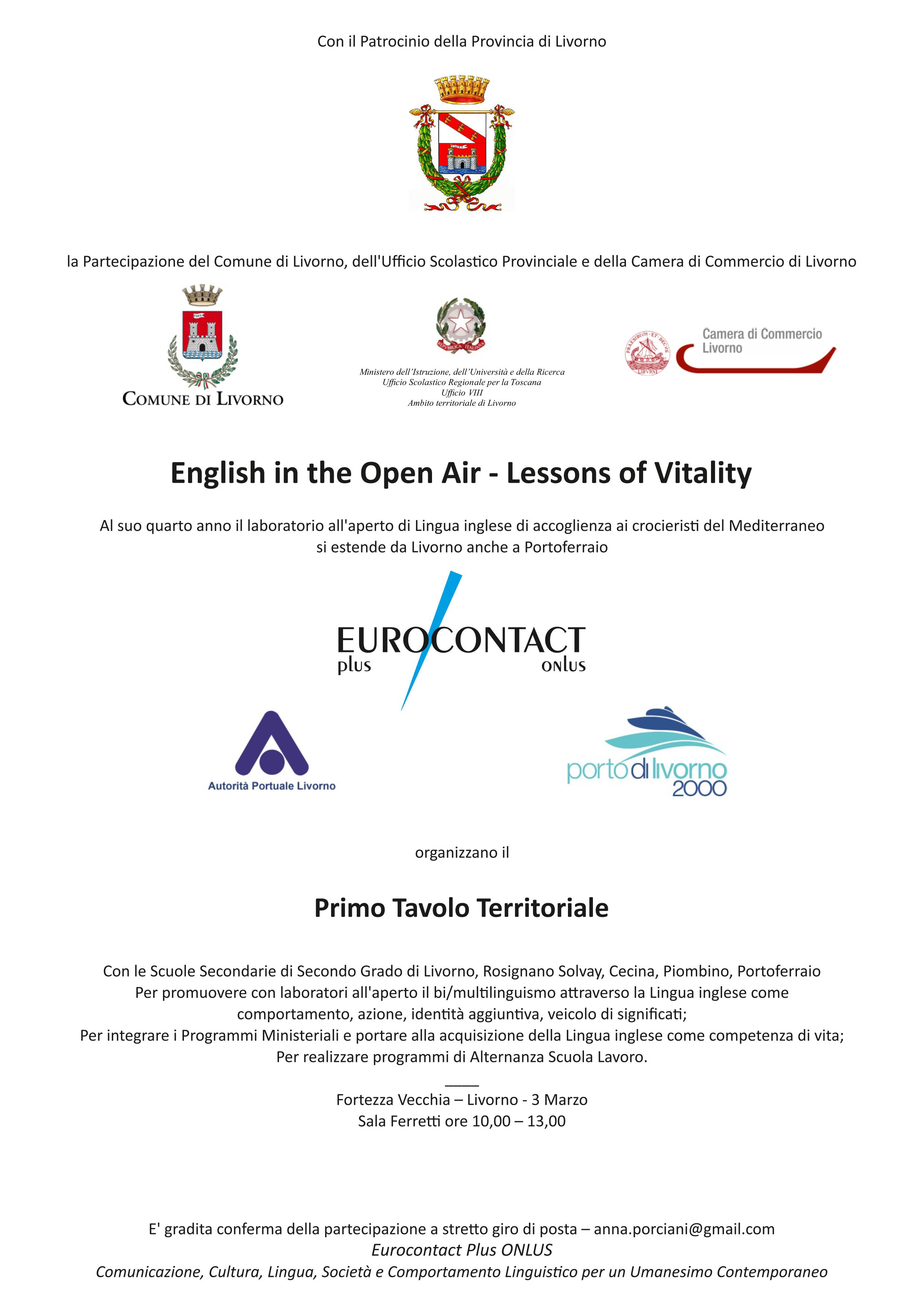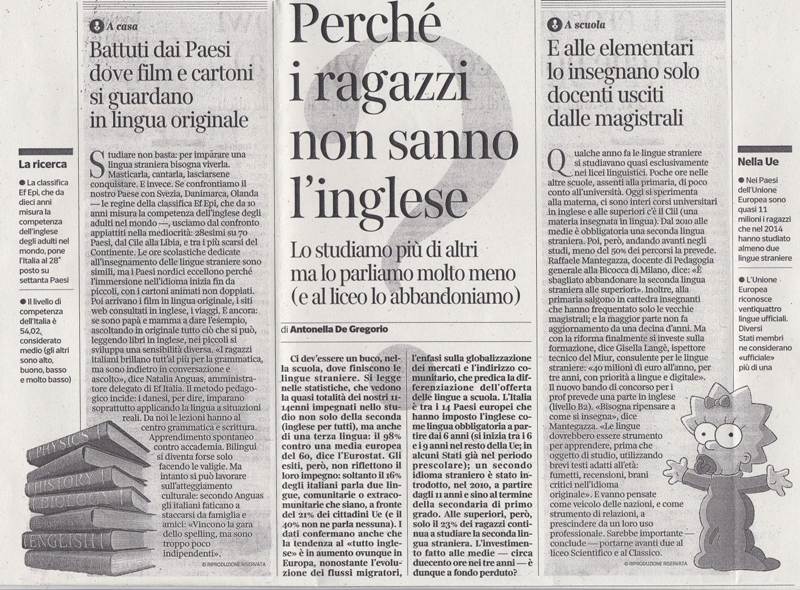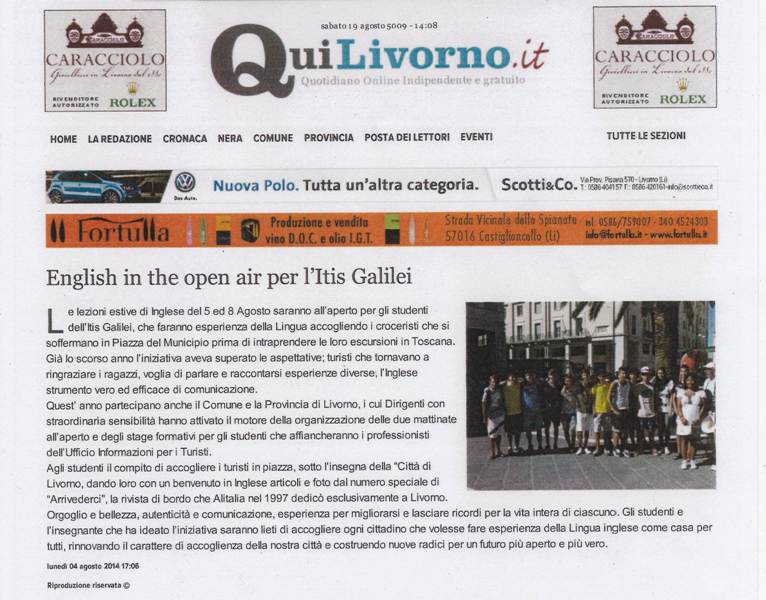 Good morning. afternoon, evening,
four years ago, as high school pupils, we started a program intended to welcome Mediterranean cruise passengers to practice English. Go back on the blog's pages to find photographs and articles of students meeting them in the open air.
Due to relevant results on all participants, this year the Province of Livorno has given the project its patronage together with the Municipality. Also the Education Provincial Office supports it, joined by the Chamber of Commerce. 
We founded Eurocontact Plus NPO to promote bi/multilingualism and any connected issue. With Livorno Port Authority and Porto Livorno 2000, the company  created by Port Authority to manage the Passenger Port, the Cruise Ship and Ferry Terminals, our NPO is meeting these days all the schools interested in partecipating in the project.
In addition to Livorno, Laboratories of English In The Open Air are going to be spread also on Elba Island,  with the partecipation of schools of the Tyrrhenian cost.
We would like to contribute to change our Italy with young people skilled in this second Language as a world-wide mean of communication, able to feel at home and offer one wherever English is spoken. 
A Language is a skill; do it, live it, use it, enjoy it, join us. 
That's how you become good at it.
Leave a comment and come to practice the Language with us. You too, will be welcome!
Anna - Coordinator
Source: Il Tirreno Newspaper - 5th August 2015, 8th August 2014; Corriere della Sera Newspaper 8th February 2016; Qui Livorno On-Line Newspaper 3rd August 2015 
Thank you USA Website Traffic
Let us, speakers of English as a second language, appreciate your English. Write more, keep up the good work! Anna   
The Tales of Two Cities and Angela Franklin
Good morning, afternoon evening,
this is graded homework  for different students. If ex-beginner or false beginners, complete the interview with Angela Franklin.
If you want to echo Charles Dickens, read about Joss and Claire with their cities.
Come to class ready to speak about them, do the exercises, compare their lives with someone's you know in a comment, pay attention to formal correctness.
Enjoy your English, see you in class, continue writing on our What's App group.  
And here, just two photos of you in class.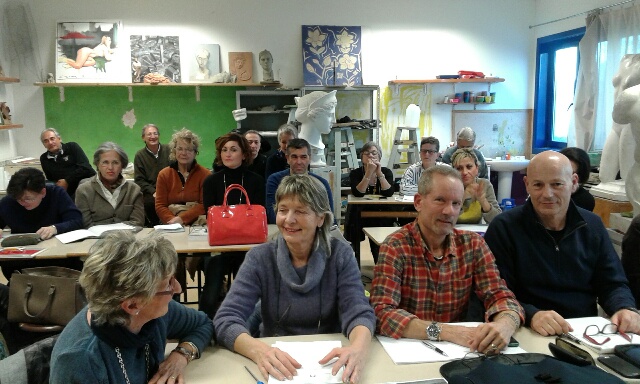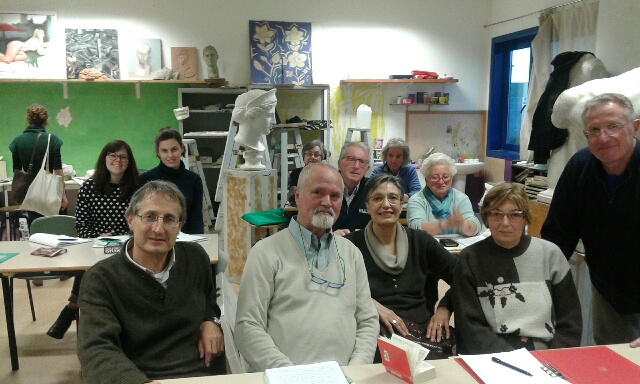 Anna - Coordinator
Thank you Alberto for your comment.
Do not forget that punctuation is important in defining a few criteria for writing. After period you need a capital letter, as for people's names and I subject pronoun. Continue writing!
Giancarlo: 5, I subject pronoun capital letter; 6, Which is  your husband's name? 8,9,10,13, Doi you have etc, Yes I do in the answer, since to have is a full verb like any othey using the auxiliary, and these are yes/no questions with short answer. Of course you can do differently if you want to reply with more information, this is the essential to be formally correct. 14, What do you like doing in ytour free time?  Remember capital letters at the beginning of a sentence. 
Giada: 3, I'm from, no other prepositions.
Very good work, continue both in class and here!
Stuart, Julie: thank you for appreciating our work. Continue writing and posting comments!
Madden Mobile Review: Continue to follow us, we are about to start new initiatives, e.g. welcoming Mediterreanean cruise passengers in the open air to practice English and performing a matinée for them at the railway station with very talented pupils. Very soon a page with them.
Anna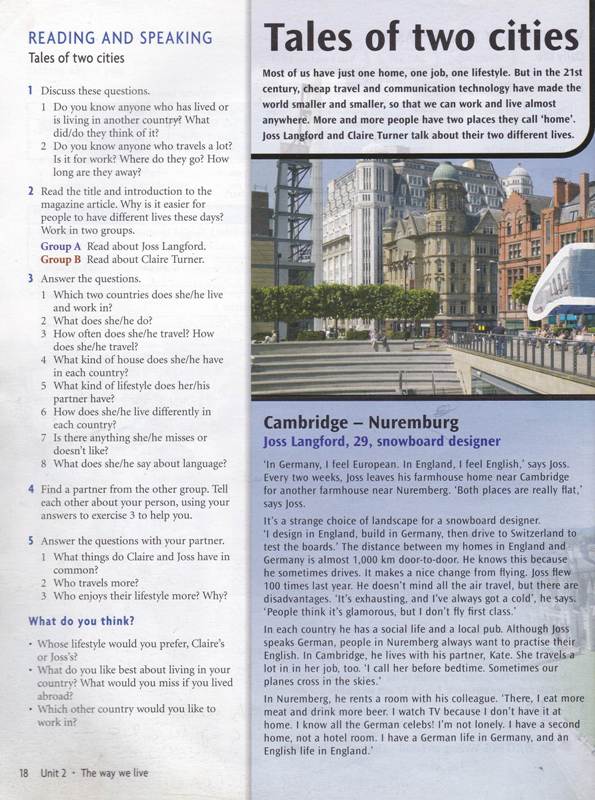 Source : New Headway Pre-Intermediate, Student's Book, OUP, 2010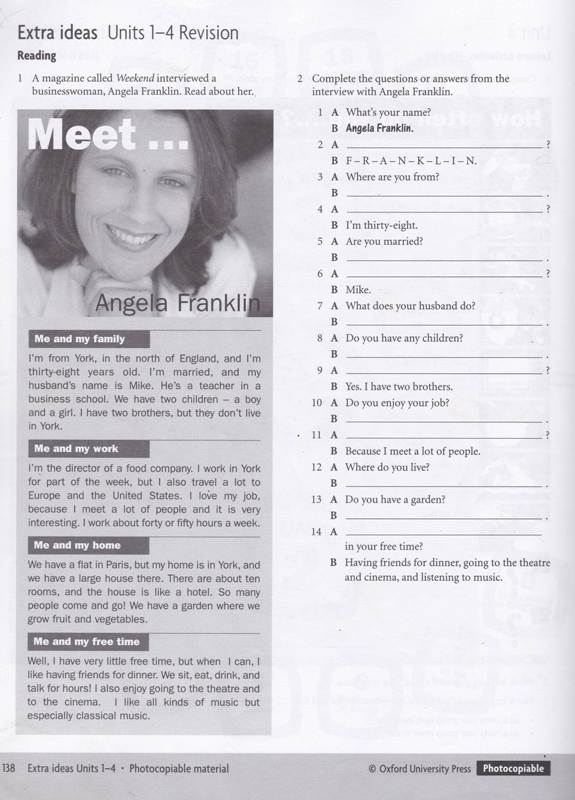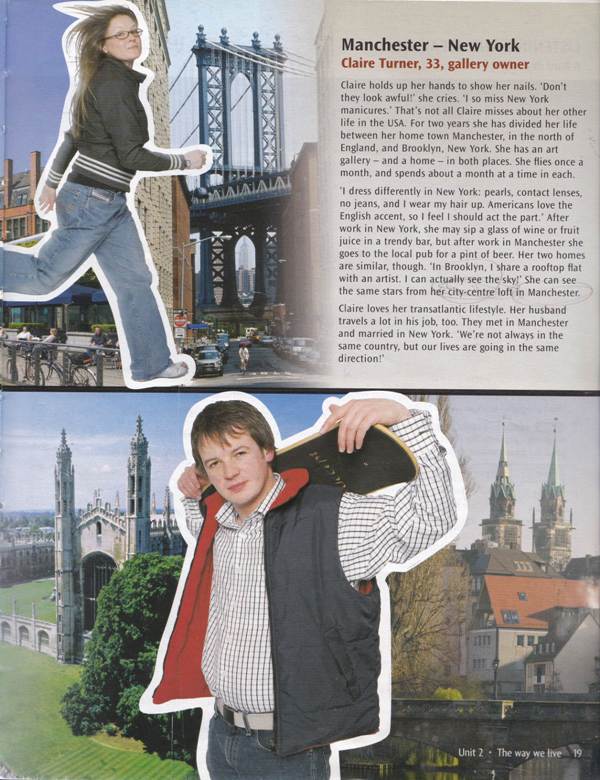 Best Friends
'Morning, Afternoon, 'Evening, 
Benedetta, Ilaria, Christian, Filippo, Matteo, Robin, Vincenzo, 
this is homework for you before our next class and for whoever wants to practice their English at elementary level.
Write short sentences, subject, verb, complement, and present your best friend. When in class, your mates will ask you about him/her. Is that fine?  Use the page from the text book as a guide to reply to questions and write your text. 
There are so many songs about friendship, this one I invite you to listen to and sing is called You've Got a Friend, and connects generations  - that is you and me - as you can see looking at
https://www.youtube.com/watch?v=jHhjKQ8L_iU.
We'll sing it in class, after studying the text. I'm expecting you to come to class ready to speak and interact with your mates! See you there
Anna - Coordinator
Source: New Headway Pre Intermediate OUP 2006
Benedetta: you're doing very well at school, feeling so committed to the task of practicing English we encourage with activities. Continue working so to consolidate the language and get all the possible occasions to practice it. 
Vincenzo: English is a language you can acquire the way you did with Italian. Patience, practice, interest, motivation and commitment. You've got the right approach, continue this way, thinking a little more before writing and speaking so to avoid mistakes and build your own phrases to convey what you wish.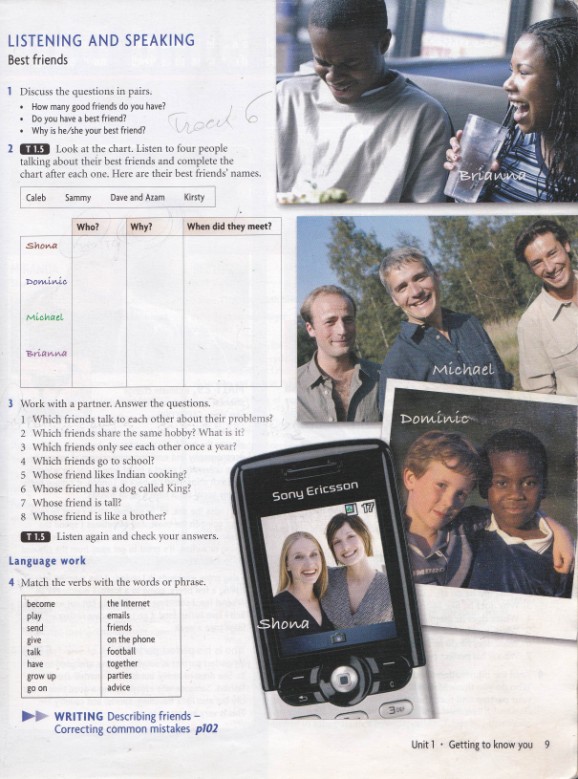 Dante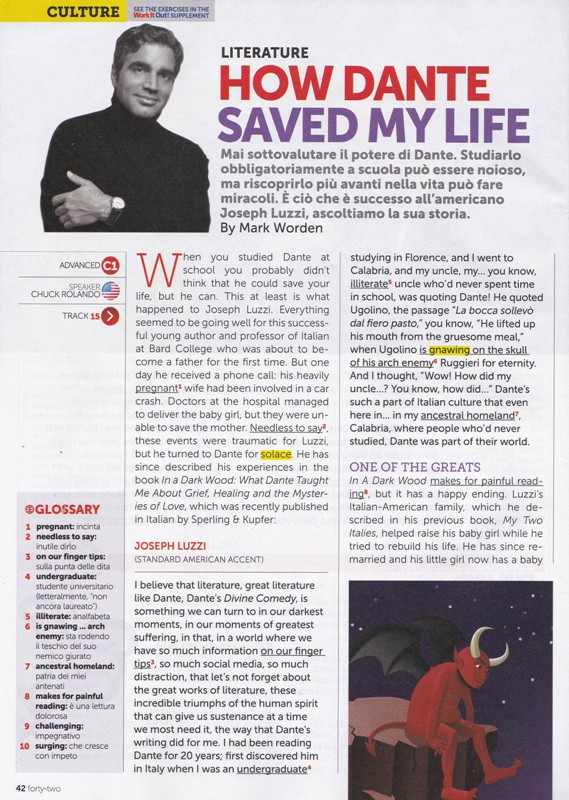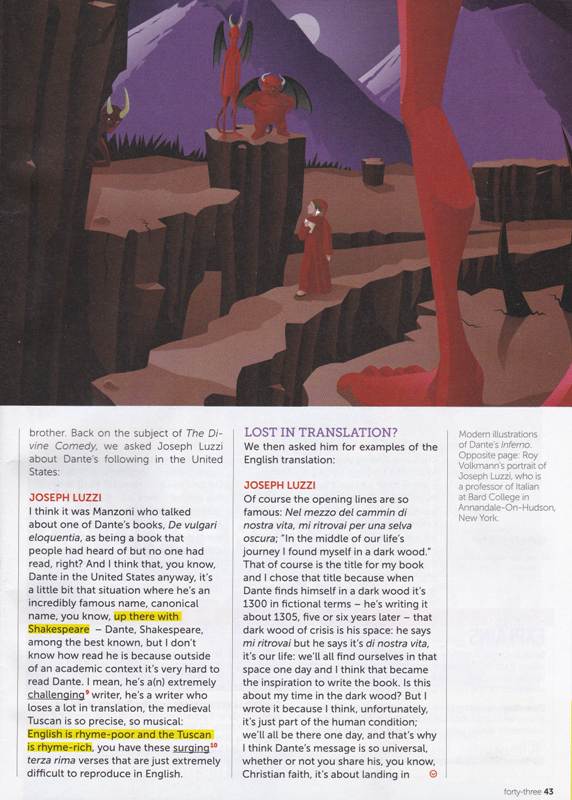 Good morning, afternoon, evening,
a very important English translation of the Divine Comedy is the one by Henry Wadsworth Longfellow (1807 - 1882), an American poet, author of classics like Evangeline.
After the tragic death of his wife, who died of burns due to a domestic accident, Longfellow sought solace in translating into English Dante's masterpiece.
A significant coincidence with the painful authobiographical circumstances Luzzi speaks about in this interview.
Here you have a few questions about the article you can reply to as English practice.
1. Is Joseph Luzzi an American or Italian author and teacher?
2. The book he wrote was recently published in Italy or in the US?
3. Does he believe that Dante in the US is videly or rarely read outside of an academic context?
4. In the interview, does he say that modern or medieval Tuscan is very precise and musical?
5. Did he first discover dante or Shakespeare while in Italy?
6. Where did his illiterate uncle quoted Dante's Divina Commedia?
7. Is Dark Wood the title of one of his lectures or books?
8. What does the selva oscura refer to, in Luzzi's opinion?
9. According to Luzzi, which one between the Divine Comedy and De Vulgari Eloquentia is about landing in crisis and finding your way out? 
Liliana: thank you for your comment. So nice reading about your experience. Dante is one of the pillars we can bear on all the times we need to understand the human nature, the way only classics can let it happen. 
Also I remember illiterate elderly people capable of quoting entire passages from classic authors. Also their lives and constant advice were inspired by classics, since everybody knew about them, either they had had the chance to go to school or not. Just and wise people, our ancestors. What about us? 
See you in class,
Anna - Coordinator
Source: Speak Up, January 2016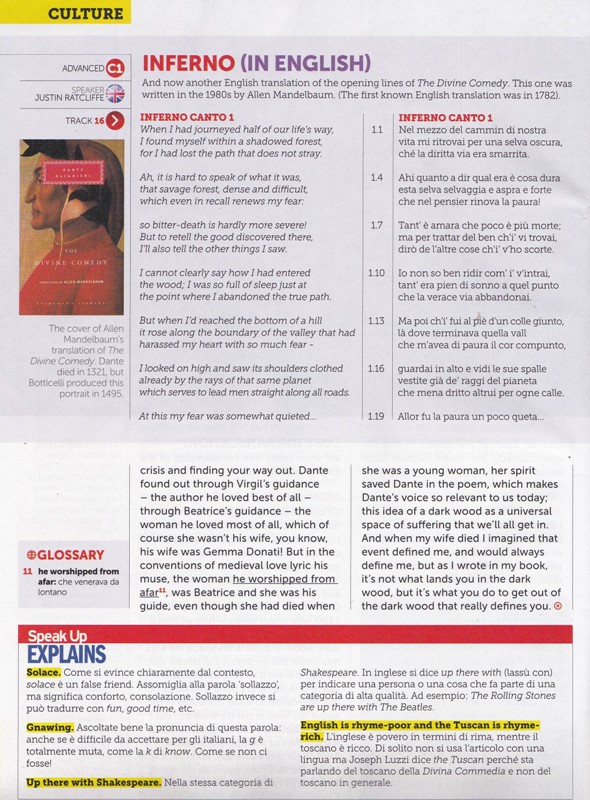 After Eight
Good morning, afternoon, evening,
this is an  easy article about a nice subject: the very well known After Eight chocolate mints.
Also the Elementary Students can reply correcting these sentences as a comment. Choose a few of them with the aim of practicing formally correct English.
First say no and what's wrong, then write what's right. Very short sentences, subject, verb, complement.
1. After Eight is the name of a famous milk chocolate.
2. It's an afternoon chocolate dessert.
3. Most British people have finished dinner by 7 o'clock.
4. In a box of After Eight you will find individual round slices of dark chocolate.
5. The ads for Efter Eight emphasize the idea of an ordinary product.
6. After Eight was invented by Nestlé in 1962.
7. Rowntree has also developed more exclusive products such as Kit Kat and Smarties.
8. Melted After Eight make a freat topping for successful cakes.
Do you know any other famous chocolates useful to practice English? Why?
Eleonora: After Eight capital letter; of the advertisements. 
See you in class
Anna . Coordinator
Source: Speak Up, January 2016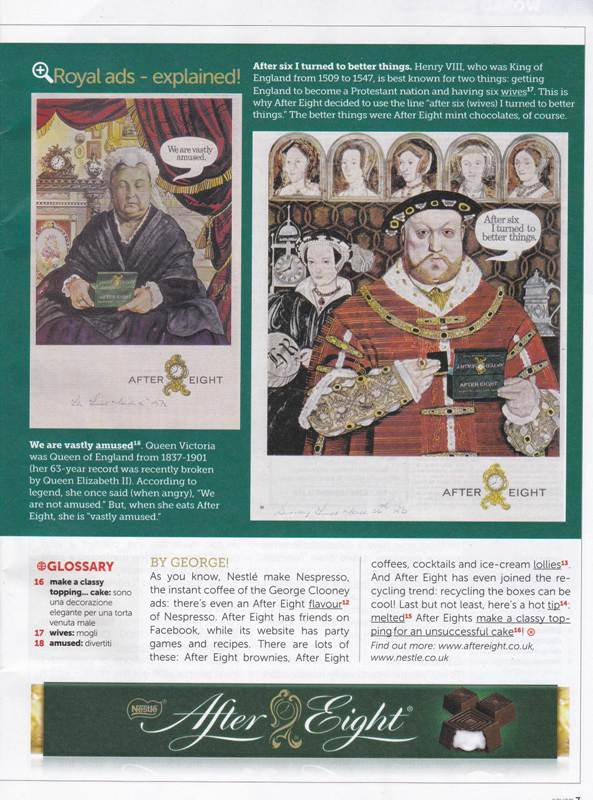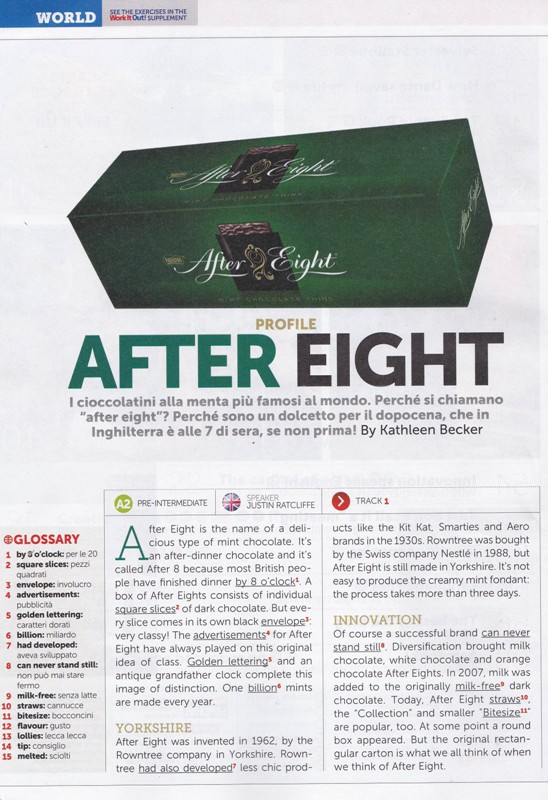 An Adventure Story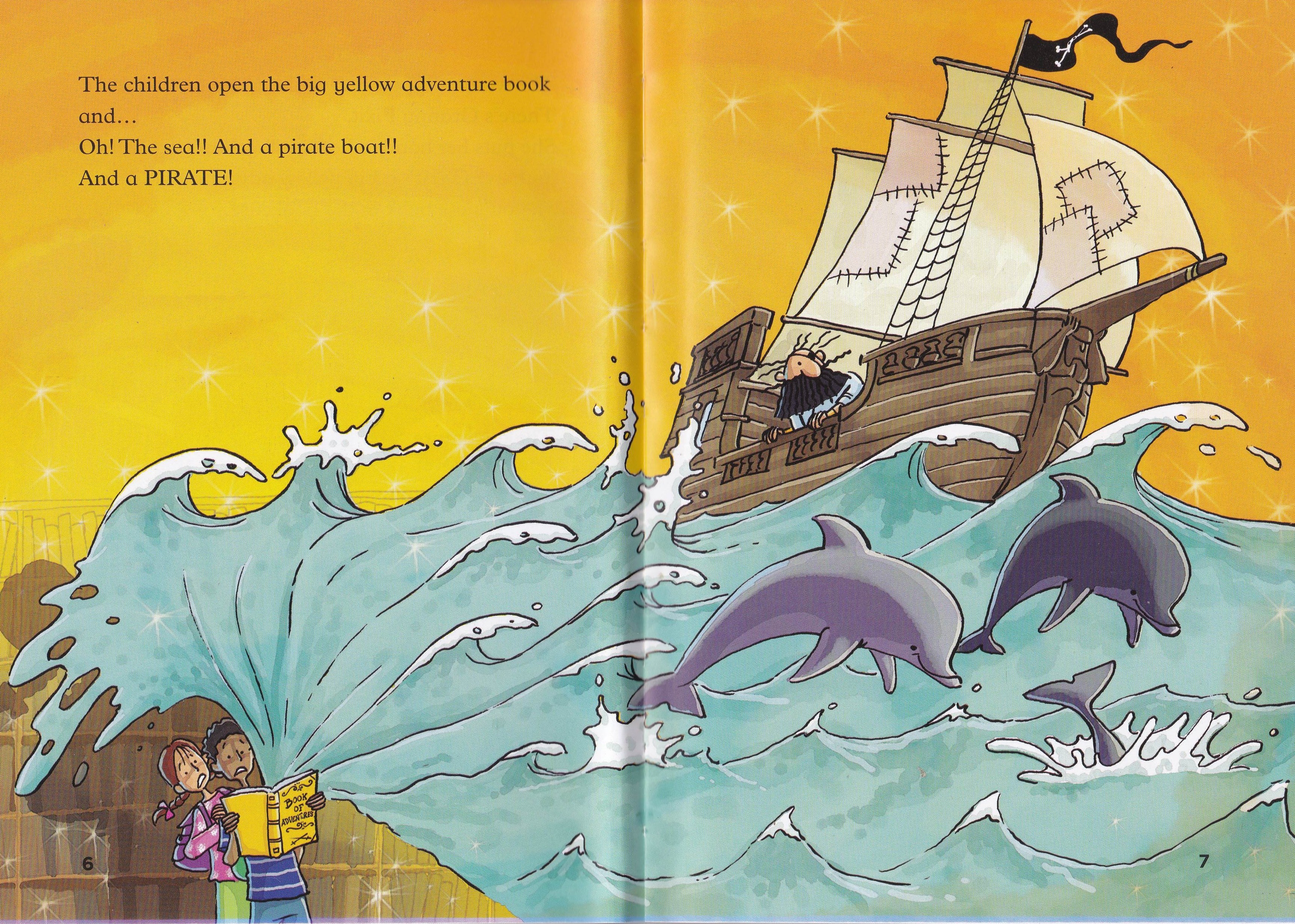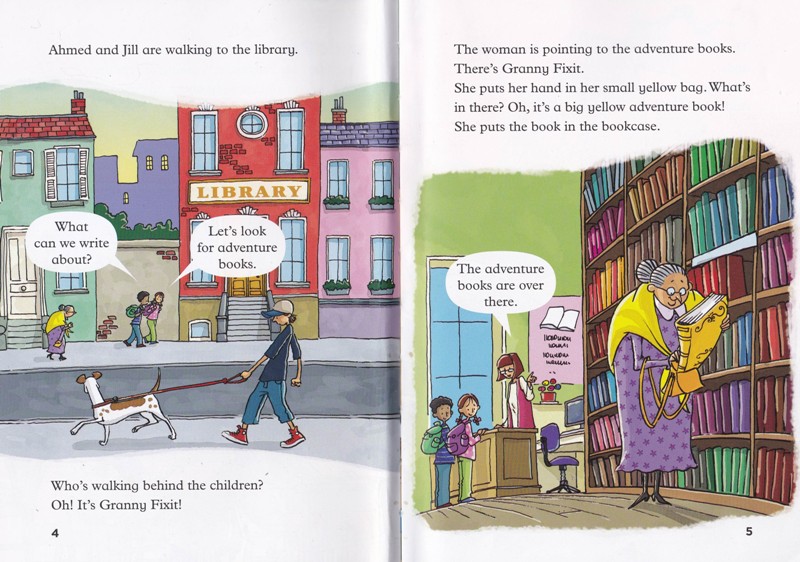 Good morning, afternoon, evening Camilla, Greg, Gabriel and families,
these are the first pages of the adventure book our young pupils are reading, from last to first page. 
As homework for all of you and whoever wants to participate, here's the beginning of a parallel story we decided to invent to see where it may lead.
Don't forget, what works with children works with adults too! Also Prof. Simon Sweeney from the University of Leeds says that. 
Then the children started their adventure story:
"Camilla, Greg and Gabriel are sitting around the table in Gabriel's kitchen.
Suddenly the clock on the wall stops; then the hands run faster than before and they break the glass to start running on the table.
"We are tired of turning, we do not want to continue!".
To start the time again they have to be replaced and ....................."
How would you continue the story? Bear in mind it is an adventure!
Adults can contribute to children's work with their ideas.
And you, children, everybody is waiting for your story to read!
We are also continuing the story with Jill and Ahmed, of course. 
See you all next week,
Anna - Coordinator
Source: Young ELI Readers Granny Fixit and the Pirates 2009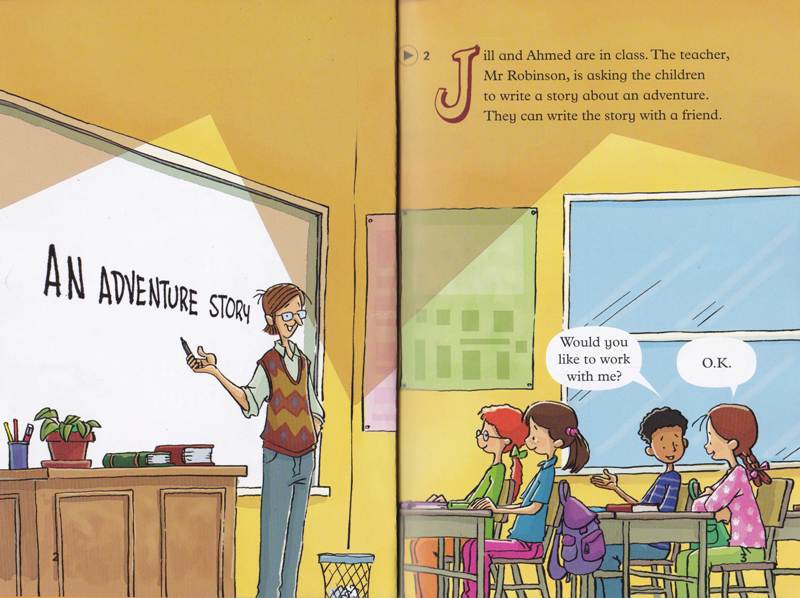 Danka's Letter
Good morning, afternoon, evening,
this is the page for the Elementary groups that we started studying in class and we didn't have time to complete.
Please for next time read it carefully and write a similar letter to someone you know, speaking about your class.
Divide your writing into paragraphs and make them correspond to Danka's letter.
It will be easier for you to be formally correct. Then read it aloud and start telling it without reading any more.
As far as we are elementary students, it's much better to follow patterns, and Danka is exactly like us, a student of English as a second language; her English is perfect.
Do the same to become familiar with the language and develop your writing skill time after time so to consolidate your competence and have the capability of reemploying it also orally. 
Ask any questions you may need and upload your letter as a comment.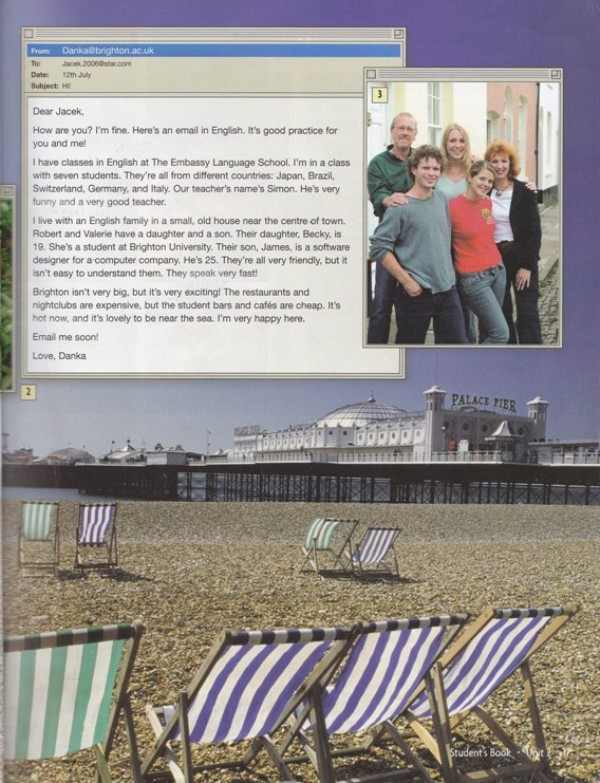 We will reply.
See you in class to continue working together
Anna - Coordinator
Source: Headway Elementary - Digital - OUP 2010
These days I'm going around with copies of the "Squirrel" mentioned below, in my car, in case there's someone who wants to support our NPO and its projects, offering the book as a present to a friend or anyone else.
Anna
Massimiliano: very good job! in a class, singular; thirty students; they are all Italian; I live with my wife in Cecina.
Francesca: very good email! English and all nationalities need capital letter; at UP, no article; psychologist then punctuation; safety, I, subject pronoun, always capital letter. 
Gianluca: very nice letter! Nationalities with capital letter; at Università Popolare, capital letters, no translation; Silvana is a ...Safety technician; Francesca has a cat, his/its name's; remember punctuation, including commas.
Annapia: my suggestion to everybody is to follow a pattern, i.e. Danka's letter above, for an English-style writing. You can adapt the pattern to your situation.
Christmas holidays plural, they pronoun, aren't going well.  
Rest/stay calm, live peacefully; is this fine to express your ideas?
It won't last forever. These ideas are too difficult at our level, use present simple and focus on formal correctness and accuracy.
I can't understand this last line, I present etc. The tense should be present continuous, we haven't studied it yet. 
Soon, adverb, not son noun; greeting etc is a translation from Italian, but it is not English. Have a look at Danka's letter again. 
When speaking and writing at elementary level, you should be like English people at that level. Use your elementary English studied so far to be like them. 
Fabio: I'm writing, present continuous, a tense we haven't studied yet. Danka writes, here  is an email etc; because; my English isn't enough, refers to quantity; you can say my English isn't good enough, referring to quality; she's very nice and a very good teacher, using the indefinite article for countable nouns; small; greeting dear embrace, have a look at what I wrote to Annapia; use simple English expression to close an informal email.
Silvana: UP no article; he is plus indefinite article for a countable noun; after exciting, punctuation; some restaurants are expensive; walking.  Good job!
Pina: very well done! Continue, choosing another page on the blog and writing other comments!
Nicola: very nice email! Except for a few/very few; he works for a computer company that makes...; Cecina is a small town. 
Annapia: I heard you are not feeling well; your daughter will care well; I will tell the teacher and the class about you. Best wishes to recover soon to Maria Grazia then, by all of us!
Vincenzo: you've done a very great job, Vincenzo, the same you're doing in class. Continue practicing, paying attention to any single detail, and I'm sure you won't have problems any more with your English very soon! 
Do not forget, nationalities need capital letter, then Italian; she is no apostrophe, or contracted, she's; because I am not very good at.... speaking, performing, English, or my English isn't very good. I wouldn't say that, continue choosing another page and upload your comment replying to the questions.
See you in class!
Anna
Cambridge English First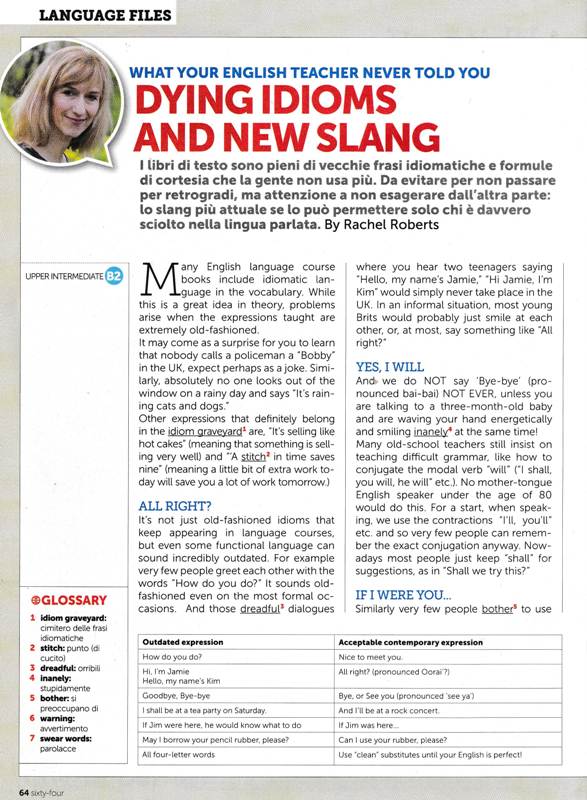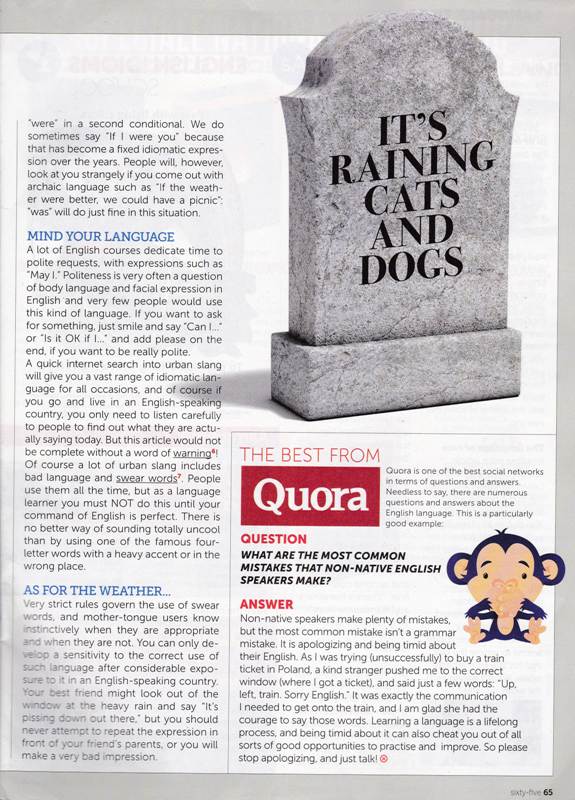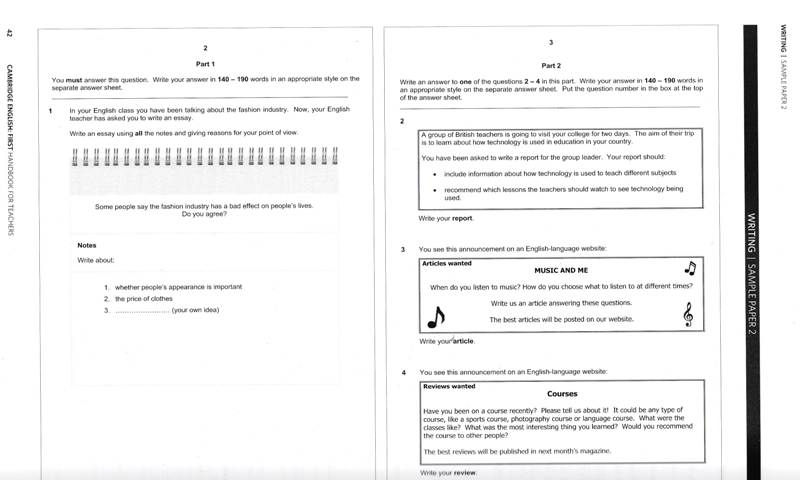 Good morning, afternoon, evening,
this is a page for those students who have to prepare the First, the level B2 examination developed by Cambridge English Language Assessment, part of the University of Cambridge. 
To spend on targeted purposes the time between classes, we selected a page from the teachers' handbook to practice writing. 
The assessment scales consist of four subscales, namely
Content, how well the candidate has fulfilled the task;
Communicative Achievement, how appropriate the writing is for the task and whether the candidate has used the appropriate register;
Organization, the way the candidate puts together the piece of writing, that is to say if it is logical and ordered;
and Language, vocabulary and grammar. 
Write your essay and answers here as a comment to let us read them before our next meeting.
When in class, we'll compare your written productions with the ones in the handbook, reading the examiners' comments.
There is also an article from Speak Up, the magazine for students of English we hope can meet your interest.
This is written comprehension, reading, before listening to the English speaker in class reading it. We'll talk about the main points.
See you in class then,
Anna - Coordinator
Source: Cambridge English Language Assessment, First, Handbook for Teachers
Speak up, November 2015
Eleonora wrote what she was asked for a pre-intermediate test:
Test A.
1. When specifying something you need the definite article
2. Write short sentences with subject, verb, complement, then start a new sentence.
3. When connecting sentences with linking words, e.g. but, keep in your mind the coherence of your text.
I met, past simple, but I didn't know her yet?
4. Giving simple information: she was in ih the third year at university
5. Our friendship
Test B.
1. On plus date. Why choosing last?
2. The professors Definite article here, those ones not in general.
3. In which .... go plus to, believe plus object.
See you in class,
Anna
The Gingerbread Man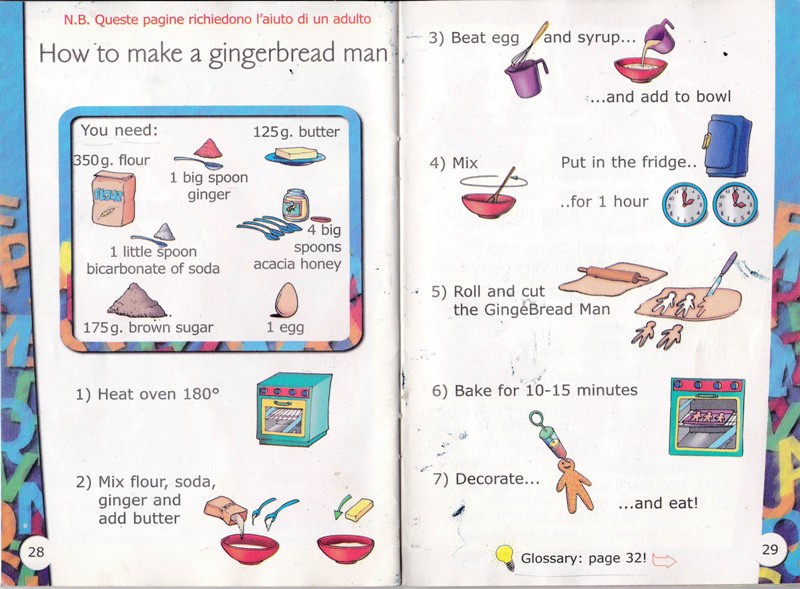 Good morning, afternoon, evening,
this is English practice for everybody, including beginner students, making buiscuits too.
It is a page for families, children and adults to have fun together.
Never forget that what works with children works with adults too!
First: if you do not know the story of the Gingerbread Man, find it on the Internet and listen to it watching the videos. There are American and British versions. Then remember it.
Second: write it down as a comment using only present simple, subject, verb, complement, and come to class ready to say it with your mates.
Third: read the recipe to make a Gingerbread Man.
Fourth: make your Gingerbread Man very expressive the size you like, deciding the best position of its head, arms, hands, legs, feet.
In class we'll paint it with chocolate, according to each one's fantasy, and the best buiscuit will win a prize. 
We will decide together when coming to class with all our buiscuits. We will take a photo of all of them, when painted.
Have a look also at page 3 article number 8 about chocolate, a very interesting subject.
See you in class, enjoy your English!
Anna - Coordinator
Source: The Gingerbread Man, Windmill Readers, Raffaello Editrice, 2000
Eleonora: information singular, an old woman prepared, her husband, when she baked it object pronoun, the gingerbread man (it subject pronoun), jumped.  
As you can see from these photographs, everybody, children and adults, enjoyed themselves painting the Gingerbread Men with chocolate and eating them.
In the class for adults, two painters are decorating the biscuits, while in the one with children, Gabriele and Camilla, both nine, are  doing an excellent work with the well shaped, little biscuits baked by Camilla's mother.
Thank you all for your contribution and never forget that the more you behave a language, the more real it is and becomes yours, one more identity to be added to the one/s you already have.
Annapia: finally you did it!
Francesco: is it? 
See you in class, Anna
Shop now: thank you, unfortunately we can't meet in class, you could be helpful. Anna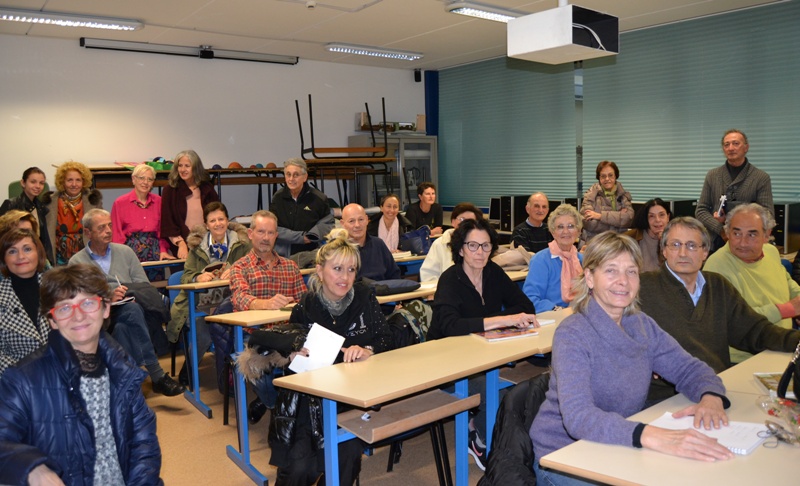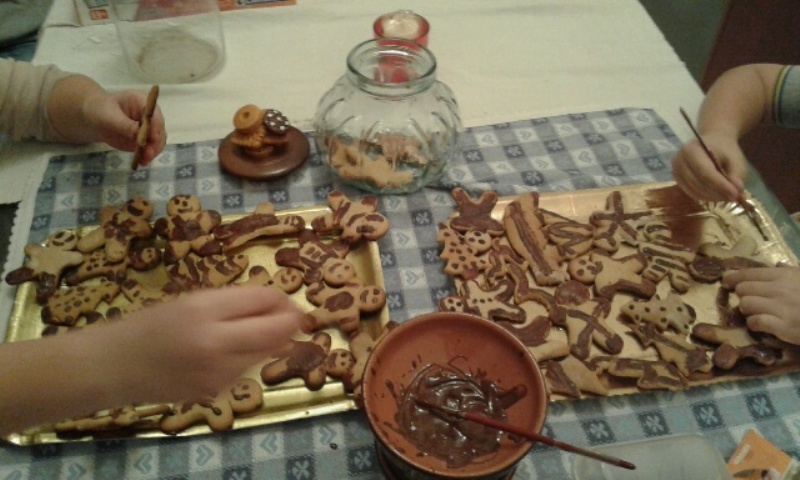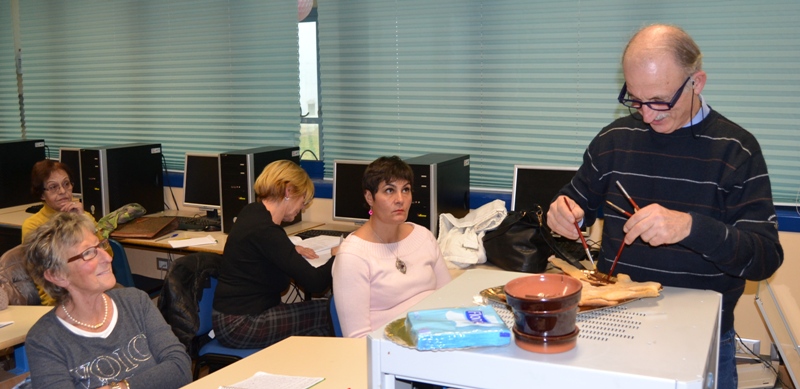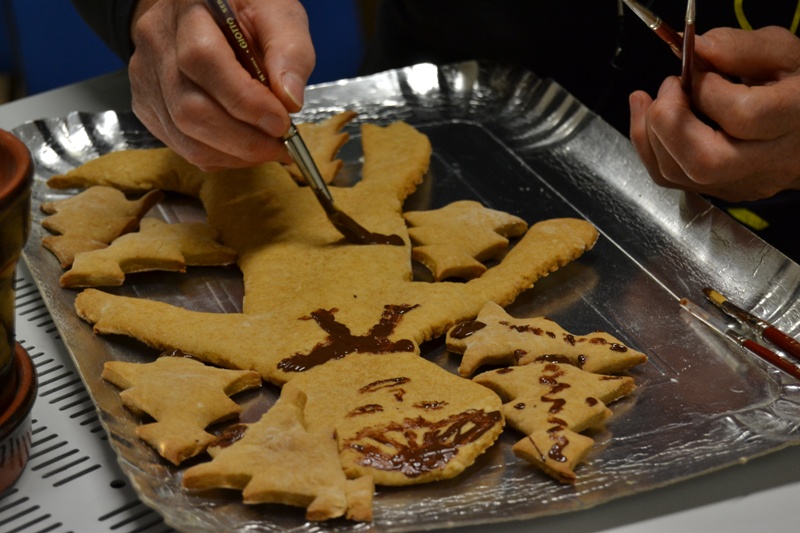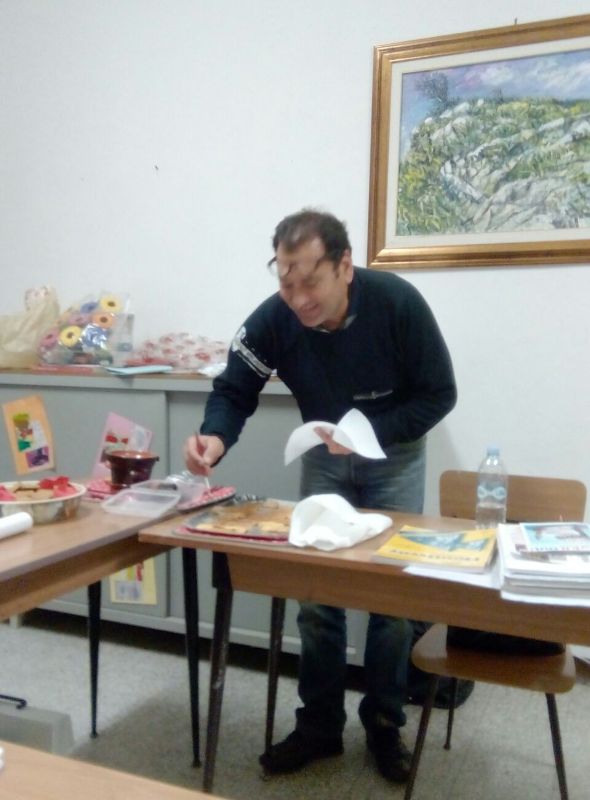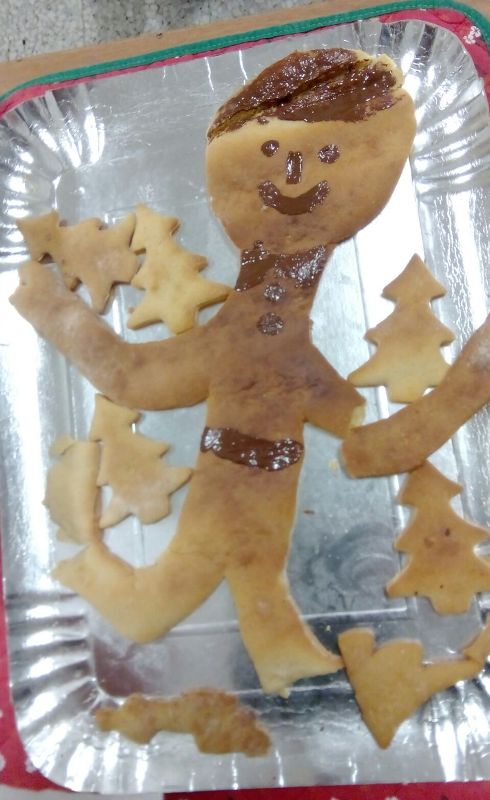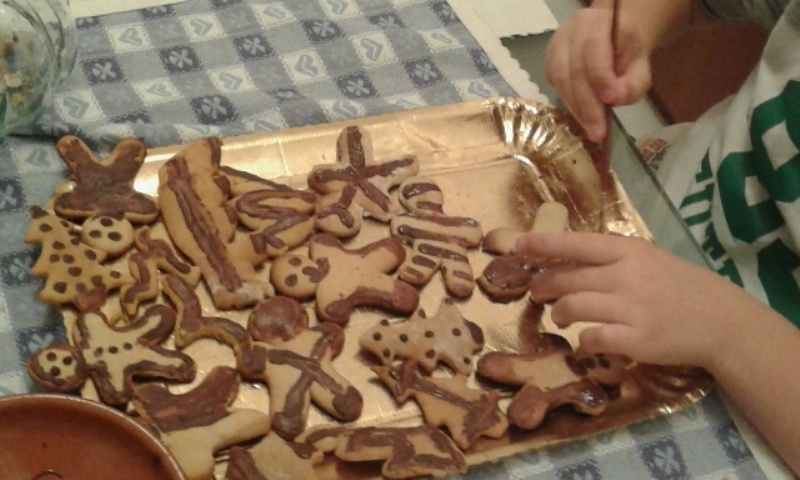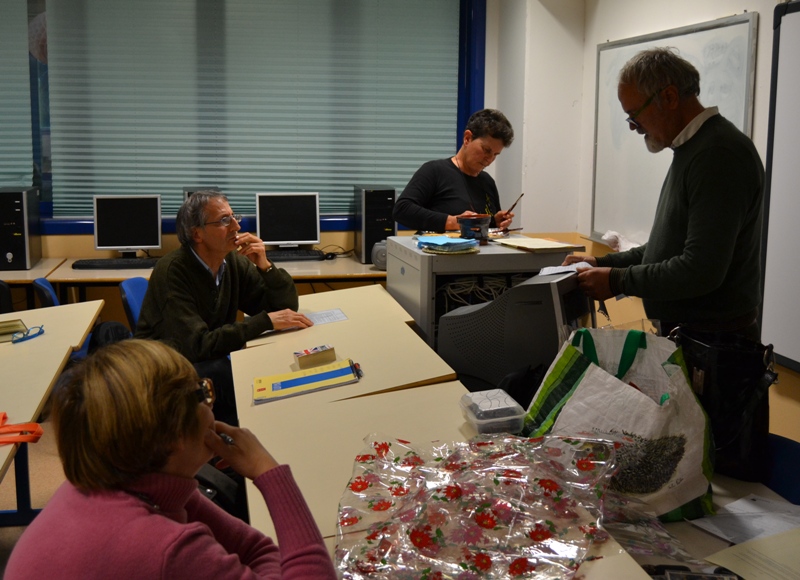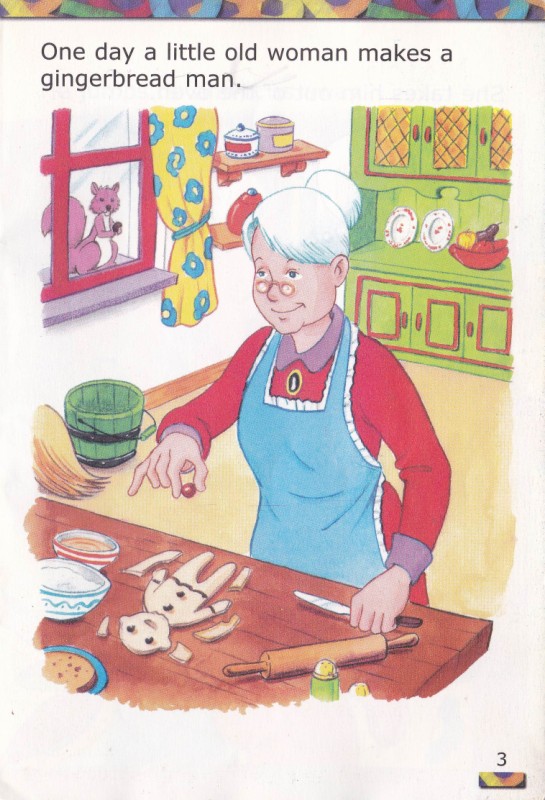 The Animal Inside
Good morning, afternoon, evening,  
this is a new page for all the students who are coming to class next week. 
Have you ever thought to resemble some wild animals?
Is there a wild animal whose characteristics you like for any special reason? 

Here there are a few exercises for you to do, replying as a comment, paying great attention to formal correctness and accuracy:
Which animal
1 is very clean?
2 likes people who give it food? 
3 likes to look good?
4 doesn't live in Britain now?
5 likes to live in a big group?
6 can't remember where its food is?
Continuing talking about the animals in the article,
1 Which of their features are positive and which are negative?
2 Which lifestyle attracts you most? Why?

3 Talk about your family and your friends. Which animal are they like?

Compare this page with the one about "Wolves and a richer life", going to page 4, article 11.
Let's talk about all possible wild animals your mates resemble according to you, see you in class
Anna - Coordinator
Source: CULT 1 DeA Scuola 2015
Vincenzo: so unexpected finding out what animal you think you resemble. I will better ask you in class. 
I subject, capital letter. Correct short answer, Yes I have. Before a vowel the article a becomes an. Because it has, it is the pronoun for animals, unless they are domestic animal. In this case, if you think you are like an elephant, the pronoun could exceptionally be he. The Owl has a good  eyesight. Britain capital letter. But it did in the 1800s. The wolf likes living in a big group (in this case the group is called pack). The fox lifestyle  attracts me because it lives in small families.
Vincenzo, I dare say you worked quite well, thinking a lot, and writing very interesting comments. Continue your job. The more you practice choosing what you like doing,  the better your writing and speaking skills will be. 
The animal inside: thank you for this very interesting comment! I read the book many years ago. Plural of woman is women, who read, found. Punctuation helps the reader, after woman, period. She has the same character as, third person simple present with s, Jungian analyst, how women period. In "Women who etc" since it is the title of a book. 
Anna