Warning
: preg_replace(): The /e modifier is no longer supported, use preg_replace_callback instead in
/web/htdocs/www.connecting-the-dots.it/home/libraries/joomla/filter/input.php
on line
689
Warning
: preg_replace(): The /e modifier is no longer supported, use preg_replace_callback instead in
/web/htdocs/www.connecting-the-dots.it/home/libraries/joomla/filter/input.php
on line
691
Warning
: preg_replace(): The /e modifier is no longer supported, use preg_replace_callback instead in
/web/htdocs/www.connecting-the-dots.it/home/libraries/joomla/filter/input.php
on line
689
Warning
: preg_replace(): The /e modifier is no longer supported, use preg_replace_callback instead in
/web/htdocs/www.connecting-the-dots.it/home/libraries/joomla/filter/input.php
on line
691
Warning
: preg_replace(): The /e modifier is no longer supported, use preg_replace_callback instead in
/web/htdocs/www.connecting-the-dots.it/home/libraries/joomla/filter/input.php
on line
689
Warning
: preg_replace(): The /e modifier is no longer supported, use preg_replace_callback instead in
/web/htdocs/www.connecting-the-dots.it/home/libraries/joomla/filter/input.php
on line
691
Warning
: preg_replace(): The /e modifier is no longer supported, use preg_replace_callback instead in
/web/htdocs/www.connecting-the-dots.it/home/libraries/joomla/filter/input.php
on line
689
Warning
: preg_replace(): The /e modifier is no longer supported, use preg_replace_callback instead in
/web/htdocs/www.connecting-the-dots.it/home/libraries/joomla/filter/input.php
on line
691
Warning
: preg_replace(): The /e modifier is no longer supported, use preg_replace_callback instead in
/web/htdocs/www.connecting-the-dots.it/home/libraries/joomla/filter/input.php
on line
689
Warning
: preg_replace(): The /e modifier is no longer supported, use preg_replace_callback instead in
/web/htdocs/www.connecting-the-dots.it/home/libraries/joomla/filter/input.php
on line
691
Warning
: preg_replace(): The /e modifier is no longer supported, use preg_replace_callback instead in
/web/htdocs/www.connecting-the-dots.it/home/libraries/joomla/filter/input.php
on line
689
Warning
: preg_replace(): The /e modifier is no longer supported, use preg_replace_callback instead in
/web/htdocs/www.connecting-the-dots.it/home/libraries/joomla/filter/input.php
on line
691
Warning
: preg_replace(): The /e modifier is no longer supported, use preg_replace_callback instead in
/web/htdocs/www.connecting-the-dots.it/home/libraries/joomla/filter/input.php
on line
689
Warning
: preg_replace(): The /e modifier is no longer supported, use preg_replace_callback instead in
/web/htdocs/www.connecting-the-dots.it/home/libraries/joomla/filter/input.php
on line
691
Warning
: preg_replace(): The /e modifier is no longer supported, use preg_replace_callback instead in
/web/htdocs/www.connecting-the-dots.it/home/libraries/joomla/filter/input.php
on line
689
Warning
: preg_replace(): The /e modifier is no longer supported, use preg_replace_callback instead in
/web/htdocs/www.connecting-the-dots.it/home/libraries/joomla/filter/input.php
on line
691
Warning
: preg_replace(): The /e modifier is no longer supported, use preg_replace_callback instead in
/web/htdocs/www.connecting-the-dots.it/home/libraries/joomla/filter/input.php
on line
689
Warning
: preg_replace(): The /e modifier is no longer supported, use preg_replace_callback instead in
/web/htdocs/www.connecting-the-dots.it/home/libraries/joomla/filter/input.php
on line
691
Warning
: preg_replace(): The /e modifier is no longer supported, use preg_replace_callback instead in
/web/htdocs/www.connecting-the-dots.it/home/libraries/joomla/filter/input.php
on line
689
Warning
: preg_replace(): The /e modifier is no longer supported, use preg_replace_callback instead in
/web/htdocs/www.connecting-the-dots.it/home/libraries/joomla/filter/input.php
on line
691
Warning
: preg_replace(): The /e modifier is no longer supported, use preg_replace_callback instead in
/web/htdocs/www.connecting-the-dots.it/home/libraries/joomla/filter/input.php
on line
689
Warning
: preg_replace(): The /e modifier is no longer supported, use preg_replace_callback instead in
/web/htdocs/www.connecting-the-dots.it/home/libraries/joomla/filter/input.php
on line
691
Warning
: preg_replace(): The /e modifier is no longer supported, use preg_replace_callback instead in
/web/htdocs/www.connecting-the-dots.it/home/libraries/joomla/filter/input.php
on line
689
Warning
: preg_replace(): The /e modifier is no longer supported, use preg_replace_callback instead in
/web/htdocs/www.connecting-the-dots.it/home/libraries/joomla/filter/input.php
on line
691
Warning
: preg_replace(): The /e modifier is no longer supported, use preg_replace_callback instead in
/web/htdocs/www.connecting-the-dots.it/home/libraries/joomla/filter/input.php
on line
689
Warning
: preg_replace(): The /e modifier is no longer supported, use preg_replace_callback instead in
/web/htdocs/www.connecting-the-dots.it/home/libraries/joomla/filter/input.php
on line
691
Warning
: preg_replace(): The /e modifier is no longer supported, use preg_replace_callback instead in
/web/htdocs/www.connecting-the-dots.it/home/libraries/joomla/filter/input.php
on line
689
Warning
: preg_replace(): The /e modifier is no longer supported, use preg_replace_callback instead in
/web/htdocs/www.connecting-the-dots.it/home/libraries/joomla/filter/input.php
on line
691
Warning
: preg_replace(): The /e modifier is no longer supported, use preg_replace_callback instead in
/web/htdocs/www.connecting-the-dots.it/home/libraries/joomla/filter/input.php
on line
689
Warning
: preg_replace(): The /e modifier is no longer supported, use preg_replace_callback instead in
/web/htdocs/www.connecting-the-dots.it/home/libraries/joomla/filter/input.php
on line
691
Warning
: preg_replace(): The /e modifier is no longer supported, use preg_replace_callback instead in
/web/htdocs/www.connecting-the-dots.it/home/libraries/joomla/filter/input.php
on line
689
Warning
: preg_replace(): The /e modifier is no longer supported, use preg_replace_callback instead in
/web/htdocs/www.connecting-the-dots.it/home/libraries/joomla/filter/input.php
on line
691
Warning
: preg_replace(): The /e modifier is no longer supported, use preg_replace_callback instead in
/web/htdocs/www.connecting-the-dots.it/home/libraries/joomla/filter/input.php
on line
689
Warning
: preg_replace(): The /e modifier is no longer supported, use preg_replace_callback instead in
/web/htdocs/www.connecting-the-dots.it/home/libraries/joomla/filter/input.php
on line
691
Warning
: preg_replace(): The /e modifier is no longer supported, use preg_replace_callback instead in
/web/htdocs/www.connecting-the-dots.it/home/libraries/joomla/filter/input.php
on line
689
Warning
: preg_replace(): The /e modifier is no longer supported, use preg_replace_callback instead in
/web/htdocs/www.connecting-the-dots.it/home/libraries/joomla/filter/input.php
on line
691
Warning
: preg_replace(): The /e modifier is no longer supported, use preg_replace_callback instead in
/web/htdocs/www.connecting-the-dots.it/home/libraries/joomla/filter/input.php
on line
689
Warning
: preg_replace(): The /e modifier is no longer supported, use preg_replace_callback instead in
/web/htdocs/www.connecting-the-dots.it/home/libraries/joomla/filter/input.php
on line
691
Warning
: preg_replace(): The /e modifier is no longer supported, use preg_replace_callback instead in
/web/htdocs/www.connecting-the-dots.it/home/libraries/joomla/filter/input.php
on line
689
Warning
: preg_replace(): The /e modifier is no longer supported, use preg_replace_callback instead in
/web/htdocs/www.connecting-the-dots.it/home/libraries/joomla/filter/input.php
on line
691
Warning
: preg_replace(): The /e modifier is no longer supported, use preg_replace_callback instead in
/web/htdocs/www.connecting-the-dots.it/home/libraries/joomla/filter/input.php
on line
689
Warning
: preg_replace(): The /e modifier is no longer supported, use preg_replace_callback instead in
/web/htdocs/www.connecting-the-dots.it/home/libraries/joomla/filter/input.php
on line
691
Warning
: preg_replace(): The /e modifier is no longer supported, use preg_replace_callback instead in
/web/htdocs/www.connecting-the-dots.it/home/libraries/joomla/filter/input.php
on line
689
Warning
: preg_replace(): The /e modifier is no longer supported, use preg_replace_callback instead in
/web/htdocs/www.connecting-the-dots.it/home/libraries/joomla/filter/input.php
on line
691
Warning
: preg_replace(): The /e modifier is no longer supported, use preg_replace_callback instead in
/web/htdocs/www.connecting-the-dots.it/home/libraries/joomla/filter/input.php
on line
689
Warning
: preg_replace(): The /e modifier is no longer supported, use preg_replace_callback instead in
/web/htdocs/www.connecting-the-dots.it/home/libraries/joomla/filter/input.php
on line
691
Warning
: preg_replace(): The /e modifier is no longer supported, use preg_replace_callback instead in
/web/htdocs/www.connecting-the-dots.it/home/libraries/joomla/filter/input.php
on line
689
Warning
: preg_replace(): The /e modifier is no longer supported, use preg_replace_callback instead in
/web/htdocs/www.connecting-the-dots.it/home/libraries/joomla/filter/input.php
on line
691
Warning
: preg_replace(): The /e modifier is no longer supported, use preg_replace_callback instead in
/web/htdocs/www.connecting-the-dots.it/home/libraries/joomla/filter/input.php
on line
689
Warning
: preg_replace(): The /e modifier is no longer supported, use preg_replace_callback instead in
/web/htdocs/www.connecting-the-dots.it/home/libraries/joomla/filter/input.php
on line
691
Warning
: preg_replace(): The /e modifier is no longer supported, use preg_replace_callback instead in
/web/htdocs/www.connecting-the-dots.it/home/libraries/joomla/filter/input.php
on line
689
Warning
: preg_replace(): The /e modifier is no longer supported, use preg_replace_callback instead in
/web/htdocs/www.connecting-the-dots.it/home/libraries/joomla/filter/input.php
on line
691
Warning
: preg_replace(): The /e modifier is no longer supported, use preg_replace_callback instead in
/web/htdocs/www.connecting-the-dots.it/home/libraries/joomla/filter/input.php
on line
689
Warning
: preg_replace(): The /e modifier is no longer supported, use preg_replace_callback instead in
/web/htdocs/www.connecting-the-dots.it/home/libraries/joomla/filter/input.php
on line
691
Warning
: preg_replace(): The /e modifier is no longer supported, use preg_replace_callback instead in
/web/htdocs/www.connecting-the-dots.it/home/libraries/joomla/filter/input.php
on line
689
Warning
: preg_replace(): The /e modifier is no longer supported, use preg_replace_callback instead in
/web/htdocs/www.connecting-the-dots.it/home/libraries/joomla/filter/input.php
on line
691
Warning
: preg_replace(): The /e modifier is no longer supported, use preg_replace_callback instead in
/web/htdocs/www.connecting-the-dots.it/home/libraries/joomla/filter/input.php
on line
689
Warning
: preg_replace(): The /e modifier is no longer supported, use preg_replace_callback instead in
/web/htdocs/www.connecting-the-dots.it/home/libraries/joomla/filter/input.php
on line
691
Warning
: preg_replace(): The /e modifier is no longer supported, use preg_replace_callback instead in
/web/htdocs/www.connecting-the-dots.it/home/libraries/joomla/filter/input.php
on line
689
Warning
: preg_replace(): The /e modifier is no longer supported, use preg_replace_callback instead in
/web/htdocs/www.connecting-the-dots.it/home/libraries/joomla/filter/input.php
on line
691
Warning
: preg_replace(): The /e modifier is no longer supported, use preg_replace_callback instead in
/web/htdocs/www.connecting-the-dots.it/home/libraries/joomla/filter/input.php
on line
689
Warning
: preg_replace(): The /e modifier is no longer supported, use preg_replace_callback instead in
/web/htdocs/www.connecting-the-dots.it/home/libraries/joomla/filter/input.php
on line
691
Warning
: preg_replace(): The /e modifier is no longer supported, use preg_replace_callback instead in
/web/htdocs/www.connecting-the-dots.it/home/libraries/joomla/filter/input.php
on line
689
Warning
: preg_replace(): The /e modifier is no longer supported, use preg_replace_callback instead in
/web/htdocs/www.connecting-the-dots.it/home/libraries/joomla/filter/input.php
on line
691
Warning
: preg_replace(): The /e modifier is no longer supported, use preg_replace_callback instead in
/web/htdocs/www.connecting-the-dots.it/home/libraries/joomla/filter/input.php
on line
689
Warning
: preg_replace(): The /e modifier is no longer supported, use preg_replace_callback instead in
/web/htdocs/www.connecting-the-dots.it/home/libraries/joomla/filter/input.php
on line
691
Warning
: preg_replace(): The /e modifier is no longer supported, use preg_replace_callback instead in
/web/htdocs/www.connecting-the-dots.it/home/libraries/joomla/filter/input.php
on line
689
Warning
: preg_replace(): The /e modifier is no longer supported, use preg_replace_callback instead in
/web/htdocs/www.connecting-the-dots.it/home/libraries/joomla/filter/input.php
on line
691
Warning
: preg_replace(): The /e modifier is no longer supported, use preg_replace_callback instead in
/web/htdocs/www.connecting-the-dots.it/home/libraries/joomla/filter/input.php
on line
689
Warning
: preg_replace(): The /e modifier is no longer supported, use preg_replace_callback instead in
/web/htdocs/www.connecting-the-dots.it/home/libraries/joomla/filter/input.php
on line
691
Warning
: preg_replace(): The /e modifier is no longer supported, use preg_replace_callback instead in
/web/htdocs/www.connecting-the-dots.it/home/libraries/joomla/filter/input.php
on line
689
Warning
: preg_replace(): The /e modifier is no longer supported, use preg_replace_callback instead in
/web/htdocs/www.connecting-the-dots.it/home/libraries/joomla/filter/input.php
on line
691
Warning
: preg_replace(): The /e modifier is no longer supported, use preg_replace_callback instead in
/web/htdocs/www.connecting-the-dots.it/home/libraries/joomla/filter/input.php
on line
689
Warning
: preg_replace(): The /e modifier is no longer supported, use preg_replace_callback instead in
/web/htdocs/www.connecting-the-dots.it/home/libraries/joomla/filter/input.php
on line
691
Warning
: preg_replace(): The /e modifier is no longer supported, use preg_replace_callback instead in
/web/htdocs/www.connecting-the-dots.it/home/libraries/joomla/filter/input.php
on line
689
Warning
: preg_replace(): The /e modifier is no longer supported, use preg_replace_callback instead in
/web/htdocs/www.connecting-the-dots.it/home/libraries/joomla/filter/input.php
on line
691
Warning
: preg_replace(): The /e modifier is no longer supported, use preg_replace_callback instead in
/web/htdocs/www.connecting-the-dots.it/home/libraries/joomla/filter/input.php
on line
689
Warning
: preg_replace(): The /e modifier is no longer supported, use preg_replace_callback instead in
/web/htdocs/www.connecting-the-dots.it/home/libraries/joomla/filter/input.php
on line
691
Warning
: preg_replace(): The /e modifier is no longer supported, use preg_replace_callback instead in
/web/htdocs/www.connecting-the-dots.it/home/libraries/joomla/filter/input.php
on line
689
Warning
: preg_replace(): The /e modifier is no longer supported, use preg_replace_callback instead in
/web/htdocs/www.connecting-the-dots.it/home/libraries/joomla/filter/input.php
on line
691
Warning
: preg_replace(): The /e modifier is no longer supported, use preg_replace_callback instead in
/web/htdocs/www.connecting-the-dots.it/home/libraries/joomla/filter/input.php
on line
689
Warning
: preg_replace(): The /e modifier is no longer supported, use preg_replace_callback instead in
/web/htdocs/www.connecting-the-dots.it/home/libraries/joomla/filter/input.php
on line
691
Warning
: preg_replace(): The /e modifier is no longer supported, use preg_replace_callback instead in
/web/htdocs/www.connecting-the-dots.it/home/libraries/joomla/filter/input.php
on line
689
Warning
: preg_replace(): The /e modifier is no longer supported, use preg_replace_callback instead in
/web/htdocs/www.connecting-the-dots.it/home/libraries/joomla/filter/input.php
on line
691
Warning
: preg_replace(): The /e modifier is no longer supported, use preg_replace_callback instead in
/web/htdocs/www.connecting-the-dots.it/home/libraries/joomla/filter/input.php
on line
689
Warning
: preg_replace(): The /e modifier is no longer supported, use preg_replace_callback instead in
/web/htdocs/www.connecting-the-dots.it/home/libraries/joomla/filter/input.php
on line
691
Warning
: preg_replace(): The /e modifier is no longer supported, use preg_replace_callback instead in
/web/htdocs/www.connecting-the-dots.it/home/libraries/joomla/filter/input.php
on line
689
Warning
: preg_replace(): The /e modifier is no longer supported, use preg_replace_callback instead in
/web/htdocs/www.connecting-the-dots.it/home/libraries/joomla/filter/input.php
on line
691
Warning
: preg_replace(): The /e modifier is no longer supported, use preg_replace_callback instead in
/web/htdocs/www.connecting-the-dots.it/home/libraries/joomla/filter/input.php
on line
689
Warning
: preg_replace(): The /e modifier is no longer supported, use preg_replace_callback instead in
/web/htdocs/www.connecting-the-dots.it/home/libraries/joomla/filter/input.php
on line
691
Warning
: preg_replace(): The /e modifier is no longer supported, use preg_replace_callback instead in
/web/htdocs/www.connecting-the-dots.it/home/libraries/joomla/filter/input.php
on line
689
Warning
: preg_replace(): The /e modifier is no longer supported, use preg_replace_callback instead in
/web/htdocs/www.connecting-the-dots.it/home/libraries/joomla/filter/input.php
on line
691
Warning
: preg_replace(): The /e modifier is no longer supported, use preg_replace_callback instead in
/web/htdocs/www.connecting-the-dots.it/home/libraries/joomla/filter/input.php
on line
689
Warning
: preg_replace(): The /e modifier is no longer supported, use preg_replace_callback instead in
/web/htdocs/www.connecting-the-dots.it/home/libraries/joomla/filter/input.php
on line
691
Warning
: preg_replace(): The /e modifier is no longer supported, use preg_replace_callback instead in
/web/htdocs/www.connecting-the-dots.it/home/libraries/joomla/filter/input.php
on line
689
Warning
: preg_replace(): The /e modifier is no longer supported, use preg_replace_callback instead in
/web/htdocs/www.connecting-the-dots.it/home/libraries/joomla/filter/input.php
on line
691
Warning
: preg_replace(): The /e modifier is no longer supported, use preg_replace_callback instead in
/web/htdocs/www.connecting-the-dots.it/home/libraries/joomla/filter/input.php
on line
689
Warning
: preg_replace(): The /e modifier is no longer supported, use preg_replace_callback instead in
/web/htdocs/www.connecting-the-dots.it/home/libraries/joomla/filter/input.php
on line
691
Warning
: preg_replace(): The /e modifier is no longer supported, use preg_replace_callback instead in
/web/htdocs/www.connecting-the-dots.it/home/libraries/joomla/filter/input.php
on line
689
Warning
: preg_replace(): The /e modifier is no longer supported, use preg_replace_callback instead in
/web/htdocs/www.connecting-the-dots.it/home/libraries/joomla/filter/input.php
on line
691
Warning
: preg_replace(): The /e modifier is no longer supported, use preg_replace_callback instead in
/web/htdocs/www.connecting-the-dots.it/home/libraries/joomla/filter/input.php
on line
689
Warning
: preg_replace(): The /e modifier is no longer supported, use preg_replace_callback instead in
/web/htdocs/www.connecting-the-dots.it/home/libraries/joomla/filter/input.php
on line
691
Warning
: preg_replace(): The /e modifier is no longer supported, use preg_replace_callback instead in
/web/htdocs/www.connecting-the-dots.it/home/libraries/joomla/filter/input.php
on line
689
Warning
: preg_replace(): The /e modifier is no longer supported, use preg_replace_callback instead in
/web/htdocs/www.connecting-the-dots.it/home/libraries/joomla/filter/input.php
on line
691
Warning
: preg_replace(): The /e modifier is no longer supported, use preg_replace_callback instead in
/web/htdocs/www.connecting-the-dots.it/home/libraries/joomla/filter/input.php
on line
689
Warning
: preg_replace(): The /e modifier is no longer supported, use preg_replace_callback instead in
/web/htdocs/www.connecting-the-dots.it/home/libraries/joomla/filter/input.php
on line
691
Warning
: preg_replace(): The /e modifier is no longer supported, use preg_replace_callback instead in
/web/htdocs/www.connecting-the-dots.it/home/libraries/joomla/filter/input.php
on line
689
Warning
: preg_replace(): The /e modifier is no longer supported, use preg_replace_callback instead in
/web/htdocs/www.connecting-the-dots.it/home/libraries/joomla/filter/input.php
on line
691
Warning
: preg_replace(): The /e modifier is no longer supported, use preg_replace_callback instead in
/web/htdocs/www.connecting-the-dots.it/home/libraries/joomla/filter/input.php
on line
689
Warning
: preg_replace(): The /e modifier is no longer supported, use preg_replace_callback instead in
/web/htdocs/www.connecting-the-dots.it/home/libraries/joomla/filter/input.php
on line
691
Warning
: preg_replace(): The /e modifier is no longer supported, use preg_replace_callback instead in
/web/htdocs/www.connecting-the-dots.it/home/libraries/joomla/filter/input.php
on line
689
Warning
: preg_replace(): The /e modifier is no longer supported, use preg_replace_callback instead in
/web/htdocs/www.connecting-the-dots.it/home/libraries/joomla/filter/input.php
on line
691
Warning
: preg_replace(): The /e modifier is no longer supported, use preg_replace_callback instead in
/web/htdocs/www.connecting-the-dots.it/home/libraries/joomla/filter/input.php
on line
689
Warning
: preg_replace(): The /e modifier is no longer supported, use preg_replace_callback instead in
/web/htdocs/www.connecting-the-dots.it/home/libraries/joomla/filter/input.php
on line
691
Warning
: preg_replace(): The /e modifier is no longer supported, use preg_replace_callback instead in
/web/htdocs/www.connecting-the-dots.it/home/libraries/joomla/filter/input.php
on line
689
Warning
: preg_replace(): The /e modifier is no longer supported, use preg_replace_callback instead in
/web/htdocs/www.connecting-the-dots.it/home/libraries/joomla/filter/input.php
on line
691
Warning
: preg_replace(): The /e modifier is no longer supported, use preg_replace_callback instead in
/web/htdocs/www.connecting-the-dots.it/home/libraries/joomla/filter/input.php
on line
689
Warning
: preg_replace(): The /e modifier is no longer supported, use preg_replace_callback instead in
/web/htdocs/www.connecting-the-dots.it/home/libraries/joomla/filter/input.php
on line
691
Warning
: preg_replace(): The /e modifier is no longer supported, use preg_replace_callback instead in
/web/htdocs/www.connecting-the-dots.it/home/libraries/joomla/filter/input.php
on line
689
Warning
: preg_replace(): The /e modifier is no longer supported, use preg_replace_callback instead in
/web/htdocs/www.connecting-the-dots.it/home/libraries/joomla/filter/input.php
on line
691
Warning
: preg_replace(): The /e modifier is no longer supported, use preg_replace_callback instead in
/web/htdocs/www.connecting-the-dots.it/home/libraries/joomla/filter/input.php
on line
689
Warning
: preg_replace(): The /e modifier is no longer supported, use preg_replace_callback instead in
/web/htdocs/www.connecting-the-dots.it/home/libraries/joomla/filter/input.php
on line
691
Warning
: preg_replace(): The /e modifier is no longer supported, use preg_replace_callback instead in
/web/htdocs/www.connecting-the-dots.it/home/libraries/joomla/filter/input.php
on line
689
Warning
: preg_replace(): The /e modifier is no longer supported, use preg_replace_callback instead in
/web/htdocs/www.connecting-the-dots.it/home/libraries/joomla/filter/input.php
on line
691
Warning
: preg_replace(): The /e modifier is no longer supported, use preg_replace_callback instead in
/web/htdocs/www.connecting-the-dots.it/home/libraries/joomla/filter/input.php
on line
689
Warning
: preg_replace(): The /e modifier is no longer supported, use preg_replace_callback instead in
/web/htdocs/www.connecting-the-dots.it/home/libraries/joomla/filter/input.php
on line
691
Warning
: preg_replace(): The /e modifier is no longer supported, use preg_replace_callback instead in
/web/htdocs/www.connecting-the-dots.it/home/libraries/joomla/filter/input.php
on line
689
Warning
: preg_replace(): The /e modifier is no longer supported, use preg_replace_callback instead in
/web/htdocs/www.connecting-the-dots.it/home/libraries/joomla/filter/input.php
on line
691
Warning
: preg_replace(): The /e modifier is no longer supported, use preg_replace_callback instead in
/web/htdocs/www.connecting-the-dots.it/home/libraries/joomla/filter/input.php
on line
689
Warning
: preg_replace(): The /e modifier is no longer supported, use preg_replace_callback instead in
/web/htdocs/www.connecting-the-dots.it/home/libraries/joomla/filter/input.php
on line
691
Warning
: preg_replace(): The /e modifier is no longer supported, use preg_replace_callback instead in
/web/htdocs/www.connecting-the-dots.it/home/libraries/joomla/filter/input.php
on line
689
Warning
: preg_replace(): The /e modifier is no longer supported, use preg_replace_callback instead in
/web/htdocs/www.connecting-the-dots.it/home/libraries/joomla/filter/input.php
on line
691
Warning
: preg_replace(): The /e modifier is no longer supported, use preg_replace_callback instead in
/web/htdocs/www.connecting-the-dots.it/home/libraries/joomla/filter/input.php
on line
689
Warning
: preg_replace(): The /e modifier is no longer supported, use preg_replace_callback instead in
/web/htdocs/www.connecting-the-dots.it/home/libraries/joomla/filter/input.php
on line
691
Warning
: preg_replace(): The /e modifier is no longer supported, use preg_replace_callback instead in
/web/htdocs/www.connecting-the-dots.it/home/libraries/joomla/filter/input.php
on line
689
Warning
: preg_replace(): The /e modifier is no longer supported, use preg_replace_callback instead in
/web/htdocs/www.connecting-the-dots.it/home/libraries/joomla/filter/input.php
on line
691
Warning
: preg_replace(): The /e modifier is no longer supported, use preg_replace_callback instead in
/web/htdocs/www.connecting-the-dots.it/home/libraries/joomla/filter/input.php
on line
689
Warning
: preg_replace(): The /e modifier is no longer supported, use preg_replace_callback instead in
/web/htdocs/www.connecting-the-dots.it/home/libraries/joomla/filter/input.php
on line
691
Warning
: preg_replace(): The /e modifier is no longer supported, use preg_replace_callback instead in
/web/htdocs/www.connecting-the-dots.it/home/libraries/joomla/filter/input.php
on line
689
Warning
: preg_replace(): The /e modifier is no longer supported, use preg_replace_callback instead in
/web/htdocs/www.connecting-the-dots.it/home/libraries/joomla/filter/input.php
on line
691
Warning
: preg_replace(): The /e modifier is no longer supported, use preg_replace_callback instead in
/web/htdocs/www.connecting-the-dots.it/home/libraries/joomla/filter/input.php
on line
689
Warning
: preg_replace(): The /e modifier is no longer supported, use preg_replace_callback instead in
/web/htdocs/www.connecting-the-dots.it/home/libraries/joomla/filter/input.php
on line
691
Bloody Taxes!
Good morning, afternoon, evening everybody,
I'd like to provoke you with a subject on this page quite diferent from the previous ones.
It is not April yet, as the articlesays, but we might get prepared to it.
If you had to draw a path making our last subjects connected to each other, which words would you write to make us follow it?
In which regard do you keep the payment of taxes?
Any special angle as a point of view on that?

If not this class, we'll soon have the chance to open our horizons about this topic too.
Federica: crystal clear ideas, Federica, no politicians have any like yours! 
Silvia: you're getting to the point. Less taxes, better services. No waste of money, time, energies, lives, no more!
Michela: thank you for your contribution, Michela. No more taxes on beards, nowadays, but so many others unexpected!
Possible connections with Europe, better with the European Union, refer to the fiscal system, so different from country to country, and the quality of services  too.  Shall we ask for a better union ruling? Better numbers then?
In the meantime, what might make the difference, might be working better, each one of us. Working well means building the future for everybody, "throwing" lights ahead of us. Our single square meter, the one we live in, day by day, moment by moment can be the light due to us. Everything in it well done. So simple to be respected as a principle, so simple to be shared, without waiting for someone else to start, but just doing it.
Behavior is more important than any words, makes all people acquire positive habits, able to multiply themselves spontaneously. 
Enjoy your English!
Anna - Coordinator
Source: Speak Up - April 2008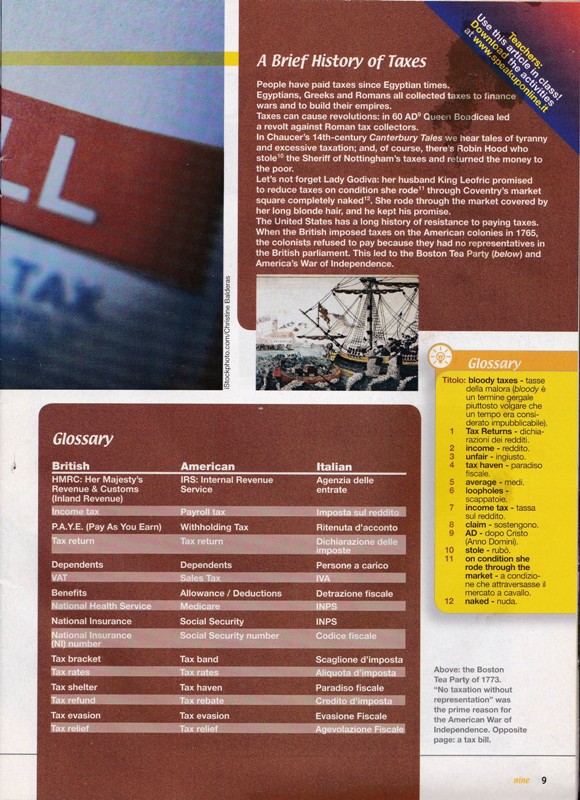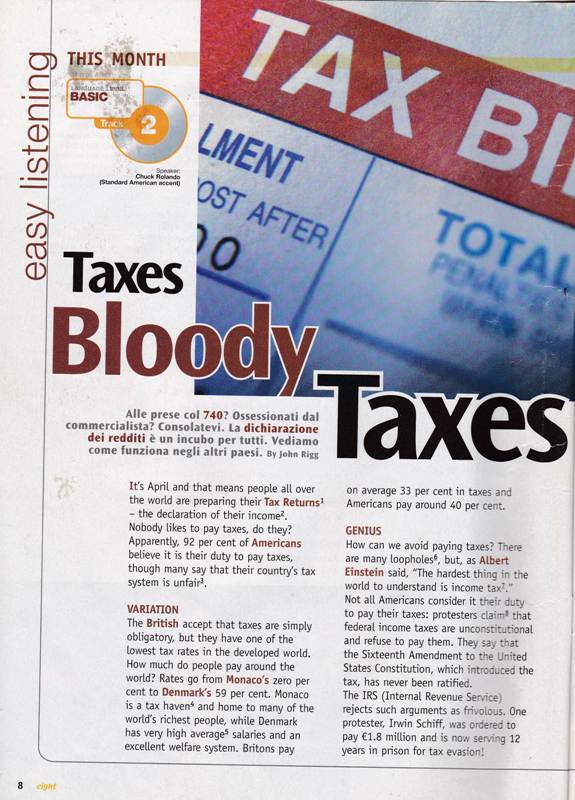 The origin of the name/word Europe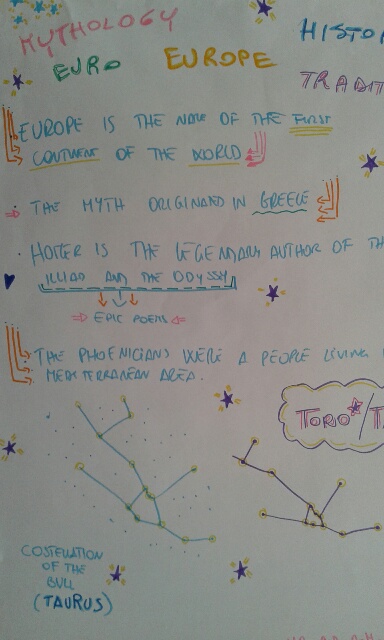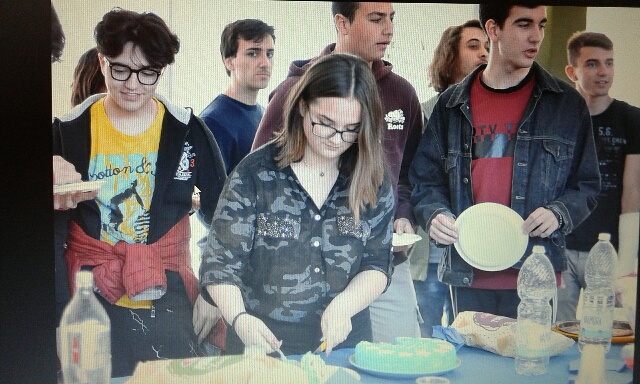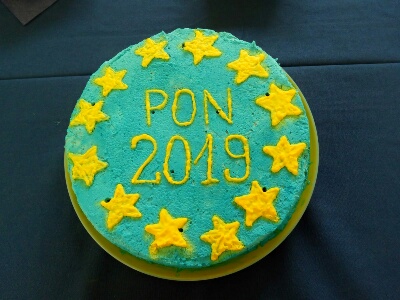 Good morning, afternoon, evening
this is homework for our next class as we agreed: studying the origin of the name Europe and its meaning.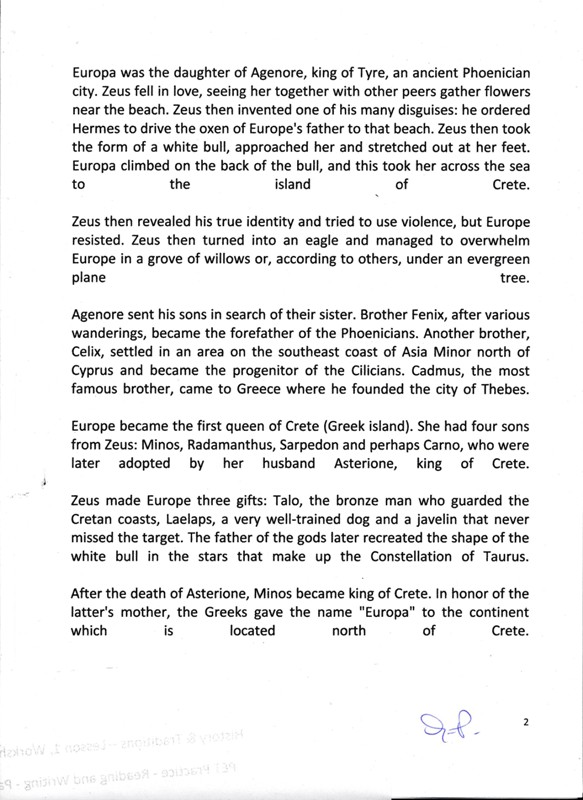 My contribution is offering you some material you can compare with that you can find on the Internet. 
The following questions are for you to reply:
1. What was originally Europe?
2. According to mythology, Europa was the daughter of Agenore, King of Tire. What did she do in the myth? 
3. In which part of the world did this myth originate?
4. What is the role played by Europe's brothers in the myth?
5. How can the Taurus constellation and the myth of Europe be connected?

Up to you to continue, everybody's pleasure reading
Federica: kind of you your appreciation. What a trainer has to do is making perceptions develop.
How would you do that?

How many perceptions do you know exist?
Federica: how interesting your comments! There is so much more to say about perceptions, it will be stimulating comparing our ideas in class.
Other comments are very, very welcome.
Daniele: what a fast connections between past and present! Mythology and economy! It might be an invitation to keep memories of the past even when doing the simplest gestures every day. Have a look at your writing again checking accuracy. We'll see to it in class.

Silvia: there is so much to know about so interesting subjects! Which identity might it be/is it the one of being European? Belonging to what? 
Enjoy your English
Anna - Coordinator
Source: own source worksheets, ITIS Galilei Livorno's students' photograph taken with parents' permission; the cake made by them to celebrate the Feast of Europe and a paperboard with Taurus constellation drawn by them.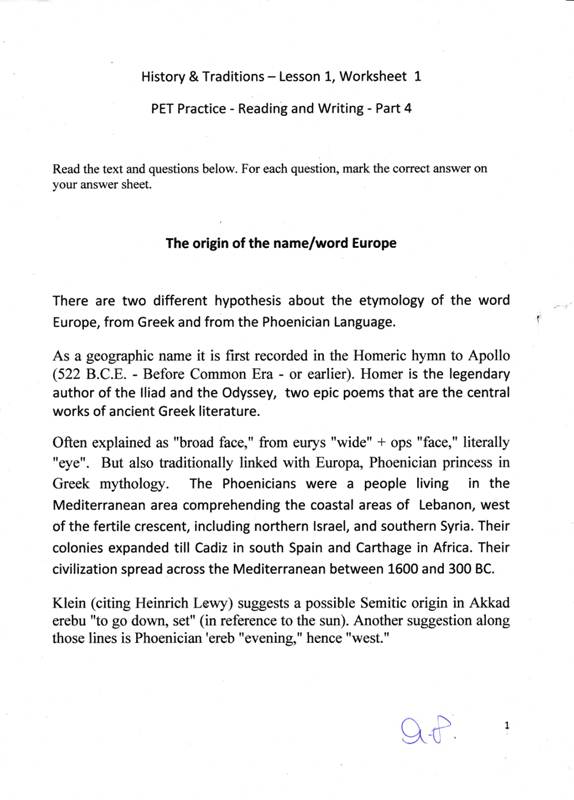 Numbers, Starry Night, Iris and Almond Blooms
Good morning, afternoon, evening, 
Federica, Silvia, Luca, Daniele, Loretto, Mirella, Marco, Sara, Elisa,
after speaking for so long in class about Israeli writers, we thought about reading Palestinian authors too.
While trying to fill this lack of ours, I'm offering you the origin of numbers to think about. 
It was February 2008  when we had a drink in a bar, Larbi and I. This gentleman, of Moroccan origin, lived and worked here, his family in Florence, all their children attending an international school. He met his wife from Algeria in Belgium, then they moved to other European countries, and after being in Italy for a few years, they went to Egypt. I do not know where he is now.

He came to our class asking for Italian lessons, even if his Italian was already quite good. I thought he might be an English speaker too, and as a class we invited him to visit us whenever he had a little free time, so to to make us listen to the languages he spoke. Interaction with students in Italian and English with all possible connections to the very different realities the languages spoken referred to, was highlighting what a resource in a class multilingualism can be.
That day, on a napkin, in a bar, he drew the numbers you see, asking me for the reason why they were written that way.
I'm asking you the very same question.
What can you figure out from numbers written like this? Why?
What do you know about the origin of numbers? Let us know.

Which role do numbers play in your life?

I was far from understanding then, but I felt so fascinated by the idea of the origin of numbers that I tried to. 
This gentleman told me that his name, in Arabic, his first language, means Arab. Then, moving when he was still very young, he multiplied his identities due to the so different cultures and languages he coped with, all of them so fruitful, connected by a very humble and affable personality.
The following writing is about numbers, to help you find the answer to the questions above.
Once / In the mind of someone / Dawn after dawn / Sunset after sunset / It came to life, took body / The idea, the thought / Of a day after another / Of one thing after another / That time existed / That we are into it / and we became aware of it / How could this someone make it happen? / Will he have spoken? / He drew these signs /And who did he spoke to? / It's a voice that continues speaking / Can you hear it? / It whispers of life, of conscience / It reveals what's real / Asking to be understood / To hold out one hand / Each one and all of us / For life, for conscience / And you, can you hear it ?
There are a few films about mathematicians, Alan Turing, John Nash and ஸ்ரீனிவாஸ ஐயங்கார் ராமானுஜன், Srinivasa Ramanujan. Which ones did you see?

Enjoy English, enjoy curiosity, develop perceptions and imagination
Come to class with ideas to share
Federica: yes definetely we are continuing speaking about the subject in class. As far as we can, sure. I  asked so many maths teachers if they knew  about the origin of numbers, but they hadn't ever asked anybody or themselves the question, they didn't know at all.
I do think that wex should feel attracted by something and become one of those who wondered about reality trying to understand it, to find explanations and give order to comprehension so to make others access any new knowledge.
Zero and the other numbers had different origin and motivations to be drawn. 
Daniele: the idea of angles is very smart, that's why numbers are written like that. Think of the figurative language too. How clever is a person who can see from different angles, thus having more perspectives, becoming more open minded.   
Anna - Coordinator - Source: Van Gogh Iris May 1889; Starry night, June 1889; Almond branches in bloom February 1890;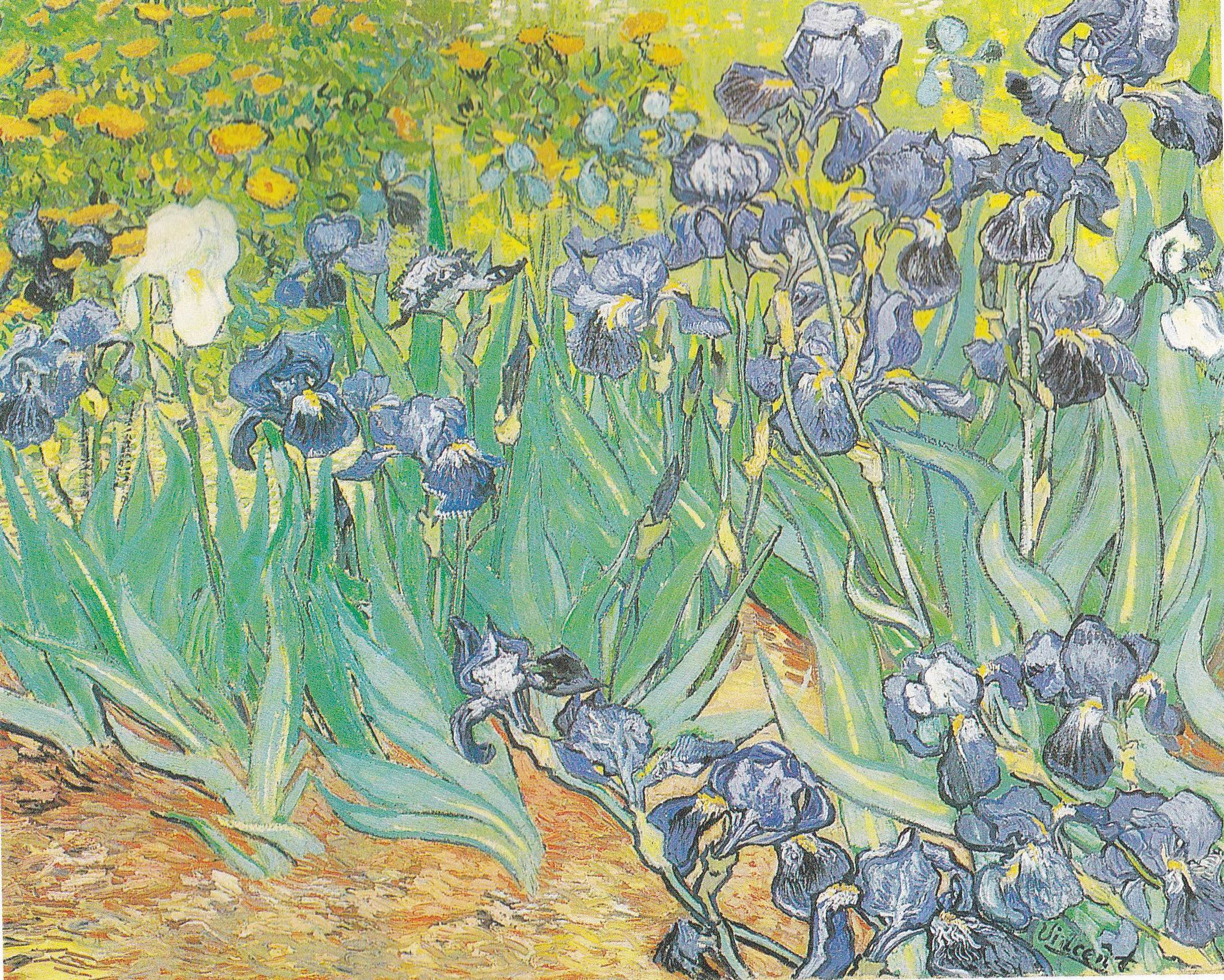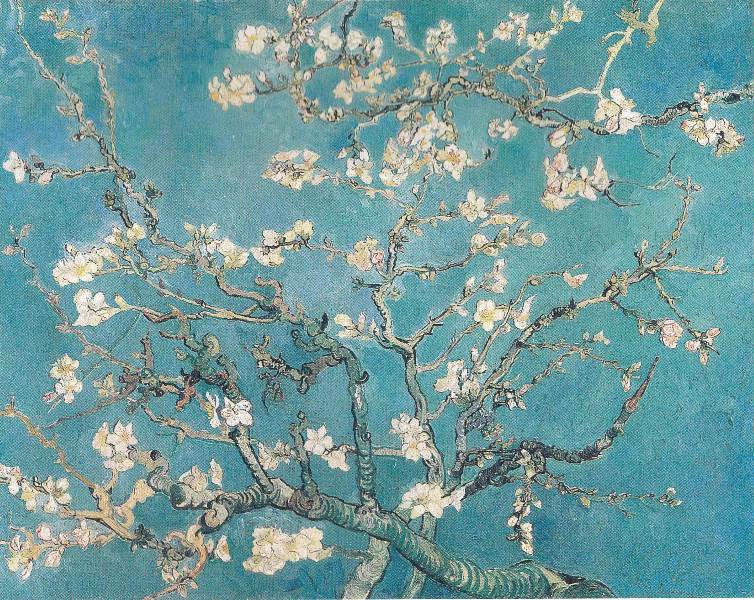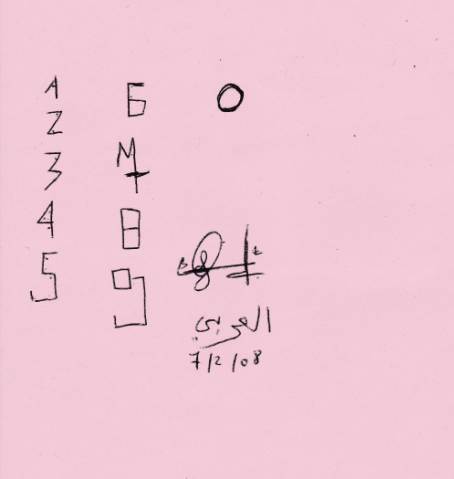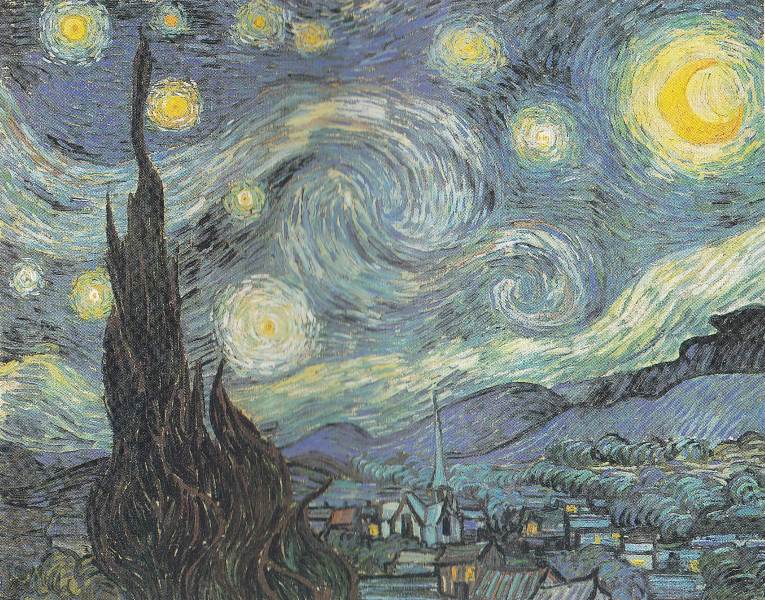 Israeli writers
Good morning, afternoon, evening, 
mesmerizing novels the ones I read by the Israeli writers Grossman and Oz.
Last week in class Federica added a few names to them, since she had read books by Etgar Keret and Abraham Yehoshua. 
It has to be said that those writers, whose book I've read,  do have a very special, delicate and clever sensitivity, so to mesmerize with the stories they write. The perception of time and its quality changes when you're immersed in this type of novelry. And then you surface from your immersion far different from before.
I felt struck reading "Someone to run with" when I found on page 153 of my copy the name of Marianne Faithfull, a singer whose songs I made my students listen to in a mental health department, thinking that her music had something special particularly from the period after the drugs.
If she recovered, I thought, with her music and voice my students too might. And actually they did, surprising so many, but not me, since it is so important to find and strike very deep chords so to make them vibrate and produce the energy you need and you might not even know you have. 
In addition, on page 243, one more surprise: the protagonist sings the very same song that so many times I've made my students listen to, thinking of it as capable of stimulating a vision, since art is involved: "Starry Starry Night".
"I want to sing "Starry Starry Night", Tamar said quietly. It is a song about Vincent van Gogh"........."Why make us suffer?" whispered a lapsed yeshiva boy, and a few boys giggled."Shhhhh!" said Pesach, overflowing with kindness. "Let the girl sing."
I also remember how impressed I was by the photo of Amos Oz's family when he was a child in the novel whose cover you can see here. I thought so long of the feeling of his that made him decide to publish the photo too, after so long, and partecipating personally in the film that Nathalie Portman made of this novel.
The world is a better place when you know these people exist. And they are everywhere, it's up to us to find them and enjoy any possible connections.
Federica, thanks for the jacket you sent me. Now it's your turn to write about the Israeli authors you love.
Whoever wants to, is very very welcome.
Thank you for your comments, Federica. These passages made me think that narration can highlight how children are perceptive, and that so many times listening to them would teach us so much about life and ourselves too.
Life Robust joy / healthy childhood / strength of the sky./ Heroes are the children / who mitigate the evil./ They grow of wealth / offered to those who live./ The words of the children / tell us the fate
Anna - Coordinator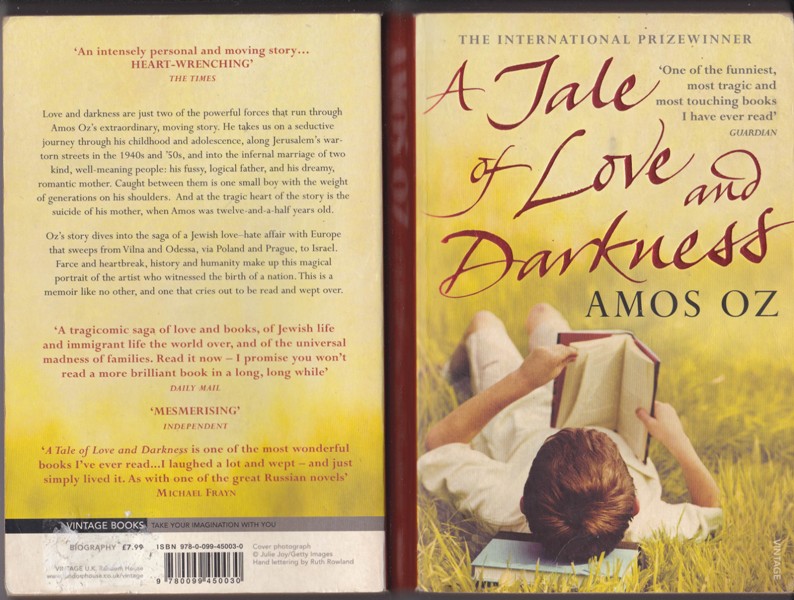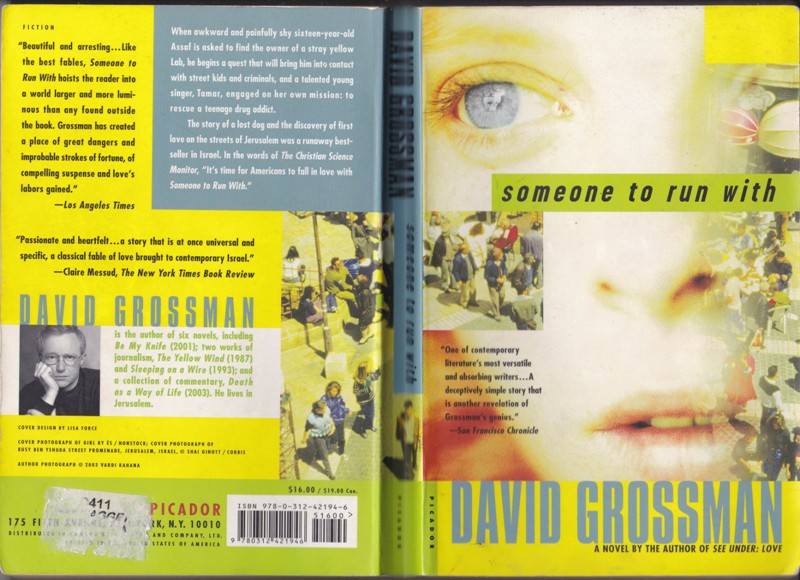 Silvia & the Celtic Harp
Good morning, afternoon, evening,
what a nice occasion having Silvia and her husband Massimo playing the Celtic harp and the electronic piano to celebrate Christmas, the end of the year and the beginning of a new one!
I leave it to her writing about
the instrument she plays,
why she chose it
and what is the role played by music and this specific instrument in her life.
If she likes sharing with us on this site these "angles" of her life.
We truly appreciate that people find their own way to make their potential surface, making their identity a multiple issue, facets of the same diamond, so many unexpected, a surprise so generously offered.
Thank you Silvia and Massimo
see you in class!
Anna - Coordinator
Own photos taken and puplished with the permission of the Artist.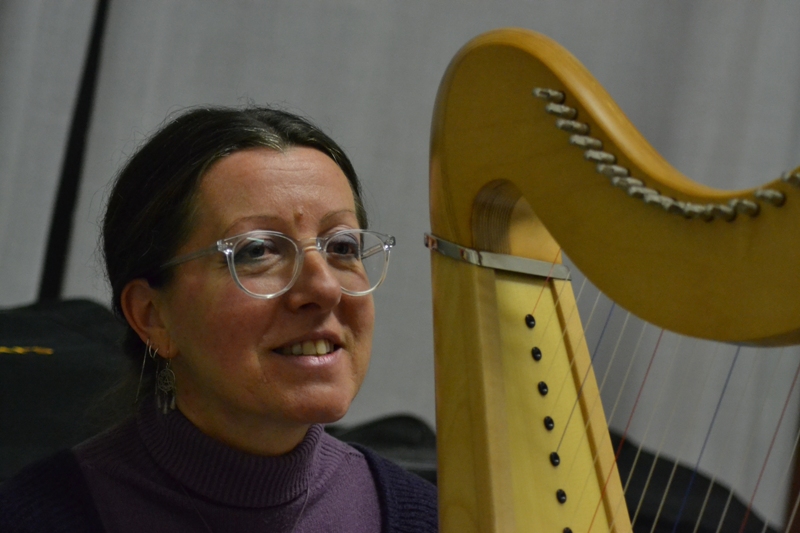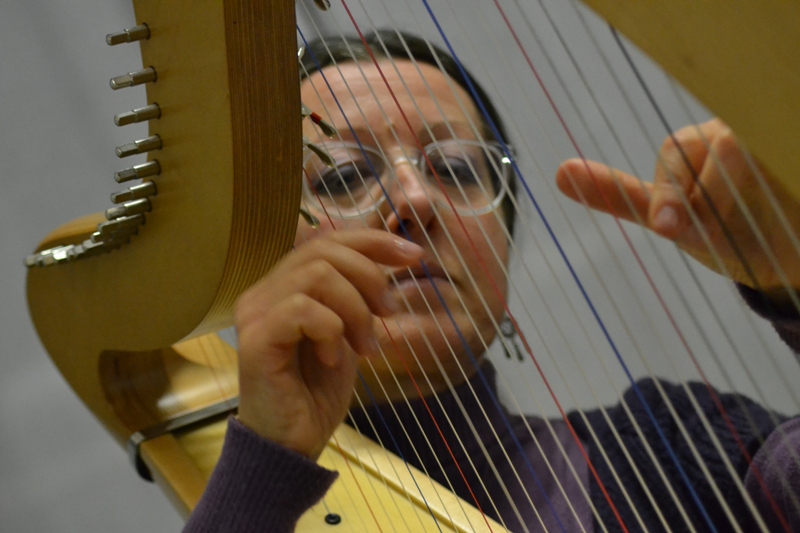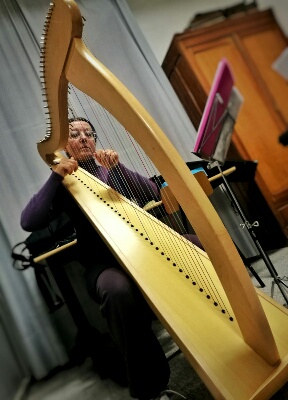 Antartica
Good morning, afternoon, evening everybody, 
shall we go with our English to visit chill places?
Thinking about protecting the environment, we can connect Antarctica and Tuscany. If you read you will see how it's possible.
In addition to answering the questions on the second page, try to find your own connection between your personal interests and the content of the two pages. Come to class with questions for your mates.
Write as a comment what you know about Larderello, if you've ever visited the place of the first geothermal powwer station of the world. In case you did, write down which experience you made.  
When together - speaking time - we'll correct anything you've written.
See you there
Anna - Coordinator
Silvia: always a pleasure reading you, Silvia, including your homework. Appreciated the cohesive organization of your subjects, both in replying and in speaking on your own initiative. 
Thank you on behalf of everybody partecipating in the beautiful concert yesterday, with you playing the Celtic Harp and your husband Massimo the electric piano.
I will see if I have photographs suitable for a page on the blog about your unique performance. 
Enjoy holidays and English
Anna
Source: Cult 2 DeA Scuola 2015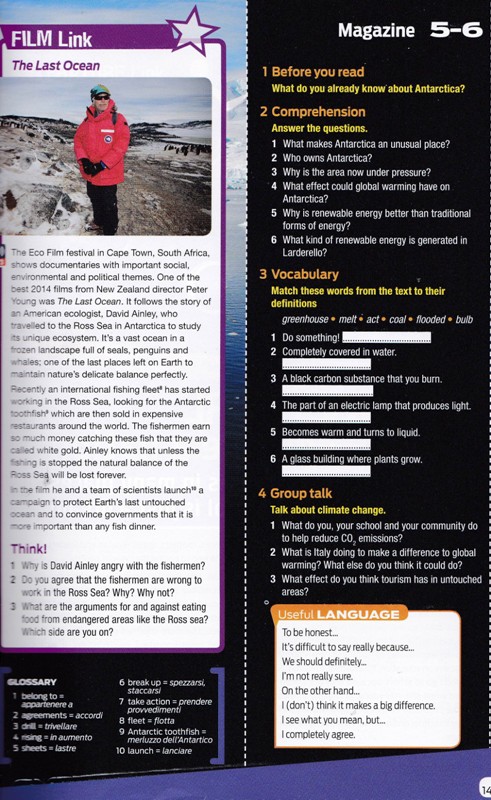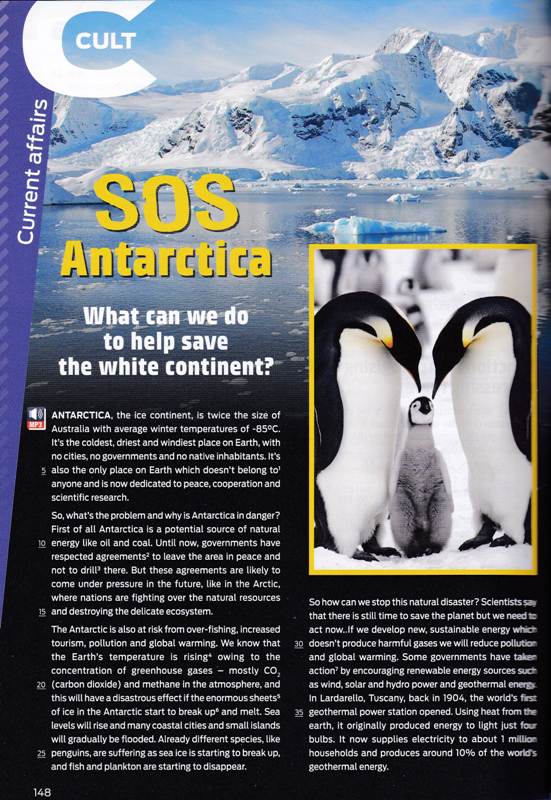 Studying abroad & Present Perfect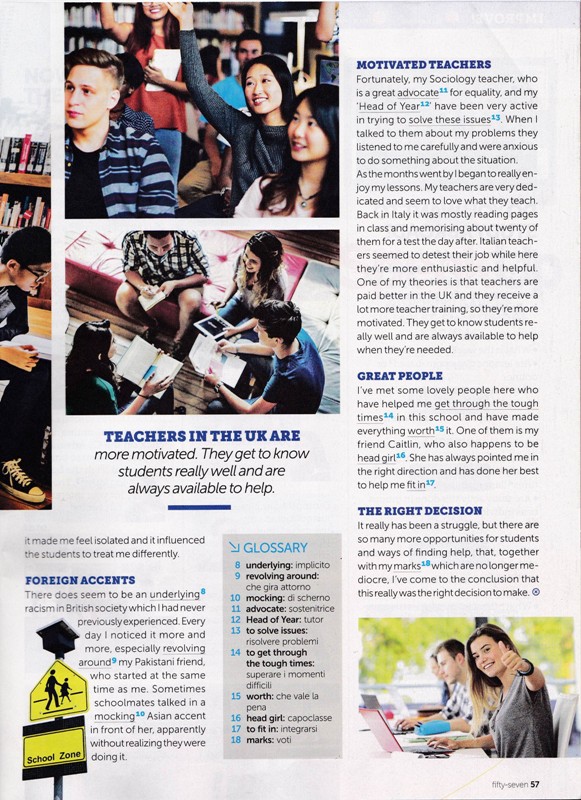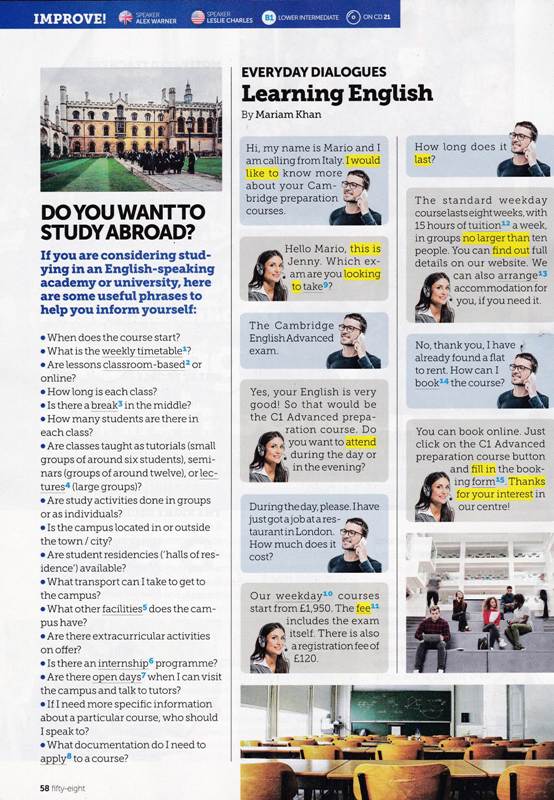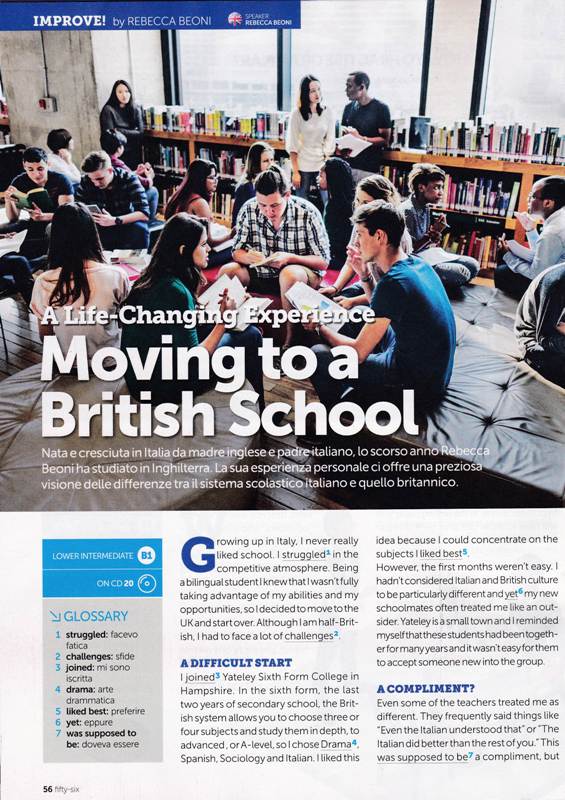 Good morning, afternoon, evening 
Silvia, Flavio, Giuliana, Luca, Daniele B., Daniele L., Sara, Loretto, Federica, Michela, Michele, Elisa, Manuela, Marco,
going to school and studying is a subject we would like you to think a little about. 
After reading the article, even if you haven't ever studied abroad, write a comment about yourself or your kids nowadays and their experience at school. Focus on the acquisition of a second language, possibly English, and write what your reflections are.
Collecting data and comparing them with what happens in our class can be a contribute to become aware of  methods that have to be applied, of which methodology is to be encouraged, and of how many other elements play a significant role in becoming bi/multilingual.
How many languages are spoken in your family environment?
Do you feel to be open to other languages to be practiced at home?
How do you pursue such an objective?
What are your feelings when applying yourself to the acquisition of a second language? 
Why are you interested in the acquisition of English as a second Language? Which is your motivation?

Following there are just a few lines to present you a tense sometimes quite difficult for Italian students to cope with.

Present Perfect

We use the Present Perfect Tense when

- we want to focus on the present effect of a recent event. Is the director here? No he has left.

- there is new information. The police have arrested two men in connection with the robbery.
- we want to talk about a period of time that continues from the past until now. Have you ever been to Japan?/eaten suschi? (in your life until now) Yes, I have. When did you go there? /did you eat it?
- it is the first time that something has happened. This is the first time I have ridden a horse!
- we want to talk about something that started in the past and still continues now. How long has he lived here? He has lived here for three years/since 2015. With verbs like known, lived, had we use present perfect simple, otherwise the continuous is more usual and it is for an activity that is still happening. She has been watcching television all day!
When using the present perfect continuous we are interested in the activity and it doesn't matter whether it has been finished or not.  She has been cleaning the car. (She is wet because of using water). She has cleaned the car (The car is very clean). The action is completed, we are interested in the car. 
With how much, how many or how many times we use present perfect simple for completed actions. How many films by Quentin Tarantino have you seen?
Write a few sentences of your own using these samples thinking of your classmates. Come to class ready to practice them in a proper and accurate interaction.

Enjoy your English and share it with everybody else as behaviour, experience, vitality, life, one more identity to perform interacting joyfully. 
(Try to find the right order of the pages by yourself, sometimes technology is not fully helpful).
Good contribution Federica and Michela, your comments on the page! Enthusiasm is fifty per cent of a good job. We'll talk about them in class with all mates. Inaccuracies do not  impeed comprehension, communication works!
Anna - Coordinator
Source: Speak Up October 2018    
Let us know and come to class ready to speak about that.
London National Park City
Good morning, afternoon evening,
Elisa, Silvia, Michela, Michele, Federica, Marco, Manuela, Francesco, Loretto, Sara, Daniele B., Daniele L.
this is London once more!
After gliding over it, http://connecting-the-dots.com/13-blog/71-gliding-over-london.html, this is another opportunity to know something more about the capital of U.K.
What is your experience of London?
What did you like most of the city?
How many different English speakers did you have the chance to speak to? 
Do you have any special memories about any of them?
Let us know here as a comment and in class, when back with your mates.
Enjoy your English!
Federica: so good of you telling us about your son's experience in London. Plan to go there you too, maybe gliding over it. See the article on page 6, "London gliding" plus "Wow, London skyline", and of course "The Shard" on page 3 of the Archive.  Come to class ready to speak. The same invitation to have a look at the articles is for all of you reading. 
Marco: quite an enjoyable experience yours, discovering what a city is like while walking and seeing all important places to visit. I class we'll exploit it asking you questions. Be ready!
Silvia: it would be nice planning a visit to London together. In class we have expert visitors to consult. Start doing it!   
Manuela: problem solved, you exist here too! Thank you for writing. When writing, think of very simple sentences, so to avoid mistakes. Subject, verb, complement. With attention to formal correctness and accuracy in writing and speaking, your English will improve fast. In class we'll speak more widely about that.
Michele: so busy days, Michele, that you made us miss you last time. Good idea going back to London once more, after experiencing English with the group. We'll speak of all your productions in class as a team work, trying to reciporocate finding mistakes. 
Michela: good attempt your writing.An allotment is a portion of land/city/garden, to be used, either free or rented.
Eli: if you are interested in American English, read this page on the blog and leave your comment.
http://connecting-the-dots.it/13-blog/125-american-english.html
It will be a pleasure reading it!  
After reading all your comments, I think we have to stimulate and develop in class the right approach to pay great attention to any writing of yours. If you want to be sure there are no mistakes in your productions, build short sentences using subject, verb, complement. Read a lot to let your mind be engaged with English. Results will surface even when unexpected. 
We'll see in class in more details what mistakes can be avoided paying just a little more attention.
All of you, have a look at your writings  when uploaded and see if there are mistakes you can correct by yourself. I do think so. 
And be ready for next time to speak one minute of fluent English about the subject you chose, after practicing at home. Remember your mates will ask you questions.
Once more, enjoy English! 
Anna  - Coordinator
Source: Speak Up September 2018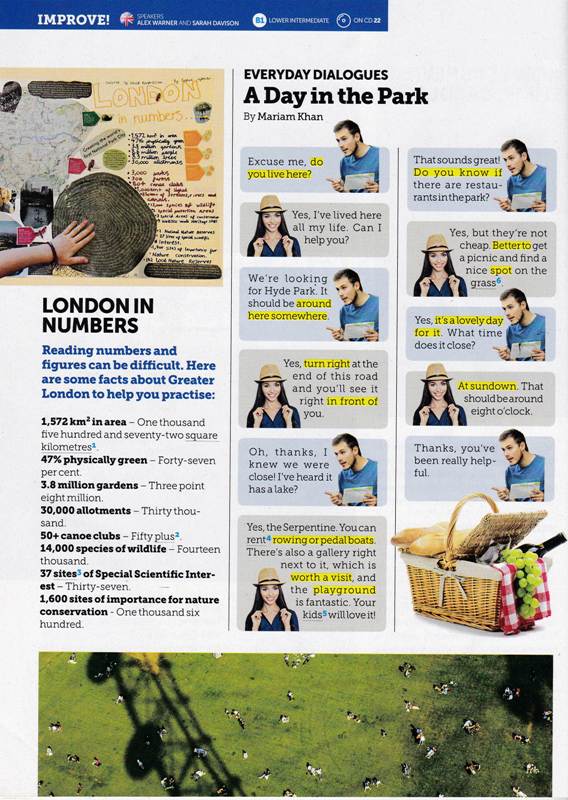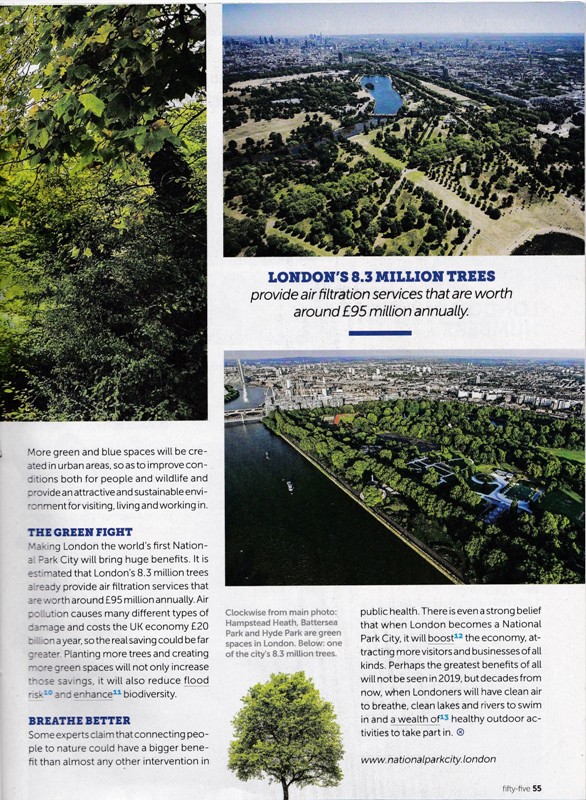 Once More Open Air English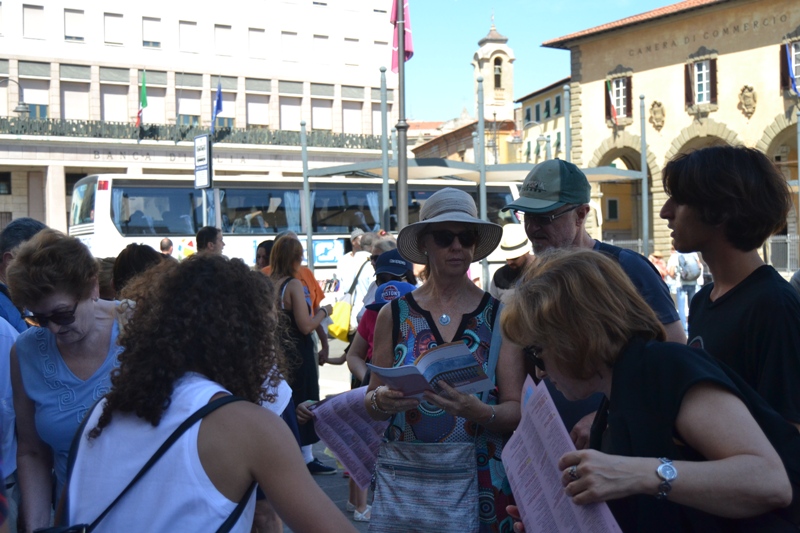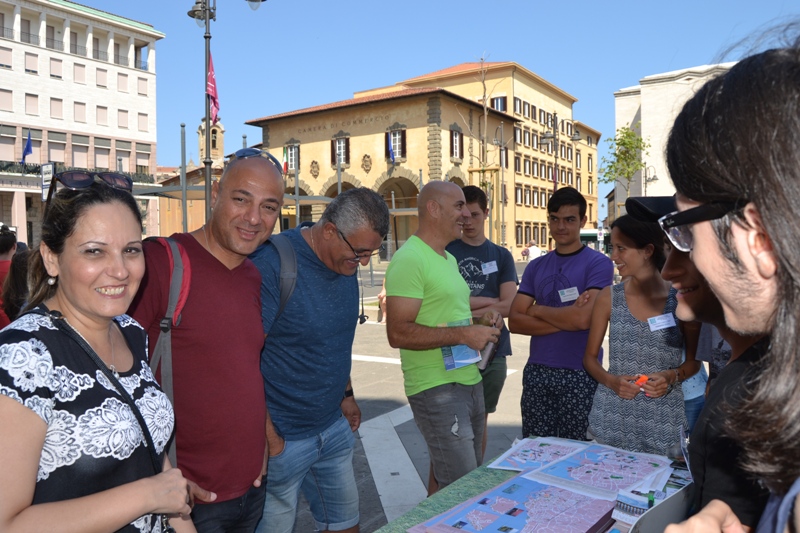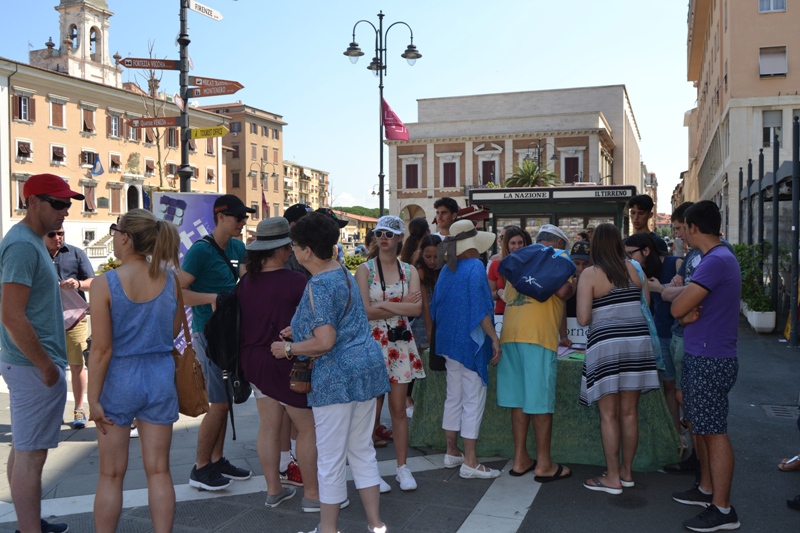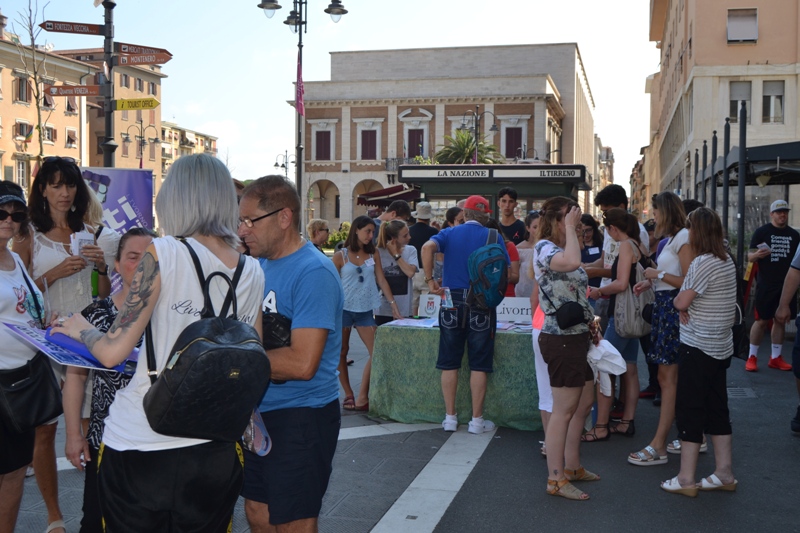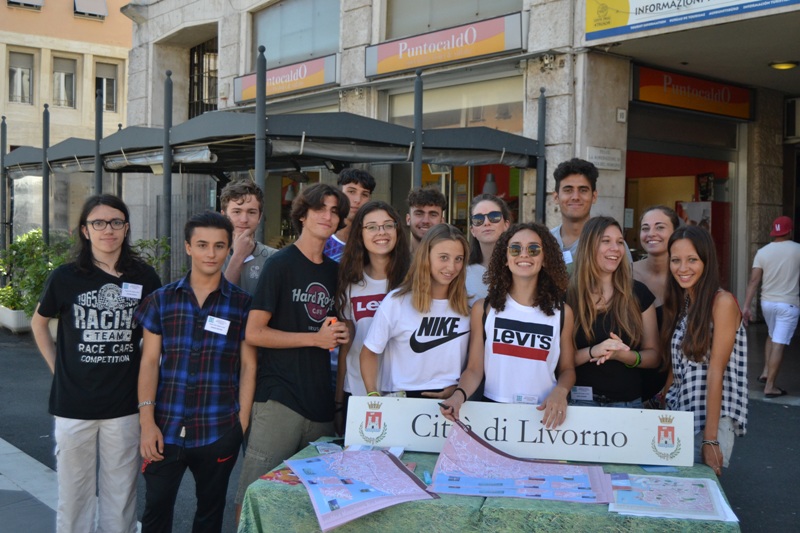 Good morning, afternoon, evening,
we asked the students what they thought of the experience of welcoming Mediterranean cruise passengers in Livorno to practice their English.
In addition to say that the approach at school is too theorethical, they spoke about feeling free in the open air, practicing English without thinking of any marks but instead being encouraged by the context and the "coach".
The classroom is less stimulating because all of them are Italian, they said, they feel themselves judged by the teacher and classmates. Performing is just for a mark. Such a natural approach to the language makes it much more interesting..   
Sara: beautiful and very interactive experience. I didn't expect this course to be so funnny and engaging. Thanks to it we had experiences that do not happen every day.

Tommaso: useful experience because even if you believe you can't do anything, you unlock yourself and understand English by means of meeting people from all over the world; 
Matteo:  these laboratories unlocked me with the language. It's not true that I didn't know anything, I've seen I can speak. The environment is so different from the school's one. We are encouraged to speak English. If I had to recommend it to someone, I would;
Cristian: more than improving your English these labs make you want to talk. In the preparatory classrooms too this approach unlocks you and can be a method to encourage to study instead of the traditional lessons;
Maikol: a nice experience to speak English better. I enjoyed meeting new classmates. It was a pleasure meeting new ones and with them giving a new face to Livorno. 
Virginia: useful experience because I devoted myself to speak English while in my daily routine I don't;
Carolina: experience that has helped me a lot because it makes you face people from other countries and speak English. If you think you do not really know a way to make yourself understood you find it. I made myself understood while I'm not so good at speaking English;
Giada: positive experience never made before. New because I had already done a Cambridge English course but with no real contact with people. There is no enough practice in the classroom. It's necessary a real contact to understand what your level is, to compare and improve it if you want to talk to people;

Jasmine: useful experience because it has opened me to talk to people who speak English. My English has improved as well, while before I couldn't even speak. 
As teachers, or better those adults who accompany students to experience English, we thank and invite them to upload their final work, so to say directly what they think of the whole experience.

Enjoy your English

Anna - Coordinator

Source: own photos taken with all students' parents'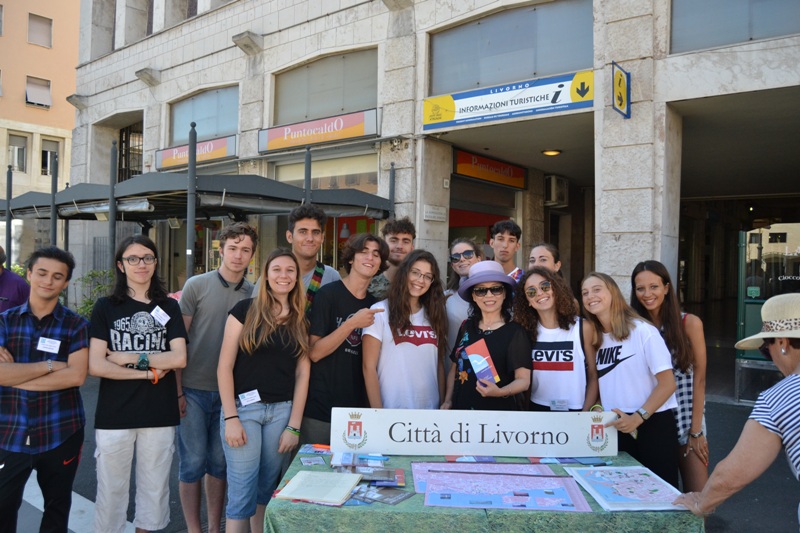 permission. many thanks to the Chinese cruise passenger from Holland and all the others who helped and wanted to be pictured with the students. 

Open Air English & English No Limits, ITI G. Galilei Livorno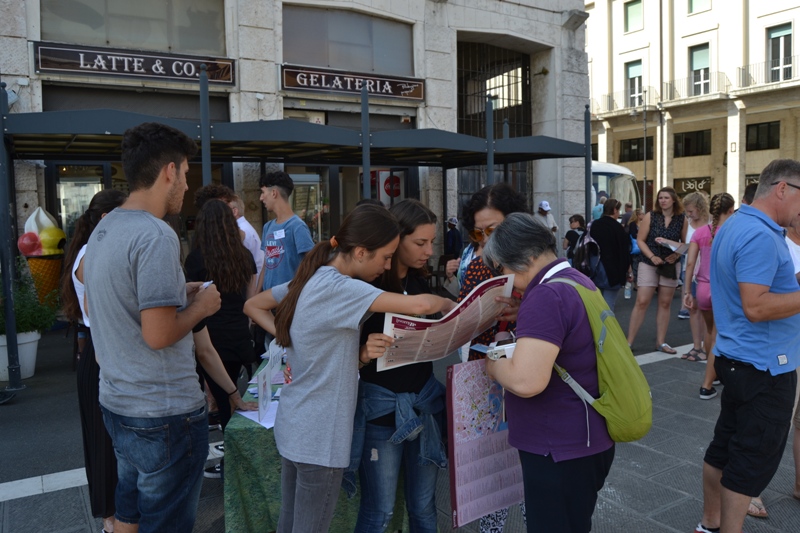 a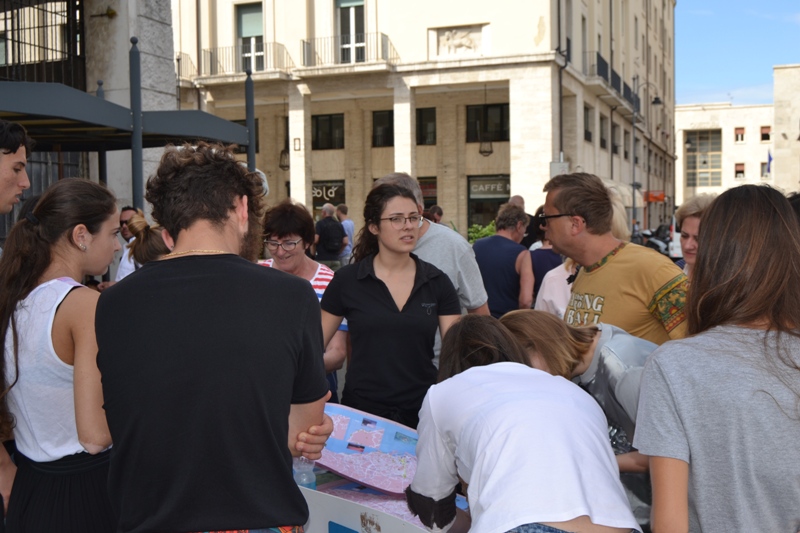 a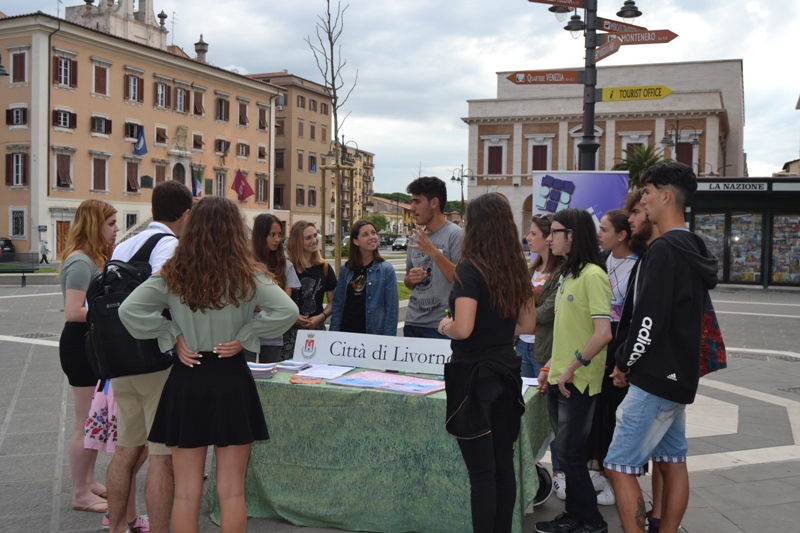 Good morning, afternoon, evening,
a few sunny hours were enough this mornig to allow Elisa, Carolina, Maikol, Mitia, Virginia, Manuel, Giada, Linda, Tommaso and Sara to deal with this new experience for all of them, meeting Mediterranean cruise passengers to share a talk and so practice English welcoming them to Livorno.
Once more an international city, to welcome people and give students the chance to acquire communication tools for their future. 
Good practice; there's no a better one to acquire English as a second Language.
With all students' families permission a few photographs were taken, showing how crowded the square was, shuttle by shuttle, passengers getting off and being offered services in Livorno, being addressed both to the Tourist Information Office and the places they were meant to go.
Acquiring English is a matter of experiencing it, and meeting people offers that unvaluable chance to know better the self due to the way time by time you cope with the experience itself.
At the beginning of the morning everything seemed difficult, then it wasn't any more, because you students are better then you think you are, but unless you try and "behave" English,  you can't have any proofs of that. 
Next time it will be the opportunity to get great advantage of this fruitful morning.
See you then while, in the meantime, I am waiting for your comments here. I will reply.
How did you cope with this experience? Did you like it? Why?
Anna - Coordinator
Source: own photos, taken with all parents' authorization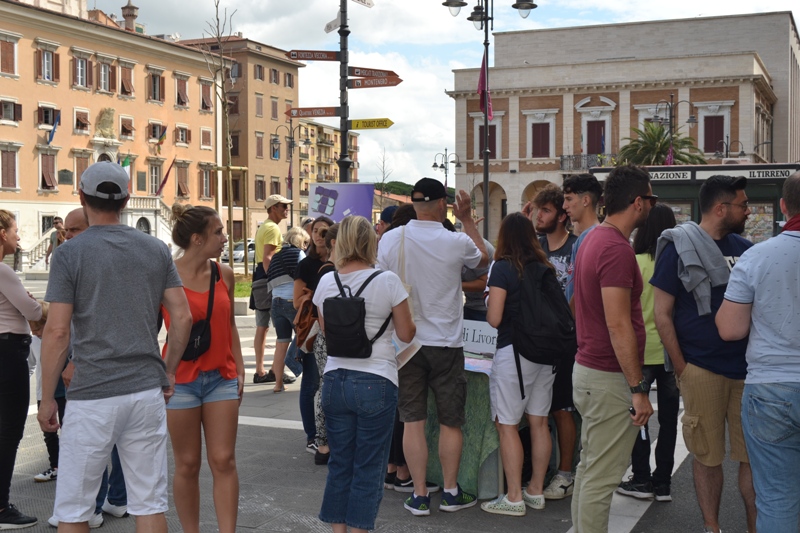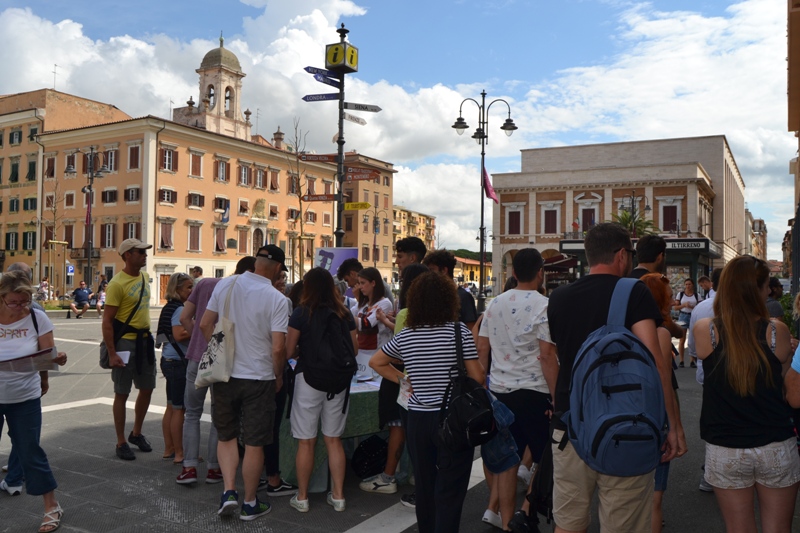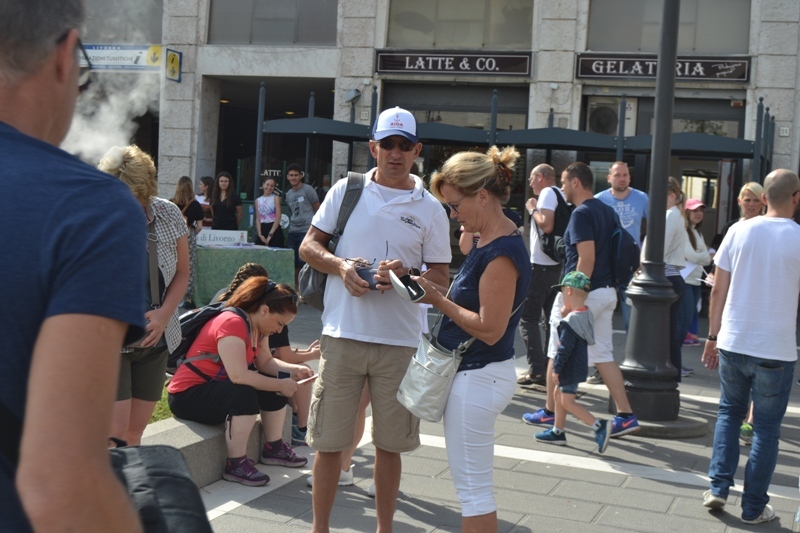 ITI G. Galilei Livorno English Open Labs
Hello everybody!
Matteo, Lorenzo, Gianmarco, Sara, Tommaso, Jasmine, Carolina, Teresa, Giada, Irene, Elisa, Alice, Mattia, Alessio, Linda, Martina, Gabriele, Virginia, Manuel, Cristian, Giulio, Guido,


this is one more in-itinere test for you as an encouragement to develop interest, collaboration, comprehension and production skills.
1. First read the questions below, so to know what you have to pay attention to, while reading the article-
2. Then read it individually
3. Form small groups so to have each one of you the possibility to express exhaustively your ideas
4. Do not hesitate to ask each other questions in order to comprehend better everyone's opinion if necessary
After appointing a coordinator for each group, make him/her speak on behalf of the whole group interviewing him/her with questions in class. 
Topic of your questions will have to be kindness in using social media.
Then reply as groups to the following questions in writing:
A. Do you ever recommend kindness in using social media?
B. What do you think of an actress as young as Millie Bobby Brown using them to ask for kindness?
C. What is the main message of the article according to you?
D. Do you use the social media?
E. How often do you use them?
F. What do you use them for?
See you in class
Enjoy your English
Anna - Coordinator
Source: Speak up May 2018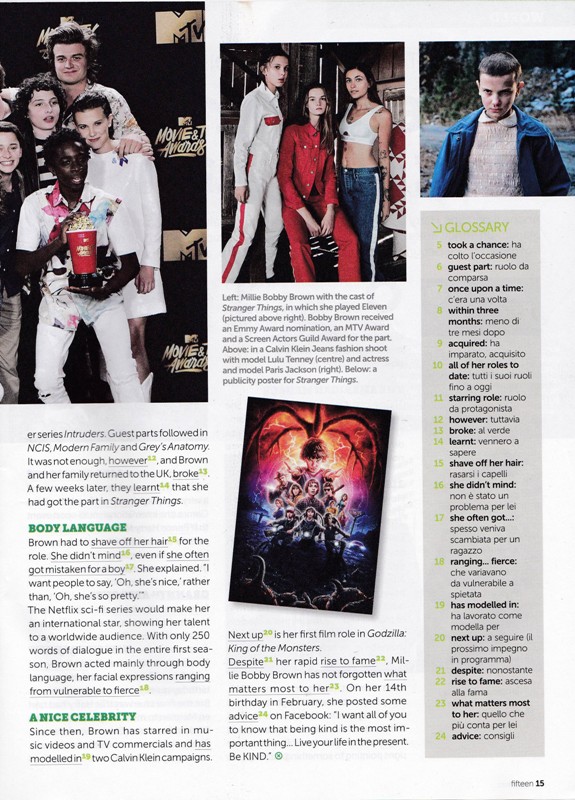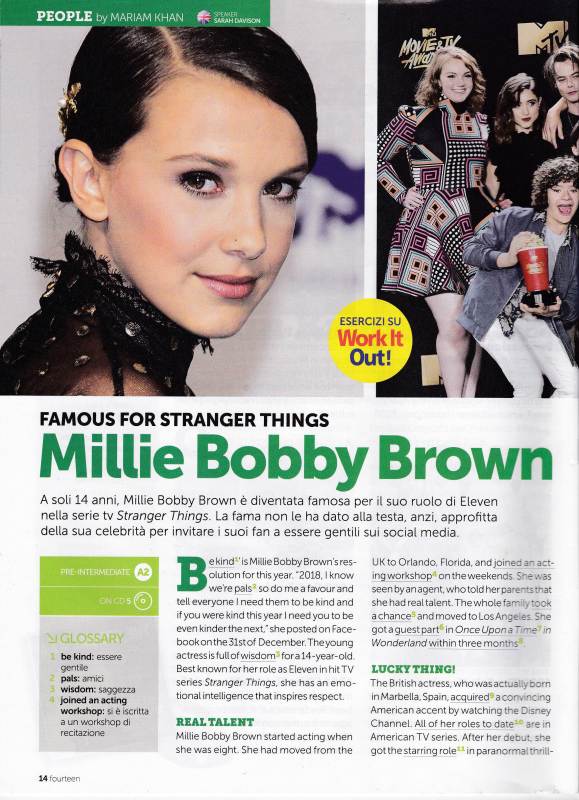 Children & English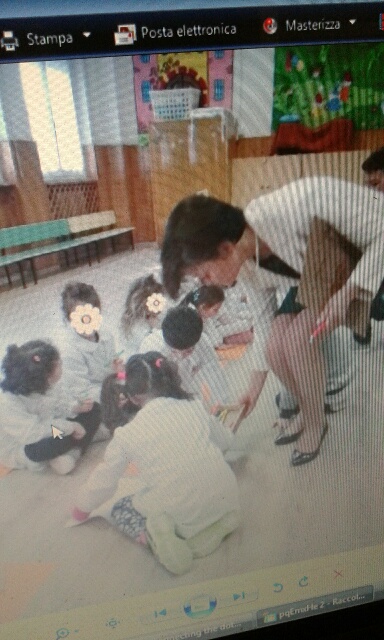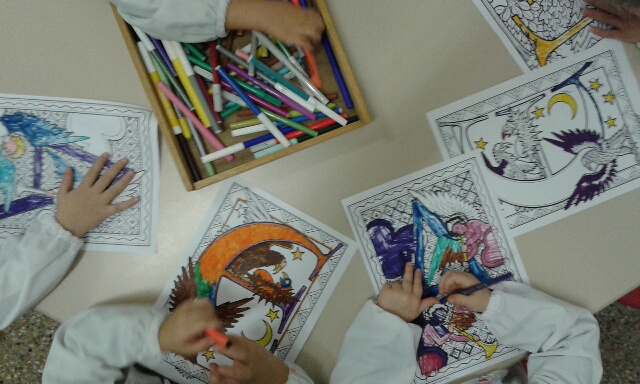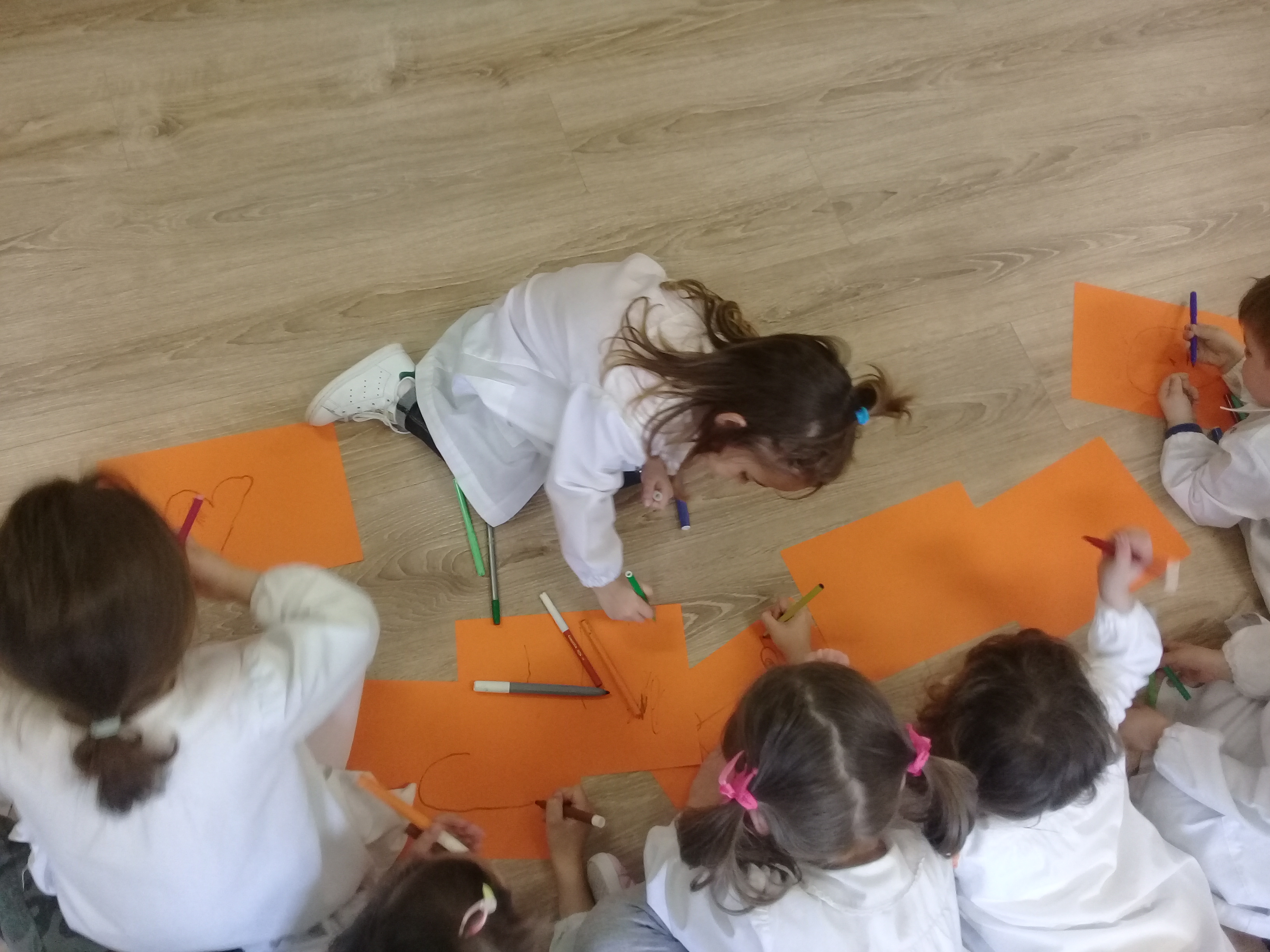 Good morning, afternoon, evening everybody,
our workshops with children intend to offer an experience to solicit their potential for attention, dedication to a task, so creating a first link with what will be an additional identity in their future, also being speakers of English.
--- B English 2! ---

It is important in this first phase of a structured approach to the language that children perceive it as a friendly reality, which in its various stages of growth, will continue to have its time and space for dedication.

The tasks assigned to the children are varied, among which coloring the English letter of their name, listening to and seeing the story of the Gingerbread Man, counting the pictures of a puzzle and saying their names in English, coloring stencils, listening to stories from Pop Up books, singing and acting nursery rhymes, replying to simple questions. . .

Once the context has been created, English must be simple to be understood naturally and so it happens. Children naturally accept communication in another language.

Performing activities is essential for the Language to be perceived as real, effective, meaningful. Focus is on understanding the message and performing the task it proposes.
.
If a positive precedent is created, the relationship acts on several levels, including those of non-awareness that remain subtended, and then surface when stimuli occur.
It is important that no discomfort is perceived, or inadequacy, but instead a pleasant relationship and fun.
Introjected the perceptions, whenever in the future children find themselves to relate to English, it will always be an outpouring of positive nuclei that can be skillfully put in relation with each other and with the interlocutors to restart activating any single moment the process of language acquisition.
Consuelo, thank you for your comment. For sure languages can open up horizons able to offer children a different destiny, always better. Lucky children, yours!
Anna - Coordinator
Source - Own photos taken with parents' permission
IIS Vespucci Livorno & English in the Open Air - Days 3 & 4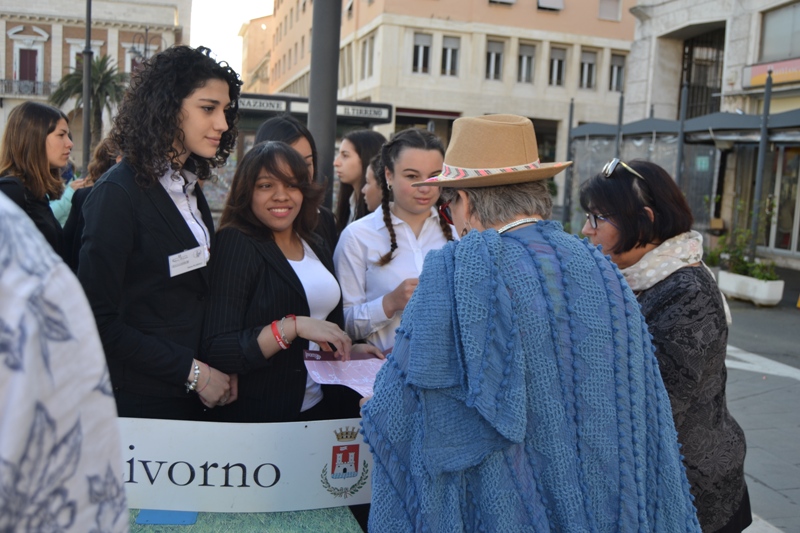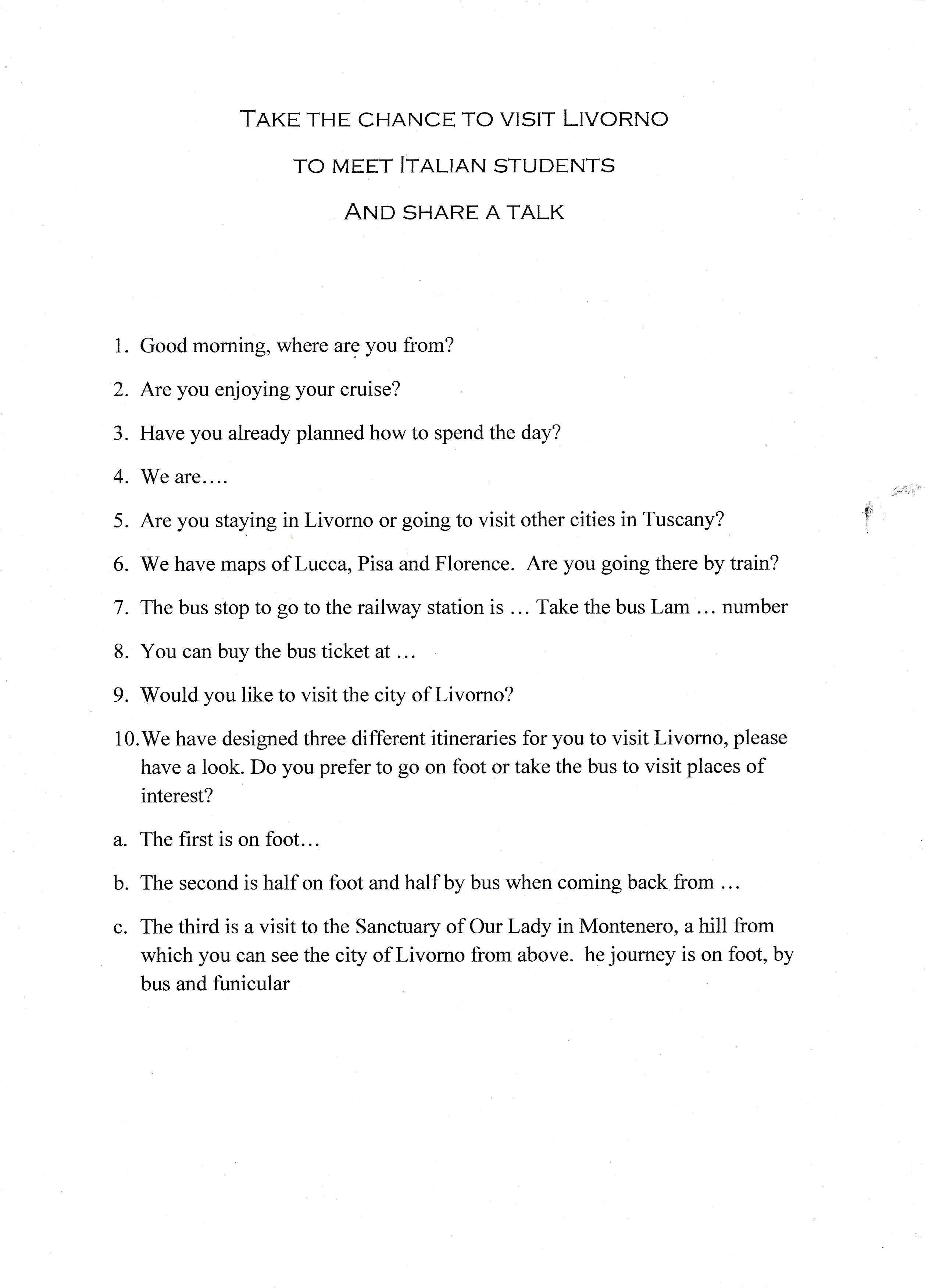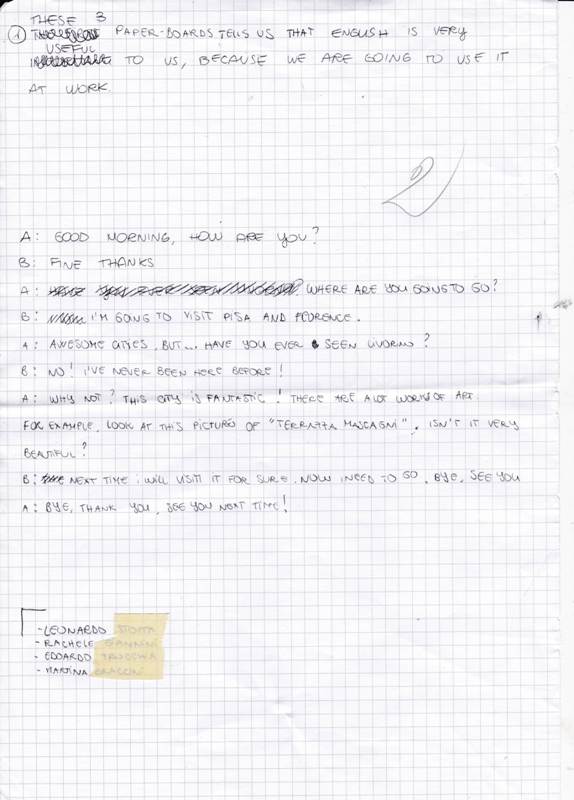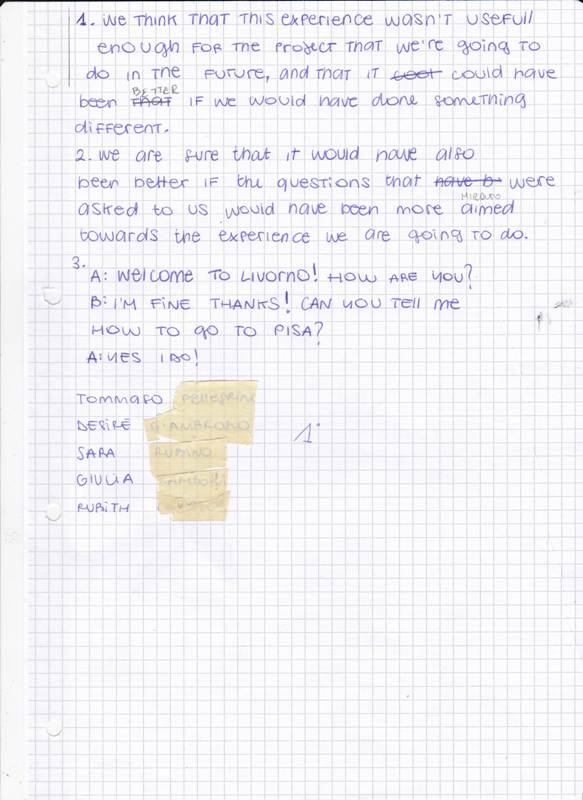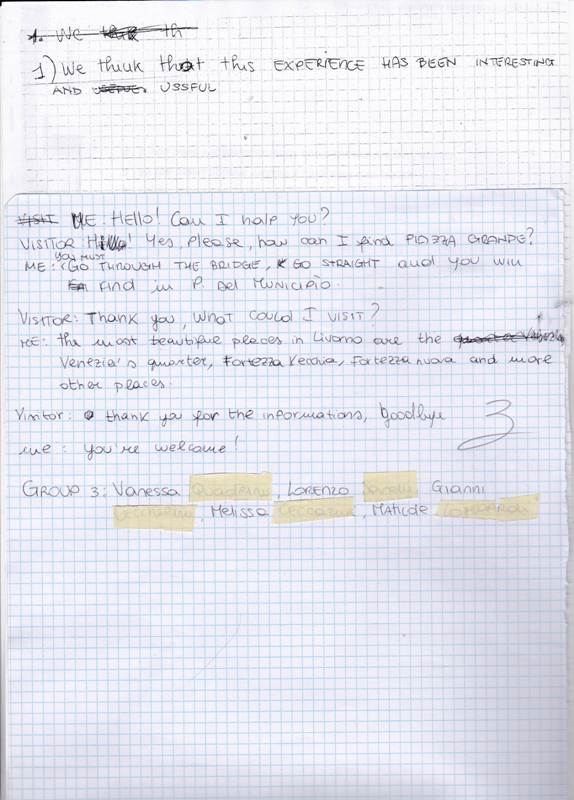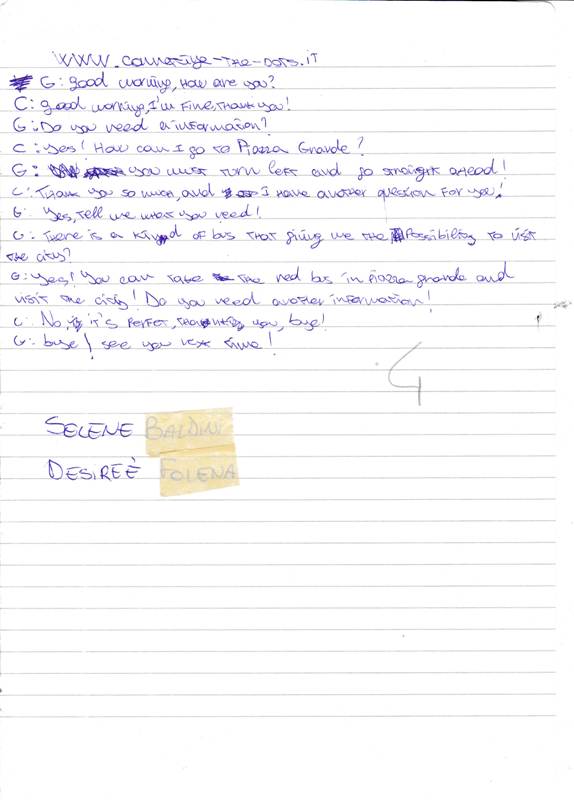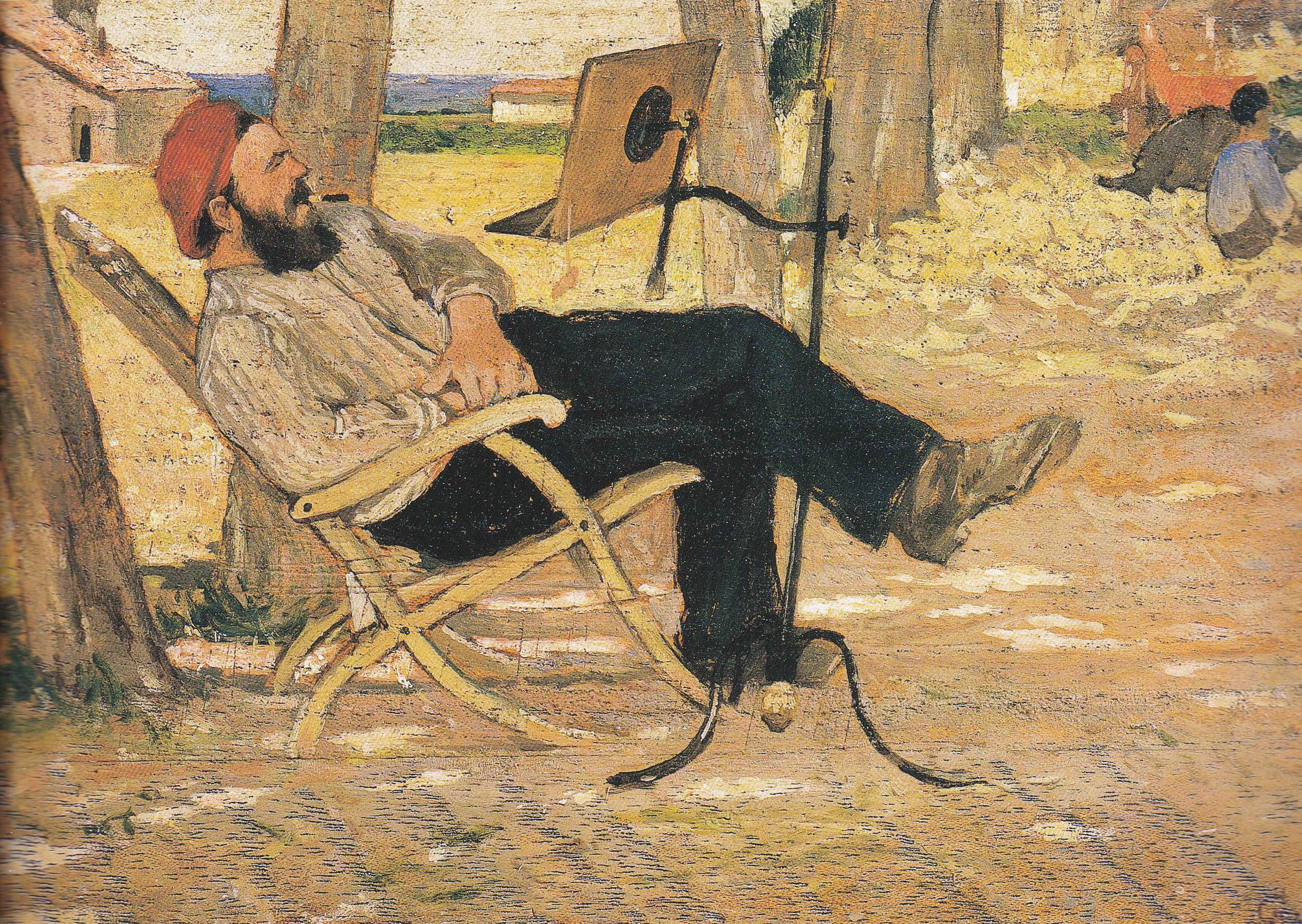 Good morning, afternoon, evening everybody,
on Day 3, students in groups wrote their comments about the previous experience and simulated, in writing and speaking, dialogues with tourists. First aim was communication, then formal correctness. 
The reply is group by group.
Group 1. Thank you Tommaso, Desiré, Sara, Giulia, Rubith. Questions and material aimed at the objectives of these labs are on page 1 of "IIS Vespucci Open Air Labs". If you are eager to accelerate your training before meeting English speaking people, tell the class your own ideas. It will help. You can do it here too, contributing to everybody's training.
Edoardo and Tommaso, the two coordinators. Divide your mates in small groups and encourage them to be productive and keep a record of what they do, so to came to class with their own productions. 
Examples: using the material you've been given in class, i.e. a map of Livorno with information for tourists and a guide, design new itineraries to accompany your mates outside,  role-playing tourists and guides; draw a new logo for the project's visit cards. We'll need them when meeting people. If you like the previous itineraries you can find on page 1, locate them on the map and come to class ready to talk about them.
Replying to group 1's observations, a general questionnaire is aimed at stimulating the development of perceptions and framing the new context of a class for a new teacher. An opportunity to experience how many different approaches, perceptions, levels, skills, needs there are for any individual, so to be able to give each one the possibility to feel at ease, partecipate and improve.
Group 2. Thank you Leonardo, Rachele, Edoardo, Martina.   Very simple dialogue, you'll become more and more curious about cruise passengers time by time, the same is or group one.
Group 3. Thank you Vanessa, Lorenzo, Gianni, Melissa, Matilde. You too performed a nice and simple dialogue. Start thinking how to enrich it with information from the material you have, putting yourselves "in the cruise passengers' shoes".
Group 4. Thank you Selene and Desiré. Good dialogue, You too think of the "big picture" when meeting people from  so many different countries.
When cruise passengers disembark in Livorno and stay for a day in Tuscany, so many of them want to visit cities of art such as Florence, Pisa, Lucca. Tours are included in the cruise fare, but so many of those who get off the shuttles in Piazza del Municipio need information on how to catch a train to go and visit them. Others stay in Livorno and would like to know what's worth visiting. Have a look at the itinerarties your mates designed last year on page 1 and in case create new ones.
Be interested in passengers' places of origin! States, Australia, North Europe, New Zealand, South America, India, Japan, China, English speaking people come to Livorno from all over the world via the Mediterranean  and they are very pleased to interact with students eager to know about them!
The worksheet at the left top of the page has suggestions for asking questions to cruise passengers. Change the questions as you wish and give answers as cruise passengers. Tailor it on yourselves!
So much to know, such a human and cultural experience just welcoming them in the open air!
Keep an eye on the blog, post your comments, visit the pages about the previous labs e.g. the one mentioned above. Answers will be posted. 
Enjoy your English and feel at home wherever it's spoken
Anna - Coordinator
Source: Giovanni fattori "Diego Martelli a Castiglioncello" from "I Macchiaioli" Opere e protagonisti di una rivoluzione artistica 1861/1869 - Pagliai Polistampa 2002
IIS Vespucci & English in the Open Air - Day 2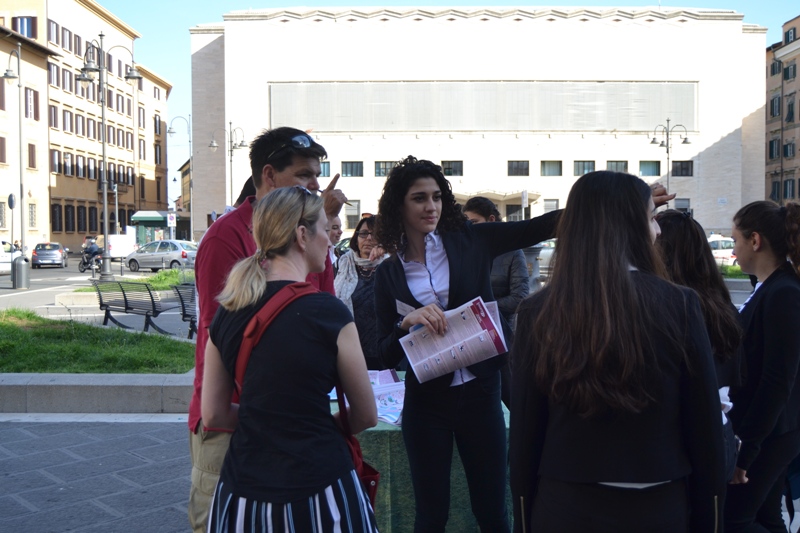 Good morning, afternoon, evening
Rubith, Selene, Desirée, Lizeth, Leonardo, Edoardo, Martina, Nicole, Vanessa, Lorenzo, Giulia, Tommaso, Desiré, Matilde, Melissa, Gianni, Rachele, Sara
and everybody,

on day 2, the same pairs exchanged paper boards and read aloud the answers. Inaccuracies and mistakes were occasions to improve the text with everybody's contribution. Focus was on communication and formal correctness.
1. All students are now asked to write a very brief comment about the experience and all the answers, so to practice once more written English. 
2. Two class-coordinators were appointed, Edoardo and Tommaso, to help having smooth the work of the class. Aims: to welcome cruise passengers, represent the city and the entire country, give them the information required, offer them a choice of itineraries to visit Livorno.  
 Whoever wants to post a comment is very, very welcome, either to practice the language or to let us know what they think.
Anna - Coordinator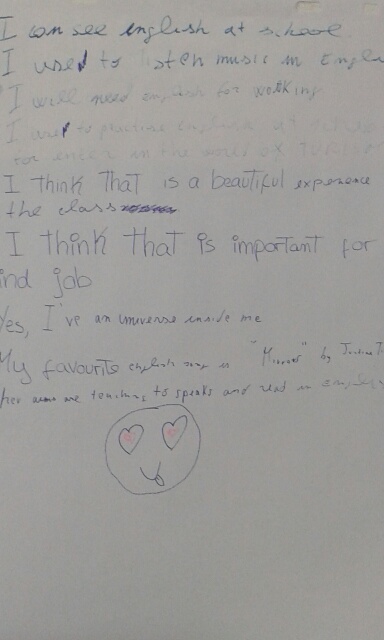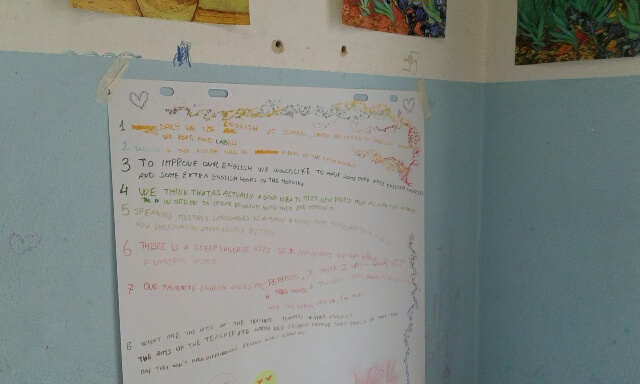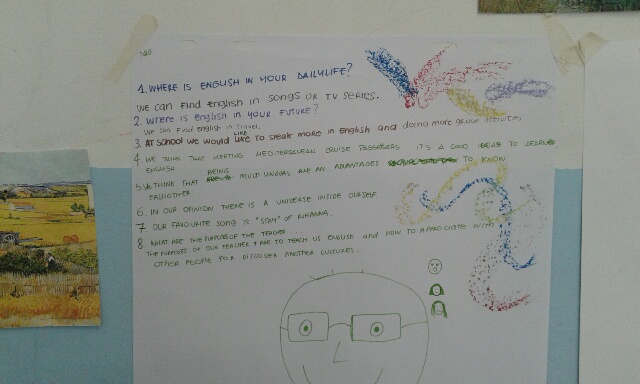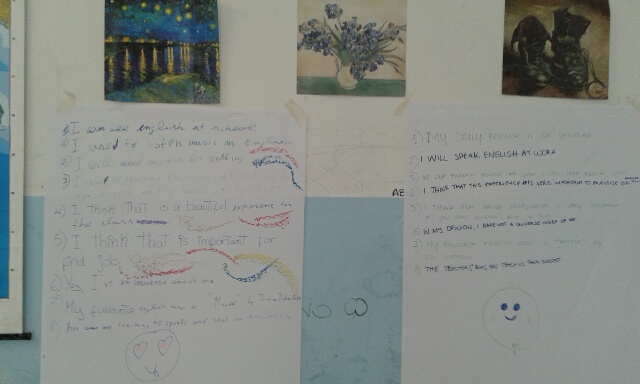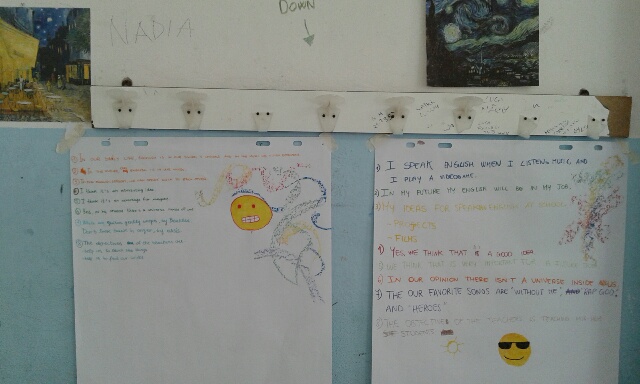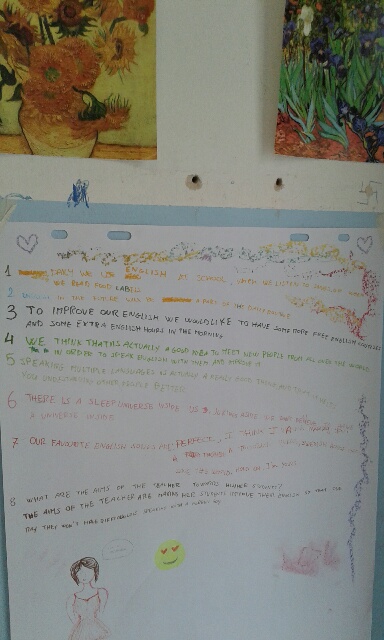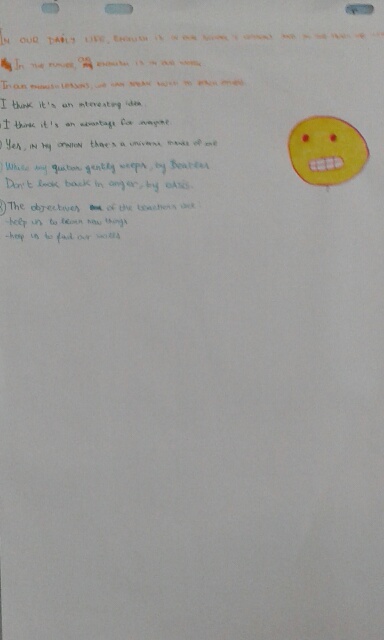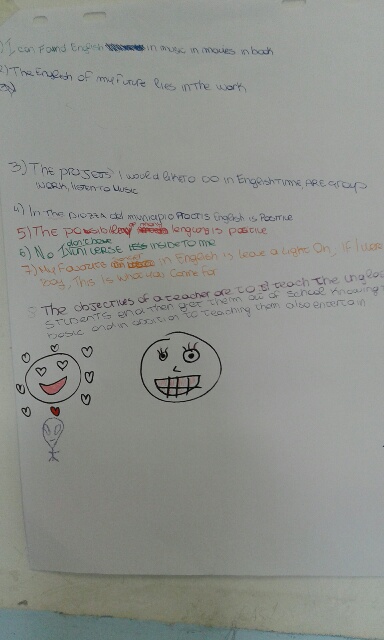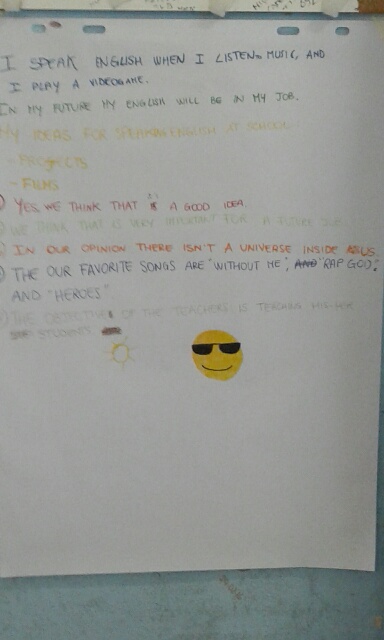 IIS Vespucci Livorno & Open Air English Labs - Day 1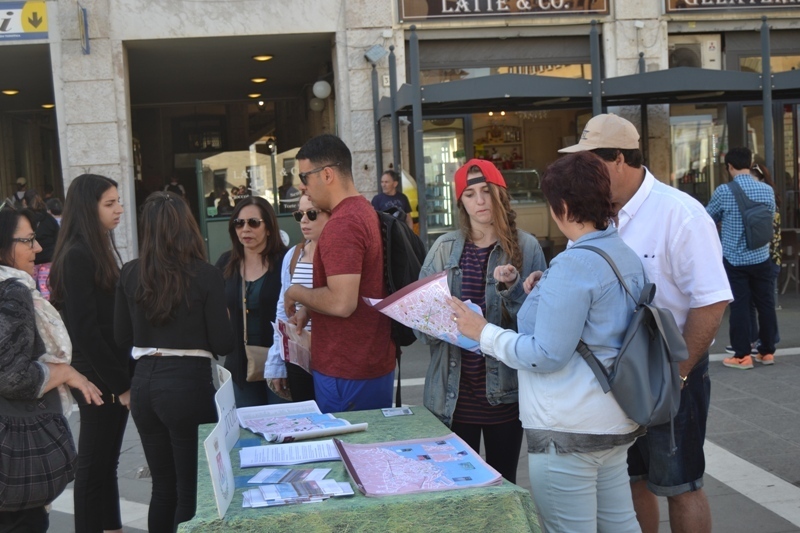 Good morning, afternoon, evening everybody, 
1. this is a first page for Desirée, Martina, Gaia, Vanessa, Edoardo, Lorenzo, Selene, Nicole, Rubith, Rachele, Gianni, Melissa, Matilde, Tommaso, Leonardo, Lizeth, Desiré, Giulia, Sara of IIS Vespucci Livorno, the school that this year is partecipating in the first Open Air English Labs and for whoever is willing to join us and practice English. 
2. We are planning activities in class before going outside to meet Mediterranean cruise passengers and  welcome them to Livorno. Next pages will be updated to coordinate all work to be done in class by these students eager to improve their competence in English communication.
3. On day 1, after forming pairs, students answered the questionnaire shown below - worksheet one - meant as a general survey on the students' relationship with English and their knowledge of the language. On paper boards onto the walls they all could write standing. Good job. 
4. You can find below - worksheet three - possible questions by cruise passengers; we'll work together to get information from the material you will be given in class. Your own research will be very welcome.
5. Paper number two is the text of the song Vincent, that's going to be useful for one more English exercise: match the lines of the lyrics with the reproductions of Van Gogh's paintings you have had in class since day two. Number the paintings clockwise starting from the door. Acquire new vocabulary and expressions. Find out on the Internet what Loving Vincent is and tell the class.
6. On worksheet number four there are three possible itineraries designed by students of previous editions' open labs. This year we could visit all shops along the way, present them the project and ask if they like offering a discount to customers showing them a card we'll make ready in time. 
7. It means we'll have to design a logo for this year's project, print visit cards to inform about it and leave  contacts.
8. Do not hesitate to use this space to practice English. You can ask questions, write comments, propose ideas. Everything will be useful to enrich our English training and consolidate our skills in English communication. Your two teachers will reply.
9. Feel free to contribute to our labs the way you prefere with your ideas. Astonish us with your talents! 
Enjoy your English  
Anna - Coordinator
Source: our own production worksheets and Van Gogh's paintings reproductions from calendars