Warning
: preg_replace(): The /e modifier is no longer supported, use preg_replace_callback instead in
/web/htdocs/www.connecting-the-dots.it/home/libraries/joomla/filter/input.php
on line
689
Warning
: preg_replace(): The /e modifier is no longer supported, use preg_replace_callback instead in
/web/htdocs/www.connecting-the-dots.it/home/libraries/joomla/filter/input.php
on line
691
Warning
: preg_replace(): The /e modifier is no longer supported, use preg_replace_callback instead in
/web/htdocs/www.connecting-the-dots.it/home/libraries/joomla/filter/input.php
on line
689
Warning
: preg_replace(): The /e modifier is no longer supported, use preg_replace_callback instead in
/web/htdocs/www.connecting-the-dots.it/home/libraries/joomla/filter/input.php
on line
691
Warning
: preg_replace(): The /e modifier is no longer supported, use preg_replace_callback instead in
/web/htdocs/www.connecting-the-dots.it/home/libraries/joomla/filter/input.php
on line
689
Warning
: preg_replace(): The /e modifier is no longer supported, use preg_replace_callback instead in
/web/htdocs/www.connecting-the-dots.it/home/libraries/joomla/filter/input.php
on line
691
Warning
: preg_replace(): The /e modifier is no longer supported, use preg_replace_callback instead in
/web/htdocs/www.connecting-the-dots.it/home/libraries/joomla/filter/input.php
on line
689
Warning
: preg_replace(): The /e modifier is no longer supported, use preg_replace_callback instead in
/web/htdocs/www.connecting-the-dots.it/home/libraries/joomla/filter/input.php
on line
691
Warning
: preg_replace(): The /e modifier is no longer supported, use preg_replace_callback instead in
/web/htdocs/www.connecting-the-dots.it/home/libraries/joomla/filter/input.php
on line
689
Warning
: preg_replace(): The /e modifier is no longer supported, use preg_replace_callback instead in
/web/htdocs/www.connecting-the-dots.it/home/libraries/joomla/filter/input.php
on line
691
Warning
: preg_replace(): The /e modifier is no longer supported, use preg_replace_callback instead in
/web/htdocs/www.connecting-the-dots.it/home/libraries/joomla/filter/input.php
on line
689
Warning
: preg_replace(): The /e modifier is no longer supported, use preg_replace_callback instead in
/web/htdocs/www.connecting-the-dots.it/home/libraries/joomla/filter/input.php
on line
691
Warning
: preg_replace(): The /e modifier is no longer supported, use preg_replace_callback instead in
/web/htdocs/www.connecting-the-dots.it/home/libraries/joomla/filter/input.php
on line
689
Warning
: preg_replace(): The /e modifier is no longer supported, use preg_replace_callback instead in
/web/htdocs/www.connecting-the-dots.it/home/libraries/joomla/filter/input.php
on line
691
Warning
: preg_replace(): The /e modifier is no longer supported, use preg_replace_callback instead in
/web/htdocs/www.connecting-the-dots.it/home/libraries/joomla/filter/input.php
on line
689
Warning
: preg_replace(): The /e modifier is no longer supported, use preg_replace_callback instead in
/web/htdocs/www.connecting-the-dots.it/home/libraries/joomla/filter/input.php
on line
691
Warning
: preg_replace(): The /e modifier is no longer supported, use preg_replace_callback instead in
/web/htdocs/www.connecting-the-dots.it/home/libraries/joomla/filter/input.php
on line
689
Warning
: preg_replace(): The /e modifier is no longer supported, use preg_replace_callback instead in
/web/htdocs/www.connecting-the-dots.it/home/libraries/joomla/filter/input.php
on line
691
Warning
: preg_replace(): The /e modifier is no longer supported, use preg_replace_callback instead in
/web/htdocs/www.connecting-the-dots.it/home/libraries/joomla/filter/input.php
on line
689
Warning
: preg_replace(): The /e modifier is no longer supported, use preg_replace_callback instead in
/web/htdocs/www.connecting-the-dots.it/home/libraries/joomla/filter/input.php
on line
691
Warning
: preg_replace(): The /e modifier is no longer supported, use preg_replace_callback instead in
/web/htdocs/www.connecting-the-dots.it/home/libraries/joomla/filter/input.php
on line
689
Warning
: preg_replace(): The /e modifier is no longer supported, use preg_replace_callback instead in
/web/htdocs/www.connecting-the-dots.it/home/libraries/joomla/filter/input.php
on line
691
Warning
: preg_replace(): The /e modifier is no longer supported, use preg_replace_callback instead in
/web/htdocs/www.connecting-the-dots.it/home/libraries/joomla/filter/input.php
on line
689
Warning
: preg_replace(): The /e modifier is no longer supported, use preg_replace_callback instead in
/web/htdocs/www.connecting-the-dots.it/home/libraries/joomla/filter/input.php
on line
691
Warning
: preg_replace(): The /e modifier is no longer supported, use preg_replace_callback instead in
/web/htdocs/www.connecting-the-dots.it/home/libraries/joomla/filter/input.php
on line
689
Warning
: preg_replace(): The /e modifier is no longer supported, use preg_replace_callback instead in
/web/htdocs/www.connecting-the-dots.it/home/libraries/joomla/filter/input.php
on line
691
Warning
: preg_replace(): The /e modifier is no longer supported, use preg_replace_callback instead in
/web/htdocs/www.connecting-the-dots.it/home/libraries/joomla/filter/input.php
on line
689
Warning
: preg_replace(): The /e modifier is no longer supported, use preg_replace_callback instead in
/web/htdocs/www.connecting-the-dots.it/home/libraries/joomla/filter/input.php
on line
691
Warning
: preg_replace(): The /e modifier is no longer supported, use preg_replace_callback instead in
/web/htdocs/www.connecting-the-dots.it/home/libraries/joomla/filter/input.php
on line
689
Warning
: preg_replace(): The /e modifier is no longer supported, use preg_replace_callback instead in
/web/htdocs/www.connecting-the-dots.it/home/libraries/joomla/filter/input.php
on line
691
Warning
: preg_replace(): The /e modifier is no longer supported, use preg_replace_callback instead in
/web/htdocs/www.connecting-the-dots.it/home/libraries/joomla/filter/input.php
on line
689
Warning
: preg_replace(): The /e modifier is no longer supported, use preg_replace_callback instead in
/web/htdocs/www.connecting-the-dots.it/home/libraries/joomla/filter/input.php
on line
691
Warning
: preg_replace(): The /e modifier is no longer supported, use preg_replace_callback instead in
/web/htdocs/www.connecting-the-dots.it/home/libraries/joomla/filter/input.php
on line
689
Warning
: preg_replace(): The /e modifier is no longer supported, use preg_replace_callback instead in
/web/htdocs/www.connecting-the-dots.it/home/libraries/joomla/filter/input.php
on line
691
Train your English
Good morning, afternoon, evening
our English classes ended with May, and we can certainly say that trying out the use of the web has been very positive. Technology can empower our English training. Keeping alive a language is like any other training, the more you do it, the more the results improve.
There is a deep need to use  the Internet in class, as an important contribute to the exposition to English, so thet all the perceptions you can develop and train in a class, are involved. English spoken, written by anyone who is on the net. Each one's contribution is essential, because it is so different from any other's. Variety is such a resource in a class; it relies also on each one who is present, since it asks for the maximum effort to pay attention and exploit any single moment to make advantage of anything surrounding you.
The class is the right place where technology can enhance human potential as soon as it surfaces; thanks to technology it can be even more productive, offering the possibility to be creative and highlight it more. Try to think of how useful a webcam could be in a class, with English students on the other side to practice English.  
In Summer we should continue the work we started in May surveying high schools. English teaching can be integrated by activities so to reinforce each one's skills aiming at visible and immediate results such as the performance improved, the autonomy increased, self confidence developed. Young people understand immediately how useful English can be to pursue any objective, that a language is for life, and life is theirs. Up to them/you to decide whether having more arrows for your bow. 
Below there is the leaflet to inform students about Summer courses; they will enroll at school.  
Can you try to translate in Italian the three-line motto on the cover? 
What are you going to do for your English in the Summer?
Do not stop training it, vary in types of sources, but never, never stop practicing. 
Anna - Coordinator 
Source: www.galileilivorno.it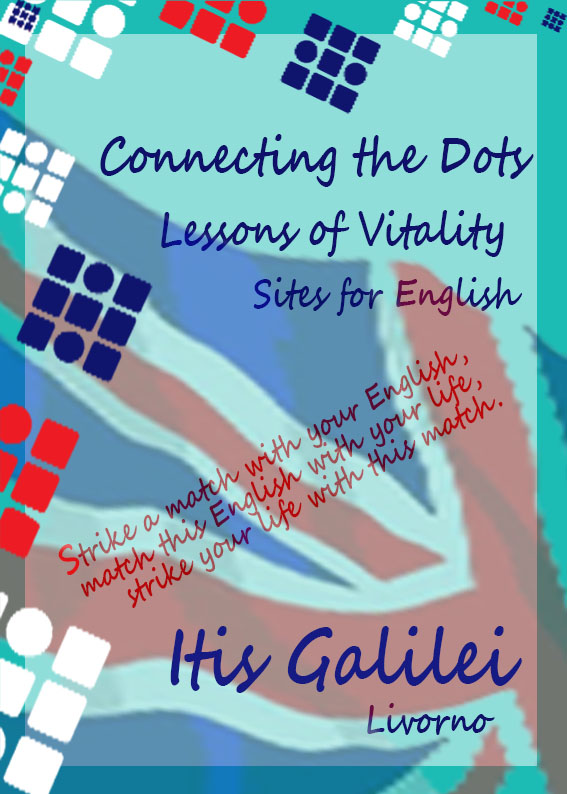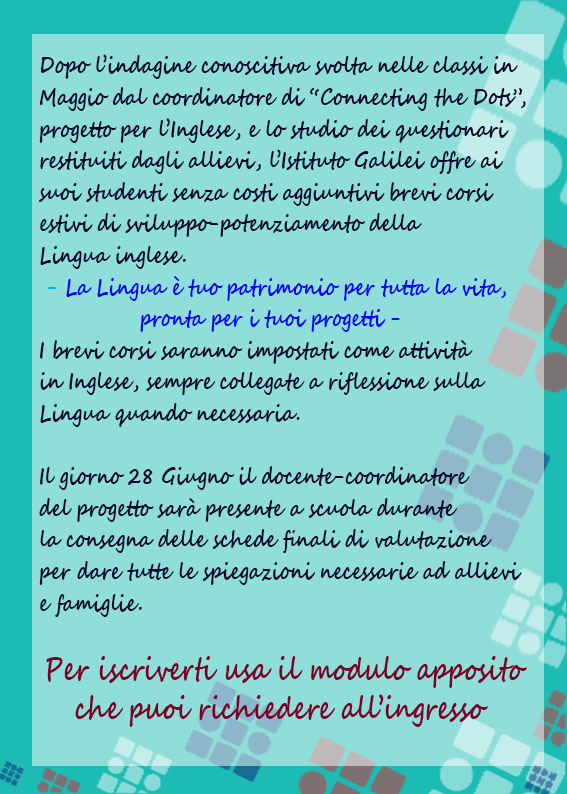 Going to the Pictures
Hello, 
Two films for you to watch.
Maybe you already know what is the story of The Great Gatsby, since it is a remake, but you don't know anything about The English Teacher. 
Up to  you to decide which film you prefer to write a comment about.
As regards The English Teacher, following the tips given by the very short review, try to build up the story. We'll see together how different the film is as soon as we  can watch it on DVD, with the original language and subtitles. Try to experience watching films in English, choose the gender you like and enjoy them, your English will improve spontaneously.  
Anna - Coordinator Source: Speak Up, May 2013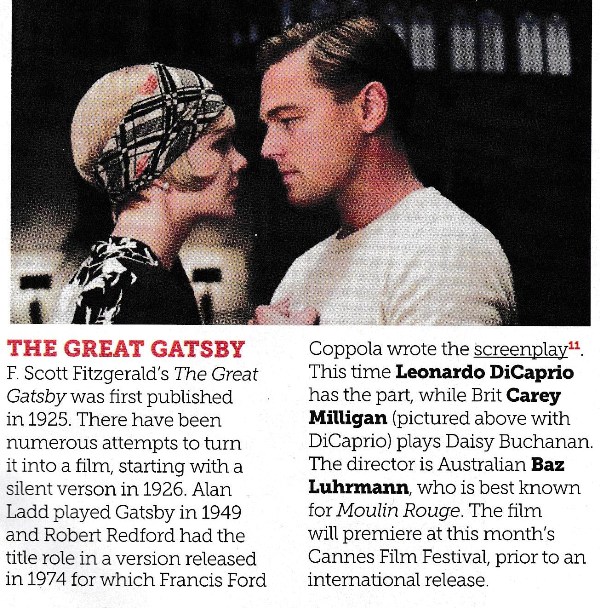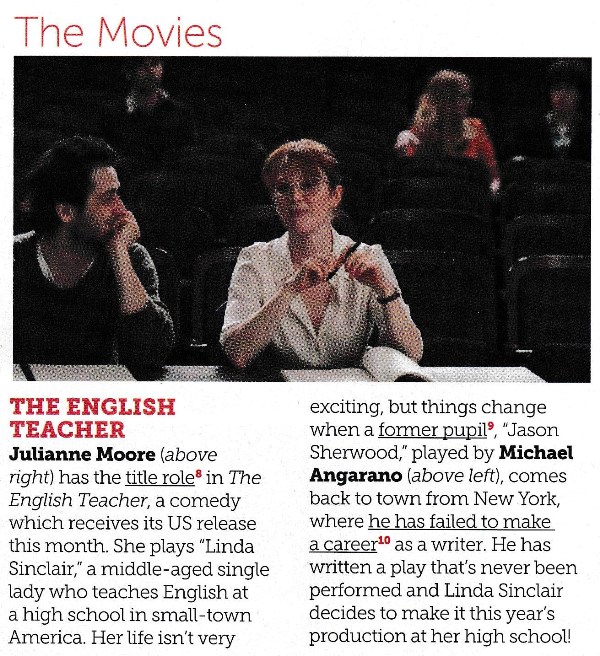 A Dining Lesson
'Morning, Afternoon, 'Evening,
Next Friday we are going to have a Dining Lesson in the charming countryside, the right excuse to have good food while speaking English. 
Before  dinner, some time will be devoted to look at our work on the website and a few minutes to a film, rigorously subtitled in English, to experience how enjoyable this can be.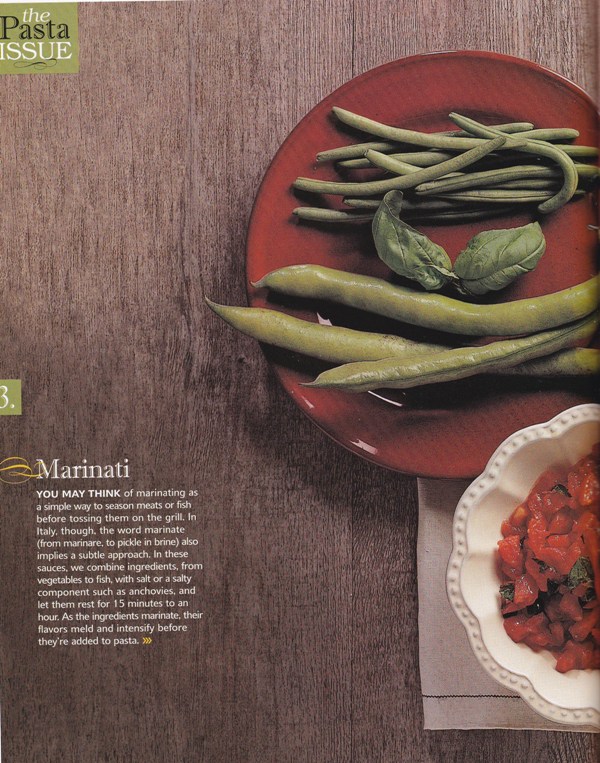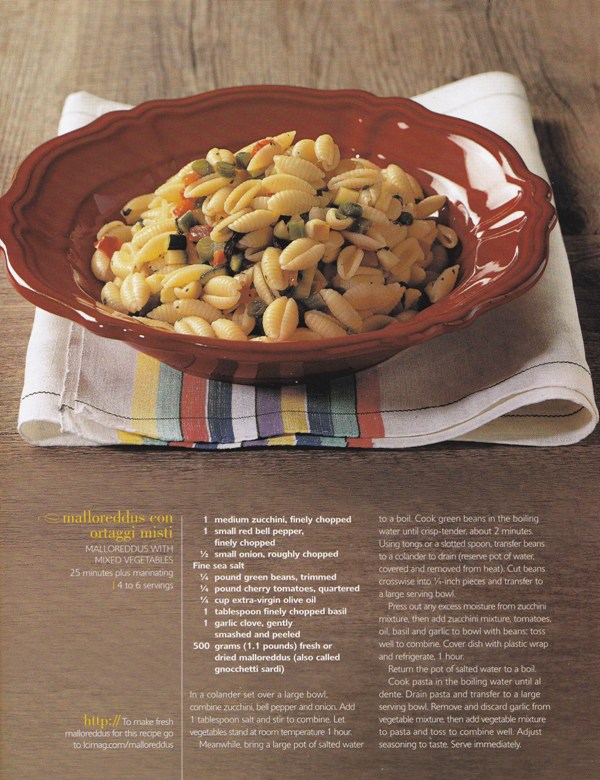 Everybody will be coming with something cooked by their own; that's why we thought that having recipes in English could be useful to practice the language while cooking our customary food.
Come ready to share a new experience 

Anna - Coordinator
Source: "La Cucina Italiana, since 1929 Italy's premier food and cooking magazine", October 2011
Shown below, there are a few questions anybody can answer as a practice before coming to class, or just to do some additional homework 
1. What is healthy food according to you?
2. What is the most important meal in your house? 
3. Can you guess the main content of starchy food?
4. Why is physical activity important for a healthy living?
5. Describe a balanced diet
6. What do you prefer eating?
Upload your  answers and we'll check them before next class. 
Anna - Coordinator 
Daniele, you can't even imagine how much I appreciate such a good will of yours in doing written practice of English. 
Well, just a few mistakes you can correct by yourself:
1. When using food in general, it's singular. People plural, their
2. The first, ordinal number, article before it. After sleeping. It helps me and my mind to wake up. Gives me the necessary to face. Breakfast singular.  It will also be a bad day, or it will be a bad day too.
3. Types
4. Physical and psychological balance
5. Balanced, protein balance
6. I eat them
Choose another page to write on, I'll reply!
Anna
www.lacucinaitalianamag.com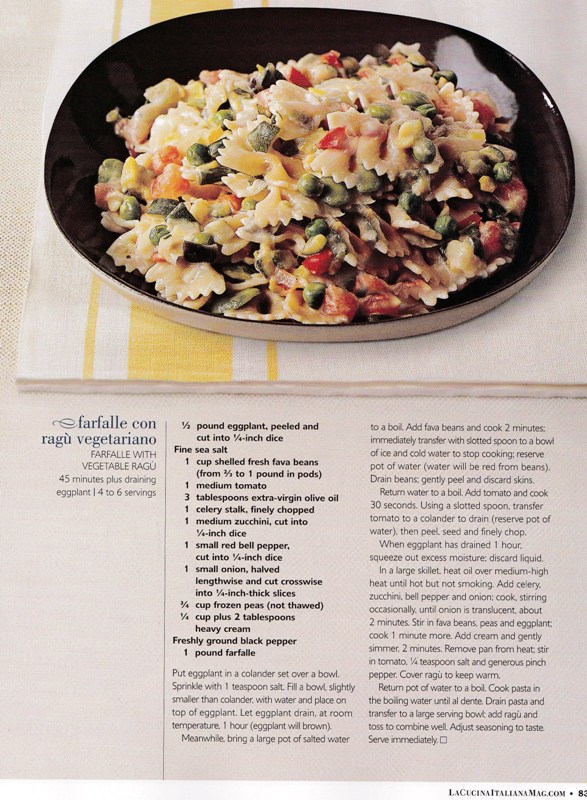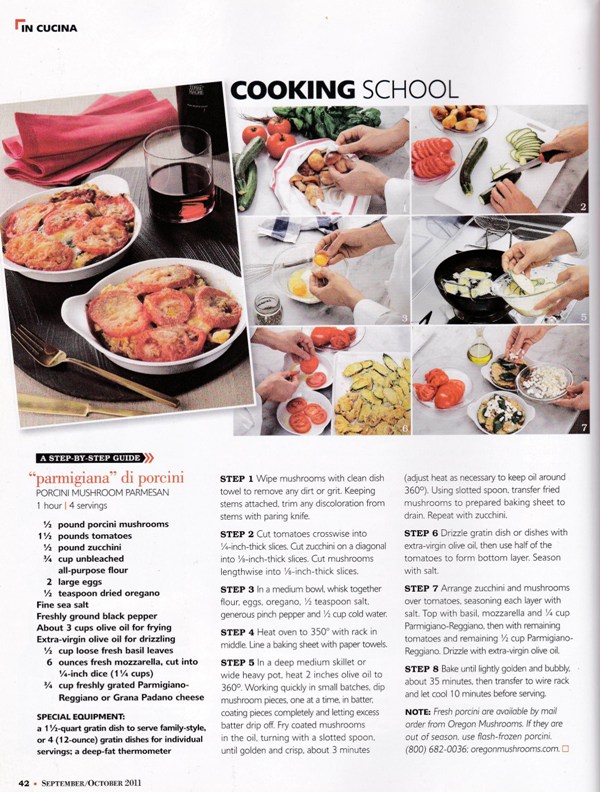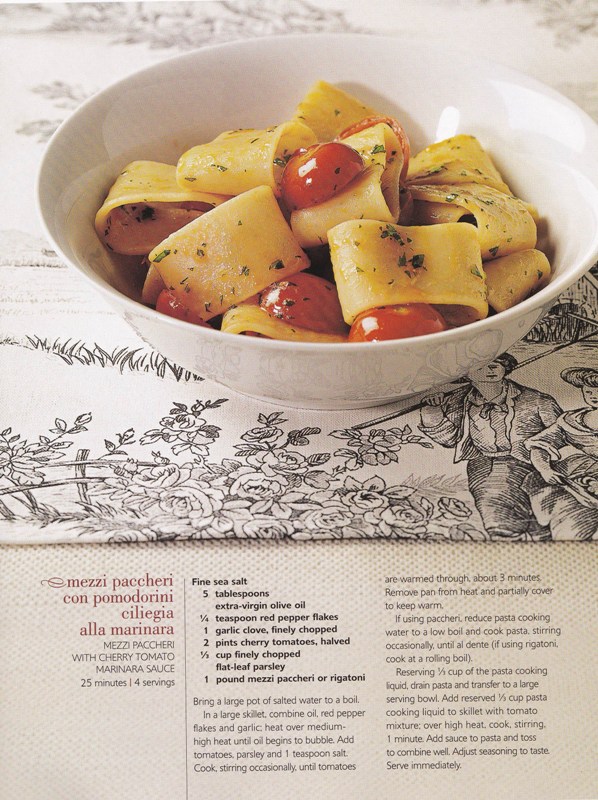 Whales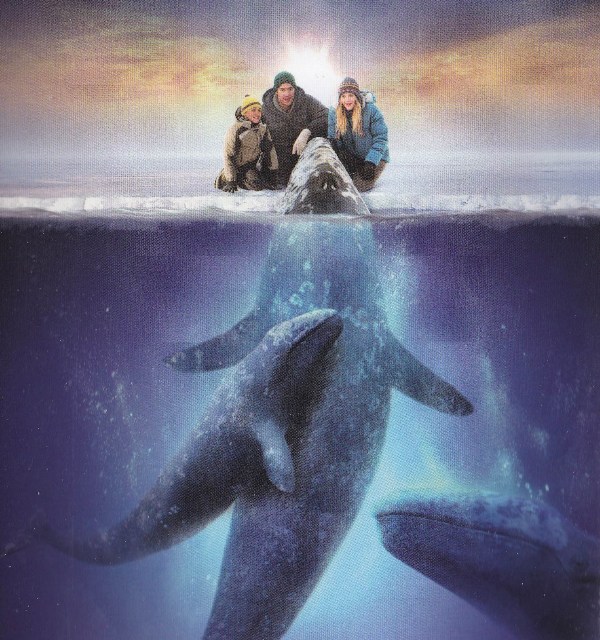 'Morning, 'Afternoon, 'Evening,  
Nice to be with you again. 
This image refers to a family of whales trapped beneath the ice in Alaska, in 1988.
We are going to tell you just the beginning of their story so that you can continue it after doing your own research. 
On October 7, an Inuit hunter near Barrow, Alaska, found three California Grey whales imprisoned in the Arctic ice. In the past, as was nature's
way, trapped whales always died, but what happened this time?  
Something that mesmerized the world for weeks and was defined with a very special name. Which one is it? 
The following one is a classic whale, a book's first chapter's beginning for you to read, both languages, English and Italian so that you can compare.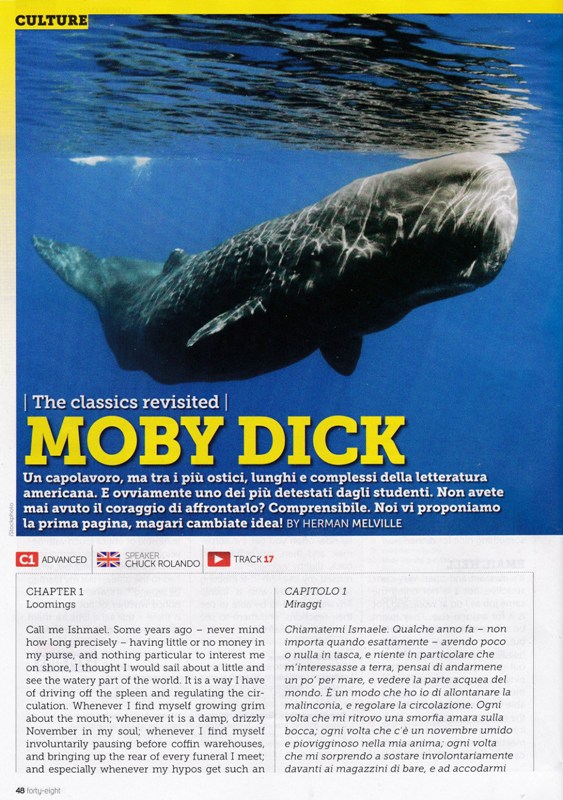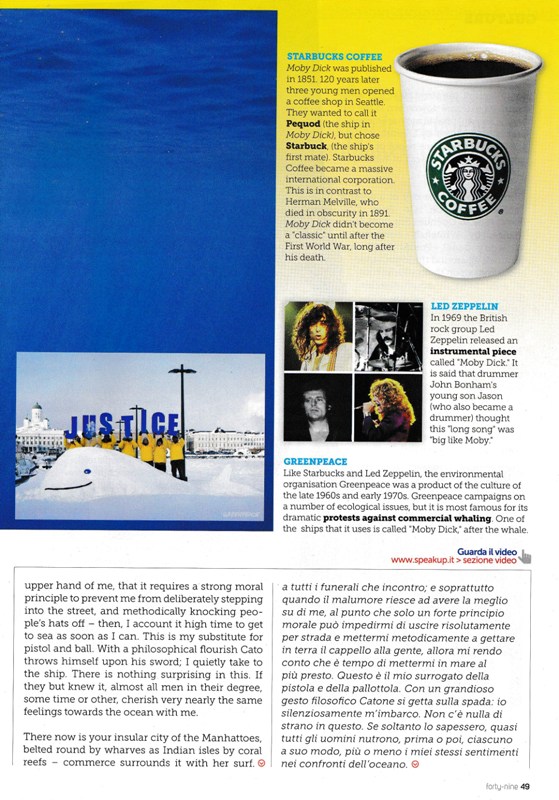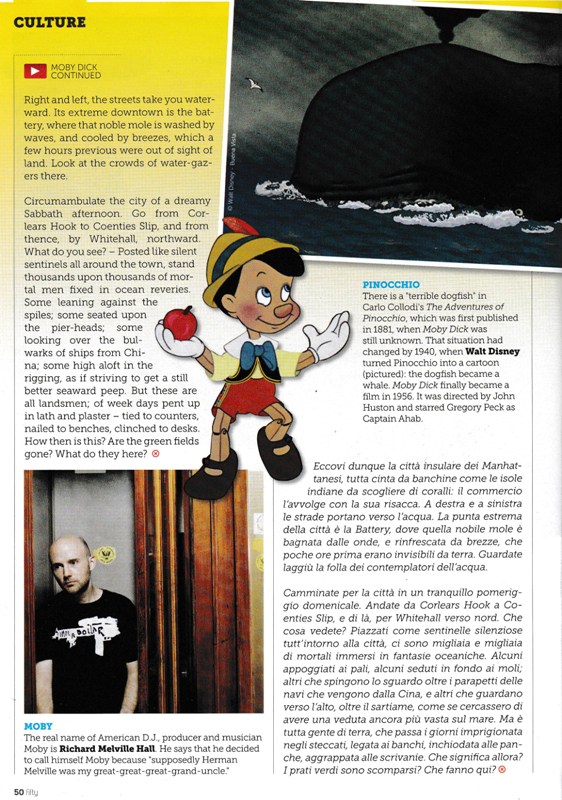 Enjoy your English, 
Anna  - Coordinator
Giuliano: I read your comment on the smart phone when you informed me about uploading your comment. It is a pleasure reading you, also talking about personal anecdotes. 
I do share and your love for these extraordinary animals that influenced so much the world of Inuit people.
One more strong relationship between animals and people, like the one between buffalos and Native Americans,a relationship we can't nurture any more: we just need and exploit animals with no regard for their life, the majority of times.
Anna - Coordinator
Sources. ......St. Martin's Griffin By Tom Rose  and Speak Up, April 2013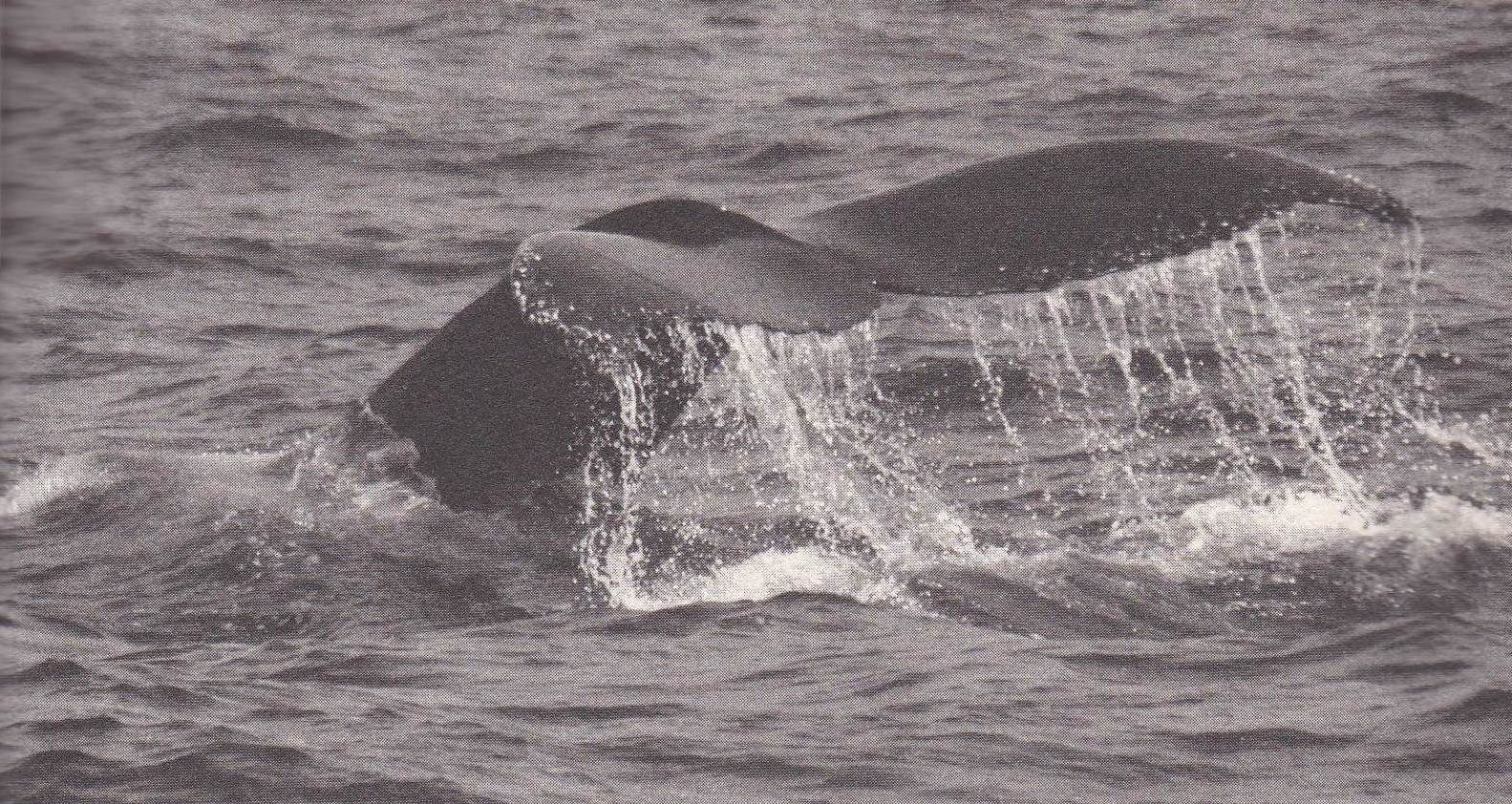 Take the Lead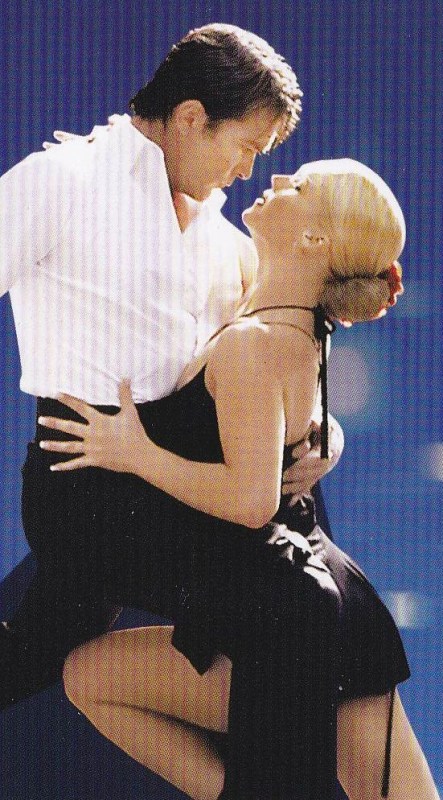 Good day,
after greeting our Pioneers since today it is the anniversary of the first journey of a man into the space, let's continue studying English.  
Excellent work has been done about the Fulani people and Assia Djebar, even if we were wrong in thinking the two women's names were the same. 
Read her books directly in French. She decided to use in writing the language of the colonizer to build new awareness about human feelings and civil rights, through literature. 
And what is it like crossing the Niger river with a herd when you're 16 and you have to demonstrate you're a man to your people? 
Can we cope with so demanding situations? 
These two photographs are the material we are giving you this time to work on, taken from a film whose title has been deeply changed when the film was released in Italian. 
Do you know the two titles? Can you compare them? 
It's inspired by the life and work of a dancer who founded and developed a social program utilizing ballroom dancing as a vehicle to change the lives of not only the children who participate in the program, but also those of the teachers and parents supporting these children, all of them regaining a sense of self-respect, pride and elegance.
Who is this extraordinary dancer?
Do you like dancing? 
Choose among these titles which one you want to master to make a comment: all of them are part of the philosophy method used by this dancer to change people's lives. 
Respect & Compassion, Being Present, Creating a safe place, Command & Control, Body and Verbal Language, Humor & Joy. 
What do they mean according to you, each one separately and all of them connected together? What perception do you have of a program including all these items?
Dancing Classrooms is not about teaching ballroom dancing. The dance is a tool for getting the children to break down social barriers, learn about honor and respect, treat others carefully, improve self-confidence, communicate and cooperate, and accept others even if they are different.  
Wishing you good work, read, write and enjoy English.
Anna - Coordinator
Source -  ..........DVD cover, in English Take the Lead, one of the films we are going to watch.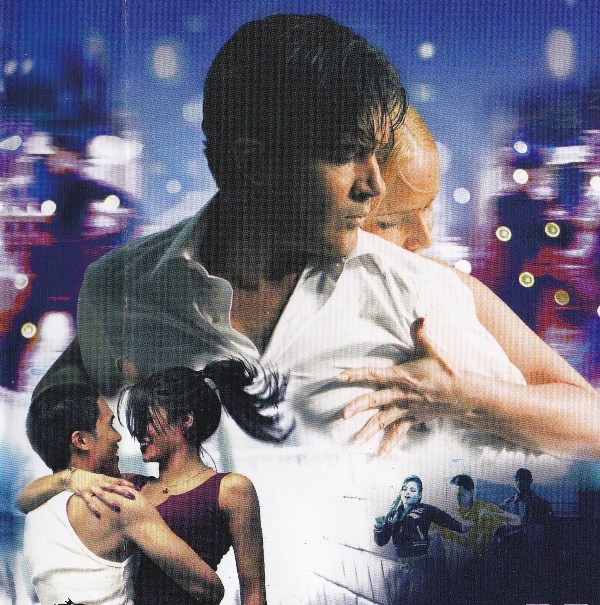 Amazon and Fulani people
Good Day,
We would like to thank who works to write comments on the web. It's such an important contribution to our classes, they open perspectives to look through. Writing is very demanding and allows the language to express so much of its potentiality.
I would also like to invite who lives far from here, in English speaking countries and have relationships with our students, to tell us something about their direct experience.
Aussie, Australia, is a universe to discover; having "comments" from there, would be "pioneering" these connections we do believe in, this way to study English, true English thanks to true and authentic people. 
Having photographs too would be great; do not forget all the times you want to upload some, you have to modify them reducing the number of pixels, the minimum possible amount is fine for the Internet.
Let's move to different continents: South America and Africa.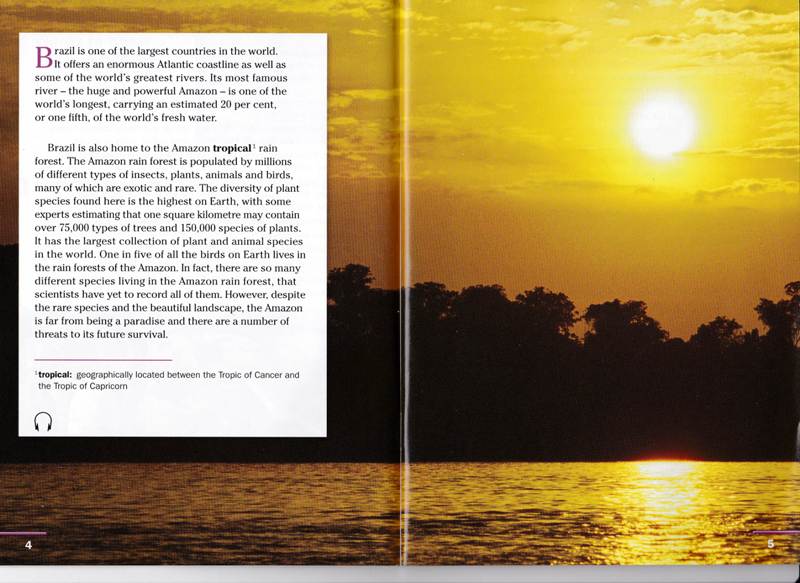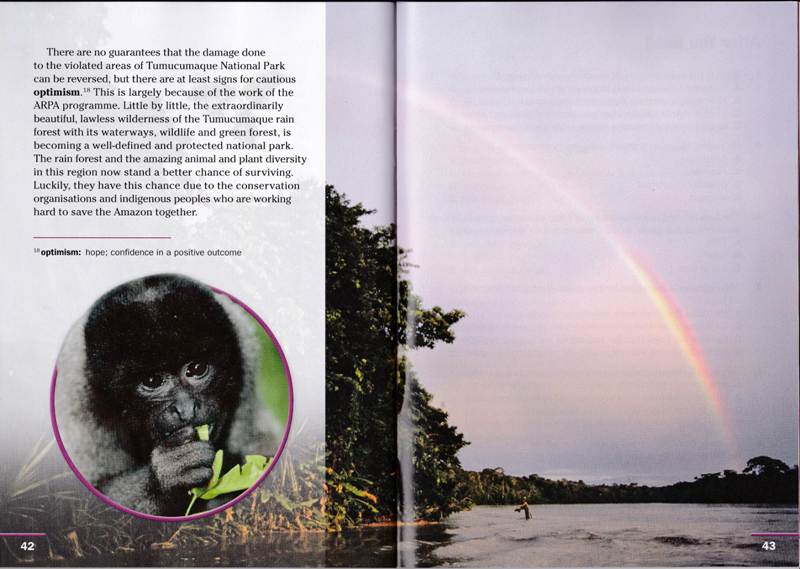 These pages are the beginning and the end of a documentary set in Brazil, it takes place in the Amazon rain forest, home of millions of plants and animals, in danger to be destroyed. The reason is extensive deforestation due to human development and illegal operations to find precious metals. 
What do you know about that? How can it be saved? Who is working to do it? Do you think we could be helpful?
Next photographs are from one more documentary by the "National Geographic". 
Teenager Fulani boys are asked to demonstrate their capability to become adults returning home with a healthy cattle, after finding food for their cows in an arid region near the Sahara desert.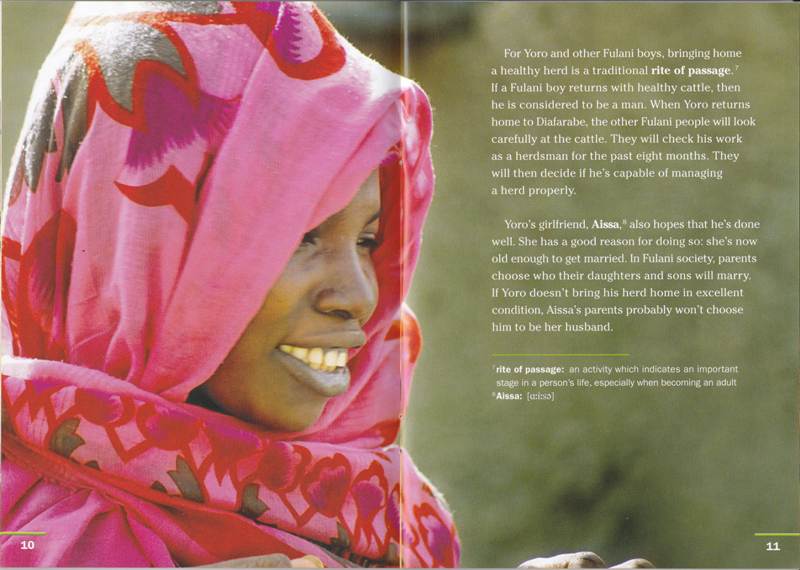 These are passages of the story, can you guess the whole of it?
What do you think of such an experience boys are asked to face?
Do you know any remarkable Assia very well known for her writing?
Do you know the meaning of the name?  
Enjoy your English, it will be a pleasure reading you and working in class,
Anna - Coordinator
Sources: National Geographic Digital Media, "Saving the Amazon Together" and "One Boy's Journey".  
Oz and Aussies
'Morning, 'Afternoon, 'Evening, 
where are Aussies from?
Fascinating country, like all the ones where English is spoken; wherever they are, they make you feel at home.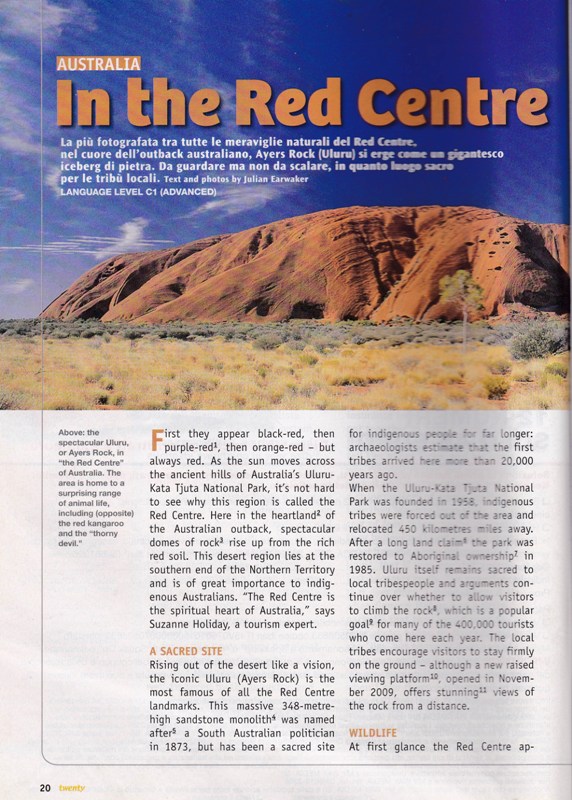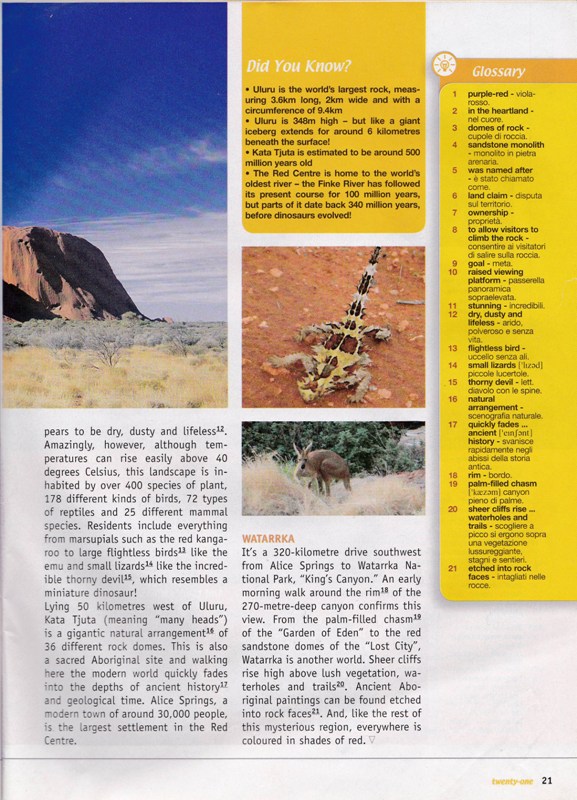 But we also feel such a strong attraction by the origins of these countries, we wonder what  they were like before speaking English and what there can be preserved, protected.   
That's why you have here some material about places in Aussie we would like you to comment.
If you have photographs of the "civilized" Australia, you can upload them in the Gallery with a comment and a message here.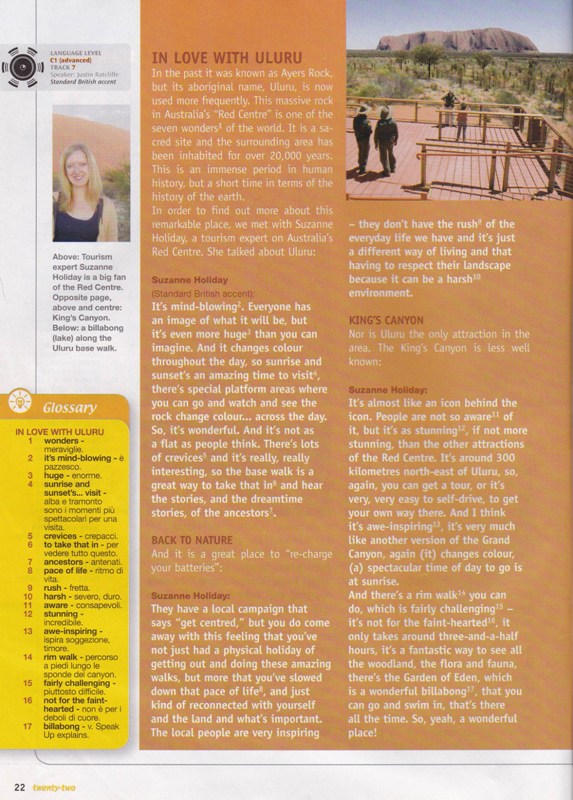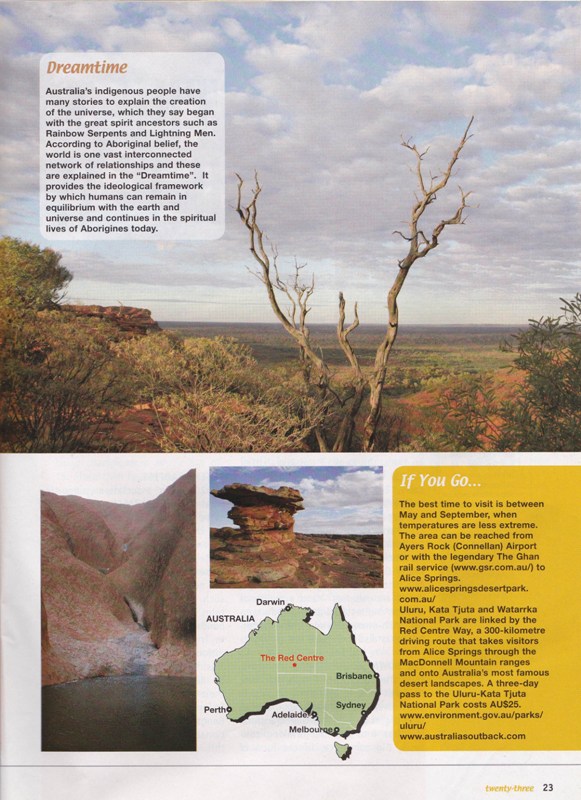 Have you ever visited Aussie? When did you go there? What are your memories of your experience? What have you enjoyed most?
Let us know, it will be a pleasure reading you.  Do not forget to consult the Archive to find articles that interest you and upload a comment even there.
Enjoy your English.
Anna - Coordinator
Source: Speak Up, January 2010
Wolves and a Richer Life
'Morning, 'Afternoon, 'Evening, 
maybe you wonder what the connections can be between wolves and a richer life. 
Any wise person would say that all the things are connected, up to you to find how. There are always direct and less direct connections, but there are always some.
We hope you like reading these English articles we have chosen for you to work on. 
They are from "The New York Times" and "The Guardian"; they have been selected by Speak Up. We would be very pleased if you felt fascinated by this reading, the way we do all the times we hear of so unexpected stories.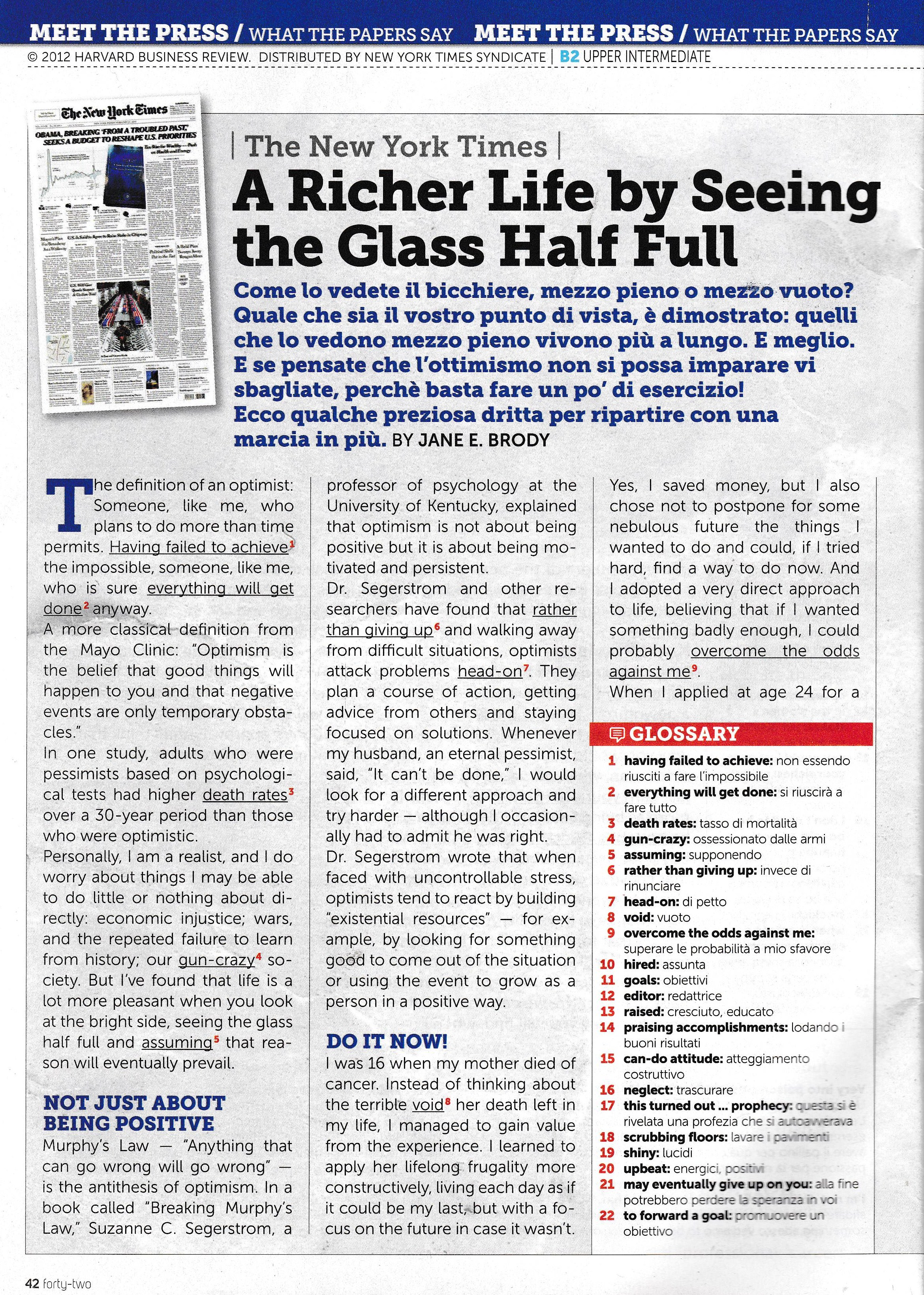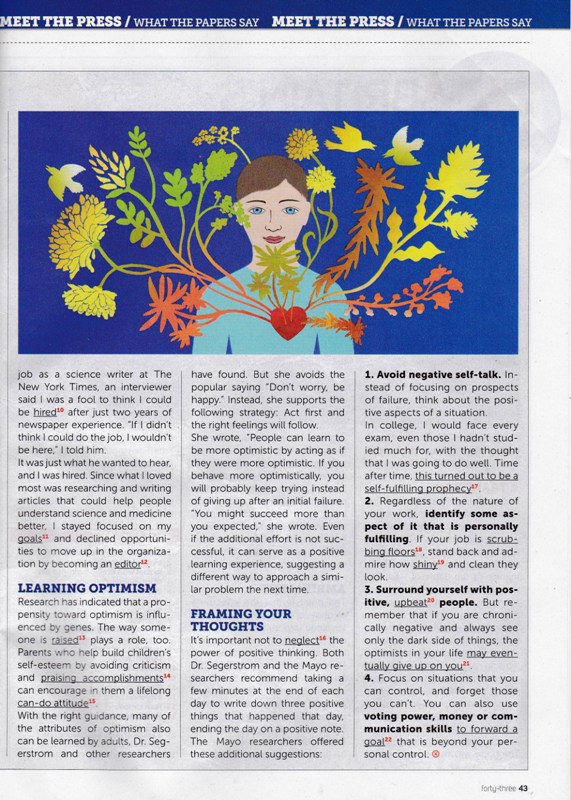 It's a matter of training to become, in case we aren't yet, optimistic. And English is the right excuse. 
What you can do with both articles, is taking these titles: Not Just About Being Positive, Do It Now!, Learning Optimism, Framing Your Thoughts - first article -  Fascination, The Family, Into The Wild, A Scary Moment, Protection, My New Life - second article - and create your own connections to build your story - Intermediate Level, or in alternative, any single title at a time and write separate sentences - Elementary Level. 
In class we'll continue together, comparing all written productions.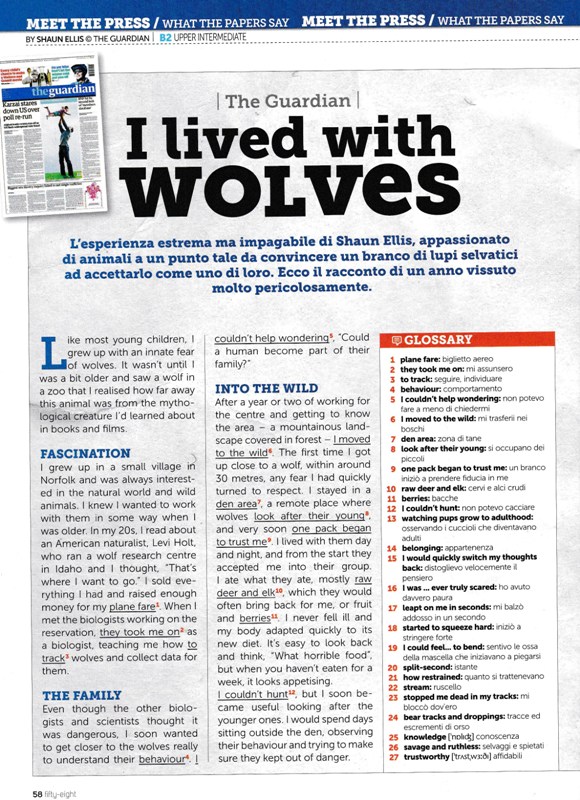 W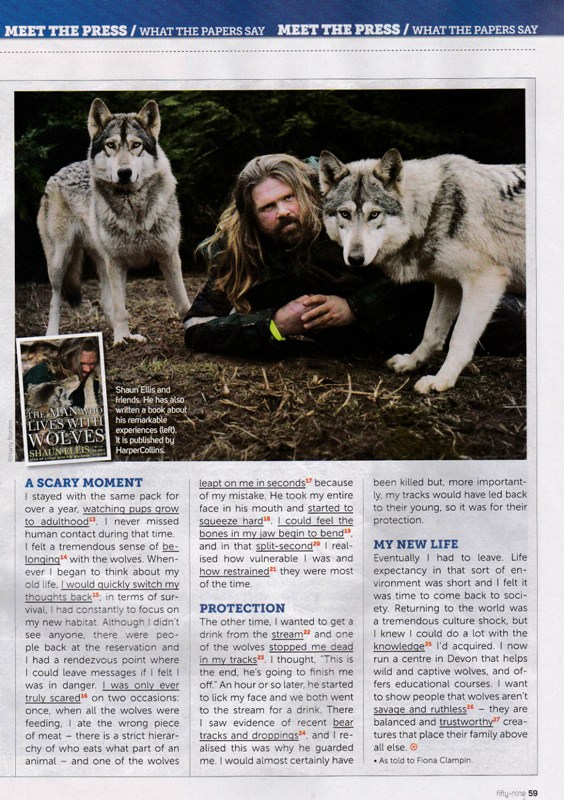 Do you have any other memories about wolves?
Do you remember "Dances with Wolves" ? 
Would you like to write something about that wolf? 
Very soon we'll talk about the native Americans too, promised. 
Let you be fascinated also by films and enjoy your English while writing, so that it will be even a greater pleasure reading you. Ideas are bubbling, we are going to talk about them in class and we'll keep all of you informed about any further development.
Benedetta: good job! Like and love usually plus the ing form; its life is a possessive adjective, while it's is pronoun plus verb to be; pack of wolves; for living (or to live):some documentaries, plural; the preposition for TV is on.
See you in class, choose another page and continue writing!   
Anna - Coordinator
Source: Speak Up, September 2012 - The New York Times; February 2011 - The Guardian
Martina: continue with your interest for animals, and let you be fascinated by wolves. There is a film, its title is Grey,  where wolves play a disquieting role, such as to reveal humans' qualities. Beautiful and unexpected, the film and its plot. Find and watch it and tell us in class about it.