Warning
: preg_replace(): The /e modifier is no longer supported, use preg_replace_callback instead in
/web/htdocs/www.connecting-the-dots.it/home/libraries/joomla/filter/input.php
on line
689
Warning
: preg_replace(): The /e modifier is no longer supported, use preg_replace_callback instead in
/web/htdocs/www.connecting-the-dots.it/home/libraries/joomla/filter/input.php
on line
691
Warning
: preg_replace(): The /e modifier is no longer supported, use preg_replace_callback instead in
/web/htdocs/www.connecting-the-dots.it/home/libraries/joomla/filter/input.php
on line
689
Warning
: preg_replace(): The /e modifier is no longer supported, use preg_replace_callback instead in
/web/htdocs/www.connecting-the-dots.it/home/libraries/joomla/filter/input.php
on line
691
Warning
: preg_replace(): The /e modifier is no longer supported, use preg_replace_callback instead in
/web/htdocs/www.connecting-the-dots.it/home/libraries/joomla/filter/input.php
on line
689
Warning
: preg_replace(): The /e modifier is no longer supported, use preg_replace_callback instead in
/web/htdocs/www.connecting-the-dots.it/home/libraries/joomla/filter/input.php
on line
691
Warning
: preg_replace(): The /e modifier is no longer supported, use preg_replace_callback instead in
/web/htdocs/www.connecting-the-dots.it/home/libraries/joomla/filter/input.php
on line
689
Warning
: preg_replace(): The /e modifier is no longer supported, use preg_replace_callback instead in
/web/htdocs/www.connecting-the-dots.it/home/libraries/joomla/filter/input.php
on line
691
Warning
: preg_replace(): The /e modifier is no longer supported, use preg_replace_callback instead in
/web/htdocs/www.connecting-the-dots.it/home/libraries/joomla/filter/input.php
on line
689
Warning
: preg_replace(): The /e modifier is no longer supported, use preg_replace_callback instead in
/web/htdocs/www.connecting-the-dots.it/home/libraries/joomla/filter/input.php
on line
691
Warning
: preg_replace(): The /e modifier is no longer supported, use preg_replace_callback instead in
/web/htdocs/www.connecting-the-dots.it/home/libraries/joomla/filter/input.php
on line
689
Warning
: preg_replace(): The /e modifier is no longer supported, use preg_replace_callback instead in
/web/htdocs/www.connecting-the-dots.it/home/libraries/joomla/filter/input.php
on line
691
Warning
: preg_replace(): The /e modifier is no longer supported, use preg_replace_callback instead in
/web/htdocs/www.connecting-the-dots.it/home/libraries/joomla/filter/input.php
on line
689
Warning
: preg_replace(): The /e modifier is no longer supported, use preg_replace_callback instead in
/web/htdocs/www.connecting-the-dots.it/home/libraries/joomla/filter/input.php
on line
691
Warning
: preg_replace(): The /e modifier is no longer supported, use preg_replace_callback instead in
/web/htdocs/www.connecting-the-dots.it/home/libraries/joomla/filter/input.php
on line
689
Warning
: preg_replace(): The /e modifier is no longer supported, use preg_replace_callback instead in
/web/htdocs/www.connecting-the-dots.it/home/libraries/joomla/filter/input.php
on line
691
Warning
: preg_replace(): The /e modifier is no longer supported, use preg_replace_callback instead in
/web/htdocs/www.connecting-the-dots.it/home/libraries/joomla/filter/input.php
on line
689
Warning
: preg_replace(): The /e modifier is no longer supported, use preg_replace_callback instead in
/web/htdocs/www.connecting-the-dots.it/home/libraries/joomla/filter/input.php
on line
691
Warning
: preg_replace(): The /e modifier is no longer supported, use preg_replace_callback instead in
/web/htdocs/www.connecting-the-dots.it/home/libraries/joomla/filter/input.php
on line
689
Warning
: preg_replace(): The /e modifier is no longer supported, use preg_replace_callback instead in
/web/htdocs/www.connecting-the-dots.it/home/libraries/joomla/filter/input.php
on line
691
Warning
: preg_replace(): The /e modifier is no longer supported, use preg_replace_callback instead in
/web/htdocs/www.connecting-the-dots.it/home/libraries/joomla/filter/input.php
on line
689
Warning
: preg_replace(): The /e modifier is no longer supported, use preg_replace_callback instead in
/web/htdocs/www.connecting-the-dots.it/home/libraries/joomla/filter/input.php
on line
691
Warning
: preg_replace(): The /e modifier is no longer supported, use preg_replace_callback instead in
/web/htdocs/www.connecting-the-dots.it/home/libraries/joomla/filter/input.php
on line
689
Warning
: preg_replace(): The /e modifier is no longer supported, use preg_replace_callback instead in
/web/htdocs/www.connecting-the-dots.it/home/libraries/joomla/filter/input.php
on line
691
Warning
: preg_replace(): The /e modifier is no longer supported, use preg_replace_callback instead in
/web/htdocs/www.connecting-the-dots.it/home/libraries/joomla/filter/input.php
on line
689
Warning
: preg_replace(): The /e modifier is no longer supported, use preg_replace_callback instead in
/web/htdocs/www.connecting-the-dots.it/home/libraries/joomla/filter/input.php
on line
691
Warning
: preg_replace(): The /e modifier is no longer supported, use preg_replace_callback instead in
/web/htdocs/www.connecting-the-dots.it/home/libraries/joomla/filter/input.php
on line
689
Warning
: preg_replace(): The /e modifier is no longer supported, use preg_replace_callback instead in
/web/htdocs/www.connecting-the-dots.it/home/libraries/joomla/filter/input.php
on line
691
Warning
: preg_replace(): The /e modifier is no longer supported, use preg_replace_callback instead in
/web/htdocs/www.connecting-the-dots.it/home/libraries/joomla/filter/input.php
on line
689
Warning
: preg_replace(): The /e modifier is no longer supported, use preg_replace_callback instead in
/web/htdocs/www.connecting-the-dots.it/home/libraries/joomla/filter/input.php
on line
691
Warning
: preg_replace(): The /e modifier is no longer supported, use preg_replace_callback instead in
/web/htdocs/www.connecting-the-dots.it/home/libraries/joomla/filter/input.php
on line
689
Warning
: preg_replace(): The /e modifier is no longer supported, use preg_replace_callback instead in
/web/htdocs/www.connecting-the-dots.it/home/libraries/joomla/filter/input.php
on line
691
Warning
: preg_replace(): The /e modifier is no longer supported, use preg_replace_callback instead in
/web/htdocs/www.connecting-the-dots.it/home/libraries/joomla/filter/input.php
on line
689
Warning
: preg_replace(): The /e modifier is no longer supported, use preg_replace_callback instead in
/web/htdocs/www.connecting-the-dots.it/home/libraries/joomla/filter/input.php
on line
691
Warning
: preg_replace(): The /e modifier is no longer supported, use preg_replace_callback instead in
/web/htdocs/www.connecting-the-dots.it/home/libraries/joomla/filter/input.php
on line
689
Warning
: preg_replace(): The /e modifier is no longer supported, use preg_replace_callback instead in
/web/htdocs/www.connecting-the-dots.it/home/libraries/joomla/filter/input.php
on line
691
Warning
: preg_replace(): The /e modifier is no longer supported, use preg_replace_callback instead in
/web/htdocs/www.connecting-the-dots.it/home/libraries/joomla/filter/input.php
on line
689
Warning
: preg_replace(): The /e modifier is no longer supported, use preg_replace_callback instead in
/web/htdocs/www.connecting-the-dots.it/home/libraries/joomla/filter/input.php
on line
691
Warning
: preg_replace(): The /e modifier is no longer supported, use preg_replace_callback instead in
/web/htdocs/www.connecting-the-dots.it/home/libraries/joomla/filter/input.php
on line
689
Warning
: preg_replace(): The /e modifier is no longer supported, use preg_replace_callback instead in
/web/htdocs/www.connecting-the-dots.it/home/libraries/joomla/filter/input.php
on line
691
Warning
: preg_replace(): The /e modifier is no longer supported, use preg_replace_callback instead in
/web/htdocs/www.connecting-the-dots.it/home/libraries/joomla/filter/input.php
on line
689
Warning
: preg_replace(): The /e modifier is no longer supported, use preg_replace_callback instead in
/web/htdocs/www.connecting-the-dots.it/home/libraries/joomla/filter/input.php
on line
691
Warning
: preg_replace(): The /e modifier is no longer supported, use preg_replace_callback instead in
/web/htdocs/www.connecting-the-dots.it/home/libraries/joomla/filter/input.php
on line
689
Warning
: preg_replace(): The /e modifier is no longer supported, use preg_replace_callback instead in
/web/htdocs/www.connecting-the-dots.it/home/libraries/joomla/filter/input.php
on line
691
Warning
: preg_replace(): The /e modifier is no longer supported, use preg_replace_callback instead in
/web/htdocs/www.connecting-the-dots.it/home/libraries/joomla/filter/input.php
on line
689
Warning
: preg_replace(): The /e modifier is no longer supported, use preg_replace_callback instead in
/web/htdocs/www.connecting-the-dots.it/home/libraries/joomla/filter/input.php
on line
691
Warning
: preg_replace(): The /e modifier is no longer supported, use preg_replace_callback instead in
/web/htdocs/www.connecting-the-dots.it/home/libraries/joomla/filter/input.php
on line
689
Warning
: preg_replace(): The /e modifier is no longer supported, use preg_replace_callback instead in
/web/htdocs/www.connecting-the-dots.it/home/libraries/joomla/filter/input.php
on line
691
Warning
: preg_replace(): The /e modifier is no longer supported, use preg_replace_callback instead in
/web/htdocs/www.connecting-the-dots.it/home/libraries/joomla/filter/input.php
on line
689
Warning
: preg_replace(): The /e modifier is no longer supported, use preg_replace_callback instead in
/web/htdocs/www.connecting-the-dots.it/home/libraries/joomla/filter/input.php
on line
691
Warning
: preg_replace(): The /e modifier is no longer supported, use preg_replace_callback instead in
/web/htdocs/www.connecting-the-dots.it/home/libraries/joomla/filter/input.php
on line
689
Warning
: preg_replace(): The /e modifier is no longer supported, use preg_replace_callback instead in
/web/htdocs/www.connecting-the-dots.it/home/libraries/joomla/filter/input.php
on line
691
Warning
: preg_replace(): The /e modifier is no longer supported, use preg_replace_callback instead in
/web/htdocs/www.connecting-the-dots.it/home/libraries/joomla/filter/input.php
on line
689
Warning
: preg_replace(): The /e modifier is no longer supported, use preg_replace_callback instead in
/web/htdocs/www.connecting-the-dots.it/home/libraries/joomla/filter/input.php
on line
691
Warning
: preg_replace(): The /e modifier is no longer supported, use preg_replace_callback instead in
/web/htdocs/www.connecting-the-dots.it/home/libraries/joomla/filter/input.php
on line
689
Warning
: preg_replace(): The /e modifier is no longer supported, use preg_replace_callback instead in
/web/htdocs/www.connecting-the-dots.it/home/libraries/joomla/filter/input.php
on line
691
Warning
: preg_replace(): The /e modifier is no longer supported, use preg_replace_callback instead in
/web/htdocs/www.connecting-the-dots.it/home/libraries/joomla/filter/input.php
on line
689
Warning
: preg_replace(): The /e modifier is no longer supported, use preg_replace_callback instead in
/web/htdocs/www.connecting-the-dots.it/home/libraries/joomla/filter/input.php
on line
691
Warning
: preg_replace(): The /e modifier is no longer supported, use preg_replace_callback instead in
/web/htdocs/www.connecting-the-dots.it/home/libraries/joomla/filter/input.php
on line
689
Warning
: preg_replace(): The /e modifier is no longer supported, use preg_replace_callback instead in
/web/htdocs/www.connecting-the-dots.it/home/libraries/joomla/filter/input.php
on line
691
Warning
: preg_replace(): The /e modifier is no longer supported, use preg_replace_callback instead in
/web/htdocs/www.connecting-the-dots.it/home/libraries/joomla/filter/input.php
on line
689
Warning
: preg_replace(): The /e modifier is no longer supported, use preg_replace_callback instead in
/web/htdocs/www.connecting-the-dots.it/home/libraries/joomla/filter/input.php
on line
691
Warning
: preg_replace(): The /e modifier is no longer supported, use preg_replace_callback instead in
/web/htdocs/www.connecting-the-dots.it/home/libraries/joomla/filter/input.php
on line
689
Warning
: preg_replace(): The /e modifier is no longer supported, use preg_replace_callback instead in
/web/htdocs/www.connecting-the-dots.it/home/libraries/joomla/filter/input.php
on line
691
Warning
: preg_replace(): The /e modifier is no longer supported, use preg_replace_callback instead in
/web/htdocs/www.connecting-the-dots.it/home/libraries/joomla/filter/input.php
on line
689
Warning
: preg_replace(): The /e modifier is no longer supported, use preg_replace_callback instead in
/web/htdocs/www.connecting-the-dots.it/home/libraries/joomla/filter/input.php
on line
691
Warning
: preg_replace(): The /e modifier is no longer supported, use preg_replace_callback instead in
/web/htdocs/www.connecting-the-dots.it/home/libraries/joomla/filter/input.php
on line
689
Warning
: preg_replace(): The /e modifier is no longer supported, use preg_replace_callback instead in
/web/htdocs/www.connecting-the-dots.it/home/libraries/joomla/filter/input.php
on line
691
Warning
: preg_replace(): The /e modifier is no longer supported, use preg_replace_callback instead in
/web/htdocs/www.connecting-the-dots.it/home/libraries/joomla/filter/input.php
on line
689
Warning
: preg_replace(): The /e modifier is no longer supported, use preg_replace_callback instead in
/web/htdocs/www.connecting-the-dots.it/home/libraries/joomla/filter/input.php
on line
691
Warning
: preg_replace(): The /e modifier is no longer supported, use preg_replace_callback instead in
/web/htdocs/www.connecting-the-dots.it/home/libraries/joomla/filter/input.php
on line
689
Warning
: preg_replace(): The /e modifier is no longer supported, use preg_replace_callback instead in
/web/htdocs/www.connecting-the-dots.it/home/libraries/joomla/filter/input.php
on line
691
Warning
: preg_replace(): The /e modifier is no longer supported, use preg_replace_callback instead in
/web/htdocs/www.connecting-the-dots.it/home/libraries/joomla/filter/input.php
on line
689
Warning
: preg_replace(): The /e modifier is no longer supported, use preg_replace_callback instead in
/web/htdocs/www.connecting-the-dots.it/home/libraries/joomla/filter/input.php
on line
691
Warning
: preg_replace(): The /e modifier is no longer supported, use preg_replace_callback instead in
/web/htdocs/www.connecting-the-dots.it/home/libraries/joomla/filter/input.php
on line
689
Warning
: preg_replace(): The /e modifier is no longer supported, use preg_replace_callback instead in
/web/htdocs/www.connecting-the-dots.it/home/libraries/joomla/filter/input.php
on line
691
Warning
: preg_replace(): The /e modifier is no longer supported, use preg_replace_callback instead in
/web/htdocs/www.connecting-the-dots.it/home/libraries/joomla/filter/input.php
on line
689
Warning
: preg_replace(): The /e modifier is no longer supported, use preg_replace_callback instead in
/web/htdocs/www.connecting-the-dots.it/home/libraries/joomla/filter/input.php
on line
691
Warning
: preg_replace(): The /e modifier is no longer supported, use preg_replace_callback instead in
/web/htdocs/www.connecting-the-dots.it/home/libraries/joomla/filter/input.php
on line
689
Warning
: preg_replace(): The /e modifier is no longer supported, use preg_replace_callback instead in
/web/htdocs/www.connecting-the-dots.it/home/libraries/joomla/filter/input.php
on line
691
Warning
: preg_replace(): The /e modifier is no longer supported, use preg_replace_callback instead in
/web/htdocs/www.connecting-the-dots.it/home/libraries/joomla/filter/input.php
on line
689
Warning
: preg_replace(): The /e modifier is no longer supported, use preg_replace_callback instead in
/web/htdocs/www.connecting-the-dots.it/home/libraries/joomla/filter/input.php
on line
691
Warning
: preg_replace(): The /e modifier is no longer supported, use preg_replace_callback instead in
/web/htdocs/www.connecting-the-dots.it/home/libraries/joomla/filter/input.php
on line
689
Warning
: preg_replace(): The /e modifier is no longer supported, use preg_replace_callback instead in
/web/htdocs/www.connecting-the-dots.it/home/libraries/joomla/filter/input.php
on line
691
Warning
: preg_replace(): The /e modifier is no longer supported, use preg_replace_callback instead in
/web/htdocs/www.connecting-the-dots.it/home/libraries/joomla/filter/input.php
on line
689
Warning
: preg_replace(): The /e modifier is no longer supported, use preg_replace_callback instead in
/web/htdocs/www.connecting-the-dots.it/home/libraries/joomla/filter/input.php
on line
691
Warning
: preg_replace(): The /e modifier is no longer supported, use preg_replace_callback instead in
/web/htdocs/www.connecting-the-dots.it/home/libraries/joomla/filter/input.php
on line
689
Warning
: preg_replace(): The /e modifier is no longer supported, use preg_replace_callback instead in
/web/htdocs/www.connecting-the-dots.it/home/libraries/joomla/filter/input.php
on line
691
Warning
: preg_replace(): The /e modifier is no longer supported, use preg_replace_callback instead in
/web/htdocs/www.connecting-the-dots.it/home/libraries/joomla/filter/input.php
on line
689
Warning
: preg_replace(): The /e modifier is no longer supported, use preg_replace_callback instead in
/web/htdocs/www.connecting-the-dots.it/home/libraries/joomla/filter/input.php
on line
691
Warning
: preg_replace(): The /e modifier is no longer supported, use preg_replace_callback instead in
/web/htdocs/www.connecting-the-dots.it/home/libraries/joomla/filter/input.php
on line
689
Warning
: preg_replace(): The /e modifier is no longer supported, use preg_replace_callback instead in
/web/htdocs/www.connecting-the-dots.it/home/libraries/joomla/filter/input.php
on line
691
Warning
: preg_replace(): The /e modifier is no longer supported, use preg_replace_callback instead in
/web/htdocs/www.connecting-the-dots.it/home/libraries/joomla/filter/input.php
on line
689
Warning
: preg_replace(): The /e modifier is no longer supported, use preg_replace_callback instead in
/web/htdocs/www.connecting-the-dots.it/home/libraries/joomla/filter/input.php
on line
691
Guide Dogs & Dogs
Good day everybody, 
we tried to find an article at low-intermediate level, a few others are advanced level, they are for a next time. Trust yourselves, and very soon you all will be able to read them.
It's impressive how so many times human life depends on a dog's one. We found this article about guide dogs, "someone" we have to rely on when blind.
Never met people who can't see? Never realized how many times we use expressions like "See you" and how kindly they reply?
Never met people with guide dogs? Never spoken to them?
What a sensitivity and fantasy they have, being capable of living in the dark, continuously developing strategies to cope with the reality they can't see. 
If you have anecdotes or stories, please tell us, we would be so pleased to know them. 
It would also be great to read your stories about your dogs, if you have any. You know, sometimes we talk about animals just to learn how to speak about humans. 
To practice your low-intermediate English, you can reply to these questions related to the article:
1. What is "The Seeing Eye"?
2. When was it founded?
3. Who founded it?
4. What breed of dogs are trained at "The Seeing Eye"?  
5. How many puppies are raised each year?
6. What happens to an eight-week-old puppy?
7. What happens after that?
8. How long does the training last?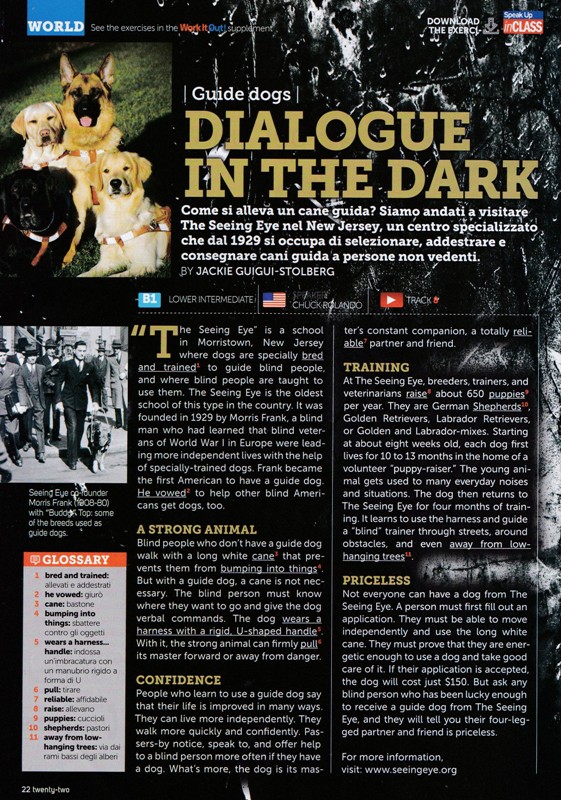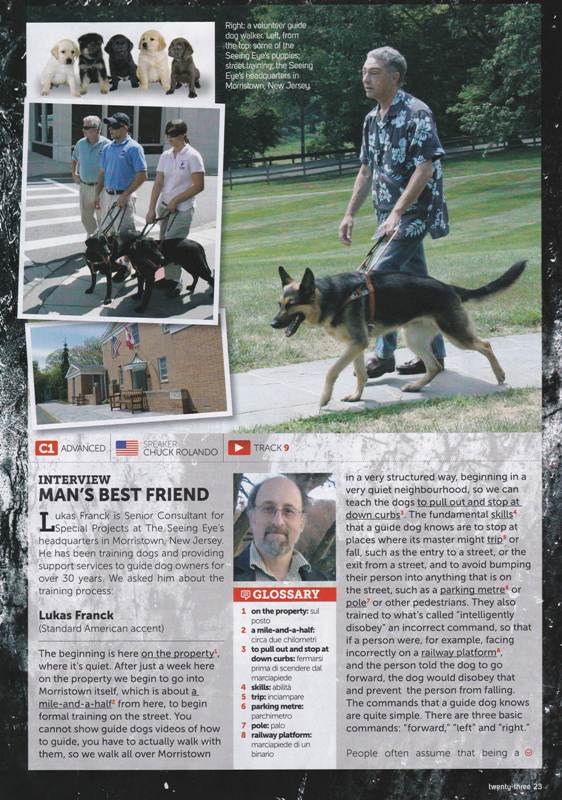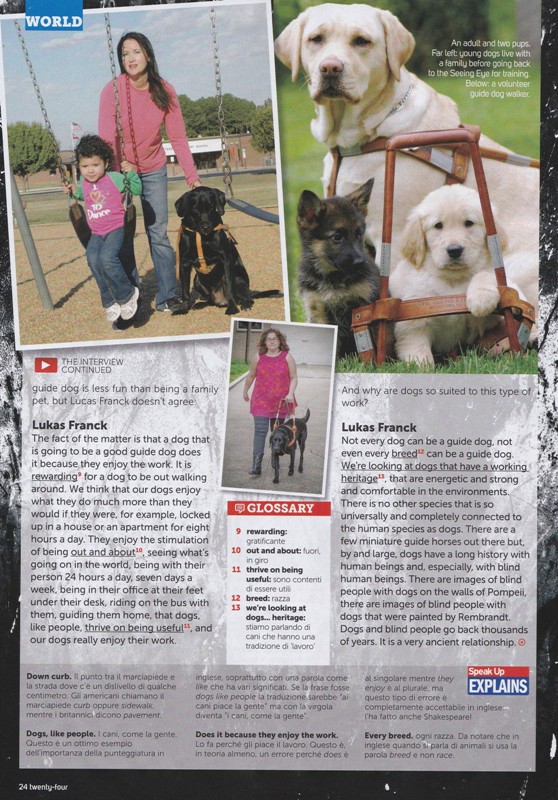 Enjoy your English, very soon one more demanding text for everybody to read and practice on. See you in class.
Anna - Coordinator 
Source: Speak Up, February 2014 
"Take the Lead" vs "Ti va di Ballare ?"
 Good morning, 'afternoon, 'evening, 
search on the Internet and find information about Pierre Dulaine. Watch him dancing, with your families. Then watch the film and focus on his method of teaching, his style, his communication. His ballroom dancing is a vehicle to change the lives of not only the young people who participate in his programs and classes, but also the lives of the teachers and parents who want to support these young people. 
Take the Lead was released in 2006 and depicts Pierre Dulaine's efforts to utilize ballroom dancing to help NYC youth to regain a sense of self-respect, pride and elegance. 
What is the meaning of the gentle command "Take the Lead"? What does it mean according to you? 
"Don't be afraid of new things in life, you don't know when you turn round the corner what can happen, but if you take it in a positive way, you can make it positive.....You come to a place in your life where you want to give back to society. You come to a place where you need to do something. This has been the real, real journey of my life, the journey of giving". Pierre Dulaine 
See you in class and don't forget, be the entrepreneur of your life, take the lead!
Anna - Coordinator
Source: Italian "Take the Lead" DVD's cover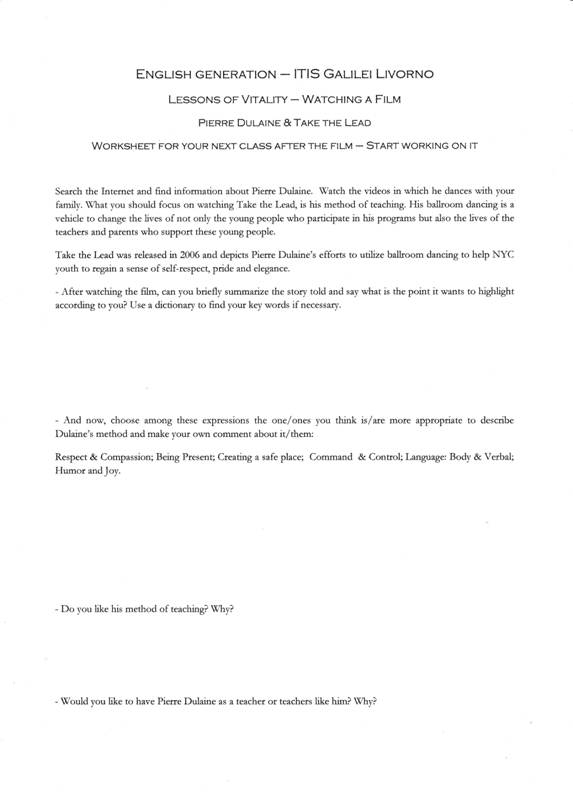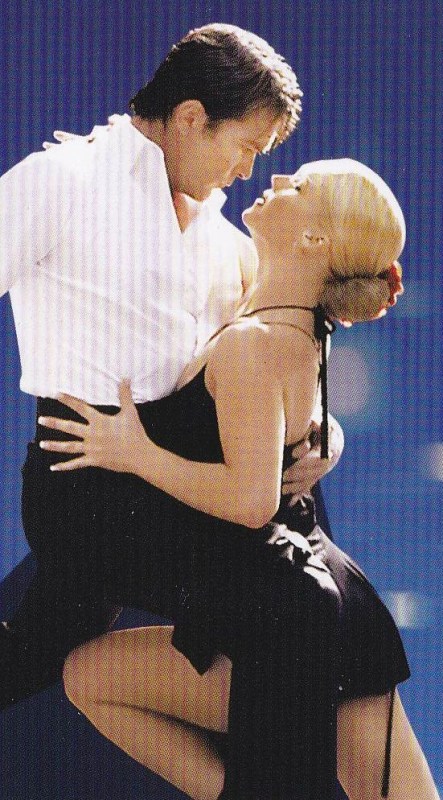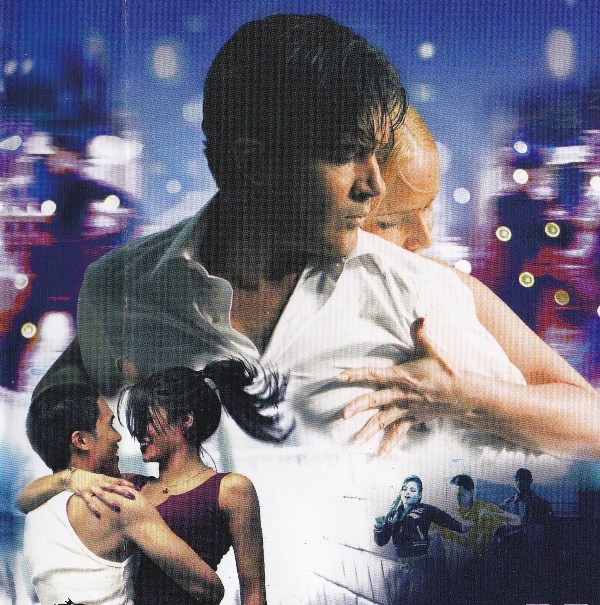 Italy's Livorno prides itself on chickpea pie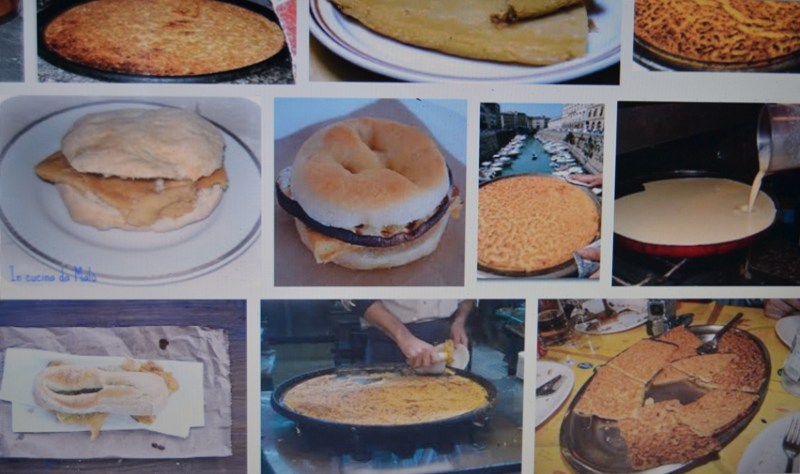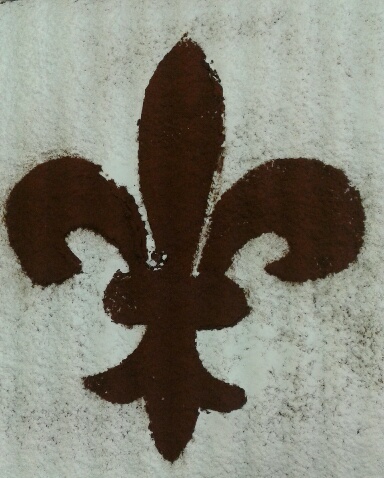 Good morning, afternoon, evening,
we would like to thank Roberta Giaconi's mother  who came to class  with this article about Livorno priding itself on chickpea pie after mentioning the very well known typical food  the previous time in class, and Roberta for allowing such a useful use of her work, for our students.  
Read the article and the worksheet. Then reply to the questions.
We are organizing a tour as a Lesson in the Open Air, ending with chickpea pie, all in English. Proud of that? 
There's more news for you to know, since the journalist Roberta Giaconi is coming to Italy from Australia, where she lives, and will be staying in Italy for a month. 
She accepted the invitation to visit Italian Students at ITIS Galilei in Livorno who are going to interview her about her profession, Australia, her life, her writing, her new book, to be presented this month in Italy. 
Why don't you write here a few questions you would like to ask her? We will publish the answers.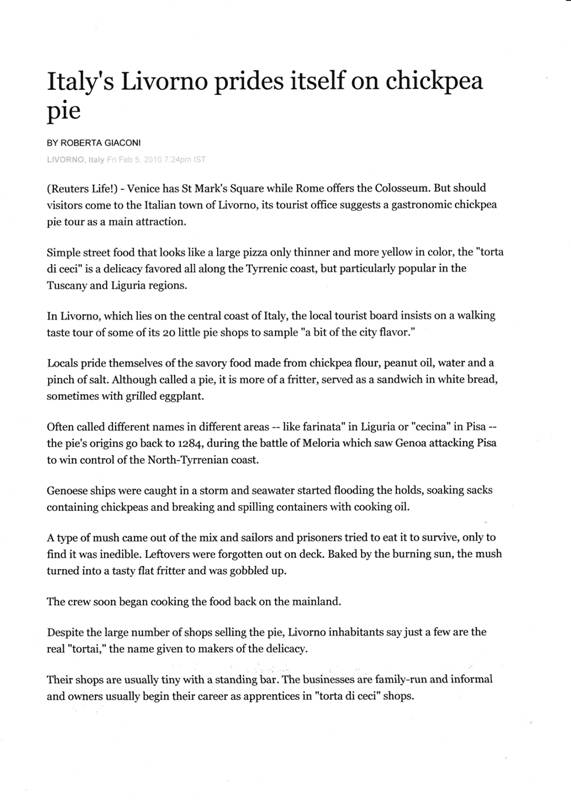 Enjoy your English and chickpea pie, See you in class, Anna - Coordinator   Source: as mentioned + the Internet   
Simona, Silvana and Fabio, Eleonora, thank you for coming to class offering mates your delicacies. The foto of Florence's Lily is the decoration on top of Eleonora's cake, the Schiacciata Fiorentina.
Enjoy Schiacciata Fiorentina and Chickpea Omelette too!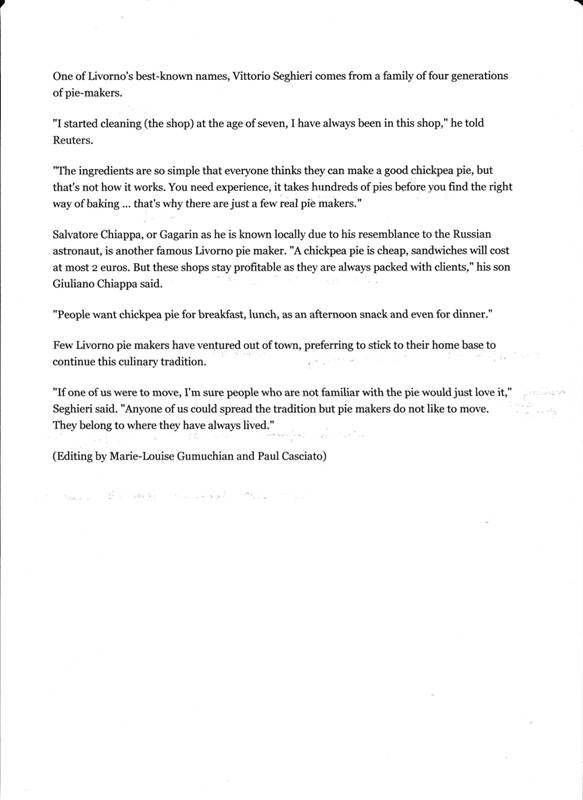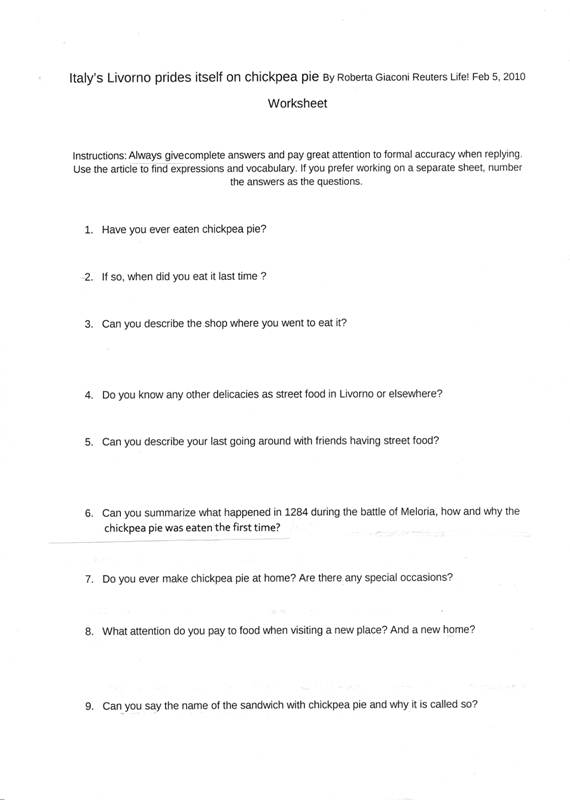 Bob in Britain


Good morning 'afternoon, 'evening everybody, 
just a few words to update this article today, 1st December 2016, almost two years after publishing it.
A film about Bob has recenbtly been  released, with Bob playing itself. Nice guy!
Write comments about both, the article and the film, we will reply. Anna Coordinator
This is the story of a cat in Great Britain. Whoever loves animal can read it, reply to and ask questions   to anyone else on the blog, through a comment. Have you read any other books about famous cats?
For example Dewey, or Cleo? Do you know any others? 
While you read this article at Pre-Intermediate level, can you search for the other cats'stories?
Are they similar to this one?
If so, w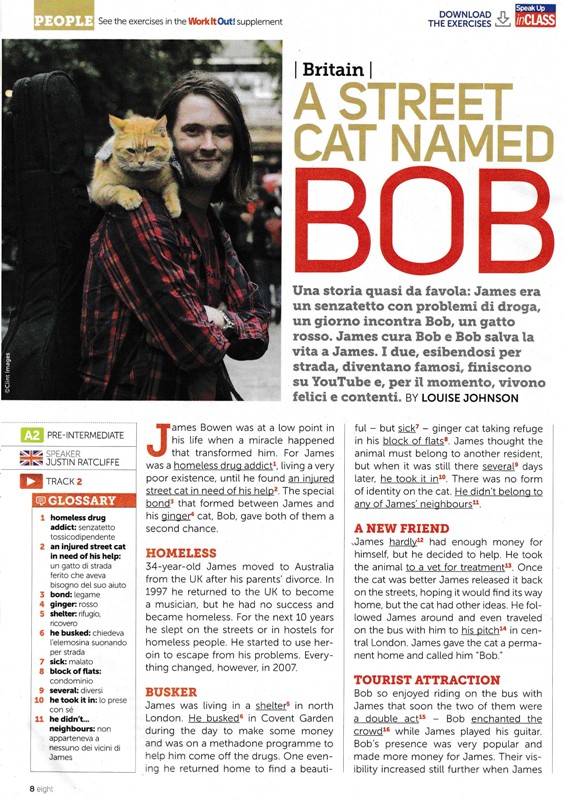 hat do they have in common?
Which one do you prefer to tell us about on the blog?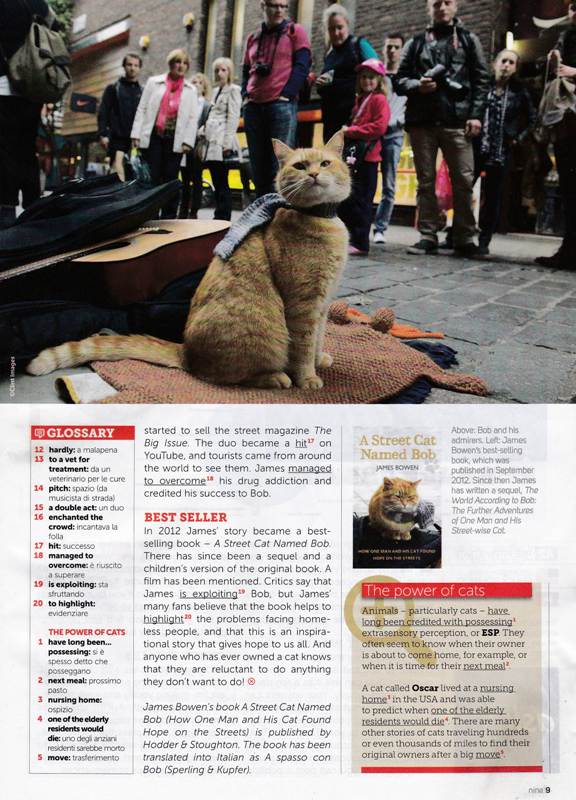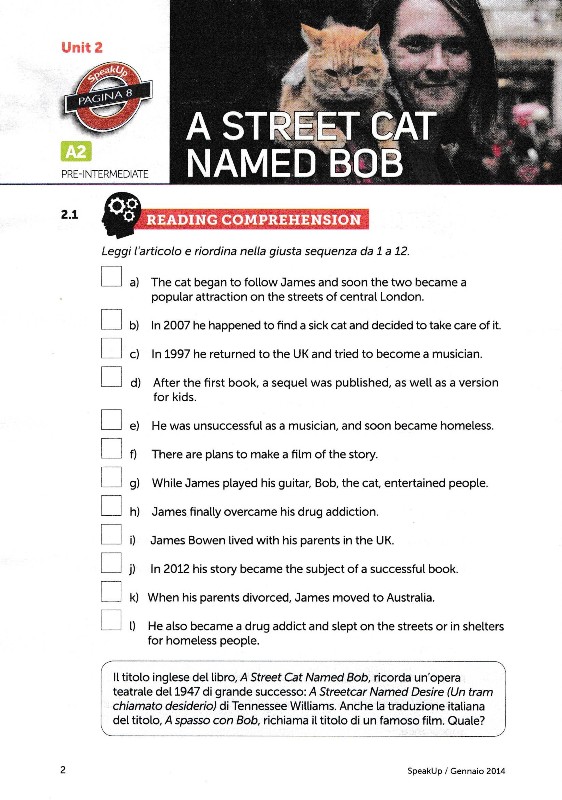 So many times children are very fond of cats; one in a group writing poems on different subjects, wrote this little one for his she cat: 
My she cat with her white snout
purrs to me when I'm too out
and at night when I'm back home
she's so happy and I'm not alone 
Author Kevin

Anna - Coordinator
Source: Speak Up January 2014 and Pupils's records
Cristina: creative student, everyone can enjoy your story!
Chocolate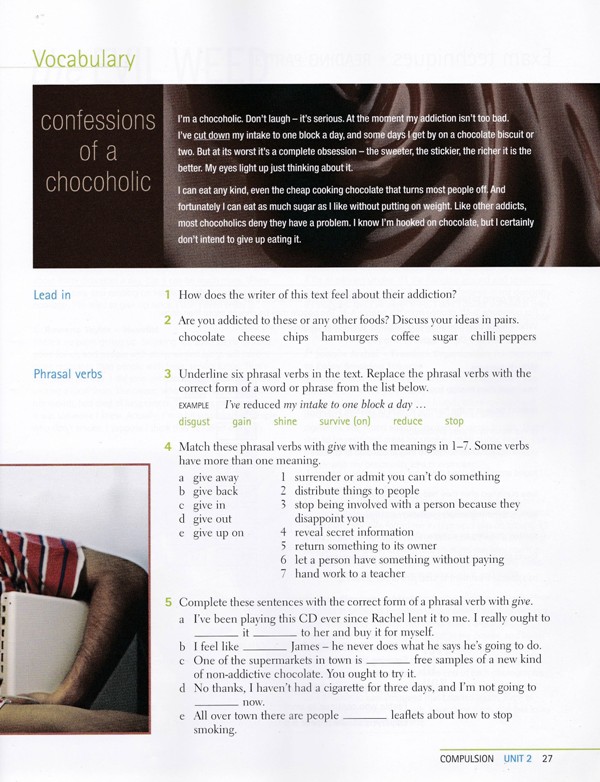 Good morning,'afternoon, ' evening, 
Do you like chocolate? How often do you eat it? 
Today we want to talk about chocolate from two completely different points of view.  The first one is seeing chocolate as an addiction. It is the angle of this text book we coped with in class.
Grammar practice  is about phrasal verbs. In these two paragraphs they are quite easy to learn and memorize. 
Do you know any other type of addiction? 
This page made us think about a reverse side of a habit we can develop without thinking of how cocoa is harvested to make chocolate.
Not that you have to be a chocoholic to know about that. It's just information, very important to acquire in order to start viewing chocolate also in a different way.  
If you like having  information about it do not hesitate to watch this documentary on Youtube,  http://www.youtube.com/watch?v=7Vfbv6hNeng.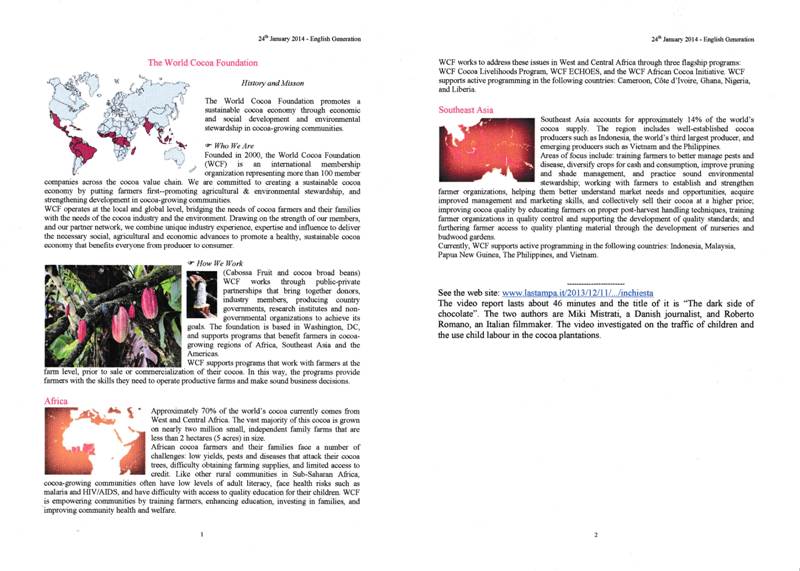 We do think there's so much to know about other any reverse side of what we can easily perceive. We continue to ignore so many areas of the world and the peoples who live there. Maybe being informed makes the difference, and each one of us, in his square meter can behave differently. Check also how chocolate is produced from now on.
Thank you Silvia for coming to class with  one more side of it! Good news, fair trade!
We invite you to write your comment about any type of addiction you may know, and how we could get rid of the "addiction" of seeing people not equal. 
What is the role of chocolate in our life? How can we consider it? Food? Nourishment? Have you ever visited a Chocofestival?
Let us know and describe it. 
See you soon in class,
Anna - Coordinator
Source: First Certificate Masterclass, Oxford University Press, 2008 and Youtube  
Thank you Cristina, Silvia, Marco and Sergio.
It seems chocolate is quite an interesting and delicious topic!
Any food when tracked back tells us so much about our history, civilization, and also unfortunately about people' exploitation. But definetely each one of us can make the difference choosing what's best each single time. 
No wine with chocolate? It might be Porto or Marsala you say, Sergio?
I do think we should organize a proper celebration to see how well they match.
Next time I'm coming to class with chocolate, let's see what happens then!
Paola: thank you for the speech you delivered in class, Paola. Communication was perfect. Just something to change, e.g. when I was seven, I used to go to...; hot chocolate was served to the children who...; after listening to....whoever would like to/likes/wants... 
I'm expecting some chocolate to be again in class then!
See you there, 
Anna
Kitchen and Banana Yoshimoto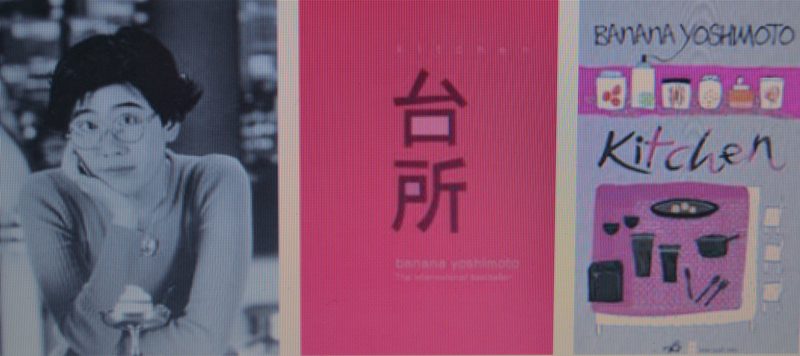 Good morning, afternoon, evening, 
first there's someone we would like to thank for participating in this blog, Samuele, who joined us with his comment about London Gliding. 
There is a very special reason why and we would like you to find it out; maybe interacting on the web you can do it. 
We are working hard these days, to develop projects and ideas. And you? Do you enjoy your English? 
We would like you to do that, also reading books. 
Here there is one among the vast variety we frequently propose our students to choose among. It is not a graded book, the type commonly students of English are invited to read, often as a part of their school program.  
If you can find the type of narration suitable to you, there are so many books of contemporary literature you can read; with the language level, also enjoyment can increase and reversely.  
Never stop reading and watching films. Be surrounded by English speaking and feel it as your second language, your second home. If you already speak other second languages - one could be Italian - then you are privileged, it is even easier. Let us know what you think of this book and others you are reading. 
Why did you like it? What is reading for you? And reading in English? 
Enjoy your English, 
Anna - Coordinator
Source https://www.google.it/search?q=kitchen+banana+yoshimoto&tbm=isch&tbo=u&source=univ&sa=X&ei=RkXNUtm8JoSdyQOS_oCgCA&ved=0CEAQsAQ&biw=1280&bih=604
London Gliding
'Morning, 'Afternoon, 'Evening, 
gliding could be a new experience to start a new year.  At least, just reading about it, related to London. 
Talking about this beautiful city, even more now with the Shard, have you watched any recent films with aerial shootings including this magnificent skyscraper that influences so much the whole panorama and the skyline?
If so, let us know. We watched Closed Circuit, and there it is; at the beginning and at the end of the film there is Renzo Piano's magnificent creation.   
Gliding we said. This is quite an easy article everybody also among the students who started from a very beginner level in October can attempt to read. 
You can reply to the questions as a comment, after creating an account. Class time is always the opportunity to continue practicing about selected subjects. 
Do you remember where else recently we wrote/spoke about a cockpit? 
How can a glider reach the height of 2,000 meters and start gliding? 
What do gliders need to fly? 
What happens when a glider reach a thermal?
What is a land out?
How can you explain the glider pilot's idea in the article of having a "privilege" ?
What is the London Gliding Club?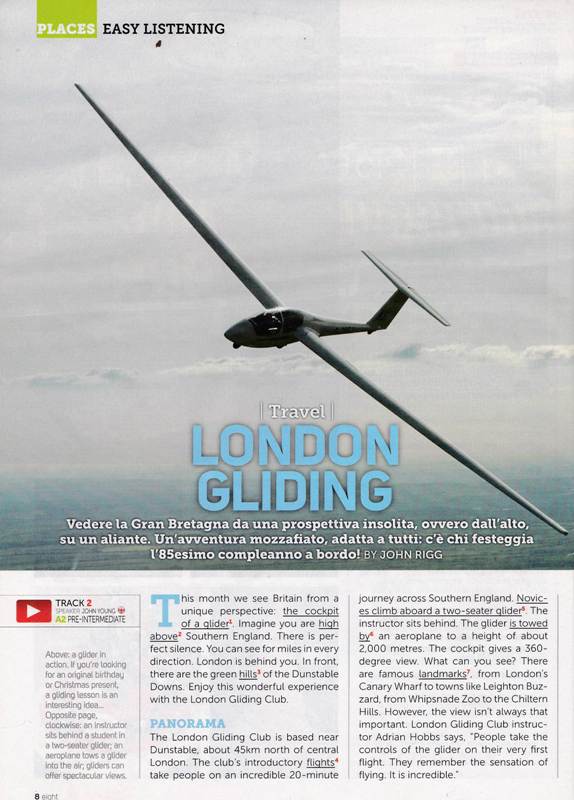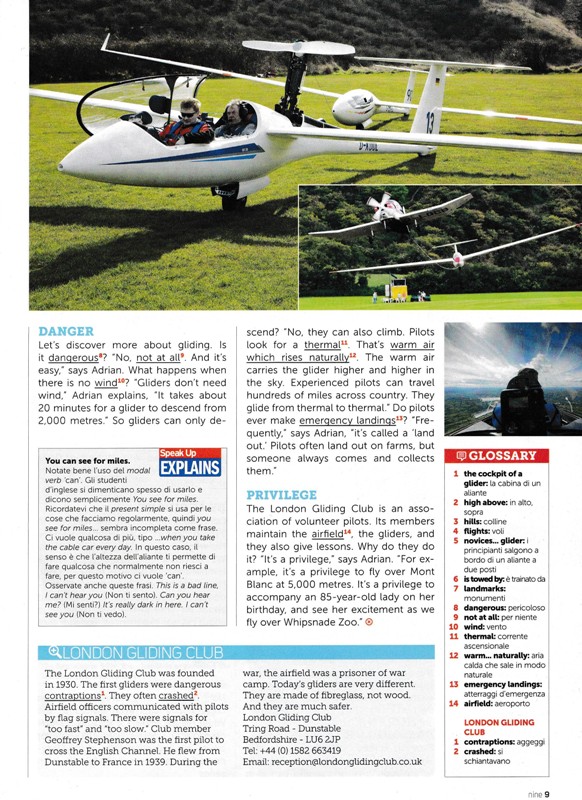 Wouldn't it be exciting viewing London from a glider? 
Shall we do it on our next visit to London? 
Enjoy your English
Anna - Coordinator
Source: Speak Up September 2011 
Finding Forrester
Good morning, afternoon, evening,
watching films in class  is a great experience. 
We choose one as a "propeller" for ideas, evaluations.
Have you ever watched a film in its original language? Ever thought that just watching a film in English means acquiring the Language? 
Try to concentrate and enjoy it; follow the plot, let the film fascinate you, let the Language do its work: leaving signs, memories, in a meaningful context.  
Train yourselves to pay great attention to both, listening and written comprehension and try to line them up. Your mind will do that for you, due to its importance if you feel deeply motivated.  There are clever strategies inside ourselves,  and experiencing is the best way to find out what they are and what results they can get for us.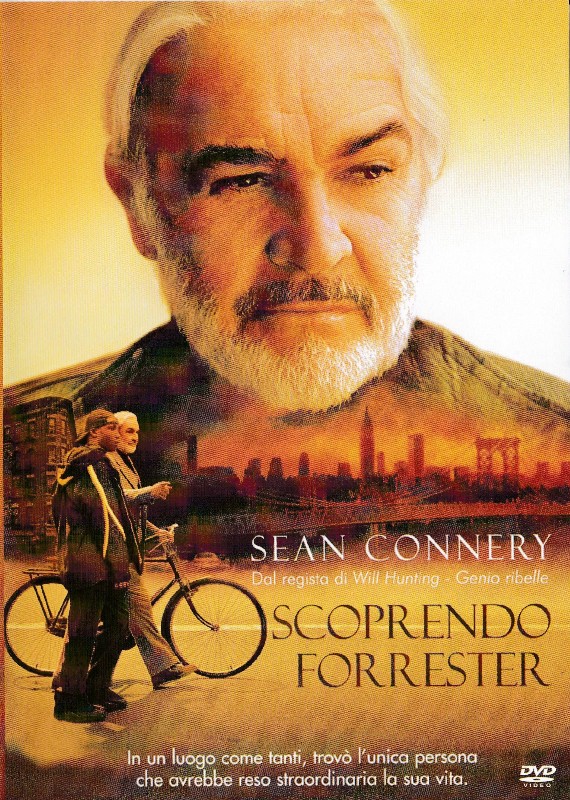 You have a worksheet here you can work on after watching the film.
Reply to the questions either here as a comment or as homework before coming back to class.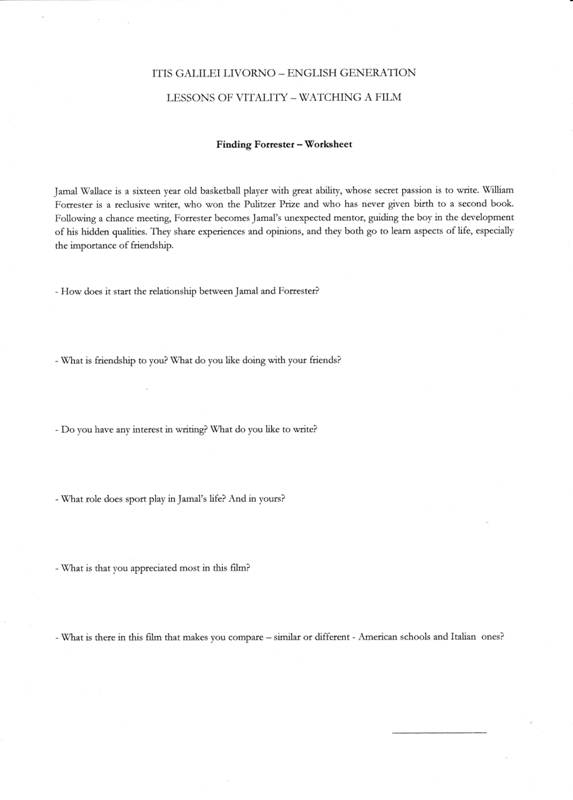 Enjoy your English, see you in class,
Anna - Coordinator
Source: Italian DVD cover  
Quite late reply I'm afraid, Velma.
It would be very stimulating for our pupils and students reading some more comments of yours and interacting, when in class, sending their own writings as a reply to yours.
Keep up, looking forward to reading you again!
Anna
Thank you Fabio, Homework Solution, Cristina and Giulio.

Watching films is such an enjoyable resource to acquire a Language, cinema offers this great opportunity, living for a while in a different world and being not the same anymore, but richer.  

Nelson Mandela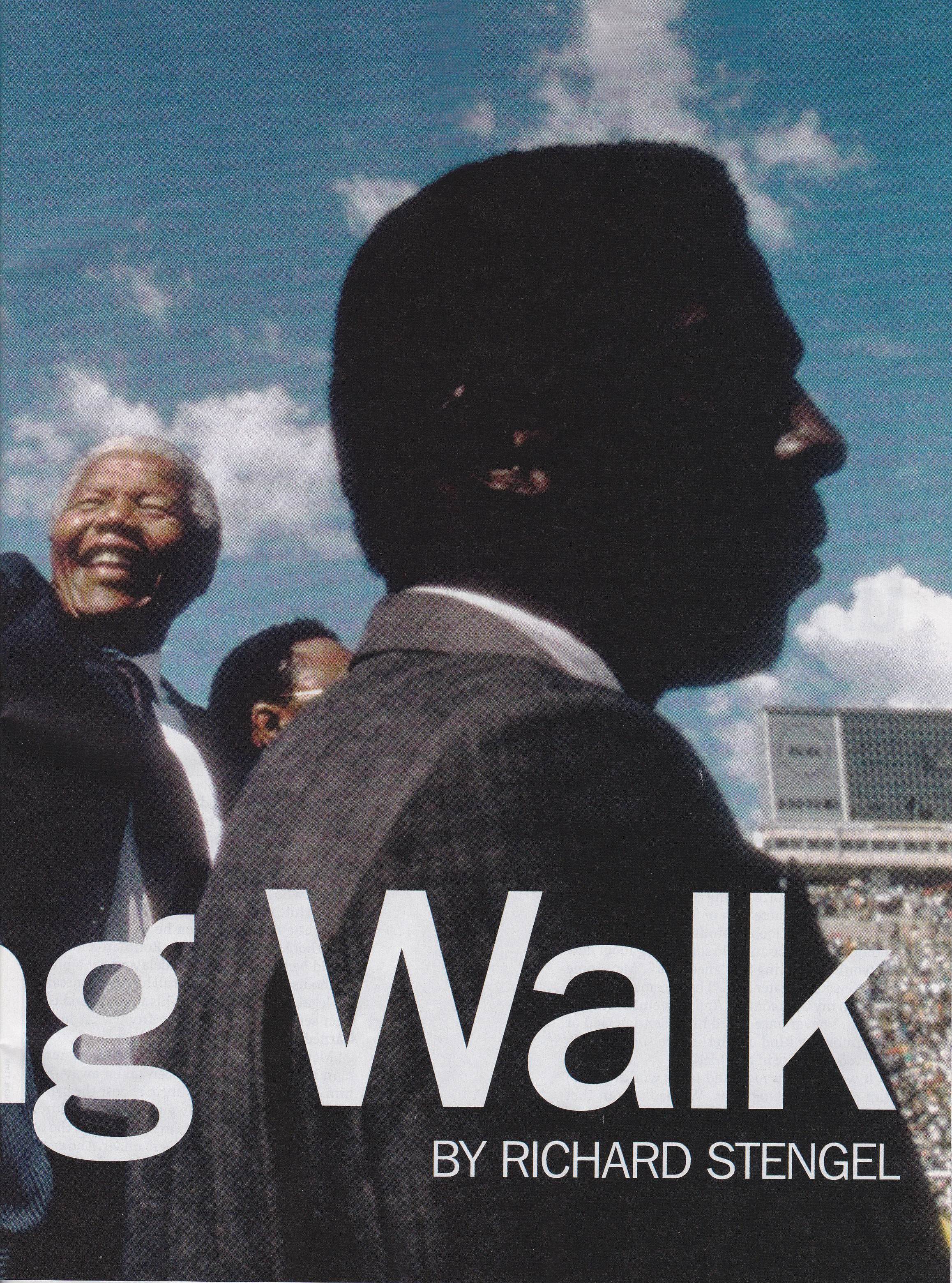 Last January we started our blog with "A Long Walk".
Visit the Archive and find it.
It's still Africa now, everybody's first home, with "The Long Walk", Nelson Mandela's one, saying good bye to one of its children.  
http://www.telegraph.co.uk/news/worldnews/nelson-mandela/9958896/Archive-Nelson-Mandelas-walk-to-freedom-in-1990-after-his-release-from-prison.html
Let you be fascinated by his speaking, his true love  and enthusiasm
http://www.heraldsun.com.au/sport/boxing-mma/nelson-mandelas-love-of-boxing-gave-him-strength-in-his-long-quest-for-reconciliation/story-fni2urrv-1226781060832
https://encrypted-tbn0.gstatic.com/images?q=tbn:ANd9GcQQQgqxsgSrHM2KZCweNRy3IKe8wpkBjz1YKrN0sNiSqIV3IZlb
Very, Very Dear Nelson Mandela, Madiba, 
we all owe you a deep debt of gratitude
we will never be able to repay,
but we will continue to try. 
Source: "Time", December 23, 2013
Rita, Kaylene, Design Tips, Chocolate Fondue,

thank you so much for appreciating what is being done on this blog. The aim is spreading English as a tool for a worldwide communication, just talking or training pulils and students, any age, any profession.
It would be great if you could participate, offering comments that could be used in class. 
Choose a subject you like, leave a comment, so that I can involve students here, and an interaction can start, mainly for students' benefit, but also for everybody's one. 
Looking forward to hearing from you, Anna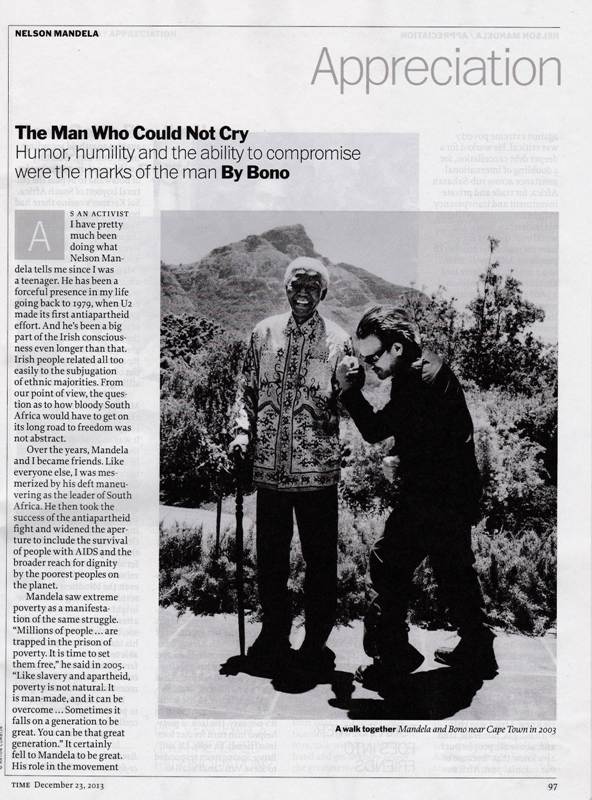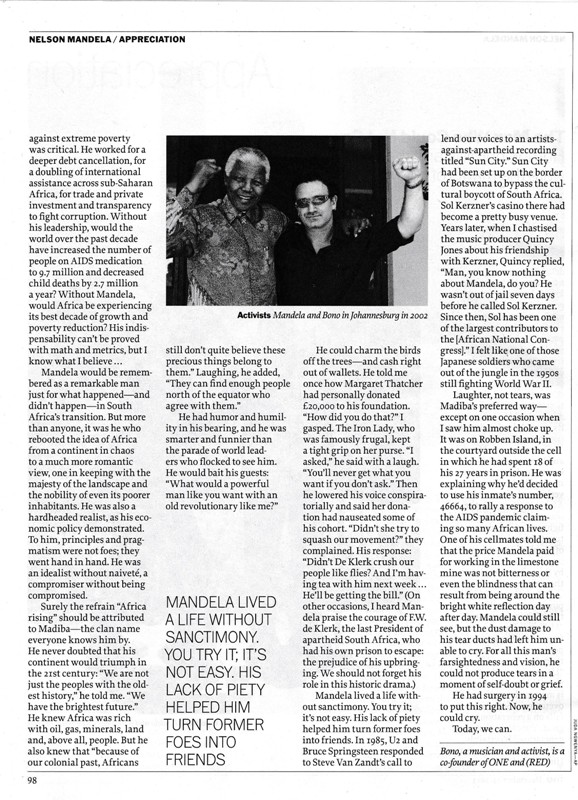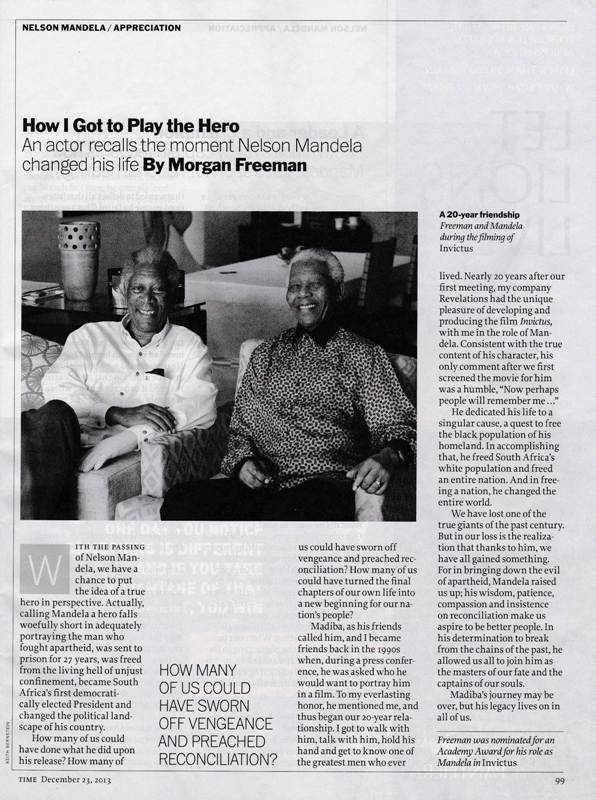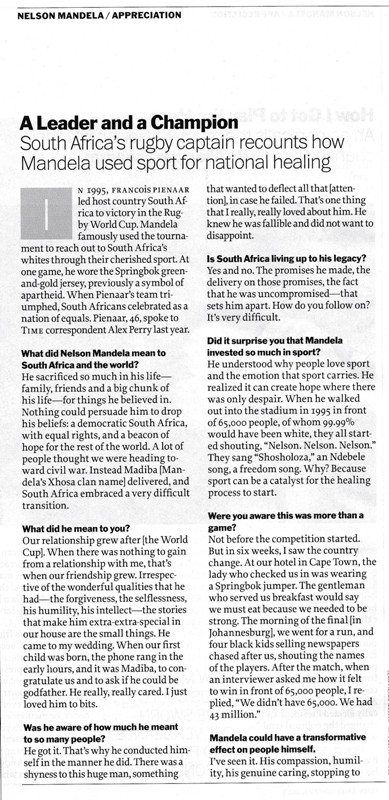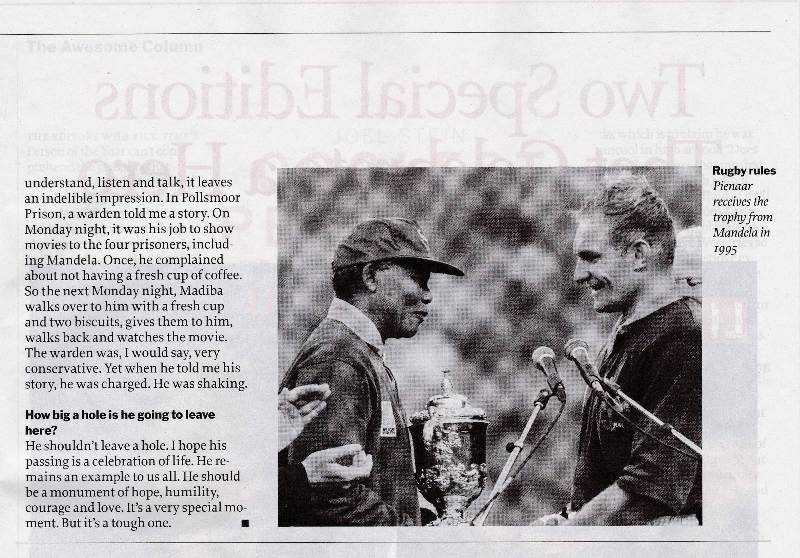 The Reindeer of Scotland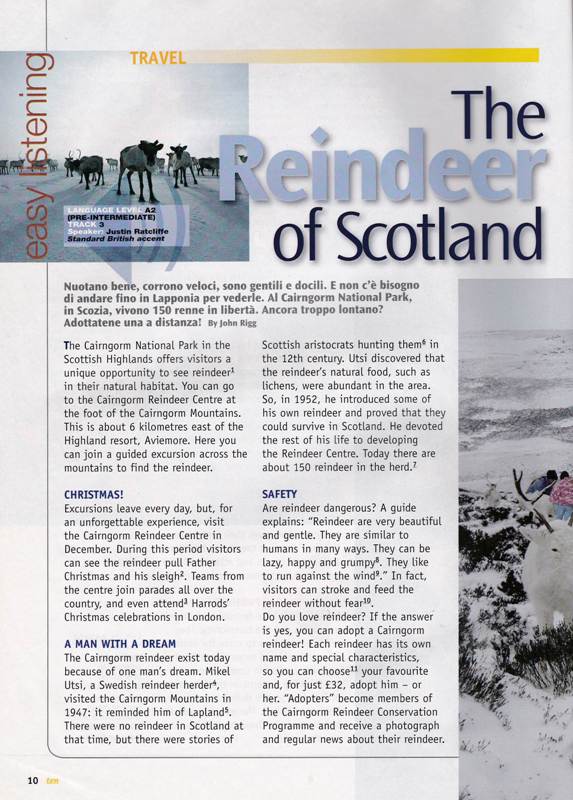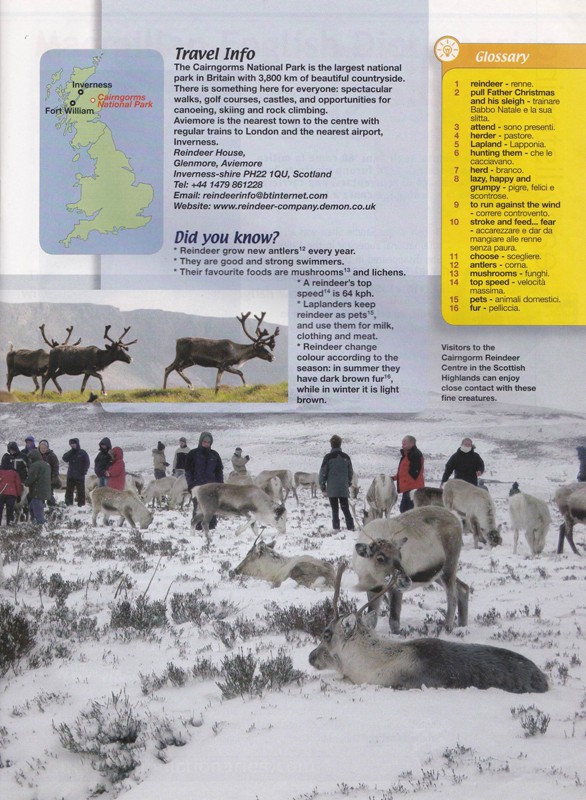 Hello Agnese, Alessandra, Anna, Gabriele, Martina, Samuele, 
for sure you like animals, and definitely the reindeer are fascinating ones. 
This is a worksheet for you to reply after reading the article we listened to in class. You can either answer here on the website consulting your parents, or on your worksheet at home and in class.
Whoever among the students following our courses or just  out of interest wants to practice his/her English letting him/herself be involved in such a nice topic, is very, very welcome.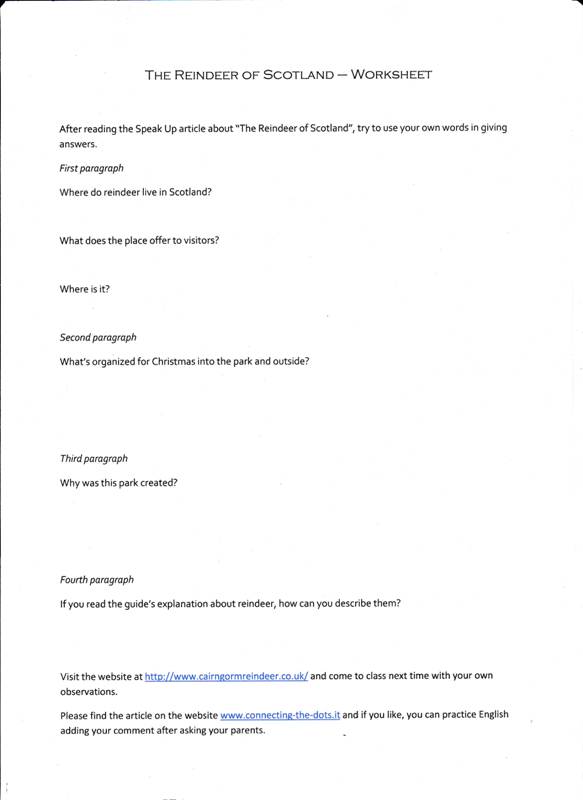 Enjoy your English, it will be nice reading you
Anna - TEFL Teacher - Coordinator
Sourse: Speak Up, December 2009 and http://www.caingormreindeer.co.uk/
Parmitano & Cristoforetti, Volare & Futura
Good morning, afternoon, evening,
after last classes we thought that uploading worksheets here could be helpful so to have them at one's disposal with just a few clicks. 
We are very busy trying to coordinate all our courses, be faithful, we'll succeed. 
And what about you, are you busy these days? 
So far, you can find here a worksheet about Parmitano as an astronaut and experimental flight test engineer/pilot, since the subject has been of so great interest to so many of you. 
After listening to an interview with him on the Italian radio, Rai Radio Tre Scienza on 25th November, we thought the questions asked him could become interactive class material.
Here are a few of the questions he was asked, and for you the task is guessing what he answered.
You can write down your answers and in class we'll give each one the chance to be compared with his ones. Have you heard Parmitano speaking? What language? Any comment on any special perception of yours ? Think of them and let you be fascinated by languages. They are friends.
Go to March in the Archive and please find the first man who went into space in 1961, plus one more Italian astronaut we can be so proud of. 
There's reason now to wish Samantha Cristoforetti all the best for her mission "Futura" to the ISS, the International Space Station, starting in November 2014. We thought that Leonardo's Italian words about flying could be a good omen for the whole "Futura" mission.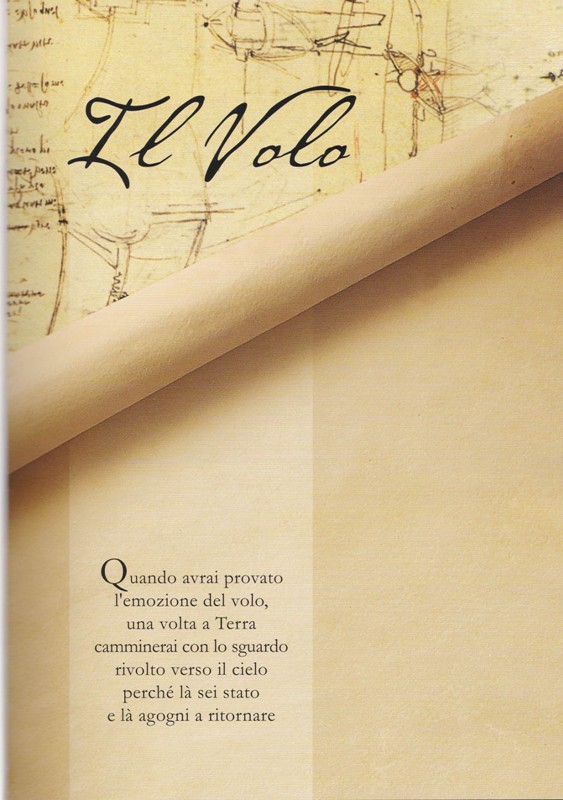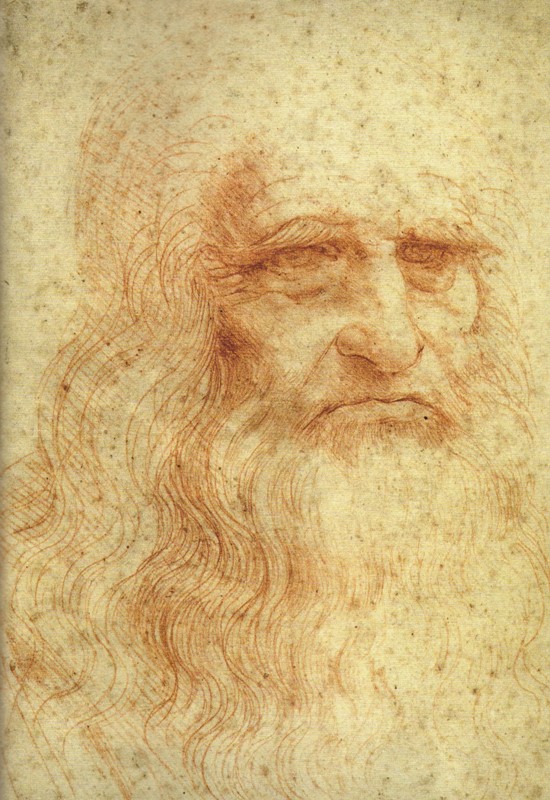 Do you Do you think Leonardo would have liked to wish Italian astronauts a good flight? How would you say in English what he wrote and that you have here? 
I would also like to thank Silvia, a new student, who so willingly came to class the first time with the three papers you can find below to study.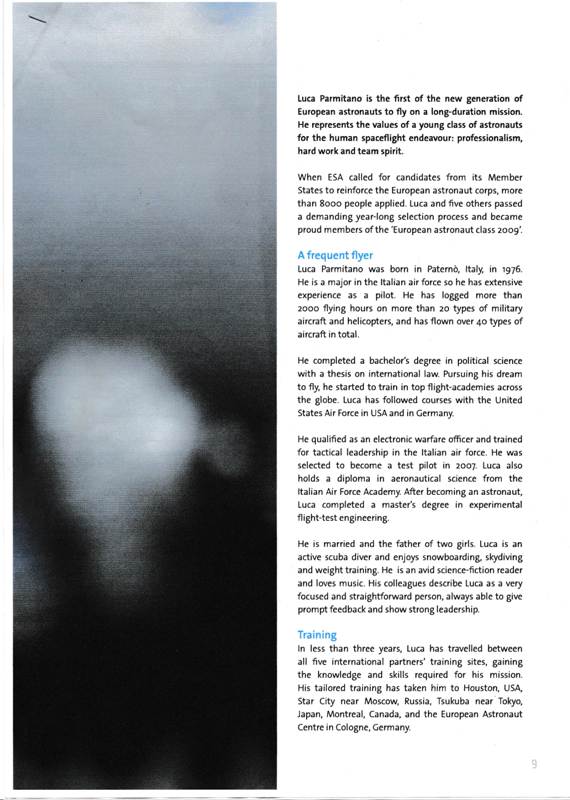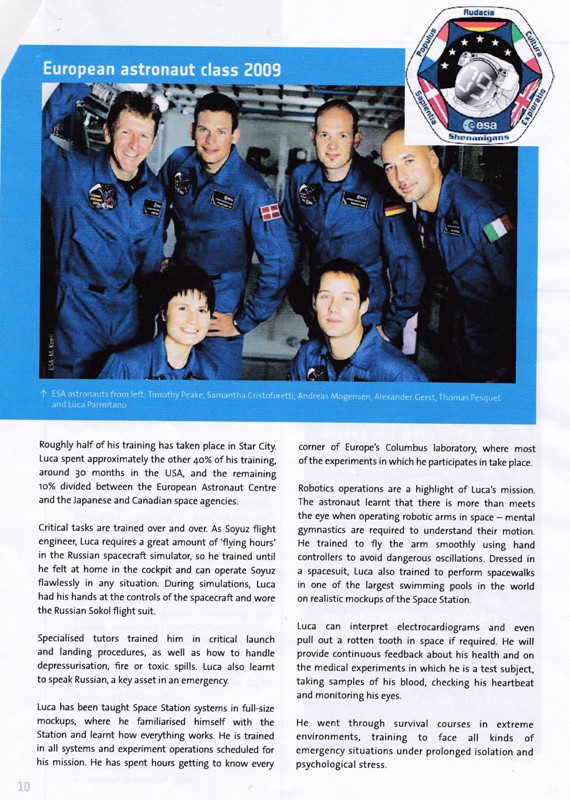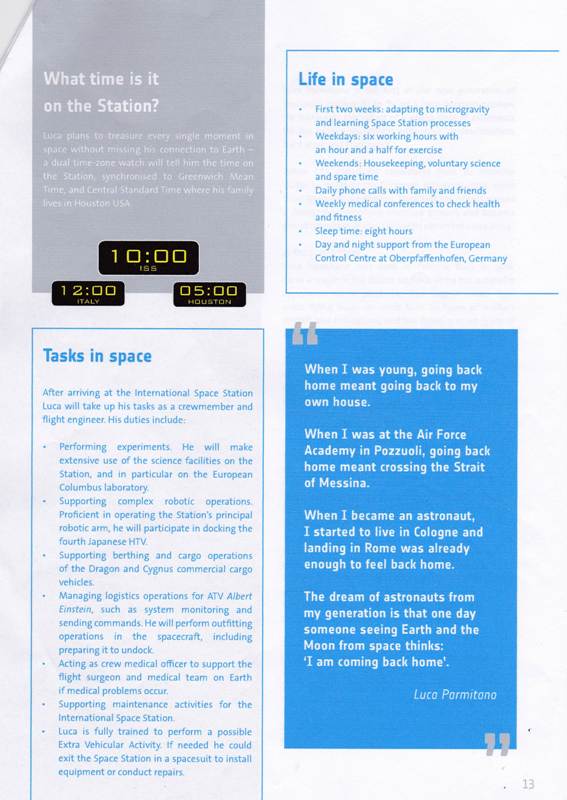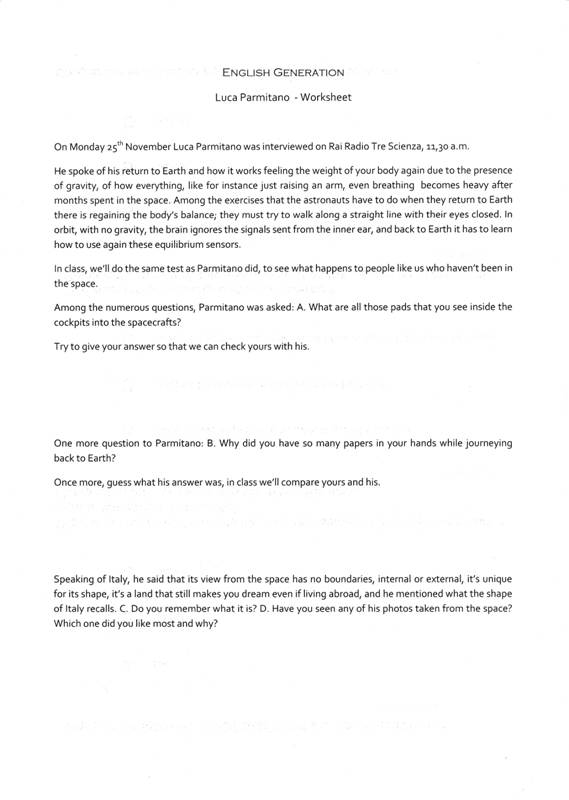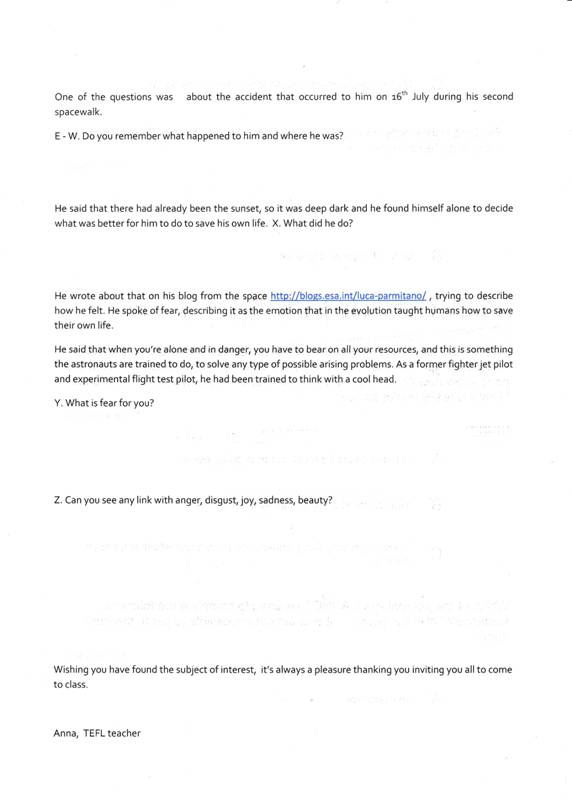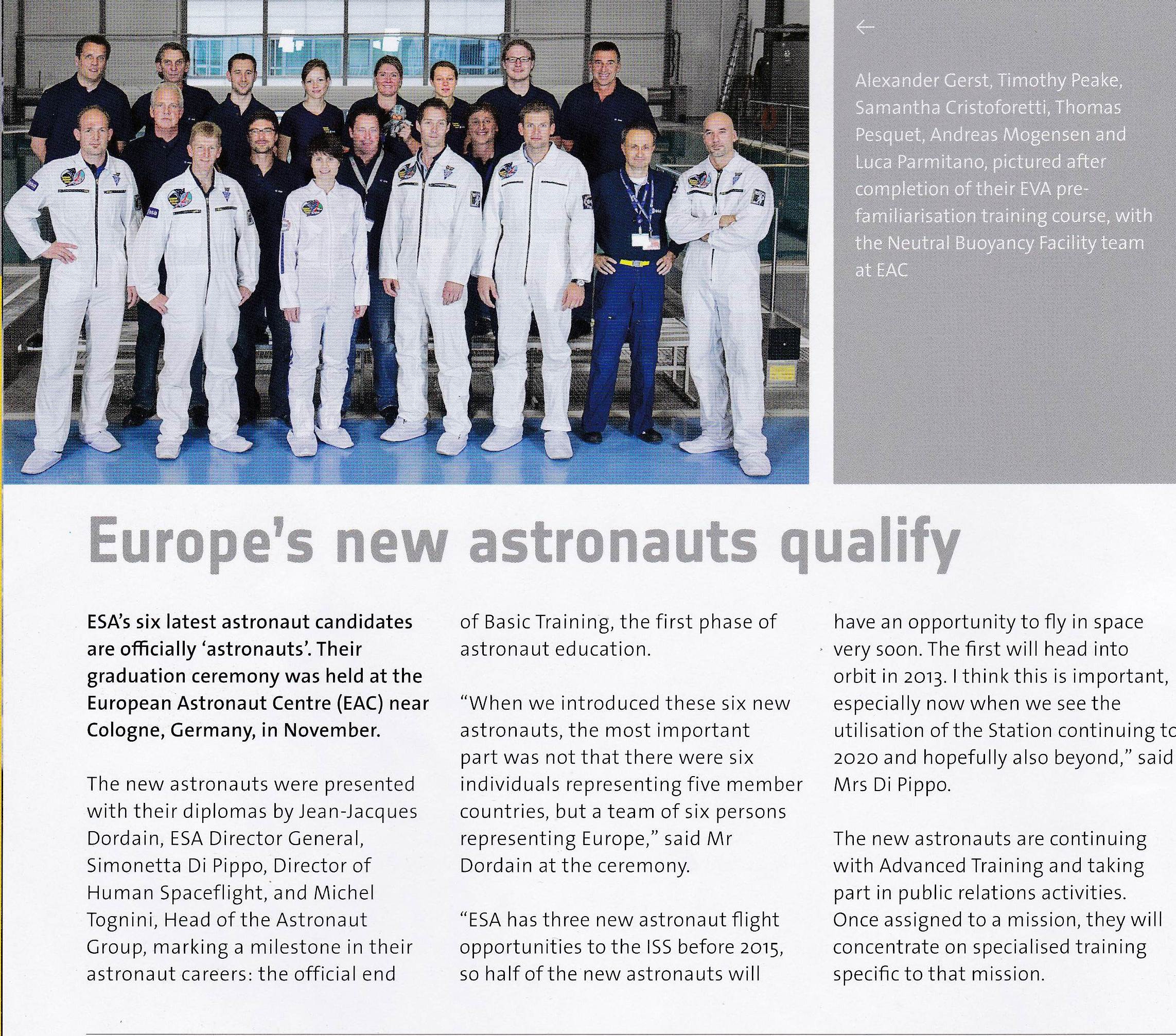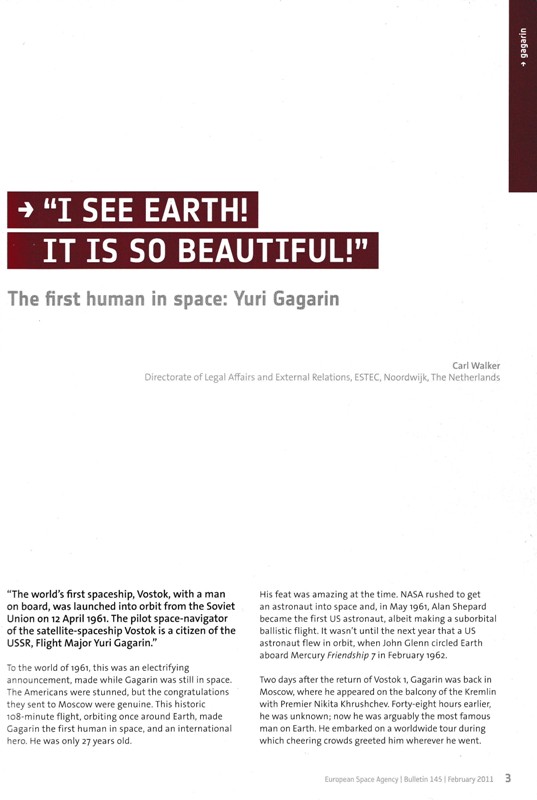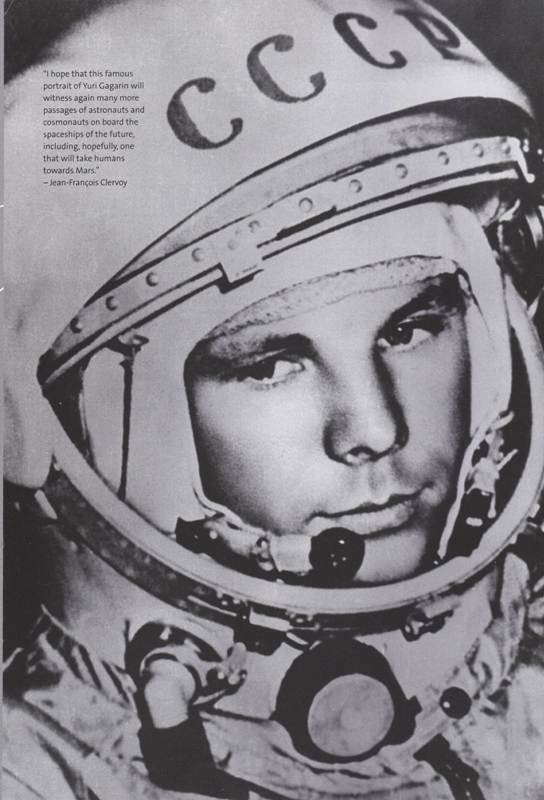 Come to class ready to speak about what you've written and never forget to enjoy your English, that's great!
Anna - Coordinator  
Source: self and //www.esa.int/ESAhttp://www.esa.int/ESAhttp://www.esa.int/ESA; ESA Bullettin Number 145 February 2011
Back on Earth; Wind, Sand and Stars
Wind, sand and stars – (with apologies once again to De Saint-Exupery)
That is my planet.
I gaze lovingly at the surface with its boundless and beautiful colours. How many times have I explored its borders as the dawn immortalises its curves, glowing in an indescribable light-blue that is perfectly outlined by the light of iridescent mesospheric clouds: the colour of infinite patience.
Shrouded in silence I look out: I feel our planet's heart beat as I watch the vital water run along infinite veins across the land, nourished and protected by the clouds that cover Earth's surface like the cloak of a vestal virgin. Its breathing is calm and eternal like the tides but large as ocean waves. It holds the power of winds that sweep sand from a hundred deserts to the tops of a thousand mountains in one breath.
In a few hours, all this will be a memory. My spaceship is quiet and dark in waiting, but soon it will turn into a dramatic theatre when we return to Earth. Everything that has a beginning must come to an end: this fragility makes each experience unique and even more valuable.
I try to fill my eyes, my mind and my heart with the colours, nuances and sensations so that my memories will be witness to the experience. Underneath me on Earth, lands merge: country boundaries are non-existent when you look down from up here in the Cupola. I observe the lands of men.
I always feel the irresistible attraction of the sky and stars when I look up on Earth. I encourage my mind to lose itself in the infinite and the unknown. It is in our nature, our Ulysses gene. Nonetheless, Ulysses returns to Ithaca after many travels: his island always in his dreams. If I had been born in the interstellar darkness, if I had spent my entire life traveling far from our world, I would look back at our bright-blue waters and diverse continents with the same admiration. Every sunrise and every sunset would instil the same sense of awe. I would dream of sinking my feet in the warm sands, to feel the cold embrace of snow and the caress of the salty sea-breeze that blows towards land. I would wonder how it feels to bathe in its waters, to bask in the warmth of the Sun.
But I am lucky: I was born there.
That is my planet. That is my home.
 As  coordinators of a project encouraging anyone to acquire English to communicate all over the world, we would like to thank whoever, including Luca Parmitano and his colleagues in this last mission, speaks and writes it from elsewhere.
An invitation to have no barriers, no borders, the same human being everywhere, eager to communicate, each time with new eyes, into the space and on the planet.
Do we have these new eyes to see what's new every day? 
What did strike you most of this mission into the space?   
Find videos on the Internet with the astronauts speaking English and let us know what they were talking about. 
Enjoy your English
Anna - Coordinator          Source: http://blogs.esa.int/luca-parmitano/2013/11/10/wind-sand-and-stars-with-apologies-once-again-to-de-saint-exupery/

We are what we do
Good morning, afternoon , evening, 
these are very busy days, we are designing new projects, meeting people to understand and plan the best perspectives for them, running courses in high schools and for adults.
For also restarting to work on the web is very important, so far Lower Intermediate Level is what you can read here. Have a look!
Once more we invite you to participate in this practice, writing here, on the web site, and speaking in class. 
That's why you have here an article talking about what we can do in our square foot - or meter, but it's larger  - to improve our world.
Never forget you can be the change you want to see in the world, the way Mohandas Karamchand Ghandi used to say.  
Add your comments with ideas of yours and we'll talk about them in class
Anna - Coordinator
Source: Speak up, May 2010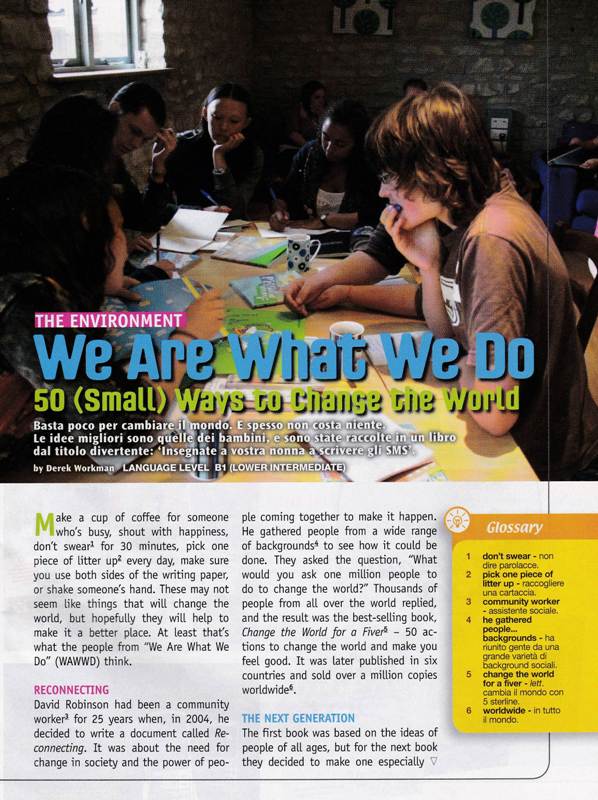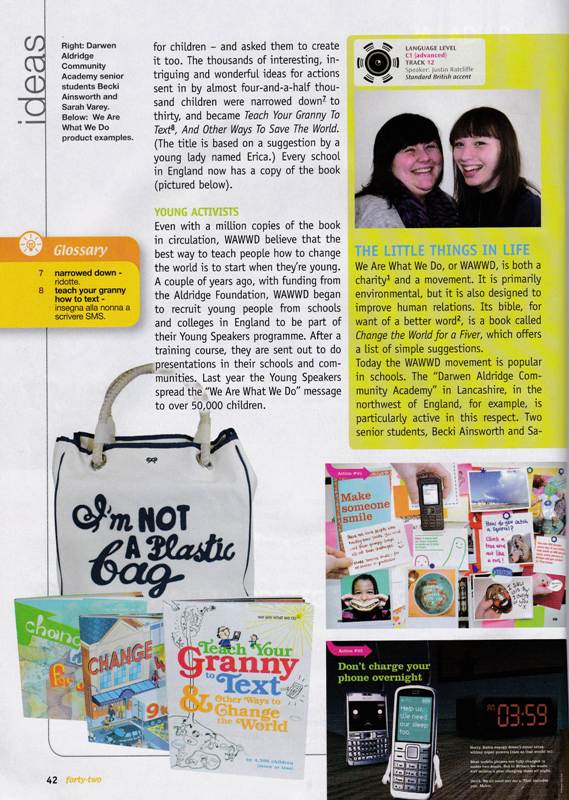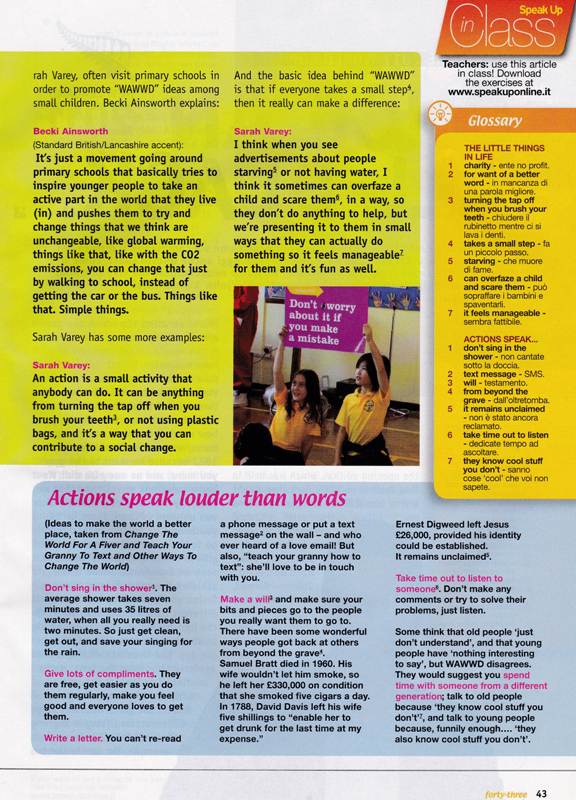 English Generation
Good morning, afternoon, evening, 
we are going to update you all about what English Generation is.
Can you guess the double meaning of the expression? 
Please write it down as a comment.
For you to know, it is Stage Two of our project with teenagers at school. 
We would like to thank all of those who worked hard the whole Summer at ITIS Galilei Livorno with Summer English courses. Have a look at their website, www.galileilivorno.it  
We encouraged students to train their English the way they do with sports. The more you train, the better your results are. Perfectly comprehensible and pursued, it worked very well.
Enthusiasm and vitality, more competence, the true beginning of bilingualism, English-Italian.  
Everybody enjoyed all the activities of the courses, including "English in the open air".  
To acquire a language what's important is "to behave" the language, being active, dynamic while performing.
We watched films, documentaries, we wrote dialogues, talked about cool T shirts' writings students wore, we competed with scrambled words, had parties. All the activities were successful, integrated by grammar all the times it was necessary.
So much kindness by English speaking  Mediterranean vruise passengers, visiting Livorno and meeting us, so much  was unexpected.
Very gentle people, all the possible accents of Great Britain, any age, all of them curious to know why all these young Italian people were there to meet them on a hot Summer day. We took hundreds of pictures all the Summer and students edited a video.  www.galileilivorno.it 
It would be nice hearing from you, having a comment about what the double meaning of English Generation is, if there's more than one. 

Working with so many teenagers has been stimulating; teenagers are clever, tenacious, full of interests, hardworking, collaborative, serious, creative, competent when properly stimulated. Now it's time to organize all our activities and courses and to continue on the web too. 
Enjoy your English, read, watch movies, talk, listen to English speaking people and write
Anna - Coordinator 
Sources: photos taken by Coordinator with the Institute, students and families' written permission.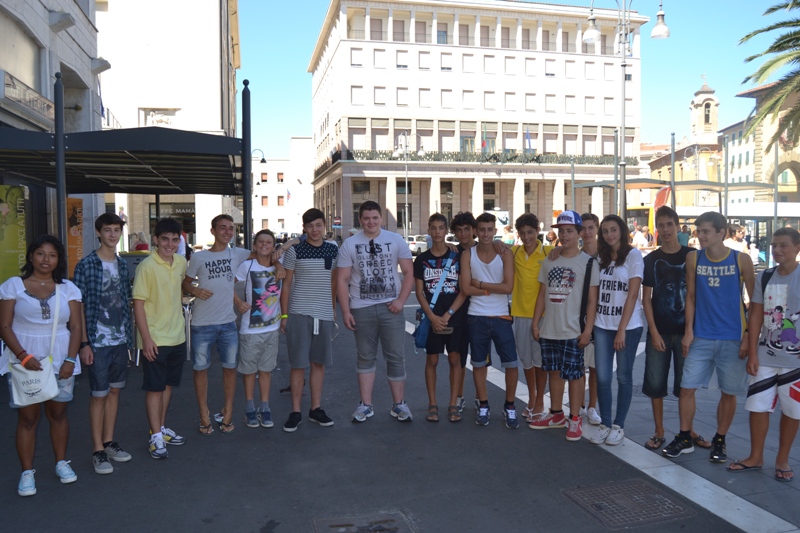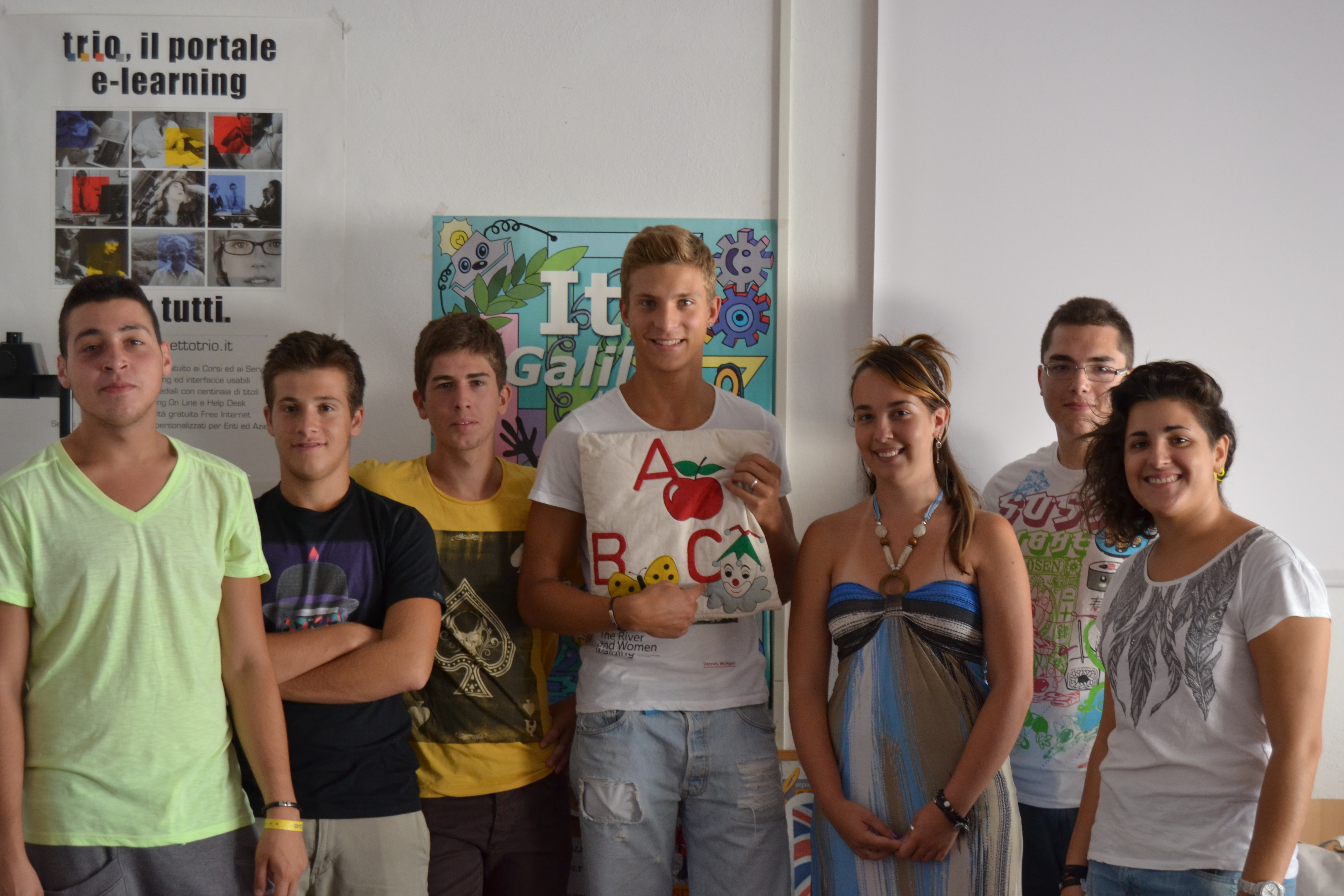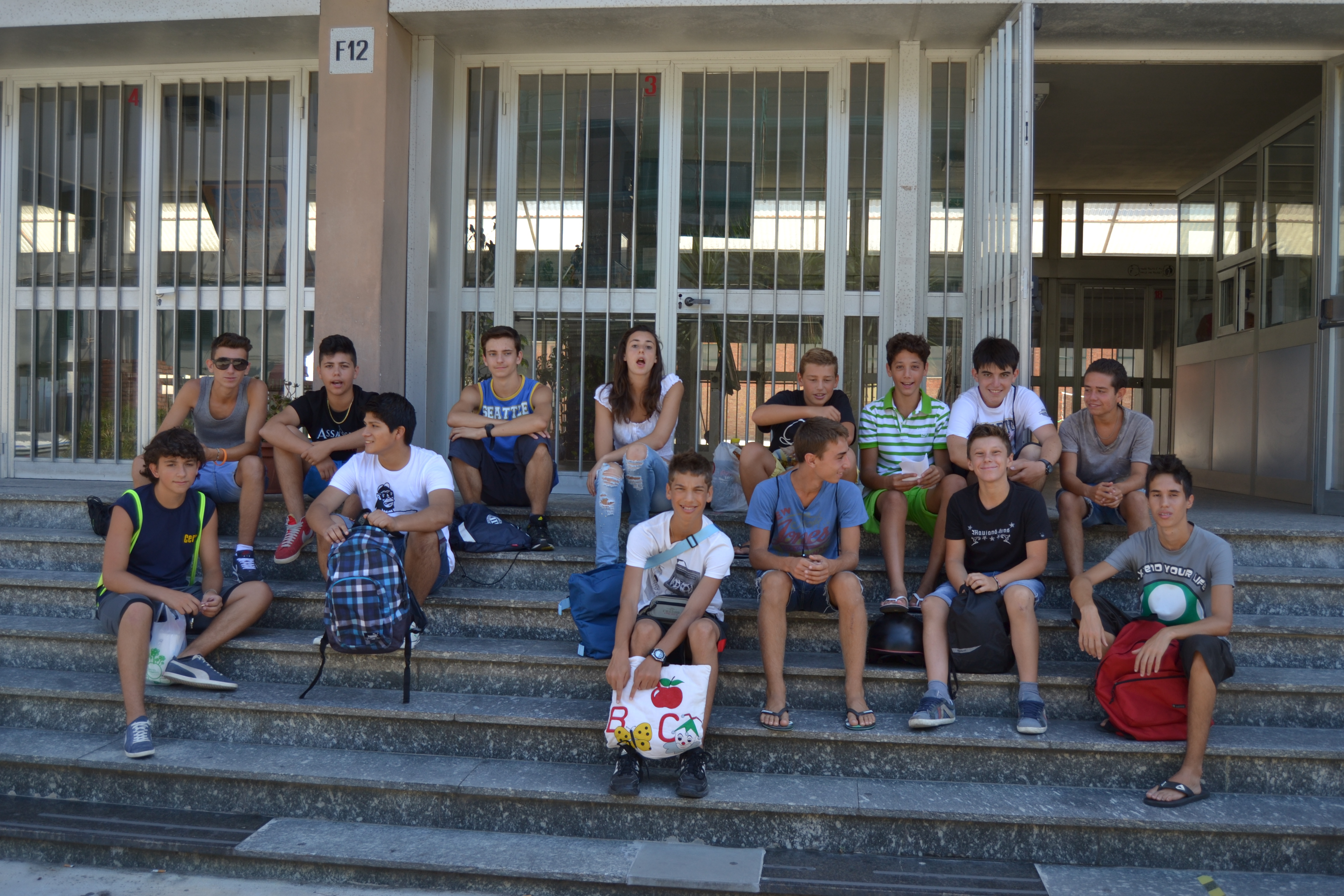 The Universe and Young People
Good morning, 'afternoon, 'evening,
we would like to welcome a Universe, one of the so many we would like to know.
It's the one of young people from the high school ITIS Galilei Livorno, all the students who are going to start studying English with us in the Summer.
Each one a Universe, all of them a Multiverse.
We are going to update the web with our work, wishing you, dear students, to acquire a Language that will be yours, wherever you go, always ready to help you to get what you mainly desire and to make you feel at home wherever you are.
Trust yourselves and be ready to find out the so many resources inside yourselves who are just waiting to be enhanced and spent for your own purposes,  all the times you meet other people.
Thank you all for participating, enjoy your English.
Anna - Coordinator 
Source: Booklet of the exhibition "Stories from the other world"  "The Universe inside and outside ourselves" Pisa, Palazzo Blu, March - July 2012, By INFN