Warning
: preg_replace(): The /e modifier is no longer supported, use preg_replace_callback instead in
/web/htdocs/www.connecting-the-dots.it/home/libraries/joomla/filter/input.php
on line
689
Warning
: preg_replace(): The /e modifier is no longer supported, use preg_replace_callback instead in
/web/htdocs/www.connecting-the-dots.it/home/libraries/joomla/filter/input.php
on line
691
Warning
: preg_replace(): The /e modifier is no longer supported, use preg_replace_callback instead in
/web/htdocs/www.connecting-the-dots.it/home/libraries/joomla/filter/input.php
on line
689
Warning
: preg_replace(): The /e modifier is no longer supported, use preg_replace_callback instead in
/web/htdocs/www.connecting-the-dots.it/home/libraries/joomla/filter/input.php
on line
691
Warning
: preg_replace(): The /e modifier is no longer supported, use preg_replace_callback instead in
/web/htdocs/www.connecting-the-dots.it/home/libraries/joomla/filter/input.php
on line
689
Warning
: preg_replace(): The /e modifier is no longer supported, use preg_replace_callback instead in
/web/htdocs/www.connecting-the-dots.it/home/libraries/joomla/filter/input.php
on line
691
Warning
: preg_replace(): The /e modifier is no longer supported, use preg_replace_callback instead in
/web/htdocs/www.connecting-the-dots.it/home/libraries/joomla/filter/input.php
on line
689
Warning
: preg_replace(): The /e modifier is no longer supported, use preg_replace_callback instead in
/web/htdocs/www.connecting-the-dots.it/home/libraries/joomla/filter/input.php
on line
691
Warning
: preg_replace(): The /e modifier is no longer supported, use preg_replace_callback instead in
/web/htdocs/www.connecting-the-dots.it/home/libraries/joomla/filter/input.php
on line
689
Warning
: preg_replace(): The /e modifier is no longer supported, use preg_replace_callback instead in
/web/htdocs/www.connecting-the-dots.it/home/libraries/joomla/filter/input.php
on line
691
Warning
: preg_replace(): The /e modifier is no longer supported, use preg_replace_callback instead in
/web/htdocs/www.connecting-the-dots.it/home/libraries/joomla/filter/input.php
on line
689
Warning
: preg_replace(): The /e modifier is no longer supported, use preg_replace_callback instead in
/web/htdocs/www.connecting-the-dots.it/home/libraries/joomla/filter/input.php
on line
691
Warning
: preg_replace(): The /e modifier is no longer supported, use preg_replace_callback instead in
/web/htdocs/www.connecting-the-dots.it/home/libraries/joomla/filter/input.php
on line
689
Warning
: preg_replace(): The /e modifier is no longer supported, use preg_replace_callback instead in
/web/htdocs/www.connecting-the-dots.it/home/libraries/joomla/filter/input.php
on line
691
Warning
: preg_replace(): The /e modifier is no longer supported, use preg_replace_callback instead in
/web/htdocs/www.connecting-the-dots.it/home/libraries/joomla/filter/input.php
on line
689
Warning
: preg_replace(): The /e modifier is no longer supported, use preg_replace_callback instead in
/web/htdocs/www.connecting-the-dots.it/home/libraries/joomla/filter/input.php
on line
691
Warning
: preg_replace(): The /e modifier is no longer supported, use preg_replace_callback instead in
/web/htdocs/www.connecting-the-dots.it/home/libraries/joomla/filter/input.php
on line
689
Warning
: preg_replace(): The /e modifier is no longer supported, use preg_replace_callback instead in
/web/htdocs/www.connecting-the-dots.it/home/libraries/joomla/filter/input.php
on line
691
Warning
: preg_replace(): The /e modifier is no longer supported, use preg_replace_callback instead in
/web/htdocs/www.connecting-the-dots.it/home/libraries/joomla/filter/input.php
on line
689
Warning
: preg_replace(): The /e modifier is no longer supported, use preg_replace_callback instead in
/web/htdocs/www.connecting-the-dots.it/home/libraries/joomla/filter/input.php
on line
691
Warning
: preg_replace(): The /e modifier is no longer supported, use preg_replace_callback instead in
/web/htdocs/www.connecting-the-dots.it/home/libraries/joomla/filter/input.php
on line
689
Warning
: preg_replace(): The /e modifier is no longer supported, use preg_replace_callback instead in
/web/htdocs/www.connecting-the-dots.it/home/libraries/joomla/filter/input.php
on line
691
Warning
: preg_replace(): The /e modifier is no longer supported, use preg_replace_callback instead in
/web/htdocs/www.connecting-the-dots.it/home/libraries/joomla/filter/input.php
on line
689
Warning
: preg_replace(): The /e modifier is no longer supported, use preg_replace_callback instead in
/web/htdocs/www.connecting-the-dots.it/home/libraries/joomla/filter/input.php
on line
691
Warning
: preg_replace(): The /e modifier is no longer supported, use preg_replace_callback instead in
/web/htdocs/www.connecting-the-dots.it/home/libraries/joomla/filter/input.php
on line
689
Warning
: preg_replace(): The /e modifier is no longer supported, use preg_replace_callback instead in
/web/htdocs/www.connecting-the-dots.it/home/libraries/joomla/filter/input.php
on line
691
Warning
: preg_replace(): The /e modifier is no longer supported, use preg_replace_callback instead in
/web/htdocs/www.connecting-the-dots.it/home/libraries/joomla/filter/input.php
on line
689
Warning
: preg_replace(): The /e modifier is no longer supported, use preg_replace_callback instead in
/web/htdocs/www.connecting-the-dots.it/home/libraries/joomla/filter/input.php
on line
691
Warning
: preg_replace(): The /e modifier is no longer supported, use preg_replace_callback instead in
/web/htdocs/www.connecting-the-dots.it/home/libraries/joomla/filter/input.php
on line
689
Warning
: preg_replace(): The /e modifier is no longer supported, use preg_replace_callback instead in
/web/htdocs/www.connecting-the-dots.it/home/libraries/joomla/filter/input.php
on line
691
Warning
: preg_replace(): The /e modifier is no longer supported, use preg_replace_callback instead in
/web/htdocs/www.connecting-the-dots.it/home/libraries/joomla/filter/input.php
on line
689
Warning
: preg_replace(): The /e modifier is no longer supported, use preg_replace_callback instead in
/web/htdocs/www.connecting-the-dots.it/home/libraries/joomla/filter/input.php
on line
691
Warning
: preg_replace(): The /e modifier is no longer supported, use preg_replace_callback instead in
/web/htdocs/www.connecting-the-dots.it/home/libraries/joomla/filter/input.php
on line
689
Warning
: preg_replace(): The /e modifier is no longer supported, use preg_replace_callback instead in
/web/htdocs/www.connecting-the-dots.it/home/libraries/joomla/filter/input.php
on line
691
Warning
: preg_replace(): The /e modifier is no longer supported, use preg_replace_callback instead in
/web/htdocs/www.connecting-the-dots.it/home/libraries/joomla/filter/input.php
on line
689
Warning
: preg_replace(): The /e modifier is no longer supported, use preg_replace_callback instead in
/web/htdocs/www.connecting-the-dots.it/home/libraries/joomla/filter/input.php
on line
691
Warning
: preg_replace(): The /e modifier is no longer supported, use preg_replace_callback instead in
/web/htdocs/www.connecting-the-dots.it/home/libraries/joomla/filter/input.php
on line
689
Warning
: preg_replace(): The /e modifier is no longer supported, use preg_replace_callback instead in
/web/htdocs/www.connecting-the-dots.it/home/libraries/joomla/filter/input.php
on line
691
Warning
: preg_replace(): The /e modifier is no longer supported, use preg_replace_callback instead in
/web/htdocs/www.connecting-the-dots.it/home/libraries/joomla/filter/input.php
on line
689
Warning
: preg_replace(): The /e modifier is no longer supported, use preg_replace_callback instead in
/web/htdocs/www.connecting-the-dots.it/home/libraries/joomla/filter/input.php
on line
691
Warning
: preg_replace(): The /e modifier is no longer supported, use preg_replace_callback instead in
/web/htdocs/www.connecting-the-dots.it/home/libraries/joomla/filter/input.php
on line
689
Warning
: preg_replace(): The /e modifier is no longer supported, use preg_replace_callback instead in
/web/htdocs/www.connecting-the-dots.it/home/libraries/joomla/filter/input.php
on line
691
Warning
: preg_replace(): The /e modifier is no longer supported, use preg_replace_callback instead in
/web/htdocs/www.connecting-the-dots.it/home/libraries/joomla/filter/input.php
on line
689
Warning
: preg_replace(): The /e modifier is no longer supported, use preg_replace_callback instead in
/web/htdocs/www.connecting-the-dots.it/home/libraries/joomla/filter/input.php
on line
691
Warning
: preg_replace(): The /e modifier is no longer supported, use preg_replace_callback instead in
/web/htdocs/www.connecting-the-dots.it/home/libraries/joomla/filter/input.php
on line
689
Warning
: preg_replace(): The /e modifier is no longer supported, use preg_replace_callback instead in
/web/htdocs/www.connecting-the-dots.it/home/libraries/joomla/filter/input.php
on line
691
Warning
: preg_replace(): The /e modifier is no longer supported, use preg_replace_callback instead in
/web/htdocs/www.connecting-the-dots.it/home/libraries/joomla/filter/input.php
on line
689
Warning
: preg_replace(): The /e modifier is no longer supported, use preg_replace_callback instead in
/web/htdocs/www.connecting-the-dots.it/home/libraries/joomla/filter/input.php
on line
691
Warning
: preg_replace(): The /e modifier is no longer supported, use preg_replace_callback instead in
/web/htdocs/www.connecting-the-dots.it/home/libraries/joomla/filter/input.php
on line
689
Warning
: preg_replace(): The /e modifier is no longer supported, use preg_replace_callback instead in
/web/htdocs/www.connecting-the-dots.it/home/libraries/joomla/filter/input.php
on line
691
Warning
: preg_replace(): The /e modifier is no longer supported, use preg_replace_callback instead in
/web/htdocs/www.connecting-the-dots.it/home/libraries/joomla/filter/input.php
on line
689
Warning
: preg_replace(): The /e modifier is no longer supported, use preg_replace_callback instead in
/web/htdocs/www.connecting-the-dots.it/home/libraries/joomla/filter/input.php
on line
691
Warning
: preg_replace(): The /e modifier is no longer supported, use preg_replace_callback instead in
/web/htdocs/www.connecting-the-dots.it/home/libraries/joomla/filter/input.php
on line
689
Warning
: preg_replace(): The /e modifier is no longer supported, use preg_replace_callback instead in
/web/htdocs/www.connecting-the-dots.it/home/libraries/joomla/filter/input.php
on line
691
Warning
: preg_replace(): The /e modifier is no longer supported, use preg_replace_callback instead in
/web/htdocs/www.connecting-the-dots.it/home/libraries/joomla/filter/input.php
on line
689
Warning
: preg_replace(): The /e modifier is no longer supported, use preg_replace_callback instead in
/web/htdocs/www.connecting-the-dots.it/home/libraries/joomla/filter/input.php
on line
691
Warning
: preg_replace(): The /e modifier is no longer supported, use preg_replace_callback instead in
/web/htdocs/www.connecting-the-dots.it/home/libraries/joomla/filter/input.php
on line
689
Warning
: preg_replace(): The /e modifier is no longer supported, use preg_replace_callback instead in
/web/htdocs/www.connecting-the-dots.it/home/libraries/joomla/filter/input.php
on line
691
Warning
: preg_replace(): The /e modifier is no longer supported, use preg_replace_callback instead in
/web/htdocs/www.connecting-the-dots.it/home/libraries/joomla/filter/input.php
on line
689
Warning
: preg_replace(): The /e modifier is no longer supported, use preg_replace_callback instead in
/web/htdocs/www.connecting-the-dots.it/home/libraries/joomla/filter/input.php
on line
691
Warning
: preg_replace(): The /e modifier is no longer supported, use preg_replace_callback instead in
/web/htdocs/www.connecting-the-dots.it/home/libraries/joomla/filter/input.php
on line
689
Warning
: preg_replace(): The /e modifier is no longer supported, use preg_replace_callback instead in
/web/htdocs/www.connecting-the-dots.it/home/libraries/joomla/filter/input.php
on line
691
Warning
: preg_replace(): The /e modifier is no longer supported, use preg_replace_callback instead in
/web/htdocs/www.connecting-the-dots.it/home/libraries/joomla/filter/input.php
on line
689
Warning
: preg_replace(): The /e modifier is no longer supported, use preg_replace_callback instead in
/web/htdocs/www.connecting-the-dots.it/home/libraries/joomla/filter/input.php
on line
691
Warning
: preg_replace(): The /e modifier is no longer supported, use preg_replace_callback instead in
/web/htdocs/www.connecting-the-dots.it/home/libraries/joomla/filter/input.php
on line
689
Warning
: preg_replace(): The /e modifier is no longer supported, use preg_replace_callback instead in
/web/htdocs/www.connecting-the-dots.it/home/libraries/joomla/filter/input.php
on line
691
Warning
: preg_replace(): The /e modifier is no longer supported, use preg_replace_callback instead in
/web/htdocs/www.connecting-the-dots.it/home/libraries/joomla/filter/input.php
on line
689
Warning
: preg_replace(): The /e modifier is no longer supported, use preg_replace_callback instead in
/web/htdocs/www.connecting-the-dots.it/home/libraries/joomla/filter/input.php
on line
691
Warning
: preg_replace(): The /e modifier is no longer supported, use preg_replace_callback instead in
/web/htdocs/www.connecting-the-dots.it/home/libraries/joomla/filter/input.php
on line
689
Warning
: preg_replace(): The /e modifier is no longer supported, use preg_replace_callback instead in
/web/htdocs/www.connecting-the-dots.it/home/libraries/joomla/filter/input.php
on line
691
Warning
: preg_replace(): The /e modifier is no longer supported, use preg_replace_callback instead in
/web/htdocs/www.connecting-the-dots.it/home/libraries/joomla/filter/input.php
on line
689
Warning
: preg_replace(): The /e modifier is no longer supported, use preg_replace_callback instead in
/web/htdocs/www.connecting-the-dots.it/home/libraries/joomla/filter/input.php
on line
691
Warning
: preg_replace(): The /e modifier is no longer supported, use preg_replace_callback instead in
/web/htdocs/www.connecting-the-dots.it/home/libraries/joomla/filter/input.php
on line
689
Warning
: preg_replace(): The /e modifier is no longer supported, use preg_replace_callback instead in
/web/htdocs/www.connecting-the-dots.it/home/libraries/joomla/filter/input.php
on line
691
Warning
: preg_replace(): The /e modifier is no longer supported, use preg_replace_callback instead in
/web/htdocs/www.connecting-the-dots.it/home/libraries/joomla/filter/input.php
on line
689
Warning
: preg_replace(): The /e modifier is no longer supported, use preg_replace_callback instead in
/web/htdocs/www.connecting-the-dots.it/home/libraries/joomla/filter/input.php
on line
691
Warning
: preg_replace(): The /e modifier is no longer supported, use preg_replace_callback instead in
/web/htdocs/www.connecting-the-dots.it/home/libraries/joomla/filter/input.php
on line
689
Warning
: preg_replace(): The /e modifier is no longer supported, use preg_replace_callback instead in
/web/htdocs/www.connecting-the-dots.it/home/libraries/joomla/filter/input.php
on line
691
Warning
: preg_replace(): The /e modifier is no longer supported, use preg_replace_callback instead in
/web/htdocs/www.connecting-the-dots.it/home/libraries/joomla/filter/input.php
on line
689
Warning
: preg_replace(): The /e modifier is no longer supported, use preg_replace_callback instead in
/web/htdocs/www.connecting-the-dots.it/home/libraries/joomla/filter/input.php
on line
691
Warning
: preg_replace(): The /e modifier is no longer supported, use preg_replace_callback instead in
/web/htdocs/www.connecting-the-dots.it/home/libraries/joomla/filter/input.php
on line
689
Warning
: preg_replace(): The /e modifier is no longer supported, use preg_replace_callback instead in
/web/htdocs/www.connecting-the-dots.it/home/libraries/joomla/filter/input.php
on line
691
Warning
: preg_replace(): The /e modifier is no longer supported, use preg_replace_callback instead in
/web/htdocs/www.connecting-the-dots.it/home/libraries/joomla/filter/input.php
on line
689
Warning
: preg_replace(): The /e modifier is no longer supported, use preg_replace_callback instead in
/web/htdocs/www.connecting-the-dots.it/home/libraries/joomla/filter/input.php
on line
691
Warning
: preg_replace(): The /e modifier is no longer supported, use preg_replace_callback instead in
/web/htdocs/www.connecting-the-dots.it/home/libraries/joomla/filter/input.php
on line
689
Warning
: preg_replace(): The /e modifier is no longer supported, use preg_replace_callback instead in
/web/htdocs/www.connecting-the-dots.it/home/libraries/joomla/filter/input.php
on line
691
Warning
: preg_replace(): The /e modifier is no longer supported, use preg_replace_callback instead in
/web/htdocs/www.connecting-the-dots.it/home/libraries/joomla/filter/input.php
on line
689
Warning
: preg_replace(): The /e modifier is no longer supported, use preg_replace_callback instead in
/web/htdocs/www.connecting-the-dots.it/home/libraries/joomla/filter/input.php
on line
691
Warning
: preg_replace(): The /e modifier is no longer supported, use preg_replace_callback instead in
/web/htdocs/www.connecting-the-dots.it/home/libraries/joomla/filter/input.php
on line
689
Warning
: preg_replace(): The /e modifier is no longer supported, use preg_replace_callback instead in
/web/htdocs/www.connecting-the-dots.it/home/libraries/joomla/filter/input.php
on line
691
Warning
: preg_replace(): The /e modifier is no longer supported, use preg_replace_callback instead in
/web/htdocs/www.connecting-the-dots.it/home/libraries/joomla/filter/input.php
on line
689
Warning
: preg_replace(): The /e modifier is no longer supported, use preg_replace_callback instead in
/web/htdocs/www.connecting-the-dots.it/home/libraries/joomla/filter/input.php
on line
691
Warning
: preg_replace(): The /e modifier is no longer supported, use preg_replace_callback instead in
/web/htdocs/www.connecting-the-dots.it/home/libraries/joomla/filter/input.php
on line
689
Warning
: preg_replace(): The /e modifier is no longer supported, use preg_replace_callback instead in
/web/htdocs/www.connecting-the-dots.it/home/libraries/joomla/filter/input.php
on line
691
Warning
: preg_replace(): The /e modifier is no longer supported, use preg_replace_callback instead in
/web/htdocs/www.connecting-the-dots.it/home/libraries/joomla/filter/input.php
on line
689
Warning
: preg_replace(): The /e modifier is no longer supported, use preg_replace_callback instead in
/web/htdocs/www.connecting-the-dots.it/home/libraries/joomla/filter/input.php
on line
691
Warning
: preg_replace(): The /e modifier is no longer supported, use preg_replace_callback instead in
/web/htdocs/www.connecting-the-dots.it/home/libraries/joomla/filter/input.php
on line
689
Warning
: preg_replace(): The /e modifier is no longer supported, use preg_replace_callback instead in
/web/htdocs/www.connecting-the-dots.it/home/libraries/joomla/filter/input.php
on line
691
Warning
: preg_replace(): The /e modifier is no longer supported, use preg_replace_callback instead in
/web/htdocs/www.connecting-the-dots.it/home/libraries/joomla/filter/input.php
on line
689
Warning
: preg_replace(): The /e modifier is no longer supported, use preg_replace_callback instead in
/web/htdocs/www.connecting-the-dots.it/home/libraries/joomla/filter/input.php
on line
691
Warning
: preg_replace(): The /e modifier is no longer supported, use preg_replace_callback instead in
/web/htdocs/www.connecting-the-dots.it/home/libraries/joomla/filter/input.php
on line
689
Warning
: preg_replace(): The /e modifier is no longer supported, use preg_replace_callback instead in
/web/htdocs/www.connecting-the-dots.it/home/libraries/joomla/filter/input.php
on line
691
Warning
: preg_replace(): The /e modifier is no longer supported, use preg_replace_callback instead in
/web/htdocs/www.connecting-the-dots.it/home/libraries/joomla/filter/input.php
on line
689
Warning
: preg_replace(): The /e modifier is no longer supported, use preg_replace_callback instead in
/web/htdocs/www.connecting-the-dots.it/home/libraries/joomla/filter/input.php
on line
691
Warning
: preg_replace(): The /e modifier is no longer supported, use preg_replace_callback instead in
/web/htdocs/www.connecting-the-dots.it/home/libraries/joomla/filter/input.php
on line
689
Warning
: preg_replace(): The /e modifier is no longer supported, use preg_replace_callback instead in
/web/htdocs/www.connecting-the-dots.it/home/libraries/joomla/filter/input.php
on line
691
Warning
: preg_replace(): The /e modifier is no longer supported, use preg_replace_callback instead in
/web/htdocs/www.connecting-the-dots.it/home/libraries/joomla/filter/input.php
on line
689
Warning
: preg_replace(): The /e modifier is no longer supported, use preg_replace_callback instead in
/web/htdocs/www.connecting-the-dots.it/home/libraries/joomla/filter/input.php
on line
691
Warning
: preg_replace(): The /e modifier is no longer supported, use preg_replace_callback instead in
/web/htdocs/www.connecting-the-dots.it/home/libraries/joomla/filter/input.php
on line
689
Warning
: preg_replace(): The /e modifier is no longer supported, use preg_replace_callback instead in
/web/htdocs/www.connecting-the-dots.it/home/libraries/joomla/filter/input.php
on line
691
Warning
: preg_replace(): The /e modifier is no longer supported, use preg_replace_callback instead in
/web/htdocs/www.connecting-the-dots.it/home/libraries/joomla/filter/input.php
on line
689
Warning
: preg_replace(): The /e modifier is no longer supported, use preg_replace_callback instead in
/web/htdocs/www.connecting-the-dots.it/home/libraries/joomla/filter/input.php
on line
691
Warning
: preg_replace(): The /e modifier is no longer supported, use preg_replace_callback instead in
/web/htdocs/www.connecting-the-dots.it/home/libraries/joomla/filter/input.php
on line
689
Warning
: preg_replace(): The /e modifier is no longer supported, use preg_replace_callback instead in
/web/htdocs/www.connecting-the-dots.it/home/libraries/joomla/filter/input.php
on line
691
Warning
: preg_replace(): The /e modifier is no longer supported, use preg_replace_callback instead in
/web/htdocs/www.connecting-the-dots.it/home/libraries/joomla/filter/input.php
on line
689
Warning
: preg_replace(): The /e modifier is no longer supported, use preg_replace_callback instead in
/web/htdocs/www.connecting-the-dots.it/home/libraries/joomla/filter/input.php
on line
691
Warning
: preg_replace(): The /e modifier is no longer supported, use preg_replace_callback instead in
/web/htdocs/www.connecting-the-dots.it/home/libraries/joomla/filter/input.php
on line
689
Warning
: preg_replace(): The /e modifier is no longer supported, use preg_replace_callback instead in
/web/htdocs/www.connecting-the-dots.it/home/libraries/joomla/filter/input.php
on line
691
Warning
: preg_replace(): The /e modifier is no longer supported, use preg_replace_callback instead in
/web/htdocs/www.connecting-the-dots.it/home/libraries/joomla/filter/input.php
on line
689
Warning
: preg_replace(): The /e modifier is no longer supported, use preg_replace_callback instead in
/web/htdocs/www.connecting-the-dots.it/home/libraries/joomla/filter/input.php
on line
691
Warning
: preg_replace(): The /e modifier is no longer supported, use preg_replace_callback instead in
/web/htdocs/www.connecting-the-dots.it/home/libraries/joomla/filter/input.php
on line
689
Warning
: preg_replace(): The /e modifier is no longer supported, use preg_replace_callback instead in
/web/htdocs/www.connecting-the-dots.it/home/libraries/joomla/filter/input.php
on line
691
Warning
: preg_replace(): The /e modifier is no longer supported, use preg_replace_callback instead in
/web/htdocs/www.connecting-the-dots.it/home/libraries/joomla/filter/input.php
on line
689
Warning
: preg_replace(): The /e modifier is no longer supported, use preg_replace_callback instead in
/web/htdocs/www.connecting-the-dots.it/home/libraries/joomla/filter/input.php
on line
691
Warning
: preg_replace(): The /e modifier is no longer supported, use preg_replace_callback instead in
/web/htdocs/www.connecting-the-dots.it/home/libraries/joomla/filter/input.php
on line
689
Warning
: preg_replace(): The /e modifier is no longer supported, use preg_replace_callback instead in
/web/htdocs/www.connecting-the-dots.it/home/libraries/joomla/filter/input.php
on line
691
Warning
: preg_replace(): The /e modifier is no longer supported, use preg_replace_callback instead in
/web/htdocs/www.connecting-the-dots.it/home/libraries/joomla/filter/input.php
on line
689
Warning
: preg_replace(): The /e modifier is no longer supported, use preg_replace_callback instead in
/web/htdocs/www.connecting-the-dots.it/home/libraries/joomla/filter/input.php
on line
691
Warning
: preg_replace(): The /e modifier is no longer supported, use preg_replace_callback instead in
/web/htdocs/www.connecting-the-dots.it/home/libraries/joomla/filter/input.php
on line
689
Warning
: preg_replace(): The /e modifier is no longer supported, use preg_replace_callback instead in
/web/htdocs/www.connecting-the-dots.it/home/libraries/joomla/filter/input.php
on line
691
Warning
: preg_replace(): The /e modifier is no longer supported, use preg_replace_callback instead in
/web/htdocs/www.connecting-the-dots.it/home/libraries/joomla/filter/input.php
on line
689
Warning
: preg_replace(): The /e modifier is no longer supported, use preg_replace_callback instead in
/web/htdocs/www.connecting-the-dots.it/home/libraries/joomla/filter/input.php
on line
691
Warning
: preg_replace(): The /e modifier is no longer supported, use preg_replace_callback instead in
/web/htdocs/www.connecting-the-dots.it/home/libraries/joomla/filter/input.php
on line
689
Warning
: preg_replace(): The /e modifier is no longer supported, use preg_replace_callback instead in
/web/htdocs/www.connecting-the-dots.it/home/libraries/joomla/filter/input.php
on line
691
Warning
: preg_replace(): The /e modifier is no longer supported, use preg_replace_callback instead in
/web/htdocs/www.connecting-the-dots.it/home/libraries/joomla/filter/input.php
on line
689
Warning
: preg_replace(): The /e modifier is no longer supported, use preg_replace_callback instead in
/web/htdocs/www.connecting-the-dots.it/home/libraries/joomla/filter/input.php
on line
691
Warning
: preg_replace(): The /e modifier is no longer supported, use preg_replace_callback instead in
/web/htdocs/www.connecting-the-dots.it/home/libraries/joomla/filter/input.php
on line
689
Warning
: preg_replace(): The /e modifier is no longer supported, use preg_replace_callback instead in
/web/htdocs/www.connecting-the-dots.it/home/libraries/joomla/filter/input.php
on line
691
Warning
: preg_replace(): The /e modifier is no longer supported, use preg_replace_callback instead in
/web/htdocs/www.connecting-the-dots.it/home/libraries/joomla/filter/input.php
on line
689
Warning
: preg_replace(): The /e modifier is no longer supported, use preg_replace_callback instead in
/web/htdocs/www.connecting-the-dots.it/home/libraries/joomla/filter/input.php
on line
691
Warning
: preg_replace(): The /e modifier is no longer supported, use preg_replace_callback instead in
/web/htdocs/www.connecting-the-dots.it/home/libraries/joomla/filter/input.php
on line
689
Warning
: preg_replace(): The /e modifier is no longer supported, use preg_replace_callback instead in
/web/htdocs/www.connecting-the-dots.it/home/libraries/joomla/filter/input.php
on line
691
Keep up with your English!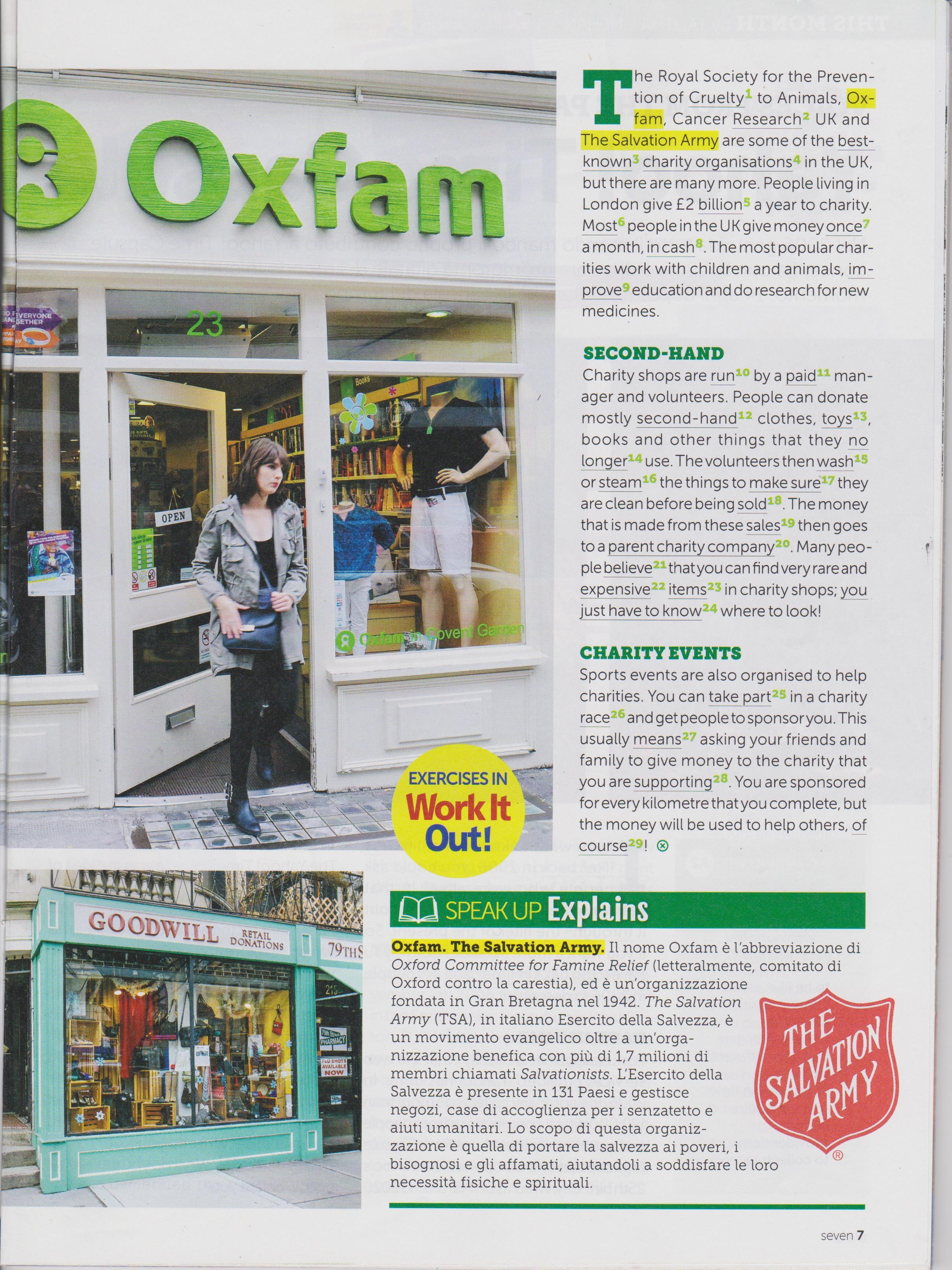 Good morning, afternoon, evening
Rita, Rossella, Antonella, Laura, Denise, Monica, Lorenzo, Massimo, Rossella, Lorenzo, Sergio, Marco, Alessia, Monica, 
we can say that this article is connected with the special days we are living because being helpful is a behaviour that today we appreciate even more than usual. 
While staying at home, respecting all the rules we are asked to, you can keep up with your English trying to dedicate a few minutes every day to this useful task. 
This article is very easy, and you have here two exercises.
The first is replying to four questions after reading the article:  
1. What are charity shops? 
2. What can you buy in these shops?
3. Who works in charity shops? 
4. How much money do people in London give to charity every year? 
The second exercise is to find only one word with the same meaning of the following sentences: 
1. Give money or things to help a  charity organization.
2. Someone who works to help people without getting paid. 
3. Heat water so that it becomes gas. 
4. Give money to support someone, an organization or an event. 
Write your answers as a comment below, I will reply. 
You can also try to describe your days, using present simple for habits.
It will be a pleasure reading anything you want to write. 
Anna - Coordinator 
Source: Speak Up, March 2020 Issue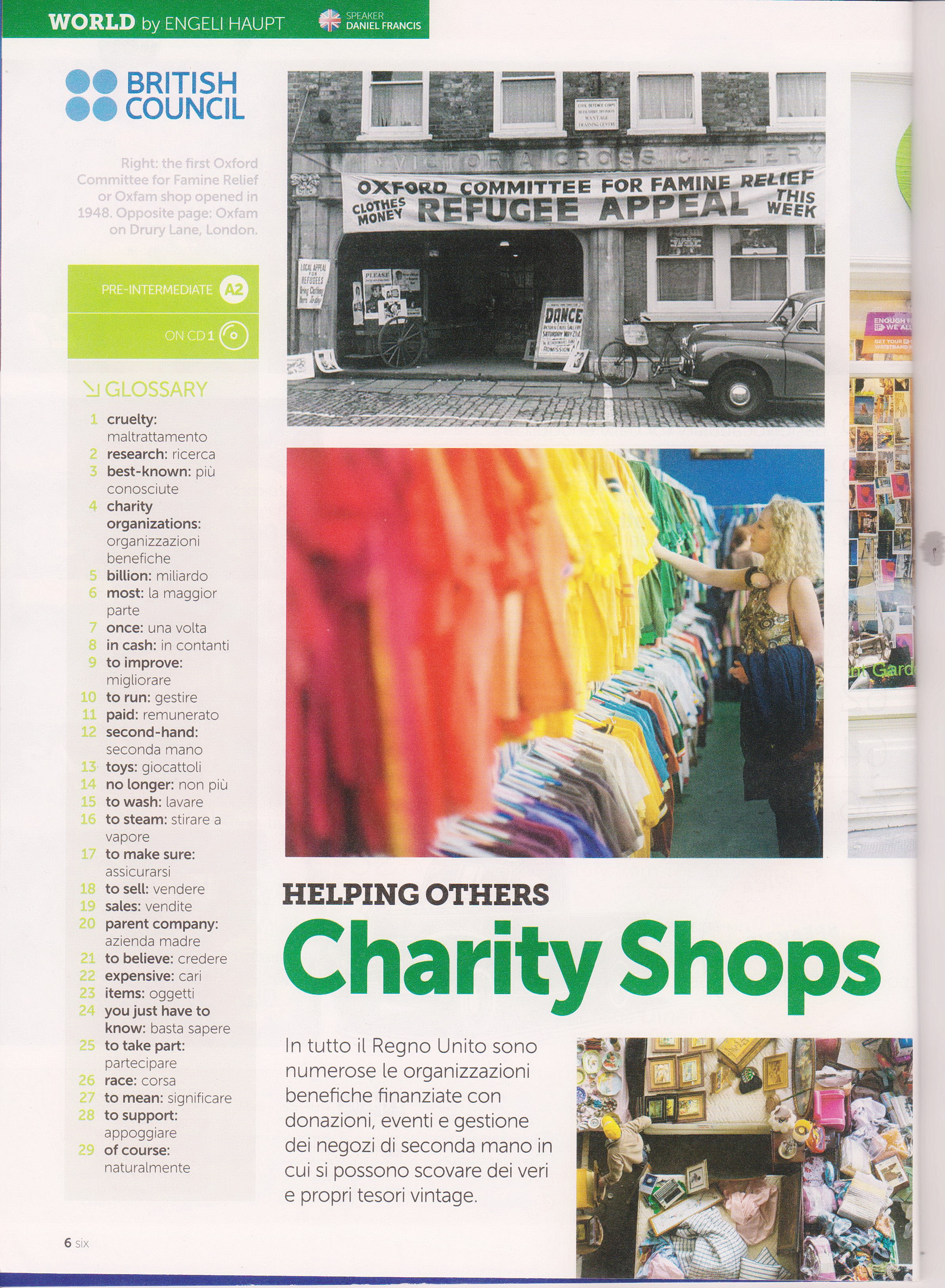 Freedom with English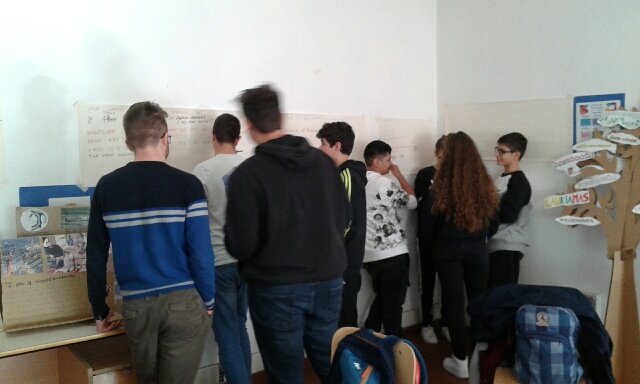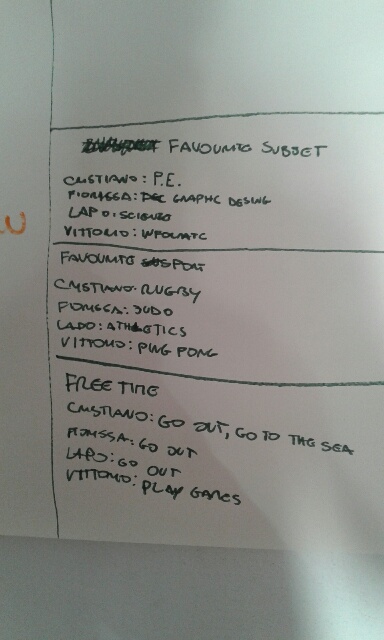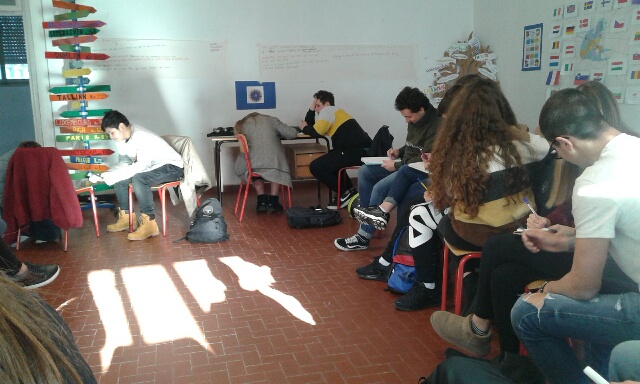 Good morning, afternoon, evening
Ludovica, Federico, Cristiano, Lapo, Linda, Oswaldo, Giacomo, Ginevra, Matteo, Simone, Giulia, Gabriele, Geraldine, Vittorio, Fiorisa and everybody, 
on February 14 we started this new course, called Freedom with English, you as ITIS Livorno's students partecipating in at school, before the Open Air English Labs . 
The point of connecting Freedom with English is to aknowledge that speaking languages makes you more perceptive, capable of stating what you believe in, what you want to share and spread, connected with open issues. 
But as you readers for sure already know, all teaching activities in Italy have been suspended, schools closed because of the necessity to interrupt the so far spreading of the Coronavirus infection. No contact among people, no assembling anywhere, Italian people are obliged to stay at home and willingly or not, to re-set up all their life and time. 
Quite paradoxically, we could try to find a positive angle to consider this time unexpectedely given to us and exploit to find ourselves improved when it's time to restart working, going to school, attending all our activities.
So this is a warm invitation to practice languages, and I use the plural because you can write your comments here in all the languages you know, including Italian. Nowadays there are so many students in our schools coming from abroad, who do need to get command of their new country's language. The country that will be theirs, with full nationality.
That's why our teaching classes have often recently turned into a proper use of the two intertwinning languages, English and Italian, keeping alive the interest for both of them also for those who are Italian. Our one is a language to master, so rich mainly when making comparisons.
These days we might find insights useful to be adopted later in continuing improving everyone's job, since what we know for sure is that improving is what our lives have to tend to.
Questions: what are your days like in this emergency? What's happening as new experiences?  How can you manage organizing yourselves with your studies? What about the use of technology with your teachers? And with your friends? 
Let us know, it will be a pleasure reading you. We'll reply.  
Anna - Coordinator
Photos taken with all students' parents' permission.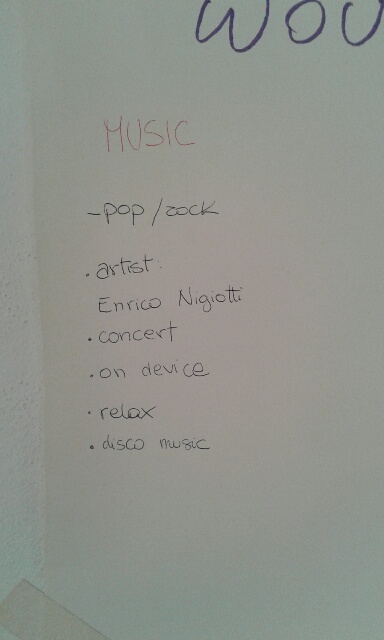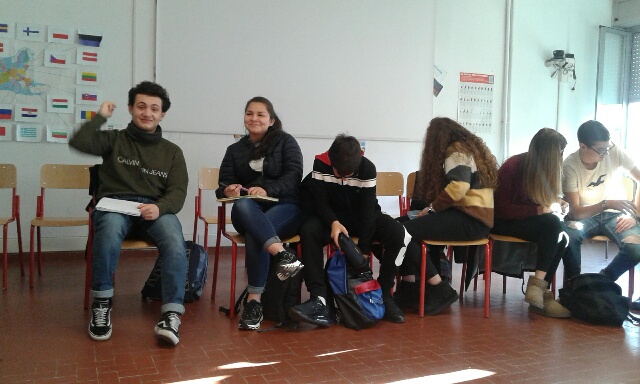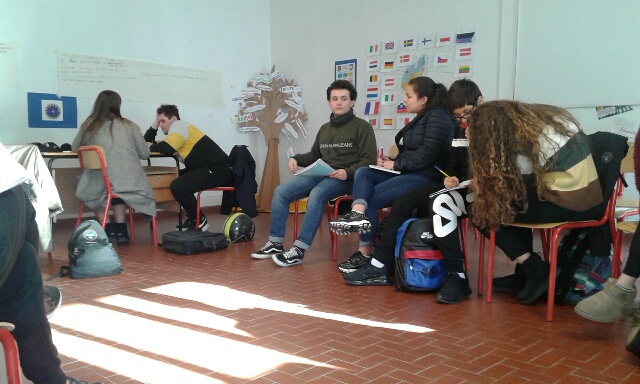 More and More Enjoyable English Labs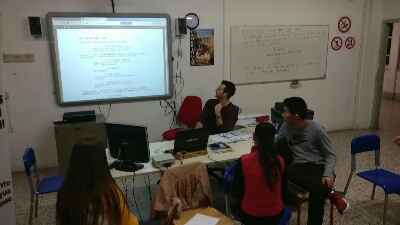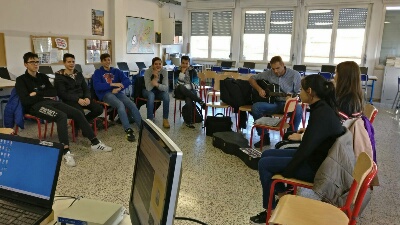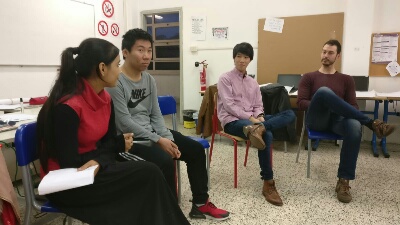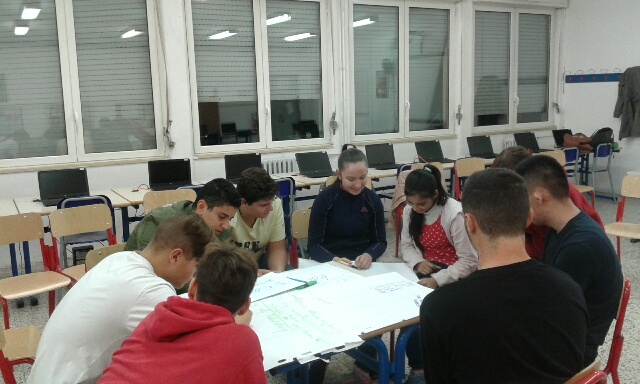 Hello
Muskan, Tommaso, Alessandro, Alessio, Catalin, Florin, Haroun,  Gianluca, Matteo, Oswaldo, Geraldine, Andre, Nicola,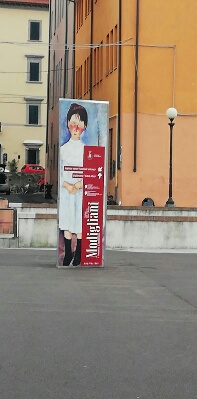 Fiorisa, 
first  we started welcoming everybody with all the possible languages spoken by students that is Arabic, Russian, Spanish, French, Albanian, Hurdu, Chinese, Italian and we tried to employ all of them to communicate. 
We wrote large papers to share expressions and translate them in English.  Beautiful writings, to be trusted since comprehension is possible only by those who know the language. 
That's why something different from usual  happened: no matter how difficult or unknown the languages were, we started to act, behave, so to share common goals.
Sure, that of these classes at ITIS G. Galilei Livorno was to acquire English, but how can you do that with students having such a variety of knowledge, being in Italy for a very short time with the whole communicative hardware to be reset including Italian?  
Wondering how they will be able to become tomorrow's citizens, the point of common languages to share is fundamental. Instead of being a problem, it might be transformed in the opportunity to widen our horizons, and exploiting these opportunities, becoming all of us citizens of the world, so improving us too who welcome them. 
Definetly, the point of offering these students, who are becoming more and more numerous  every day in our schools due to immigration, a proper place in our schools, is a priority. You can't spend mornings at school, attending classes, being taught subjects in a language you don't know. So Italian and English can be strictly intertwinned, emphasising and reinforcing each other. 
We tried to optimize the occasion given to all of us with such a PON 1953 Program, focusing on general comprehension, involving visitors to listen to to speak about welcoming people, either cruise passengers or any other, creating a bond with Livorno, highlighting the role of music and cinema. 
The photographs show Christian, Federico, Jordan, David sharing activities with students, all invited through fresh and dynamic English to produce ideas and play roles such as talking with tourists, singing songs, inventing and writing screen-plays. 
Worksheets were given and returned corrected. The exibition with paintings by Modigliani was visited, two questionnaires given to both students and families, experiences shared, first that one of communicating from the bottom of our intelligent hearths.  
We also had breaks with food; students engaged themselves in producing their favourite dishes, and as a happy ending of this demanding committment, we watched a stimulating film, to encourage students to take decisions all the times waiting to be taken, to improve the quality of everybody's life. Take the lead, meaning this is what you can do every day, involving the others with determination and care. 
Muskan, Tommaso, Alessandro, Alessio, Catalin, Florin, Haroun,  Gianluca, Matteo, Oswaldo, Geraldine, Andre, Nicola, Fiorisa, write your comment about this adventure. Did you like it, and if so, why? 
Anna - Coordinator
Photos taken with all students' parents' written permission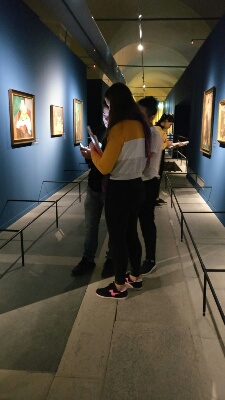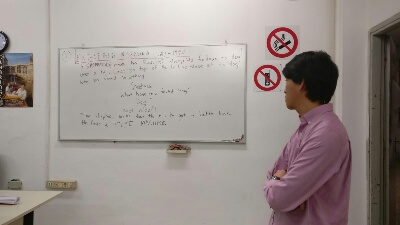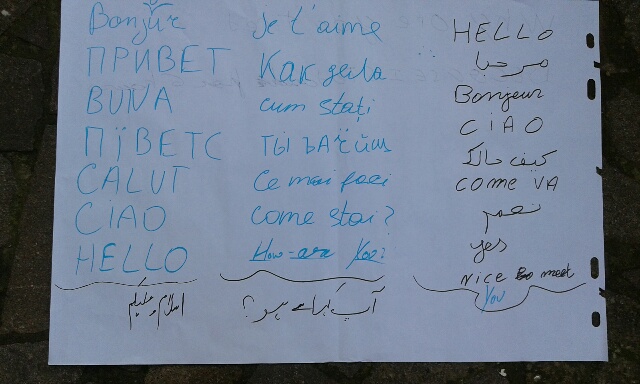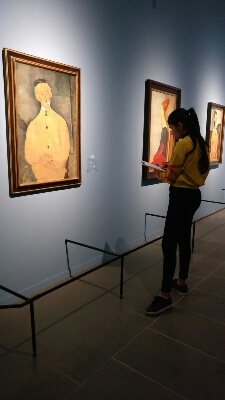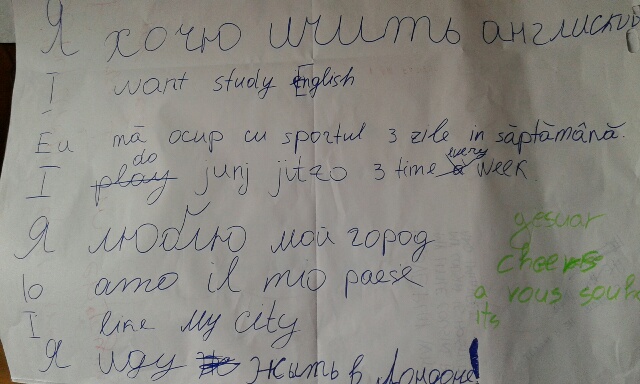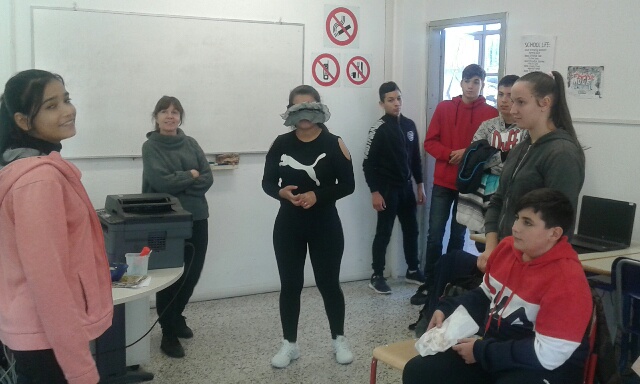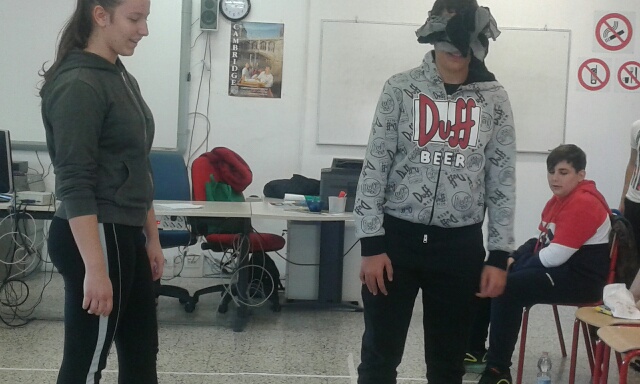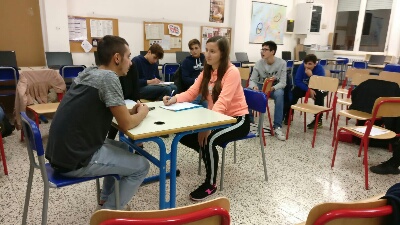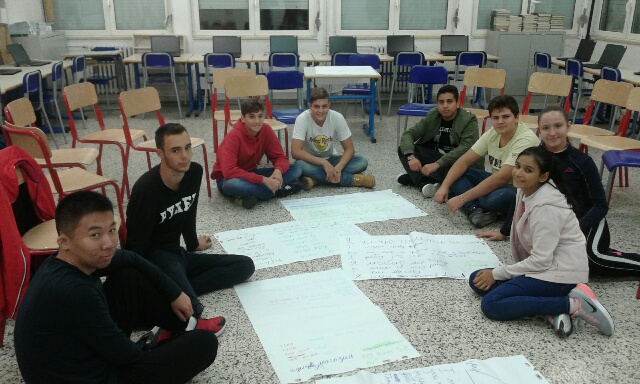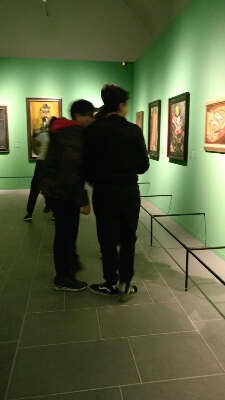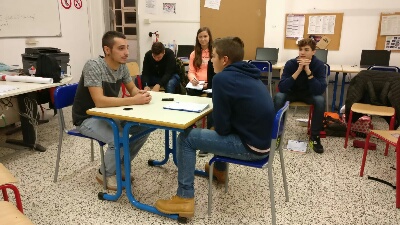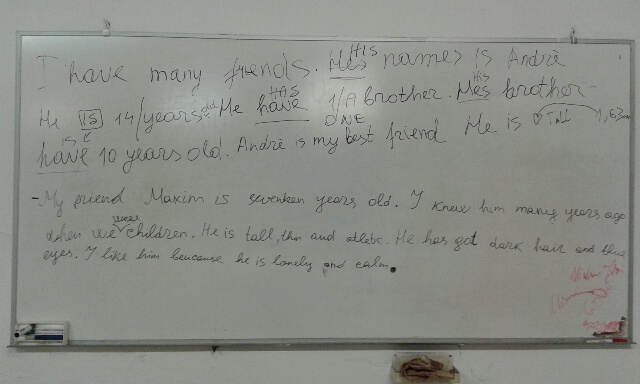 Superb Mark Knopfler in Lucca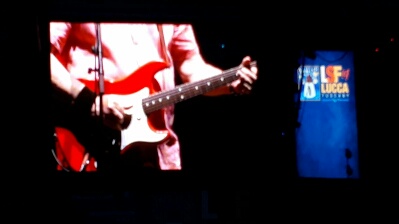 Hi there,  how is it going your Summer? 
Either you're on holiday or not, wherever you are, it is always a pleasure keeping in touch and sharing experiences.
Lucca Summer Festival is undoubtedly a series of remarkable musical events. You may know that Lucca itself is one of the most visited cities in Tuscany by foreigners. Mediterranean cruise passengers who go there after they disembark in Livorno, already wonder at its sourrounding walls just seeing its map.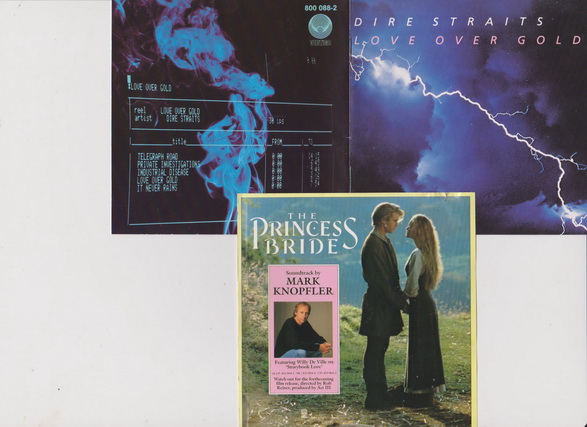 Adding good music means getting quite a stunning result. 
Why Mark Knopfler?
It was long ago when, starting making videos, I had to decide which soundtrack might suit best my first one.
My choice fell on Telegraph Road, 14'15'', from the album Love Over Gold. Guitar and vocals Mark Knopfler, Dire Straits as a band at that time. Does anybody remember them?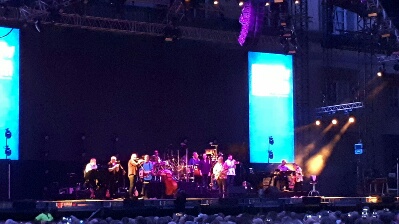 Unmistakable guitar his one, liquid, so it was called. More and more mature its sound now. What an alchemy his voice and the so many guitars he played!
A unique band too, all of them multi-instrumentalists. Superb performance by all of them, about fifteen musicians playing forty eight instruments, all of them capable of mesmerizing you, just as you would like to feel all the time, always.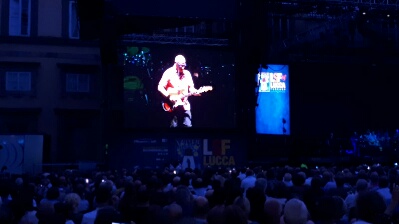 Looking around at the expressions of the so many people gathered together there, you could see no worries, no preoccupations,  just enjoyment.  More generations joined by excellent music. 
Everybody seemed to have their expectations finally met by talent, music, art, embodied before their eyes by someone so generous of all of them.   
Can't we do something like that too?
Maybe just enjoying art, developing perceptions, becoming aware of the new feelings it can produce, keeping and sharing memories might be a simple way to contribute to a better future, to a better quality of time, present and future. 
A large thank you to the very kind young man whose name I don't know, who sent me the photographs you can see here, to those who gave me the chance to share a talk before the concert, whose comments I'm waiting for here. 
They will be of stimulus to my students, in future nice occasions.  
By the way, can you guess what the second image is?  
Want to reply?  It will be a pleasure reading you. 
Enjoy your Summer, enjoy your English 
Paolo: thank you for your appreciated comment Paolo, I won't miss re-listening to Sultans of Swing, next time we'll ask Mark Knopflet to play it for us Italians loving it. 
Anna - Coordinator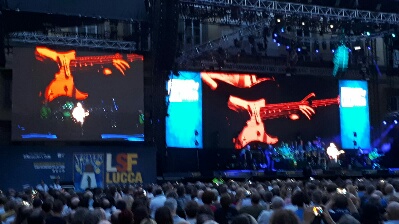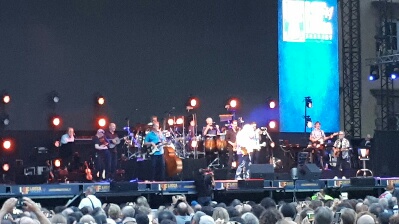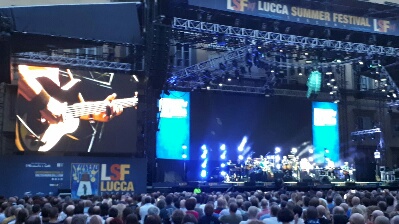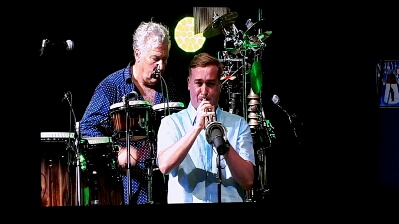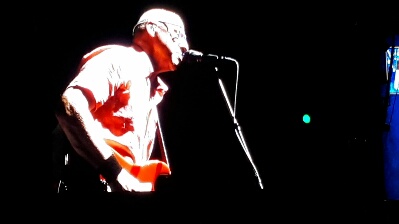 Welcoming Mediterranean Cruise Passengers to Livorno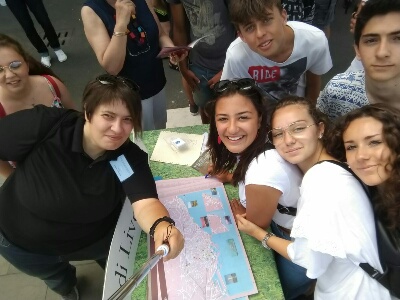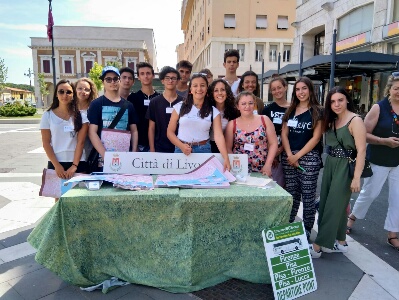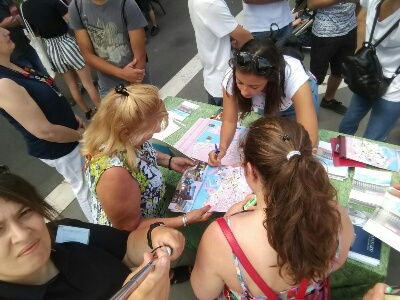 What a pleasure saying hello to
Marta, Chiara, Martina, Lorenzo, Tama, Alina, Federico, Alessandro, Pier Daniele, Davide, Marino, Karrem, Alice, Michelle, Riccardo, Alessio, Eleonora, Kejsi, Alyssia, Elisa, 
after spending together last Friday morning welcoming Mediterranean cruise passengers. Quite a good job, wasn't it?
This 21 June, the first day of Summer and the world-wide day dedicated to music.  
A new one when English too becomes a pleasure, embodied by nice people who enjoy sharing a talk with English students. 
All of a sudden the square becomes crowded and tourists need information. They see a group of students and head to them smiling and having their kindness returned. 
Generosity and kindness on both sides. 
They appreciate not only the students but the city too. A lively occasion to test ourselves while enjoying time with mates and visitors, comparing ideas, impressions and seeing that time after time speaking becomes easier, real fun the way so many of you didn't expect it might be.   
An article was published by an on-line newspaper, QuiLivorno
http://www.quilivorno.it/news/scuola/gli-studenti-delliti-diventano-ciceroni-per-i-croceristi/
and news was broadcasted by Granducato TV that came to film the work&talk students. Their cameramen was impressed by so much beauty. 
Four years ago, on 5 August 2015, the interviewer of students and tourists was the journalist who is now the Mayor of the city, recently elected. Vivaciously and competently he interveened dynamizing the open lab asking tourists and students about Livorno and their experience.  
We invited him to partecipate in our lab, but he was busy with the first Town Council on June 21. We renewed our invitation to join us again for the next labs, on 5, 11, 19 July. 
Anybody who wants to practice English is very, very welcome. 
Being helpful is always important; in a completely unknown place, mainly desembarking and arriving from inside the port, passengers do need help. They need to know where they are in the city . 
With tourists on holiday it becomes a pleasure sharing a talk and helping, for, as everybody noticed, they are relaxed, calm, they just want to enjoy themselves,  that's quite a nice contibution to be given.
Good of you all performing so well, next time even better!
Anna - Coordinator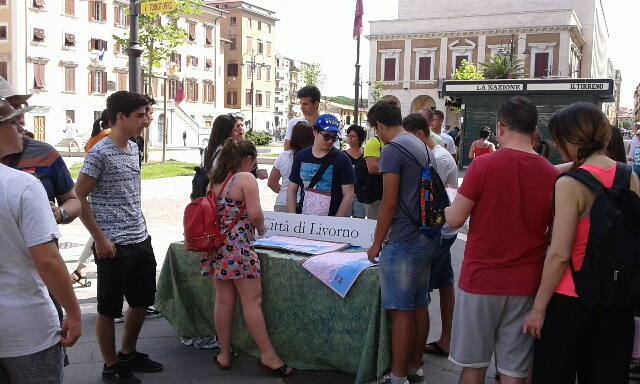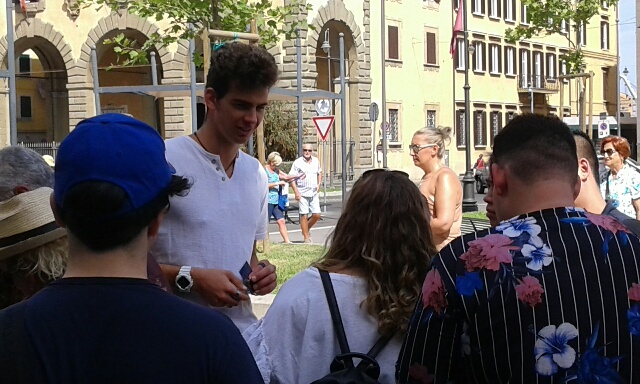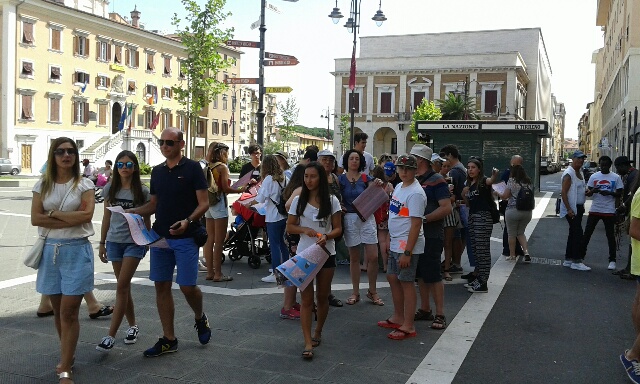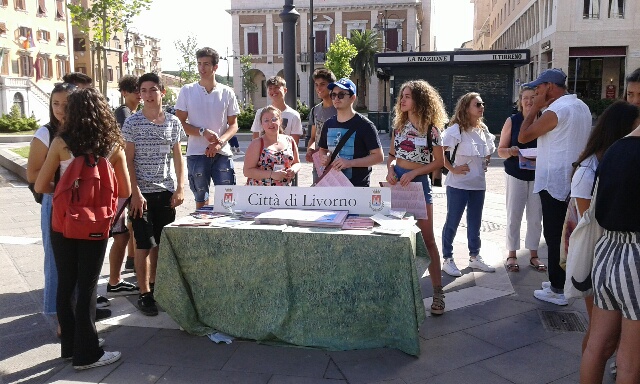 Antonio Megalizzi and Bartosz Orent-Niedzielski
Good morning, good afternoon, evening, 
Dennis, Marina, Michelle, Alessandro, Alice, Pier Daniele, Haila, Riccardo, Tama, Chiara, Lorenzo, Camilla, Alessandro, Alina, Alessio, Diego, Alessio, Alyssia, Martina, Alessandro, Greta, Federico, Marta, Kejsi, Sara, Leonardo, Marianna, Chiara,  Valerio, Francesca, Moundor, Xhuljana, Gabriele, Martina, Chiara, Riccardo, Davide, Eleonora, Francesco

and Federica, Silvia, Mirella, Daniele, Elisa, Sergio,
this is a page about a young Italian European, Antonio Megalizzi, who thought Europe was the ideal worth living and working for. He loved journalism and the radio. 
What you can do to practice your English is reading the article in the bottom left-hand corner and complete the missing information about him on the PET Practice paper. 
The English classes of the PON Project 3504 at ITIS Galilei Livorno are nearly finished, and since on May 15 Antonio Megalizzi would have turned 30, this is a contribution to strenghten the ideas he shared on Europhonica, the net of university radios promoting more information about Europe to create a sense of community among citizens who should cultivate the same interests and values. 
A dream and a daily commitment that we want to promote mainly among those who are going to be university students quite soon and might be joining and continuing Megalizzi's work with other university's mates.  .  
It will be a pleasure reading your comments below. 
Anna - Coordinator
Source: our own material and the name of the European Parliament's Radio Studio in Strasbourg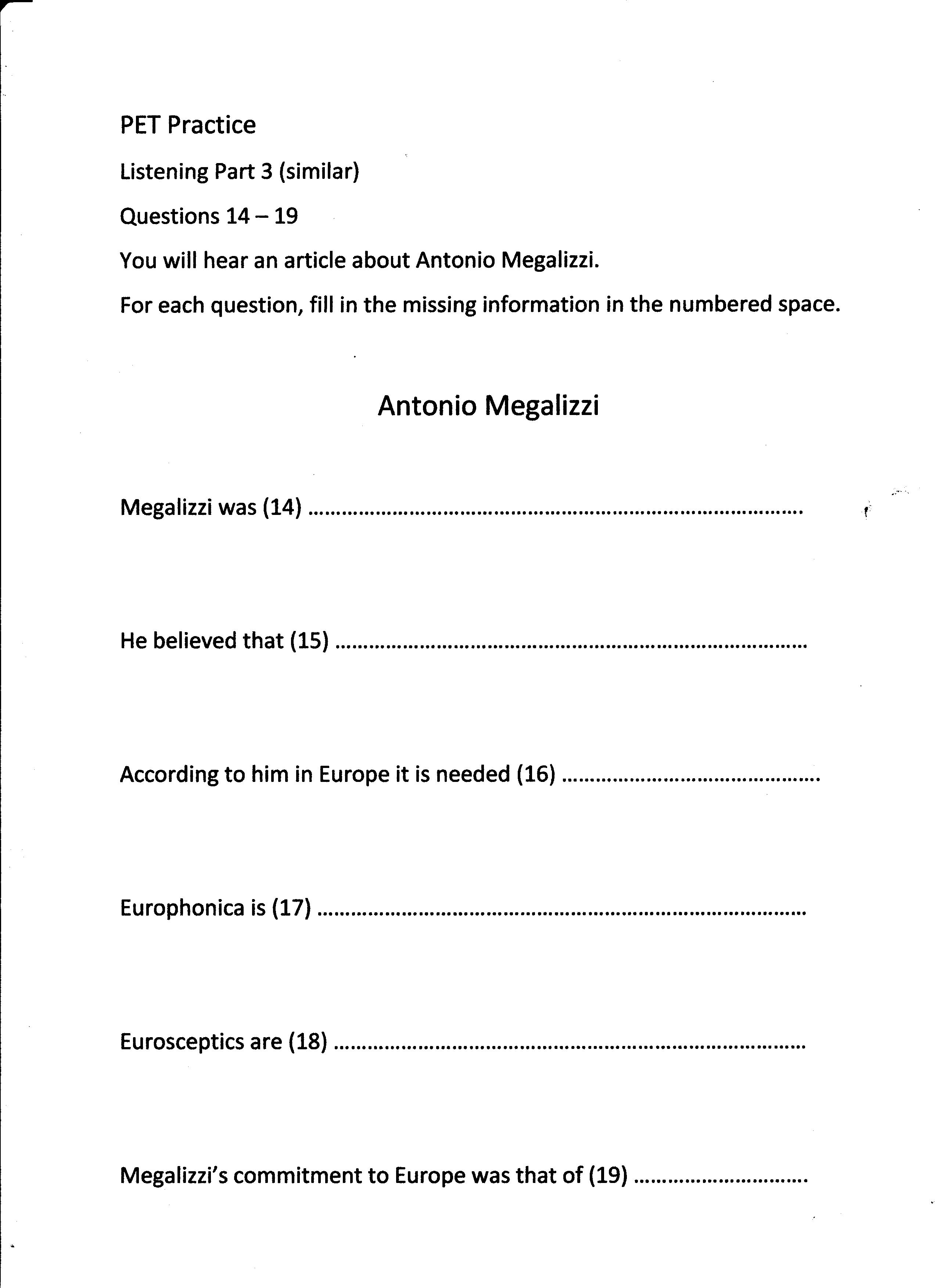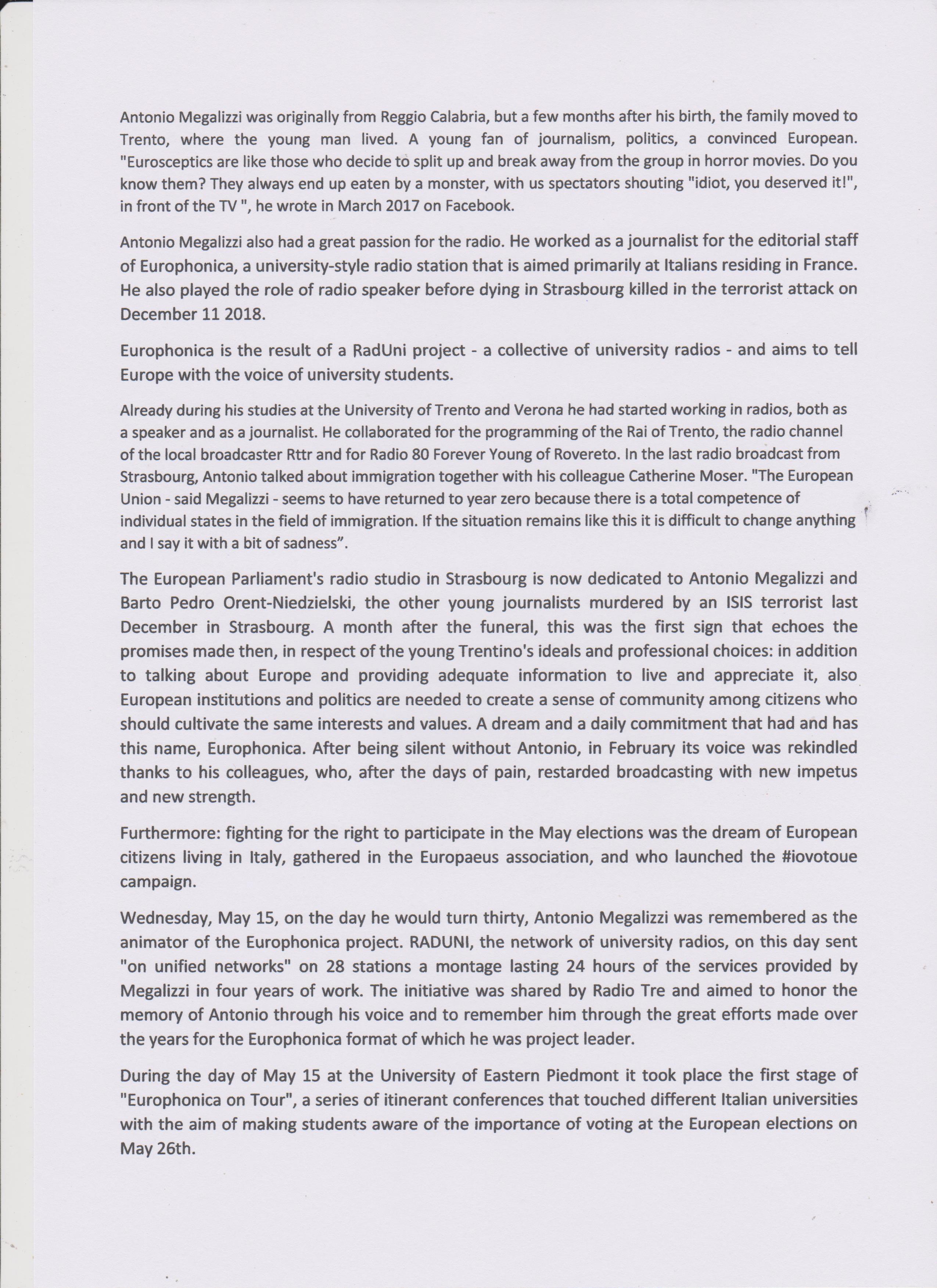 The Namesake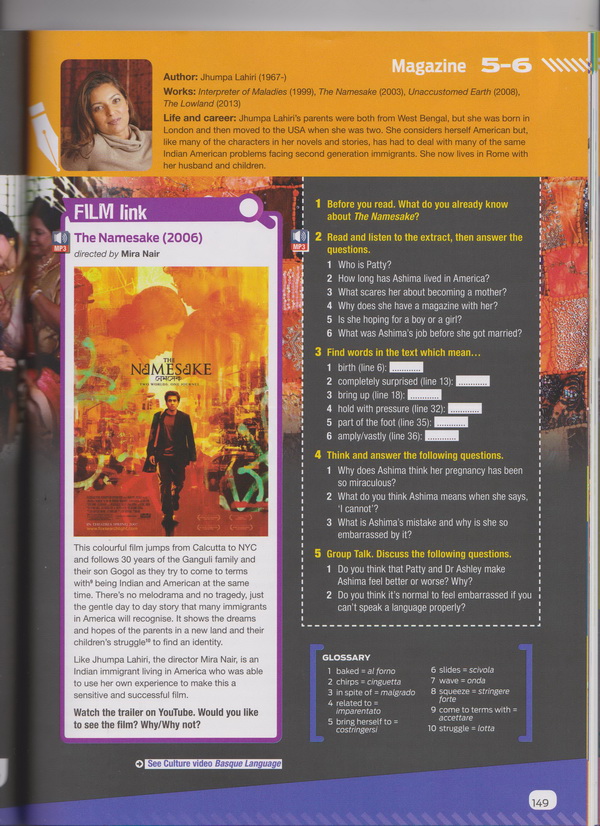 Good morning, afternoon, evening Mirella, Elisa, Federica, Daniele, Sergio, 
I read "Interpreter of Maladies" by Jhumpa Lahiri many years ago, when she was awarded the Pulitzer Prize with  these short stories of hers. A student of mine had to study it for her English university exams. Fascinating stories, with their characters personifying so delicate human feelings.  
People of Indian origin living in the States, multiple identities, more complex and richer. The way you feel when accepting to let the new identity a language represents, to be part of you and be shared with all the others you meet.  
For all these years, every now and then I've had the chance to listen to her while being interviewd on Radio Tre, time by time speaking a better Italian, nowadays with almost no accent  at all. 
What struck me was her deep understanding of what a language can be for a person, how poverty is significant in such a case and that it has to be consciously experienced when struggling to speak a new language, with no enough vocabulary and structures. The sense of inadequacy that shapes you so to make you develop surviving strategies to better perform, in order to be perceived adequately by the others. 
Recently, I've heard her speaking about the feeling of persisting marvel to be experienced when coping with the discovery any single moment of reality, knowledge and people. 
Human feelings to understand and experience at the same time while finding out that a language is you, shows your potential, obiectives to achieve, is your personality and your intelligence, colours your life, nurishes it and allows to be engaged in meaningful relationships with all those people you meet and you already have around you.  
Migrations and migrant people are such an opportunity for everybody to experience new realities, cultures and unexpected feelings. And to understand why they happen going backward in history. 
What is your experience with reading books written by immigrants? 
Do you have any special story to say about immigrants you know? 
What do you know about Jhumpa Lahiri? 
Write down what you can find about her and tell us in class. 
Enjoy your English and all the other languages you can be exposed to. 
Anna - Coordinator
Source: CULT, DEA Scuola 2014, such a stimulating text book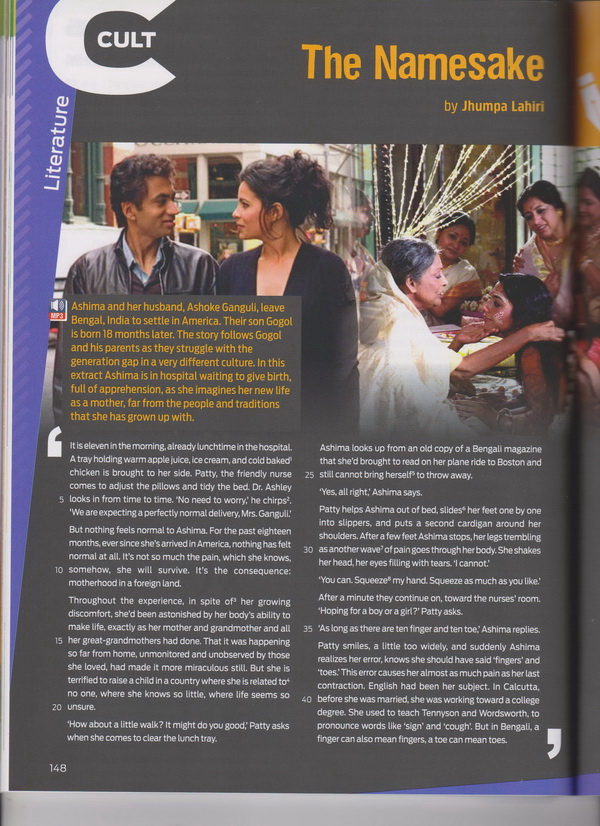 The Universe, once more.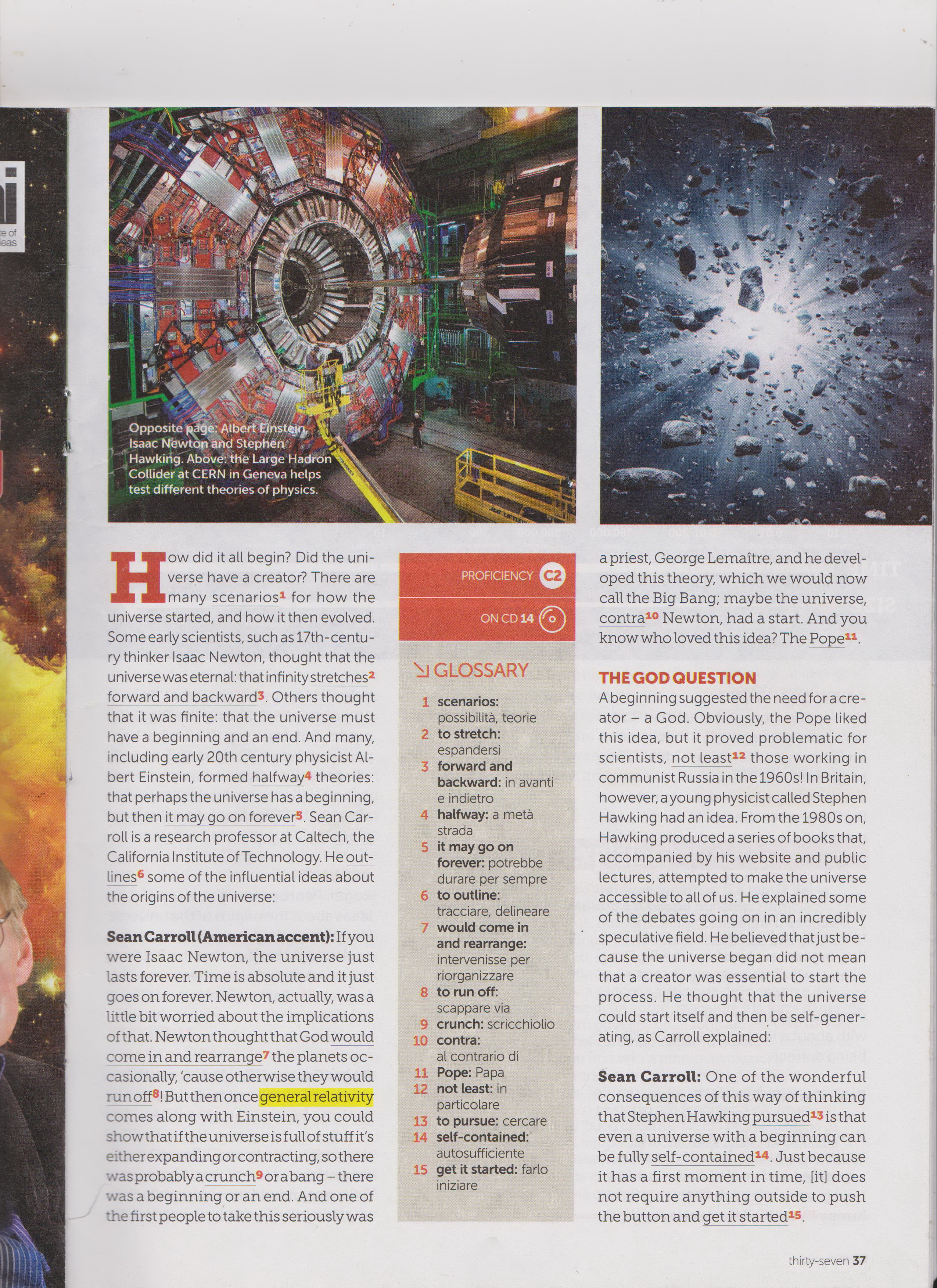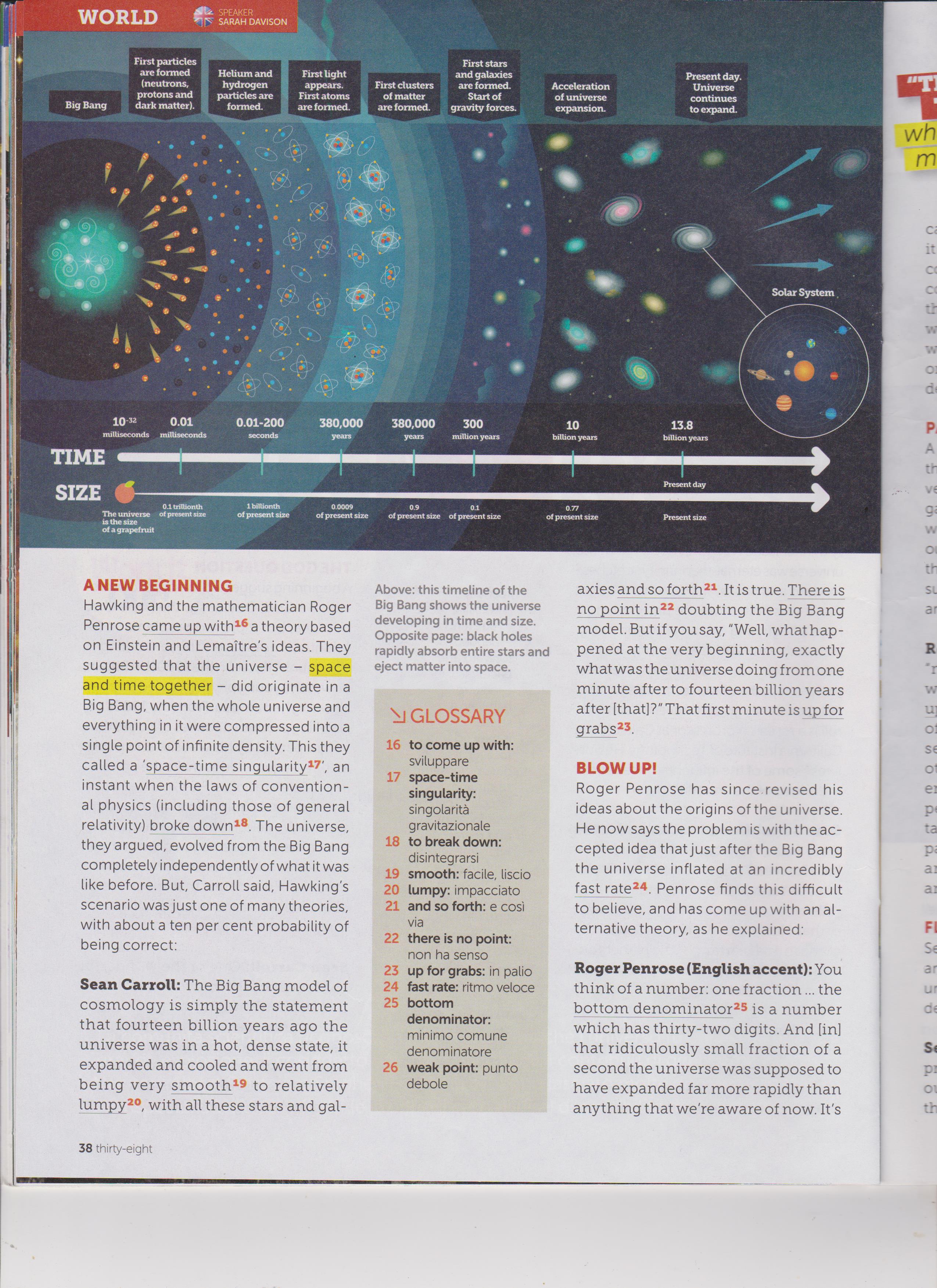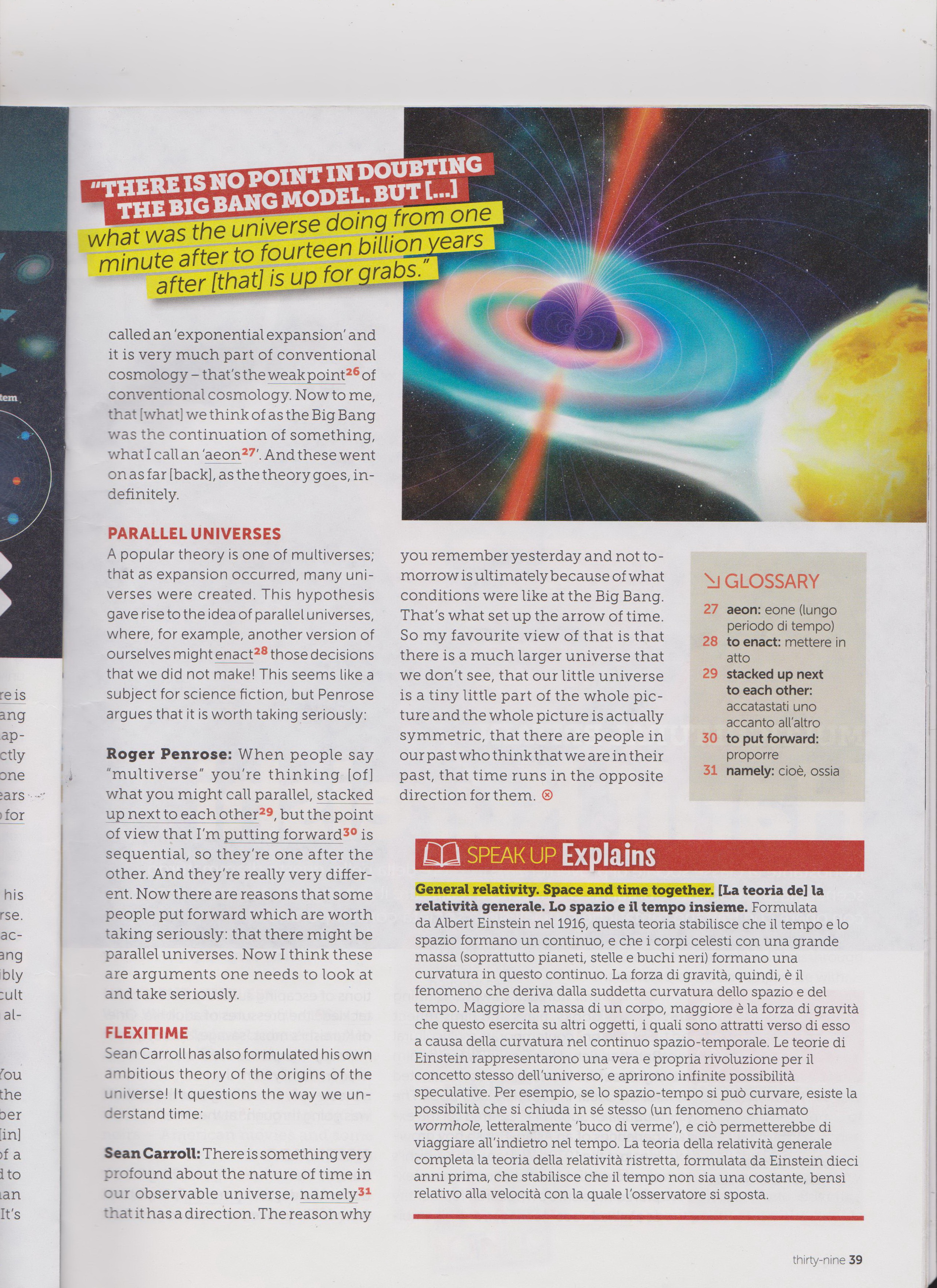 Good morning,afternoon, evening, 
who can tell us why we wrote The Universe "Once more" ? 
Is the Universe a subject of interest to you?
What about the figurative language that uses universe as a noun?  
Where can you see a universe or universes, or better, as it's being sayed nowadays, a multiverse? 
Have you read any of the books written by Stephen Hawking together with his daughter Lucy?
Do you know any films involving subjects such as wormholes, or time travelling?
Let us know either here or in class. Read the article and enjoy your English!
Federica: what a good contribution, yours, to our page!  Definetely a good interpretation, yours, of "once more" and it might be.  We meant that since the universe is both figurative language and an ispiration to this blog, it is on previous pages too. Visit some of them, including the third on your right from the blue menu. What a pity we can't find enough time to upload more and make you reply! But we'll try, do not despair. 
Anna - Coordinator 
Source: Speak Up, April 2019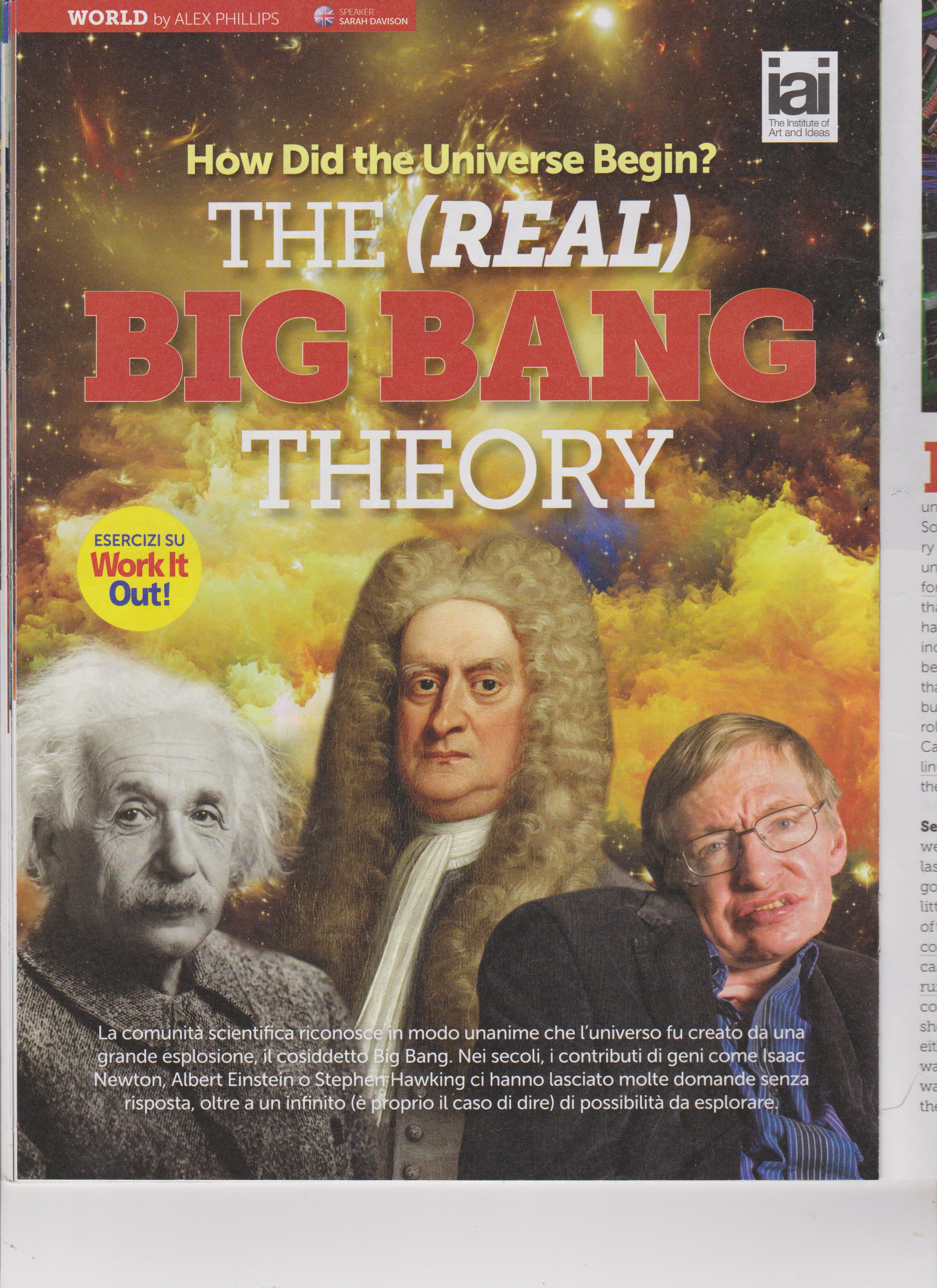 Soft skills at work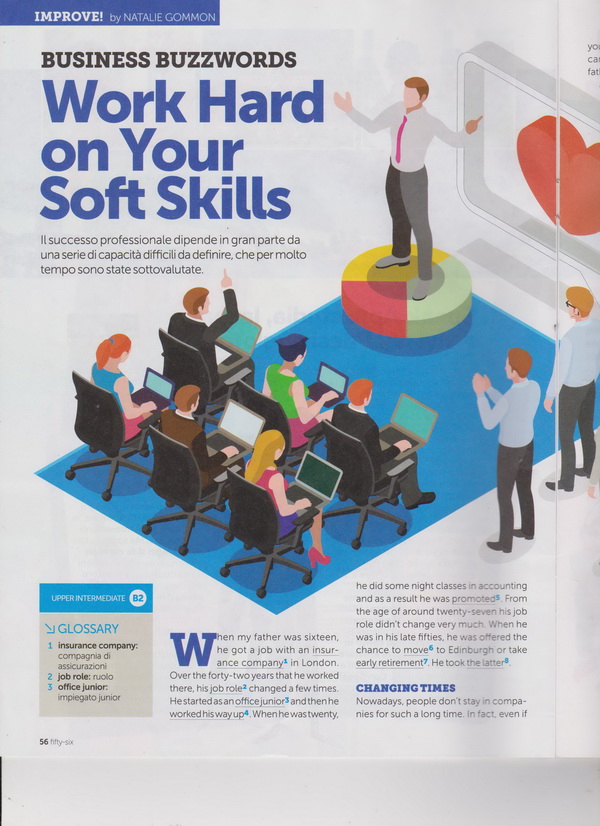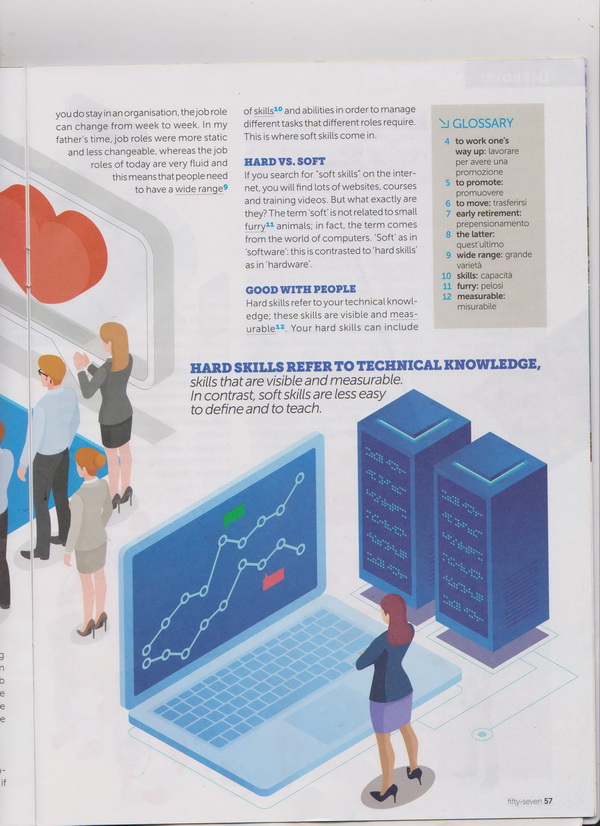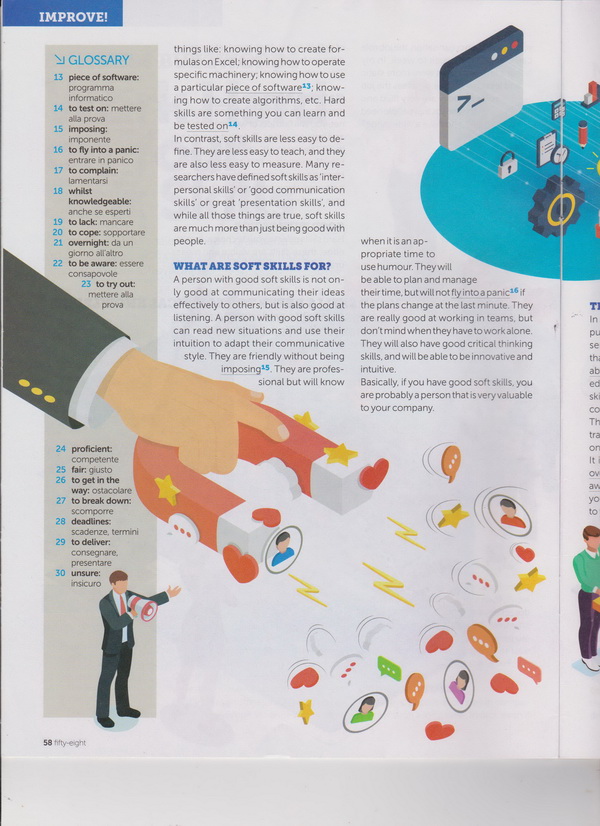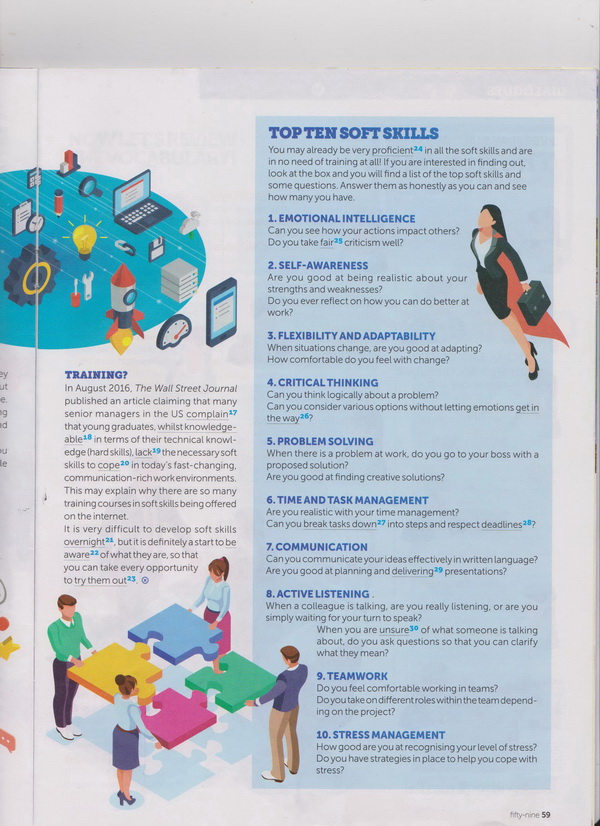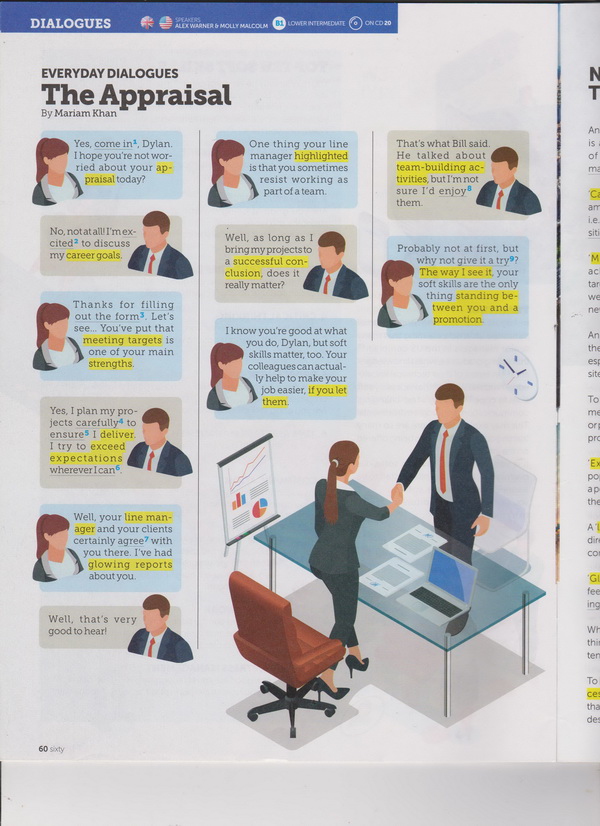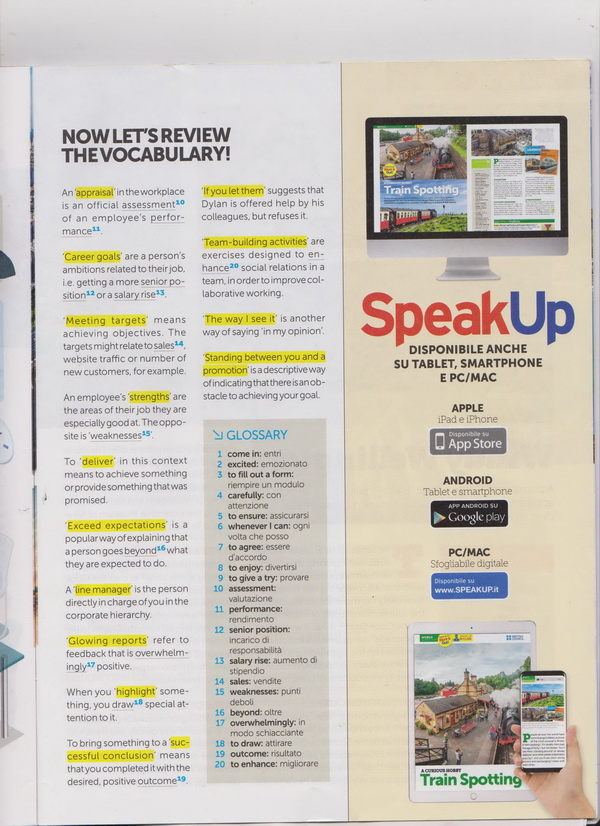 Good morning, afternoon, evening,
since success at work also depends on a series of skills quite difficult to be defined, we are going to deal with them.
With this page we continue talking about our professions.
What do you mainly like of your job?
Which task do you think you fulfill best?
What is the role played by other people in jour job? 
What skills do you appreciate more in other people? 
How can they be correlated to the goals targeted in rheir and your job?
Read the pages of this article and come to class ready to speak about them, comparing your ideas with those of your mates.
Try to broaden your reflextions as much as possible and in case you can write them as a comment here before that.
These are aspects of our jobs for long time undervaluated, while they are fundamental in building up that "soft" complexity that reveals itself being a resource noy only for our job, but for life too. 
Let us know and never forget to enjoy your English 
Anna - Coordinator 
Source: Speak Up April 2019 
Europe & PET Practice Writing Part 2 and 3, Speaking Part 2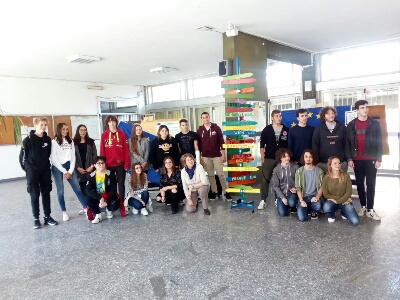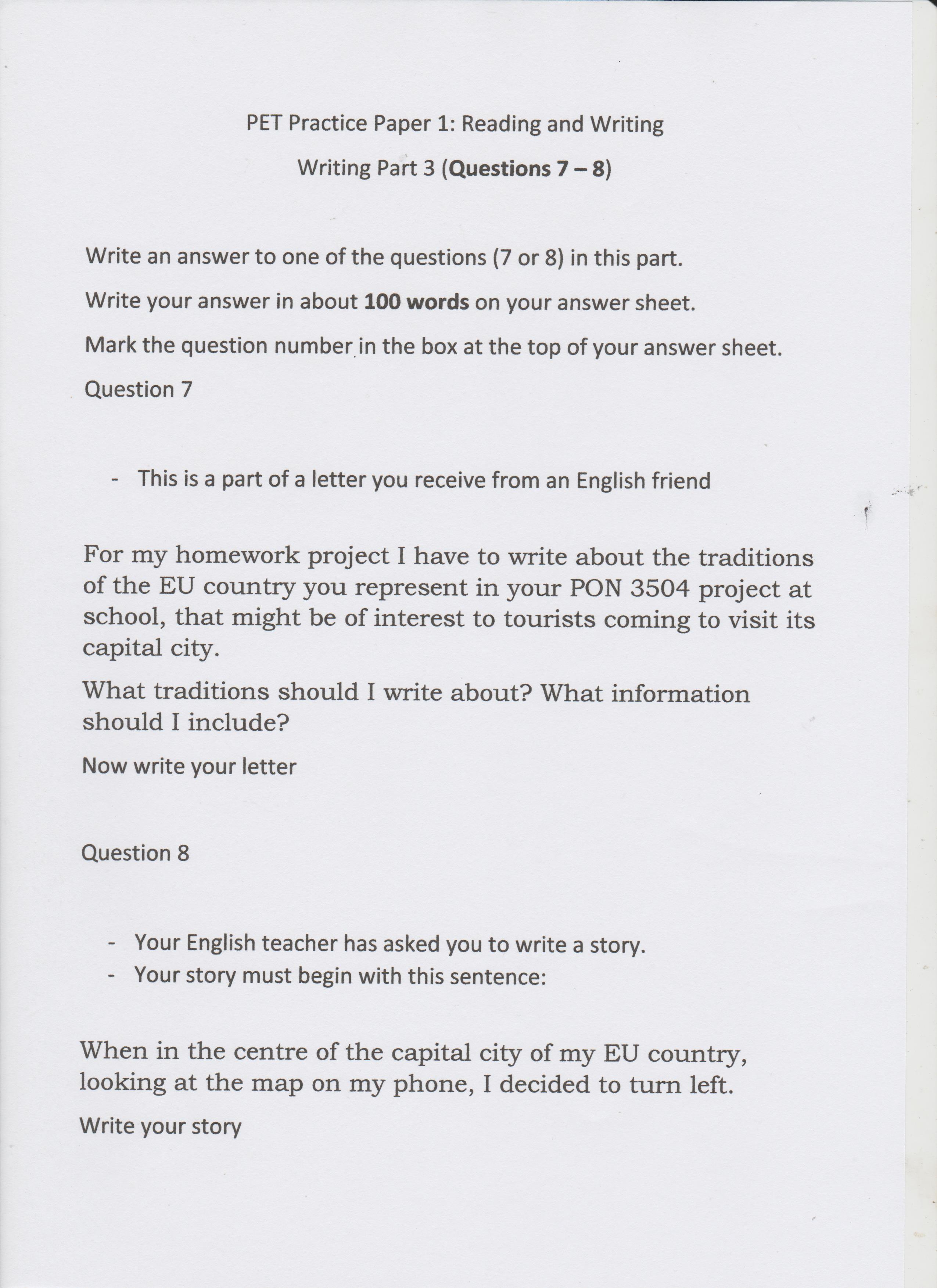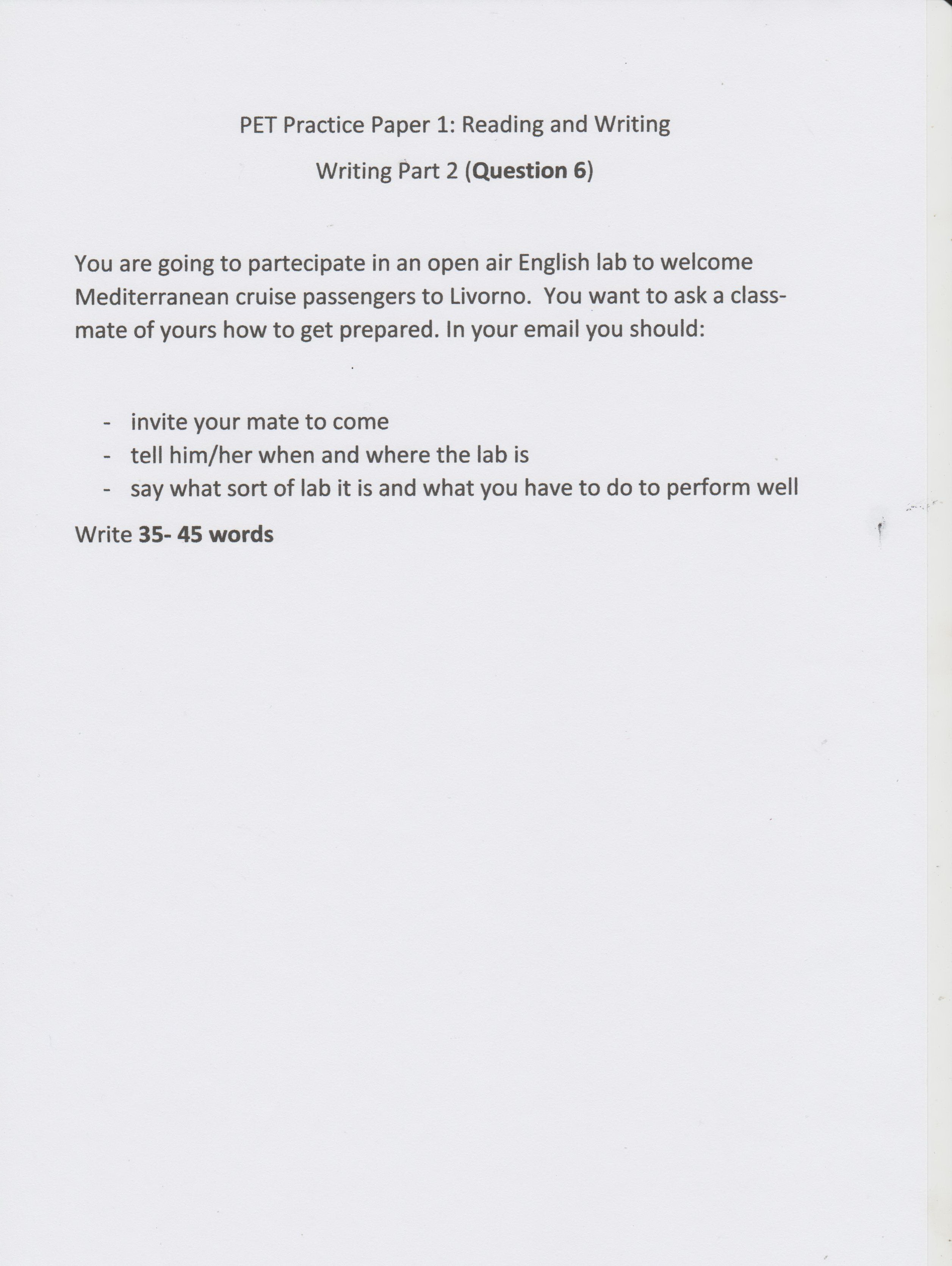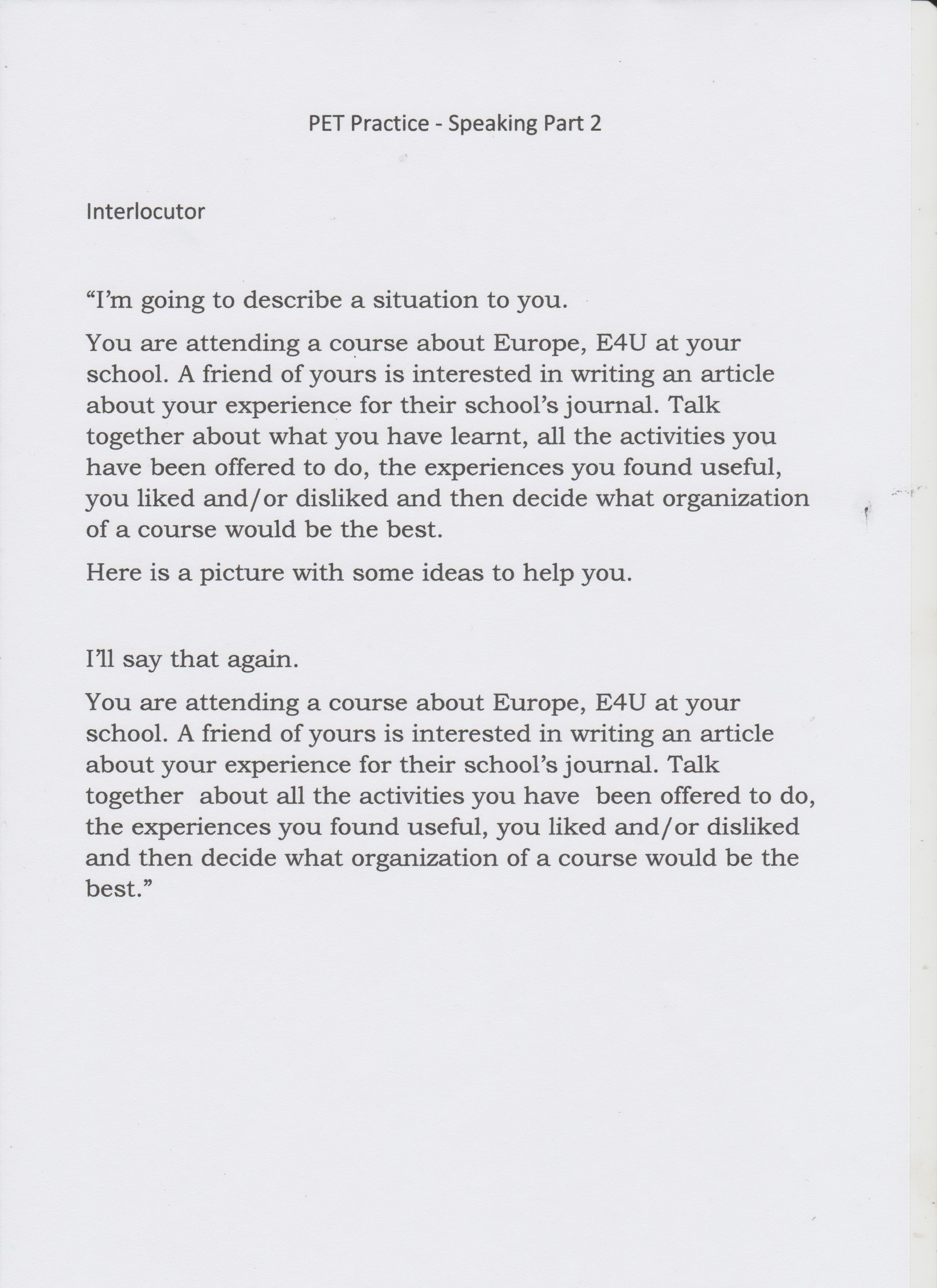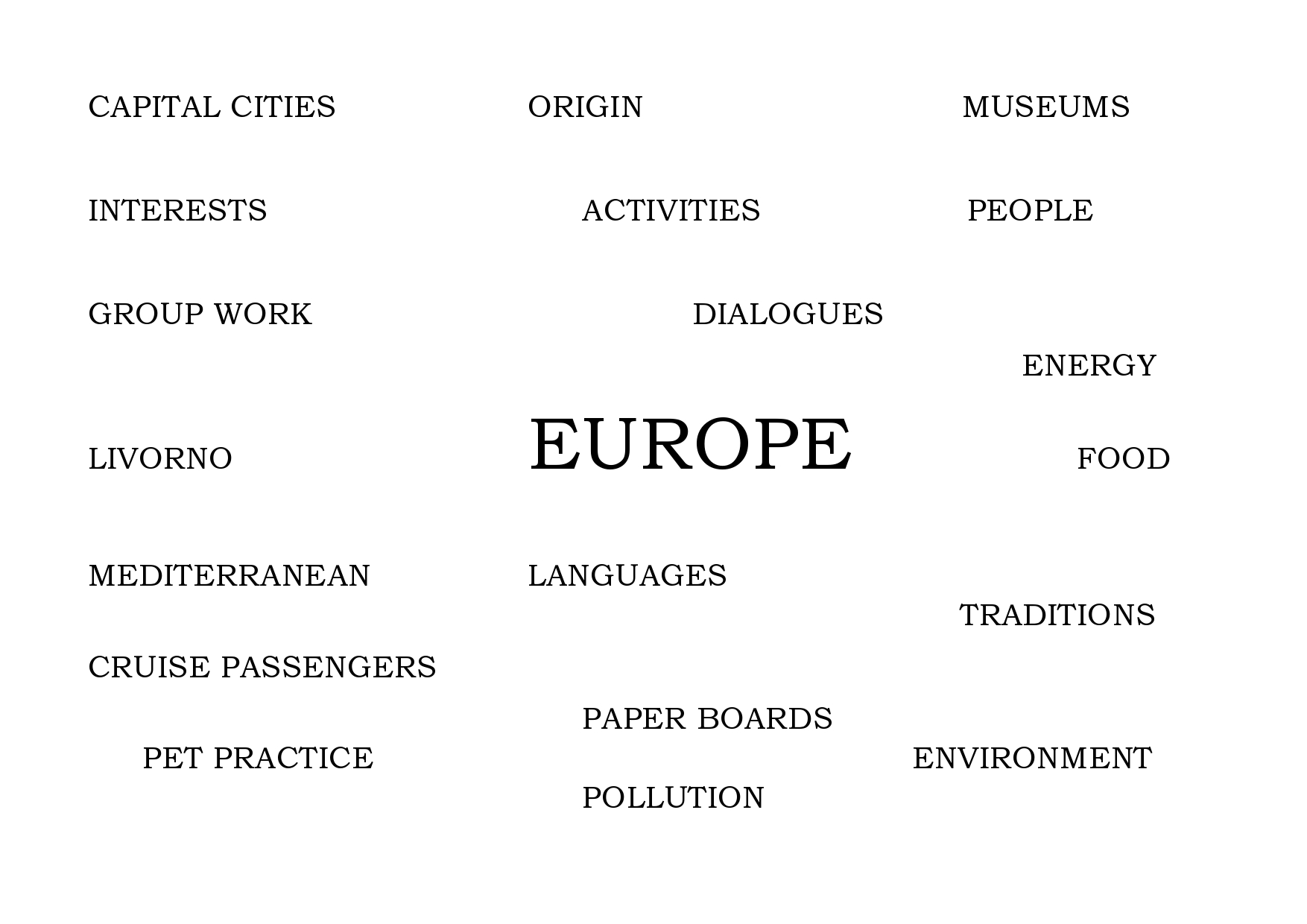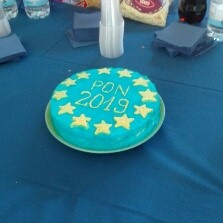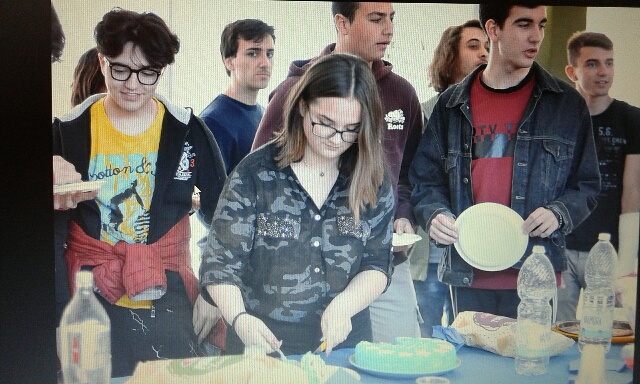 Hello Dennis, Marina, Michelle, Alessandro, Alice, Pier Daniele, Haila, Riccardo, Tama, Chiara, Lorenzo, Camilla, Alessandro, Alina, Alessio, Diego, Alessio, Alyssia, Martina, Alessandro, Greta, Federico, Marta, Kejsi, Sara, Leonardo, Marianna, Chiara,  Valerio, Francesca, Moundor, Xhuljana, Gabriele, Martina, Chiara, Riccardo, Davide, Eleonora, Francesco

and Federica, Silvia, Loretto, Mirella, Daniele, Elisa, 
this is a page for you to practice some more parts of the PET Examination you are going to cope with soon. 
PET Paper 1 Reading and Writing: Reading Part 2 (Question 6),  Writing Part 3 (Questions 7 - 8)
PET Speaking Test, Speaking Part 2 (2 - 3 minutes)
Read carefully the texts that riproduce exactly what your interlocutor is going to tell you when tested at the exam. 
Try to have the whole vision of the exam and go to pass itafter practicing as often as you can any single part of it, so to have no difficulties. Create by yourselves your own advantages, you will be more satisfied of yourselves. 
A proof passed is a good result not just for the school, but for you and your entire life. . 
Enjoy your English, 
Anna - Coordinator 
Source: own source material for PON 3504 and photos taken on May 9 
Synaesthesia and When Left is Right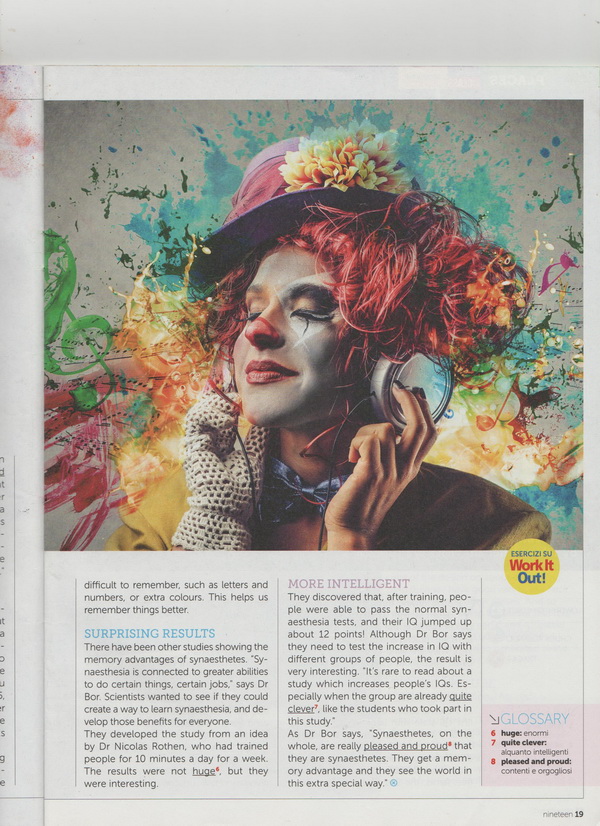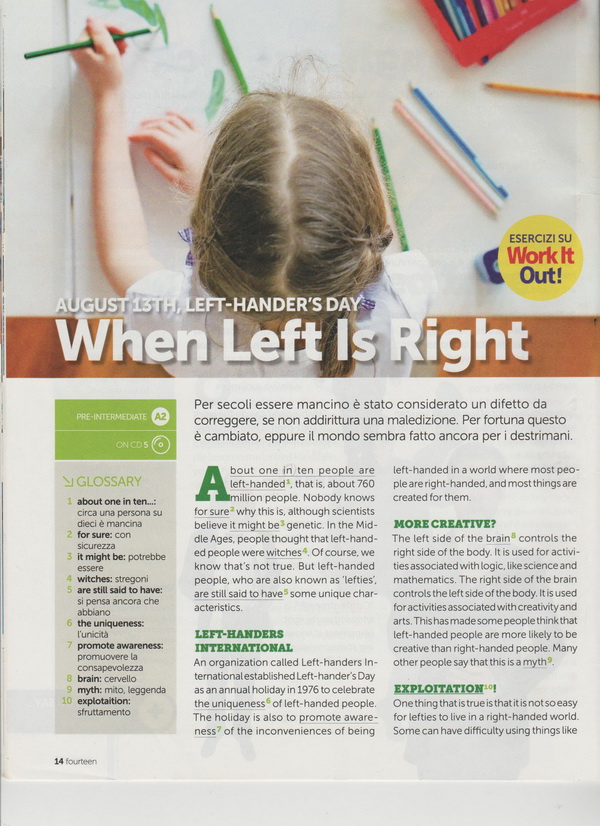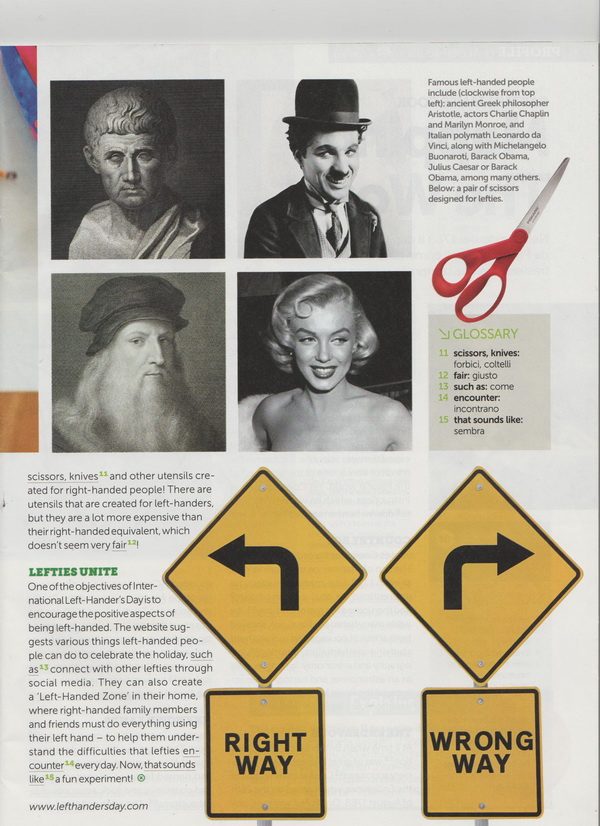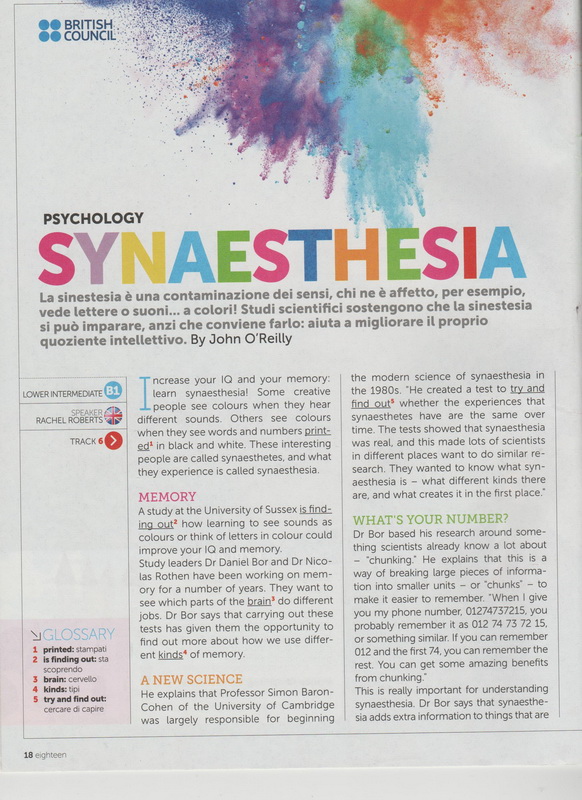 Good morning, afternoon, evening,
Silvia, Federica, Elisa, Mirella, Daniele, Loretto,
what do you know about the two subjects of the page before reading the articles?
There is this idea that acquiring a new language makes you loose yours. That's completely wrong, since it is just when you acquire a new one that you may compare the two languages. 
You can also improve the first you learned, since it is a great opportunity to notice differences and similarities,and then developing this skill.  
An example? There are so many, but just a few: nobody knows any more how to say spelling in Italian, because they do not even think of it as an English word. 
Speaking of left-handed people, nobody knows how to say right-handed in Italian and they mix humans with shells.
They notice that in Italian too words can have two meanings only after knowing that about English words.
What an opportunity then to broaden horizons! Word by word, as much as you like and want, up to you to decide, life is not long enough. 
Do you know any other fields where synestheasia can be applied as a reference to understand? 
Let us know, write your comment and we'll read them in class. 
Enjoy, enjoy, enjoy your English 
Anna - Coordinator
Source: own worksheets and Speak Up  August 2017 - August 2018 
English at the Museum, PET Practice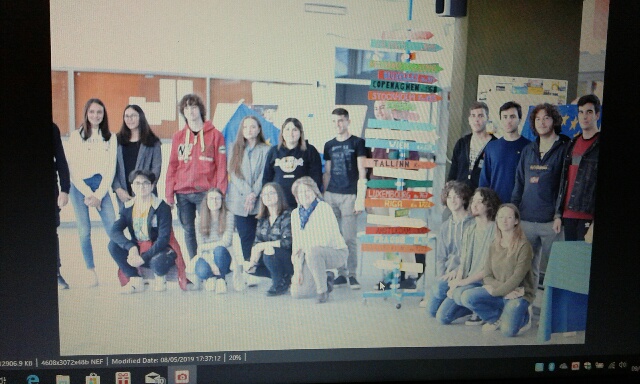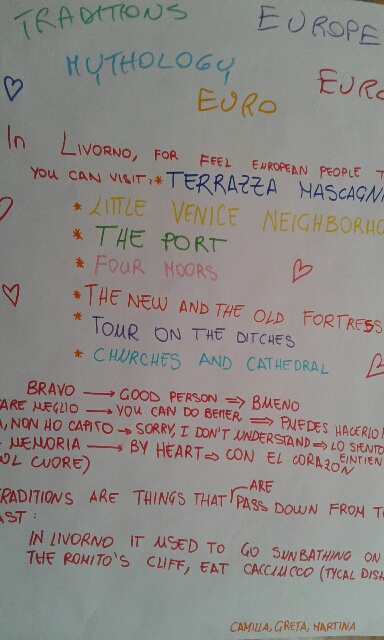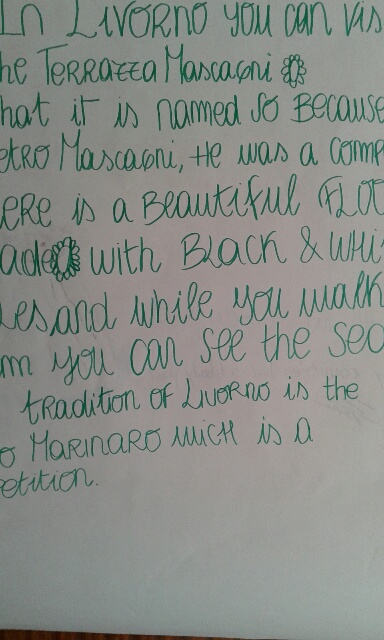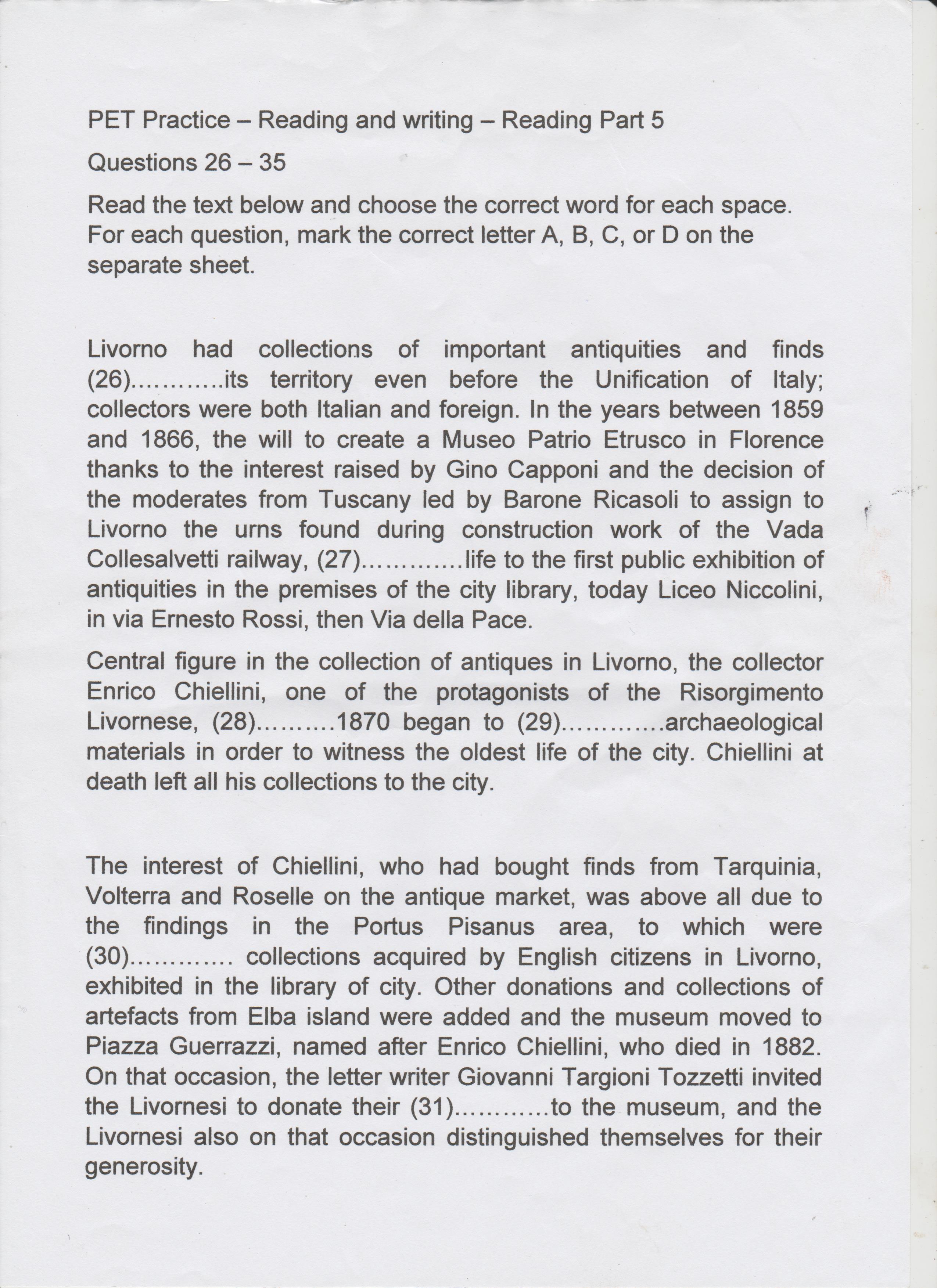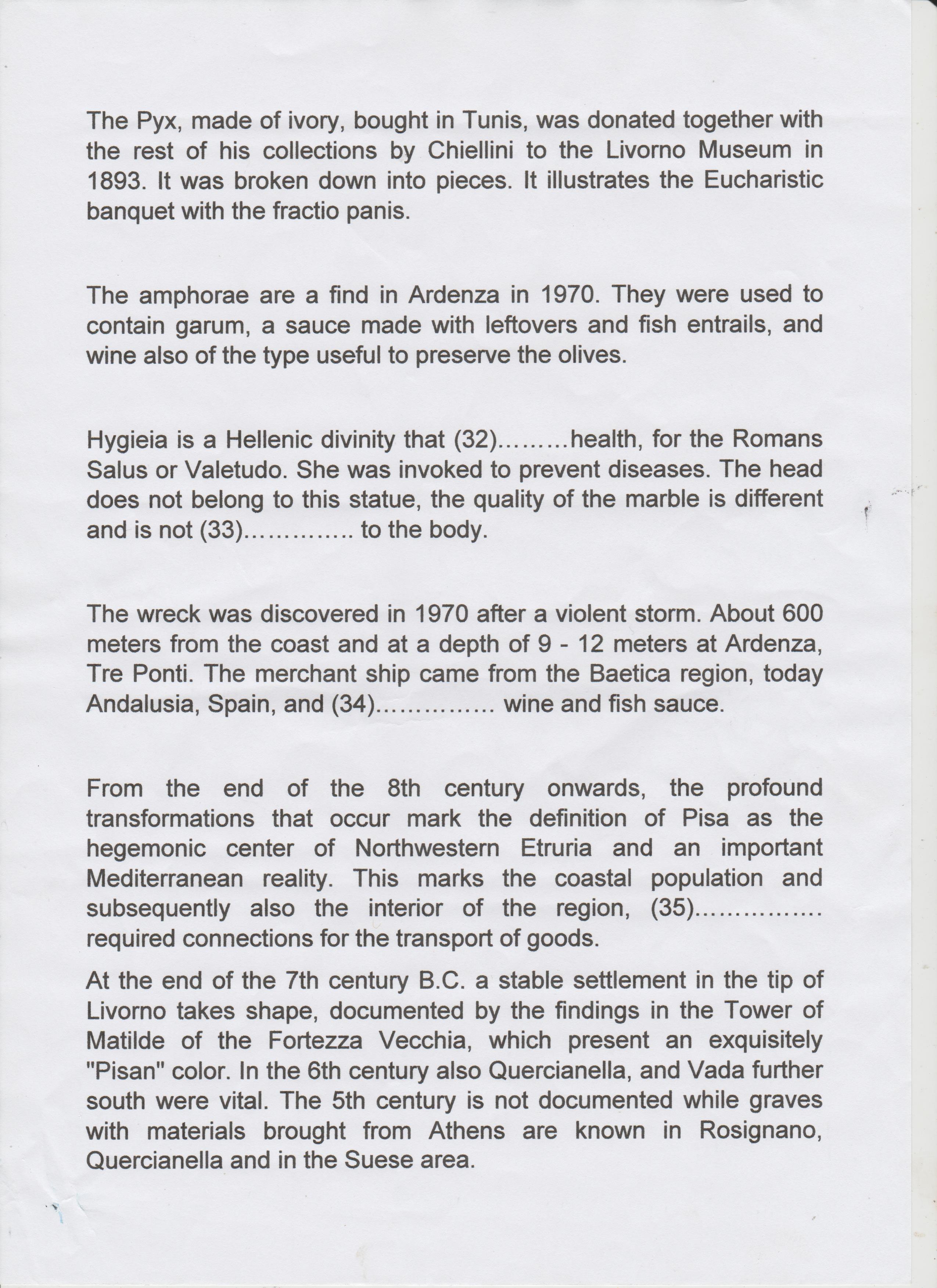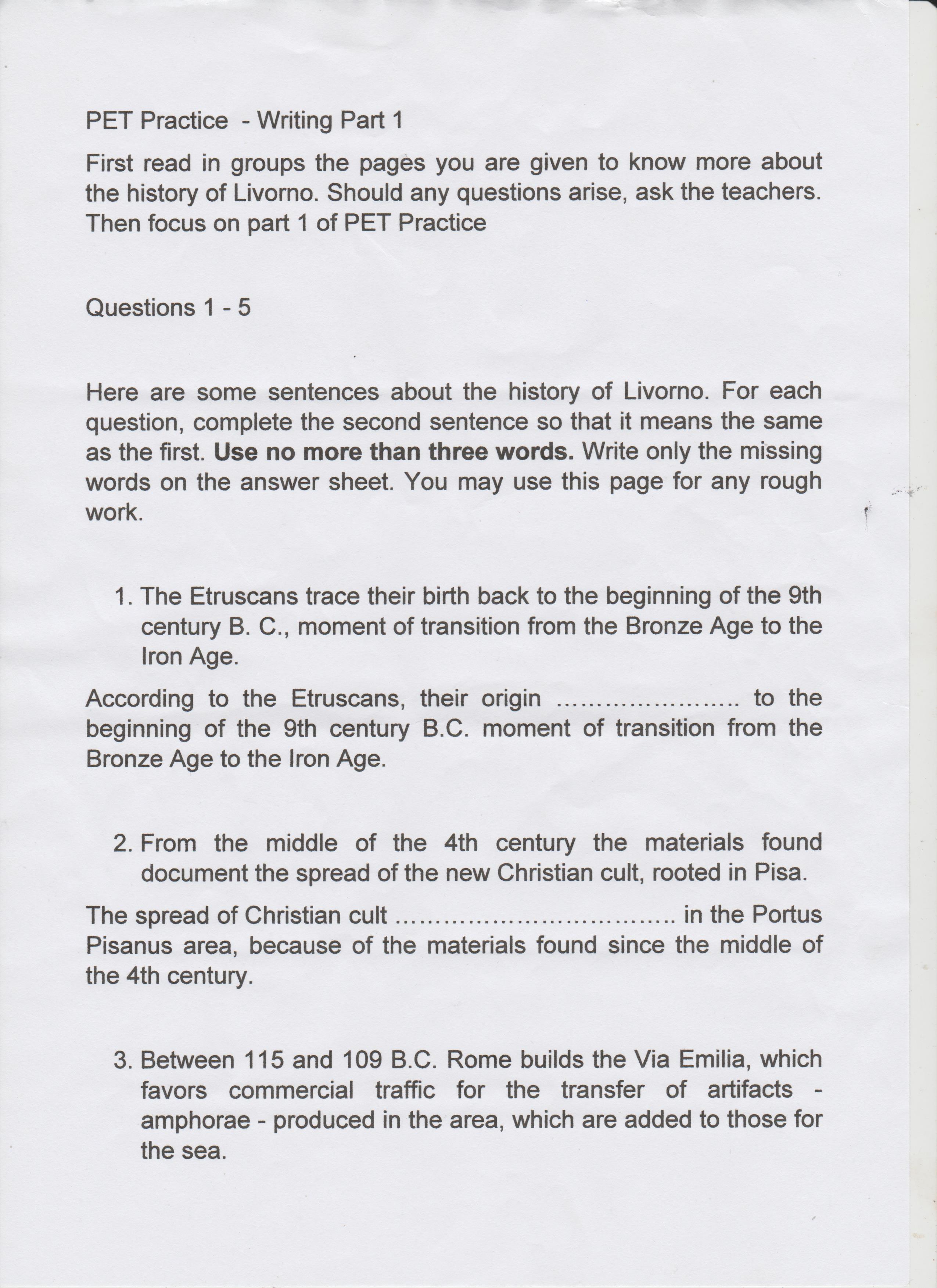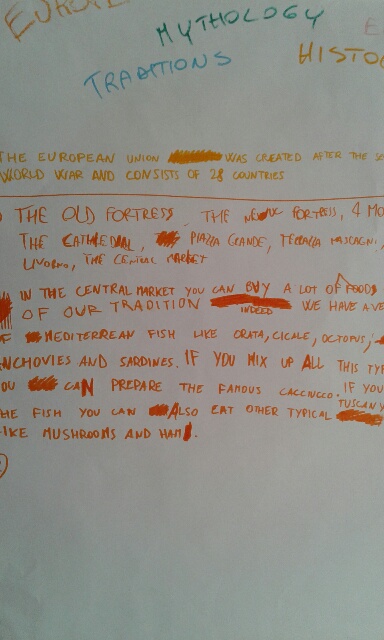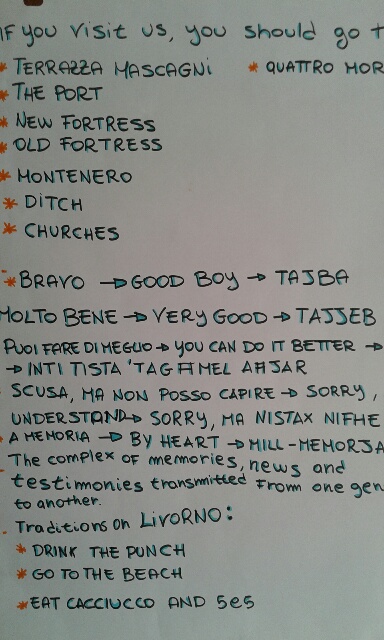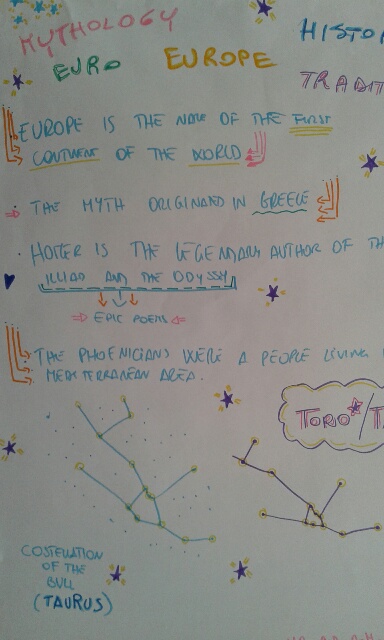 Hello
Dennis, Marina, Michelle, Alessandro, Alice, Pier Daniele, Haila, Riccardo, Tama, Chiara, Lorenzo, Camilla, Alessandro, Alina, Alessio, Diego, Alessio, Alyssia, Martina, Alessandro, Greta, Federico, Marta, Kejsi, Sara, Leonardo, Marianna, Chiara,  Valerio, Francesca, Moundor, Xhuljana, Gabriele, Martina, Chiara, Riccardo, Davide, Eleonora, Francesco once more, 
and Federica, Silvia, Loretto, Mirella, Daniele, Elisa, 
you have plenty of work to do here, if you like.
You can read about the very first sections of the "Museo della Città", in Livorno, and do your PET practice tests, Reading and writing, reading part 5, Writing part 1, finding the right order of the pages that unfortunately have no number, but it shouldn't be too difficult finding it.  
In addition, there are a few pages written by ITI G. Galilei Livorno's students when asked to connect the words on top of the pages about Europe, and to answer the following questions you too can reply to:
1. What is there in Livorno that can be of European interest? Think of European people coming to visit Livorno. What would you suggest them to visit to feel in Europe here too?
2. Use the 24 different languages of the EU to express a few basic ideas, such as "bravo", "you can do better", "sorry, I can't understand", "by heart". Make your research with a mate at home and we will trust you, since we cannot check  all European languages.
3. What is a tradition? When is it that a tradition becomes such?
4. Can you see any tradition in Livorno that might be of European interest?   
Leave comments and answers, enjoy your English, come back to visit us. 
Federica: thank you for your contribution. We'll read your comments in class. Livorno and painters, what a beautiful identity to master for our city!
Silvia: Livorno and music, definetely our city deserves much more attention and appreciation than it has! We could go and visit it in English, as an open class! Would you do it?  
Anna - Coordinator 
Own source PET Material plus ITI G. Galilei Livorno's students writings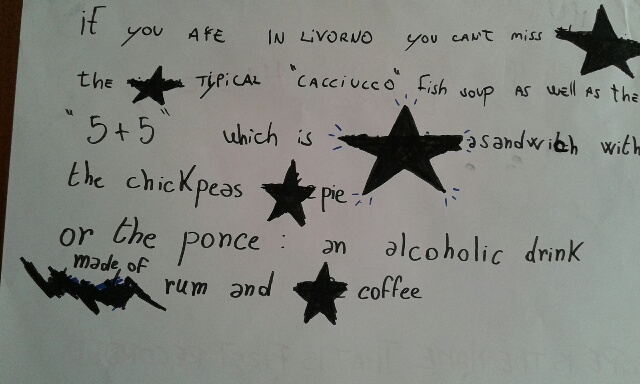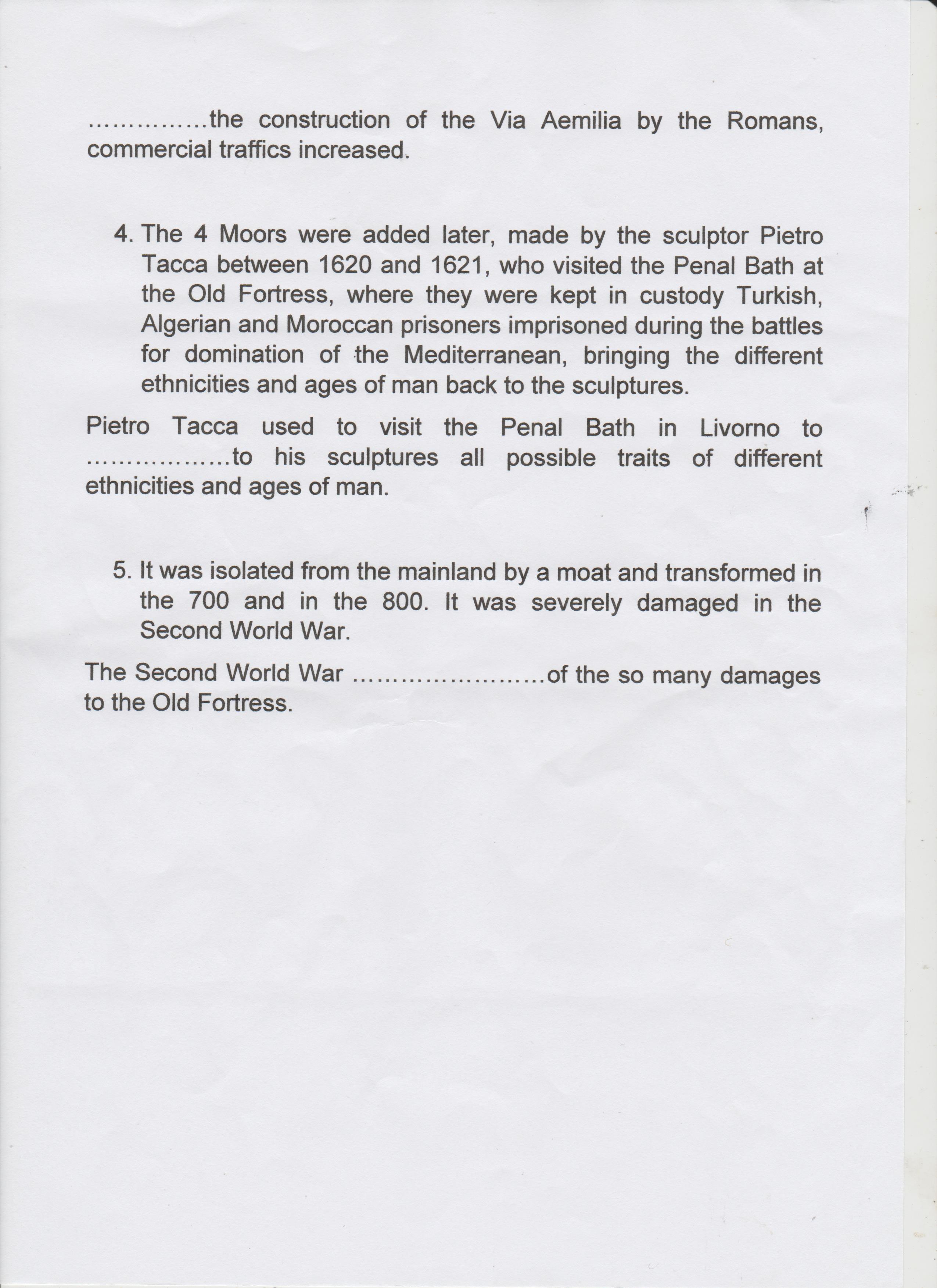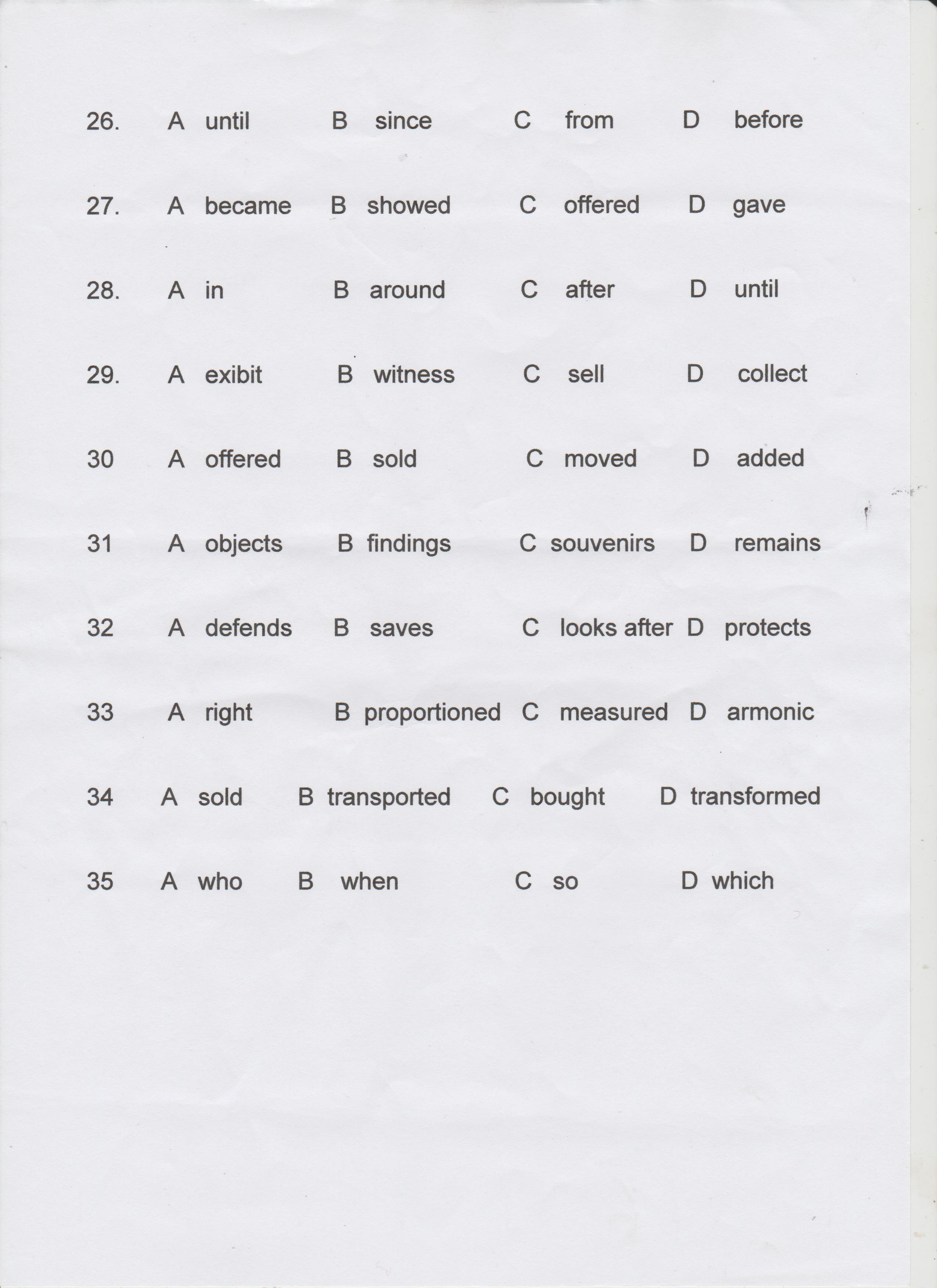 English at the Museum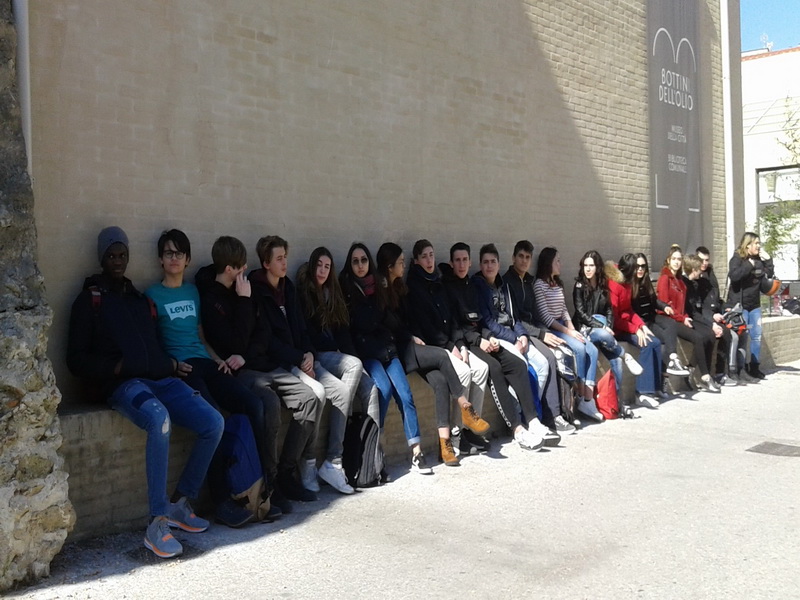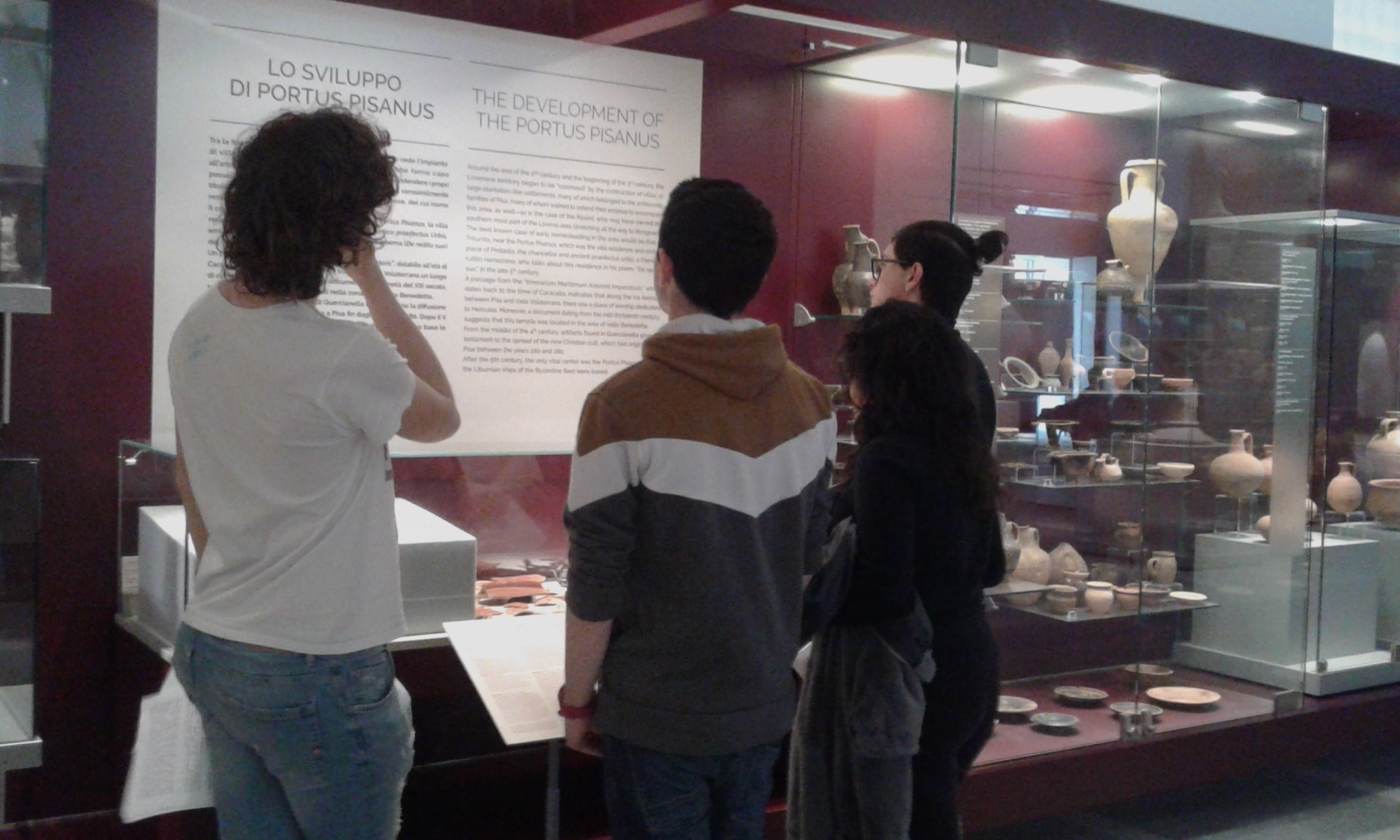 Hello  Dennis, Marina, Michelle, Alessandro, Alice, Pier Daniele, Haila, Riccardo, Tama, Chiara, Lorenzo, Camilla, Alessandro, Alina, Alessio, Diego, Alessio, Alyssia, Martina, Alessandro, Greta, Federico, Marta, Kejsi, Sara, Leonardo, Marianna, Chiara, Valerio, Francesca, Moundor, Xhuljana, Gabriele, Martina, Chiara, Riccardo, Davide, Eleonora, Francesco, 

we did not spend the night there, but the visit to the "Museo della Città" in Livorno was exciting anyway!
ITI G.Galilei's students participating in  the PON 3504 about Europe, had the chance to spend a few of their English hours discovering Livorno's fascinating origins, to see the so many archaeological finds collected by both Livornesi and foreign collectors and donated to the City of Livorno. 
All the times Livorno distingueshes itself for its generosity.  Giorgio Piovene in his "Viaggio in Italia", 1957 - 1967, when writing about

Livorno, says: "Livorno has an extraordinary aspect: in the sense that it is out of the aesthetic rule of our old cities, without being part of the rules of the modern city. It is absolutely different: one cannot look at buildings themselves, but at the Tangle of life from which undoubtely the impulse of life arises".  
Here a few questions for you about Livorno: 
How old is it?
What do you know about its origins? 

 
And its history?
Do you know any historical figure who gave name to some streets in Livorno and what they did? 
Let us know with a comment. 
Enjoy your English and any possible connection with vitality.
Anna - Coordinator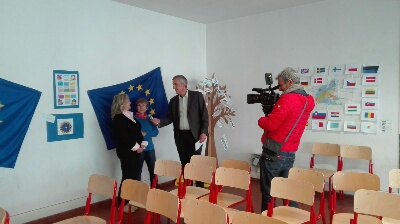 Own source photos taken with students' parents' permission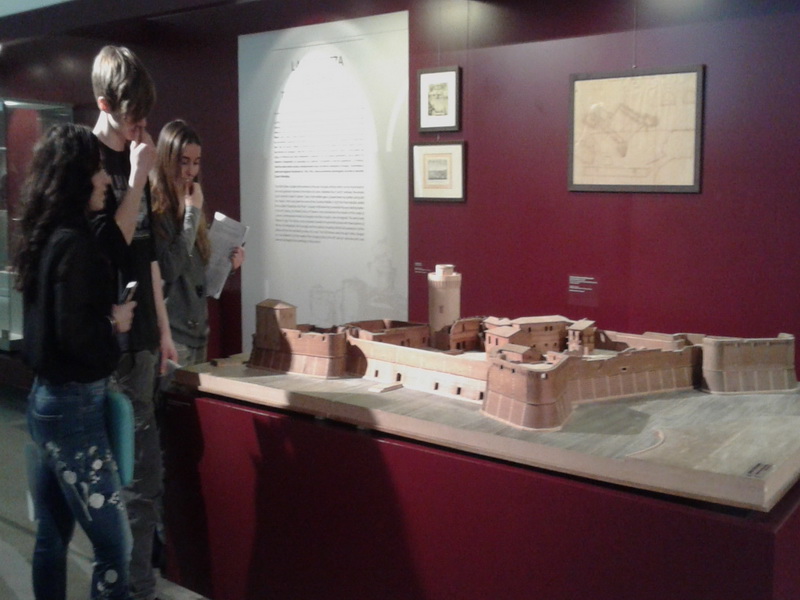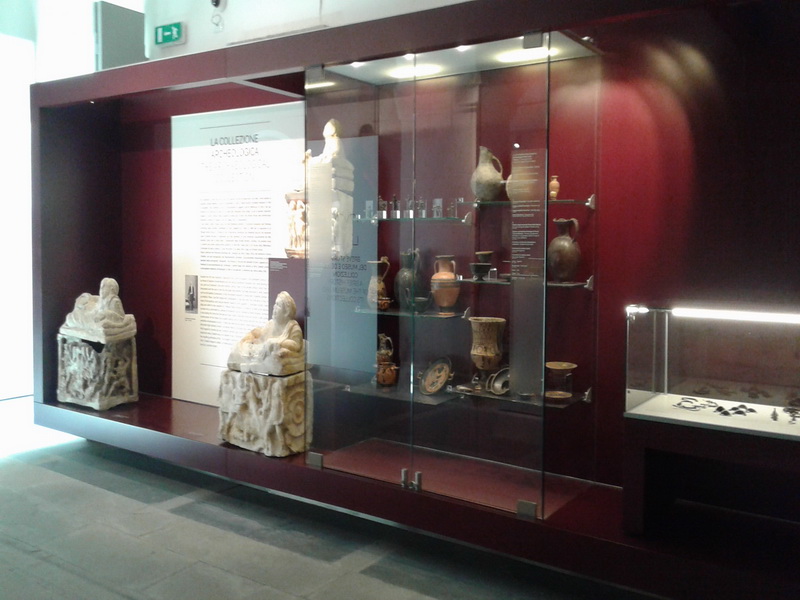 Being Mindful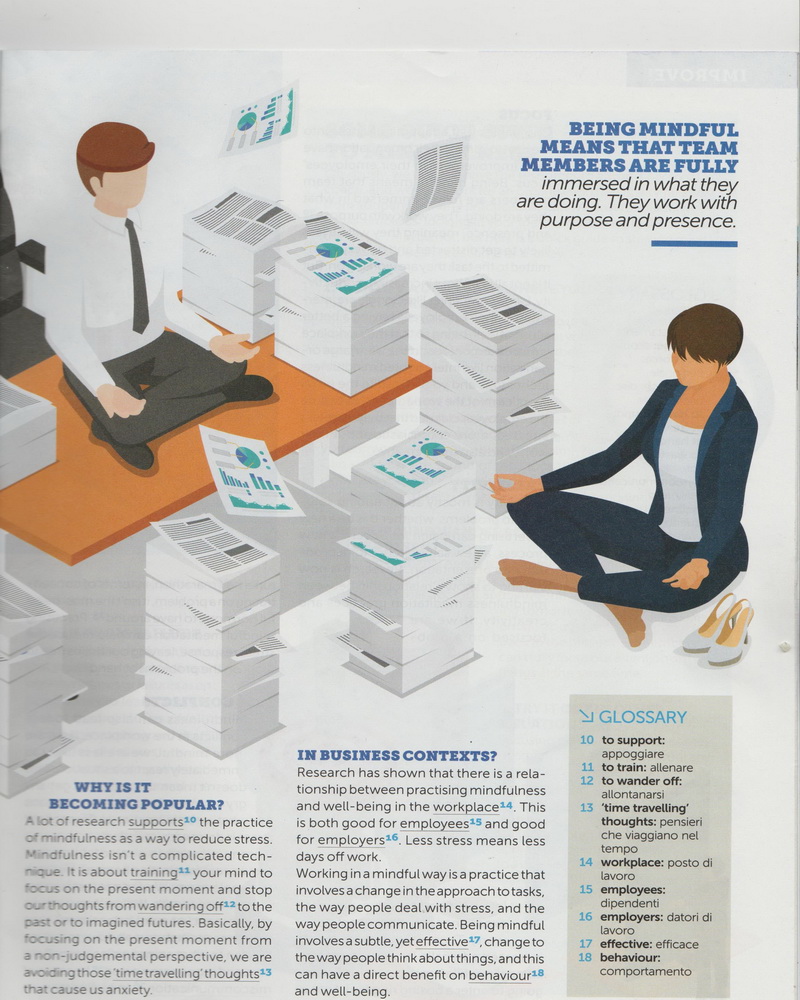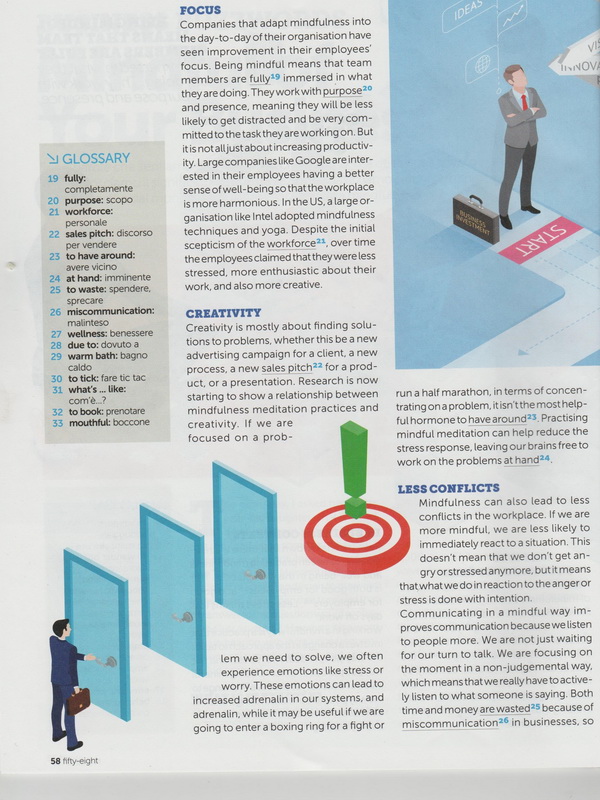 Good morning, afternoon, evening
Mirella, Michela, Elisa, Silvia, Giuliana, Federica, Daniele, Loretto, Sergio, 
these are pages for you all to read after finding their right order, and speak about when in class together. 
What is the role played by your job in your life? 
Can you employ your skills when working?
Is your work stressful?
Do you adopt any special technique to relax?
Can you focus on a subject and stay focused as long as you need? 
Are you aware of a special state of mind when concentrating? 
What do you do to line up both, thinking and speaking so to express your thoughts accurately?    
What is the origin of mistakes when you know them for having them being corrected previously?
I know we have experts in class, they might tell us how what their opinions about mindfulness is and give us all advice. 
Thank you Federica for your comment. I do think everybody should become aware of their energy, how to produce, to preserve, invest and employ it. Thus conceiving the best strategies to be always lively, motivated and satisfied of any committment to engag us!   
Anna - Coordinator
Source: Speak Up, March 2019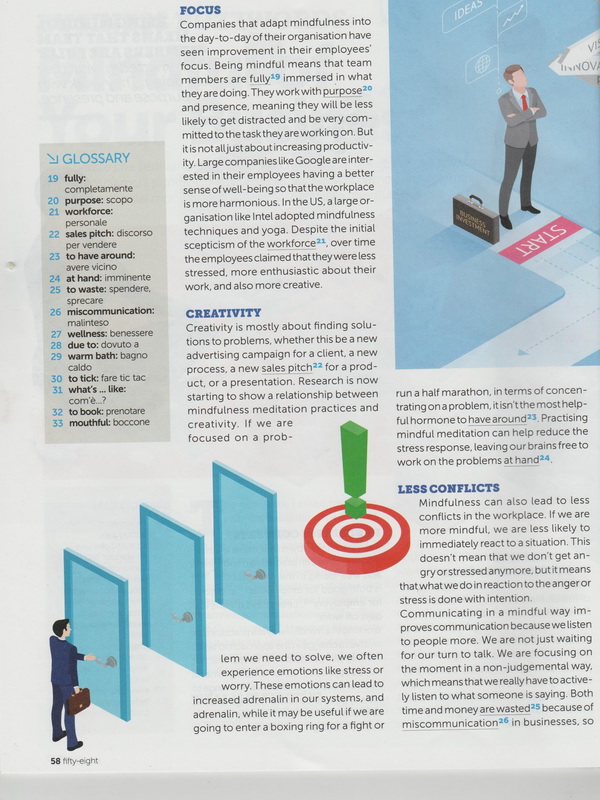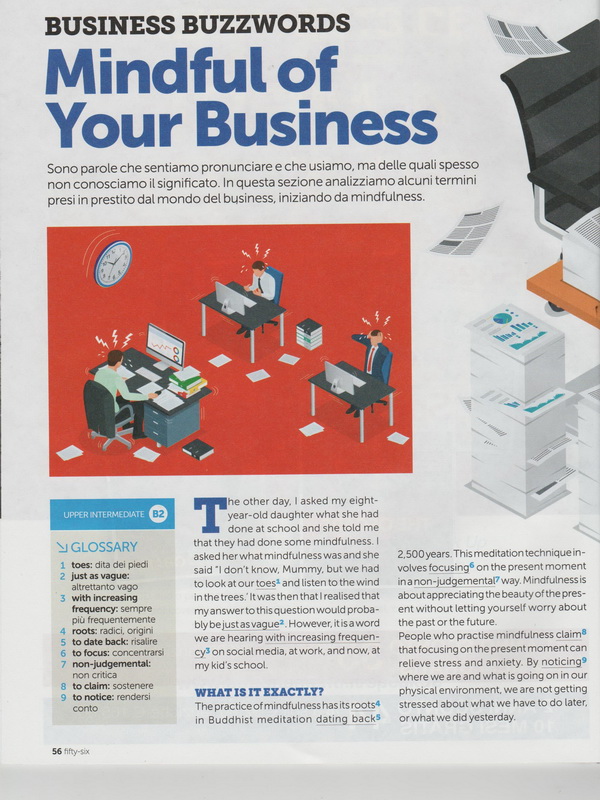 Vilayanur S. Ramachandran and Mirror Neurons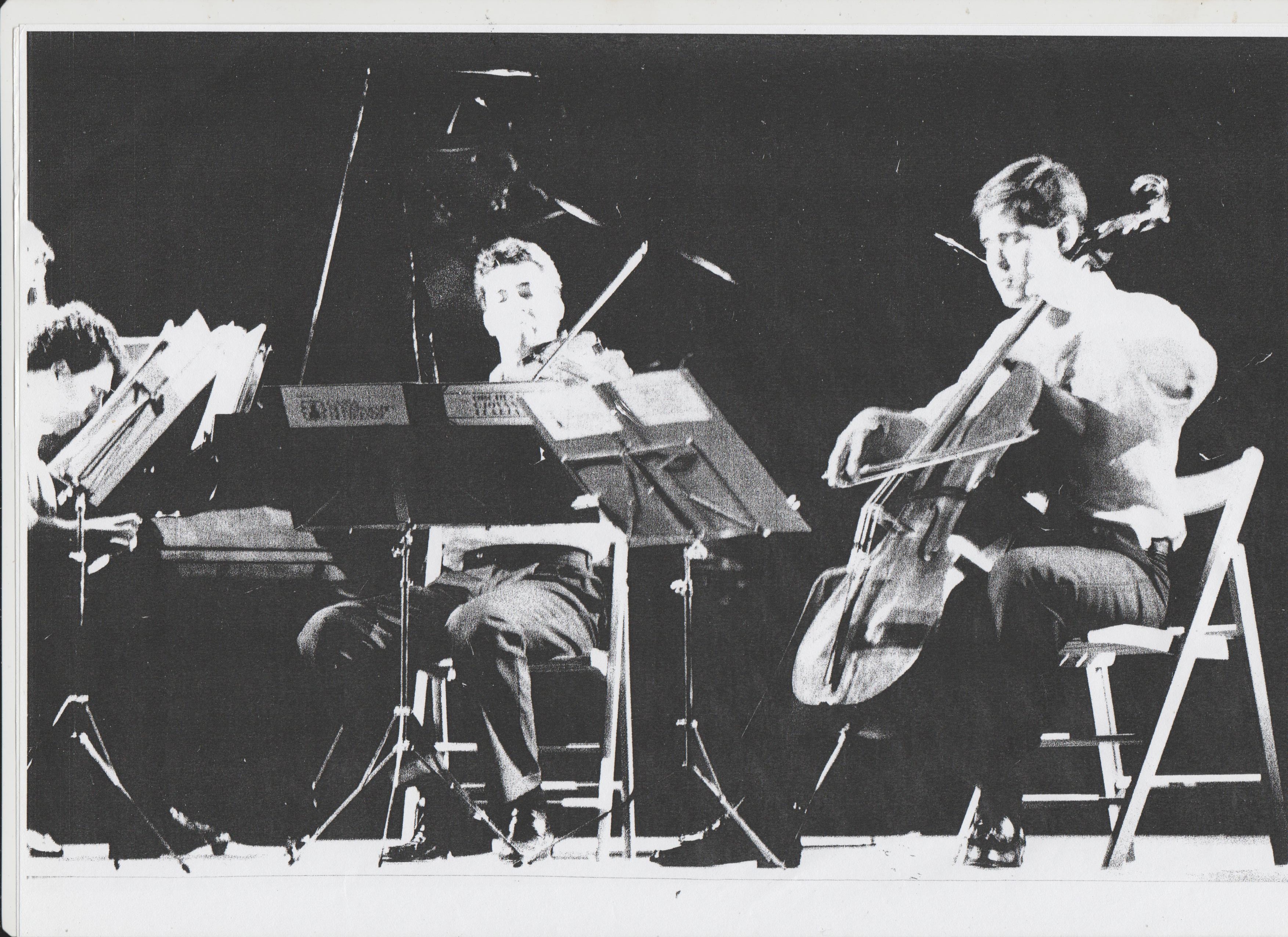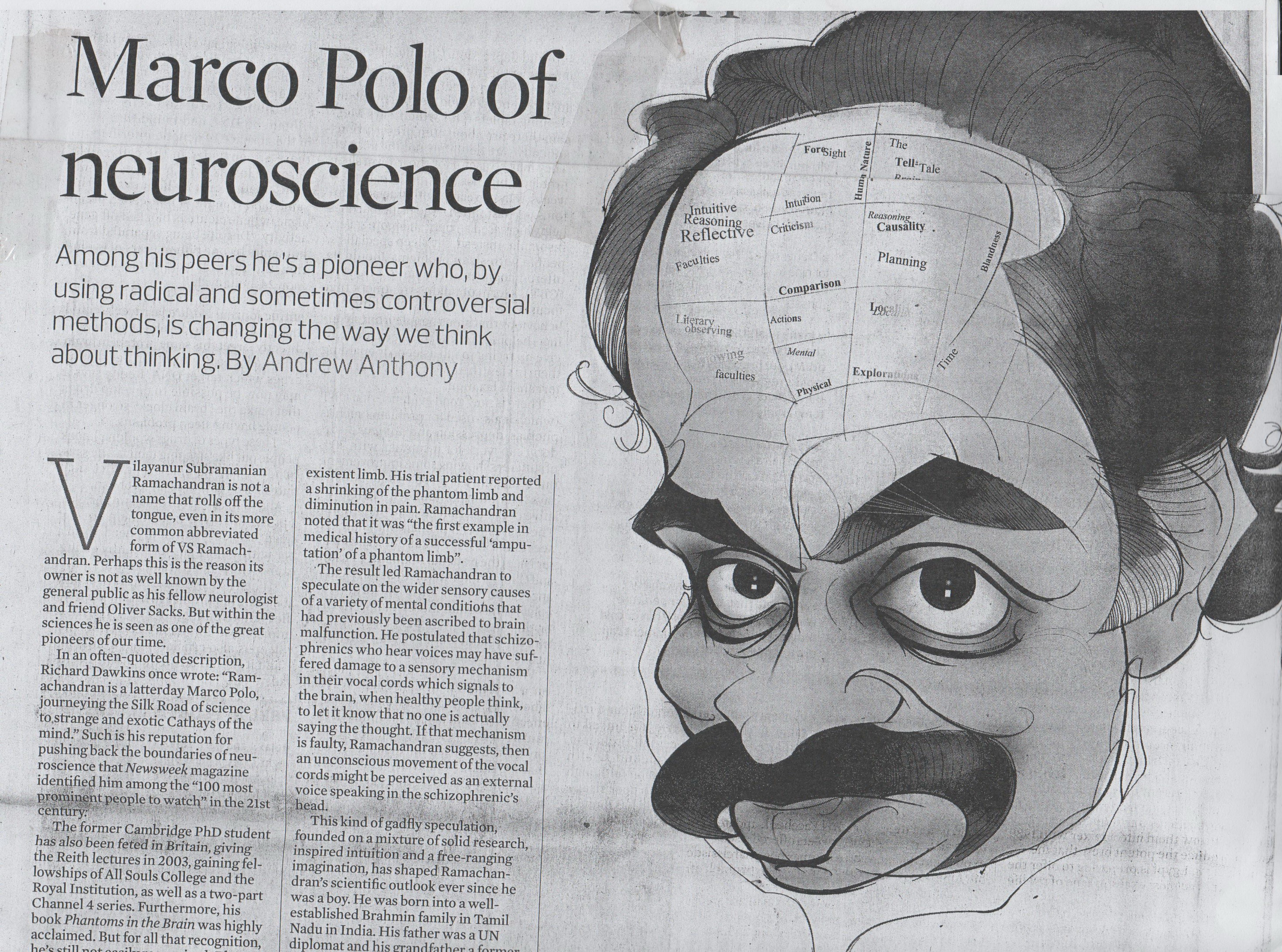 Good morning, afternoon, evening,  
Giuliana, Mirella, Silvia, Elisa, Federica, Michela, Loretto, Daniele, 
as you may already know, as far as uploading photographs is concerned, I'm struggling with my new equipment, but now, all the images for this page are uploaded, so that you can enjoy the page and work on it. 
"Mirror neurons" is the subject we are going to talk about tomorrow,  that's why I'm inviting you to write here your very short "essays", while reading the article I have been keeping for years, since the time I spent in Bologna, where I was teaching in a bank.
Even then I was as passionate as I am in neurosciences. I read books by Vilayanur Subramanian Ramachandran owing to whom I felt even more engaged in the subject of mirror neurons, a field that pushes all frontiers of knowledge forward. Evolution has led us to be empathetic.
Do you feel part of it?
Do you experience that? 
I do invite you to listen to Vilayanur S. Ramachandran on the Internet, e.g. when speaking in the well known TED Talks, Ideas Worth Spreading, for he is considered one of the greatest neuroscientists of the world. 
In Bologna, I used to spend my spare time beetween trains to go and be back after teaching, going to the library in Piazza Maggiore, Sala Borsa, where  newspapers from all over the world were available to any reader.
Also handling newspapers sometimes is part of the training, like the ones written in Arabic, Hebrew; speaking in English with their readers about the content added "spice" to the experience. So intriguing meeting people in stimulating environments and "interacting"! 
Music via photos suits everything as a proper frame. And you should be able to/might guess where the photographs have been taken. 
See you in class,  
Anna - Coordinator  
Source: own photos